"Chopper" from ONE PIECE and "Steiff," a long-established teddy bear brand collaborate together!
The official shopping site of Bandai called "Premium Bandai" has started accepting reservations for "Steiff×TONYTONY CHOPPER," a collaborative product of "Steiff," a long-established teddy brand in Germany and "TONYTONY CHOPPER," the deer doctor who appears in the animation "ONE PIECE" from the 7th of September (13:00), 2017 (Thurs). The quantity of this stuffed toy is limited (1,500) and each product has its serial number on the left ear.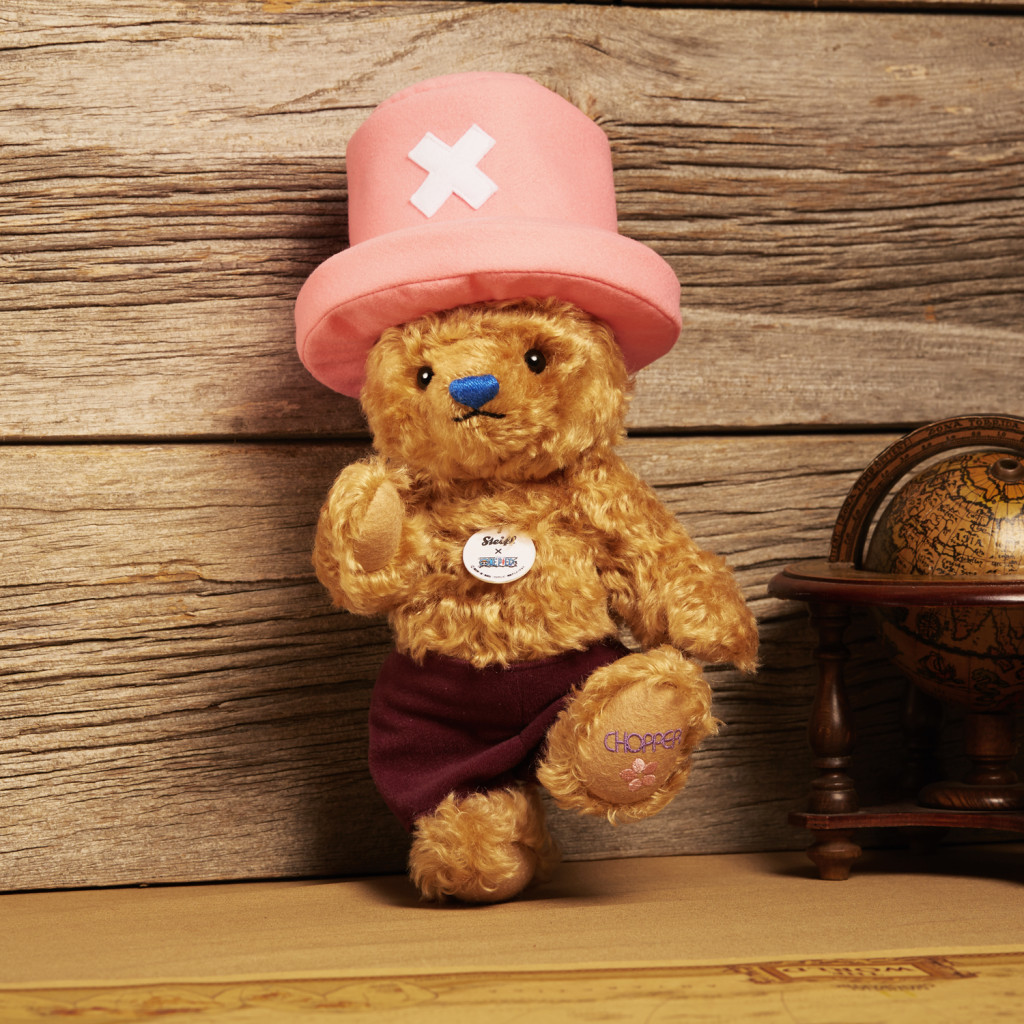 The brown-colored teddy bear wears the costume of TONYTONY CHOPPER. The blue nose, the big, pink silk hat and the shorts of CHOPPER are re-created precisely.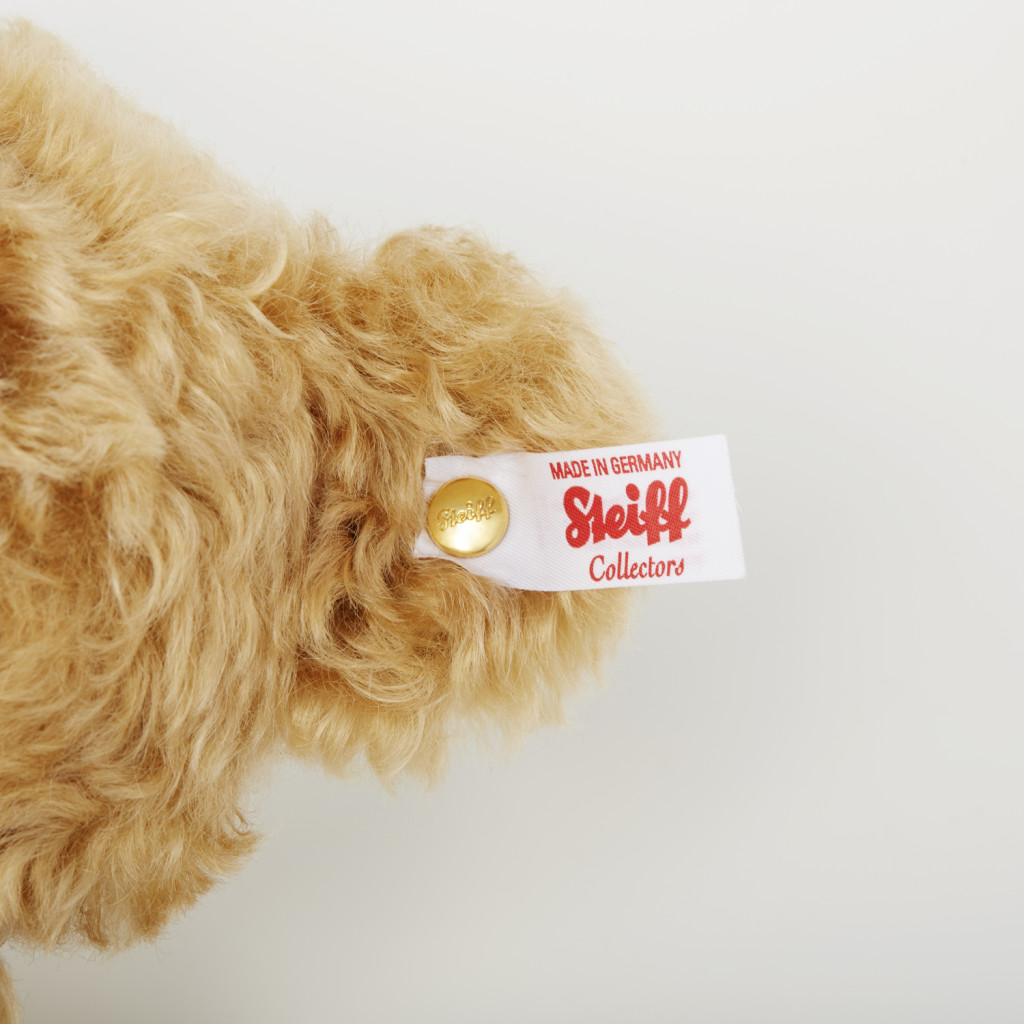 The gorgeous teddy bear is made with mohair and has a smooth texture. The left ear has a marking which proves the product is a "Steiff" called "Button In Ear" and there is a tag with a red serial number printed showing that the quantity of the product is limited (1,500).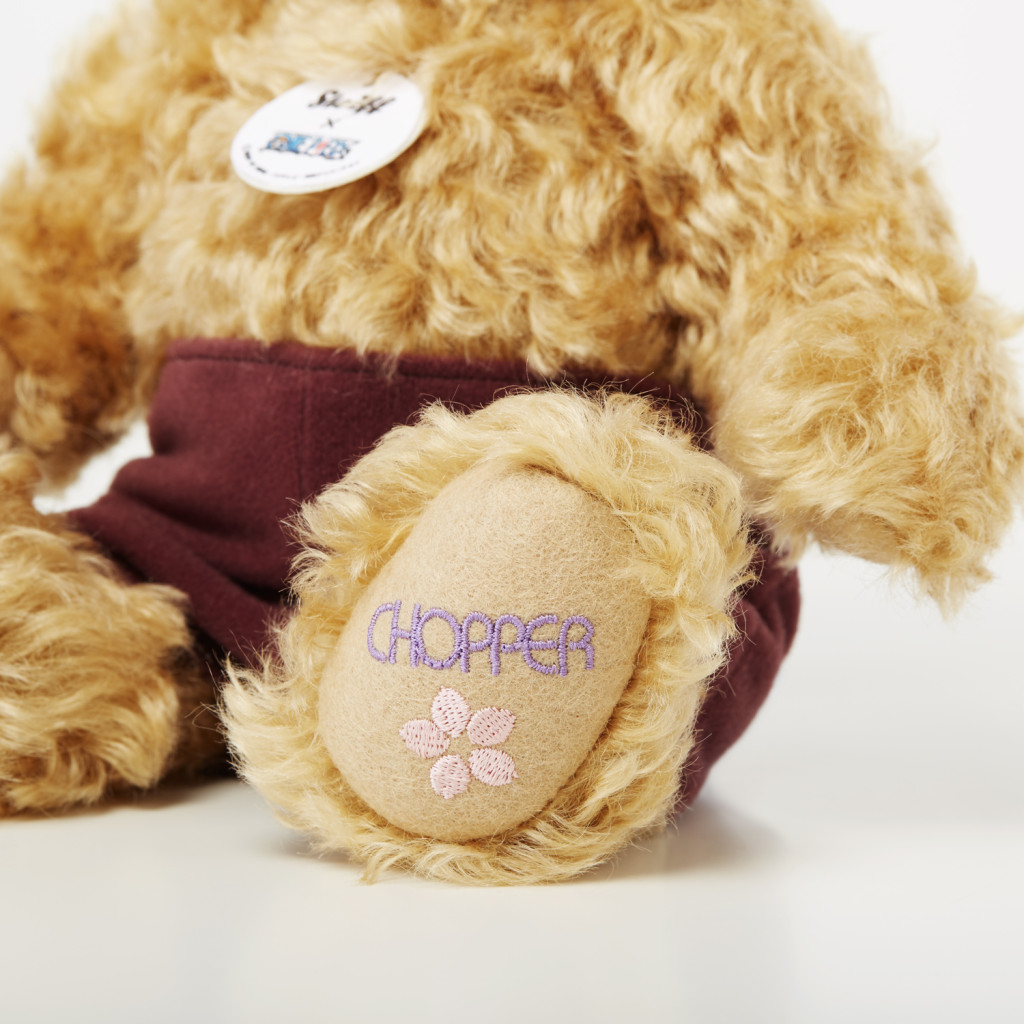 On the backside of the left foot there is the inscription, "CHOPPER" and an embroidered cherry-blossom which reminds us the famous scene where CHOPPER decides to leave on a trip as a member of "Mugiwara no Ichimi" (the pirates of straw hats).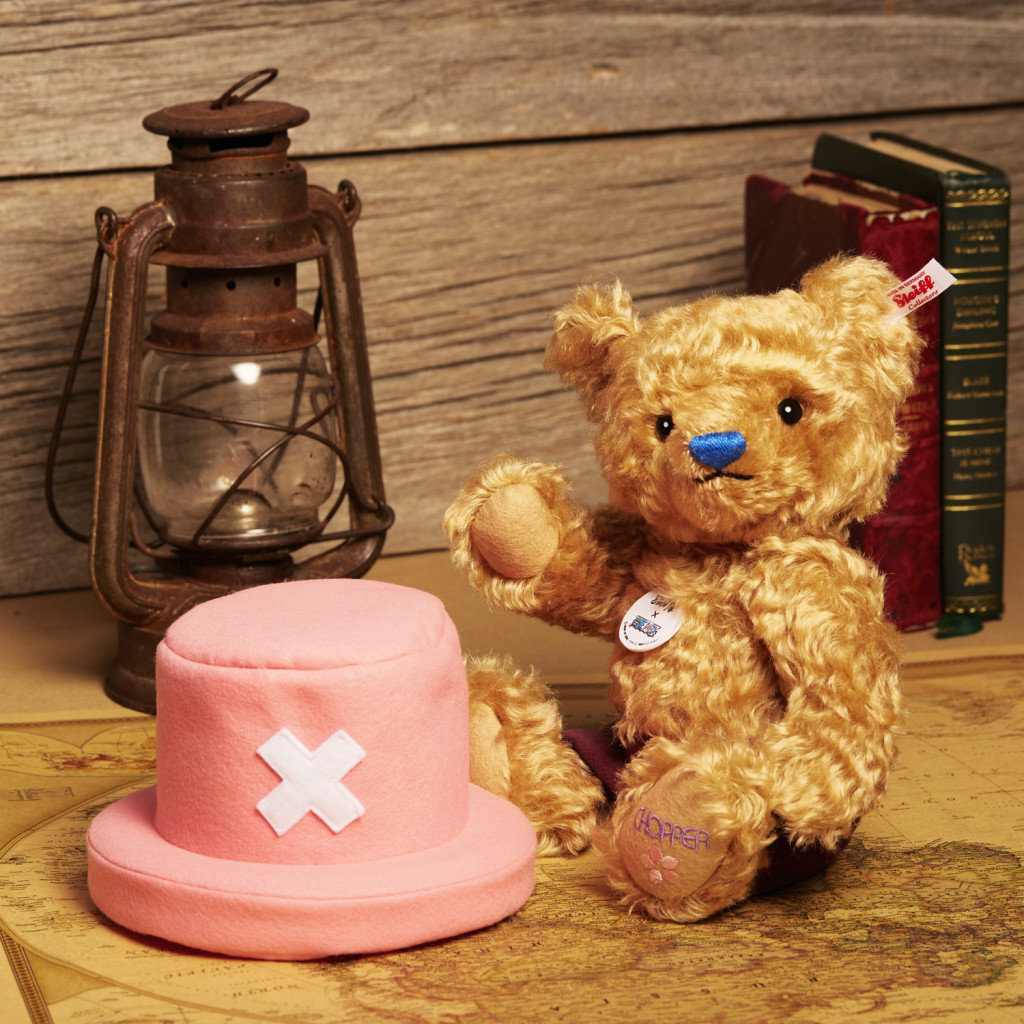 Don't miss this chance to get your very own quantity-limited teddy bear!
■Information
・Product name : Steiff×TONYTONY.CHOPPER
        ( http://p-bandai.jp/item/item-1000117907/?rt=pr )
・Price : 43,200 yen (tax included) (shipping cost and commission charge are not included)
・Content: the product / serial number certification / Steiff's gift box
※Please note that you cannot choose a serial number.
・Quantity: 1,500 only
・Size of the product: 20cm (side), 28chm (height), 10cm (depth)
※Since the products are handmade, the number of teddy bears which can be shipped in February is limited.
※The number of February-shipped teddy bears is limited so, you may be asked for consent to ship to you after February.
(C)Eiichiro Oda / Shueisha, Fuji Television, Toei Animation
RELATED ENTRIES
RADWIMPS Release Music Video for 'TWILIGHT' From Band's New Album

FOREVER DAZE, the new album from the hugely popular band RADWIMPS, is right around the corner, set to release on November 23. The group's track TWILIGHT was used to commemorate the 1,000th episode of the One Piece anime series and the 100th volume of the manga series, and the music video for the song has just been released. 

TWILIGHT – RADWIMPS Music Video 

RADWIMPS FOREVER DAZE Trailer

The group has explained that FOREVER DAZE is filled with musical challenges and unique collaborations. RADWIMPS will start a new six-city 12-show Japan tour in January 2022. 

One Piece Netflix Live-Action Series Announces Main Cast

The highly-anticipated One Piece live-action series is coming to Netflix, and the main cast has finally been announced!

Eiichiro Oda's manga series has become one of the best-selling manga series in history. Originally published in Weekly Shonen Jump in 1997, the series recently celebrated its 100th volume and will celebrate 1,000 anime episodes in the coming weeks. With over 490 million copies in circulation, Luffy's adventure is beloved by manga fans around the world. 

The story follows the many adventures of Monkey D. Luffy, a boy whose body gained the ability to stretch like rubber after eating a Devil Fruit. Along with his faithful crew of Straw Hat Pirates, Luffy explores the famed Grand Line in search of the ultimate pirate treasure, known as 'One Piece.' Gaining this will make him the King of the Pirates. 

Monkey D. Luffy will be played by Iñaki Godoy, Zoro will be played by Mackenyu, Nami will be portrayed by Emily Rudd, Usopp by Jacob Romero Gibson, and Sanji by Taz Skylar. To promote the announcement, the popular wanted posters seen in the series were updated featuring the actor's faces. Original manga author Eiichiro Oda also issued a statement: "The face, the size of the mouth and hands, the atmosphere, the gestures, the voices, the acting ability, the height, the friendship…! These cast members were chosen after much discussion with staff from around the world, and these are the ones who will become the Straw Hat Pirates!" 

A One Piece live-action project had been kicked around before but has finally come to fruition after Oda and other members of Shonen Jump staff were convinced that it could be done well. Godoy, who will portray Luffy, has attracted attention for his skills in the popular drama series "Who Killed Sara?" Japanese actor Mackenyu, who will portray the sword-wielding Zoro, is one of the leading young stars in Japan. Emily Ladd has received accolades for her work in Fear Street and Hunters. Jacob Romero Gibson has appeared in a number of high-profile foreign dramas and is known for his ability to adapt to different roles. Taz Skylar has the perfect cool-guy look to play chef Sanji. This project is sure to attract attention from all over the world, and people are holding their breath, hoping that Luffy's story can be brought to life in the best possible way. 

Full Comment from Eiichiro Oda (Original Author and Executive Producer): 

"We've been working with Netflix and Tomorrow Studios on the massive project that is the Hollywood live-action series adaptation of 'One Piece!' How many years has it been since it was announced, right? I know, I know! But rest assured we've been making steady progress all along. It's not easy when you're working with people from different cultures! But it's precisely that process that can yield something special! For now, we're able to announce the main cast! Rather, we need to hurry and announce it, or else it'll be leaked, apparently! Hilarious, lol. Their face, the size of their mouths and hands, their aura, the way they carry themselves, their voice, their acting skills, their height, the balance amongst the Straw Hat Crew, etc…! We decided on this cast after numerous discussions involving people around the world! These are the people who will be our Straw Hat Pirates! It'll take a bit more time to get this show done, but we'll continue to do our best to deliver a show that we're confident will be enjoyed by everyone around the world! Look forward to more updates in the future!"

Comment From Co-writer, Showrunner, and Executive Producer Steven Maeda and Co-writer and Executive Producer Matt Owens: 

"We are so excited to set sail with this amazing and talented cast. Finding the right people to pull off the looks, emotions, and actions of the iconic Straw Hats was a long and challenging (and fun!) process. Much like the search for the One Piece itself. But we have finally found the perfect fits! They have already begun working very hard to bring these characters to life. You will come to know and love them just as much as their manga counterparts. All of us can't wait to show you what we've come up with! Onward to adventure!"

(C)尾田栄一郎/集英社

Maison de FLEUR Brings Back Popular Teddy Bear Day Series

Japanese accessories brand Maison de FLEUR has just released the popular Teddy Bear series for another year, celebrating Teddy Bear Day! The new merchandise is available online and at Maison de FLEUR stores nationwide. 

Lineup

Teddy Bear Mirror (Out on the Town Version): ¥6,149 (Tax Included) 

Teddy Bear Mirror (Staying In Tonight Version): ¥6,589 (Tax Included) 

Teddy Bear Checkered Pouch: ¥5,049 (Tax Included) 

Teddy Bear Pouch: ¥6,149 (Tax Included) 

Bear Charm: ¥2,849 each (Tax Included) 

Frilly Bear Tote Bag: ¥5,489 (Tax Included) 

Frilly Bear Pouch: ¥3,949 (Tax Included) 

 

Frilly Bear Drawstring Bag: ¥3,949 (Tax Included) 

 

Bear Charm (28 varieties, In-store only): ¥2,849 each (Tax Included) 

October 27 marks Teddy Bear day across the world. The birthday of U.S. President Theodore Roosevelt, known to have saved a small bear during a hunt, is now a day to spend time with your favorite stuffed toy. This year's Maison de FLEUR Teddy Bear collection is filled with smart brown shades perfect for autumn. 

This year's lineup includes a collection of Bear Charms, with different designs for each of the 28 Maison de FLEUR shops nationwide. The staff at each store came up with a name and profile for the bears that incorporate the characteristics and individuality of each region. 

Information

Teddy Bear Series Collection

EC Sales Begin: October 21, 2021, at 20:00

In-Store Sales Begin: October 22, 2021

Where to Buy: Maison de FLEUR shops nationwide

EC Site (STRIPE CLUB): https://stcl.page.link/4QsM

Campaign: From October 21-31, follow the official Maison de FLEUR Twitter account and retweet the appropriate Tweet to win an exclusive bear charm (28 varieties). 

Official Twitter: https://twitter.com/MaisondeFLEUR1 (@MaisondeFLEUR1)

Official Site: http://www.stripe-intl.com/

Rilakkuma, Other Popular Bear Characters to Assemble at '#Kumafes in Ginza Mitsukoshi'

The '#Kumafes in Ginza Mitsukoshi' event will be held at the Ginza Mitsukoshi New Building 7F between September 15 and September 27. San-X have announced that a Rilakkuma will be participating with merchandise available to purchase at the event.

Rilakkuma Store Nagoya / Ueodai Store: Oda Nobunaga Plush: ¥1,848 (Tax Incl.)

Rilakkuma Store Abeno Q's Mall: Kushikatsu Wrapped Rilakkuma: ¥1,518 (Tax Incl.)

Rilakkuma Store Kansai: Rilakkuma with Takoyaki & Sauce : ¥1,738 (Tax Incl.)

Limited Edition Kusatsu Souvenir Onsen Rilakkuma: Kusatsu In-The-Onsen Rilakkuma: ¥2,200 (Tax Incl.)

Limited Edition Miyajima Teahouse Rilakkuma: Even Though He's a Deer, He Still Carries Momiji Manju Rilakkuma: ¥2,420 (Tax Incl.)

Rilakkuma Store Sabou: Lucky Cat Korilakkuma: ¥2,420 (Tax Incl.)

Soft & Fluffy Rilakkuma Plush: ¥4,400 (Tax Incl.)

Dangling Korilakkuma Plush: ¥2,200 (Tax Incl.)

Plush Rilakkuma Pouch: ¥2,200 (Tax Incl.)

A huge collection of regional and limited edition Rilakkuma products  will be available at the event, including items from regional Rilakkuma stores, Rilakkuma Onsen/Teahouse collaborations, and "Rilakkuma & Kaoru-san" items, so don't miss out!

 

©2021 SAN-X CO., LTD. ALL RIGHTS RESERVED.

Logo Unveiled for Netflix's "ONE PIECE" Adaptation

Netflix, the world's largest online entertainment service, has announced an original adaptation of 'ONE PIECE' which is scheduled to be broadcast internationally. 'ONE PIECE', written by Eiichiro Oda, is an extremely popular manga  that represents Japan globally. Worldwide, over 490 million copies have been sold, beloved by fans of all ages across the world for many years.

The series was serialized in Weekly Shonen Jump in 1997, starting with the protagonist Monkey D. Luffy going on a journey with the Straw Hat Pirates to find the One Piece, a treasure that was left behind by the legendary "Pirate King" Gol D. Roger.

Now the logo of the live-action drama series 'ONE PIECE' has been unveiled, along with the title of the first episode, which matches the manga – "ROMANCE DAWN – Dawn of Adventure-." Author Eiichiro Oda has taken the role of executive producer for the new series.

There have been many offers to transform 'ONE PIECE' into a live action series in the past, but the very first 'ONE PIECE' live-action drama will be coming to life through Netflix after Eiichiro Oda and the Weekly Shonen Jump editorial department became convinced that the many difficulties of a 3D 'ONE PIECE' could be overcome.

The newly unveiled logo was based on the original logo, with the Straw Hat Pirates emblem featured above the letter O and if you look closely, you can see that the skull has a scar under its left eye just like Luffy. It also seems that a tiny Luffy is hidden inside the skulls nose! The final E also pays homage to the original logo with its anchor shape, raising the expectations even higher.

The first episode title is 'ROMANCE DAWN – Dawn of Adventure -,' matching those of the first manga chapter and anime episode. How will Luffy's iconic story begin? A great number of people are curious to find out.

The famous story of pirates and upheaval is being produced with original author Eiichiro Oda as executive producer, in partnership with Netflix and Tomorrow Studios. In charge of the script and executive production is Matt Owens, who worked on 'Agents of Shield' following his time working for the JJ Abrams' production company Bad Robot. Steven Maeda, best known for 'LOST', will also be joining as scriptwriter, showrunner, and executive producer.

The 100th volume of the manga was released on September 3, while the 1000th episode of the anime is scheduled to air on November 21. There have been many commemorative projects in order to "connect the world" during this special occasion, and the live-action adaptation is sure to grab the attention of fans around the globe – It could even be considered the project of the century! The casting is still yet to be confirmed, so stay tuned for more information.

ONE PIECE x Ninagawa Mika x RADWIMPS Release Stunning Clips for 'WE ARE ONE.'

ONE PIECE, a manga running in the Weekly Shōnen Jump magazine for 24 years, will be releasing its 100th volume on September 3 2021.l, while the 1000th episode of the anime will be aired on November 21. To commemorate this major milestone, the franchise will be starting a number of grand projects to 'connect' with the world.

 

One of those grand projects is the 'WE ARE ONE.'  mini series, with five videos co-produced by Toei Animation and Shueisha to be released starting on August 30, counting down until the release of  the 100th volume on September 3. 

The videos are directed by Ninagawa Mika, who has won a selection of awards within Japan and overseas for her vivid and colorful videos. Accepting the challenge to take charge of this unprecedented video project, the live action shots featuring known actors were directed by Ninagawa while the anime shots were produced by Toei Animation. The videos show off a new side to the wonderful world of ONE PIECE. RADWIMPS new song TWILIGHT will be used as the theme song as four protagonists step into the future in this short drama collection.

Scene1 is an animation featuring Zoro and Sanji of the Straw Hats. The pair usually bicker, but when they're faced with losing their companions during the Davy Black Fight, the two join together to protect their gang. One the pair have decided to help make Luffy's dream of becoming the pirate king come true, nobody can stop them!

Director Ninagawa Mika Comment


I feel like there are people who have read the series deeply, as well as those who happened to discover it, and those who are yet to read but are still able to sympathize with the story. I will be happy if everybody can enjoy the videos.

RADWIMPS Comment

There are so many adults like us who grew up reading ONE PIECE, as well as students and parents, with all of us just trying to achieve our goals and targets each day. I feel that during those days, the ONE PIECE characters have always helped us to keep on pushing forward. It is my hope that this project will help people feel a little stronger when facing the future. 

 

Photos
©Oda Eiichiro / Shueisha/
©Oda Eiichiro / Shueisha, Fuji TV, Toei Animation

Anime
©Oda Eiichiro / Shueisha, Fuji TV, Toei Animation

Have a One Piece Anime Themed Wedding in Japan

Japanese bridal company ESCRIT INC. launched its new "One Piece Bridal Fair" service on May 5, 2021 in collaboration with the manga series One Piece.

The service is inspired by the Grand Line in One Piece, the ocean current that wraps eternally around the entire world like a ring. Those who order the service will be given a collection of One Piece wedding items and gifts including original wedding registrations for all guests, a welcome board for greeting everyone, a life-sized photo cutout of Luffy and the Straw Hat Pirates, a special Sanji-themed food course, and more.

One Piece T-Shirts Include 'Goodbye Going Merry' Design and More

A new collection of One Piece T-shirts dropped via the Japanese anime and manga goods website CharaDepa on Tuesday (February 23) will are available to order until March 6.

Goodbye Going Merry T-Shirt – WHITE | ¥2,900 (Before Tax)

Zoro-juro & Sangoro T-Shirt – SAND KHAKI | ¥2,900 (Before Tax)

Zoro-juro & Sangoro T-Shirt – WHITE | ¥2,900 (Before Tax)

Sizes are available in Small to XL and are a must-grab for fans.

©尾田栄一郎/集英社・フジテレビ・東映アニメーション

Wolfgang's Steakhouse x One Piece Spin Off Story Celebrates Manga's 1000th Chapter

The Japanese branch of the New York-based steakhouse Wolfgang's Steakhouse is celebrating the 1,000th chapter of the Weekly Shonen Jump manga series One Piece by creating an original spin-off story animation which will be posted on their official homepage and social media accounts at the end of January.

Wolfgang's Steakhouse is a steakhouse hailing from New York. Wolfgang Zwiener opened the chain over 40 years ago and it has gone on to open several branches in Japan, the first being in Roppongi in Tokyo followed by Marunouchi, Osaka, and Fukuoka. A new brand, Wolfgang's Steakhouse Signature, opened in Aoyama, Tokyo.

What tasty story awaits the Straw Hat Pirates? We will find out at the end of this month!

BUSTERCALL = ONE PIECE Exhibition to Take Place at Yokohama ASOBUILD

The BUSTERCALL Project is holding a One Piece themed exhibition called BUSTERCALL = ONE PIECE Exhibition at Yokohama ASOBUILD from November 20 to December 27 at Yokohama ASOBUILD. BUSTERCALL is a project formed of 200 artists and creators around the world to deliver events and exhibitions centred on the popular manga and anime series One Piece.

At BUSTERCALL = ONE PIECE Exhibition, fans can pick up a range of merchandise as well as make their own original T-shirts at the workshop.

Original Emblem: ¥1,000 (Tax Included) *27 designs

Original T-Shirt: ¥3,500 (Tax Included)  WHITE/BLACK SIZES: S/M/L/XL

 Fans can make their own original emblems which can be attached to one of 27 different T-shirts.

One Piece fans can also get their hands on a selection of apparel, figures, and other pieces of merchandise, some of which will also be available to buy online in Japan. Some creators are also selling special items in limited quantities.

Original Sticker

All fans who visit the art exhibition will get a free original sticker too.

Information

BUSTERCALL = ONE PIECE Exhibition

Venue: ASOBUILD Floor 2F ALE-BOX
Address: 2-14-9 Takashima, Nishi-ku, Yokohama, Kanagawa

Running: November 20, 2020 – December 27, 2020
Opening Hours: 10:00-20:00 (Last Entries 19:00)

Entry: Free
Official Website: https://jp.bustercall.com

One Piece x Shu Uemura Makeup Collection is a Pirate Girl's Dream

The second instalment of the "Shu Uemura x One Piece Collection" finally launched on November 15. The collection was first announced back in September with the first instalment released on November 1.

The special collection is inspired by the brave and heroic Luffy and the Straw Hat Pirates from One Piece, one of Japan's biggest manga and anime franchises. The second instalment welcomes a new collection of highlighters, makeup brushes, and more for the holiday season.

Shu Uemura x One Piece Collection

Fearless Crew Highlighter Gold Feast / Fearless Crew Highlighter Romance Dawn (¥5,000 Each Before Tax)

Smooth, silky highlight powder to accentuate the face. Colours include shining gold which glistens like pearls and sun-basked peach. These highlighters capture the lively energy of Nami and Robin.

Fearless Crew Premium Brush Set (¥6,500 Before Tax) | Includes: Face Brush, Cheek Brush, Eyeshadow Brush, and Eyebrow Brush

The high quality mini brush set includes a face brush, cheek brush, eyeshadow brush, and eyebrow brush. Their small sizes makes them conveniently portable for the party season. They come in a marine blue bag with the Straw Hat Pirates on the front of it.

Petal 55 Foundation Brush (¥6,000 Before Tax)

A high quality Shu Uemura brush with beautiful form and functionality crafted by the brand's makeup artists. Their foundation brushes are very popular for layering the perfect base makeup.

Wanted Gold Eyelash Curler (¥2,000 Before Tax)

Add some volume to those lashes with this golden pair of curlers equipped with a One Piece skull charm.

©Eiichiro Oda/Shueisha, Toei Animation

One Piece x Shu Uemura Collaborate On Colourful New Makeup Collection

Japanese makeup artist brand Shu Uemura's highly-anticipated holiday collection is here. The "Shu Uemura x One Piece Collection" will launch in two parts: the first on November 1 and the second on November 15.

The special collection is inspired by the brave and heroic Luffy and the Straw Hat Pirates from One Piece, one of Japan's biggest manga and anime franchises.

The first part of the collection launching on November 1 welcomes Shu Uemura's popular vivid eyeshadows and iconic lipsticks from the Rouge Unlimited collection while the second part is made up of a variety of face colours, accessories, and more, made specially for the holiday season. Pre-orders for both parts will launch via Shu Uemura's website and select online stores in Japan on October 15, 2020.

Shu Uemura x One Piece Collection

Bright colours and textures inspired by the marine blue ocean, the beaming sun, and treasure—all elements that scream the adventures of One Piece. Shu Uemura invites people to join Luffy on that adventure with this new collection.

Part One

Wanted Treasure Box Eye Palette Grand Line / Wanted Treasure Box Eye Palette Thousand Sunny | ¥8,500 Each (Before Tax)

The Wanted Treasure Box Eye Palette Grand Line comes in a treasure chest-like eye palette case and boasts ten gorgeous colours, which includes numerous new colours and textures like Crushed Stone, Deep Matte, Antique Metal, and Warm Pearl. Inspired by the Grand Line ocean current in One Piece.

Rouge Unlimited Amplified / Rouge Unlimited Amplified Matte / Rouge Unlimited Matte / Rouge Unlimited Amplified Lacquer Shine | ¥3,300 Each (Before Tax) *Includes 9 colours

Each colour is based on one of the special moves performed by characters in One Piece. The colour arrangement is diverse, ranging from colours to make a statement to more casual ones. Wield the power of the Straw Hats wherever you go.

Part Two

Fearless Crew High Rider Gold First / Fearless Crew High Rider Romance Dawn | ¥5,000 (Before Tax)

Smooth, silky highlight powder to accentuate the face. Colours include shining gold which glistens like pearls and sun-basked peach.

Fearless Crew Premium Brush Set | ¥6,500 (Before Tax)

The high quality mini brush set includes a face brush, cheek brush, eyeshadow brush, and eyebrow brush.

©Eiichiro Oda/Shueisha, Toei Animation