Maison de FLEUR Reveals 9th Anniversary Collection
Japanese accessories brand Maison de FLEUR will hold a special 9th-anniversary celebration starting September 16! Under the theme of Les Liens, meaning bonds or connections, the brand's iconic ribbon will appear in a number of gorgeous exclusive new items.

Many items have a Rococo theme, which is perfect for customers wanting to give their wardrobe an extra touch of elegance. By using plenty of ribbons and lace, these pastel items are perfect for girly girls.
In addition to the Rococo series, the lineup also includes tote bags, pouches, and gift boxes using an original print pattern that combines the 9th-anniversary theme of ribbons and the letter M from  Maison de FLEUR.
In addition, the limited anniversary series 'PINKxBLACK' combines the brand's iconic pink shade with sleek black, and the popular faux leather series is also available in a special addition with a huge bow attached.
Exclusive Items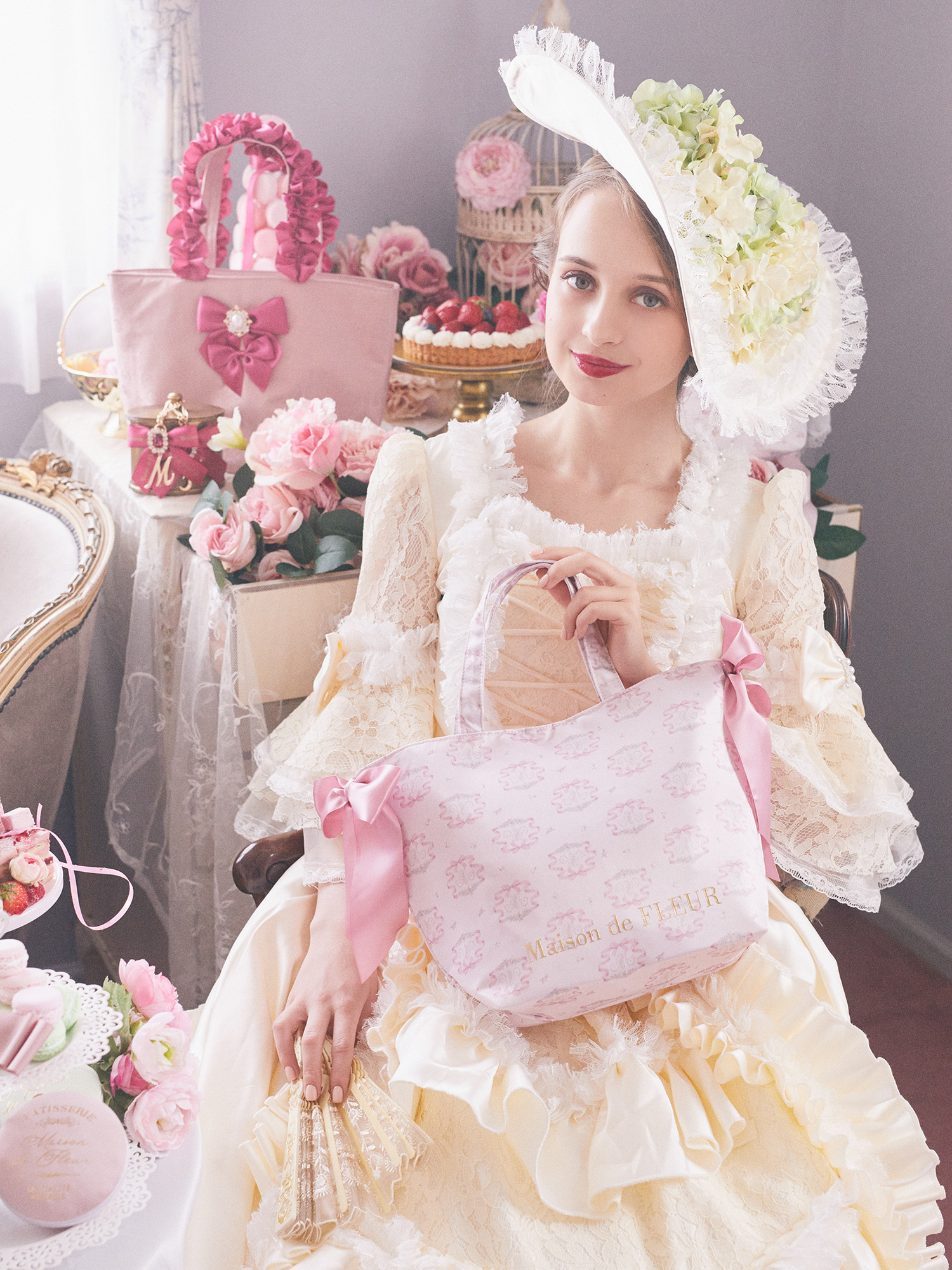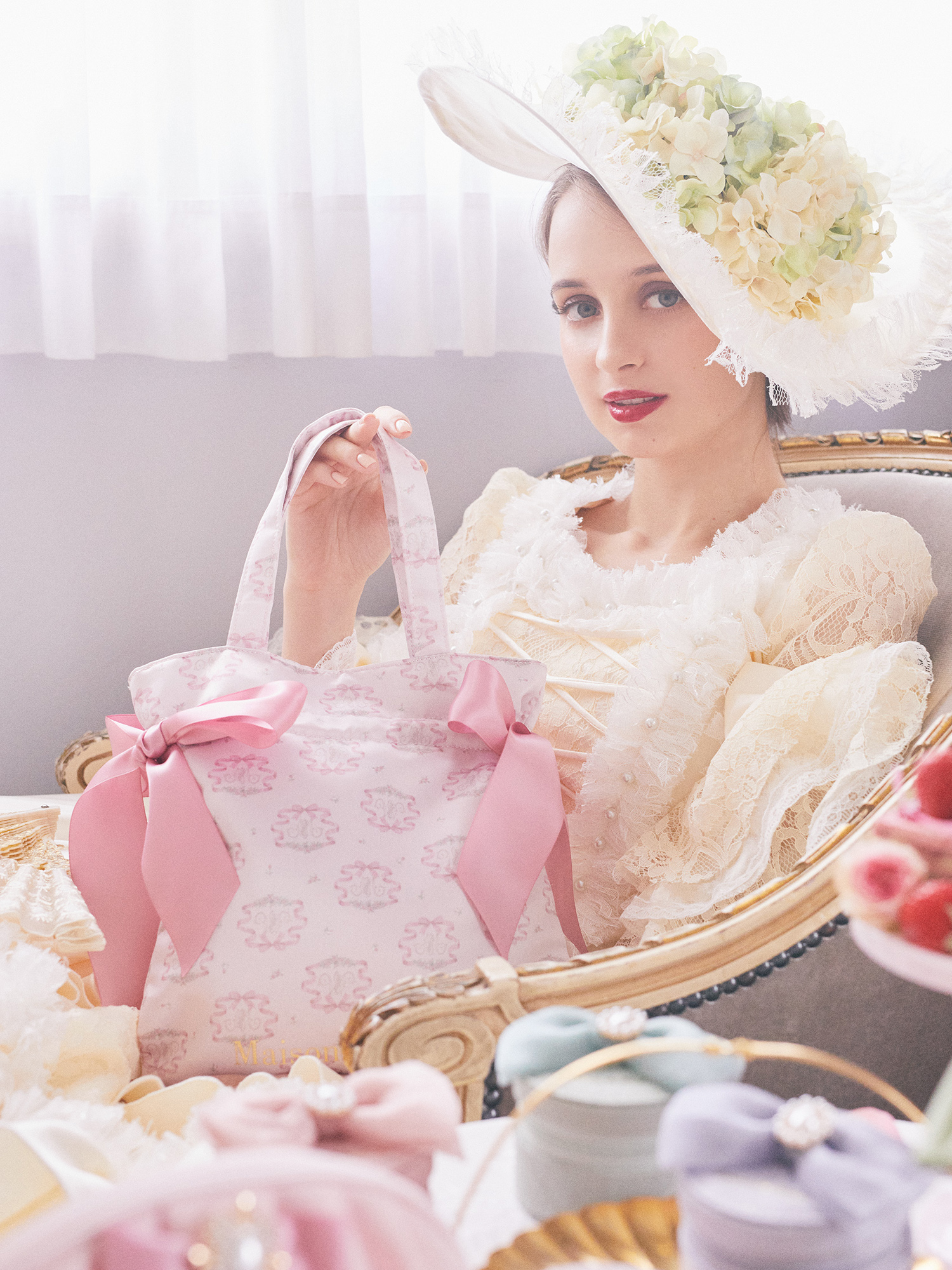 For this special anniversary, Maison de FLEUR will hold a Ribbon Lottery at select stores, and everyone who enters is guaranteed to win a prize. These will include everything from original stationery and letter sets to pouches and other exclusive items, so why not give it a try at your nearest store?
Information
9e Anniversaire  ~Les Liens~

Release Date: September 16, 2022
*Available from STRIPE CLUB starting at 20:00 on the previous day.
Where to Buy: Maison de FLEUR locations nationwide, STRIPE CLUB (https://stripe-club.com/maisondefleur/)
RELATED ENTRIES
Maison de FLEUR Introduces Baymax Goods to Ongoing Disney Collection

Popular Japanese accessories brand Maison de FLEUR has started selling new goods as part of the Disney Collection. This time, Baymax from Big Hero 6 takes center stage, and items are available now at Maison de FLEUR locations nationwide and online.

The company chose Manami Enosawa to model the collection–a fitting choice, as Baymax is her favorite Disney character. Enosawa will also act as the director of the apparel brand ARUMDY starting this fall.




The Baymax collection features a total of eight items perfect for everyday use. Fans can find everything from slippers featuring the robot's face to bags, charms, and pouches perfect for bringing to school or carrying around town. 


Come enjoy Maison de FLEUR's newest goods featuring Baymax, one of the most popular Disney characters in recent memory.

Information

BAYMAX from the Disney Collection /  Manami Enosawa x Maison de FLEUR

Release Date: October 8, 2022 *Available online on October 7 at 20:00
Where to Buy: Maison de FLEUR locations nationwide *Excluding Ikspiari store and outlets,
STRIPE CLUB online store (https://stcl.page.link/LQ19), ZOZOTOWN
Official Site: http://www.stripe-intl.com/

Maison de FLEUR Announces Sanrio Characters Collaboration

Starting September 30, the popular accessories brand Maison de FLEUR will begin selling items made in collaboration with everyone's favorite Sanrio characters at stores nationwide and online!

Currently, Maison de FLEUR is celebrating its 9th anniversary, and what better way to party than with Hello Kitty, My Melody, My Sweet Piano, Kuromi, Pompompurin, and Cinnamoroll? 

Fans are sure to love these elegant original designs of the characters wearing black dresses and tuxedos, along with Maison de FLEUR's iconic ribbon. 

Collection

The lineup includes five unique tote bags, pouches, and handkerchiefs. The brand's popular Double Ribbon Tote Bag shows off the characters surrounded by flowers in reference to the word Fleur, which means flower in French. Two colors were selected to represent the brand: pink and black. A square tote bag with the same artwork printed in color will also be available.

 

These tote bags are perfect for everyday use, and each character is surrounded by good friends. Who wouldn't smile when looking at these gorgeous items?




Come celebrate Maison de FLEUR's 9th anniversary by picking up some of these adorable goods!

©'2022 SANRIO CO., LTD. APPROVAL NO. L633775

Information

Maison de FLEUR × Sanrio Characters 9e Anniversaire
On Sale: September 30 *Available online starting September 29 at 20:00
Where to Buy: Maison de FLEUR locations nationwide, Online Store STRIPE CLUB
https://stcl.page.link/UXey, ZOZOTOWN
Official Site: http://www.stripe-intl.com/

Maison de FLEUR Announces Lady and the Tramp Collaboration

Japanese accessories brand Maison de FLEUR has opened orders for its new Lady and the Tramp collection! These adorable items are now available on the shop's e-commerce site STRIPE CLUB and ZOZOTOWN until July 18. 

Lady and the Tramp follows the spoiled cocker spaniel Lady who is raised in a mansion with loving owners. This girly character is perfect for a Maison de FLEUR collection, and fans can find four new items inspired by the dog and her joyful personality.

Lineup

Two variations of the brand's popular bags are available, with the side pocket inspired by the character's fluffy fur. The elegant camel-colored raised satin fabric is both playful and sophisticated.

The tote bag features classy leather accents, and the diamond-shaped imprints where the handles meet the bag are similar to the shape of the charm on Lady's collar. 


Which of these two unique bags will you choose?

Other available items include a flower-patterned pouch and a pass case made of leather perfect for using with one of the bags. 

Maison de FLEUR Releases Colorful Disney Girls Collection

Japanese accessories brand Maison de FLEUR has opened orders for its new Disney Girls Character Collection! The adorable items are now available on the shop's e-commerce site STRIPE CLUB and ZOZOTOWN until May 8, 2022.

The new collection features four popular female Disney characters–Minnie Mouse, Daisy Duck, Clarice, and Marie. Fans can grab tote bags and card cases inspired by each of these famous characters, with delivery scheduled for late July.

Collection

Minnie Mouse 

Daisy Duck 

Clarice 

Marie 





The tote bags feature accents inspired by each character's prominent color. The combination of casual canvas and luxurious ruffles is very on-brand, and despite the smaller size, these bags can easily hold a folding umbrella, tumbler, and lots of other items.


The card cases are sure to complement any bag, and each one comes with a charm. Try carrying them together with a matching tote!


Maison de FLEUR to Release Cinnamoroll Collaboration Goods to Celebrate the Character's 20th Anniversary

To celebrate the 20th anniversary of the beloved Sanrio character Cinnamoroll, the accessories brand Maison de FLEUR is selling some dreamy collaboration items on their STRIPE CLUB website. 

The theme for the collection is 'Cinnamoroll Blue,' with these sky-blue items focusing on the character's adorable ears and fluffy appearance. A total of five items starring Cinnamoroll reimagined as a handsome prince are now on sale.


Collection

The bags and pouches are made of canvas fabric dyed in Cinnamoroll Blue and accented with Maison de FLEUR's iconic ribbon. Other items include a compact drawstring bag perfect for travel and a mini-pouch good for daily use.

Maison de FLEUR Announces Collaboration with Sanrio's My Melody and Nyaninyunyenyon

Japanese accessory brand Maison de FLEUR has opened orders for a new collaboration collection featuring the popular Sanrio characters My Melody and Nyaninyunyenyon! Fans can purchase the items on the STRIPE CLUB website for a limited time.

My Melody

Lace Tote Bag

Lace Ribbon Pouch

Lace Tissue Case

Shoulder Bag

Round Pouch

Nyaninyunyenyon

Square Tote Bag

Mini Pouch

Drawstring Bag

Ribbon Pouch

This project celebrates two characters who celebrated their birthdays in January. My Melody, born January 18, has been a hit in previous collaborations. The five naughty Nyaninyunyenyon kittens were born on January 17, and this is the first time they are being featured on Maison de FLEUR merchandise.

 

The My Melody collection features a number of elegant pink bags highlighted with lace. The Nyaninyunyenyon items show the energetic characters surrounded by baby bottles and ribbons, while Maison de FLEUR's iconic pearls accent each design. Which of these feminine items do you like the most?



ⓒ'22 SANRIO APPR.NO.L629830
ⓒ'22 SANRIO APPR.NO.L629825

Maison de FLEUR Launches Disney Collection to Celebrate 80 Years of Dumbo

Japanese accessories brand Maison de FLEUR is celebrating the 80th anniversary of Dumbo with some adorable new items! These will only be available on the shop's e-commerce website STRIPE CLUB until November 7, 2021. 

Item Lineup

Dumbo Double Ribbon Tote Bag: ¥5,819 (Tax Included)

Dumbo Drawstring Bag: ¥3,949 (Tax Included) 

Dumbo Side Pocket Tote Bag: ¥6,149  (Tax Included) 

Dumbo Pouch: ¥3,949 (Tax Included)

Dumbo Square Pouch: ¥3,949 (Tax Included)

Lining Print

The items are perfect to use for daily activities, with coloring inspired by the grayish-blue shade of the titular elephant character. Dumbo's pink ears are made of extra fluffy material to make the items even cuter. The Double Ribbon Tote Bag also features Timothy, Dumbo's mouse friend. 

Which item do you find the most adorable? 

Maison de FLEUR Brings Back Popular Teddy Bear Day Series

Japanese accessories brand Maison de FLEUR has just released the popular Teddy Bear series for another year, celebrating Teddy Bear Day! The new merchandise is available online and at Maison de FLEUR stores nationwide. 

Lineup

Teddy Bear Mirror (Out on the Town Version): ¥6,149 (Tax Included) 

Teddy Bear Mirror (Staying In Tonight Version): ¥6,589 (Tax Included) 

Teddy Bear Checkered Pouch: ¥5,049 (Tax Included) 

Teddy Bear Pouch: ¥6,149 (Tax Included) 

Bear Charm: ¥2,849 each (Tax Included) 

Frilly Bear Tote Bag: ¥5,489 (Tax Included) 

Frilly Bear Pouch: ¥3,949 (Tax Included) 

 

Frilly Bear Drawstring Bag: ¥3,949 (Tax Included) 

 

Bear Charm (28 varieties, In-store only): ¥2,849 each (Tax Included) 

October 27 marks Teddy Bear day across the world. The birthday of U.S. President Theodore Roosevelt, known to have saved a small bear during a hunt, is now a day to spend time with your favorite stuffed toy. This year's Maison de FLEUR Teddy Bear collection is filled with smart brown shades perfect for autumn. 

This year's lineup includes a collection of Bear Charms, with different designs for each of the 28 Maison de FLEUR shops nationwide. The staff at each store came up with a name and profile for the bears that incorporate the characteristics and individuality of each region. 

Information

Teddy Bear Series Collection

EC Sales Begin: October 21, 2021, at 20:00

In-Store Sales Begin: October 22, 2021

Where to Buy: Maison de FLEUR shops nationwide

EC Site (STRIPE CLUB): https://stcl.page.link/4QsM

Campaign: From October 21-31, follow the official Maison de FLEUR Twitter account and retweet the appropriate Tweet to win an exclusive bear charm (28 varieties). 

Official Twitter: https://twitter.com/MaisondeFLEUR1 (@MaisondeFLEUR1)

Official Site: http://www.stripe-intl.com/

Maison de Fleur Launches Eighth Anniversary Collaboration with Sanrio's Wish Me Mell

Japanese accessories brand Maison de FLEUR is celebrating eight years with another collaboration, this time with Sanrio's bunny character Mell. A number of special items are now available to preorder on the STRIPE CLUB e-commerce site until October 3, 2021. 

Double Ribbon Tote Bag: ¥5,819 (Tax Included) 

Side Pocket Tote Bag: ¥5,819 (Tax Included) 

Mini Pouch: ¥3,949 (Tax Included) 

Face Pouch: ¥3,949 (Tax Included)

Drawstring Pouch: ¥4,389 (Tax Included) 

Lining Design

The character Mell is also celebrating an anniversary, turning ten this year. Items went on presale on September 20, which also happens to be the little rabbit's birthday. The character was designed by Miyuki Okumura, more famously known as the designer of Cinnamoroll. 

These pink bags and pouches feature a classy salmon pink color, and the adorable inner lining is sure to make any Sanrio fan smile, showing Mell and her friends from Merci Hills surrounded by balloons. The canvas material makes these perfect for everyday use. 

Look closely at Mell's bunny ears to see the Maison de FLEUR logo! Will you be grabbing any of these items?


ⓒ'21 SANRIO APPR.NO.L629405

Maison de FLEUR to Release Second Rilakkuma Collection

Popular Japanese accessories brand Maison de FLEUR is releasing a new collection of grown-up Rilakkuma-inspired goods, the second such collaboration for the brand. All goods will go on sale September 10 at Maison de FLEUR shops online, and at the STRIPE CLUB Online Store.

Goods

Square Tote Bag: ¥4,389 (Tax Included)

Rilakkuma & Kiiroitori Frilly Tote Bag: ¥5,489 (Tax Included)

Korilakkuma & Chairoikoguma Frilly Tote Bag: ¥5,489 (Tax Included)

Rilakkuma & Kiiroitori Tissue Case: ¥3,949 (Tax Included)

Korilakkuma & Chairoikoguma Tissue Case: ¥3,949 (Tax Included)

Rilakkuma Card Case: ¥4,059 (Tax Included)

Korilakkuma Card Case: ¥4,059 (Tax Included)

Kiiroitori Card Case: ¥4,059 (Tax Included)

Chairoikoguma Card Case: ¥4,059 (Tax Included)

Rilakkuma Bag Charm: ¥2,750 (Tax Included)

Korilakkuma Bag Charm: ¥2,750 (Tax Included)

Kiiroitori Bag Charm: ¥2,750 (Tax Included)

Chairoikoguma Bag Charm: ¥2,750 (Tax Included)

Lining Design

Maison de FLEUR released their first collection of Rilakkuma-inspired goods last year, focusing on the character Korilakkuma. Many of the goods sold out instantly, and restocks were necessary to keep up with demand for these adorable items. This new collection focuses not only on the popular Korilakkuma, but on Rilakkuma, Kiiroitori, and the honey-loving Chairoikoguma.

This limited-time collaboration features tote bags, tissue cases, card cases, and bag charms, for a total 0f 15 different products to collect. Each features these popular San-X characters adorned with the quintessential Maison de FLEUR ribbon. The tote bags are large and spacious, while the tote bags bring a more adult flair to those wanting a touch of playfulness in their wardrobe.

Which of these fluffy goods is on your wishlist?

Information

Maison de FLEUR x Rilakkuma

Release Date: September 10, 2021

Where to Buy: Maison de FLEUR locations nationwide,

STIPE CLUB Online store: https://stcl.page.link/FyQy

*Also available at some Rilakkuma Store locations and the San-X Online Shop: https://shop.san-x.co.jp/

Maison de FLEUR Celebrates 8th Anniversary with New Collection and Campaign

Japanese accessories brand Maison de FLEUR is celebrating eight years with a new collection and campaign.

The special 8th anniversary logo features a honeybee, said to be a symbol of happiness throughout Europe. On September 17, the first items in the anniversary collection will go on sale, including a new rose-colored Kumausa plushie, one of the brand's most popular items. Maison de FLEUR is aimed towards women, with embroidered bears, rabbits, bees, and roses giving off a girly feel any lady would love to receive as a gift.

A Retweet campaign is also starting on September 17, and the winner will receive the massive Big Bear!

The Rose Kumausa Series

Bear Rabbit Ribbon Pouch / Kumausa Embroidered Ribbon Tote Bag / Rose Rabbit Coin Case / Rose Bear Pouch / Bear Rabbit Frilly Handle Tote Bag / Kumausa Embroidered Tote Bag / Rose Bear Charm / Kumausa Embroidered Pouch / Rose Bear Coin Case / Bear Rabbit Tissue Case / Bear Rabbit Large Square Pouch

STRIPE CLUB Limited Edition Bee Fleur Charm

Fleur Bear Charm

Fleur Rabbit Charm

Fleur Panda Charm

Retweet Campaign Giveaway Lottery: Rose Colored BIG Bear (Not for Sale)

8th Anniversary Series

 

Double Ribbon Tote

Side Pocket M Tote

Side Pocket S Tote

Tissue Case

Pouch

 

Key Series

 

Key Ribbon Backpack

Key Ribbon Tote Bag

Key Ribbon Long Wallet / Key Ribbon Mini Wallet / Key Ribbon Key Case

 

 

8-color Tote Series

 

Key Charm Logo Embroidered Tote Bag

Limited-order 8th Anniversary Double Ribbon Tote: ¥6,149 each (Tax Included)

8th Anniversary Book, 'Maison de FLEUR MY ECOBAG BOOK' 

The Bee Fleur Charm, available only on the STRIPE CLUB online shop, is available as a rose-colored bear or rabbit charm. The bee embroidery on the character's feet are also done in a beautiful pink shade.

The material, color, lining, and logo font of the Double Ribbon Tote Bag was decided by popular vote. Also, the special 8th Anniversary Book features Ayaka Sasaki of popular idol group Momoiro Clover Z, and includes a mini ribbon tote and eco-bag.

Which one of these cute pink pieces is your favorite?

Sanrio's My Sweet Piano Celebrates Birthday With Merch Line-Up by Maison de FLEUR

Maison de FLEUR is celebrating the birthday of Sanrio's popular character My Sweet Piano with a special merch collection that's now available to order until July 18, 2021.

My Sweet Piano Tote Bag | ¥5,049 (Tax Included)

My Sweet Piano Flat Pouch | ¥3,949 (Tax Included)

My Sweet Piano Pouch | ¥3,949 (Tax Included)

My Sweet Piano Plushie | ¥6,589 (Tax Included)

Inside print

My Sweet Piano is a soft, pink fluffy sheep and My Melody's best friend. Her birthday falls on July 6, and Maison de FLEUR is commemorating the occasion with a collection of four items coloured the same pink as the character including a bag, pouch, and more.

The girly line-up is fitted with pretty pink lace and branded with an illustration of both her and My Melody. There's also a fluffy plush toy which can sit cutely on a shelf, bed, desk, and anywhere else you want to add a bit of kawaii to your room.


ⓒ'21 SANRIO APPR.NO.L629257