Pokemon Shirts Offering New Embroidery Options Featuring Popular Silhouettes
Starting September 2, customers will be able to snag some new customizable shirts from Original Stitch featuring embroidered silhouettes of popular Pokemon!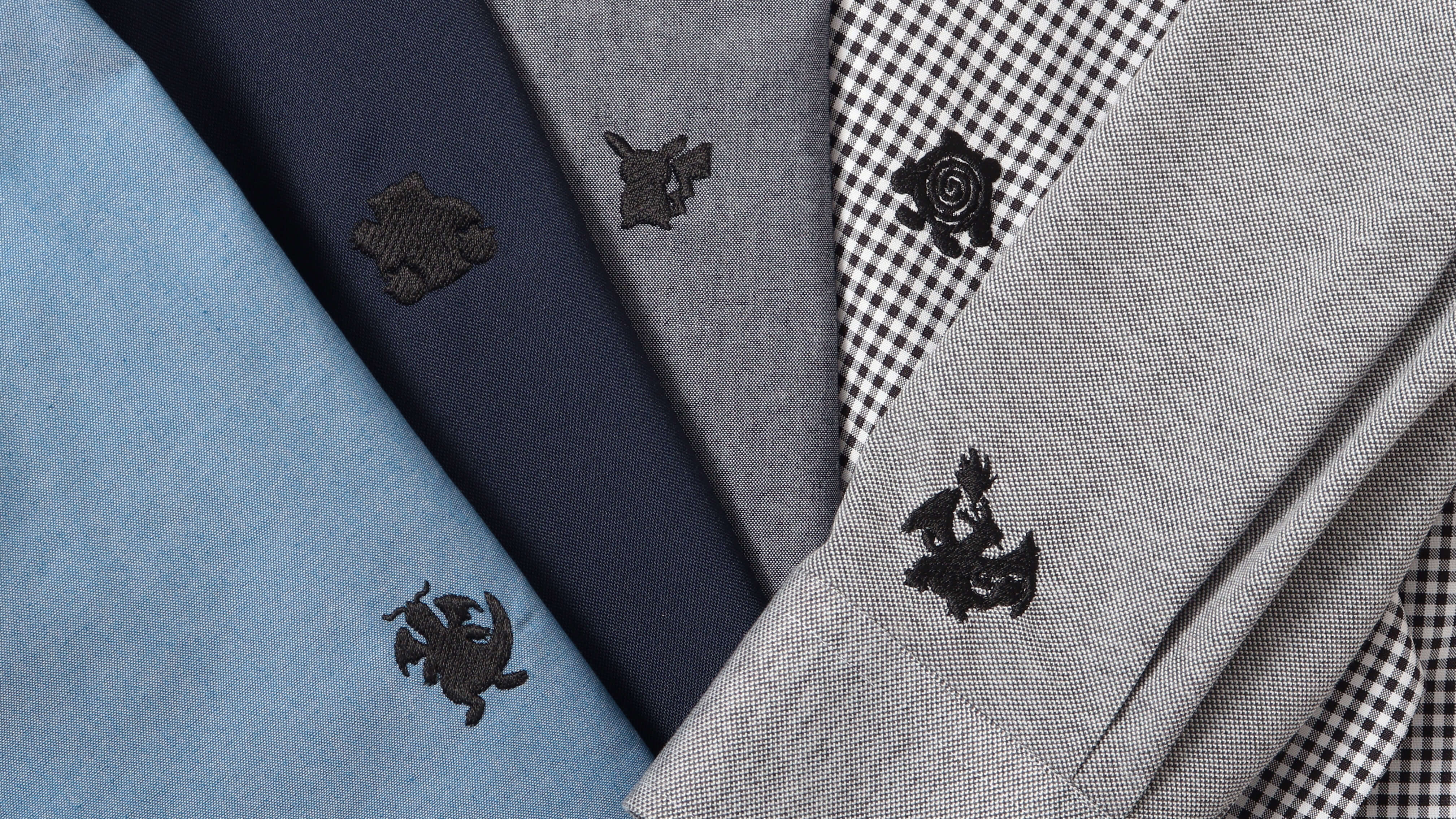 Fans will be able to add these silhouettes to the left chest, right hem, or left cuff of their shirt. 25 different Pokemon are available to choose from, all from the original game titles, Red and Green. 
Light Blue Dungaree / Navy Oxford / Gray Navy Dungaree / Black Checkered Gingham / Gray Kanoko
Poke Ball / Great Ball / Ultra Ball / Premier Ball / Dive Ball / Moon Ball
Customers can choose from six fabrics, including dungaree in light blue and gray-navy, black checkered gingham, white herringbone, and more.
For shirt buttons, customers can also choose from a collection of Poke Balls from the series. These customizable shirts are available to order globally. 
RELATED ENTRIES
Official Pokemon Baby Brand Monpoke Reveals Autumn/Winter Collection

Monpoke, the official Pokemon baby brand, has released the lookbook for its 2022 Autumn/Winter collection! New items include pajamas, jackets, and other apparel and sundries for infants and toddlers. Monpoke, which launched in 2019, has added two new familiar Pokemon to the lineup this time around–Gengar and Mimikyu. 

Nighttime-only Diapers featuring Sleepymon Design

Pikachu and the Nighttime Adventure, the Second Book in Rikako Matsuo's Monpoke Picture Book Series

The adorable diapers will help keep babies dry all night, and these helpful products will be released nationwide in early November 2022. The new picture book will be released on September 21, so be ready to add it to your nighttime reading routine.

©Pokémon. ©Nintendo/Creatures Inc./GAME FREAK inc.

Pokemon GO Holds Special Drone Show in Akagawa, Yamagata Prefecture

To celebrate six years of Pokemon Go, an incredible drone show was held during the Akagawa Fireworks 2022 presentation in Yamagata Prefecture on August 20, 2022. 

The presentation sought to get audiences excited for summer fun, with the phrase "let's go on an adventure this summer" appearing in the air above the huge audience of 40,000. The Pokemon GO logo and popular Pokemon were recreated by around 700 drones.

Music from the mobile game played during the impressive show, as Pikachu and a 100-meter-tall Charizard moved across the sky. Alolan Exeggutor, Gengar, Wailord, and Rayquaza also appeared, creating a night to remember for Pokemon fans in the town of Tsuruoka. 

Pokemon GO Special Drone Show at Otaru Ushio Matsuri

The show itself was a surprise for the audience, with applause and excitement instantly palpable as it began. After the drone presentation concluded, the Akagawa Fireworks display began.

The Pokemon GO Special Drone Show was first held at the 56th Otaru Ushio Matsuri in Otaru, Hokkaido on July 24. Watch it in full above!

©2022 Niantic, Inc.
©2022 Pokémon. ©1995-2022 Nintendo/Creatures Inc. /GAME FREAK inc. ポケモン・Pokémon は任天堂・クリーチャーズ・ゲームフリークの登録商標です。 

Information

Pokemon GO Special Summer Drone Show at Akagawa Fireworks 2022  

Date: August 20, 2022 / 19:05-19:15

Venue: Akagawa Fireworks Presents 2022 / Fireworks Launching Area

Official Site: https://www.pokemongo.jp/

Pokemon Baby Brand Monpoke Releases First Baby Rings

U-Treasure, known for its gorgeous jewelry for adults inspired by pop culture icons, has released something for babies as well! Under the official Pokemon baby brand Monpoke, the company has unveiled some adorable baby rings to commemorate your child's birthday. The pieces are on sale now.

Customers can design their own special piece of jewelry for their child by selecting a Pokemon and a birthstone. The back of each ring can be engraved with up to six characters, where you could include a child's name, birthday, weight, or height. They are made in sizes to fit children's tiny fingers, and parents can also wear them as necklaces until the children grow up. Many people give them as gifts to commemorate their child's first steps into adulthood. Monpoke is the first official Pokemon brand to appear at U-Treasure Concept Store Ikebukuro and the online shop.

Which of these beautiful designs would you choose? 

Available Pokemon: Pikachu, Gengar, Eevee, Smeargle, Ludicolo, Piplup, Mime Jr., Dedenne, Mimikyu

 

Available Stones: Garnet, Amethyst, Aquamarine, Diamond, Emerald, Moonstone, Ruby, Peridot, Sapphire, Pink Tourmaline, Blue Topaz, Tanzanite

Information

Monpoke Baby Ring

Release Date: August 18, 2022

Where to Buy: U-Treasure Concept Store Ikebukuro, U-Treasure Online Shop

Online Shop/Details: https://u-treasure.jp/special/86

Pokemon Shirts Releases Second Round of Designs Inspired by Diamond and Pearl

Pokemon and Original Inc. are back with some new Pokemon Shirts. The second round of patterns inspired by Diamond and Pearl were released on July 22, 2022!

Dialga Pattern

Lucario Pattern

 

25 new designs have been added, bringing the total to 429 patterns. Fans can customize a number of products with the design of their choice, from T-shirts to masks and bandanas. 

Honchkrow Pattern

The new patterns feature Pokemon like Dialga, Lucario, and Honchcrow, among many others. For more information, check out the Pokemon Shirts official site!

*Customers can combine patterns when customizing a shirt. 

A third round of designs will be announced in the future, so keep an eye on the official website and Twitter page for more details.

Information

Pokemon Shirts

Available Countries: Japan, America, Taiwan, Hong Kong, Singapore, Malaysia, Philippines, India, Indonesia, England, Spain, Germany, Italy, France, Canada, Australia, New Zealand

Official Site: https://originalstitch.com/jp/pokemon

FamilyMart Starts Pokemon Campaign, Pikachu Pineapple Frappe Now Available

FamilyMart stores nationwide have started a campaign in collaboration with the free-to-play mobile game Pokemon Cafe ReMix! From June 21 until July 18, visitors will be able to pick up some special treats and exclusive merchandise.

Pikachu Frappes

A new addition to the Frappe series, customers will be able to enjoy Pikachu's Pineapple Frappe starting June 21, featuring Pikachu in a cute cafe uniform. Made with golden pineapple pulp, the drink is perfect for summer, offering a refreshing sweet and sour taste. There are three cup designs available–one with Pikachu in red, one in blue, and another in green.

Original Merchandise Campaign

Part I: June 21, 10:00~ / Original PP Coaster (4 varieties)

Part 2: July 5, 10:00~ / Cafe Menu Design Original Memo Pad (4 varieties)

*Sample Images

A goods campaign is also underway. Customers purchasing three qualifying products will receive exclusive merchandise–while supplies last, of course! The event will run from June 21 at 10:00 through July 18.

Stamp Campaign

Left: 5 stamps, Original Lunch Bag / Right: 10 stamps, Original Plates (Set of 3)

Collecting stamps on the FamilyMart app can also net fans some special prizes! At the same time, Pokemon fans can use the app to win tickets to Pokemon GO Fest 2022 Sapporo.

© 2022 Pokémon. © 1995-2022 Nintendo/Creatures Inc./GAME FREAK inc.
Developed by Genius Sonority Inc.
ポケットモンスター・ポケモン・Pokémonは任天堂・クリーチャーズ・ゲームフリークの
登録商標です。Nintendo Switchのロゴ・Nintendo Switchは任天堂の商標です。

©2022 Niantic, Inc. ©2022 Pokémon. 
©1995-2022 Nintendo/Creatures Inc. /GAME FREAK inc. 
ポケモン・Pokémonは任天堂・クリーチャーズ・ゲームフリークの登録商標です。

Diglett's Mysterious Forest Website Opens to Commemorate T-Shirt Launch

Original Inc. teamed up with the Pokemon Company in February 2019 to create Pokemon Shirts, an online store where fans from around the world can customize and purchase a selection of shirts featuring their favorite Pokemon characters. On June 10, 2022, a new Diglett T-Shirt collection was released, and to commemorate the release, a unique new website has opened to show off a collection of Diglett in their natural habitat.

Pokemon T-shirts allow customers to create their own shirts by selecting the fabric, patches, and size. In this new collection, customers can choose between two fabrics: Washi or recycled suvin cotton.

On the special website, guests can input their name and plant a virtual seed using a serial number included with each shirt. As the days pass by, each plant will grow, and the forest will become more dense and diverse!

Come hang out with Diglett while designing your very own sustainable T-shirt!


Pokeball Transformed into Engagement Ring with Stunning 143 Facets

U-Treasure, a company offering proper jewelry inspired by pop culture, has announced a Pokemon diamond in the shape of a Pokeball! The gorgeous item will be released on June 9 and will be eligible for international shipping at the U-Treasure online store. The product itself will be on display at the U-Treasure Concept Store in Ikebukuro.

Pokeball Diamond

The Pokeball-inspired diamond has a staggering 143 facets, more than double the 58 found in a standard round brilliant cut. The more facets a diamond has, the more light it reflects.

Those wanting to set this diamond in an engagement ring will need to purchase the ring separately. The Pokeball Diamond is compatible with any rings found in the U-Treasure collection.

Golden Pineapple Garigari-kun with Pokemon Packaging Now Available

Have you heard of Garigari-kun? Japan's most popular popsicle, this treat is perfect for the hot summer months. A Golden Pineapple version is now available!

With a flavor targeted at adults, the Golden Pineapple Garigari-kun includes crunchy pineapple shaved ice with a crunchy texture inside juicy pineapple ice cream. Made with 33% pineapple juice, the flavor is authentic, and the ice granules used are finer than the standard Garigari-kun ice. 




The packaging for each set of six popsicles will feature Satoshi, Pikachu, Leon, and Charizard as a tie-in project with the ongoing Pokemon anime series. A campaign is currently underway with 1,000 possible winners snagging a special acrylic stand (8 varieties). These goods will feature the trainers participating in the Pokemon World Championships.

Choose your favorite trainer and enter to win a magnificent prize!


©Nintendo・Creatures・GAME FREAK・TV Tokyo・ShoPro・JR Kikaku ©Pokémon

Information

Golden Pineapple Garigari-kun (Box of 6)

Release Date: May 30, 2022

Customizable Pokemon T-Shirts Now Available, Concept Video Starring Diglett Released

Original Inc. teamed up with the Pokemon Company in February 2019 to create Pokemon Shirts, an online store where fans from around the world can customize and purchase a selection of shirts featuring their favorite Pokemon characters. On June 10, 2022, a new Diglett T-Shirt will be released! What's so special about these shirts? They're made from Earth-friendly materials!

Pokemon T-shirts allow customers to create their own shirts by selecting the fabric, patches, and size. In this collection, fans can select 15 different embroidered Pokemon badges from Pokemon Red and Green, including Pikachu, Gengar, and Snorlax. These patches can be placed on the left side of the chest, right sleeve, right front hem, or the left back hem. The patches are small and easy to pair with any type of daily activity. Each shirt is available in five sizes (XS, S, M, L, or XL). 

Customers can choose from two fabrics: Washi or recycled suvin cotton. The Washi is a knitted fabric made of Japanese paper fiber, with natural fibers used for the name, sewing thread, and washing instructions label, making it completely environmentally friendly. It also has antibacterial, deodorizing, and UV-blocking properties, and is recommended for wearing in hot and humid weather. The recycled suvin cotton is made from recycled cotton that was originally discarded during the spinning process. Blended with organic cotton, it has a silky sheen and feel and is extremely comfortable.

Prior to the release of the new shirts, 'Diglett's Simple T-shirt, a concept movie set in a mysterious forest, was posted to YouTube. As stated in the Pokedex, "If a Diglett digs through a field, it leaves the soil perfectly tilled and ideal for planting crops. These T-shirts made of Japanese paper or recycled cotton will be returned to the soil before long, making it even more rich and fertile.

'Diglett's Simple T-shirt' Concept Movie


In addition, a YouTube Live premiered on May 27 at 7:00 PM highlighting the life of a Diglett. During the stream, the Diglett responded to user comments, so be sure to go take a peek and drop a line!

YouTube Live – 'Do Your Best, Diglett!'


How would you like one of these environmentally friendly shirts?

U-Treasure Announces Pokemon Ring and Necklace Inspired by Snorlax

The U-Treasure brand is known for releasing incredible jewelry for adults based on beloved brands and characters. The company is now taking orders for two pieces of Pokemon jewelry inspired by everyone's favorite chunky roadblock, Snorlax! Orders are open until June 21, 2022. Snorlax appears in all his glory and is covered with a glossy black finish. 

Snorlax Silver Ring / Snorlax Silver Necklace

How about grabbing some Snorlax jewelry for yourself or a loved one? (Maybe it's not the best ring to propose with, though.) 

New Pokemon Anime Visual Released to Tease Show's World Championships

TV Tokyo has revealed a flashy new visual for the Pokemon anime series! The visual features the eight trainers and their Pokemon who will be participating in the show's Pokemon World Championships tournament, and notes that the "climax" of the show is about to begin. Pokemon airs every Friday at 6:55 PM on TV Tokyo.

Satoshi (or Ash, in the English dub) has been taking on plenty of tough trainers in Pokemon Journeys including Kibana from the Galar region. This means that he has earned his spot in the Masters Eight!

The new key visual features all eight trainers who will be participating in the upcoming tournament: Leon, the Champion of the Galar region; Cynthia, the Champion of the Sinnoh region; Steven, the Champion of the Hoenn region; Lance, the Champion of the Indigo Plateau; Diantha, the Champion of the Kalos region; Alain, another Champion of the Kalos region; and Iris, the Champion of the Unova region. Ash is currently the Champion of the Alola region.


The first 12 episodes of Pokemon Journeys premiered in the United States on Netflix in June 2020.

© Nintendo・Creatures・GAME FREAK・TV Tokyo・ShoPro・JR Kikaku © Pokémon

The North Face Collaborates with Pokemon at GOLDWIN PLAY EARTH PARK in Tokyo Midtown

Goldwin Inc. has announced a special event for both children and families to enjoy! The GOLDWIN PLAY EARTH PARK event, running until May 29, has taken over the lawn at Tokyo Midtown. Five architects have created playground equipment inspired by five elements: fire, earth, water, wind, and sky. The event wants to inspire children to be more curious about the world around them. What better way than to get Pokemon involved?

For the event, Goldwin, The North Face, Helly Hansen, Speedo, and Canterbury all collaborated with artists, designers, and of course, the Pokemon series.

Goldwin is known for providing incredible sports and outdoor apparel, and behind its sturdy technology lies a deep curiosity regarding nature. This new collaboration has brought new perspectives and ideas to the collection, and those visiting the venue won't want to miss out.

Collaboration Items at a Glance

THE NORTH FACE ✕ Pokemon


YOUNG EXPLORERS Jacket: ¥10,890 (Tax Included)

YOUNG EXPLORERS Hat: ¥6,380 (Tax Included)

Just like everyone's favorite Pokemon Pikachu, the event wants to inspire children to be filled with energy as they explore the world around them and take on new adventures. These new jackets come inside a pouch inspired by a Pokeball and are mde of environmentally friendly recycled nylon material.

*Products in The North Face x Pokemon collection will be sold by lottery starting April 22. Check the official website for details on how to enter.

©Pokémon.
©Nintendo/Creatures Inc./GAME FREAK inc.
TM, ®, and character names are trademarks of Nintendo.

HELLY HANSEN ✕ minä perhonen


Left: VINDKRAFT PEP Tote: ¥9,900 (Tax Included) / Middle: VINDKRAFT PEP Patch Tote: ¥19,800 (Tax Included) / Right: VINDKRAFT PEP Pochette: ¥3,300 (Tax Included)

Based on Helly Hansen's 'VINDKRAFT' project to recover and upcycle sailboats' sails, minä perhonen has designed a bag by combining scraps from its own production process. Nothing goes to waste, making this perfect for those aware of the current problems facing our environment.

*As this is an upcycled product, the number of pieces is limited and each piece is unique.

Collaboration items are available at a pop-up shop at the GOLDWIN PLAY EARTH PARK event. A number of workshops are also open for children to enjoy, with a focus on their relationship with nature while living in the city. Check out the special site for more information!

Information

GOLDWIN PLAY EARTH PARK
Address: Tokyo Midtown Lawn (9-7-1 Akasaka, Minato-ku, Tokyo) 
Running: April 23 – May 29, 2022
Hours: 11:00-18:00
Special Site: https://playearthpark.goldwin.co.jp/