FRUITS ZIPPER Live Report: New Opportunities and the Group's First Step Towards Global Expansion
16.September.2022 | MUSIC
FRUITS ZIPPER, a seven-member idol group whose song Watashino Ichiban Kawaiitokoro skyrocketed in popularity on TikTok this summer with over 500 million plays, held their first solo concert ~KIKKAKE~ on September 12, 2022. 
Debuting from ASOBISYSTEM's idol project KAWAII LAB in April, tickets for FRUITS ZIPPER's first solo concert sold out. Although the group's name may seem strange, it has a meaning–FRUITS, 'to bear fruit,' and ZIP, meaning 'to give energy,' is the perfect title for such a young and exciting group. In a short time, the seven members have managed to take on a number of live performances and bring smiles to audiences around Japan. The girls' efforts over the hot summer months paid off in the form of a totally packed house.
When the lights in the venue dimmed, the audience shined with the seven member's colors coming from fans' penlights. A video began playing, and one by one, the members gave their thoughts about what it means to take the stage.
"The existence of idols saved me. I hope that I can be that kind of presence for someone else."(Amane Tsukiashi)
"I wanted to sparkle. I want to work my hardest." (Karen Matsumoto)
"Harajuku is a town filled with many different cultures, and that has always given me strength. I want to become someone's power spot!" (Mana Manaka)
"This was a dream I gave up on time and time again, but I thought it could come true here. I want to spread my wings and become an idol everyone loves!" (Yui Sakurai)
"Music has always been close to me, ever since I was a child. When I was looking for a place I could stay involved with it, I found FRUITS ZIPPER!" (Noel Hayase)
"I stand on the stage to thank the fans who have always supported my becoming an idol!" (Luna Nakagawa)
"I can't let myself die until I become an idol. That's what I've always thought." (Suzuka Chinzei)
Sakurai and Nakagawa showed fierce determination to overcome their past setbacks and stand on stage as idols. Chinzei's earnest feelings also came through, and each girl's emotion swept the audience. 
As the audience began clapping in rhythm, the seven members took the stage, forming a circle and dancing to the sound of electronica. When the opener came to a close, they released their joined hands, scattering like flower petals with smiles on their faces. 
The group opened the show with the classic-sounding idol track skyfeelan. The lyrics of this song were written based on tweets from the members, and each girl sang with feeling and passion. Despite this being their first solo show, the members weren't at all stiff, instead seeming to relax and totally enjoy themselves. 
The girls then continued with their debut song Kimi no Akarui Mirai wo Oikakete. Fans danced along with the chorus, and colorful penlights twinkled everywhere the eye could see.
"It's been four and a half months since our debut in April, and we've been working so hard to make it to this day," Sakurai said during the MC portion. "Here at LIQUIDROOM, we want all of you to see what we've accomplished!" The multilingual Hayase translated the message of NEW KAWAII into English for overseas fans tuning in to the show.
Following the MC, the group took a break from idol-like tracks, performing two of their more cool songs–Re→TRY & FLY and We are Frontier. Even with the overwhelming sound of bass rocking the venue, the girls' voices were powerful enough to compete. FRUITS ZIPPER only became more expressive with the help of lighting and video, embodying the theme of NEW KAWAII. 
Once the members left the stage, the radio program Furuppa Now began playing on screen. The KIKKAKE Reminicense Corner was held to honor the day's live performance. Each member commented on FRUITS ZIPPER's activities and what they have led to. The title of the live show, kikkake, means chance, and many doors have opened for the members over the past four months.
Hayase, the youngest member at only 17, put her cuteness on display, chatting about how she had started carrying parasols, wearing sunscreen, and learning how to wear makeup. Meanwhile, Manaka, the oldest of the group, revealed her belief that "trusting others is a key to self-growth," going on to state that "doing something alone isn't worth it. It's more meaningful when someone hears you or watches you." 
The other members gave their thoughts on what's changed. "I've become more sociable," Sakurai said. "I can get out of bed earlier," Matsumoto bragged, while Tsukiashi claimed that it had become easier to hold the microphone steady. Nakagawa was honest, mentioning that she had begun Googling herself. Each member showed their individuality, one of the biggest charms of FRUITS ZIPPER.
Once the radio show wrapped, the members appeared in their new costumes to perform their new song Sekai wa Kimi kara Hajimaru for the first time. The song's impressive melody combines a glittering idol sound with just a hint of sadness.
The lyrics seem to depict the many memories that FRUITS ZIPPER and fans will make together in the future. "From now on, we'll always be together/I'll engrave that promise on you so you don't forget/I'll tell you over and over/I'll tell you over and over," the girls sang.
During the chat after the performance, Chinzei announced the new song, with her voice beginning to warp and repeat. She laughed it off, wondering if she was beginning to shift beyond directions. 
The second half of the show began with the members dancing to the samba rhythm of their song Furefure Summer! during the interlude. 
Matsumoto then announced Watashino Ichiban Kawaiitokoro, the audience exploded with excitement, pumped to hear the song that put FRUITS ZIPPER on the map. This song brought people's cuteness this summer, but the cuteness of the original was too powerful, with the fans almost too happy to function.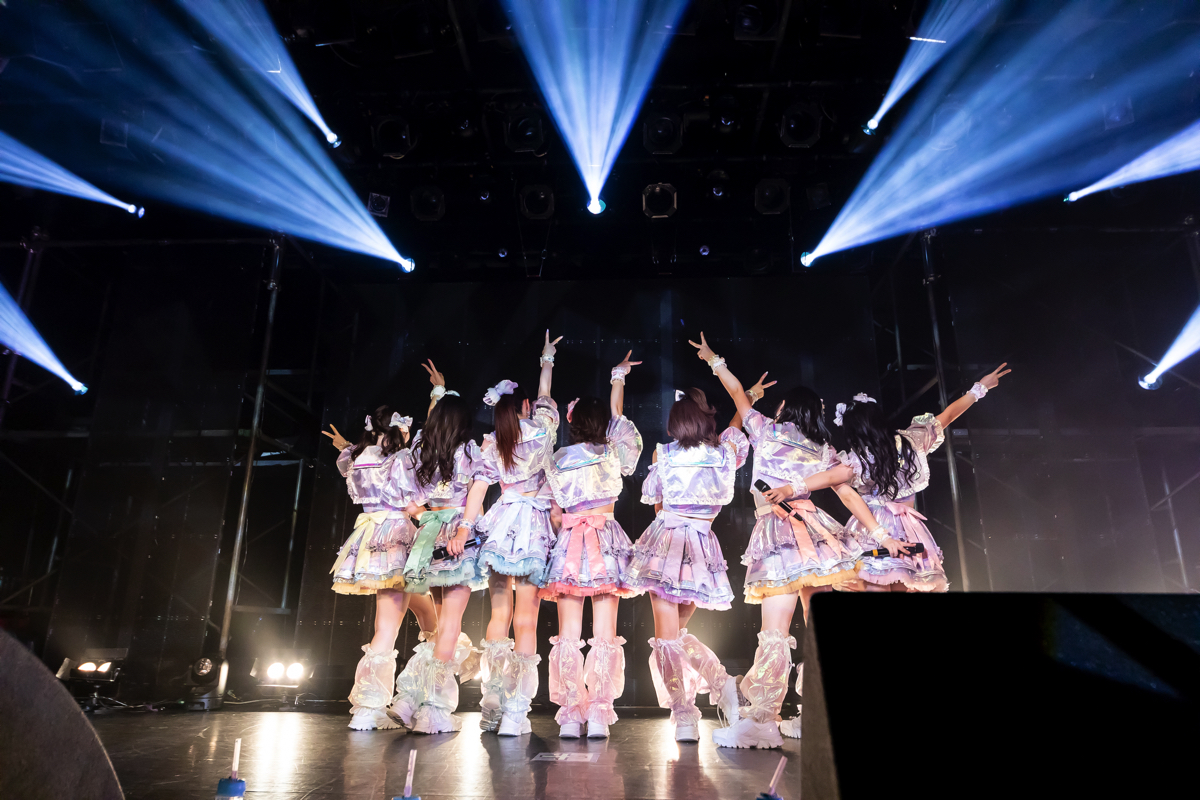 The song Kanpeki Shugide☆ is filled with FRUITS ZIPPER's determination to fly around the world with no time to rest. The last song of the main setlist was RADIO GALAXY,  and the members danced expertly to the challenging song, with the arrangement, tempo, and melody constantly changing. 
After the audience began clapping incessantly, the members once again appeared on stage to perform their new song Sekai wa Kimi kara Hajimaru once again. Once the song ended, FRUITS ZIPPER had some exciting news to share–the girls will be collaborating with the magazine B.L.T. on a new series of articles! They also announced that their second solo concert will be held at Shibuya WWW X on November 11, 2022. 
During the final MC, each member gave their thoughts on the day's performance. 
Manaka: "Feeling everyone in the audience watching me just makes me feel stronger and more united with the other members of FRUITS ZIPPER. I want to continue our work as one and continue performing in the future!"
Sakurai: "Since joining FRUITS ZIPPER, I've become so aware of how many people support me. Someday, I want to become an inspiration and support to someone else. I want to make someone else out there want to be an idol too."
Nakagawa: "My dream is to sign my autograph on the backstage walls of live music clubs around the world, so I'll do my best to make that come true!" 
Tsukiashi: I've been so happy this summer. I'm so fulfilled and I have this amazing sense of satisfaction. I hope that FRUITS ZIPPER will be able to spend many more happy seasons together." 
Hayase: "When I joined FRUITS ZIPPER, I realized that chances are something everyone finds on their own. I hope that I can keep taking advantage of the opportunities I find to become a better person."
Matsumoto: "From now on, I want to be an idol who not only makes me feel happy but also makes everyone else feel happy and entertained. Please keep supporting me as I work my hardest!" 
Chinzei: "Thanks to you all, I'm able to look forward to my future with so much support. I want to be that support for everyone too. I sincerely hope that we can keep supporting each other in the future!"
Manaka, Matsumoto, and Chinzei were so moved that they nearly began to cry. Until the very end, however, the seven members were strong, determined to communicate with their fans in their own words.
The group's last song was Watashino Ichiban Kawaiitokoro. A cannon sent multicolored paper blasting across the crowd, making the atmosphere even more bright and fun. 
To close the show, Chinzai gave a statement. "FRUITS ZIPPER will continue to move forward along with our motto 'From Harajuku to the world,' so please support us!"
With this incredible momentum, FRUITS ZIPPER will continue to soar to new heights. Don't miss your chance to see the upwards trajectory of this incredible idol group!
The live performance is currently archived on ZAIKO.
Text: Kazuaki Asato
Photos: Masayo
Information
FRUITS ZIPPER 1st Solo Live Show 〜KIKKAKE〜
Date: September 12, 2022
Venue: Ebisu LIQUIDROOM
Archived Stream Tickets: VIP (with T-Shirt) ¥4,000 / General ¥1,500
Buy (ZAIKO): https://asobisystem.zaiko.io/item/350560
FRUITS ZIPPER 2nd Solo Live Show – The World Starts with You
Date: November 11, 2022
Venue: Shibuya WWW X
Time: Doors Open 18:00 / Show Starts 19:00
Tickets: 
VIP Standing: ¥15,000 (Tax included, drinks not included)
General Standing: ¥5,000 (Tax included, drinks not included)
VIP Benefits
・Access to the front area of the venue
・Exclusive VIP T-Shirt
・Photo & autographed message card
・Electronic ticketing with originally designed tickets
Lawson Tickets: https://l-tike.com/fruitszipper
Pre-Request Payment
Acceptance Period: September 12, 21:00 – September 19, 23:59
*Notes*
・Up to 2 tickets per person per application (no admission for preschool-age children.)
・Tickets will be electronic.
・Transfering or reselling tickets for a fee without the consent of the organizer is prohibited.
Contact: 
HOTSTUFF PROMOTION
https://www.red-hot.ne.jp/
RELATED ENTRIES
Idol Group CANDY TUNE Releases Fast-Paced Coming-of-Age Song 'WAO! Aoharu!' on Streaming Platforms

27.September.2023 | MUSIC

CANDY TUNE, an idol group from ASOBISYSTEM's KAWAII LAB. project, released the new song WAO! Aoharu on all major streaming platforms today, September 27. The group debuted in March of this year.

Like the group's popular song Kiss Me Patissier, which has created plenty of buzz on TikTok and inspired a recent music video, WAO! Aoharu also features sound production by Naoki Kubo and lyrics by Suu, both from SILENT SIREN. This catchy and fast-paced coming-of-age track expresses the wide range of emotions felt so deeply at a young age, from love and friendship to depression and melancholy. CANDY TUNE expresses their earnest feelings as girls living through the peak of their youth as idols. WAO! Aoharu will be performed live for the first time at Nanako Ogawa's Birthday Event at Spotify O-WEST on September 28.

On October 18, CANDY TUNE will hold its long-awaited first solo concert at Zepp Shinjuku in Tokyo. Tickets are available now from a variety of retailers.

CANDY TUNE 1st Solo Concert -NEW WAY-

小川奈々子生誕祭

Information

<Song Information>

WAO! Aoharu! – CANDY TUNE (4th Digital Single)

Streaming URL: https://KAWAIILAB.lnk.to/WAOAOHARU

Available on all major music download and streaming platforms

<Concert Information>

CANDY TUNE 1st Solo Concert -NEW WAY-

Date: October 18, 2023

Venue: Zepp Shinjuku (Tokyo)

Time: Doors open 17:30 / Show starts 18:30

Ticket Sales

[Fee]

VIP: ¥15,000 (Tax Included/Drinks separate) *Exclusively available for members of the KAWAII LAB. Official Fanclub (While supplies last)

General Standing: ¥4,000 (Tax Included/Drinks separate)

Where to Buy Tickets:

Lawson Tickets: https://l-tike.com/candytune/

e+: https://eplus.jp/candytune/

Ticket Pia: https://w.pia.jp/t/candytune-t/

Nanako Ogawa Birthday Event

Date: September 28, 2023

Venue: Spotify O-WEST

Time: Doors open 17:30 / Show starts 18:30

Buy Tickets: https://t.pia.jp/pia/event/event.do?eventCd=2332236

[Contact]

HOT STUFF PROMOTION

050-5211-6077

<Profile>

CANDY TUNE

This seven-member idol group was formed by ASOBISYSTEM's KAWAII LAB.

project. The members include Rino Fukuyama, Mizuki Kirihara, Natsu Minami,

Nanako Ogawa, Bibian Murakawa, Shizuka Miyano, and Kotomi Tachibana.

The group's producer is model and TV personality Misa Kimura, the former leader

of Musubizm and the general producer of KAWAII LAB. With the project's motto

'From Harajuku to the world' in mind, the group is aiming to share their "NEW

WAY" from Harajuku, a fashion town where diverse cultures gather and

individuality reigns supreme.

Just like candy, which comes in tons of different flavors and shapes, the members will bring their own unique personalities and quirks to their pop tunes as they carry on KAWAII LAB's mission of sharing Harajuku style with the world.

Fanclub: https://kawaiilab.asobisystem.com/

X (Twitter):https://twitter.com/candy_tune_

Instagram: https://instagram.com/candy__tune

TikTok: https://www.tiktok.com/@CANDY_TUNE

YouTube: https://www.youtube.com/channel/UCU0PgOXf0lxzVxN2TLzMJkw

note (Live Schedule): https://note.com/candy_tune

FRUITS ZIPPER's 1st Single CD 'Watashino Ichiban Kawaiitokoro' Ranks #3 on Billboard JAPAN Top Single Sales Chart!

20.September.2023 | MUSIC

On September 13, 2023, popular idol group FRUITS ZIPPER released its first single CD Watashino Ichiban Kawaiitokoro. Immediately upon release, the album reached the #3 spot on the Billboard JAPAN Top Singles Sales chart and #4 on the Oricon Weekly Single Ranking chart. The titular track was released digitally in April 2022 and has received over 900 million views on TikTok and 13 million music video views on YouTube.

FRUITS ZIPPER is currently holding its first nationwide tour, FRUITS ZIPPER 1st JAPAN TOUR 2023 -AUTUMN- The parlor of FRUITS ZIPPER. The long-awaited tour began on September 3, and on September 16, the group held a semi-final show at KT Zepp Yokohama in Kanagawa.

The title of the tour, 'The Parlor of FRUITS ZIPPER,' hopes to inspire the audience to discover the individuality of each member, akin to a parfait with different layers. Tickets for the Osaka, Aichi, Fukuoka, Hiroshima, and Hokkaido shows have completely sold out. Tickets for the Kanagawa performance were also sold out, and the show was held in front of a completely packed house, even when accounting for the second-floor seats.

Multicolored lasers inspired by the member's colors swept across the venue, cueing the group to start the show with the hit song Pure in the World, which was released digitally in August. The peppy track instantly captured the hearts of fans in the audience, and that excitement carried into the following songs: Kanpeki Shugide☆ and Fre-Fru Summer!

During the MC, the members took the time to explain the theme of the tour and their new costumes prepared exclusively for the long-awaited event. Each member has a representative fruit, and their flashy costumes feature adorable aprons and other details reminiscent of parlor clerks. "Welcome," the members yelled, inviting fans into their unique world for a few hours to have a happy and sweet time.

The concert resumed immediately following the MC with Happy Chocolate, and inspired by the TikTok trend, many fans danced along during the chorus. Transforming the energy into something gentler, Sekaiwa Kimikara Hajimaru began soon after, captivating fans with its addictive sweetness. The girls showed their sexy dance moves during We are Frontier and their cooler side during the upbeat Going! With incredible momentum, FRUITS ZIPPER powered through six songs in a row, including the hyper RADIO GALAXY and Roller Coaster Heart. The audience was lucky enough to experience all sides of this multifaceted idol group, subverting expectations and wowing everyone lucky enough to attend.

After the impressive performance, Mana Manaka and Luna Nakagawa shared memories of the national tour, including a moment in Hokkaido when the two felt their lives were in danger from an enzyme bath, drawing laughter from the audience. Suzuka Chinzei also excitedly announced that she would play the starring role in the upcoming CBC drama Link!, and that the theme song for the drama would be the group's popular track Sekaiwa Kimikara Hajimaru. Mana Manaka touchingly reflected on the group's past performances, which visited each member's hometown. "It felt like our triumphant return home. It was such a great experience, to show everyone how much we've grown."

After the members and audience calmed down after the MC, Nakagawa eagerly began the second half of the show. "Are you excited, Yokohama," she called out. The group ignited fans' hearts with Welcome to the ♡ Furuppa! and Re→TRY & FLY, leading into one of the happiest songs in recent memory, Chou Medetai Song ~Konnani Shiawasede Iinokana?~ The audience called out the members' names in loud voices and clapped in unison, creating a deep sense of unity between FRUITS ZIPPER and their fans. As many would expect, the final song performed was Watashino Ichiban Kawaiitokoro, the group's most popular song which was just released as a physical single. TikTok photography was allowed for this song, and legions of fans kept their phones pointed at the stage. Check TikTok to see the colorful and adorable performance!

In typical FRUITS ZIPPER fashion, the show didn't end there! After fans begged for an encore, the members returned to the stage to perform the new song CO-Kosei. Composed by Sho Yamamoto, the composer of Watashi no Ichiban Kawaiitokoro, the track fit the tour's theme perfectly. The lyrics are filled with overwhelming individuality from each member, and the catchy choreography instantly grabbed the audience's attention, with easily mimicked moves sure to be the next trend. Following the performance, the members showed their eagerness to make the 'CO-pose' more popular.

Following the TikTok shoot with fans throughout the venue–a popular trend during FRUITS ZIPPER concerts–the group performed a few more tracks, including Zutto, Zutto, Zutto! Sending love to the fans, Yui Sakurai announced the last song, asking fans to "make memories together with them." The performance finally came to an end with a heartfelt rendition of Kimino Akaruimiraiwo Oikakete. The audience couldn't help but dance along, making it the most earnest moment of the performance.

After the show ended, Yui Sakurai and Luna Nakagawa were so moved that they immediately hugged each other. "The song Kimi no Akaruimiraiwo Oikakete was where everything started for us, and every time I sing it, I just have so many flashbacks of the past year and a half," Suzuka said with tears in her eyes. "The tour isn't over, and I can't wait to meet the fans at the Tokyo Metropolitan Gymnasium! Let's keep making memories together, all of you and FRUITS ZIPPER." The sweet and incredibly action-packed performance came to an end amidst a sea of loving applause.

During this tour, FRUITS ZIPPER has grown to new heights. Their next appearance on the national tour will take place on October 28 at the Tokyo Metropolitan Gymnasium, the group's first arena performance and their largest venue to date. There's no telling what to expect!

Text: Masatoshi Mayuzumi

Photo: Yuuna Yoshimori

Limited First Edition

Standard Edition

Seven-member edition

Information

<National Tour Finale Information>

FRUITS ZIPPER JAPAN TOUR 2023 -AUTUMN- The Parlor of FRUITS ZIPPER TOUR FINALE

Date: October 28, 2023

Venue: Tokyo Metropolitan Gymnasium

Time: Doors open 16:00 / Show starts 17:30

*There will be no bonus meetup on the day of the event.

[Tickets]

VIP Standing: ¥16,500 (Tax Included) *Fanclub members only / Limit 2 tickets per

application

General Arena Reserved Seats: ¥8,000 (Tax Included) *Limit 4 tickets per application

Reserved Stand Seats ¥5,500 (Tax Included) *Limit 4 tickets per application

[Contact]

HOT STUFF PROMOTION

050-5211-6077

https://www.red-hot.ne.jp/

■See the latest tour info here

https://kawaiilab.asobisystem.com/

<Single CD Information>

Watashino Ichiban Kawaiitokoro – FRUITS ZIPPER (1st Single CD)

Release Date: September 13, 2023

[Editions]

Limited First Edition [CD+Photo Book]: ¥3,000 (Tax Included)

Standard Edition [CD]: ¥1,200 (Tax Included)

Member Edition [CD/7 Varieties]: ¥1,200 (Tax Included)

[Version/Tracklist]

■Limited First Edition *Ichiban Kawaii Packaging

M1. Watashino Ichiban Kawaiitokoro

M2. Pure in the World

M3. Zutto, Zutto, Zutto!

M4. Chou Medetai Song ~Konnani Shiawasede Iinokana?~

■Member Version *Packaging features one specific member

M1. Watashino Ichiban Kawaiitokoro

M2. Pure in the World

M3. (Song varies depending on member's disc*)

M4. Chou Medetai Song ~Konnani Shiawasede Iinokana?~

*Suzuka Chinzei: skyfeelan / Luna Nakagawa: Kanpeki Shugide☆ / Amane Tsukiashi: Re→TRY & FLY / Karen Matsumoto: Happy Chocolate / Noel Hayase: RADIO GALAXY / Yui Sakurai: Sekaiwa Kimilkara Hajimaru / Mana Manaka: Fre-Fru Summer!

 

■Standard Edition

M1. Watashino Ichiban Kawaiitokoro

M2. Pure in the World

M3. Chou Medetai Song ~Konnani Shiawasede Iinokana?~

M4. Watashino Ichiban Kawaiitokoro (Instrumental)

M5. Pure in the World (Instrumental)

M6. Chou Medetai Song ~Konnani Shiawasede Iinokana?~ (Instrumental)

<FRUITS ZIPPER Profile>

FRUITS ZIPPER is a new idol group created by ASOBISYSTEM's KAWAII LAB. project, aiming to introduce Japanese idol culture to the world.

The group's producer is model and TV personality Misa Kimura. Following her idol career as the former leader of Musubizm, Kimura now acts as the general producer of KAWAII LAB. The group's name combines FRUITS, meaning 'to bear fruit,' and ZIP, meaning 'to give energy.'

The group's concept is 'from Harajuku to the world,' and the group will transmit what they call 'NEW KAWAII' from Harajuku, an area known for fashion and individuality, to the world.

Fanclub: https://kawaiilab.asobisystem.com/

X (Twitter): https://twitter.com/fruits_zipper

Instagram: https://instagram.com/fruits_zipper

YouTube: https://www.youtube.com/@fruitszipper3040

TikTok: https://vt.tiktok.com/ZSen7dJAT/

Facebook: https://www.facebook.com/FRUITSZIPPER/

FRUITS ZIPPER Releases 'Pure in the World' from 1st Single CD 'Watashino Ichiban Kawaiitokoro' in Advance

On September 13, FRUITS ZIPPER will release its first single CD, Watashino Ichiban Kawaiitokoro. The idol group has released a song from the album titled Pure in the World ahead of this exciting date.

Pure in the World was created by Tamaya 2060% from the rock band Wienners, who was inspired by the 'pureness' of the idols. Even when life has you feeling troubled or aimless, this happy track has the power to imbue any listener with instant positivity.

Teaser Video

A teaser for the song's music video has also been posted to YouTube, with the full video set to premiere on August 16 at 20:00 JST. Directed by Eri Yoshikawa, the video represents the stylish neighborhood of Harajuku, perfect for FRUITS ZIPPER. After all, the group's concept is 'From Harajuku to the World.'

Teaser videos focusing on each member will be released in the coming days, along with a dance practice video and more. For this release, the choreography was co-written by SACO MAKITA and Saki Kamiya, who are well-known for their work with FRUITS ZIPPER's music. For the latest FRUITS ZIPPER information, please follow the group on social media.

FRUITS ZIPPER's nationwide tour is scheduled to begin in September. All shows have completely sold out except for the finale, which will be held at the Tokyo Metropolitan Gymnasium. This marks the group's first arena show, and tickets are now available.

Information

<Track Streaming Information>
Pure in the World – FRUITS ZIPPER (Digital Single)
Release Date: August 4, 2023
Streaming URL: https://kawaiilab.lnk.to/Pitw
Available on all major music download and streaming sites

M1. Pure in the World
M2. Pure in the World (Instrumental)

<Single CD Information>
Watashino Ichiban Kawaiitokoro – FRUITS ZIPPER (1st Single CD)
Release Date: September 13, 2023

[Editions]
Limited First Edition [CD]: ¥3,000 (Tax Included)
Standard Edition [CD]: ¥1,200 (Tax Included)
Member Edition [CD/7 Varieties]: ¥1,200 (Tax Included)

[Version/Tracklist]

■Limited First Edition *Ichiban Kawaii Packaging
M1. Watashi no Ichiban Kawaiitokoro
M2. Pure in the World
M3. Zutto, Zutto, Zutto!
M4. Chou Medetai Song ~Konnani Shiawasede Iinokana?~

■Member Version *Packaging features one specific member
M1. Watashino Ichiban Kawaiitokoro
M2. Pure in the World
M3. (Song varies depending on member's disc*)
M4. Chou Medetai Song ~Konnani Shiawasede Iinokana?~

*Suzuka Chinzei: skyfeelan / Luna Nakagawa: Kanpeki Shugide☆ / Amane Tsukiashi: Re→TRY & FLY / Karen Matsumoto: Happy Chocolate / Noel Hayase: RADIO GALAXY / Yui Sakurai: Sekaiwa Kimikara Hajimaru / Mana Manaka: Fre-Fru Summer!

■Standard Edition
M1. Watashino Ichiban Kawaiitokoro
M2. Pure in the World
M3. Chou Medetai Song ~Konnani Shiawasede Iinokana?~
M4. Watashino Ichiban Kawaiitokoro (Instrumental)
M5. Pure in the World (Instrumental)
M6. Chou Medetai Song ~Konnani Shiawasede Iinokana?~ (Instrumental)

CD Pre-order: https://fruitszipper.lnk.to/watashi_no_ichiban_kawaiitokoro_cd_po
CD Pre-order Event Details: https://note.com/fruits_zipper/n/n362c0feecd76

<Nationwide Tour Information>
FRUITS ZIPPER JAPAN TOUR 2023 -AUTUMN- The Parlor of FRUITS ZIPPER

September 3, 2023 – Zepp Namba (Osaka)
September 5, 2023 – Zepp Nagoya (Aichi)
September 8, 2023 – Zepp Fukuoka (Fukuoka)
September 10, 2023 – BLUE LIVE HIROSHIMA (Hiroshima)
September 13, 2023 PENNY LANE24 (Hokkaido)
September 16, 2023 – KT Zepp Yokohama (Kanagawa)

[Tickets] *All shows SOLD OUT
VIP Standing: ¥16,500
miniVIP Standing: ¥7,700
General Standing: ¥5,500
2F Reserved Seat: ¥5,500
*All prices include tax, drinks not included
*Hokkaido and Hiroshima venues only offer VIP and General Standing tickets.

FRUITS ZIPPER JAPAN TOUR 2023 -AUTUMN- The Parlor of FRUITS ZIPPER TOUR FINAL
Date: October 28, 2023
Venue: Tokyo Metropolitan Gymnasium
Time: Doors open 16:00 / Show starts 17:30
*There will be no bonus meetup on the day of this event.

[Tickets]
VIP Standing: ¥16,500 (Tax Included) *FC Members Only / Limit 2 per application
General Arena Seats (Reserved): ¥8,000 (Tax Included) *Limit 4 per application
Stand Seats (Reserved): ¥5,500 (Tax Included) *Limit 4 per application

[Contact]
HOT STUFF PROMOTION
050-5211-6077
https://www.red-hot.ne.jp/

■Click here for tour updates
https://kawaiilab.asobisystem.com/

Limited First Edition Photobook and Jacket for FRUITS ZIPPER's 1st Single 'Watashino Ichiban Kawaiitokoro' Revealed! First Collaboration with 'King of Kawaii' Sebastian Masuda Announced!

FRUITS ZIPPER will release Watashino Ichiban Kawaiitokoro as the group's first single CD on September 13, 2022. The popular song has amassed over 800 million views on TikTok and over 12 million music video views on YouTube since its release in 2022. Now, the concept for the photobook that comes paired with the Limited First Edition has been revealed along with the jacket cover. The Standard Edition jacket covers have also been revealed along with the seven-member variations.

Limited First Edition

Standard Edition

Seven-member Variations

Those purchasing the Limited First Edition as part of the 'Ichiban Kawaii Package' will
receive a 40-page photobook. The themes for the book are 'Your Cutest Part' and 'My
Cutest Part,' and two different sides of the FRUITS ZIPPER members are featured on the
A-Side and B-Side.

The A-Side features a collaboration with Sebastian Masuda, the globally-known 'King of
Kawaii' and global proponent of Japanese Kawaii culture currently residing in New York City. By chatting with each member before the photo shoot, Masuda explores "the individuality
and cuteness that lies beneath the cuteness that we can see," expressing it through his art. The artist hopes that the girls will keep the cuteness exhibited during their debut while
focusing on their unique inner charms that continue to shine as their careers progress.

"Kawaii is your own microcosm. I believe that the girls are so much more than their
superficial cuteness. Their charm comes from what lies beneath the surface–the cuteness
that overflows from within," said Masuda. This marks the first time that the idol group and Masuda have joined forces to present 'Kawaii' culture to the world.

The B-Side features a 'cuter than usual FRUITS ZIPPER,' including fresh visuals linking to
each of the member's fruit-inspired colors. The graphics were created by yenter, a creative team with a long history of working on logos, merchandise design, and artist photos. The
Limited First Edition has a holographic three-sided case and Digipak with A-side packaging, while the Standard Edition and seven-member edition jackets display the B-side visual.

■Comment from Sebastian Masuda

"Kawaii is your own microcosm. If we chat with 100 people, we'll find 100 different types of kawaii. With that in mind, I chatted with each member of FRUITS ZIPPER one-on-one to
explore their personalities and individual charms. I hope you'll open the photobook and
compare their words to the artwork on the pages. Their charm comes from what lies
beneath the surface–the cuteness that overflows from within."

FRUITS ZIPPER is preparing for its first national tour in the fall and has announced a solo
concert at Tokyo Metropolitan Gymnasium as the tour finale. CD pre-order events will also be held throughout Japan in conjunction with the tour, so check out FRUITS ZIPPER's
official NOTE for the schedule and details!

Information

Watashino Ichiban Kawaiitokoro – FRUITS ZIPPER (1st Single CD)
Release Date: September 13, 2023

[Editions]
Limited First Edition [CD]: ¥3,000 (Tax Included)
Standard Edition [CD]: ¥1,200 (Tax Included)
Member Edition [CD/7 Varieties]: ¥1,200 (Tax Included)

[Version/Tracklist]
■Limited First Edition *Ichiban Kawaii Packaging
M1. Watashino Ichiban Kawaiitokoro
M2. Pure In The World
M3. Zutto, Zutto, Zutto!
M4. Chou Medetai Song ~Konnanni Shiawasede Iinokana?~

■Member Version *Packaging features one specific member
M1. Watashino Ichiban Kawaiitokoro
M2. Pure In The World
M3. (Song varies depending on member's disc*)
M4. Chou Medetai Song ~Konnanni Shiawasede Iinokana?~

*Suzuka Chinzei: skyfeelan / Luna Nakagawa: Kanpeki Shugide☆ / Amane Tsukiashi: Re→TRY & FLY / Karen Matsumoto: Happy Chocolate / Noel Hayase: RADIO GALAXY / Yui Sakurai: Sekaiwa Kimikara Hajimaru / Mana Manaka: Fre-Fru Summer!

■Standard Edition
M1. Watashino Ichiban Kawaiitokoro
M2. Pure In The World
M3. Chou Medetai Song ~Konnanni Shiawasede Iinokana?~
M4. Watashi no Ichiban Kawaiitokoro (Instrumental)
M5. Pure In The World (Instrumental)
M6. Chou Medetai Song ~Konnanni Shiawasede Iinokana?~ (Instrumental)

Single CD Pre-order Event Details: https://note.com/fruits_zipper/n/n362c0feecd76

■Sebastian Masuda (Artist)
Born in 1970, Masuda currently resides in New York City. After becoming involved in
theater and contemporary art in the early 1990s, he opened the popular accessory shop 6%DOKIDOKI in Harajuku in 1995 as a place for free expression. His consistently unique
and vivid sense of color has seen him create works that transcend the boundaries between art, fashion, and entertainment. Masuda created the art used in the music video for Kyary
Pamyu Pamyu's PONPONPON, completely produced the KAWAII MONSTER CAFE, and has
been involved in countless projects to share Kawaii culture with the world. He has been
based in New York City since 2022 and continues to create new material from all things
that exist in the world.
https://sebastianmasuda.com/

■yenter
yenter is a creative team named after the Japanese word for 'circle' and the 'Enter' key on a keyboard. The group provides complete creativity that serves as a starting point to move
things forward, much like a circle with no start or end.
https://yenter.jp/

FRUITS ZIPPER JAPAN TOUR 2023 -AUTUMN- The Parlor of FRUITS ZIPPER
Date: September 3, 2023
Venue: Zepp Namba (Osaka)
Time: Doors open 16:00 / Show starts 17:00
Contact: Kyodo Information (0570-200-888)

Date: September 5, 2023
Venue: Zepp Nagoya (Aichi)
Time: Doors open 17:30 / Show starts 18:30
Contact: Sunday Folk Promotion (052-320-9100, 12:00~18:00)

Date: September 8, 2023
Venue: Zepp Fukuoka (Fukuoka)
Time: Doors open 17:30 / Show starts 18:30
Contact: Sunday Folk Promotion (0570-09-2424, 11:00~15:00/Closed on Sundays and
holidays)

Date: September 10, 2023
Venue: BLUE LIVE HIROSHIMA (Hiroshima)
Time: Doors open 16:00 / Show starts 17:00
Contact: YUMEBANCHI (Hiroshima) (082-249-3571/Weekdays 12:00~17:00)

Date: September 13, 2023
Venue: PENNY LANE23 (Hokkaido)
Time: Doors open 17:30 / Show starts 18:30
Contact: MountAlive (011-623-6555)

Date: September 16, 2023
Venue: KT Zepp Yokohama (Kanagawa)
Time: Doors open 16:00 / Show starts 17:00
Contact: HOT STUFF PROMOTION (050-5211-6077 / Weekdays 12:00~18:00)

[Tickets]
VIP Standing: ¥16,500
miniVIP Standing: ¥7,700
General Standing: ¥5,500
2F Reserved Seat: ¥5,500
*All prices include tax, drinks not included
*Hokkaido and Hiroshima venues only offer VIP and General Standing tickets.

FRUITS ZIPPER JAPAN TOUR 2023 -AUTUMN- The Parlor of FRUITS ZIPPER TOUR
FINAL
Date: October 28, 2023
Venue: Tokyo Metropolitan Gymnasium
Time: Doors open 16:00 / Show starts 17:30
*There will be no bonus meetup on the day of this event.

[Tickets]
VIP Standing: ¥16,500 (Tax Included) *FC Members Only / Limit 2 per application
General Arena Seats (Reserved): ¥8,000 (Tax Included) *Limit 4 per application
Stand Seats (Reserved): ¥5,500 (Tax Included) *Limit 4 per application

[Contact]
HOT STUFF PROMOTION
050-5211-6077
https://www.red-hot.ne.jp/

■Click here for tour updates
https://kawaiilab.asobisystem.com/

FANCLUB:https://kawaiilab.asobisystem.com/
Twitter:https://twitter.com/fruits_zipper
Instagram:https://instagram.com/fruits_zipper
YouTube:https://www.youtube.com/@fruitszipper3040
TikTok:https://vt.tiktok.com/ZSen7dJAT/
Facebook:https://www.facebook.com/FRUITSZIPPER/

KAWAII LAB. Idol Project Opens Auditions for New Group

The idol project KAWAII LAB. is now accepting applications from aspiring artists wanting to join a new idol group.

The KAWAII LAB project aims to introduce Japan's growing idol culture to overseas audiences under the concept of 'From Harajuku to the World.' The project has spawned three groups so far–FRUITS ZIPPER, known for the TikTok smash hit Watashino Ichiban Kawaiitokoro; IDOLATER, comprised of the finalists of ASOBISYSTEM's first audition; and CANDY TUNE, which made its debut this March.

The audition is open to females between the ages of 10 and 24. While dance and vocal skills are important, the project is also seeking unique applicants with a charm that extends beyond skill or ability. Both those with and without experience are welcome to apply. Those who pass the audition will work toward their debut in 2024 in a new idol group and as solo performers aiming toward a global debut.

This audition will also include the selection of candidates for a training group for a future debut. Successful candidates will be given basic lessons in preparation for their debut.

KAWAII LAB. Artists

IDOLATER

FRUITS ZIPPER

CANDY TUNE

Information

■KAWAII LAB. AUDITION 2023 Overview
Application Period: July 25, 2023 – September 30, 2023
How to Apply: Through the official LINE account

[Requirements]
・Females between the ages of 10~24
・No experience needed (Both experienced performers and those without experience are welcome to apply)
・Must be able to participate in live performances and lessons in Tokyo
・If you are currently under contract with an office or label, permission from the office or label is required.

[Benefits]
All costs associated with idol activities (lessons, costumes, recording, transportation, lodging, etc.) will be covered by the company.

[Judging Process]
① First screening (Document check) *Only successful applicants will be notified of the results of the document screening.
② Second screening (Online interview)
③ Third screening (Face-to-face interview)
④ Acceptance or rejection announced, successful candidates begin lessons for 2024 debut
*Successful applicants will begin lessons.

[Application Process]
Visit the official audition site (https://kawaii-lab-audition.com/) and add the account as a friend on LINE. Send all required information, a photo (one full-body and one close-up), and a 30-second video sharing more about yourself and why you'd like to be an idol.

Required Details
・Full Name
・Birthday
・Age
・Height
・Prefecture of residence
・Current occupation
・Past experience as an idol/talent (if applicable)
・Enthusiasm for the project
・Social media account URLs

Official Site
https://kawaii-lab-audition.com/

<About KAWAII LAB.>
The KAWAII LAB. project was created by ASOBISYSTEM to share Japan's growing idol culture with the world. The producer is model and TV personality Misa Kimura, formerly a member of the idol group Musubizm. Under the concept of 'From Harajuku to the World,' the project works to discover, nurture, and produce a new generation of idols to be active on the global stage.

Twitter: https://twitter.com/kawaii__lab
YouTube: https://www.youtube.com/@KAWAII_LAB./
FAN CLUB: https://kawaiilab.asobisystem.com/

■KAWAII LAB. Artists

IDOLATER Streams New Track 'Promise,' Boasting an Electric Sound and a Cozy Rhythm! Member Attempts to Rap for the First Time

IDOLATER, a group belonging to the KAWAII LAB. project, which aims to promote Japan's growing idol culture to the world, will release its 12th single, Promise, on streaming services on July 20, 2023.

The new track is upbeat with a cozy and rhythmic electro sound. Promise was first performed at the KAWAII LAB SESSION event held by KAWAII LAB. at Zepp Shinjuku in June, where members of the group donned new costumes for the track's reveal. The comical and easy-to-imitate choreography by SACO MAKITA is sure to make this song a hit at live concerts, and a certain member's adorable first attempt at rapping is a major highlight.

A live video of IDOLATER performing the new song has been uploaded to YouTube, so be sure to check it out!

[Live Footage] Promise – IDOLATER (Live at Zepp Shinjuku)

Yukino Fushiki

Ayu Okuda

Kurumi Tsukishiro

Ririka Satsuki

Fuka Oishi

KAWAII LAB. Report #21 ~ FRUITS ZIPPER Chats About the 'Chou Medetai Song' Music Video

Soon after wrapping up their successful first-anniversary concert, FRUITS ZIPPER released Chou Medetai Song ~Konnanni Shiawasede Iinokana?~ as a digital single on May 4, 2023. New teaser trailers for the song's music video have been released every day since June 29, with the final product scheduled to drop on July 7 at 21:00 JST. Ahead of this exciting day, we sat down with the members to commemorate the music video's official release!

–Just listening to Chou Medetai Song ~Konnanni Shiawasede Iinokana?~ is enough to put a smile on anyone's face! How did you feel when you heard it for the first time?

Suzuka Chinzei: I thought it was the happiest song of the Reiwa era! I love the lyrics that
tell people they can choose their own happiness. The question in the song's title–Is it okay
to be this happy?–was answered by the amazing Sho Yamamoto, who wrote the song's
lyrics. "Yes, it's okay, because it's something I chose myself." I think he's a genius for that answer.

–What's your favorite lyric in Chou Medetai Song?

Yui Sakurai: "It feels impossible to feel this way without expecting something a little bad!" Whenever you're SO happy that you feel like something bad must be on the way, that's some powerful happiness. The lyrics in this song are so fluffy and packed with joy, I just love it.

–What's the main thing audiences should focus on when they see Chou Medetai Song's choreography?

Mana Manaka: Everything! The choreography is really fun, catchy, and easy to imitate!

–The music video will be released soon! What are the vibes?

Luna Nakagawa: I feel like our fans have been really excited about this one. I just hope that this music video will make everyone happy–remember to congratulate yourself sometimes!

–Is there a specific scene in the video that you'd like fans to watch out for?

Amane Tsukiashi: I love Luna and I wearing fun sunglasses when we sing "First, can we start being bolder today?"

–Share something super happy that's happened to you lately!

Noel Hayase: That has to be our performance at Nakano Sunplaza!

宝物

ありがとうございました#AYAKARNIVAL #AYAKARNIVAL2023 pic.twitter.com/ikL3EfStza

— 月足天音 (FRUITS ZIPPER) (@amane_fz1026) June 17, 2023

Karen Matsumoto: Amane really loves Arin from Momoiro Clover Z, and getting to perform with her was so wonderful! I was happy too!

–Lastly, do you have anything you'd like to say to the fans?

Suzuka: The music video for Chou Medetai Song ~Konnanni Shiawasede Iinokana?~ is
finally here! Whether you're a man or woman, young or old, an earthling or an alien, it
doesn't matter–this song will make you happy! I love all of you so much♡♡So lucky!!!"

FRUITS ZIPPER is continuing their incredible success, recently announcing their first CD release, first national tour, and first arena show. Keep an eye out for what they'll do next!

Information

Chou Medetai Song ~Konnanni Shiawasede Iinokana?~
Music Video Premiere: July 7, 21:00 (JST)
URL: https://www.youtube.com/watch?v=XN1-RgGg3Lc&t=0s
Release Date: May 4, 2023
Streaming URL: https://kawaiilab.lnk.to/CSKSI
Available to download and stream on all major music sites

Watashi no Ichiban Kawaiitokoro (1st Single CD)
Release Date: September 13, 2023
Limited First Edition [CD]: ¥3,000 (Tax Included)
Standard Edition [CD]: ¥1,200 (Tax Included)
Member Version [CD/7 Varieties]: ¥1,200 (Tax Included)

Version/Tracklist
■Limited First Edition *Ichiban Kawaii Packaging
M1. Watashi no Ichiban Kawaiitokoro
M2. Pure In The World
M3. Zutto, Zutto, Zutto!
M4. Chou Medetai Song ~Konnanni Shiawasede Iinokana?~

■Member Version *Packaging features one specific member
M1. Watashi no Ichiban Kawaiitokoro
M2. Pure In The World
M3. (Song varies depending on member's disc*)
M4. Chou Medetai Song ~Konnanni Shiawasede Iinokana?~

*Suzuka Chinzei: skyfeelan / Luna Nakagawa: Kanpeki Shugi de☆ / Amane Tsukiashi: Re→TRY & FLY / Karen Matsumoto: Hapi Choco / Noel Hayase: RADIO GALAXY / Yui Sakurai:
Sekai wa Kimi kara Hajimaru / Mana Manaka: Fre-Fru Summer!

■Standard Edition
M1. Watashi no Ichiban Kawaiitokoro
M2. Pure In The World
M3. Chou Medetai Song ~Konnanni Shiawasede Iinokana?~
M4. Watashi no Ichiban Kawaiitokoro (Instrumental)
M5. Pure In The World (Instrumental)
M6. Chou Medetai Song ~Konnanni Shiawasede Iinokana?~ (Instrumental)

FRUITS ZIPPER JAPAN TOUR 2023 AUTUMN
September 3 – Zepp Namba, Osaka
September 5 – Zepp Nagoya, Aichi
September 8 – Zepp Fukuoka, Fukuoka
September 10 – BLUE LIVE HIROSHIMA, Hiroshima
September 13 – PENNY LANE24, Hokkaido
September 16 – KT Zepp Yokohama, Kanagawa

FRUITS ZIPPER JAPAN TOUR 2023 -AUTUMN- TOUR FINAL
October 28, 2023 / Tokyo Metropolitan Gymnasium
Time: Doors open 16:00 / Show starts 17:30
*There will be no bonus meetup on the day of the event.
Tour Information: https://kawaiilab.asobisystem.com/

FRUITS ZIPPER Announces First Arena Live Show at Tokyo Metropolitan Gymnasium this Fall

On June 26, FRUITS ZIPPER held a one-man live performance at the "Sayonara Nakano Sunplaza Music Festival," marking the culmination of Nakano Sunplaza's rich history as it undergoes a fresh transformation in honor of its 50th anniversary this year.

With the opening SE playing, laser beams filled the venue, creating an atmosphere brimming with anticipation as the live performance kicked off with "Sekaiwa Kimikara Hajimaru." Popular upbeat songs like "Kanpeki Shugide☆," "Cho Medetai Song – Konnani Shiawasede Iinokana?-" and "Fure Furu Summer!" followed, captivating the audience from the beginning and keeping the excitement alive.

During the MC segment, it was announced that their hit song "Watashino Ichiban Kawaiitokoro," which garnered a staggering 800 million views on TikTok and surpassed 12 million views on the music video since its digital release last year, would be released as the group's first-ever CD single in this September. The announcement of the release consisting of a first-press limited edition, regular edition, and member edition featuring solo jacket designs for each member, heightened the excitement of the audience even further. With smiles on their faces, the group delivered an outstanding performance of all 14 songs, bringing the live show to a close.

As the encore calls echoed through the venue, a sudden news program-style video began playing on the screen, and the expressions of the members reflected a sense of nervousness. Within the homage-like footage resembling the moment of the Olympic host city announcement, it was revealed that the Tokyo Metropolitan Gymnasium had been chosen as the venue for the grand finale of their nationwide tour in this fall. Suzuka Chinzei expressed, "Having the opportunity to perform in such a large venue in our second year since debut is an amazing challenge, and we were able to make this decision because of all of you being here. We will train together as a group leading up to this day, so please stay excited!" The audience responded with warm applause to her heartfelt words.

During the encore, they unveiled their new song "Pure In the World," which is sure to become a new staple that energizes their live performances. The song was produced by Tamaya2060% from Wienners. At the finale of the event, which was filled with "super celebratory" announcements for both fans and members, they performed "Cho Medetai Song -Konnani Shiawasede Iinokana-?" once again. The audience joined in with loud handclaps and responded to Luna Nakagawa's shout of "FRUITS ZIPPER Arena Live Show!" with chants of "Congratulations!" The entire venue came together as one, closing the curtain on a memorable night.

FRUITS ZIPPER will kick off their first nationwide tour in September. The pre-sale of tickets for the tour finale at the Tokyo Metropolitan Gymnasium has begun and will run until July 3.

Information

[Tour Information]
FRUITS ZIPPER JAPAN TOUR 2023 -AUTUMN- TOUR FINAL
Date: October 28, 2023
Venue: Tokyo Metropolitan Gymnasium
Time: Doors 16:00/ Starts 17:30
*Please note that there will be no meet-and-greet session on the day.

[Ticket Information]
-VIP Standing: ¥16,500 (Tax included) *Exclusive to FC members / Up to 2 tickets per application.
-General Arena Reserved Seat: ¥8,000 (Tax included) *Up to 4 tickets per application.
-Reserved Stand Seat: ¥5,500 (Tax included) *Up to 4 tickets per application.

▼VIP Ticket Benefits
-Reserved seating in the front section.
– Commemorative merch gift.
-Original electronic ticket.

[Ticket Pre-Sale Information]
KAWAII LAB. OFFICIAL FANCLUB
Application Period: 6/26 at 21:00 – 7/3 at 23:59
URL: https://kawaiilab.asobisystem.com/

Playguide
Application Period: 6/26 at 21:00 – 7/3 at 23:59
URL: https://t.pia.jp/pia/artist/artists.do?artistsCd=M4140001

[Contact]
HOT STUFF PROMOTION
050-5211-6077
https://www.red-hot.ne.jp/

For the latest tour information, check here:
https://kawaiilab.asobisystem.com/

[Release Overview]
FRUITS ZIPPER 1st Single CD "Watashino Ichiban Kawaiitokoro"
Release Date: September 13, 2023

[Editions]
Limited Edition [CD]: ¥3,000 (Tax included)
Regular Edition [CD]: ¥1,200 (Tax included)
Member Edition [CD/7 versions]: ¥1,200 (Tax included)

[Specifications/Tracklist]

■ Limited Edition (The Cutest Packaging)
Tracklist:
M1. Watashino Ichiban Kawaiitokoro
M2. Pure In the World
M3. Zutto, zutto, zutto!
M4. Cho Medetai Song -Konnani Shiawasede Iinokana?-
Bonus: Music Video DVD

■Member Editions (Member Solo Jacket)
Tracklist:
M1. Watashino Ichiban Kawaiitokoro
M2. Pure In the World
M3. Limited Edition Songs for Each Member Edition *
M4. Cho Medetai Song -Konnani Shiawasede Iinokana?-

*
Suzuka Chinzei Edition: "skyfeelan"
Luna Nakagawa Edition: "Kanpeki Shugide☆"
Amane Tsukiashi Edition: "Re→TRY & FLY"
Karen Matsumoto Edition: "Happy Chocolate"
Noel Hayase Edition: "RADIO GALAXY"
Yui Sakurai Edition: "Sekaiwa Kimikara Hajimaru"
Mana Manaka Edition: "Furefuru Summer!"

The schedule for in-store events will be announced on FRUITS ZIPPER's official SNS channels.

■Regular Edition
Tracklist:
M1. Watashino Ichiban Kawaiitokoro
M2. Pure In the World
M3. Cho Medetai Song -Konnani Shiawasede Iinokana?-
M4. Watashino Ichiban Kawaiitokoro (Instrumental)
M5. Pure In the World (Instrumental)
M6. Cho Medetai Song -Konnani Shiawasede Iinokana?- (Instrumental)

CANDY TUNE Announces First Solo Live Show at Zepp Shinjuku (TOKYO) in October and Releases New Single 'Cu Cu Cu Cute'

CANDY TUNE debuted with their first album CANDY TUNE, in March of this year. Part of the KAWAII LAB. idol project, the girls already have an exciting lineup of performances scheduled at various major idol festivals this summer. On June 27th, they held their first solo live show at Spotify O-WEST in Shibuya, Tokyo.

CANDY TUNE kicked off their live performance with Nanairo Prologue, continuing into a passionate rendition of Mikanna Seishyun (Incomplete Youth), delivering a real feeling of exhilaration to the audience. When the group performed Cu Cu Cu Cute for the first time, the audience's excitement increased ten-fold as they became lost in the Arabian sounds and catchy choreography reminiscent of rubbing a magic lamp.

During the show, the girls showcased the same intermission that recently they performed during the TIF2023 Main Stage Battle Preliminary Match.=. Looking back on the event, Kotomi Tachibana said "Our bond with the other members of CANDY TUNE and all theAme-chan (the name for CANDY TUNE's fans) have become incredibly strong, and I feel that we have grown together as a result. We will continue to move forward, so please continue to support us!" Her message resonated with the audience, who responded with warm applause. The show reached its peak with a series of upbeat numbers, and during the finale, the girls engaged in the call-and-response portion of the show with their popular TikTok song Kiss Me Patissier. For the closing track, they expressed their gratitude to the fans through the heartfelt song hanamaru, leaving the stage with bright smiles.

In response to cries for an encore from the audience, the members reappeared on stage, announcing their summer festival appearances on the massive screen. "We have an important announcement for everyone," it read. The members and the audience alike were shocked when a surprise announcement was made revealing that their first solo live show would be held at Zepp Shinjuku (TOKYO) in October. The audience reacted with surprised shouts and loud applause, and some of the members could be seen crying on stage. Rino Fukuyama expressed, with a teary voice, "We had the opportunity to perform at Zepp Shinjuku once before during the collaboration KAWAII LAB. concert, and we all thought that the only reason we could ever perform on such a famous stage was that we had more experienced groups like FRUITS ZIPPER and IDOLATER up there with us. I'm so happy that we can now aim for that goal more proudly," said Rino Fukuyama.

The new Cu Cu Cu Cute, which was performed for the first time at the live show, was released on June 27th. The refreshing pop tune with an explosive sound was produced by Kubo Naoki, a former member of SILENT SIREN who also worked on CANDY TUNE's previous release CATCH YOU, and features lyrics by Suu. Enjoy the #きゃんちゅーと初めての夏 (First Summer with CANDYTUNE) while listening to this song!

Information

Cu Cu Cu Cute – CANDY TUNE (3rd single)
Release Date: June 27, 2023
Streaming URL: https://kawaiilab.lnk.to/CuCuCuCute

<Live Information>
CANDY TUNE 1st One-man Live
Date: October 18/ Doors open 17:30, show starts 18:30
Venue: Zepp Shinjuku (TOKYO)

[Ticket Information]
– VIP ¥15,000 (Tax Included, Drinks separate) *Exclusive to KAWAII LAB. OFFICIAL FANCLUB members
– General Standing Ticket ¥4,000 (Tax Included, Drinks separate)

▼The VIP-exclusive benefits include:
– A VIP-exclusive T-shirt
– A photo and autographed message card
– A VIP-exclusive member group acrylic stand
– An original electronic ticket

[Presale Tickets]
Exclusive to KAWAII LAB. OFFICIAL FANCLUB Members
Available: June 27, 20:30 – July 10, 23:59.
Buy Here: https://kawaiilab.asobisystem.com/

Play-guide Presale Ticket
Available: June 27, 20:30 – July 10, 23:59.
Buy Here: https://w.pia.jp/t/candytune-t/

[Contact]
HOT STUFF PROMOTION
050-5211-6077
https://www.red-hot.ne.jp/

FRUITS ZIPPER Announces Release of Their 1st CD Single 'Watashino Ichiban Kawaiitokoro'

FRUITS ZIPPER's popular song "Watashino Ichiban Kawaiitokoro," which has garnered 800 million plays on TikTok since its digital release last year and surpassed 12 million views on the music video, will be released as the group's first-ever CD single on September 13th.

The CD will be available in a total of nine editions, including the limited edition, member editions (seven variations), and regular edition. In addition to the hit song "Watashino Ichiban Kawaiitokoro," the CD will feature the new track "Pure In the World" and the popular live song "Cho Medetai Song -Konnani Shiawasede Iinokana? -." Furthermore, the member editions will include exclusive songs specific to each member.

The schedule for in-store events will be announced on FRUITS ZIPPER's official Twitter.

Information

FRUITS ZIPPER 1st CD Single "Watashino Ichiban Kawaiitokoro"
Release Date: September 13, 2023

[Editions]
Limited Edition [CD]: ¥3,000 (Tax included)
Regular Edition [CD]: ¥1,200 (Tax included)
Member Edition [CD/7 versions]: ¥1,200 (Tax included)

【Specifications/Tracklist】

■ Limited Edition (The Cutest Packaging)
Tracklist:
M1. Watashino Ichiban Kawaiitokoro
M2. Pure In the World
M3. Zutto, zutto, zutto!
M4. Cho Medetai Song -Konnani Shiawasede Iinokana?-

■Member Editions (Member Solo Jacket)
Tracklist:
M1. Watashino Ichiban Kawaiitokoro
M2. Pure In the World
M3. Limited Edition Songs for Each Member Edition *
M4. Cho Medetai Song -Konnani Shiawasede Iinokana?-

*
Suzuka Chinzei Edition: "skyfeelan"
Luna Nakagawa Edition: "Kanpeki Shugide☆"
Amane Tsukiashi Edition: "Re→TRY & FLY"
Karen Matsumoto Edition: "Happy Chocolate"
Noel Hayase Edition: "RADIO GALAXY"
Yui Sakurai Edition: "Sekaiwa Kimikara Hajimaru"
Mana Manaka Edition: "Furefuru Summer!"

■Regular Edition
Tracklist:
M1. Watashino Ichiban Kawaiitokoro
M2. Pure In the World
M3. Cho Medetai Song -Konnani Shiawasede Iinokana?-
M4. Watashino Ichiban Kawaiitokoro (Instrumental)
M5. Pure In the World (Instrumental)
M6. Cho Medetai Song -Konnani Shiawasede Iinokana?- (Instrumental)

KAWAII LAB. Report #20 ~IDOLATER Releases 'Aimai Silhouette,' a New Track Jam-Packed with Cuteness~

On May 31, IDOLATER's 11th single, Aimai Silhouette, was released. A massive departure from the group's mature love songs of the past, the new track is packed with fresh energy, cute lyrics, and unforgettable choreography. We sat down to interview the members about the new song and their newly-unveiled costumes.

ーーAimai Silhouette just released. How would you describe it?

Yukino Fushiki: "It's unlike any IDOLATER song to date! It's a fast-tempo,
bittersweet, pop love song. The chorus is super catchy and the choreography is so cute, I want everyone to see it live! There are already tons of Aimai Silhouette
videos on TikTok, and I hope you'll try to learn the dance!" ♡

ーーDo you have a favorite lyric?

Ayu Okuda: [In my call history, all I see is your name / Little by little, you occupy more space, When we meet, hey, your voice is so close, my heart starts pounding / But I won't say that aloud]

"I think those lyrics are so cute. They tell the story of a first love that's unrequited."

ーーThe choreography is also adorable! What part of the dance should fans focus on?

Fuka Oishi: "Just like the song itself, the choreography is much more cutesy than previous IDOLATER dances. My favorite thing about it is how many times we make cute heart shapes♡ You'll need to watch carefully to spot how many heart shapes appear! The choreography has a lot of parts that fans can easily imitate, so I hope you'll come to see us live and dance with us in the audience!"

Dance with Noel Hayase (FRUITS ZIPPER)

ーーYour new costumes are so different from IDOLATER's past outfits. What did you think when you saw them for the first time?

Kurumi Tsukishiro: "I couldn't believe how cute they were!
We didn't know the fabric, the color, the shape–we had to wait to see. Once we
did, all the members screamed "They're so cute!" (Laugh)
I've always loved idols who wear frilly outfits, so finally being able to wear one
myself is really a dream come true."

ーーLastly, do you have anything you'd like to say to the fans?

Ririka Satsuki: "I don't think anyone expected this new song and these new
outfits. This summer, let's have lots of fun with this exciting song and these sparkly
costumes!

I want to make this the best possible summer for both the members and the fans! I hope everyone will keep supporting the renewed IDOLATER!"




While they've shown a more mature side in the past, we hope you'll keep an eye on IDOLATER as they show off their cutesy side.

Kyary Pamyu Pamyu Concludes 7-stop World Tour Including Performance at Primavera Sound, One of Europe's Largest Music Festivals

Harajuku-based artist Kyary Pamyu Pamyu charmed overseas fans during her first world tour in five years. Kyary Pamyu Pamyu WORLD TOUR 2023 -POPPP- took the artist to seven cities in four countries around the world.

In May, Kyary began the U.S. leg of her tour, stopping in New York, Los Angeles, and Chicago with French DJ/trackmaker Moe Shop as her opening act.

The artist performed in Paris and London in June, along with Barcelona and Madrid for Primavera Sound 2023, one of the biggest music festivals in Europe.

NATHAN GEY – NATHAN GEY

NATHAN GEY – NATHAN GEY

The Cabaret Sauvage in Paris and the London Earth Hall in London were filled to the brim with local fans, eager to see Kyary Pamyu Pamyu live for the first time in years. The audience sang the popular track Cherry Bon Bon in unison, dancing along with the legendary choreography.

The London show featured Hannah Diamond as Kyary's opening act. Signed to the UK label PC Music, Diamond is a leader in the HyperPop scene.

KPOP CONCERT – FANNY LE MONNIER

JAME WORLD – VANESSA LE PENNEC

Kyary Pamyu Pamyu, who continues to be active around the world, wowed the packed London venue with her expert dance moves and musicianship.

At Primavera Sound, a festival taking place over two weeks in Barcelona and Madrid, Spain, a large crowd gathered in front of the stage, instantly captivated by Kyary Pamyu Pamyu's unique style and Yasutaka Nakata's addictive electro sound.

Clips of the world tour have been posted on Kyary Pamyu Pamyu's Twitter and Instagram. Also, check out the Primavera Sound playlist on Spotify.

On July 15, Kyary Pamyu Pamyu will perform a solo concert at the Hibiya Open Air Concert Hall, which will also mark her triumphant return to Japan following her successful world tour. The artist will also perform at several summer festivals. Audiences around the world are enthralled with the Kawaii performer, and it's only a matter of time before she performs for global audiences yet again.

Information

■World Tour
Kyary Pamyu Pamyu WORLD TOUR 2023 -POPPP-
May 15 – New York|Webster Hall
May 17 – Los Angeles|The Novo
May 19 – Chicago|Anime Central
June 2 – Barcelona|PRIMAVERA SOUND 2023 Parc del Forum
June 5 – Paris|Cabaret Sauvage
June 7 – London|London Earth Hall
June 9 – Madrid|PRIMAVERA SOUND 2023 Ciudad del Rock

Special Tour Site: https://wt2023.kyary.asobisystem.com/

【Spotify】 Kyary Pamyu Pamyu Primavera Sound 2023: https://open.spotify.com/playlist/7Gzl5MVmefJJKSIEEdi1SG

■Concert Information
Celebrating 100 Years: Kyary Pamyu Pamyu Special Live 2023 ~Midnight Sun~
Date: July 15, 2023
Venue: Hibiya Open Air Concert Hall
Time: Open at 16:30 / Show starts at 17:30
*No admission for preschool-aged children
General Ticket Sales: June 17, 10:00~
https://www.red-hot.ne.jp/play/detail.php?pid=py23966
Sponsor: Hibiya Open Air Concert Hall 100th Anniversary Executive Committee
Planning/Production: ASOBISYSTEM Co., Ltd.

Contact:
HOT STUFF PROMOTION
050-5211-6077
https://www.red-hot.ne.jp/

[Kyary Pamyu Pamyu Profile]
Kyary Pamyu Pamyu
Birthday: January 29, 1993
Birthplace: Tokyo
Artist
Kyary Pamyu Pamyu made her major debut with her mini-album 'Moshi Moshi Harajuku' in 2011, produced by Yasutaka Nakata. Since 2013, she's successfully completed four world tours, and in 2020, she was selected by Lady Gaga as one of the most powerful women from around the world for the "Women of Choice" playlist, made in celebration of International Women's Day. Her boundless creativity, not bound by global norms, and her powerful self-expression have made Kyary incredibly popular both in Japan and abroad. In April 2022, she performed on the GOBI stage at Coachella, one of the biggest music festivals in the world. The concert was streamed live on YouTube, and the world went wild over her fiery performance. In November 2022, Kyary also performed with Katy Perry at the TRUE COLORS FESTIVAL, an event supporting diversity in the arts. In 2023, the artist held a seven-city world tour in Europe and the United States.
Kyary Pamyu Pamyu is a Harajuku and Japanese pop icon who continues to push the boundaries of self-expression.

◆Kyary Pamyu Pamyu Official Site: http://kyary.asobisystem.com
◆Kyary Pamyu Pamyu 10th Anniversary Site: http://kpp10.jp
◆Kyary Pamyu Pamyu Official Twitter: https://twitter.com/pamyurin
◆Kyary Pamyu Pamyu Staff Twitter: https://twitter.com/kyarystaff
◆Kyary Pamyu Pamyu Instagram: https://www.instagram.com/kyarypappa/
◆Kyary Pamyu Pamyu Staff Instagram: https://instagram.com/kyarystaff/
◆Kyary Pamyu Pamyu Official Fanclub (KPP CLUB): https://kyary.net/

Check out the latest news here: https://lit.link/kpp