BTS TinyTAN Pop-Up Shop Open in Nagoya for a Limited Time
BTS fans will want to head to Nagoya! The TinyTAN Licensed Product Special Exhibition is now open at Nagoya Kintetsu Pass'e until October 2, 2022. Tons of new products inspired by Butter are available at an on-site pop-up shop!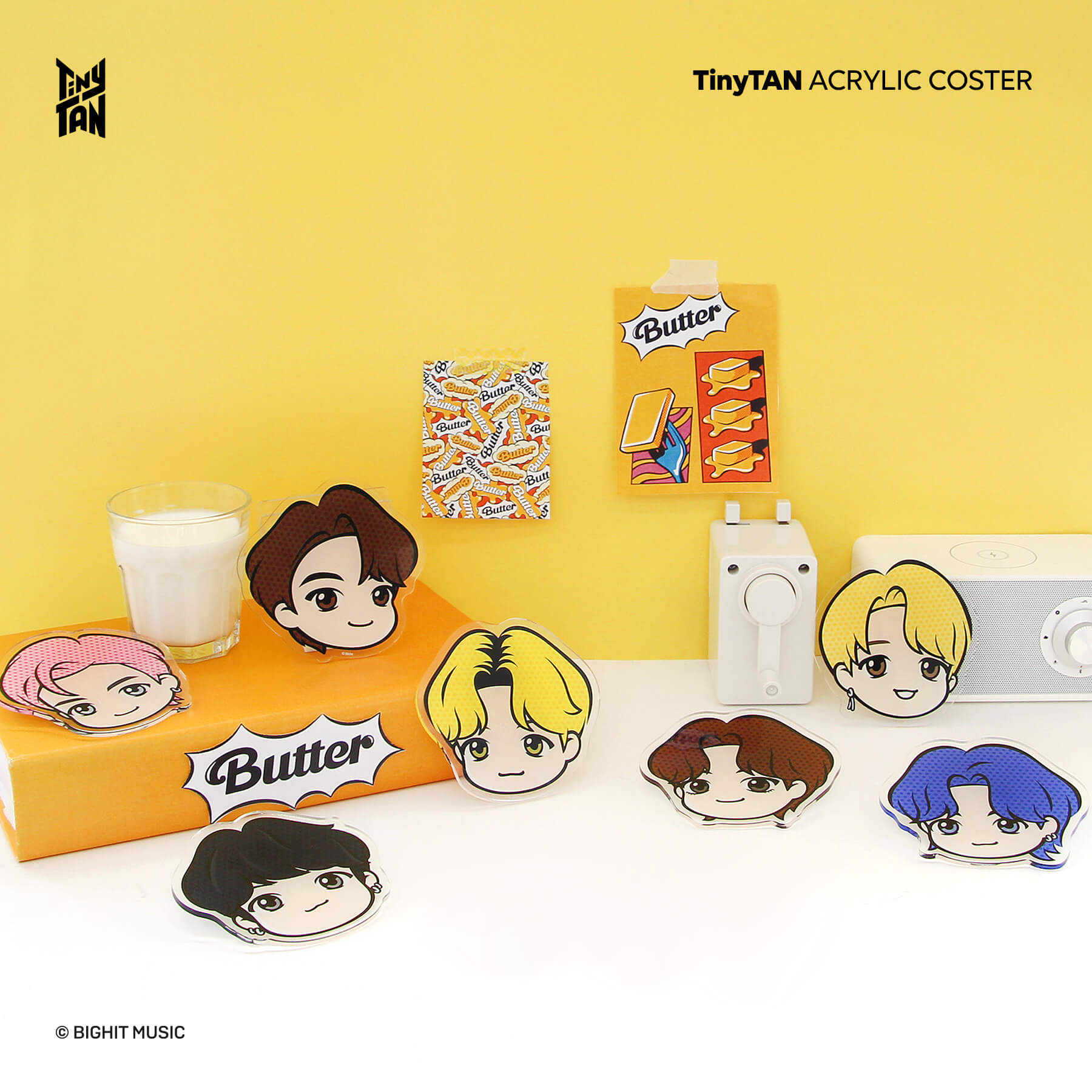 The exhibition opened on September 17, and fans of the BTS song Butter are flocking to the event to snag some adorable new merch. In addition to new interior goods being unveiled for the first time, popular products have been released with entirely new designs. 
Many other world premiere products will also be available, including the 4 Season Blanket decorated with TinyTAN characters and inspired by spring, summer, fall, and winter. This will be available in limited quantities, so don't miss out!
Information
TinyTAN​ Licensed Product Special Exhibition in Nagoya (DIRECTOR JAPAN)
Venue: Nagoya Kintetsu Pass'e 4F Special Event Space (1-2-2 Meieki, Nakamura-ku, Nagoya)
Running: September 17 – October 2, 2022
Hours: 10:00-20:00
Reservations: https://select-type.com/rsv/?id=zf4tWp-4ICA
RELATED ENTRIES
Hikari Shibata to Open Photo Exhibition 'THROUGH THE WINDOW'

Model, DJ, and photographer Hikari Shibata will hold her first photo exhibition in five years, THROUGH THE WINDOW, at the FLOAT Gallery in Tokyo for four days starting September 8, 2023.

The exhibition's title was inspired by Shibata's shyness, which has always led her to photograph landscapes rather than people. Many photos were taken through windows, and both the view and reflections are meaningful and personal to Shibata herself.

This year's exhibition features photos of daily life taken in Copenhagen, Denmark's largest city, where Shibata stayed for a total of three weeks in March 2023. It will also feature photographs snapped in Berlin, Los Angeles, and New York City.

Shibata will visit the gallery in person to present her creations. In addition to the sale of exhibited photographs, guests will also be able to purchase T-shirts, hats, and Shibata's first photobook, the latter of which is available in limited quantities. The self-published 112-page hardcover book was entirely designed by Shibata herself. T-shirts will be available in two colors and feature the title of the exhibition, while hats will come in three colors with an embroidered graphic image of the sun reflected in a window.

Information

THROUGH THE WINDOW (Hikari Shibata Photo Exhibition)
Running: September 8-11, 2023 / 13:00-20:00
Venue: FLOAT (3-1-9 Megurohoncho, Meguro-ku, Tokyo)
*Please be aware that admission may be restricted in the event of crowding.

[Profile]
Hikari Shibata
Born in Kanagawa in 1997, Shibata is a model, DJ, and fashion director, known for sharing her life and unique fashion sense on social media. Her interest in photography dates to her high school days, and along with her work in Japan and abroad, she's handled visuals for apparel brands and CD jackets. This will be her fourth photo exhibition.

YouTube: https://www.youtube.com/@peepinsidehead5862
Instagram: https://www.instagram.com/shibatahikari/
PEEP INSIDE HEAD: https://peepinsidehead.com/

teamLab Forest Fukuoka to Introduce Spring Sakura Theme for a Limited Time

Starting March 4, the permanent museum teamLab Forest Fukuoka will transform its artwork into a stunning spring theme. Guests will be able to enjoy gorgeous cherry blossoms for a limited time, and starting March 24, the Catching and Collecting Forest will also be transformed in the same way.

TeamLab's works are created in real time by procedural generation, meaning that they are always changing and evolving. Each work changes depending on the season.

▼Starting March 4

Both Shifting Valley, Living Creatures of Flowers, Symbiotic Lives – A Whole Year per Year and Animals of Flowers, Symbiotic Lives II – A Whole Year per Year are only available to see during spring. Come and see animals made entirely of cherry blossoms as they roam through the museum!

The work titled Soft Terrain in Granular Topography shows multicolored grains of light pouring from the sky, while Flutter of Butterflies, Ephemeral Life surrounds visitors with brightly colored butterflies

▼Starting March 24

In the Catching and Collecting Forest, visitors can explore with their smartphones and catch various animals made entirely of cherry blossoms.

Information

teamLab Forest Fukuoka – SBI SECURITIES Co., Ltd.
Venue: BOSS E・ZO FUKUOKA 5F, Next to Fukuoka PayPal Dome
Address: 2-2-6 Jigyohama, Chuo-ku, Fukuoka
Official Site: http://forest.teamlab.art

Matsuzakaya Nagoya to Host Exhibition Honoring Mobile Suit Gundam Animator Kazuhiro Ochi

©永井豪/ダイナミック企画 ©ダイナミック企画・東映アニメーション ©ダイナミック企画 ©東映アニメーション ©松本零士/零時社・東映アニメーション

 

From March 21 until April 5, 2023, Matsuzakaya Nagoya will host The World of Super Robot & Hero: Kazuhiro Ochi Art Exhibition, celebrating the creator's 45th anniversary as an artist. Ochi is well-known for his work on Mobile Suit Gundam and dozens of other popular anime series, from Martian Successor Nadesico to Urusei Yatsura.

Ochi has personally selected over 100 items to be put on display at the exhibition, including illustrations from Mazinger Z and Devilman, both of which are celebrating their 50th anniversaries. Fans can also expect to see illustrations from the newly-announced UFO Robot Grendizer project along with original sketches, promotional materials, and much more.

Available merchandise will include an art book signed by Kazuhiro Ochi himself, prints, and character goods. New Cutie Honey and Cosmic Fantasy products will also be available for purchase.

The animator himself will also be in attendance on select days, so don't miss this rare opportunity to meet an anime legend!

Guests spending over ¥5,000 (including tax) at the exhibition during days in which Ochi is in attendance will receive an autographed illustration card only available at the Nagoya venue.

Exhibition Merch at a Glance

 

©Go Nagai/Dynamic Planning Illustration by K.Ochi

 ©KAZUHIRO OCHI

 

イラスト/越智一裕 ©永井豪/ダイナミック企画

Information

The World of Super Robot & Hero: Kazuhiro Ochi Art Exhibition

Running: March 21 – April 5, 2023

Hours: 10:00-18:00

Venue: Matsuzakaya Nagoya Main Buiding 7F, Large Event Hall

Details & Merchandise Information: https://edition-88.com/blogs/blog/ochikazuhiro-ten-nagoya_event-info

Purchase Goods:  https://edition-88.com/

 

Kazuhiro Ochi Attendance Schedule

Appearance Dates: March 21, March 25, March 26, April 1, April 2

Hours: 13:00-16:00

*The event will conclude promptly at the listed time.
*The attendance schedule is subject to be changed or canceled depending on various circumstances.

Hisashi Eguchi's Illustration Exhibition "Tokyo Girlfriend" Coming to Tokyo Midtown Hibiya, New Works to be Exhibited for the First Time

From March 14 until April 23, 2023, Tokyo Midtown Hibiya will hold Hisashi Eguchi's Tokyo Girlfriend illustration exhibition, set to show off the artist's unique perspectives on people and cityscapes. The exhibition will feature new illustrations of the titular girlfriend standing in the streets of Hibiya drawn especially for this exhibition, as well as various other girlfriends both large and small.

GING NANG BOYZ Kimi to Boku no Dai 3ji Taisen-teki Renai Kakumei CD Jacket (2005)

A LONG VACATION – Eiichi Ohtaki 40th Tribute Illustration (2021) ©2023 Eguchi Hisashi

Hisashi Eguchi, a manga artist and illustrator, continues to convey the charm of the city and its people by vividly depicting Tokyo and the many unique happenings within. As Tokyo Midtown Hibiya celebrates its 5th anniversary along with many other nearby businesses, the Tokyo Girlfriend exhibition of illustrations by Hisashi Eguchi is being held to celebrate.

The exhibition will feature a new painting of the mysterious girlfriend standing in the streets of Hibiya, newly created for the Tokyo Midtown Hibiya exhibition. A number of original pieces using Pantone overlay, Eguchi's favorite painting medium in the 80s and 90s, will also be on display for the first time.

During the exhibition period, guests can enjoy autograph sessions, live sketches in which Eguchi himself will draw a portrait of selected subject on the spot, and workshops where he will teach tips on how to be a better illustrator.

Don't miss your chance to meet one of the greatest illustrators of the modern era!

©2023 Eguchi Hisashi

SUGA of K-Pop Supergroup BTS Appears in the Final Episode of '10 Favorites – Ryuichi Sakamoto'

 Photo by zakkubalan ©2022 Kab Inc.

On January 17, 2022, beloved composer Ryuichi Sakamoto celebrated his 70th birthday. The artist continues to battle cancer, and as a way to encourage and empower him, the commons label launched a special anniversary website titled 10 Favorites – Ryuichi Sakamoto. The site features appearances from major artists and creators who have cited Sakamoto as an inspiration, listing their ten favorite works by the composer alongside their unique perspectives and thoughts. The 25th and final installment features SUGA of the popular K-pop boy band BTS.

Comment from SUGA (BTS)

「어릴적 부모님 손에 이끌려 '마지막 황제' 재개봉을 간 적이 있었습니다.
그 때 음악에 압도 되었다는 느낌을 처음 받았고 12살 음악을 만들기 시작하며 사카모토 류이치 선생님의 음악을 많이 듣고 샘플링을 하며 꿈을 키웠습니다.
저에게 수많은 영감을 준 뮤지션들은 많지만 사카모토 류이치 선생님은 더 많은 꿈을 꾸게 해주신 분입니다 (저는 참고로 코다 다큐멘터리의 재해대피소에서 연주한 Merry Chistmas Mr. Lawrence live 버전을 가장 좋아합니다)
부디 건강하세요 선생님.



"When I was young, my parents took me to see The Last Emperor. That was when I first experienced the feeling of being awed by music. I began composing music when I was twelve and dreamed about my future while listening to your music, even sampling some of it.

There are many musicians who have inspired me, but you are one of the people who has influenced me the most. (For reference, my favorite Sakamoto piece is the live performance version of Merry Christmas Mr. Lawrence that was performed in the area impacted by the 2011 earthquake, which appears in the documentary CODA). Mr. Sakamoto, please stay healthy."

Previous contributors to the project include Shinro Ohtake, Goro Inagaki, Banana Yoshimoto, Shiro Takatani, Yukihiro Takahashi, Akira Asada, Kiko Mizuhara, Haruomi Hosono, Yuima Nakazato, Ryu Murakami, LEO, UA, Shin'ichi Fukuoka, U-zhaan, Lee Sang-il, Ryoji Ikeda, Hiroshi Fujiwara, Kei Wakabayashi, Shinichiro Watanabe, Kiichi Fujiwara, Miki Nakatani, Daito Manabe, Taeko Ohnuki, and Hirokazu Koreeda.

Fans of Sakamoto's works should feel free to peruse the site, which includes English translations of the guest's selections and thoughts.

Information

10 Favorites – Ryuichi Sakamoto

CreepHyp to Bring 10th Anniversary Exhibition to Nagoya PARCO

From February 11 to February 26, an exhibition inspired by the popular rock band CreepHyp will be held at the PARCO GALLERY on the 6th floor of the Nagoya PARCO West Building. The event is being held to celebrate the 10th anniversary of CreepHyp.

The exhibition is themed around a 'Museum of Voices.'

A person's voice is said to be a true expression of their personality. This exhibition will give fans a new sense of what CreepHyp is and will feature their music, their MC content, and various radio appearances.

Visitors will be able to listen to the member's voices, but they'll also be able to step on them, dive into them, look at them, and experience plenty of other ways to enjoy the band's content. Completely immersed in this world of voices, this experience promises to be like no other. Come experience it while you can!

The exhibition was largely created by CHOCOLATE, the creative team behind CreepHyp's past exhibitions. Exclusive merchandise will also be available on-site.

Macaroni Empitsu 10th Anniversary Exhibition Makes Triumphant Return to Tokyo

Fans of the pop rock band Macaroni Empitsu will want to head to Tokyo from February 17 to March 6, 2023 to enjoy a newly-reworked 10th-anniversary exhibition. Guests are invited to look through various macaroni holes around the exhibition hall to catch glimpses of some curious and rare items only on display for a limited time.

After being held at several locations around Japan, the exhibition will return to Ikebukuro PARCO in Tokyo next month.

Items appearing in the Macaroni Empitsu 10th Anniversary Book -Macaroni Kuronikuru- will be on display, and a short film titled Aspirations will be screened following its premiere in Shibuya.

Graphic designer Shun Sasaki served as the art director for the exhibition.

Fans won't want to miss out on the exhibition's original merchandise featuring key visuals and lyrics from the band. Come get a glimpse at the history and personal lives of Macaroni Empitsu's members while you can!

[Comment from Vocalist Hattori]
"Macaroni Empitsu's exhibition is making a triumphant return to Tokyo! New content has been added this time around, so be sure to come fall into the macaroni hole!"

Information

Macaroni Empitsu 10th Anniversary Exhibition in Tokyo
Running: February 17 – March 6, 2023
Venue: Ikebukuro PARCO 7F / PARCO FACTORY
Hours: 11:00 – 21:00 *Admission permitted up to 30 minutes prior to closing
*Closing at 18:00 on March 6
Admission: ¥500 (Tax Included) *Reservations required. For more information, check parco.art.
*Free for preschool children
Details: https://art.parco.jp/parcomuseum/detail/?id=1147
*Event details are subject to change without notice.
*Hours of operation are subject to change.

<Touring Exhibition Information>
Osaka Venue
Umeda LOFT 4F Event Space
Running: January 13 – February 5, 2023

■Release
wheel of life EP
Release Date: March 8, 2023
wheel of life EP Special Site: https://macaroniempitsu-wheeloflife.com/

■LIVE
TALTO Night 2023
March 3, 2023 / Zepp Haneda
Performers: SAKANAMON / Macaroni Empitsu / Yayuyo / WON
*Opening act planned

Official Site: http://macaroniempitsu.com/

Chainsaw Man Gets Mini Exhibition at TSUTAYA Locations Nationwide Starting December 23

The globally popular anime series Chainsaw Man will get a mini-exhibition at TSUTAYA and TSUTAYA Books locations nationwide from December 23, 2022 until January 22, 2023. A special poster is being prepared for the exhibition and original drawings will be on display. New merchandise will be available during the event period. For more information, follow MAPPA's official Twitter page (@MAPPA_Info) for updates!

Original Reproductions to be on Display

One original reproduction will be displayed at each of the approximately 300 participating stores. 

Original Goods

Details on MAPPA x TSUTAYA Chainsaw Man Mini-Exhibition Goods

Acrylic Keychain (4 varieties), ¥935 each / Pin (4 varieties, random), ¥550 each / Acrylic Figure (4 varieties), ¥1,925 each / Clear Folder (4 varieties), ¥440 each / Leather Sticky Note Book (4 varieties), ¥605 each / Premium Postcard Holder (1 variety), ¥1,760 each / Mobile Accessory Case (1 variety), ¥2,200 each

 

As a purchase bonus, guests spending ¥2,200 (including tax) or more will receive a limited edition postcard (4 varieties).

©藤本タツキ/集英社・ MAPPA

Information

Chainsaw Man Mini-Exhibition

Running: December 23, 2022 – January 22, 2023

Venue: TSUTAYA locations nationwide, TSUTAYA Books (participating locations only) *See the website for list of stores.

Special Website: https://tsutaya.tsite.jp/article/animation/481.html

Snoopy Museum to Open Tasty Exhibition Titled 'What's Your Favorite Food?'

Following the conclusion of the current 'Little Best Friend Woodstock' exhibition, the Snoopy Museum will hold a food-centric event from January 14 until July 9, 2023!

Selected Works on Display

Peanuts Comic (January 20, 1991)

Peanuts Comic (September 6, 1988)

Peanuts Comic (February 7, 1988)

Peanuts Comic (September 14, 1954)

Peanuts Comic (March 27, 1986)

Peanuts Reprint (Partial / January 13, 1973)

Goods at a Glance

Approximately 40 rare original drawings of Snoopy and his friends will appear at the exhibition, all focused on the character's favorite foods. Food features prominently in the Peanuts comic strip, whether it be friends eating breakfast or school lunch.

The exhibition features items from the collection at the Charles M. Schulz Museum and Research Center in Santa Rosa, California. 

Snoopy loves to eat and loves doughnuts and marshmallows, but absolutely hates coconuts. Of course, the gang loves cookies, and eating lunch while chatting is the highlight of the day! Come enjoy this tasty event in 2023.

(C) Peanuts Worldwide LLC

Information

Snoopy Museum Exhibition – What's Your Favorite Food? ~Food in PEANUTS~

Running: January 14 – July 9, 2023

Closed on Tuesday, February 21 (Open every other day of the exhibition period)

Hours: 10:00-18:00 (Last entry at 17:30)

Official Site: https://www.snoopy.co.jp/

Final Fantasy Artist Yoshitaka Amano Holds Art Exhibition at Myoshin-ji in Kyoto

Yoshitaka Amano, known by international fans as the artist behind the legendary Final Fantasy video game series, is celebrating his 70th birthday with a unique art project from November 23 until December 8 at Myoshin-ji in Kyoto. 

On the first day of the event, the venue, decorated with autumn leaves, was crowded with visitors including foreign tourists, who marveled at the fantastic space filled harmoniously with gold and blue. The exhibition will be held at Myoshin-ji, the head temple of the associated branch of Rinzai Zen Buddhism. This collection of works was designed to question visitors' sensibilities and provide a new kind of art exhibition for fans to enjoy.

After the exhibition, the main art piece by Yoshitaka himself will be converted to 3DCG, and a Virtual Golden World will be developed in collaboration with the Yoshitaka Amano VR Museum. By integrating traditional and modern art methods, guests will be able to engage more deeply in the art by enjoying digital works, the metaverse, and NFTs.

Don't miss this curious exhibition!

Information

Golden World: Infinite Light by Yoshitaka Amano 

~GOLDEN VIEW OF THE WORLD~

Running: November 23 – December 8, 2022

Venue: Myoshin-ji

Hours: 9:00-12:00 / 13:00-16:00

Tickets on sale until 15:30 each day.

Official Site: https://www.myoshinji.or.jp/


Chainsaw Man to Get Pop-Up Store at baseyard tokyo

A pop-up store for the popular anime series Chainsaw Man will open at baseyard tokyo from December 9, 2022 until February 15, 2023. 

The pop-up store will feature goods with new illustrations of Denji, Aki Hayakawa, Power, and Makima.

In addition to limited-edition merch, exclusive materials from behind the scenes of the Chainsaw Man anime series will be on display. The space itself is also worth seeing, with figures on sale and a huge monitor showing off the series. 

Round 1: December 9, 2022~

Round 2: January 2, 2023~

For every ¥2,000 spent on goods (including tax), a bonus item will be handed out. These bonus items will differ during Round 1 and Round 2, so be sure to come back during both periods!

©藤本タツキ/集英社・ MAPPA


Limited Time Shop Inspired by Legendary Anime Series Heidi, Girl of the Alps Opens at EKIHAKO at Eki Marché Shin-Osaka

From November 19 to December 6, a limited-time shop inspired by the classic anime series Heidi, Girl of the Alps will open at EKIHAKO at Eki Marché Shin-Osaka at Shin-Osaka Station. Fans will be able to snag a number of exclusive items during this short time!

Heidi Pudding / Heidi Milk Caramels

Cream Sandwich

Printed Cookies with Bonus Pin

Chocolates (9-piece set)

Acrylic Swizzle Sticks

Mini Framed Magnets

Disinfectant Spray / Mini Canvas

Wooden Keychain

Wooden Stand with Clip

Non-woven Fabric Mask

Neck Strap

Clear Folder

Non-woven Tote Bag

Pullover Hoodie

Ceramic Mug

Kutani Ware Dish

Lottery

Purchase Bonus: Spend ¥2,200 or more (including tax) and receive an exclusive Osaka sticker (Not for Sale). 

Heidi, Girl of the Alps aired in Japan in 1974 and has remained popular to this day, largely due to the show's characters often appearing in TV commercials. The goods available at this shop are only available for a short time, and visitors can also participate in a raffle to win some rare items!

©︎ZUIYO

Information

Heidi, Girl of the Alps Shop at EKIHAKO, Eki Marché Shin-Osaka

Running: November 19 – December 6, 2022
Hours: 9:00-21:30
*Hours of operation are subject to change. The shop will close at 21:00 on December 6.
Venue: EKIHAKO, Eki Marché Shin-Osaka
https://www.heso-pro.com/