ASOBISYSTEM Begins Auditions for New Idols Aiming for Global Popularity
A leader in the world of Japanese pop culture, ASOBISYSTEM has announced a new idol audition under the KAWAII LAB project, launched in February to introduce Japan's popular idol culture to the world.
Those looking to apply will need to meet a few requirements. The project is searching for females between 10 and 22 years old who are not only good singers and dancers but also have unique personalities and charm. Whether an applicant has never set foot on stage before or has been an idol for years, anyone is welcome to apply. 
Those who pass the audition are scheduled to debut in 2023, either as part of a new idol group, as solo artists, or as VTubers, all with the aim of global expansion.
Applications will be accepted until November 13. If you've always wanted to become an idol, now's your chance!
KAWAII LAB. AUDITION 2022
Application Period: October 14 – November 13, 2022
How to Apply: Submit an application through the official LINE channel
Applicant Requirements:
・Female, age 10-22
・Some experience is preferred, but newcomers welcome to apply
・Must be able to take lessons and perform live in Tokyo
・If you are currently under contract with another firm or label, please apply after obtaining proper permission from your firm or label.
Perks: The office will cover the costs of all activities (lessons, costumes, recording time, transportation, lodging, etc.)
Application Procedure: After adding the official audition LINE account as a friend from the official website, please send us the following information: a photo (one full-body and one close-up), and a 30-second self-introduction video explaining why you should be chosen.
KAWAII LAB. Affiliated Artists
FRUITS ZIPPER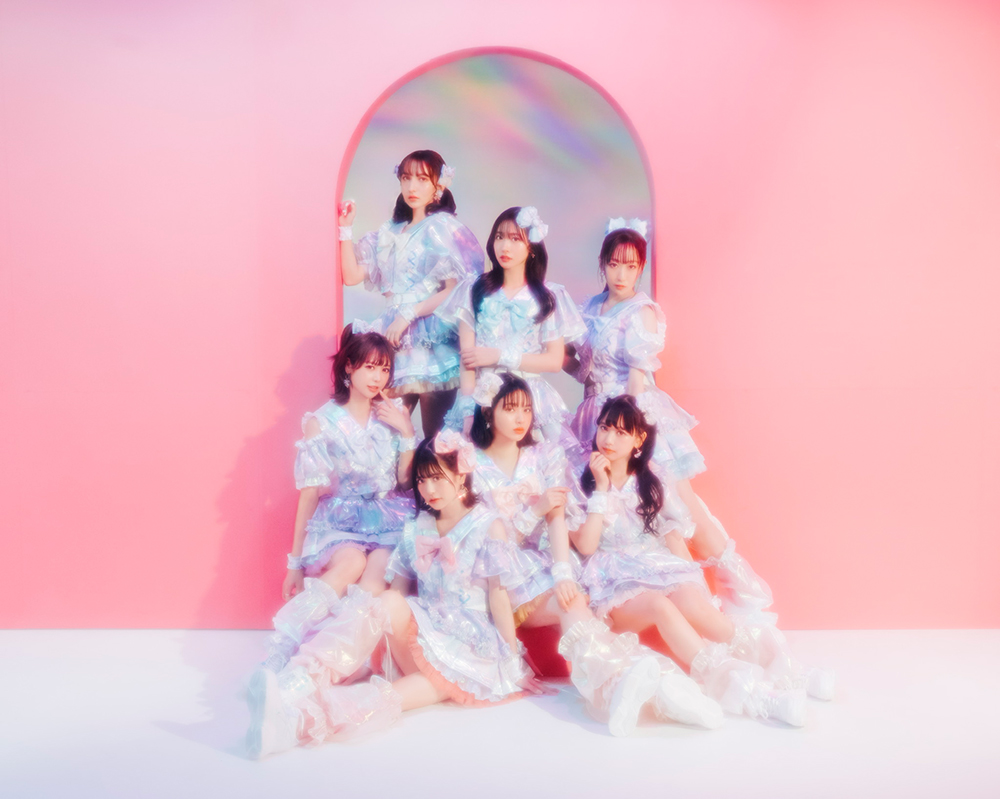 Under the concept of 'from Harajuku to the world,' FRUITS ZIPPER shares what they call 'NEW KAWAII' from Harajuku, an area known for fashion and individuality, to their soon-to-be global fanbase.
Twitter:https://twitter.com/fruits_zipper
Instagram:https://instagram.com/fruits_zipper
YouTube:https://www.youtube.com/channel/UCW8Q9LBGGBgK6a-u0C0h95A
TikTok:https://vt.tiktok.com/ZSen7dJAT/
IDOLATER
This CULTURE HOLIC  group explores the boundaries of music, fashion, and other unique aspects of popular culture through a unique idol perspective.
Official HP:https://note.com/idolater
Twitter:https://twitter.com/Official_IDLT
Instagram:https://www.instagram.com/idolater_official/
YouTube:https://www.youtube.com/IDOLATER
RELATED ENTRIES
Live Report: FRUITS ZIPPER, the Hottest Idol Group Around, Shows Incredible Growth during 2nd Solo Concert

FRUITS ZIPPER has become a smash hit in the idol world in 2022, with the group's track Watashino Ichiban Kawaiitokoro pulling in over 500 million plays on TikTok. The girls held their second solo concert, Sekai wa Kimi

kara Hajimaru, at Shibuya WWW X on November 11. Tickets quickly sold out after they went on sale following the group's first solo concert at Ebisu LIQUIDROOM in September, which was also completely sold out.

FRUITS ZIPPER debuted in April, with members chosen from the KAWAII LAB. idol project launched by ASOBISYSTEM. Despite being less than a year old, the members managed to perform at almost all major summer idol festivals. They also performed at SUMMER SONIC 2022. Snagging tickets for the group's performances is not easy, as both solo shows have completely sold out after minutes of tickets going on sale.

Many of FRUITS ZIPPER's fans are women, though the recent concert's ratio of men to women was about half. As the show was about to begin, fans in the audience began to hold up their penlights, each illuminated with one of the seven member's colors.

The special effects for the show were unique to the event, and as the music began alongside a countdown, the members appeared, dancing in perfect sync and starting the performance off on a high note. Expectations for FRUITS ZIPPER are high, with fans always waiting for them to take things to the next level.

The excitement in the venue reached a fever pitch as the girls performed Kanpeki Shugi de☆ and Kimi no Akarui Mirai wo Oikakete, two songs that have become staples of their live performances.

During the MC portion, the members thanked the fans for coming out and showed just how excited they were to be on stage.

After the chat, FRUITS ZIPPER performed a ton of popular songs in succession, including We are Frontier, RADIO GALAXY, and Re→TRY&FLY. RADIO GALAXY featured a remix of the intro and dance portion, and the trio of tracks showed the cooler side of the group, which embodies the idea of NEW KAWAII

The packed house was even more excited when the song Furefure Summer! began, and the audience suddenly became a sea of swirling towels and penlights.

During the next MC, the members announced a lottery, with the winners walking away with a Polaroid photo of all the members. Each girl showed a unique expression as they drew the numbers, and fans were easily entertained by their genuine emotion and close friendship with one another. 

The following two tracks were, of course, Watashino Ichiban Kawaiitokoro, FRUITS ZIPPER's signature song and a major 2022 hit, and skyfeelan, which shows a softer side of the members and pulls from Tweets they've made in the past.

As the song ended, a video began playing on the screen, announcing that the final show of the group's first Tokyo/Nagoya/Osaka tour, FRUITS ZIPPER 1st LIVE TOUR 2023 WINTER, would take place at LINE CUBE SHIBUYA on February 12. This will mark the largest venue ever for the group and the audience was instantly buzzing with excitement.

To wrap up the show, the members performed their new song Sekai wa Kimi kara Hajimaru, which was also the name of the concert itself. The song, which was first performed at the September concert, was released digitally on November 11. It was the perfect song to wrap up such an incredible show.

As fans relentlessly begged for an encore, the members returned to the stage to perform Watashino Ichiban Kawaiitokoro one more time.

During the MC in between, the members thanked the audience for their cheers and chatted about the tour scheduled for next year. 

"I want to eat Yabaton in Nagoya," Karen Matsumoto said.

When chatting about the final show to be held at LINE CUBE SHIBUYA, Luna Nakagawa said that it feels like "an absolutely mad event" for the group, but also expressed her enthusiasm and excitement for the show next year.

The concert ended with a performance of Sekai wa Kimi kara Hajimaru.

While the solo concert didn't feature any incredible stunts or large-scale effects, the members and staff managed to create something indescribably impressive. Without flashy special effects, the girls put on a show that brought people together and made an impression on all in attendance. 

FRUITS ZIPPER continues to grow at an incredible pace. Each live show gets bigger and bigger, and the media is taking notice. It's exciting to think about what these girls will do next.

text:Tsukasa Hasegawa

photo:Yuuna Yoshimori

FRUITS ZIPPER to Hold Finale of 1st Tour at LINE CUBE SHIBUYA in February 2023

On November 11, FRUITS ZIPPER held their 2nd solo concert, Sekai wa Kimi kara Hajimaru, at Shibuya WWW X. The group's first Tokyo/Osaka/Nagoya tour, FRUITS ZIPPER 1st LIVE TOUR 2023 WINTER, is scheduled to take place in February 2023, and the finale will be held at LINE CUBE SHIBUYA on February 12.

FRUITS ZIPPER's second solo concert was also held at WWW X. Tickets were sold out immediately following the last concert, and the venue was packed to capacity. The group performed all of their popular original songs, such as their latest single Sekai wa Kimi kara Hajimaru. Fans were also excited to hear Watashino Ichiban Kawaiitokoro, which has over 500 million plays on TikTok. 

During the concert's MC portion, it was announced that the finale of FRUITS ZIPPER 1st LIVE TOUR 2023 WINTER would be held on February 12 at LINE CUBE SHIBUYA. This will be the largest venue in FRUITS ZIPPER's concert history.

Advance tickets are now available on the subscription-only community channel 'Atsumare☆Furuppa!' on OPENREC.tv.

The group's newest song Sekai wa Kimi kara Hajimaru is now available on all music streaming services.

FRUITS ZIPPER is also scheduled to perform at the Tainan Young New Year's Eve Party countdown event to be held in Taiwan on New Year's Eve. 

<Tour Information>

■FRUITS ZIPPER 1st LIVE TOUR 2023 WINTER

Date: February 3, 2023

Venue: ReNY limited

Time: Venue opens at 17:30 / Show starts at 18:30

Contact: Sunday Folk Promotion (052-320-9100) *Available daily 12:00-18:00

Date: February 5, 2023

Venue: Nanba Hatch

Time: Venue opens at 16:30 / Show starts at 17:30

Contact: Kyodo Information (0570-200-888)

FRUITS ZIPPER 1st LIVE TOUR 2023 WINTER 〜FRUITS DAY〜

Date: February 9, 2023

Venue: Shibuya WWW X

Time: Venue opens at 18:00 / Show starts at 19:00

Contact: HOT STUFF PROMOTION (03-5720-9999) *Available weekdays 11:00-19:00

FRUITS ZIPPER 1st LIVE TOUR 2023 WINTER 〜ZIPPER DAY~

Date: February 10, 2023

Venue: Shibuya WWW X

Time: Venue opens at 17:30 / Show starts at 18:30

Contact: HOT STUFF PROMOTION (03-5720-9999) *Available weekdays 11:00-19:00

[Tickets]

VIP Standing: ¥15,000 (Tax Included / Drinks not included)

General Standing: ¥5,000 ((Tax Included / Drinks not included)

General Sales: January 14, 10:00~

■FRUITS ZIPPER 1st LIVE TOUR 2023 WINTER -TOUR FINAL –

Date: February 12, 2023

Venue: LINE CLUB SHIBUYA

Time: Venue opens at 17:00 / Show starts at 18:00

Contact: Sunrise Promotion Tokyo (0570-00-3777) *Weekdays 12:00-15:00

[Tickets]

Assigned VIP Seat: ¥18,000 (Tax Included)

General Assigned Seating: ¥6,500 (Tax Included)

Advance tickets available for subscription members of 'Atsumare☆Furuppa!' on OPENREC.tv!

November 11 at 21:00 ~ November 14 at 23:59

https://www.openrec.tv/subscription/user/FRUITS_ZIPPER

[Notes]

・Up to 2 tickets per person per purchase. (Young children not permitted.)

・Tickets will be electronic. 

・The Tokyo performance on February 9 will be men-only. 

・The Tokyo performance on February 10 will be women-only. 

・Transfering or reselling tickets for a fee without the consent of the event organizer is prohibited.

<Release Information>

Sekai wa Kimi kara Hajimaru – FRUITS ZIPPER (Digital Single)

Release Date: November 11, 2022

Streaming Links : https://ssm.lnk.to/SKH

Kyary Pamyu Pamyu Returns to America to Perform Only Half a Year After Coachella

On October 29, Kyary Pamyu Pamyu took part in Porter Robinson's Second Sky Music Festival in Oakland, California. The following day, the popular singer also appeared at Porter Robinson + Friends, an afterparty event held in San Francisco. American fans are finding their excitement at a fever pitch as the Harajuku-based artist continues to perform abroad!

Kyary Pamyu Pamyu recently made headlines when she performed an unprecedented 62 songs at Nippon Budokan on October 19 during the final stop on her 10th-anniversary tour. Following this impressive feat, Kyary performed at yet another festival in Japan before hastily returning to the United States following her show-stopping performance at Coachella half a year ago.

Porter Robinson's Second Sky Music Festival was hosted by and featured performances by internationally acclaimed DJ and producer Porter Robinson. Other important figures in the dance music scene also appeared including SKRILLEX and RL GRIME.

The event took place in a large parking lot adjacent to the Oakland Coliseum, home of the Oakland Athletics MLB team. Since the show took place close to Halloween, plenty of decorations could be found, and fans lined up from the early morning to get inside.

Although Kyary's performance was scheduled for quite early in the day, the audience sprawled out as far as the eye could see. As DE.BA.YA.SHI. 2021 began to play, fans began to excitedly call out Kyary's name. In Japan, regulations are in place to stop the spread of the coronavirus, meaning that audience members are forbidden to yell during concerts–but no such precaution exists in the U.S. It was clear that Kyary was beyond excited to hear the audience's enthusiasm, and as the show began, the artist called out "Second Sky," to which the fans responded with excited cries. 

The audience danced wildly to Candy Racer and Dodonpa, two of Kyary's most peppy tracks, which played in succession. The singer did her best to speak English. "Hello! I'm Kyary Pamyu Pamyu from Japan," she began. She then complimented a fan in full Kyary cosplay. "Wow! Nice costume! PONPONPON costume, so nice," she said.

During CANDY CANDY -Remix-, the audience raised their hands high in the air as they followed Kyary's instructions to jump, swaying from left to right. As the audience moved in sync, a number of hit tracks began to play, including Harajuku Iyahoi and Tsukematsukeru. However, nothing could match the excitement of the moment that the intro to PONPONPON began to play. Porter Robinson, who was watching the live performance from the side of the stage, was moved to tears, and everyone could feel how big Kyary's presence was for local fans.

Kyary's performance at the Coachella Valley Music and Arts Festival in April of this year became a hot topic, showing that Kyary is still incredibly popular in the U.S. ten years after her major debut.

In addition to her largest national tour to date, Kyary has made numerous appearances at music festivals in Japan and abroad in 2022. The artist's first overseas performance during her 11th year as a performer was an incredible success and bodes well for Kyary's future.

<Setlist>
2022.10.29 "Second Sky Music Festival"
OP. DE.BA.YA.SHI.2021
1. Candy Racer
2. Dodonpa
3.Invader Invader
4. CANDY CANDY –Remix-
5. Ninja Re Bang Bang –Steve Aoki Remix-
6. Harajuku Iyahoi
7. Tsukematsukeru
8. PONPONPON –Extended Mix-
9. Fashion Monster

2022.10.30 "Porter Robinson + Friends"
OP. DE.BA.YA.SHI.2021
1. Candy Racer
2. Ninja Re Bang Bang
3. CANDY CANDY
4.Crazy Party Night-Pumpkins Strike Back-
5. Kira Kira Killer
6. Isshin Doutai
7. Harajuku Iyahoi
8. Fashion Monster
9. PONPONPON

Information

Kyary Pamyu Pamyu

KAWAII LAB. Report #13: FRUITS ZIPPER ~From Harajuku to Thailand~

FRUITS ZIPPER, a new idol group from ASOBISYSTEM's KAWAII LAB project, has a simple concept: "From Harajuku to the World."

This summer, the group's track Watashino Ichiban Kawaiitokoro took off on TikTok with the music video racking up over 500 million plays, propelling the girls into the idol spotlight. Along with regular monthly performances, tickets for the girl's first solo concert in September and their second solo concert in November were sold out immediately. FRUITS ZIPPER is scheduled to go on tour in Tokyo, Nagoya, and Osaka in February 2023, and even the fashion industry has become obsessed, with the group serving as the seasonal ambassadors for Samantha Vega starting in August 2022.

Only six months after its debut, the members of FRUITS ZIPPER are already taking their first steps outside of Harajuku. Their first overseas trip was to Thailand, called the land of smiles. 

FRUITS ZIPPER performed as one of more than 50 artists representing Thailand and Japan at the THAI-JAPAN ICONIC MUSIC FEST 2022 from October 21 to October 23. The music festival was held to commemorate the 135th anniversary of diplomatic relations between Thailand and Japan.

Four different stages were set up during the event, and FRUITS ZIPPER managed to attract fans not only from Japan, but from Thailand, Malaysia, Hong Kong, Myanmar, the Philippines, and other Asian countries. Many guests even knew the choreography to a number of FRUITS ZIPPER songs, including, of course, Watashino Ichiban Kawaiitokoro. The audience was thrilled when the members addressed them in Thai, and a collaboration interview video shot with local idols was also taken. It's now available on FRUITS ZIPPER's TikTok channel, so check it out!

We sat down with the seven members of FRUITS ZIPPER to hear about their best memories from Thailand!

-How did you feel about your first overseas trip to Thailand?

Noel Hayase

"It was our first time performing in Thailand. Not many people knew who we were and we were far away from home, but people welcomed us with open arms. So many people came to watch us, and I was happy to see the audience dancing along to the songs!"

Yui Sakurai

"When I became an idol two years ago, Thai fans really supported me. Back then, I told them I'd love to come to see them, but I never got the chance.


I'm happy that I was about to finally achieve that goal, or my dream, I guess, of going to Thailand to meet all of those fans. There were so many more people waiting for me than I could have imagined, and even though we couldn't communicate very well with the language barrier, we could easily communicate through music. I was so happy."

Karen Matsumoto

"So many non-Japanese fans came out to support us! Even though they didn't speak Japanese, they did their best to tell us they were rooting for us, and that they loved us. I was so happy, I can't wait to go back!"

Mana Manaka

"This was my first visit to Thailand, and part of me felt a little uneasy since everything felt so different when compared to live shows in Japan. I was allowed to take pictures and to really use my voice, and the stage configuration was really confusing. But everyone in Thailand was super welcoming and kind, and I was so happy to see them trying to learn Japanese. They'd listen to me talk and nod, looking me in the eyes, even if they didn't understand what I was saying. It was a wonderful trip that reminded me how excited I am to travel abroad. I hope I can see everyone in Thailand again, thank you so much!"

Luna Nakagawa

"Even though I've been an idol for a while, this was my first trip overseas. Going to Thailand had always been a dream of mine, but at the same time, I was nervous. I didn't know what kind of fans I'd find there, or if there would be any fans at all. But the Thai people were so unbelievably kind.


During our performance, a girl held up a board that said 'Lunapi' and waved a purple penlight. She shouted that she was looking so forward to meeting me, and it made me so happy.

We started to share information with the Thai people after our performance was decided, but it seemed that they had known about us before that. I felt that so many people had been excited about coming to see us, and now I just want to go to Thailand again to see everyone a second time. Kob kun kaa!"

Amane Tsukiashi

"This was the first time I had visited Thailand, and I thought it was so beautiful. Seeing ICONSIAM was unbelievable–the biggest building I'd ever seen! I was so happy to see the fans, and so many told me that they had been waiting to meet us. Thank you so much."

Suzuka Chinzei

"Before going to Thailand, I wondered how many local people knew about FRUITS ZIPPER and how many would actually come to see us. When we actually took the stage on the first day, there were so many Thai people, and Japanese people too! Since I was able to use my voice to the fullest in Thailand, I was thrilled when the audience could sing along with the 'Ne, ne, ne' part in Watashino Ichiban Kawaiitokoro! This live show was so unique to Thailand, and it felt so much freer than live shows are in Japan right now with all the restrictions. Since there was a language barrier, I wanted to put all of my feelings and emotions into my performance. I felt like I could communicate with the audience with my eyes, and those three days of performances were so unforgettable. We'll be back and we'll be even stronger, so wait for us until then! Kob kun kaa!"

FRUITS ZIPPER is on course to become a smash hit not only in Japan, but around the world.

Atarashii Gakko! Releases New Song 'HANAKO'

On October 31, the dance and vocal unit Atarashii Gakko! released their new song HANAKO via 88rising.

Atarashii Gakko! made their world debut last year through the record label 88rising. This year, the group held a successful solo concert at Zepp DiverCity in May, followed by two sold-out solo concerts in the U.S. and a five-show U.S. tour including an appearance at the Head in the Clouds festival organized by 88rising. In a relatively short time, Atarashii Gakko! has become a smash hit with fans abroad.

The new song HANAKO is based on the classic Japanese school horror story Hanako-san. The urban legend tells the story of a young girl who haunts school toilets. Manny Mark produced the song, following his involvement in the group's previous tracks. The lyrics were written by Atarashii Gakko! themselves and the track has a bizarre yet cutesy vibe.

The lyric video for HANAKO was released at midnight on October 31, with the music video dropping at 13:00 on the same day. The unintentionally chilling, ghost-story-style video set in an elementary school is also sure to make an impression.

Comment from the Members

"HANAKO is the perfect spooky song for Halloween and we're happy to release it on October 31.

The song was actually being made concurrently with SNACKTIME, which we released last year! (With Money Mark, of course.)

The four of us would have meetings about the melody and lyrics while we were in LA. We stopped working on the song when it was still in the demo phase, but when we went to LA this summer, we worked with Money Mark to evolve it into something new. As we continued to build it, it became creepier and creepier.

It's a ghost story. It's all about being terrified, but also about being curious. Hanako is a popular urban legend in Japan about a ghost that haunts school bathrooms. In the legend, if you say the ghost's name three times, it might respond…or even appear in front of you."

Information

HANAKO – Atarashii Gakko! (Digital Single)

Release Date: October 31, 2022

Available to stream on streaming services worldwide

Listen & Download:

Japanese Artists to Perform in MetaTokyo Area at Metaverse Music Festival

Metaverse Music Festival will feature a MetaTokyo area this year! The event is being organized by Decentraland, a global Web3 Metaverse platform. A number of Japanese artists will perform, including Edo Lena, MISOSHITA, and Atarashii Gakko! 

In the special MetaTokyo area, a giant Metaani x Kyary Pamyu Pamyu character will be dancing to the beat. The popular collab appeared in April of this year and was an instant hit with NFT fans around the world. Those with an interest in Japanese culture can also enjoy some unique content streamed in the area. The Metaverse Music Festival will be held from November 10 until November 13, 2022.

Participating Japanese Artists

According to a recent announcement from Decentraland, Ozzy Osbourne, Soulja Boy, Dillon Francis, SNH48, and others will perform at OZZFEST, a festival organized by Ozzy Osbourne. Atarashii Gakko! will perform on the main Tower of Babel Stage.

The festival area will also feature special stages and areas in collaboration with a number of partners. MetaTokyo is one such partner sure to be a hit with audiences around the world!

Within the MetaTokyo area, Metaverse diva and artist Edo Lena and Metaverse creator MISOSHITA will perform. Other J-pop artists are scheduled to perform for audiences worldwide.

Giant Metaani x Kyary Pamyu Pamyu 

A giant Metaani x Kyary Pamyu Pamyu will appear within the Metaverse. First appearing in April 2022, guests will be treated to Kyary's popular song Dodonpa when they first enter, and will be able to take selfies with the huge character in a way not possible in the real world.

Information

Metaverse Music Festival

Date: November 12, 2022 at 2:00AM (JST)

How to Participate: 

Visit the pre-registration page below and click "WANT TO GO." 

https://events.decentraland.org/event/?id=7148716b-ff25-4d5f-8267-55fed7ab15bc

*Only the PC version of Chrome is supported.

*Visitors entering the event as a guest won't need to have a virtual currency wallet. 

*Some restrictions apply

Admission: Free

Kyary Pamyu Pamyu and Katy Perry to Perform Together for the First Time at True Colors Festival THE CONCERT 2022

The Nippon Foundation has been supporting people with disabilities in Japan and abroad for over fifty years. To mark this incredible milestone, True Colors Festival THE CONCERT 2022 will be held on November 19 and 20 at Tokyo Garden Theater. The performance aims to inspire fans to express their uniqueness. 

Kyary Pamyu Pamyu will perform as a guest performer on both days of the concert, which stands to be one of the largest live events in the world put on by artists with disabilities.

Kyary became a smash hit with audiences worldwide after Katy Perry praised her PONPONPON music video on Twitter, and the two are said to be fans of one another. This will be the first time that the two pop icons will perform on stage together. 

"I'm looking forward to performing with so many unique artists from around the world," Kyary said in a statement. "I'm so happy that I'm going to live my dream of performing with Katy!" 

Information

True Colors Festival THE CONCERT 2022 

Venue: TOKYO GARDEN THEATER (2-1-6 Ariake, Koto-ku, Tokyo)

Dates: 

November 19 / Doors Open at 16:00, Show Starts at 18:00

November 20 / Doors Open at 15:00, Show Starts at 17:00

Official Site: https://truecolorsfestival.com/jp/program/the_concert/

KAWAII LAB. Report #12: Idol Perfect Makeup Tips from FRUITS ZIPPER

FRUITS ZIPPER, a new idol group from ASOBISYSTEM, has a simple concept: "From Harajuku to the World." Ready to transmit what they call 'NEW KAWAII' from Harajuku, an area known for fashion and individuality, to their soon-to-be global fanbase, the group consists of seven members: Amane Tsukiashi, Suzuka Chinzei, Yui Sakurai, Luna Nakagawa, Mana Manaka, Karen Matsumoto, and Noel Hayase.

We sat down with Karen Matsumoto, Yui Sakurai, and Luna Nakagawa to chat about all things makeup!

What cosmetics do you want to use for the rest of your life?

-Yui Sakurai

Yves Saint Laurent Radiant Touch.

It gives this incredibly natural-looking 3D effect!

Powder and stick highlighters are great sometimes too, but when I really want to look glamorous, this is my pick! Only Radiant Touch can give you that natural look without being too heavy.

And when you look tired, it can really brighten up your face. It gets rid of things that your concealer can't erase, like dark circles and lines. 

-Luna Nakagawa

I'd choose Canmake's Marshmallow Finish Powder! I have sensitive skin that gets irritated really easily, so I can't use foundation, but this powder is great. I can wash it off easily, it's free of additives, and it's fragrance and alcohol-free. I want to use it for the rest of my life because it makes my skin look so soft and fluffy🥺

-Karen Matsumoto

Bobbi Brown's glitter!

When I use it during concerts, I get compliments from so many people, even backstage! I like using it beneath my eyes!

Tell us something non-negotiable about your makeup. What is something you always do?

-Yui Sakurai

Shading and eye shadow!

Shading and contouring give me a special kind of depth. I consider it something like magic, something that gives me my ideal look, so it's something I have to do!

When I'm doing my idol makeup, putting on eye shadow is something I really cherish.! I've been experimenting with different ways to apply it. It's something that can really make an impact, and depending on how you do it, people can have a totally different impression of you. I'm doing my research to make it as cute as possible!

-Luna Nakagawa

I have to use eye shadow beneath my eyes!

I like using a darker color, like Bordeaux, to make my eyes really pop!

-Karen Matsumoto

My eyelashes! I can really only beat the others makeup-wise with my eyelashes, so I always curl them and make them look their best! ♡ 

Also, I like to apply a bolder pink blush to my cheeks! ♡

What's something readers can do to emulate your look?

-Yui Sakurai

Focus on the puffiness under your eyes! I've always gotten compliments on my puffy eyes since I was a kid, so I try to use that to my advantage when applying makeup!


To plump them up, I add a little liquid liner, concealer, and glitter, and BAM, perfection! (laughs)

-Luna Nakagawa

It's all about using eye shadow under the eyes…but I have almond-shaped eyes, so it's not something that everyone can do!

-Karen Matsumoto

Eyelashes!!

You're about to be stranded on a deserted island. What are the three makeup products you take along with you?

-Yui Sakurai

Lipstick, concealer, and eyebrow powder.

I thought that as long as I had these three things, I could still do a basic face. (laughs)

I wanna bring more!! (laughs)

-Luna Nakagawa

Eyebrow pencil, La Roche-Posay Primer, and Marshmallow Finish Powder!

-Karen Matsumoto

An eyelash curler, blush, and lipstick!

Did you enjoy learning more about the member's favorite cosmetics? Their tips might help you to become an idol someday!

Next week's KAWAII LAB report will focus on IDOLATER, so be sure to check it out!

ASOBISYSTEM to Launch CityPop Tokyo NFT Project

ASOBISYSTEM is set to launch an NFT Project named "CityPop Tokyo" to revolutionize the entertainment industry. The project is being refined by ASOBISYSTEM, UPBOND, and Kingdom Labs, and is seeking to create a breakthrough in the standard NFT business model. ASOBISYSTEM is a leading Japanese artist management and entertainment production company. The CityPop Tokyo NFTs are "virtual models" that can be used for cultural, fashion, and multimedia projects. This innovative project aims to spread Japanese culture to a global audience through Web 3.0 technology and by reimagining the utility of NFTs.

CityPop is a music genre that was born in Japan during the 1970s and 1980s and subsequently became popular among global millennials and Gen-Z. CityPop is strongly influenced by Western melodies and infuses a wide range of musical styles, including soft rock, R&B, Funk and Boogie. The CityPop Tokyo NFT project will issue a total of 1,984 unique NFT collectibles. Each NFT will be a stylized anime character drawn by Natsumi Sato, and users will be able to generate content, backstories, and help build their NFT characters into virtual models.

As an intersection of art, technology, and entertainment, "CityPop Tokyo" will revolutionize both the business model and utilities for NFTs. Each user will be encouraged to help develop their NFT characters into fashion models and cultural influencers. Through user-generated content and ASOBISYSTEM's partnerships in both entertainment and media, new "virtual models" and "virtual stars" can be created.

CityPop Tokyo aims to showcase how NFTs can be utilized to create the next generation of "virtual stars" to reshape the global entertainment scene.

〈NFT Sample〉

Kyary Pamyu Pamyu Announces New Single 'Isshin Doutai', Releases Music Video Teaser

Kyary Pamyu Pamyu has announced that she will release a new single, Isshin Doutai, on October 5, 2022. A new artist photo and jacket image have already been revealed ahead of the catchy track's release.

The pop song will serve as the opening theme song for the Ninjala anime series and promises to get stuck in people's heads instantly. Kyary's performance at Coachella in April made headlines around the world, and her 10th anniversary Japan tour has been making headlines since it began. The artist performed in 30 locations across Japan.

Ninjala will begin a new season on October 15. The series first began in January, and Kyary's song Maybe Baby has been used as the theme thus far. 

A teaser for the song's music video has already appeared on YouTube, featuring a kaleidoscopic new visual with Kyary reflected in a mirror as she shows off some unique choreography. For those who have been fans of Kyary for a while, this video is packed with her personal style. 

Isshin Doutai Music Video Teaser

Kyary Pamyu Pamyu will perform the last show on her 10th anniversary Japan tour on October 19 at Nippon Budokan. The performance, titled UMA 105, is sure to impress, so keep an eye out for details!

Information

Isshin Doutai
Streaming Release: October 5, 2022
Opening Theme for Ninjala, premiering October 15

Kyary Pamyu Pamyu 10th Anniversary Japan Tour 2022

CANDY WAVE -FINAL- UMA 105

Venue: Nippon Budokan
Date: October 19, 2022
Doors Open at 17:30, Show Starts at 18:30

See the latest information here: https://bit.ly/uma105
Kyary Pamyu Pamyu Official Site: http://kyary.asobisystem.com

FRUITS ZIPPER Live Report: New Opportunities and the Group's First Step Towards Global Expansion

16.September.2022 | MUSIC

FRUITS ZIPPER, a seven-member idol group whose song Watashino Ichiban Kawaiitokoro skyrocketed in popularity on TikTok this summer with over 500 million plays, held their first solo concert ~KIKKAKE~ on September 12, 2022. 

Debuting from ASOBISYSTEM's idol project KAWAII LAB in April, tickets for FRUITS ZIPPER's first solo concert sold out. Although the group's name may seem strange, it has a meaning–FRUITS, 'to bear fruit,' and ZIP, meaning 'to give energy,' is the perfect title for such a young and exciting group. In a short time, the seven members have managed to take on a number of live performances and bring smiles to audiences around Japan. The girls' efforts over the hot summer months paid off in the form of a totally packed house.

When the lights in the venue dimmed, the audience shined with the seven member's colors coming from fans' penlights. A video began playing, and one by one, the members gave their thoughts about what it means to take the stage.

"The existence of idols saved me. I hope that I can be that kind of presence for someone else."(Amane Tsukiashi)

"I wanted to sparkle. I want to work my hardest." (Karen Matsumoto)

"Harajuku is a town filled with many different cultures, and that has always given me strength. I want to become someone's power spot!" (Mana Manaka)

"This was a dream I gave up on time and time again, but I thought it could come true here. I want to spread my wings and become an idol everyone loves!" (Yui Sakurai)

"Music has always been close to me, ever since I was a child. When I was looking for a place I could stay involved with it, I found FRUITS ZIPPER!" (Noel Hayase)

"I stand on the stage to thank the fans who have always supported my becoming an idol!" (Luna Nakagawa)

"I can't let myself die until I become an idol. That's what I've always thought." (Suzuka Chinzei)

Sakurai and Nakagawa showed fierce determination to overcome their past setbacks and stand on stage as idols. Chinzei's earnest feelings also came through, and each girl's emotion swept the audience. 

 

As the audience began clapping in rhythm, the seven members took the stage, forming a circle and dancing to the sound of electronica. When the opener came to a close, they released their joined hands, scattering like flower petals with smiles on their faces. 

The group opened the show with the classic-sounding idol track skyfeelan. The lyrics of this song were written based on tweets from the members, and each girl sang with feeling and passion. Despite this being their first solo show, the members weren't at all stiff, instead seeming to relax and totally enjoy themselves. 

The girls then continued with their debut song Kimi no Akarui Mirai wo Oikakete. Fans danced along with the chorus, and colorful penlights twinkled everywhere the eye could see.

"It's been four and a half months since our debut in April, and we've been working so hard to make it to this day," Sakurai said during the MC portion. "Here at LIQUIDROOM, we want all of you to see what we've accomplished!" The multilingual Hayase translated the message of NEW KAWAII into English for overseas fans tuning in to the show.

Following the MC, the group took a break from idol-like tracks, performing two of their more cool songs–Re→TRY & FLY and We are Frontier. Even with the overwhelming sound of bass rocking the venue, the girls' voices were powerful enough to compete. FRUITS ZIPPER only became more expressive with the help of lighting and video, embodying the theme of NEW KAWAII. 

Once the members left the stage, the radio program Furuppa Now began playing on screen. The KIKKAKE Reminicense Corner was held to honor the day's live performance. Each member commented on FRUITS ZIPPER's activities and what they have led to. The title of the live show, kikkake, means chance, and many doors have opened for the members over the past four months.

Hayase, the youngest member at only 17, put her cuteness on display, chatting about how she had started carrying parasols, wearing sunscreen, and learning how to wear makeup. Meanwhile, Manaka, the oldest of the group, revealed her belief that "trusting others is a key to self-growth," going on to state that "doing something alone isn't worth it. It's more meaningful when someone hears you or watches you." 

The other members gave their thoughts on what's changed. "I've become more sociable," Sakurai said. "I can get out of bed earlier," Matsumoto bragged, while Tsukiashi claimed that it had become easier to hold the microphone steady. Nakagawa was honest, mentioning that she had begun Googling herself. Each member showed their individuality, one of the biggest charms of FRUITS ZIPPER.

Once the radio show wrapped, the members appeared in their new costumes to perform their new song Sekai wa Kimi kara Hajimaru for the first time. The song's impressive melody combines a glittering idol sound with just a hint of sadness.

The lyrics seem to depict the many memories that FRUITS ZIPPER and fans will make together in the future. "From now on, we'll always be together/I'll engrave that promise on you so you don't forget/I'll tell you over and over/I'll tell you over and over," the girls sang.

During the chat after the performance, Chinzei announced the new song, with her voice beginning to warp and repeat. She laughed it off, wondering if she was beginning to shift beyond directions. 

The second half of the show began with the members dancing to the samba rhythm of their song Furefure Summer! during the interlude. 

Matsumoto then announced Watashino Ichiban Kawaiitokoro, the audience exploded with excitement, pumped to hear the song that put FRUITS ZIPPER on the map. This song brought people's cuteness this summer, but the cuteness of the original was too powerful, with the fans almost too happy to function.

The song Kanpeki Shugide☆ is filled with FRUITS ZIPPER's determination to fly around the world with no time to rest. The last song of the main setlist was RADIO GALAXY,  and the members danced expertly to the challenging song, with the arrangement, tempo, and melody constantly changing. 

After the audience began clapping incessantly, the members once again appeared on stage to perform their new song Sekai wa Kimi kara Hajimaru once again. Once the song ended, FRUITS ZIPPER had some exciting news to share–the girls will be collaborating with the magazine B.L.T. on a new series of articles! They also announced that their second solo concert will be held at Shibuya WWW X on November 11, 2022. 

During the final MC, each member gave their thoughts on the day's performance. 

Manaka: "Feeling everyone in the audience watching me just makes me feel stronger and more united with the other members of FRUITS ZIPPER. I want to continue our work as one and continue performing in the future!"

Sakurai: "Since joining FRUITS ZIPPER, I've become so aware of how many people support me. Someday, I want to become an inspiration and support to someone else. I want to make someone else out there want to be an idol too."

Nakagawa: "My dream is to sign my autograph on the backstage walls of live music clubs around the world, so I'll do my best to make that come true!" 

Tsukiashi: I've been so happy this summer. I'm so fulfilled and I have this amazing sense of satisfaction. I hope that FRUITS ZIPPER will be able to spend many more happy seasons together." 

Hayase: "When I joined FRUITS ZIPPER, I realized that chances are something everyone finds on their own. I hope that I can keep taking advantage of the opportunities I find to become a better person."

Matsumoto: "From now on, I want to be an idol who not only makes me feel happy but also makes everyone else feel happy and entertained. Please keep supporting me as I work my hardest!" 

Chinzei: "Thanks to you all, I'm able to look forward to my future with so much support. I want to be that support for everyone too. I sincerely hope that we can keep supporting each other in the future!"

Manaka, Matsumoto, and Chinzei were so moved that they nearly began to cry. Until the very end, however, the seven members were strong, determined to communicate with their fans in their own words.

The group's last song was Watashino Ichiban Kawaiitokoro. A cannon sent multicolored paper blasting across the crowd, making the atmosphere even more bright and fun. 

To close the show, Chinzai gave a statement. "FRUITS ZIPPER will continue to move forward along with our motto 'From Harajuku to the world,' so please support us!"

With this incredible momentum, FRUITS ZIPPER will continue to soar to new heights. Don't miss your chance to see the upwards trajectory of this incredible idol group!

The live performance is currently archived on ZAIKO.

Text: Kazuaki Asato
Photos: Masayo

Information

FRUITS ZIPPER 1st Solo Live Show 〜KIKKAKE〜
Date: September 12, 2022
Venue: Ebisu LIQUIDROOM
Archived Stream Tickets: VIP (with T-Shirt) ¥4,000 / General ¥1,500
Buy (ZAIKO): https://asobisystem.zaiko.io/item/350560

FRUITS ZIPPER 2nd Solo Live Show – The World Starts with You
Date: November 11, 2022
Venue: Shibuya WWW X
Time: Doors Open 18:00 / Show Starts 19:00

Tickets: 
VIP Standing: ¥15,000 (Tax included, drinks not included)
General Standing: ¥5,000 (Tax included, drinks not included)
VIP Benefits
・Access to the front area of the venue
・Exclusive VIP T-Shirt
・Photo & autographed message card
・Electronic ticketing with originally designed tickets

Lawson Tickets: https://l-tike.com/fruitszipper
Pre-Request Payment
Acceptance Period: September 12, 21:00 – September 19, 23:59
*Notes*
・Up to 2 tickets per person per application (no admission for preschool-age children.)
・Tickets will be electronic.
・Transfering or reselling tickets for a fee without the consent of the organizer is prohibited.

Contact: 
HOTSTUFF PROMOTION
https://www.red-hot.ne.jp/

Rising Idol Group FRUITS ZIPPER Releases 7th Single 'We are Frontier'

06.September.2022 | MUSIC

FRUITS ZIPPER has been skyrocketing in popularity. This summer, the group's track Watashino Ichiban Kawaiitokoro took off on TikTok, with the music video racking up over 2.3 million views on YouTube. On TikTok, their songs have seen over 450 million plays, and on September 2, the girls released their new single, We are Frontier. This marks the third of four consecutive song releases. 

The new song was produced by Hirotaka Hayakawa, who wrote the FRUITS ZIPPER tracks Kimi no Akarui Mirai wo Oikakete and skyfeelan. Branching out from their usual cute sound, the new track focuses more on 'cool,' showing off FRUITS ZIPPER's aim to push forward and make their mark on in the idol landscape.

More details about the group's first solo live show 'KIKKAKE' at Ebisu LIQUIDROOM on September 12 have been announced. VIP tickets and general admission tickets available for pre-sale sold out instantly, but in response to fan requests, the event will be broadcast live on ZAIKO! Tickets for the stream are available now, so don't miss out!

Information

FRUITS ZIPPER
We are Frontier (7th Digital Single)
Release Date: September 2, 2022
Streaming Links: https://ssm.lnk.to/WeareFrontier

*Available to stream on iTunes, Apple Music, Spotify, LINE MUSIC, and other major music streaming services.

<Digital Single Information>
Kimi no Akarui Mirai wo Oikakete (1st Digital Single)
https://ssm.lnk.to/KAO_FZ

Watashino Ichiban Kawaiitokoro (2nd Digital Single)
https://ssm.lnk.to/WnIK

Kanpeki Shugide☆ (3rd Digital Single)
https://ssm.lnk.to/KS_FZ

RADIO GALAXY (4th Digital Single)
https://ssm.lnk.to/RADIOGALAXY

skyfeelan (5th Digital Single)
https://ssm.lnk.to/skyfeelan

Furefure Summer! (6th Digital Single)
https://ssm.lnk.to/FFS

Event Information
FRUITS ZIPPER 1st Solo Live ~KIKKAKE~
Date: September 12, 2022
Venue: Ebisu LIQUIDROOM
Doors Open 18:00 / Show Starts 19:00
Tickets: VIP ¥15,000 / General Admission ¥4,500
Streaming Tickets: VIP (with T-Shirt) ¥4,000 / General ¥1,500
Buy Streaming Tickets (ZAIKO): https://asobisystem.zaiko.io/item/350560

FRUITS ZIPPER
Twitter: https://twitter.com/fruits_zipper
Instagram: https://instagram.com/fruits_zipper
YouTube: https://www.youtube.com/channel/UCW8Q9LBGGBgK6a-u0C0h95A
TikTok: https://vt.tiktok.com/ZSen7dJAT/