Sailor Moon's Silver Crystal is turning into a make-up face powder! "Pretty Guardians Color Powder" now on sale
From CreerBeaute comes the Miracle Romance "Pretty Guardians Color Powder," a make-up powder for female fans of Sailor Moon in the design of the Silver Crystal as it appears in the series.
The crystal clear exterior of this Silver Crystal cosmetic item is the same high quality you can expect it to be from the original series. The silver colour of the lid echoes Princess Serenity's past life as the princess of the Moon Kingdom in the Silver Millenium.
Thanks to its marvellous design, it will even look like an ornament sat on your dresser. And when the face powder has run out, you can put little accessories inside, giving it a loving longevity.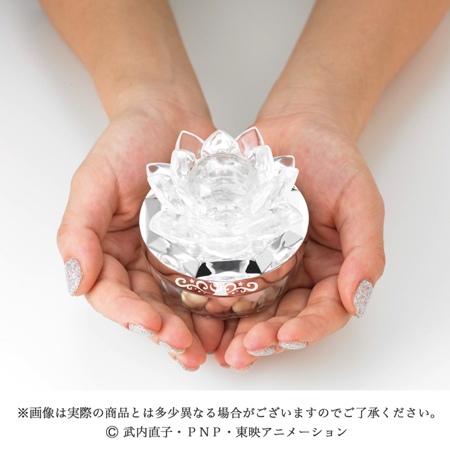 The face powder balls take on the 5 colours of each sailor, all of which can be seen through the shiny twinkling case.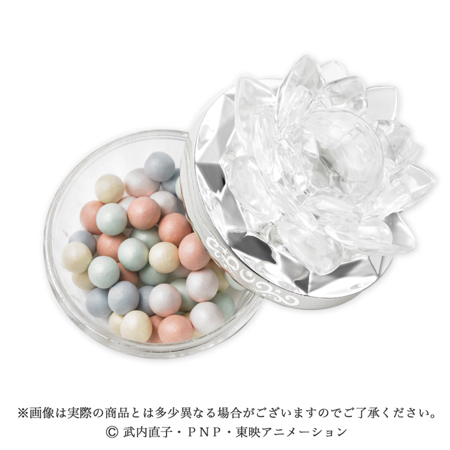 Because the powder balls are small, they bring out the natural colours of your face without leaving white power residue. Also, because the pearls are multicoloured, they will leave your skin shining and beautiful.
Add a little fun to your daily make-up routine with the new kawaii Pretty Guardians Color Powder♡
■Information
Miracle Romance Pretty Guardians Color Powder
Price: ¥4,860 (tax incl.) (shipping and handling fees are separate)
Contents: Face Powder
Sold via:
Bandai Official Shopping Site "Premium Bandai" – http://p-bandai.jp/?rt=pr
Also available at Otona Joshi Biyori, Hakuhinkan TOY PARK in Ginza, KIDDY LAND in Harajuku, KIDDY LAND in Umeda (Osaka), select Animate stores, and elsewhere
Reservation Window: September 15, 2017 at 13:00 until sold out
Shipping: December 2017
©Naoko Takeuchi / PNP / Toei Animation
©Naoko Takeuchi
※Please check the product's sales page for full details and the latest information.
※Sales will end when orders exceed the limited stock quantity.
※Sales may have already ended upon accessing the sales page.
※Changes to the product may be made without announcement.
※Pictures shown may differ from actual product.
※Product may be sold at events and overseas.
RELATED ENTRIES
Sailor Moon Ice Show 'Prism On Ice' to Feature World Class International Figure Skaters

A press conference was held detailing information about the upcoming Sailor Moon: Prism On Ice ice skating show, for which it had already been unveiled that Russian figure skater Evgenia Medvedeva would play the role of the titular character, Sailor Moon/Usagi Tsukino.

At the press conference, Medvedeva expressed her love for the Sailor Moon anime series, calling it her favourite and being thankful to not only be a part of it, but also to be playing the main character. She said she will work hard with lots of practice in the run up to the ice show for her role.

The official logo for the Prism On Ice show was also revealed, as well as the rest of the figure skating cast which includes Satoko Miyahara as Sailor Mercury/Ami Mizuno, Mirai Nagasu as Sailor Mars/Rei Hino, Alissa Czisny as Sailor Jupiter/Makoto Kino, Becky Bereswill as Sailor Venus/Minako Aino, Andrew Poje as Tuxedo Mask/Mamoru Chiba, Jason Brown as Kunzite, Takahito Mura as Jadeite, Dylan Moscovitch as Nephrite, and Seiya Hashimoto as Zoisite.

Japanese singer and actress ANZA will also make a special appearance as Queen Serenity.

Providing the voice acting will be the cast from the voice cast from the upcoming two-part anime film Sailor Moon: Eternal, which includes Kotono Mitsuishi as Sailor Moon/Usagi Tsukino, Hisako Kanemoto as Sailor Mercury/Ami Mizuno, Rina Sato as Sailor Mars/Rei Hino, Ami Koshimizu as Sailor Jupiter/Makoto Kino, and Shizuka Ito as Sailor Venus/Minako Aino.

 

©Naoko Takeuchi

Information

Sailor Moon: Prism On Ice

Dates/Times:

2020/6/5 – ①Doors 12:30/Start 13:30 ②Doors 17:30/Start 18:30

2020/6/6 @ ①Doors 11:00/Start 12:00 ②Doors 16:00/Start 17:00

2020/6/7 @ ①Doors 11:00/Start 12:00

Venue: KOSÉ Shin-Yokohama Skate Center (2-11 Shin-Yokohama, Kohoku Ward, Yokohama, Kanagawa Prefecture)

Sailor Moon 25th Anniversary Project Official Website: http://sailormoon-official.com/

Official Sailor Moon Fan Club "Pretty Guardians" Website: https://prettyguardians.com/

SMALL WORLDS TOKYO: New Details Drop On Sailor Moon & Evangelion Areas at Tokyo's Miniature Theme Park

The date has finally been revealed for the opening of the all-new SMALL WORLDS TOKYO in Tokyo's Ariake district: April 25, 2020.

The park will cover an 8,000m2 area across its four floors: the Departure Floor where visitors arrive at the doorstep of the world of SMALL WORLDS TOKYO, the Departure Lounge where you can enjoy delicious food from around the world, SMALL WORLDS where you are thrown into multiple different worlds, and the Creators Floor where you will get to see these miniature worlds being created on a day-to-day basis.

The main floor, SMALL WORLDS, is made up of seven areas: the Kansai International Airport Area, the Space Center Area, World Streets Area, Sailor Moon Area, Neon Genesis Evangelion Tokyo-3 Area, Neon Genesis Evangelion Evangelion Cage Area, and the newly-announced Tokyo Area which for now is a tentative title as they begin preparations for rolling out details about it.

A new photo has been released, as pictured above, of the highly-anticipated Sailor Moon Area. It showcases the outside of series protagonist Usagi Tsukino's house which the park confirms is now complete.

The Neon Genesis Evangelion Tokyo-3 Area will also feature a visual attraction that makes use for AR/VR technology. It was made in collaboration with South Korean director Jae Cheol Hong. The park will also open a "Special Area" which will feature a miniature remodelling of Shurijo Castle in Okinawa, which was destroyed last month as a result of a fire. It will open sometime next year, and be subsequently moved to SMALL WORLDS OKINAWA, a new site set to open in 2021.

The Citizens Rights Figure Program, which opened in August, received such overwhelming praise a second run began on November 29. The program scans a 3D model a person and have a figure of themselves placed in the area of their choice. The areas people can place themselves in this time are the Kansai International Airport Area, Space Center Area, and World Streets Area.

Information

SMALL WORLDS TOKYO Entry Passports

Entry Passports, Entry Passports (With Backyard Tour), and Annual Passports are available via the park's official website and Lawson Tickets.

Prices (Tax Included):
Entry Passports: Adults ¥2,700 / Middle & High School Students ¥1,900 / Children (4-11 Years) ¥1,500

Entry Passports (With Backyard Tour): Adults ¥5,600 / Middle & High School Students ¥4,800 / Children (4-11 Years) ¥4,400

Annual Passports: Adults ¥9,800 / Middle & High School Students ¥7,600 / Children (4-11 Years) ¥5,900

Tickets on Park Website: https://www.smallworlds.jp/en/ticket_en/

Tickets on Lawson Tickets: http://l-tike.com/smallworlds

 

Citizens Rights Figure Program – 2nd Run (w/ Annual Passport)

Price: ¥12,630 (¥10,760 for those under the age of 18) *Subject to change

Now On Sale

Official Website: https://smallworlds-figureprogram.jp

SMALL WORLDS TOKYO

Address: Ariake Butsuryu Center, 1-3-33 Ariake, Koto Ward, Tokyo

Opening Hours: 9:00-21:30 (Subject to change on weekends, holidays, and certain periods)

Official Website: http://www.smallworlds.jp/

Smell as Good as Sailor Moon With Her New Miracle Romance Moon Stick Perfume

Bandai's official online store Premium Bandai released a new perfume in its Miracle Romance brand of cosmetics on November 14 inspired by Sailor Moon's Moon Stick.

This bottle of perfume features the same design as the Moon Stick, an item used by Sailor Moon for healing and attacking.

The shiny gold-plated lid is in the shape of a crescent moon, underneath which sits a red rhinestone on a sparkly pink stick. The intricate design of this clear pink perfume bottle is made so that it reflects light and shines. It's also sized perfectly so it feels like you are holding the real Moon Stick, so you can feel like Sailor Moon too!

The perfume has a lovely and refreshing rose fragrance that conjures up the image of a strong, dignified young lady like Sailor Moon. The first notes to hit your nose when applying are elegant blackberry, bergamot, and mandarin. The middle note are a luxurious rose, delicate jasmine, and lily of the valley. Finally, to complete this feminine fragrance, we have patchouli and vetiver to elevate that high-class feel, and finally musk and sandelwood. The perfume also has two carefully chosen beautifying components: extracts of rose centrifolia and Indian lotus.

Not only is this a cute item, it's the real deal with its mix of high quality ingredients. Smell as good as Sailor Moon does by getting your hands on the Miracle Rose Moon Stick Perfume.

©️Naoko Takeuchi・PNP・Toei Animation

©️Naoko Takeuchi

Information

Miracle Rose Moon Stick Perfume

Price: ¥4,620 (Tax Included) *Doesn't include shipping or handling fees

Available: On Premium Bandai, Sailor Moon Store, and elsewhere

Pre-Orders: From November 14, 2019 while supplies last

Shipping: June 2020 (subject to change)

Product Page: https://p-bandai.jp/item/item-1000140386/?rt=pr

6 Must-Visit Character Themed Cafés Running in October & November 2019

Character cafés are an exciting experience in Japan which sees a café collaborate with well-known anime series, game series or other franchise by decorating the café interior with designs and illustrations based on them and meals and drinks inspired by them.

Before continuing this article be sure to check out our September 2019 list of character cafés as some of them are still running.

Ariel Heads to Tokyo, Osaka, Nagoya & Hokkaido for The Little Mermaid Cafe

Ariel is swimming to Japan this September as four branches of OH MY CAFE turn into cafes inspired by The Little Mermaid. The Tokyo and Osaka branches will open on September 21, the Hokkaido branch on September 22, and the Nagoya branch on September 27. The collaboration is being carried out by LEGS COMPANY, LTD.

Disney's The Little Mermaid was released back in 1989 as the 28th Disney animated feature film. It tells the story of the internationally-beloved Disney mermaid princess Ariel and her curiosity about the world above the sea.

The cafes celebrate 30 years since the film's release. The cafe's concept is "independent girl." Each cafe will take on a stylish look and be inspired by Ariel's unwavering heart and her strength to make her dreams come true.

<Ariel> Veggie-Packed Pesto Pasta – ¥1,990

If you're vegetarian, you won't be disappointed with this healthy, vegetable-packed pasta dish. The plate it is served on features an illustration of Ariel swimming elegantly in the ocean.

Seaside Cream Risotto – ¥1,990

Based on sandy beaches is this creamy risotto. If you look closely you'll see one of Ariel's priceless treasures from her endless collection of whose-its, whats-its, and thingamabobs. Sebastian is hiding on the plate too, can you spot him?

<Flounder> Stripey Yogurt Drink – ¥1,090 / With Coaster – ¥1,890

Flounder is Ariel's closest friend, so he had to be included on the menu. This cute yogurt-flavoured smoothie takes on the same colours as our stripey fish companion.

<Sebastian> Strawberry Smoothie – ¥890 / With Coaster – ¥1,790

There are lots of other character-themed food and drinks to be enjoyed at the cafes besides these ones too. For more information, check our full article here.

▼The Little Mermaid OH MY CAFE

Locations/Dates
・Tokyo: OH MY CAFE TOKYO (Tokyu Plaza Omotesando Harajuku) / September 21, 2019 – November 9, 2019

・Osaka: kawara CAFE&DINING Shinsaibashi / September 21, 2019 – November 10, 2019

・Nagoya: kawara CAFE&KITCHEN Nagoya PARCO / September 27, 2019 – November 10, 2019

・Hokkaido: Cafe Interlude / September 22, 2019 – October 14, 2019

Official Website: https://mermaid.ohmycafe.jp/

Sarazanmai Cafe Designed & Produced by Sanrio Opens in Ikebukuro and Osaka

Two cafés based on the popular anime series Sarazanmai have arrived in Tokyo and Osaka. The café designs were produced by Sanrio.

Football Curry of Youth: ¥1,380 (Before Tax)

Football is what connects the three main characters Kazuki, Kuji and Enta. Come taste the delicious flavour of budding friendship in the form of a delicious curry at the café.

Pudding a la Mode of Friendship: ¥1,280 (Before Tax)

The three middle schoolers are represented in the form of colourful fruit. This is a delicious dish easily enjoyed by anybody.

Sparkling Jelly Juice (Kazuki/Kuji/Enta): ¥650 Each (Before Tax)

These jelly drinks are also themed around Kazuki, Kuji and Enta. The jelly lurking at the bottom of the cup adds a wonderful accent to the flavour.

This café is the perfect place to relax at your own pace this autumn. For more information, check out our full article here.

▼Sarazanmai Café (Designs Produced by Sanrio)

Open:

・Ikebukuro, Tokyo: September 19 ー October 27, 2019

・Nipponnbashi, Osaka: September 26 ー November 5, 2019

Advanced reservations accepted from 7pm on September 6, 2019

Reservation Fee: ¥500 (comes with a bonus for reserving)

Official Website: https://sarazanmai-sanrio-cafe.jp/

My Hero Academia Themed Cafe Opening at SEGA Ikebukuro GiGO in Tokyo

A cafe based on the hit TV anime series My Hero Academia will open at SEGA Ikebukuro GiGO on October 12.

Drinks Menu

Drinks – ¥600 Each (Before Tax)

Original Latte Art (11 Designs) – ¥700 Each (Before Tax)

Food Menu

Menu ①: October 12, 2019 – November 1, 2019

Katsu-Lover Midoriya's Pork Rib Noodles / Eijiro Kirishima's Crunchy Kakiage Don – ¥1,200 Each (Before Tax)

Menu ②: November 2, 2019 – November 24, 2019

Katsuki Bakugo's Spicy Mapo Doufu / Shoto Todoroki's Fire & Ice Tomato Cheese Pasta – ¥1,200 Each (Before Tax)

Dessert Menu

Menu ①: October 12, 2019 – November 1, 2019

Ochaco Uraraka's Japanese-Style Dessert Set with Matcha Milk – ¥1,200 (Before Tax) / Tenya Iida's Source of Strength Orange Parfait – ¥900 (Before Tax)

Menu ②: November 2, 2019 – November 24, 2019

U.A. Dessert Plate – ¥1,200 (Before Tax) / Tsuyu Asui's Kero Kero Parfait – ¥900 (Before Tax)

Enjoy a fun selection of food, drinks and desserts inspired by the My Hero Academia character cast. There's a whole bunch of merchandise to get your hands on too. For more information, check our full article here.

▼SEGA Collabo Cafe My Hero Academia

Running: October 12, 2019 – November 24, 2019

Location: SEGA Collabo Cafe Ikebukuro GiGO (SEGA Ikebukuro GiGO Floor B2F, 1-21-1 Higashi-Ikebukuro, Toshima Ward, Tokyo

Schedule

Menu ①: October 12, 2019 – November 1, 2019

Menu ②: November 2, 2019 – November 24, 2019

*Menu items and coaster designs will change for each menu

*More details can be found on the SEGA Collabo Cafe official website

Cafe Website: https://sega-collabocafe.com/ikebukuro/heroaca02.html

My Hero Academia Official Website: https://heroaca.com/

Weathering with You Anime Film Themed Cafes Opening in Tokyo & Osaka

Two cafes filmed based on the hit blockbuster anime film Weathering with You will open in Tokyo and Osaka on October 8 and 10 respectively for a limited time. The cafes are being opened by LEGS COMPANY.

The cafes have a beautiful menu lined up inspired by the world of Weathering with You. In addition to the themed decorations set to line the cafes, fans can also get their hands on a range of exclusive cafe merchandise and bonus items.

The Most Delicious Dinner in Your Life – ¥1,590

This dish is a complete recreation of the dinner Hodaka eats in the film which he describes as the most delicious he has ever eaten in his 16 years of living. Enjoy a hearty burger together with clam chowder soup and fries.

Hodaka's Welcome Party Set – ¥1,590

This one-person set was made lovingly by Natsume when Hodaka comes to work at the same company as her, K&A. Complete the set together with one of the "Dreamy" beverages from the drinks menu.

Nagi's Teru Teru Bōzu À La Mode – ¥1,490

The teru teru bōzu is a traditional Japanese doll used to prevent rain and bring good weather. This assortment includes candy, fruits, and the doll itself holding a cute umbrella.

There are lots of other gorgeous-looking menu items and merchandise available too. For more information, check our full article

here

.

▼Weathering with You Cafes

Locations/Dates:
①OMOTESANDO BOX CAFE&SPACE (Pine Under Flat B1F, 5-13-2 Jingumae, Shibuya, Tokyo) @ October 8, 2019 – November 17, 2019

②Osaka Shinsaibashi contact (1-6-24 Kitahorie, Nishi Ward, Osaka, Osaka Prefecture) @ October 10, 2019 – November 17, 2019

Table Reservations:

Price: ¥650 (Before Tax) *Includes bonus item

*Advance table reservations opened on September 24, 2019

Weathering with You Cafe Website: https://tenkinoko-cafe.jp/

'LISA LARSON Fika TOKYO' Cafe Opens in Collaboration With Swedish Ceramicist Lisa Larson

Sunday Branch Marronnier Gate Ginza is a cafe in Ginza that has collaborated with a number of different characters and artists, including Shawn the Sheep since 2017, The Very Hungry Catterpillar in 2018, and Leo Lionni since 2019.

Mikey Plate

​Inspired by Larson's popular cat character Mikey, this healthy dish includes almond milk rice with a side of greens.

Lion Plate

The adorable round Lion looks like he has been taken right out of Larson's works and put onto a plate.

Baby Mikey Gateau Chocolate

These baby Mikey chocolates take on a ceramic appearance like Larson's work and are filled with sesame and cocoa powder.

Enjoy food and art come together at LISA LARSON Fika TOKYO. Keep in mind that reservations get priority, so be sure to book a table in advance. For more information, check our full article here.

▼LISA LARSON Fika TOKYO

Running: October 4, 2019 – January 27, 2020 (Closed January 1, 2020)

Location: Sunday Branch Marronnier Gate Ginza 1 Floor 4F (2-2-14, Ginza, Chuo Ward, Tokyo)

Opening Hours: 11:00-21:00 (Last Orders 20:00)

Website/Reservations: https://www.marronniergate.com/topic/detail/115

6 Sailor Moon Cafes Opening Across Japan Including Tokyo and Osaka

LEGS COMPANY, LTD. held the Sailor Moon Cafe 2017 event back in September 2017 to celebrate the 25th anniversary of Sailor Moon. The event's theme focused around adulthood imbued with a hint of cuteness. The cafes were so popular that they had a second "encore" run in December of the same year.

This year, LEGS has created an entirely new concept. The theme this year is "Girls Night Out," and the menu line-up stays true to it, featuring food and drinks all ladies are sure to enjoy on a night out.

5 Sailor Tortilla Wrap Sandwiches – ¥1,590 (Not available at the Saitama cafe)

Pretty Girl's Brunch Pancakes – ¥1,590 (Available at lunchtime only)

Cosmic Heart Berry Sandwich – ¥1,690

Moon Night Parfait – ¥1,490 (Available at dinnertime only)

Enter the kawaii world of the Sailor Moon Cafe again in 2019. For more information, check our full article here.

▼Sailor Moon Cafe 2019

Dates/Locations

▶︎Tokyo・Shibuya: SHIBUYA BOX CAFE&SPACE SHIBUYA 109

Running: October 3, 2019 – November 17, 2019

▶︎Osaka・Abeno: Abeno contact

Running: October 3, 2019 – November 17, 2019

▶︎Aichi・Nagoya: NAGOYA BOX CAFE&SPACE

Running: October 10, 2019 – November 24, 2019

▶︎Hokkaido・Sapporo: Coach & Four Shinkawa-Dori (Hokkaido Branch)

Running: October 18, 2019 – November 17, 2019

▶︎Kyushu・Fukuoka: kawara CAFE & DINNING KITTE (Hakata Branch)

Running: October 26, 2019 – December 1, 2019

▶︎Saitama・Koshigaya: BOX CAFE&SPACE

Running: November 14, 2019 – January 13, 2019

Reservations: Opened September 26, 2019

*¥650 per reservation. Up to 4 people per reservation. Includes bonus item.

Sailor Moon Cafe 2019 Official Website: https://sailor-moon-cafe2019.jp/

How did you like this list? Be sure to enjoy all of the café collaboration cafes this October and November!

6 Sailor Moon Cafes Opening Across Japan Including Tokyo and Osaka

LEGS COMPANY, LTD. has announced that it will open six Sailor Moon cafes for its Sailor Moon Cafe 2019 event across Japan this year. The opening dates differ from branch to branch, but the first two will open in Tokyo and Osaka on October 3. See all the opening dates in the Information section below.

LEGS held the Sailor Moon Cafe 2017 event back in September 2017 to celebrate the 25th anniversary of Sailor Moon. The event's theme focused around adulthood imbued with a hint of cuteness. The cafes were so popular that they had a second "encore" run in December of the same year.

This year, LEGS has created an entirely new concept.

The theme this year is "Girls Night Out," and the menu line-up stays true to it, featuring food and drinks all ladies are sure to enjoy on a night out.

5 Sailor Tortilla Wrap Sandwiches – ¥1,590 (Not available at the Saitama cafe)

Pretty Girl's Brunch Pancakes – ¥1,590 (Available at lunchtime only)

Girls Night Out (Chicken Steak Plate) – ¥1,990 (Available at dinnertime only)

Cosmic Heart Berry Sandwich – ¥1,690

Moon Night Parfait – ¥1,490 (Available at dinnertime only)

Girls Night Out Drinks (10 Flavours) – ¥890 Each (Usagi Tsukino/Ami Mizuno/Rei Hono/Makoto Kino/Minako Aino/Chibiusa/Haruka Tennou/Michiru Kaiou/Setsuna Meiou/Hotaru Tomoe)

This is just a select look at what's on the menu―there are many other themed foods and desserts too!

Acrylic Key Ring (12 Designs Chosen Randomly) – ¥650

Clear Bag (1 Design) – ¥1,800

Plate (1 Design) – ¥2,200

The artwork for select cafe-exclusive merchandise was done by popular creator Etoile et Griotte who makes items for girls who love cute things, and Japanese illustrator Jenny Kaori, who creates cute, fashionable and alternative works.

Every person who books a seat in advance (¥650 before tax) at the cafe will receive one of the 5 above-pictured ticket holders chosen randomly.

If you dine at the cafe, you'll get one of the 4 above-pictured lunch mats chosen randomly.

And if you order a drink, you'll get one of the 10 above-pictured coasters chosen randomly.

*All prices are pre-tax prices. Photos are for illustrative purposes only.

©Naoko Takeuchi・PNP・Toei Animation

Information

Sailor Moon Cafe 2019

Dates/Locations

▶︎Tokyo・Shibuya: SHIBUYA BOX CAFE&SPACE SHIBUYA 109

Running: October 3, 2019 – November 17, 2019

▶︎Osaka・Abeno: Abeno contact

Running: October 3, 2019 – November 17, 2019

▶︎Aichi・Nagoya: NAGOYA BOX CAFE&SPACE

Running: October 10, 2019 – November 24, 2019

▶︎Hokkaido・Sapporo: Coach & Four Shinkawa-Dori (Hokkaido Branch)

Running: October 18, 2019 – November 17, 2019

▶︎Kyushu・Fukuoka: kawara CAFE & DINNING KITTE (Hakata Branch)

Running: October 26, 2019 – December 1, 2019

▶︎Saitama・Koshigaya: BOX CAFE&SPACE

Running: November 14, 2019 – January 13, 2019

Reservations: Opened September 26, 2019

*¥650 per reservation. Up to 4 people per reservation. Includes bonus item.

Sailor Moon Cafe 2019 Official Website: https://sailor-moon-cafe2019.jp/

Sailor Moon Compression Socks Released in Collaboration With Medi QttO

Medi QttO are long compression socks created by the footwear and orthopaedic foot care brand Dr. Scholl. Their design is based on compression therapy which was developed in the UK. The company has teamed up with Sailor Moon for the first time to released a special themed design. Pre-orders opened on September 25 and they will officially go on sale on October 7.

To be worn when sleeping, this thigh-high type cares for the entire leg from the foot right up to the thighs.

The design features the same pattern as Usagi Tsukino's blanket from Sailor Moon. They can be worn when relaxing or just knocking around at home. They are also made so that they do not slip or slide when sleeping. Their use will led to beautiful skin in the morning.

They are available to buy on Amazon Japan and Rakuten and limited in stock.

©Naoko Takeuchi・PNP・Toei Animation

©Naoko Takeuchi

That Time I Got Reincarnated as a Sanrio Slime Fair Opens at Three KIDDYLAND Stores

From September 21 to October 11, three KIDDYLAND stores will be holding a fair dedicated to the anime That Time I Got Reincarnated as a Slime, which has become a big hit overseas. 

 

The series, which was created by Fuse, aired two seasons from October 2018 to March 2019. It has been confirmed that a sequel will be made in the year 2020. Following the anime's successful reception, a novel version of the anime series which goes by the same name was produced by GOT A CHANCE novel. More than 14 million copies have been sold so far.

The story follows an extraordinary event which happened to a normal man. The main character Satoru Mikami died to random knife attack and was reincarnated as a monster called a slime. The series became massively popular once the adorable figure of the main character as a slime was revealed.

That Time I Got Reincarnated as a Sanrio Slime: Slime Keyring (5 designs): ¥1,200 each (before tax)

All your favourite characters have been reincarnated in a cute Sanrio-style! Head to the KIDDYLAND fair to get your hands on a KIDDYLAND-limited Slime Keyring. A large variety of new goods are being sold here ahead of any other shop and online service.

That Time I Got Reincarnated as a Sanrio Slime: Cuddly Characters Badge (5 designs): ¥680 each (before tax)

Come explore all your favourite characters in their adorable Sanrio form!

©川上泰樹・伏瀬・講談社/転スラ製作委員会

Information

That Time I Got Reincarnated as a Sanrio Slime Fair IN KIDDYLAND

Location: KIDDYLAND (Harajuku, Ikebukuro Sunshine City, Sannomiya)

Running: September 21 ー October 11,2019 

More Information: https://www.kiddyland.co.jp/event/ten-sura/

Transform Into a Sailor Moon Fan Club Member and Gain Access to Exclusive Merchandise

The official Sailor Moon fan club in Japan known as "Pretty Guardians" has announced that it is accepting additional members to this year's sign-up period. Additional sign-ups opened on September 12.

If you become a member right now you'll gain access to a catalogue of exclusive members-only merch including the little gem and bath salt set made in collaboration with Savons Gemme, the Pretty Guardians Store 2-year anniversary watch (which is limited in stock), and more.

Orders also began today for the 2020 Makeup Notebook pictured above which is an exclusive item to the Premium Bandai Fan Club's secret site. It features a special illustration by Sailor Moon author Naoko Takeuchi. It comes with a dreamy cover that will flutter the hearts of any fan of the series.

Fan club members can also get a special picture ticket when they dine at the official Sailor Moon show restaurant SHINING MOON TOKYO if they show their membership card or account page.

It costs ¥5,000 before tax to join. Those entering in the additional applications will receive an member's card.

Pretty Guardians also gain access to pre-sales before anyone else, including those for the Sailor Moon Cafe 2019 which went on sale recently. Become a member today!

Information

Pretty Guardians

Price: ¥5,000 (Before Tax)
Member Duration: Until June 30, 2020
Full details can be found on the official website: https://prettyguardians.com/

*Applications are for in Japan only

Little Gem + Little Bath Salt Set Pretty Guardians ver.

Price: ¥4,500 (Before Tax)

Now on sale until September 30, 2019

2020 Makeup Notebook Illustrated by Naoko Takeuchi

Price: ¥8,000 (Before Tax)

Pre-orders now open. Shipping in Late December 2019.

Sailor Moon Cafe 2019

Opening in Shibuya, Osaka, Nagoya, Hokkaido, Fukuoka, and Saitama from October 3, 2019. Pre-sales available to Pretty Guardians until September 16, 2019 at 23:59 (JST).

Event Details: https://sailor-moon-cafe2019.jp/

SHINING MOON TOKYO: Sailor Moon Show Restaurant to Open in Azabu-Juban

Azabu-Juban is a district in Tokyo and considered a holy ground amongst Sailor Moon fans as it is where the Sailors reside in the series. That fact is about to be set in stone as the all-new show restaurant SHINING MOON TOKYO is set to open in Azabu-Juban on August 15.

The building used for the restaurant was actually built in the same year when the Sailor Moon manga began serialisation. It's also located in Joule A, the same place where Jewelry OSA-P appears in the series.

Since its release in 1991, the Sailor Moon manga series has been translated into 17 languages, and the anime series has made it to 40 countries worldwide. It has even spawned musicals which have been taken around the world. Now, fans can look forward to enjoying their favourite series in a new form with the opening of SHINING MOON TOKYO.

The restaurant's stage show is being produced by Nelke Planning who has been involved in many of the franchise's musicals. It will make use of stunning LED visuals and lightning and will feature music and dancing.

At the entrance to the restaurant is a gorgeous golden moon which you can sit on and pose like one of the Sailors.

A little further in is the stage, whose pink aesthetic and decorations have received the official stamp of approval from Sailor Moon author Naoko Takeuchi. The distance between the stage and audience is short, allowing for an up-close, immersive and thrilling spectator experience.

Concealed behind glass display cases are gorgeous and glittery Sailor Moon outfits.

Our five Sailors all feature in the stage show who we get to see in their everyday lives, during their transformations, and in battle scenes. The manga will be brought to life before the crowd's eyes.

Most of shows will be non-verbal, meaning that people can enjoy them without understanding Japanese. Many different stories will be told on stage―you can find out which ones they will be showing while at the restaurant.

The restaurant will feature a kawaii menu with original drinks and dishes you can't get anywhere else.

Sailor Planet Sushi Balls – ¥1,800 (Tax Included)

This tropical-looking sushi platter is made up of five different sushi balls including Japanese halfbeak, Okinawan spinach, salted salmon roe, snow crab, and conger eel. The vinegar used in the dish has antioxidants in it which will protect your body like a Guardian Sailor!

Tsukino Family Classic! Rabbit Curry – ¥1,800 (Tax Included)

The rice in this adorable dish is made into the shape of a rabbit, which in Japanese is usagi―and is also the name of our titular heroine! It contains fragrant spices which are sure to warm your body and healthy herbs to soothe fatigue.

SHINING MOON TOKYO Roll Cake – ¥1,500 (Tax Included)

For dessert, look forward to a gorgeous strawberry roll cake topped with fresh cream and cherries. If you like the sound of lots of flavours dancing in your mouth at once, then we recommend this one to you!

SHINING MOON TOKYO Pancakes – ¥1,500 (Tax Included)

The sweet and sour taste of the mango and kiwi elevate the nectarous notes of the maple pancakes. It even comes with an iced Sailor Moon cookie.

Pretty Guardian Lunch Box (Left) / Moon Prism Rice Burger (Right)

Once you've eaten everything in your lunch box, which includes rice balls, vegetables and more, you can take it home with you to add to your Sailor Moon collection!

Drinks – ¥800 Each (Tax Included)

There are five drinks inspired by each respective Sailor and each comes with their own original coaster.

Acrylic Silhouette Key Rings – ¥1,300 Each (Tax Included)

Stock up on your Sailor Moon collection too with a whole range of exclusive goodies!

Enter a new Sailor Moon world with food and entertainment at SHINING MOON TOKYO when it opens in the Sailors' hometown on August 1.

Model: Ruki

ⒸNaoko Takeuchi
ⒸNaoko Takeuchi・PNP / Sailor Moon –SHINING MOON TOKYO–

Information

SHINING MOON TOKYO

Grand Opening: August 15, 2019

Address: Joule A Floor B1F, 1-10-1 Azabu-Juban, Minato Ward, Tokyo
Access: Direct connection from Azabu-Juban Station which is on the Toei Edo Line and Tokyo Metro Namboku Line
Official Website: https://sailormoon-shiningmoontokyo.com/en/

Miniature Theme Park SMALL WORLDS TOKYO to Open in Tokyo Next Spring

The all-new SMALL WORLDS TOKYO theme park is set to open in the Ariake district of Tokyo in spring 2020.

The park will cover an 8,000m2 area which will be split into seven different areas made up of moving miniature models: the Kansai International Airport, the Space Center, World Streets, Sailor Moon, Neon Genesis Evangelion Tokyo-3, and Neon Genesis Evangelion Evangelion Cage.


The facility hopes to bring a new level of immersion the likes of which we have not seen before. It is a joint project between Japanese creators Tatsuya Kaneko and Shōji Kawamori and a team of Japanese engineers. Using the latest cutting-edge technology and delicate artistry in Japan, the staff behind this project have built a moving miniature universe that will transport visitors to another world.

Sailor Moon fans will delight in the recreation of Azabu-Jūban, a district of Tokyo where the series protagonists reside, and Crystal Tokyo. Evangelion fans will also rejoice in witnessing Tokyo-3 as well as Evangelion Cages in which Evangelions are housed.


Not only will visitors be able to look at the miniature world, they can become part of it too with the Citizens Rights Figure Program which will scan a 3D model of the person and have a figure of themselves placed in the area of their choice. Sign-ups for this program will open on August 9 at 10:00 (JST) on the park's website.

Details on tickets and facility specifics will be announced in the near future.

©SMALL WORLDS. Inc

Information

SMALL WORLDS TOKYO

Address: Ariake Butsuryu Center, 1-3-33 Ariake, Koto Ward, Tokyo

Official Website: http://www.smallworlds.jp/

Beautiful Sailor Moon T-Shirts Released by UNIQLO's UT Brand

UNIQLO's graphic t-shirt brand UT it collaborating with Sailor Moon to release a collection of t-shirts at UNIQLO stores across Japan and their online store on June 23.

The original Sailor Moon manga series written and illustrated by Naoko Takeuchi was the biggest shojo manga series of the 1990's. It has been translated into 17 languages and the anime series has been made available in over 40 countries. The Sailor Moon 25th Anniversary Project began in 2017 and has brought about new anime series, a musical and more. In July this year, the manga series was released digitally and simultaneously worldwide for the first time.

To celebrate and help promote the digital distribution of the manga series, the t-shirt collection was made in collaboration with Naoko Takeuchi herself. The designs are enough to make the hearts of fans out there throb.

This design features Sailor Moon's iconic pose when she declares, "In the name of the moon, I'll punish you!"

This design showcases the classic scene when the Sailors send in their power to the Holy Grail. The dialogue has been translated into 10 languages in celebration of the international digital distribution of the manga.

The front of this t-shirt features the series logo while the back has the Sailors and Luna each with their respective colours.

The back of this t-shirt features Sailor Moon's birthday scene. It comes with trendy tie-dye colouring.

This final design has a pocket with a picturesque scene of Azabu-Jūban, a district in Tokyo where the Protagonists live. There is also a cute embroidering of Luna above it.

From longtime readers to more recent fans, this is a collection you're sure to enjoy!

©Naoko Takeuchi

Q-pot Cafe's Dreamy Sailor Moon Afternoon Tea | Food Review

Hey, readers. I'm Midori from MMN's editorial team.

Sailor Moon fans are going to want to visit Q-pot right now―a cafe in Omotesando that makes desserts that look like real accessories―as the cafe is currently collaborating with the franchise. The inside of the cafe has been transformed into a cute and magical Sailor Moon world, the kind you could only imagine in your dreams. It has blown up since it opened on June 30 across Japanese social media.

There was no way I was going to miss a chance to eat here, so I took a trip to Q-pot to see what kind of kawaii things they had on the menu for the collaboration.

You'll know Q-pot when you see it in Omotesando by the pouring teapot on the wall next to the menu outside.

Strung up at the entrance are lots of ema plaques where people write their wishes and goals.

As soon as you step inside the cafe you are transported into a world of cute. The various chocolate and biscuit decorations on the wall are just plain kawaii. It gets you excited to start eating♡

I started by ordering the drink set which comes with the Moon Twilight Soda and Tuxedo Night Mocha. The soda contains berries and its lemon and apple flavour gives it a sweet and sour taste. The pink gradation is cute too♡

The mocha takes inspiration from Tuxedo Mask flying through the city at night. The rim of the glass is lined with sparkly sugar. The drink isn't just an ordinary cafe mocha – it secretly contains a sweet strawberry flavour which adds an enchanting aftertaste.

Next I tried the Transformation Brooch Macaron Cake. Shaped as a macaron, this cake is based by the brooch necklace which Usagi uses to transform into Sailor Moon. It's served on a ribbon-shaped plate which you can take home with you. The cake is filled with apricot and mango mousse inside which is pineapple♡

On top of the macaron is another exquisite macaron containing lemon jelly. The jelly and fruit sparkle to create a girly and gorgeous dessert. After you've eaten you can take the plate back to use at home!

And now for the crowning jewel: the Sailor Moon Afternoon Tea Set! This is one that anybody is going to crave when seeing it. It comes with two plate packed with food and desserts. The ribbon at the top is cute too.

The upper tier is adorned with macarons, mousse cakes, cookie sandwiches, and glass desserts.

The lower tier has sandwiches, vichyssoise soup, and olive and tomato pinchos.

The glass dessert is a raspberry mousse topped with Sailor Moon's Moon Stick. The mousse is fluffy and very tasty. The sourness of the berries isn't too strong either – it's a nice and light flavour.

When biting into the mousse cakes your mouth is filled with the gentle sweetness of the white chocolate.

Macarons are a popular dessert at Q-pot. The Sailor Moon ones are bite-sized and almost seem a waste to eat because of how cute they are. The cookie sandwiches, which are based on Luna and Artemis, are stuffed with lemon cream which has a refreshing taste. The cookies also have a delicious buttery flavour.

The lower tier sandwiches contain duck and broccoli. The sandwiches are small but you get a lot of veg so you won't go hungry. The soup is great not just as a light meal but as a palate cleanser after the desserts too. Try eating some when your stomach says it's full from all the sweet stuff!

My belly was pretty full after this afternoon tea set. I recommend ordering it for lunch.

If you're looking for a place to eat out with your girl friends when why not enter the fairy tale world of Q-pot for the Sailor Moon collaboration? Q-pot even has its own merchandise too so be sure to check it out!

©Naoko Takeuchi・PNP・Toei Animation