BABYMETAL Releases First Digital Track from 2023 Album 'THE OTHER ONE'
Ahead of the release of the new album THE OTHER ONE on March 24, 2023, BABYMETAL has announced that it will release five digital singles worldwide in October, November, January, February, and March. The first single, Divine Attack -Shingeki-, is now available to stream.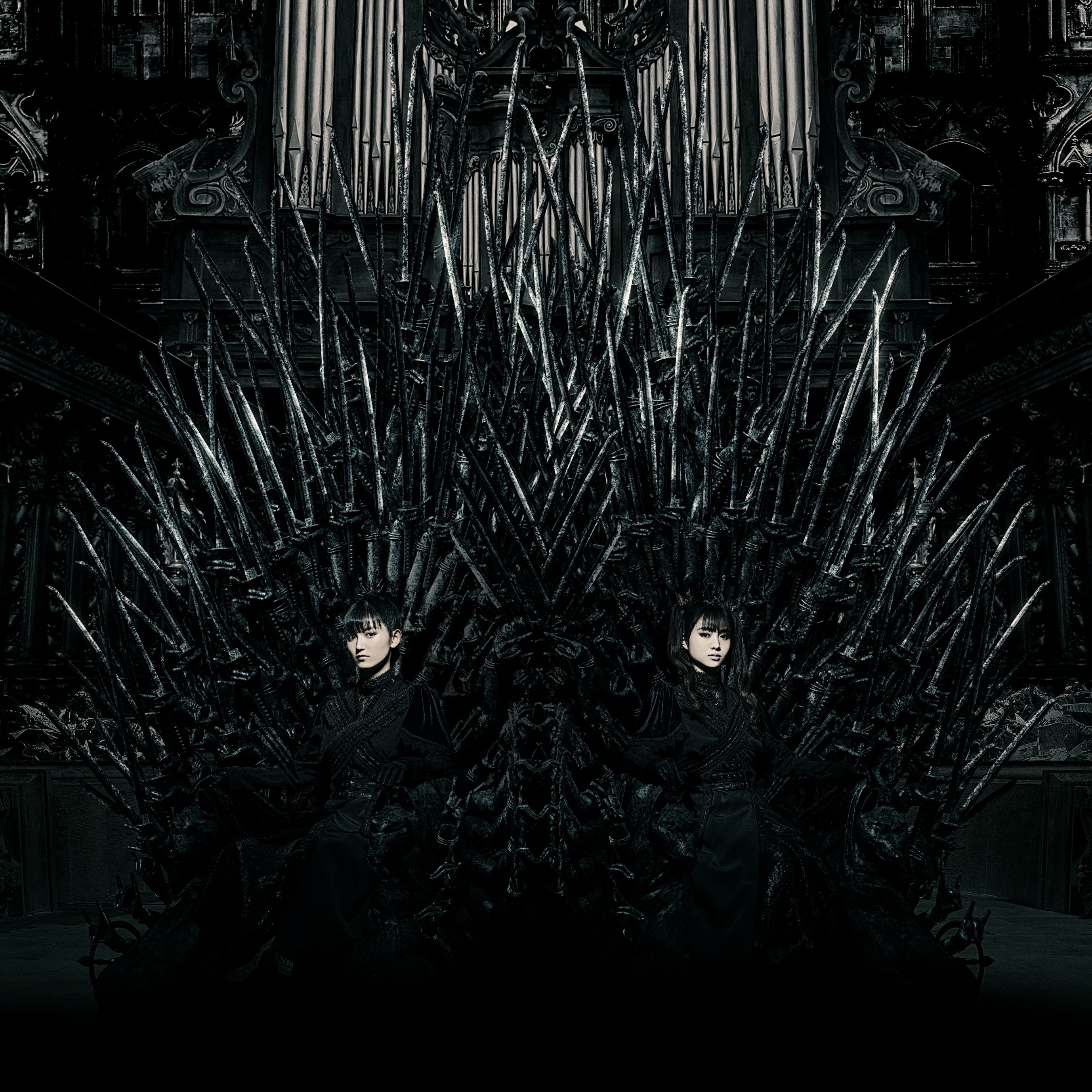 Last year, following the tenth year of the group's activities, BABYMETAL announced that it would "seal" itself off from the world until further notice. In April 2022, THE OTHER ONE was announced as a way to relaunch the group in the METALVERSE, a piece of the virtual metaverse. 
The upcoming concept album will be inspired by the idea of a BABYMETAL that fans don't know, and a total of 10 songs have been discovered within THE OTHER ONE restoration project, with each song representing a specific theme based on 10 separate parallel worlds that the members have discovered. Divine Attack -Shingeki- is based on the parallel world of 'CAVALRY,' and follows the members of BABYMETAL down a road less traveled. Listening to the song conjures an image of a cavalry troop running into battle and into the future, and SU-METAL wrote the lyrics for the song–a first for the group.
BABYMETAL has finally broken the seal, and on January 28 and 29, 2023, the duo will hold the 'BABYMETAL RETURNS -THE OTHER ONE' 2-day concert at Makuhari Messe in Chiba. Starting in April 2023, the group will tour the UK and EU and the Swedish band Sabaton. More information will be announced in the near future, so keep an eye on social media and BABYMETAL's official website!
Information
THE OTHER ONE – BABYMETAL
Divine Attack -Shingeki- (First Single)
Release Date: October 21, 2022
Streaming Links: https://bm.lnk.to/DivineAttack
RELATED ENTRIES
Presale Tickets for BABYMETAL's Solo Concert at Makuhari Messe in January 2023 Now on Sale

In October 2021, BABYMETAL announced that it would "seal" itself off from the world until further notice. On January 28 and 29, 2023, BABYMETAL will hold the 'BABYMETAL RETURNS -THE OTHER ONE' 2-day concert at Makuhari Messe in Chiba and pre-sale tickets are now available for purchase! These won't last, so grab yours while you can.

BABYMETAL released the first of five monthly consecutive singles, Divine Attack -Shingeki-, in October, with Monochrome following in November. New songs are on the way in January, February, and March, so look forward to plenty of new content!

Information

BABYMETAL RETURNS – THE OTHER ONE-

Dates: January 28, January 29

Venue: Makuhari Messe International Exhibition Hall

Official Ticket Sales: 

Available: November 26 at 12:00 – December 4 at 23:59

Sales Page:  https://pia.jp/v/babymetal23-hp/

BABYMETAL RETURNS – THE OTHER ONE – Special Site: 

BABYMETAL Releases Second Teaser Video for New Song 'Monochrome'

Popular metal band BABYMETAL has announced that five singles will be available to download and stream worldwide prior to the release of the new album THE OTHER ONE on March 24, 2023, with songs releasing in October, November, January, February, and March. A second teaser video for the new song Monochrome has been released, with the track available to stream worldwide on November 18.

The official lyric video for the song will also be released on November 18. 

In April 2022, THE OTHER ONE was announced as a way to relaunch the group in the METALVERSE, a piece of the virtual metaverse. Monochrome shows off a restored parallel world and asks a strange question–the fireworks shot into the sky were monochrome, but what color were they to the children? The song draws inspiration from Ragnarok from Norse mythology and shares a wish for the day when the starry sky will be filled with all the colors of the rainbow. 

Last year, following the tenth year of the group's activities, BABYMETAL announced that it would "seal" itself off from the world until further notice.  They are now ready to return to performing, and on January 28 and 29, 2023, the duo will hold the 'BABYMETAL RETURNS -THE OTHER ONE' 2-day concert at Makuhari Messe in Chiba. Starting in April 2023, the band will tour the UK and Europe with Sabaton, a power metal band from Sweden.

More information and new content will be announced in the coming weeks, so be sure to check social media and the official BABYMETAL site.

BABYMETAL Releases 'MONOCHROME' from New Album 'THE OTHER ONE'

BABYMETAL has announced that five singles will be available to download and stream worldwide prior to the release of the new album THE OTHER ONE on March 24, 2023, with songs releasing in October, November, January, February, and March. The first song, Divine Attack -Shingeki-, was released on October 21, instantly trending on social media. An official lyric video was released on the same day. Now, the second song is here! On November 18, fans will be able to download and stream  MONOCHROME. 

Last year, following the tenth year of the group's activities, BABYMETAL announced that it would "seal" itself off from the world until further notice.  In April 2022, THE OTHER ONE was announced as a way to relaunch the group in the METALVERSE, a piece of the virtual metaverse. The upcoming concept album will be inspired by the idea of a BABYMETAL that fans don't know, and a total of 10 songs have been discovered within THE OTHER ONE restoration project, with each song representing a specific theme based on 10 separate parallel worlds that the members have discovered. MONOCHROME is based on a restored parallel world.

The fireworks shot into the sky were monochrome, but what color were they to the children? The song draws inspiration from Ragnarok from Norse mythology and shares a wish for the day when the starry sky will be filled with all the colors of the rainbow. An inspirational jacket photo has also been released.

On January 28 and 29, 2023, the duo will hold the 'BABYMETAL RETURNS -THE OTHER ONE' 2-day concert at Makuhari Messe in Chiba. Starting in April 2023, the band will tour the UK and Europe with Sabaton, a power metal band from Sweden.

More information and new content will be announced in the coming weeks, so be sure to check social media and the official BABYMETAL site.

Information

Monochrome

Available Worldwide November 18, 2022

Download/Streaming Links

BABYMETAL RETURNS – THE OTHER ONE –

Dates: January 28 / January 29, 2023

Venue: Makuhari Messe International Exhibition Hall

Times:

OPEN 16:00 / START 18:00 (January 28)

OPEN 15:00 / START 17:00 (January 29)

BABYMETAL RETURNS – THE OTHER ONE – Special Site: https://www.babymetal.com/theotherone/

Sabaton THE TOUR TO END ALL TOURS

Special Guest: BABYMETAL

Supporting Act: LORDI

Sabaton OFFICIAL WEBSITE: https://www.sabaton.net/

BABYMETAL TOUR INFORMATION: https://www.babymetal.com/tour/

BABYMETAL Official Website: http://www.babymetal.com

BABYMETAL Announces First International Tour in 3 Years with Swedish Metal Band Sabaton

Joakim Brodén, the vocalist for Sabaton, served as a guest performer on the song Oh! MAJINAI (feat. Joakim Brodén) found on Babymetal's third album METAL GALAXY released on October 11, 2019. This will be the first time that the two groups have performed live together since the BABYMETAL WORLD TOUR 2018 in JAPAN EXTRA SHOW – DARK NIGHT CARNIVAL in October 2018 at Saitama Super Arena.

BABYMETAL will release its first concept album, THE OTHER ONE, on March 24, 2023. Ahead of release, five singles will be available to download and stream worldwide, with one releasing in October, November, January, February, and March. Be sure to watch out for Babymetal as they rock the world once again!

BABYMETAL Announces 2023 Concert, Concept Album to Release Simultaneously Worldwide

In October 2021, BABYMETAL announced that it would "seal" itself off from the world until further notice. After celebrating a decade of incredible music, fans were shocked by the announcement–but now, the group has announced a comeback. On January 28 and 29, 2023, BABYMETAL will hold the 'BABYMETAL RETURNS -THE OTHER ONE' 2-day concert at Makuhari Messe in Chiba. It was also announced that the group would release its first concept album, THE OTHER ONE, on March 24, 2023. The album will begin streaming worldwide on this date. 

On the official website, a legend map depicting all of BABYMETAL's future activities has been revealed. The upcoming concept album will be inspired by the idea of a BABYMETAL that fans don't know, and a total of 10 songs have been discovered within THE OTHER ONE restoration project, with each song representing a specific theme based on 10 separate parallel worlds that the members have discovered. Five singles will be available to download and stream worldwide, with one releasing in October, November, January, February, and March, prior to the album's release on March 24, 2023.

Presale tickets for the 2-day concert are now available to purchase. Official advance and general sales dates will be announced on the official website soon. Keep an eye on BABYMETAL as they return to rock the world once again!

Information

THE OTHER ONE – BABYMETAL (Concept Album)

Release Date: March 24, 2023

BABYMETAL RETURNS -THE OTHER ONE-

Dates: January 28 / January 29, 2023

Venue: Makuhari Messe International Exhibition Hall

Special Website: https://www.babymetal.com/theotherone/

BABYMETAL Says Goodbye With Official 10th Anniversary Video on YouTube

Metal J-pop group BABYMETAL has brought their 10th-anniversary celebration to a close with a new YouTube video. The group previously announced that their history would be 'sealed' on October 10, 2021. 

BABYMETAL  – THE ONE – STAIRWAY TO LIVING LEGEND

The video shows SU-METAL and MOAMETAL climbing a staircase into the clouds, leaving the Earth in order to become 'living legends' of the Metal Galaxy they have cultivated for the past decade. Fans will also recognize the track THE ONE, which has become the group's anthem. 

BABYMETAL has been celebrating its anniversary for the past year with special concert performances, limited-time merchandise, and exhibitions. The 10 BABYMETAL BUDOKAN concert, held this year from January to April, was the group's first collection of solo shows at Nippon Budokan. 

Despite all of the fanfare, this might not be the end of BABYMETAL. Sadly, it has been said that 'only the Fox God knows' when the seal will be broken, but the girls are asking fans to 'stay metal' until the next chapter of their journey is announced. 

10 BABYMETAL BUDOKAN Exhibition Opens at Tower Records Shibuya

27.September.2021 | MUSIC

On September 28, the 10 BABYMETAL BUDOKAN Exhibition will open on the 8th floor of Tower Records Shibuya for a limited time. The exhibition will feature a collection of costumes worn by the group during their numerous concerts over the years, stage set reproductions, photo spots, and more. 

Savior Mask

Postcard

BABYMETAL × TOWER RECORDS Exclusive Goods

Collaboration BEER

10 BABYMETAL BUDOKAN Mystic Game

Exclusive merchandise will only be available during this event, including T-shirts, bags, posters, and even beer! Those attending the exhibition will be entered to win a BABYMETAL mask or postcard, previously only available at the Budokan concert. The Mystic Game, a puzzle-solving experience, will also take place within Tower Records Shibuya, asking guests to explore the location for clues!

Information

10 BABYMETAL BUDOKAN Exhibition

Running: September 28, 2021 – October 10, 2021

Where: Tower Records Shibuya 8F SpaceHACHIKAI

Hours: 12:00-20:00 (Last entry at 19:30.) *Open 16:00-20:00 on September 28. 

Tickets: https://w.pia.jp/t/10babymetal-budo-ex/

*Day-of Tickets are available at the venue's ticket counter. 

*No day-of tickets available on days when advanced tickets sell out. 

Order Period: October 1 – October 10, 2021 at 20:00

https://tower.jp/article/feature_item/2021/09/21/4001

10 BABYMETAL BUDOKAN Mystic Game

Running: September 28, 2021 – October 10, 2021

Hours: 12:00-19:00 (Last entry at 17:30)

Where: Tower Records Shibuya (Event begins at the 2F counter.)

Tickets: https://w.pia.jp/t/10babymetal-budo-game/

*Day-of Tickets are available at the venue's ticket counter. 

*No day-of tickets available on days when advanced tickets sell out. 

Official Site: https://towershibuya.jp/

BABYMETAL to Release Limited-Edition NFT Trading Cards

04.September.2021 | MUSIC

In May, BABYMETAL released their first collection of NFT trading cards to commemorate the band's 10th anniversary. Now, a new collection of these limited-edition cards, 10 BABYMETAL BUDOKAN, are coming soon!

The previous collection sold out in only a few minutes, and as with the first trading card release, these special images will be sold using WAX NFT Blockchain, and will go on sale starting September 10 at 0:00 JST. The cards are designed with live photos from 10 BABYMETAL BUDOKAN, the 10 concerts held at Nippon Budokan from January to April. Two different sets will be on sale, and there will be 20 cards total in the set, each ranked common, rare, or super rare.

A 5-card set will be available for USD $35 with a limited quantity of 2,500 sets. A special MECHAPACK bundle containing a 15-card set and limited edition 10 BABYMETAL BUDOKAN gold vinyl record will be available for USD $125, with only 1,000 sets available. The record contains 13 songs from the April concert, which was the final day of the Budokan concert series.

Purchases can be made by credit card or PayPal, but customers will need a WAX wallet to purchase and receive NFT.

NFT minting and distribution will begin on September 15 at 2:00 AM (JST). The mint number and distribution order will be determined by when the order was made.

Will you be trying to snag one of these rare pieces of BABYMETAL history?

Information

10 BABYMETAL BUDOKAN NFT TRADING CARDS

Release Date: September 10, (0:00 JST)

How to Buy/Price:

1 NFT Trading Card Set (5 cards) / Price: $35

2 NFT Trading Card Set (15 cards) + 10 BABYMETAL BUDOKAN Gold Vinyl Record / Price: $125

BABYMETAL Collaborates with COLEMAN to Produce Outdoor Equipment

As they celebrate the grand finale of their 10th anniversary on October 10 2021, metal dance unit BABYMETAL's apparel brand BMD FOX APPAREL will be collaborating with outdoor equipment brand COLEMAN, with items available from August 27.  

BMD FOX APPAREL is a brand separate to the bands concert goods, focusing on challenging pre-existing ideas to form new stories and new lifestyles. This will be BMD FOX APPAREL's first collaboration with COLEMAN, with the watch stylish item featuring the iconic BMD logo. The lineup is made up of seven items: A Quick-up IG Shade, a Resort Chair, a Healing Chair, a Mini Table Plus, a Daily Cooler 20L, a Leisure Sheet, and an Outdoor Wagon. The items will be available to preorder from the A!SMART Artist Shop from 18:00 on August 27.

 

The collaboration item designs are centred around the BMD FOX APPAREL brand color, BLACK, with the color decorating the frames and resin parts to create bespoke outdoor equipment. The comfortable hammocks, relaxing healing chairs, and compact miniature tables, and even COLEMAN's famous outdoor wagon have been dyed in BMD FOX APPAREL's shade of black. 

 

Enjoy festivals and camping with the coolest outdoor equipment! 

 

Information

BMD FOX APPAREL × COLEMAN

Release Date: August 27, 2021 from 18:00~

Purchase Link: Online Shop A!SMART's BABYMETAL SHOP 

BABYMETAL BMD FOX APPAREL Official Website: https://bmdfoxapparel.com/ 

 

BABYMETAL to Release Live Vinyl Series on Streaming Platforms

To celebrate the groups 10th anniversary, BABYMETAL is releasing the 10 BABYMETAL LEGENDS LIVE VINYL SERIES on streaming services, with some of the 9 general release titles being made available for the first time. 

METAL RESISTANCE Chapters 1 to 2 will be available on August 25, Chapters 3 to 7 on September 8, and Chapters 8 to 9 on September 22. These dates will coincide with the release of the vinyl series.

Although some tracks will not be available due to rights reasons, many of the most famous live BABYMETAL performances from the past decade will now be easily accessible. This includes their Tokyo Dome performance, the largest in the history of the group, as well as BABYMETAL's solo concerts in the UK and North America.  

Spotify's official BABYMETAL account is now featuring an original Canvas that will play while listening to the new tracks. 

BABYMETAL announced that they will 'seal their LEGEND' on October 10, and won't be visible for a while. While it's unclear what this might mean for the future of the group, this is the perfect time to reminisce on how much they have accomplished over the past decade. 

BABYMETAL to Hold 10th Anniversary Exhibition at hmv museum

BABYMETAL has been celebrating their 10th anniversary since October 10, 2020 with a series of projects and events leading to a final conclusion on October 10, 2021. The details of '10 BABYMETAL LEGENDS,' the final project marking this auspicious anniversary, have been revealed on BABYMETAL's official website.

The first LIVE HISTORY BOOK, '10 BABYMETAL LEGENDS,' will be released on September 2, 2021. This release from Pia will cover the last decade of the band's live shows, and is the first book written by KOBAMETAL, the producer of BABYMETAL's incredible performances. Within the pages will be more about the group's origins, the story of each concert, and plenty of photos!

Starting on September 4, 2021, the '10 BABYMETAL LEGENDS – EXHIBITION -' will be held at the hmv museum in Shibuya. On October 1, the exhibition will move to the hmv museum in Shinsaibashi. This fascinating showcase will lead guests through the history of BABYMETAL's formation and early live shows while plenty of BABYMETAL plays through high-definition speakers, and will also showcase the group's costumes. Bring a camera, because there are plenty of photo spots! Guests can also pick up special commemorative goods and limited-edition stickers!

To commemorate the release of the LIVE HISTORY BOOK '10 BABYMETAL LEGENDS,' a special event will be held at HMV&BOOKS SHIBUYA on September 4, 2021, and at HMV&BOOKS SHINSAIBASHI on October 2, 2021. This event will only be open to those who have purchased the book online (Lawson WEB members only), so be sure to check the HMV&BOOK website for details on how to apply.

BABYMETAL has said that after this finale, they would 'disappear from sight.' With a possible hiatus coming after October 10, now is the perfect time to look back on this incredibly talented group!

Information

10 BABYMETAL LEGENDS – EXHIBITION – 

Tokyo

Location: hmv museum (6F HMV&BOOKS SHIBUYA)

Dates: September 4, 2021-September 23, 2021

Hours of Operation: 11:00-19:30 (Last admission at 19:00)

Osaka

Location: hmv museum Shinsaibashi (HMV&BOOKS SHINSAIBASHI)

Dates: October 1, 2021-October 10, 2021

Hours of Operation: 11:00-20:30 (Last admission at 20:00)

Details: https://l-tike.com/babymetal-museum/

10 BABYMETAL LEGENDS

Author: KOBAMETAL   Publisher: Pia MUSIC COMPLEX
Release Date: September 9, 2021

Price: ¥1,870 (Tax Included)

10 BABYMETAL LEGENDS Release Event

Shibuya, Tokyo

Event Date: September 4, 2021

Times: 13:00~/15:00~

Location: 6F HMV&BOOKS SHIBUYA Event Space

Shinsaibashi, Osaka

Event Date: October 2, 2021

Times: 13:00~/15:00~
Location: HMV&BOOKS SHINSAIBASHI Event Space

Details: https://www.hmv.co.jp/news/article/2108021015/

'10 BABYMETAL YEARS' Special Website: https://www.toysfactory.co.jp/artist/babymetal/10babymetalyears

BABYMETAL Announces ENCORE GLOBAL STREAM and Overseas Live Album Release

BABYMETAL began this year with the continuation of the celebration of their ten-year anniversary which saw the band hold a series of 10 concerts at the Nippon Budokan in Tokyo. The band have now revealed details of an encore streaming event that will be streamed worldwide. A director's cut of the 10 BABYMETAL BUDOKAN WORLD PREMIERE, which streamed on June 26th, will be shown worldwide, giving fans the opportunity to enjoy the performances with new cuts and a special edit. Early bird tickets are already sold out.

10 BABYMETAL BUDOKAN ENCORE GLOBAL STREAM – Trailer

Additionally, pre-orders for the overseas edition of the band's live album 10 BABYMETAL BUDOKAN have gone live. The record, which celebrates 10 years of BABYMETAL, will be released from BABYMETAL RECORDS on October 1 as both a digital edition and a two-disc physical edition. A double-vinyl edition will also hit shelves in the second half of November.

Further details on tickets for the encore stream are available at BABYMETAL's website.

Information

10 BABYMETAL BUDOKAN

2 CD Edition <DOOMSDAY – Ⅸ & Ⅹ> (13 Tracks)

Release Date: October 1, 2021

2 Vinyl Edition <DOOMSDAY – Ⅸ & Ⅹ> (13 Tracks)

Release Date: Late November 2021

10 BABYMETAL BUDOKAN Special Website: http://babymetal.live