A 32cm tall maccha (Japanese green tea) parfait which is the tallest parfait in Japan was released by "Gashoan" located in Shizuoka Prefecture!
A 32cm tall maccha parfait "Maccha SKY Parfait" was released at a cafe selling tea and snacks called "Gashoan" on the 15th of September (Fri.).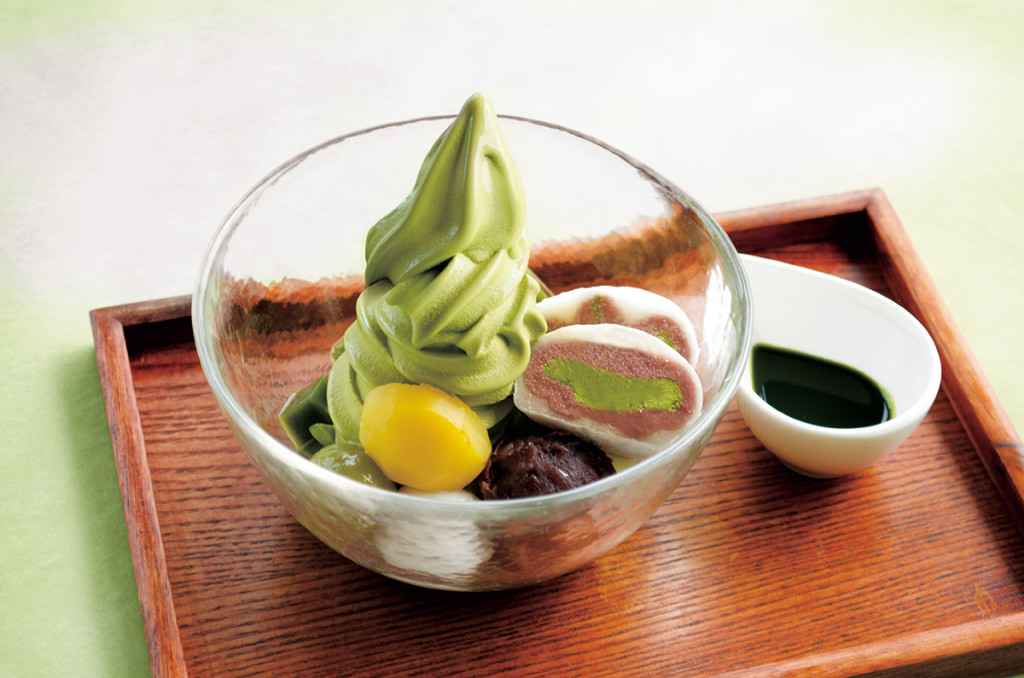 "Gashoan" sells teas from Shizuoka Prefecture, snacks using tea and items that go well with tea.
The café has four stores at Shizuoka Prefecture and is selling some of their products at service areas and Kiosks in stations throughout Japan.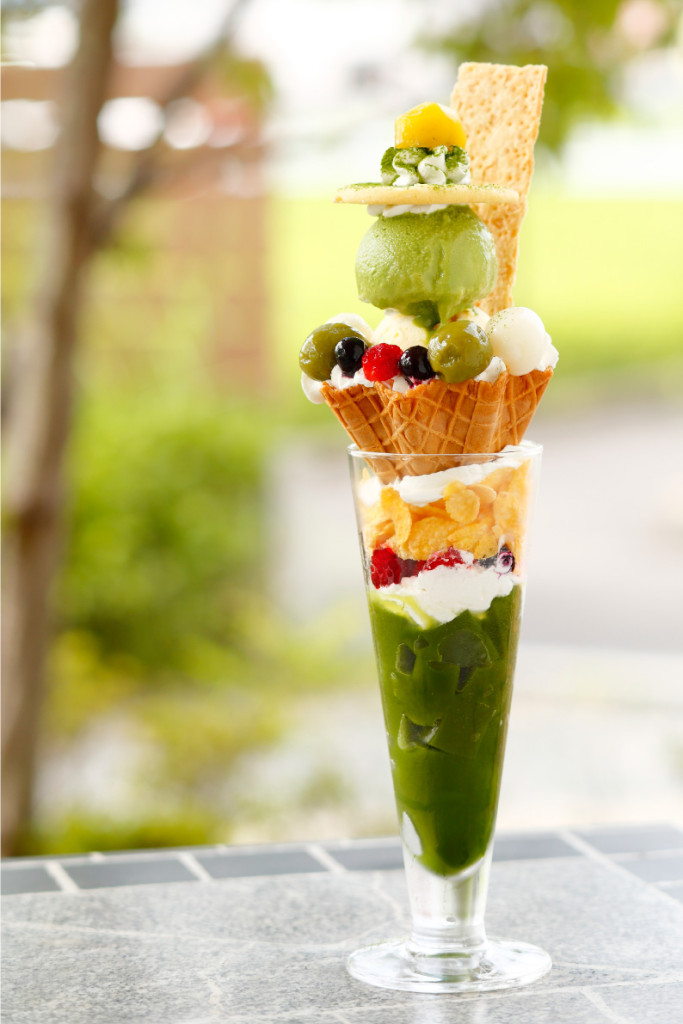 Gashoan has been creating various kinds of maccha parfait and this time they released a surprising parfait which is very tall. The parfait is a gorgeous parfait with a height of 32cm! You will be excited for sure as soon as the parfait arrives at your table.
<The content of the parfait> (from the top)
Crunchy pie, chestnut, fresh cream, tea cookie, maccha ice cream, fresh cream, mixed berries, white rice ball, maccha, waffle corn, fresh cream, cornflakes, mixed berries, fresh cream, maccha jelly
Let's enjoy this maccha parfait which makes for a great photo you can share with your friends.
■Information
"Maccha SKY Parfait"
Price: 1,250 yen
Date: from September 15th, 2017
Available stores: Gashoan Chiyoda Main Store, Miyatake Store, Yaidu Nishi Kogawa Store
Gashoan website: http://www.gasho-an.com/
RELATED ENTRIES
Experience Old Time Kyoto in Autumn 2020 With Tea and Textiles

Kyoto, the ancient capital of Japan, is also called the birth place of Japanese culture, with a history spanning 1,200 years. Today, we're going to take a look at a number of upcoming events and seasonal items on sale in Kyoto for autumn 2020.

Celebrating 300 years of Tango Chirimen

This year marks 300 years since Tango Chirimen was established, a company located in Tango in northern Kyoto that specialises in a Japanese textile of flat woven silk known as 'chirimen.' There are many local chirimen brands around Japan, but it is the chirimen from Tango that has stood above the rest these past 300 years. The brand is now looking to the start of a new era for itself during its triple century milestone.

LIFE WITH THE QUALITY

Tango Chirimen is currently displaying a collaborative art exhibit at NEWoMan Shinjuku in Tokyo. This includes the entry display made in collaboration with Japanese artist Saki Tanaka, wall art made from woven fabrics, and more.

Running: Until September 30, 2020

Location: NEWoMan Shinjuku

Lineup: Display in collaboration with Saki Tanaka, wall art, and more

United Arrows x Tango Chirimen

United Arrows is also collaborating with the brand and incorporating their logo mark "TANGO OPEN" on a new men's t-shirt.

Product Name: BY Tango Broad Wide Form Tapered Shirt
Buy Here: https://store.united-arrows.co.jp/shop/by/goods.html?gid=52838245
Sold at: BEAUTY & YOUTH UNITED ARROWS stores and their official online store

Taste tea from Uji on Japanese Tea Day

It is generally considered that the first tea of the season in Japan is best enjoyed from the end of April and during May, but in fact Japanese tea is the perfect season to enjoy Japanese tea, specially since the country celebrates Japanese Tea Day (Nihoncha no Hi) on October 1 and 31.

Ujicha, or tea from Uji in Kyoto, boasts some of the most famous kinds of teas in Japan. This includes matcha, sencha, and gyokuro, all of which were first grown in southern Kyoto. Because of this, it is said that Ujicha marks the origins of Japanese tea. So when you visit Japan during autumn, why not celebrate Japanese Tea Day with some authentic tea from Uji?

Ujicha Tea Murie Online Course

The Ujicha Tea Murie Course has been held since 2015 in Kyoto, and this year, the course is heading online for the first time as a result of the pandemic. Learn how to make and serve Uji tea from a professional tea instructor as well as its history and more.

Running: Session 1: September 15, 2020 / Session 2: October 2, 2020 / Session 3: October 17, 2020

Book: Online
Requirements: Download and install Zoom
Official Website: https://www.pref.kyoto.jp/yamashiro/ocha/

Certified Ujicha tea cafes for an authentic experience

Tsujiri Rihei Ginza | Tsujiri Rihei Senju

Nakamura Tokichi Ginza

Tsujiri Rihei Ginza, Tsujiri Rihei Senju, and Nakamura Tokichi Ginza are all cafes in Tokyo that are officially recognised for serving authentic Ujicha tea which also includes proper preparation as well as teaching the history and culture behind the tea. These three cafes are also holding an Ujicha tea stamp rally as well as a Twitter hashtag campaign.

Hikari no Sumika Winter Illuminations 2020-2021 to Take Place at Gotemba Kogen Toki no Sumika

Toki no Sumika is set to host its 19th annual winter illumination event "Hikari no Sumika" from September 19, 2020 to March 21, 2021.

Forest of Trees Illuminations


The Forest of Trees was created together with locals and wraps visitors in a magical fantasy land of lights underneath the shimmer of stardust. This trail of trees leads visitors to the next area, the Royal Palace on the Hill.

Royal Palace on the Hill


The "Versailles Lights" water laser show entertains onlookers with a rhythmic show. A new spot has also been developed this year called "It's a colorful world" where cuter balls of light change colour to the sounds that play. There's also one of the world's biggest "Bells of Love" clad in colours galore to radiate the dark night, "Slow House Twinkle," and "Super Searchlight."

Tunnel of Lights


Spanning 370m along, the "Tunnel of Lights" changes colours as time passes, enveloping people in a sparkling galaxy of illuminations. There'll be plenty of photo opportunities.

Twin Trees & First Dream Bridgeツインツリーと初夢の橋

The colour of the 120-year-old fir tree at the site this year will be white. The 20 meter-tall tree will be decorated simply and gently, with more LED lights than ever before, to enhance its beauty. The "First Dream Bridge" will give rise to the "Stardust Road" of countless illuminations that run along it.

Underwater Paradise Aquarium

Around 4,500 goldfish of 200 species, including rare kinds, from all around Japan are collected here. It continues to grow as Japan's only goldfish aquarium both in name and reality. Enjoy seeing them swim while gorgeous lights light up the room.

Information

Hikari no Sumika 2020-2021

Running: September 18, 2020 – March 21, 2021

Address: Gotemba Kogen Toki no Sumika, 719 KōyamaGotemba, Shizuoka

Illumination Times: 17:30-22:00

Car Park Spaces: 2,000
Enquiries: 0550-87-3700 (9:00-20:00)

Official Website: http://www.tokinosumika.com/illuminations2017/renewal/

Luxurious Matcha Loaded Parfait Served Up at MICASADECO&CAFE KYOTO

MICASADECO&CAFE KYOTO had to shorten its menu due to the effects of COVID-19. Their legendary parfait too was taken off the list, but now has finally returned, and even more delicious looking than ever.

MICASADECO&CAFE KYOTO has tried to make the parfait as breathtaking as possible, and they've certainly captured that. It's vivid like the furisode long-sleeved kimono worn by the maiko of Kyoto, beautiful and dignified.

Uji Matcha Pudding & Raspberry Parfait | ¥1,250 (Tax Included)

This towering parfait is made up of many layers, one of which is a homemade Japanese-style pudding made with high quality matcha from Uji, Kyoto. It has a subtly sweet and deep flavour, and is taken to the next level with the matcha sauce it's served with.

The homemade raspberry jam brings a delightful sweetness too as well as adds that eye-catching aspect they're going for. As you spoon your way through, your taste buds are treated to an amalgamation of indulging flavours.

The lid that's sat on top of the parfait is actually a tuile biscuit. The best way to go about beginning your feast is to break the biscuit and then pour the matcha sauce inside.

Hidden within the parfait are also pieces of homemade matcha brownies made with lots of top grade matcha.

These parfaits will be served from September 14 but are limited in stock, so if you're in Kyoto this month, make sure you don't miss out.

SOKI ATAMI: The New Hot Spring Hotel in Shizuoka's City of Atami

SOKI ATAMI is a new hot spring accommodation set to open in the town of Koarashicho in Atami, Shizuoka, on November 1, 2020.

The town of Koarashicho is considered the annex, as it were, to Atami. SOKI ATAMI can be reached in around 40 minutes by bullet train from Shinagawa Station. The accommodation takes into account the value of Atami's hot spring resorts and what's on offer there. It will serve a 'sojourn style' of accommodation that allows you to return to yourself as you are, without any stresses, something which is enhanced thanks to being situated away from the hustle and bustle of the city in nature.

Just being yourself

The accommodation, surrounded by nature, offers a panoramic view of the ocean, and consists of a reception wing, guest room wing, and restaurant wing. In the 'Village Garden,' there are trees growing citrus fruits and a variety of plants and crops, showcasing the regional lifestyle and natural features.

Guest Rooms

There are 54 guest rooms in total ranging from 40㎡ to 65㎡ which can fit up to 4 people. Guests can enjoy the hot springs with all room types. TONERICO:INC. is in charge of the inter design who have given it a natural feel.

Tea Salon & Bar

The Tea Salon & Bar on the top floor overlooks Atami Bay. Guests can enjoy sipping on tea grown in Shizuoka as well as tucking into seasonal meals made using Japanese ingredients. There's also a terrace from which guests can enjoy the firework festivals held at Atami Bay throughout the year.

Public Onsen

The public baths benefit from the changing seasons which changes up the bathing experience. The water is perfect for de-stressing, moisturising, and making your skin look beautiful.

Dining Room

In the restaurant wing is the dining room designed by age co.,ltd which has worked on many different ryokan and restaurants. Fish, vegetables, and other ingredients are all sourced locally and directly.

Information

SOKI ATAMI
Grand Opening: November 1, 2020

Address: 4-36 Koarashichō, Atami, Shizuoka

Access: 10-minutes by car from Atami Station

Official Website: http://www.so-ki.jp/

McDonald's Japan Reveals Japanese Tea Infused Dessert Beverage Series

McDonald's Japan has announced the release of four limited-time drinks which will be sold at McCafé by Barista branches of McDonald's from September 2. The line-up includes the 'Houjicha Frappe Shiratama Kuromitsu Kinako,' 'Houjicha Frappe,' Matcha Frappe Shiratama Kuromitsu Kinako,' and 'Matcha Frappe.'

The beverage lineup is the perfect pink for an autumn-time dessert drink, each made with authentic flavours from Japan.

Houjicha Frappe Shiratama Kuromitsu Kinako | Regular ¥490, Large ¥530 (Tax Included)

Made using 100% Japanese houjicha powder and delicious milk, this houjicha frappe is topped with soy flour, sweet brown sugar syrup from Okinawa, chewy rice flour dumplings, and a squirt of whipped cream. This is the ultimate McDonald's Japanese dessert drink, laced with fragrant houjicha tea with a creamy texture.

Houjicha Frappe | Regular ¥450, Large ¥490 (Tax Included)

Houjicha frappe is used as the base for this one, and if inished with whipped cream and a dusting of houjicha powder. The subtly sweet houjicha and creaminess of the whipped cream is a deliciously perfect match.

Matcha Frappe Shiratama Kuromitsu Kinako | Regular ¥490, Large ¥530 (Tax Included)

Just like the houjicha variant, except this time it's a latte made with matcha and matcha powder from Uji, Kyoto. A truly all-star Japanese dessert drink.

Matcha Frappe | Regular ¥450, Large ¥490 (Tax Included)

The matcha frappe too is sprinkled with matcha powder from Uji, combined with full-bodied milk, and topped with whipped cream.

UK Matcha Company Matchaeologist Collaborate With HARIO On Matcha Products

UK-based matcha brand Matchaeologist is celebrating its second anniversary of selling products in Japan by collaborating with laboratory glassware brand HARIO Science on a matcha sets that come with a beaker with both company's names on them. The sets were released on August 20, 2020 and are limited in stock.

About Matchaeologist

Matchaeologist describes themselves as artisanal matcha green tea specialists who have expanded worldwide across Europe, the US, and Japan. Matcha has become a superfood outside of Japan and one of the new standard drinks alongside coffee.

Matchaeologist has a big fan base – with close to 150,000 followers on Instagram. Its matcha is grown in the world-famous Uji in Kyoto and is served in a "minimalist way for an epicurean tasting experience not unlike that of fine wine" in order to bring a modern perspective to the ancient tradition of the Japanese tea ceremony.

Matchaeologist x HARIO


Matchaeologist x HARIO Beaker – Matsu (20g Set) | ¥4,180

HARIO is a hugely popular brand that sells a variety of products from laboratory glassware to coffee making equipment. The collaboration with Matchaeologist introduces a sophisticated and minimalist HARIO beaker as a set with two of the matcha company's matcha blends: matsu and meiko.

Matchaeologist x HARIO Beaker (Meiko 20g Set) ¥3,180

Experience matcha in a completely unique way by preparing some in one of HARIO's high quality beakers.

Premium Uji Matcha Afternoon Tea Begins at Hotel Chinzanso Tokyo This September

Hotel Chinzanso Tokyo has announced a collaboration with Tsuji Rihei—a tea shop that first opened in 1860 in Uji, Kyoto—to serve up a new "Premium Uji Matcha Afternoon Tea" in its lobby lounge Le Jardin from September 1.

This will be the hotel's fifth serving of the Premium Uji Matcha Afternoon Tea, which first began in 2016. Last year saw 5,000 customers enjoy experience.

Hotel Chinzanso Tokyo actually began serving the afternoon tea from April 13 this year, but had to stop service in May as a result of COVID-19. September 1 will see its return.

The food and drinks in the afternoon tea are all made with a Japanese green tea known as Kuradashi. The first fresh leaves picked from springtime have been put to one side for the summer serving, so customers can enjoy an enrichened tea-sperience.

Top Tier – Desserts: Sencha Jelly, Genmaicha Egg Tart, Kabusecha Souffle Cake, Kyobancha Tiramisu

Middle Tier – Scones: Plain Scone, Gyokuro Scone, Hojicha Scone

Bottom Tier – Savoury: Tea Leaf & Walleye Pollack Open Sandwich, Lily Bulb Honey Ham Tart, Smoked Salmon & Plum Mayo Sandwich, Smoked Dick & Cheddar Cheese Japanese-Style French Toast

Drinks: Uji Tea (3 Flavours), Hotel Original Blend Tea (15 Flavours)

The afternoon tea set is three tiers of desserts, scones, and savoury snacks, all served with a tea of your choice. Summer 'falls' into autumn with this lovely selection of delights.

Information

Premium Uji Matcha Afternoon Tea
Running: September 1, 2020 – September 30, 2020
Serving: 12:00-18:00
Location: Le Jardin (Lobby Lounge), Hotel Chinzanso Tokyo
Price: ¥4,500 (with welcome drink ¥5,000 – 20 people per day)
TEL/Enquiries: 03-3943-0920 (10:00-21:00)

Official Website: https://hotel-chinzanso-tokyo.jp/restaurant/plan/ujichaafternoontea2020/

Creamy Mami Ani-Art Pop Up Shop to Open in Ikebukuro and Shizuoka

Two Creamy Mami themed pop-up shops are set to open in Ikebukuro Marui on September 5 and in Shizuoka Marui on September 19. Fans can expect to get their hands on a range of exclusive and new merchandise themed on the popular anime series Creamy Mami, the Magical Angel, from pin badges and a parker hoodie to tote bags and more.

Pre-Sale Merchandise (Excerpt)

Trading Ani-Art Pin Badge (9 Designs) | Single: ¥430, Box: ¥3,870 (Before Tax)

Trading Ani-Art Acrylic Stands (9 Designs) | Single: ¥800, Box: ¥7,200 (Before Tax)

Back Print Zipper Parker (1 Design) | ¥5,980 (Before Tax)

Clear Pouch (1 Design) | ¥1,980 (Before Tax)

Fans who spend over ¥3,000 (tax included) on related merchandise and display their Epos cards will have the chance to enter a lottery to win a prize.

The pop-up shop is also currently holding a Twitter campaign in Japan until October 5, 2020. One lucky fan can receive a complete set of bromide photos by following AMNIBUS on Twitter and retweeting this tweet.

The pop-up shop is a chance for fans and newcomers to jump into the magical world of Creamy Mami.

©Pierrot

Information

Creamy Mami, the Magical Girl Ani-Art POP UP SHOP in Marui

Official Website: https://event.amnibus.com/mami-0101/

Ikebukuro Marui

Running: September 5, 2020 – September 13, 2020

Entry: Free

Opening Hours: 11:00-20:00

Address: 3-28-13 Nishi-Iekbukuro, Toshima Ward, Tokyo, 171-0021

Official Website: https://www.0101.co.jp/048/

Shizuoka Marui

Running: September 19, 2020 – October 5, 2020

Entry: Free

Opening Hours: 10:30-19:30 (until 19:00 on October 5, 2020)

Address: 6-10 Miyukicho, Aoi-ku, Shizuoka, 420-0857

Official Website: https://www.0101.co.jp/036

New Summertime Drinks and Desserts Released at Atami Purin in Japan

Japanese dessert shop Atami Purin introduced its Summer 2020 menu on July 7. Atami Purin is known for the visual aspect of desserts which it serves up at its four shops, all located in Atami, Shizuoka.

Midsummer Mango Pudding: ¥400 (Tax Included)

Enjoy that tropical vibe with the Midsummer Mango Pudding, a mix of rich mango Japanese-style pudding known as purin, and sweet and sour blood orange.

Atami Pudding Ice Cream: ¥450 (Tax Included)


Atami Colourful Soda: ¥500 (Tax Included)

Other treats on the menu include an ice cream that looks just like a Japanese purin dessert, colourful sodas made with lychee and salt, and plenty of other refreshing picks.

Information

Atami Purin 1
Address: 3-14 Tawarahonchō, Atami, Shizuoka Prefecture

Atami Purin Cafe 2nd
Address: 10-22 Ginzachō, Atami, Shizuoka Prefecture

Nagisa no Atami Purin
Address: ATAMI BAY RESORT KORAKUEN, 10-1 Wadahamaminamichō, Atami, Shizuoka Prefecture

Drive-In Atami Purin Shokudo
Address: 10-1 Kamitaga, Atami, Shizuoka

Shizuoka's City of Izu to Open New Glamping Hotel 'ANDAPING'

HOTEL ANDAPING is a new glamping hotel set to open in Izu, Shizuoka on July 18, 2020. This glamping hotel experience offers guests individual rooms, great food, a terrace that gives a panoramic view of the ocean and peninsula, and a lush and gorgeous natural environment home to the "yanmonoki," a tree registered as a natural monument. The hotel price is all-inclusive, and guests can enjoy all the entertainment benefits of a glamping experience such as alcohol, karaoke, darts, billiards, and more.

Enjoy elegance on the forest terrace

When you step out of the hotel onto the terrace, your gaze is met with the expanse of the rolling blue ocean and the peninsula. And if you look to the side, you'll spot the natural monument that is the Yanmonoki tree. Once you've checked into the hotel, you're served tea, coffee, and desserts at either the Open Terrace or Yanmo Terrace. At night, warm up by the bonfire and toast some marshmallows in the middle of the forest atop the terrace.

Indulge in the hot spring of one of 7 open-air baths

From inside the hot springs and baths, guests can look out across the Izu Peninsula ocean and beautiful verdure. The water contains sodium-calcium and chloride which is kind to and feels nice on the skin. There large public baths as well as 7 rental open-air baths and 3 rental indoor baths. Guests can feel close to nature as they bathe.

An exciting glamping food experience

Food can be enjoyed both in guest rooms as well as on the terrace. On the terrace, guests can enjoy feasting on local food while watching the sky and sea.

Relaxing guest rooms give that camping vibe

Everything in the hotel is made with camping in mind, so that even indoors, guests can enjoy that outdoor vibe. Guest room ceilings are fitted with tarp, and guests can make their own drip coffee for an 'indoor outdoor' experience.

All-inclusive hotel service

The hotel is all-inclusive, where guests can enjoy cafe and bar drinks, play darts, billiards, go boldering and more all for free. There are also workshops, like making your own lanterns, as well as going stargazing, and much more.

4 Refreshing Matcha Shaved Ice Flavours Released at Itohkyuemon in Kyoto

Kyoto's famous tea shop Itohkyuemon began serving four new Uji matcha and shaved ice mixed desserts on its menu yesterday (June 29). Itohkyuemon was founded in 1832 in the latter period of Edo. Ujitawara, the place in Kyoto where the shop is located, is famous for the tea served by Itohkyuemon which has been harvested by the Ito family for years.

Uji Matcha Parfait Ice: ¥1,490 (Tax Included) | Serving: Until Late September 2020 | Avaialble: Itohkyuemon JR Uji Station/Itohkyuemon Gionshijo

The Uji Matcha Parfait Ice uses a blend of matcha and milk-infused ice as its base. It's then topped with sweet treats like rice flour dumplings, red bean paste, ice cream, matcha jelly, and more to turn it into a parfait.

Uji Matcha Daifuku Ice: ¥1,290 (Tax Included) | Serving: Until Late September 2020 | Avaialble: Itohkyuemon JR Uji Station/Itohkyuemon Gionshijo

This Uji Matcha Daifuku Ice is an upgrade of the one Itohkyuemon served last year. It has a creamy custard base with matcha daifuku hidden in the shaved ice.

Fluffy Uji Kindokei Vanilla Ice Cream: ¥990, Matcha Ice Cream ¥1,090 (Tax Included) | Serving: Until Late September 2020 | Avaialble: Itohkyuemon JR Uji Station/Itohkyuemon Gionshijo


Fluffy Uji Kindokei Rice Flour Dumpling: ¥850, Rice Flour Dumpling & Vanilla Ice Cream ¥970, Rice Flour Dumpling Matcha Ice Cream ¥1,090 Serving: Until Late September 2020 | Avaialble: Itohkyuemon Uji Main Branch

These two "Kindokei" (Gold Watch) servings use more ice. At the main branch of Itohkyuemon they're more crunchy, while at the JR Uji Station and Gionshijo branches they're more fluffy.

Garrett Popcorn Releases its Richest Matcha Flavour in Japan

Chicago-based gourmet popcorn brand Garrett Popcorn Shops® is releasing its strongest matcha flavour to date alongside a new striped tin in Japan on June 1. Both are limited edition products and will be available while supplies last.

Named "Koi Matcha Kinako Kurumi" (Rich Matcha Soy Flour Walnut), the new matcha flavour is 40% stronger than the Matcha Caramel Crisp™ and blends together soybean flour and walnut for an aromatic crunch combination. The matcha holds a pleasant bitter flavour while the soybean flour is subtly sweet and gives off a rich, delightful smell.

The new tin takes Garret Popcorn's iconic striped design and throws in multiple colours and patterns for vivid effect. Combined with the new matcha flavour, it makes for the perfect home theatre accompaniment while you watch a movie.

Information

Koi Matcha Kinako Kurumi (Japanese Name: 濃抹茶きなこくるみ)

Available: Garret Popcorn Shops® branches in Japan (see below)

*Daily limited stock. Available while supplies last.

Running

Harajuku: June 1, 2020 – July 16, 2020

Shisui Premium Outlets: June 5, 2020 – July 16, 2020

Nagoya: Now until July 16, 2020名古屋店:発売中~7月16日(木)

LaLaport Expo City: June 1, 2020 – July 16, 2020

Prices/Sizes

Small: ¥620 / Medium ¥1,100 / Large ¥1,720 / Jumbo ¥3,450 / Quarter Tin ¥4,175 / 1 Gallon Tin ¥4,400 / 2 Gallon Tin ¥8,400

*Jumbo and 2 Gallon Tin sizes exclusive to the Shisui Premium Outlets and LaLaport Expo City branches of Garret Popcorn Shops®.

Official Website: http://jpgarrettpopcorn.com/