Fruit jelly specialty shop "FruFull Gotemba" introduces new unique flavours to its menu including fig and wasabi!
FruFull Gotemba—a shop that sells fruit jelly made with carefully selected fruits and delicious water from the base of Mount Fuji—is introducing a host of new tasty products using Violette de Solliès (purple figs) harvested at the bottom of Mount Fuji, mini tomatoes, and wasabi.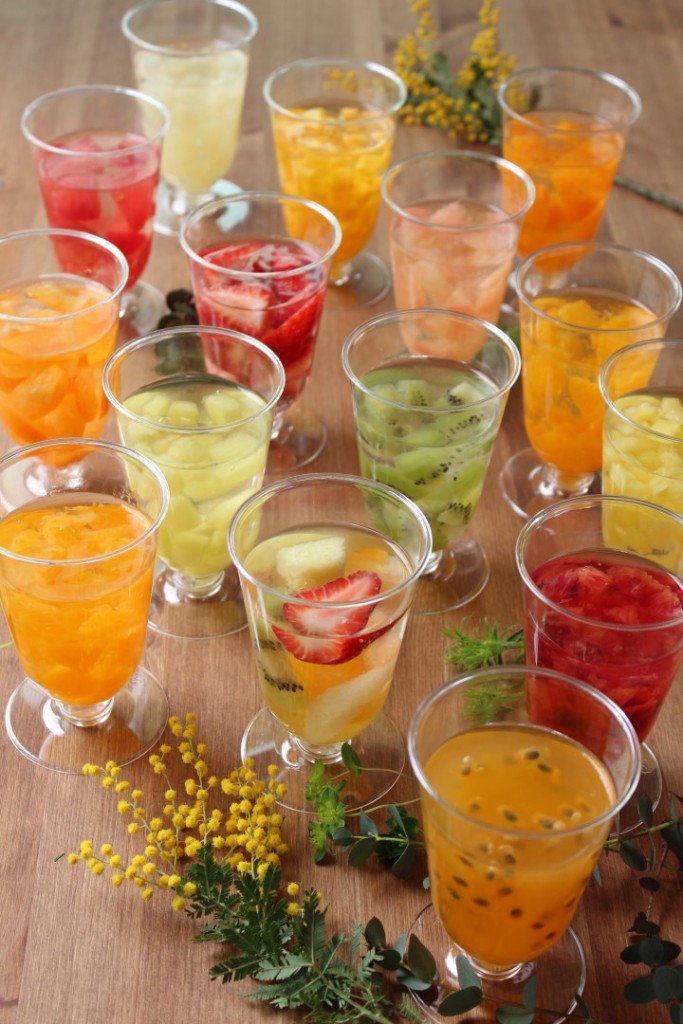 FruFull Gotemba opened back in September 2006 as Japan's first shop specialising in fruit jelly. They have earned a reputation for their jellies as the must-buy item when visiting Gotemba, a city in Shizuoka near Mount Fuji. They have sold 2 million so far! The shop serves over 10 varieties of different jellies everyday each made by hand with carefully selected fruits.
The Violette de Solliès, mini tomatoes and wasabi are all local products, and although they are individual items they are highly regarded. Together with the fruit jelly, they will make for an exciting new tasty item.
Let's take a look at the new items on the menu.
<Violette de Solliès (Purple Figs / Western Figs)>
Price: ¥600 (tax not incl.)
Originating in France, these figs are high-class, luxurious and widely-known. The figs used in this jelly are harvested from the base of Mount Fuji. They are not common in Japan, making this a rare treat. The jelly is made only with figs that are completely ripe meaning you can enjoy their flavour to the fullest.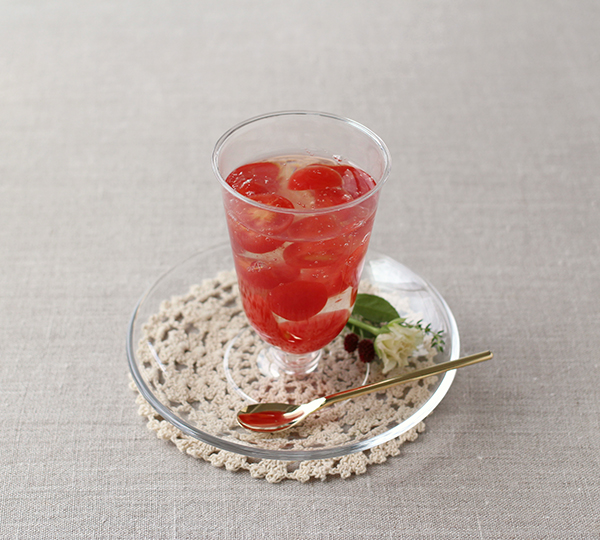 <Mini Tomato>
Price: ¥500 (tax not incl.)
This is a new kind of tomato with a very soft texture. It has a higher sugar content and although small, the skin is soft and the flavour is rich. Due to the softness of the skin it is difficult to export meaning you won't see them sold in many places. Their texture becomes even better when used in jelly.
<Wasabi>
Price: ¥350 (tax not incl.)
This wasabi is cultivated with Mount Fuji's plentiful spring water. The wasabi from Oyama in Gotemba rarely appears in markets. It's labelled a "popular" brand and is mostly used in traditional Japanese restaurants, sushi bars and soba restaurants in the suburbs of Tokyo. It leaves just a little heat in your mouth.
Try these unique jelly flavours yourself with local specialty products only found in Shizuoka.
RELATED ENTRIES
Hikari no Sumika Winter Illuminations 2020-2021 to Take Place at Gotemba Kogen Toki no Sumika

Toki no Sumika is set to host its 19th annual winter illumination event "Hikari no Sumika" from September 19, 2020 to March 21, 2021.

Forest of Trees Illuminations


The Forest of Trees was created together with locals and wraps visitors in a magical fantasy land of lights underneath the shimmer of stardust. This trail of trees leads visitors to the next area, the Royal Palace on the Hill.

Royal Palace on the Hill


The "Versailles Lights" water laser show entertains onlookers with a rhythmic show. A new spot has also been developed this year called "It's a colorful world" where cuter balls of light change colour to the sounds that play. There's also one of the world's biggest "Bells of Love" clad in colours galore to radiate the dark night, "Slow House Twinkle," and "Super Searchlight."

Tunnel of Lights


Spanning 370m along, the "Tunnel of Lights" changes colours as time passes, enveloping people in a sparkling galaxy of illuminations. There'll be plenty of photo opportunities.

Twin Trees & First Dream Bridgeツインツリーと初夢の橋

The colour of the 120-year-old fir tree at the site this year will be white. The 20 meter-tall tree will be decorated simply and gently, with more LED lights than ever before, to enhance its beauty. The "First Dream Bridge" will give rise to the "Stardust Road" of countless illuminations that run along it.

Underwater Paradise Aquarium

Around 4,500 goldfish of 200 species, including rare kinds, from all around Japan are collected here. It continues to grow as Japan's only goldfish aquarium both in name and reality. Enjoy seeing them swim while gorgeous lights light up the room.

Information

Hikari no Sumika 2020-2021

Running: September 18, 2020 – March 21, 2021

Address: Gotemba Kogen Toki no Sumika, 719 KōyamaGotemba, Shizuoka

Illumination Times: 17:30-22:00

Car Park Spaces: 2,000
Enquiries: 0550-87-3700 (9:00-20:00)

Official Website: http://www.tokinosumika.com/illuminations2017/renewal/

SOKI ATAMI: The New Hot Spring Hotel in Shizuoka's City of Atami

SOKI ATAMI is a new hot spring accommodation set to open in the town of Koarashicho in Atami, Shizuoka, on November 1, 2020.

The town of Koarashicho is considered the annex, as it were, to Atami. SOKI ATAMI can be reached in around 40 minutes by bullet train from Shinagawa Station. The accommodation takes into account the value of Atami's hot spring resorts and what's on offer there. It will serve a 'sojourn style' of accommodation that allows you to return to yourself as you are, without any stresses, something which is enhanced thanks to being situated away from the hustle and bustle of the city in nature.

Just being yourself

The accommodation, surrounded by nature, offers a panoramic view of the ocean, and consists of a reception wing, guest room wing, and restaurant wing. In the 'Village Garden,' there are trees growing citrus fruits and a variety of plants and crops, showcasing the regional lifestyle and natural features.

Guest Rooms

There are 54 guest rooms in total ranging from 40㎡ to 65㎡ which can fit up to 4 people. Guests can enjoy the hot springs with all room types. TONERICO:INC. is in charge of the inter design who have given it a natural feel.

Tea Salon & Bar

The Tea Salon & Bar on the top floor overlooks Atami Bay. Guests can enjoy sipping on tea grown in Shizuoka as well as tucking into seasonal meals made using Japanese ingredients. There's also a terrace from which guests can enjoy the firework festivals held at Atami Bay throughout the year.

Public Onsen

The public baths benefit from the changing seasons which changes up the bathing experience. The water is perfect for de-stressing, moisturising, and making your skin look beautiful.

Dining Room

In the restaurant wing is the dining room designed by age co.,ltd which has worked on many different ryokan and restaurants. Fish, vegetables, and other ingredients are all sourced locally and directly.

Information

SOKI ATAMI
Grand Opening: November 1, 2020

Address: 4-36 Koarashichō, Atami, Shizuoka

Access: 10-minutes by car from Atami Station

Official Website: http://www.so-ki.jp/

Creamy Mami Ani-Art Pop Up Shop to Open in Ikebukuro and Shizuoka

Two Creamy Mami themed pop-up shops are set to open in Ikebukuro Marui on September 5 and in Shizuoka Marui on September 19. Fans can expect to get their hands on a range of exclusive and new merchandise themed on the popular anime series Creamy Mami, the Magical Angel, from pin badges and a parker hoodie to tote bags and more.

Pre-Sale Merchandise (Excerpt)

Trading Ani-Art Pin Badge (9 Designs) | Single: ¥430, Box: ¥3,870 (Before Tax)

Trading Ani-Art Acrylic Stands (9 Designs) | Single: ¥800, Box: ¥7,200 (Before Tax)

Back Print Zipper Parker (1 Design) | ¥5,980 (Before Tax)

Clear Pouch (1 Design) | ¥1,980 (Before Tax)

Fans who spend over ¥3,000 (tax included) on related merchandise and display their Epos cards will have the chance to enter a lottery to win a prize.

The pop-up shop is also currently holding a Twitter campaign in Japan until October 5, 2020. One lucky fan can receive a complete set of bromide photos by following AMNIBUS on Twitter and retweeting this tweet.

The pop-up shop is a chance for fans and newcomers to jump into the magical world of Creamy Mami.

©Pierrot

Information

Creamy Mami, the Magical Girl Ani-Art POP UP SHOP in Marui

Official Website: https://event.amnibus.com/mami-0101/

Ikebukuro Marui

Running: September 5, 2020 – September 13, 2020

Entry: Free

Opening Hours: 11:00-20:00

Address: 3-28-13 Nishi-Iekbukuro, Toshima Ward, Tokyo, 171-0021

Official Website: https://www.0101.co.jp/048/

Shizuoka Marui

Running: September 19, 2020 – October 5, 2020

Entry: Free

Opening Hours: 10:30-19:30 (until 19:00 on October 5, 2020)

Address: 6-10 Miyukicho, Aoi-ku, Shizuoka, 420-0857

Official Website: https://www.0101.co.jp/036

Minions Confections Sneak Their Way Into Lawson Convenience Stores in Japan

Bandai Candy's character-inspired Japanese confectionery series Tabemas released a new batch of Minion-themed Japanese wagashi confections at Lawson convenience stores in Japan (excluding Lawson Store 100 branches) on August 4, 2020.

'Tabemas' is an abbreviation of the Japanese words taberareru masukotto, meaning 'mascots that you can eat.' It is a Japanese confectionery series that combines well-known characters and Japanese sweets made from ingredients like red bean paste, sugar and rice flour.

Tabemas Minions | ¥264 (Before Tax)

The line-up includes familiar faces from the Despicable Me and Minions films, namely the childish Bob, Stuart—who loves a prank—and Kevin who has a leader presence about him. The confections feature all the little details for each character, from the goggles and hair to the colouring.

Each character has its own delicious bean paste flavouring too: Bob is banana flavoured (his favourote), Stuart is strawberry, and Kevin is chocolate. Which do you want to try the most?

© Universal City Studios LLC. All Rights Reserved.

Information

Tabemas Minion
Release Date: August 4, 2020

Available: At the chilled desserts section of Lawson convenience stores in Japan

*Not available at Lawson Store 100

*Available while supplies last

*Stock date may differ from branch to branch

*Select stores not participating

New Summertime Drinks and Desserts Released at Atami Purin in Japan

Japanese dessert shop Atami Purin introduced its Summer 2020 menu on July 7. Atami Purin is known for the visual aspect of desserts which it serves up at its four shops, all located in Atami, Shizuoka.

Midsummer Mango Pudding: ¥400 (Tax Included)

Enjoy that tropical vibe with the Midsummer Mango Pudding, a mix of rich mango Japanese-style pudding known as purin, and sweet and sour blood orange.

Atami Pudding Ice Cream: ¥450 (Tax Included)


Atami Colourful Soda: ¥500 (Tax Included)

Other treats on the menu include an ice cream that looks just like a Japanese purin dessert, colourful sodas made with lychee and salt, and plenty of other refreshing picks.

Information

Atami Purin 1
Address: 3-14 Tawarahonchō, Atami, Shizuoka Prefecture

Atami Purin Cafe 2nd
Address: 10-22 Ginzachō, Atami, Shizuoka Prefecture

Nagisa no Atami Purin
Address: ATAMI BAY RESORT KORAKUEN, 10-1 Wadahamaminamichō, Atami, Shizuoka Prefecture

Drive-In Atami Purin Shokudo
Address: 10-1 Kamitaga, Atami, Shizuoka

Shizuoka's City of Izu to Open New Glamping Hotel 'ANDAPING'

HOTEL ANDAPING is a new glamping hotel set to open in Izu, Shizuoka on July 18, 2020. This glamping hotel experience offers guests individual rooms, great food, a terrace that gives a panoramic view of the ocean and peninsula, and a lush and gorgeous natural environment home to the "yanmonoki," a tree registered as a natural monument. The hotel price is all-inclusive, and guests can enjoy all the entertainment benefits of a glamping experience such as alcohol, karaoke, darts, billiards, and more.

Enjoy elegance on the forest terrace

When you step out of the hotel onto the terrace, your gaze is met with the expanse of the rolling blue ocean and the peninsula. And if you look to the side, you'll spot the natural monument that is the Yanmonoki tree. Once you've checked into the hotel, you're served tea, coffee, and desserts at either the Open Terrace or Yanmo Terrace. At night, warm up by the bonfire and toast some marshmallows in the middle of the forest atop the terrace.

Indulge in the hot spring of one of 7 open-air baths

From inside the hot springs and baths, guests can look out across the Izu Peninsula ocean and beautiful verdure. The water contains sodium-calcium and chloride which is kind to and feels nice on the skin. There large public baths as well as 7 rental open-air baths and 3 rental indoor baths. Guests can feel close to nature as they bathe.

An exciting glamping food experience

Food can be enjoyed both in guest rooms as well as on the terrace. On the terrace, guests can enjoy feasting on local food while watching the sky and sea.

Relaxing guest rooms give that camping vibe

Everything in the hotel is made with camping in mind, so that even indoors, guests can enjoy that outdoor vibe. Guest room ceilings are fitted with tarp, and guests can make their own drip coffee for an 'indoor outdoor' experience.

All-inclusive hotel service

The hotel is all-inclusive, where guests can enjoy cafe and bar drinks, play darts, billiards, go boldering and more all for free. There are also workshops, like making your own lanterns, as well as going stargazing, and much more.

Learn About Ito City in Shizuoka Prefecture in This Breathtaking 8K PR Video

A new PR video for Ito City in Shizuoka Prefecture was posted on the city's official YouTube channel on March 2, 2020 as part of Ito City's digital marketing efforts for 2020, and it's already garnered over 21 million views in just over two weeks.

Mount Omuro

Jogasaki Coast

The video was directed and editor Yuki Eikawa who has gained much attention across Japan for his touristic PR video work. It captures the most famous sights across Ito including Mount Omuro and Jogasaki Coast, and showcases the city's food, culture, and incredible natural environments. Check it out below.

ITO City, Shizuoka, Japan in 8K HDR

Learn more about Ito on the city's official website which has a bounty of useful information for exploring everything Ito has to offer.

UMI HOTEL ANNEX: The New Luxury Hotel Opens in Shizuoka's Resort Area Usami

Usami is known as the resort area of Ito in Shizuoka Prefecture, and it's here that the new luxury relaxation hotel UMI HOTEL ANNEX, which boasts a horizon-stretched ocean view, has openedーtogether with the new restaurant and bar known as The SEA.

UMI HOTEL ANNEX, a hotel for relaxation

UMI HOTEL ANNEX offers a breathtaking experience for guests with its ocean view, the sounds of the waves, and the natural scent of trees that envelop it. The hotel is on the small side, built with just six rooms, but this opens the door for greater hospitality, consideration, and comfort. If you want to wind down from a long day of travelling, need some adequate sleep, and wish to get away from the hustle and bustle of Japan's busy cities, then UMI HOTEL ANNEX has you covered.

Enjoy a sweeping ocean view

Upon entering a guest room, you are met with an unobstructed view of the sea. All rooms are also equipped with mirrorsーwhich span the entire wallーwhich bring the view of the ocean into your own room too. This means you can sleep soundly while surrounded by the sea, which is just 30 seconds from the hotel. *4 rooms of the rooms offer the ocean view

Rooms also have a pillar made from hiba cypress, a type of tree symbolic of Aomori Prefecture. The pillars not only serve to support the structure of the hotel, but also wrap the room with the natural scent of timber. Hiba is a strong antibacterial and pesticide wood, and its aroma also has a relaxing effect. 

Open-air infinity pool baths with water flowing from the source

The roof is decked out with infinity pool baths with water flowing in from the source. Everything in and around the pools is made from the same Aoyama hibi cypress, including the pools themselves, meaning all rooms enjoy that warm smell of cypress. The pool joins together with Usami Bay, which stretches 1km, offering a feeling of openness like no other. There are even waterproof sofas in the pool rooms for more relaxation.

Amenities galore for a quiet night's sleep

Amenities offered include items by Sansatia, a Bali-based natural cosmetics company. There's also an original line of room wear made from a special Japanese gauze which can also be used in the surrounding area outside too. The linen is provided by Imabari Towel, and the beds by Simmons. There's also bath salts, shoehorns, and more.

All guest rooms are equipped with pots, microwaves, refrigerators, irons, and trouser pressers. There's also coin operated laundry machines, accommodating for those longer stays.

Doraemon Manga's 50th Anniversary Celebrated With Kawaii Confections by Tabemas

Character-inspired Japanese confectionery series Tabemas is celebrating the 50th anniversary of the Doraemon manga series with two adorable new confections which will release at Lawson convenience stores around Japan on March 3, 2020.

Tabemas Doraemon 2020 Chocolate Flavour – ¥285 (Tax Included)

Tabemas have produced Doraemon confections before to huge popularity amongst fans, and this time around he's got a new facial expression. There's also a special "Ganso Doraemon" version.

Tabemas Doraemon 2020 (Ganso Doraemon Ver.) Custard Flavour – ¥285 (Tax Included)

Ganso Doraemon, who was born in the future, is a bright yellow colour with cute ears. Both confections sit plump and adorable, and each have little Doraemon details like the bell, whiskers, and a tail.

The sweets are also made with a dough called "nerikiri" which is used in making traditional Japanese wagashi sweets. Doraemon is chocolate flavoured while Ganso Doraemon is custard flavoured. Perfect for snacks and would look great on an Instagram feed!

Information

Tabemas Doraemon 2020

Release Date: March 3, 2020

Available: At chilled desserts section of Lawson convenience stores across Japan

*Not available at Natural Lawson or Lawson Store 100

*Available while supplies last

*Stock date may differ from branch to branch

*Select stores not participating

Product Page: https://www.bandai.co.jp/candy/tabemas/doraemon3/

Kissho Caren: Gaze at Shizuoka's Moonlit Night Sky From Your Hot Spring With New Hotel Plan

Kissho Caren is now offering a new hotel plan for women only which is available until the end of March 2020.

Kissho Caren is an incredible hideaway resort and inn located alone the quiet shores of Hokkawa Hot Spring in Shizuoka. All rooms offer a breathtaking ocean view, and all rooms, plus the restaurant and infinity pool open-air baths, offer a panoramic spectacle where the sky and sea meld together into one beautiful scene. Guests can also witness the "Moon Road," a popular power spot of Hokkawa Hot Spring which was chosen as one of Japan's "100 Moon Views."

Kissho Caren boasts two of its own water sources for its flowing water. It houses 18 water spots, including hot springs in seven locations around the inn and its sister facility Tsuruya Kisshotei, as well as rentable baths, foot baths, and the beachside "Kurone Rock Bath." All of these hot water spots are fully equipped with bath towels, face lotion, and other amenities. The inn's hospitality is also well-praised, including its salon which offers barely tea, soft drinks, and tokoroten made in the city of Izu. In the evenings, it also offers beer amongst other things.

After checking in, guests choose a yukata and obi of their liking and enjoy a luxurious and tranquil afternoon tea. The seasonal pancakes are prepared in front of you by the chef and are topped with sweet and refreshing soft serve ice cream and served with beautiful tea. The pancakes are mixed with whey which has a lot of skin benefits, and the teas vary from Izu guricha tea to Izu aloe tea which have anti-ageing benefits and strengthen the immune system. All of this takes place at Aodake which is open 14:00-15:30.

At the Kissho Spa, one can spy the gorgeous ocean from the window. Guests can enjoy some relaxing thalassotherapy with the warm climate of the beach and seaweed, oils prepared in Izu Ōshima, guricha tea, and other local treatments, all of which are popular.

The French course dinner comes with a free drink and flambéed dessert. All rooms also come with lots of other hopsitable gifts too, including a free mini bar and snacks, 20% off from the Kisso Spa, and more.

If you're looking for a place to stay with your girlfriends in Japan, then we recommend putting this place on your list. Don't miss out on this limited-time, girls-only offer.

Information

Girls-Only Amenity-Packed, Wine & Flambéed Dessert Plan

Running: January 6, 2020 – March 31, 2020

Prices (1 Night With Breakfast/Prices Per Person):

From ¥26,500 (2 People/1 Room)
From ¥24,500 (3 People/1 Room)
From ¥23,500 (4 People/1 Room)

*An extra ¥5,000 on public holidays. An extra ¥2,000 from February 9, 2020. Includes tax and service charge.

Meals:

Dinner: French dinner course at "Four Season" restaurant
Breakfast: Japanese breakfast at "Four Season" or teppanyaki breakfast at "Aodake"

Includes:

1 free drink (White or Red Wine/Sparkling Wine/Soft Drink)
Flambéed dessert after dinner
Free mini bar in all rooms and confectionery set
20% off Kissho Spa (Discounted: ¥8,000 / Usual Price: ¥10,000): 60-minute body lymphatic drainage/60-minute facial treatment

Kissho Caren

Address: 1130 Naramoto Higashiizu, Higashiizu, Kamo District, Shizuoka

Official Website: https://www.kissho-caren.com/en/

Cute and Chewy Pompompurin Confection Now Being Sold at Lawson Convenience Stores in Japan

Lawson, one of the main convenience store chains in Japan, has released the all-new Mochi Mochi Pompompurin Yaki, a cute and chewy confection filled with custard pudding flavoured cream.

The kawaii sweet recreates Pompompurin's adorable sleeping form. Inside of him is a squirt of purin, or Japanese custard pudding, flavoured cream, which happens to be Sanrio Golden Retriever's favourite treat. You'll find yourself reaching for your phone to snap a photo of him to post online before tucking in.

The confection will be discontinued once all have been sold, so if you're in Japan, head to your closest Lawson.

©1996, 2020 SANRIO CO., LTD. APPROVAL NO.S604266

Hello Kitty, Cinnamoroll & Pompompurin Japanese Wagashi Confections Releasing at Lawson Convenience Stores.

Hello Kitty, Cinnamoroll and Pompompurin are the latest to be picked up by character-inspired Japanese confectionery series Tabemas. These wagashi sweets will go on sale at Lawson convenience stores across Japan (excluding Lawson Store 100 branches) on January 21, 2020.

The character line-up is based on the top three winners of the 2019 Sanrio Character Awards which we covered last summer. Hello Kitty came first place at the awards, and so she has gotten a special limited edition design for the sweets series. Cinnamoroll was second on the award list, and this is his first time joining Tabemas. Third place was Pompompurin who appears once again with Tabemas due to his popularity.

The 'Tabemas' brand name is an abbreviation of the Japanese words taberareru masukotto, meaning 'mascots that you can eat.' It is a Japanese confectionery series that combines well-known characters and Japanese sweets made from ingredients like red bean paste, sugar and rice flour. The sweets are also made with a dough called "nerikiri" which is used in making traditional Japanese wagashi sweets.

In line with the Year of the Rat in the Chinese zodiac, Hello Kitty is donning a kawaii rat outfit. Cinnamoroll's charm point is his big ears and pink cheeks.

Each confection is filled with a different flavour bean paste: Hello Kitty is cheese, Cinamoroll is milk, and Pompompurin is of course Japanese custard pudding, or 'purin,' flavoured. They maintain that delicate flavour of traditional Japanese wagashi while having cute contemporary designs. You'll be happy to know that all of the colouring is natural tooーno synthetic colours were added.

Perfect as a delicious treat, but don't forget to snap a photo for Instagram first! Each of them is also limited in stock, so don't miss your chance to grab one at the nearest Lawson store to you while in Japan.

© '76,'96,'01,'20 SANRIO APPR.NO.S604062

Information

Tabemas Hello Kitty 2020 / Tabemas Cinnamoroll / Tabemas Pompompurin 2020

Price: ¥280 Each (Tax Included)

Release Date: January 21, 2020

Available: At chilled desserts section of Lawson convenience stores across Japan

*Not available at Natural Lawson or Lawson Store 100

*Available while supplies last

Product Page: https://www.bandai.co.jp/candy/tabemas/sanrio3/