It seems like we can finally say our farewells to the sun-drenched, scorching hot summer days of Japan, and say hello to cool, breezy Autumn. Which also means "MOSHI MOSHI NIPPON FESTIVAL 2015 IN TOKYO" is just around the corner! The fes runs under a "matsuri" theme, but what exactly is a "matsuri"?
Matsuri exists under the "Hare" culture of Japan, a word that emerged in the late Meiji period to the early Showa period by Mr. Kunio Yanagida, which got the Japanese to celebrate events that don't happen on the daily. In the farming areas, people have celebrated "Gokoku Hojo" (huge harvest) from years back, to pray to be gifted with plentiful crops during the harvest season.
MOSHI MOSHI NIPPPON FESTIVAL aka MOSHI FES keeps this "matsuri" spirit close to the heart of the event, combining elements of a traditional "matsuri" along with elements of the "festival" that we've come to know in the modern day and age.
With food stands that are sure to make your stomachs grumble, MOSHIFES is also ready to offer a dance-ready, star-studded lineup that will front the stage all throughout the 3-day-fest. Bringing you every dimension of "KAWAII" from Tokyo to the world, this festival is ready to serve you a whole platter of KAWAII madness.
Conquer the Fresh & the Best of Nippon's Pop Culture! 〜3 missions〜
With our previous post, you probably got an idea of what the MOSHI FES is all about. Here we take a closer look into the 3 themes that mark each day of the fest!
Nov. 6(Fri)《MOSHI ANI》
〜From the 2D screen 2 U. Feel the Japan ANIME culture in your bones〜
Day 1 of the festival kicks it off with a whole load of anime songs (aka anisongs)! Along with Kabuki, the amazing food, and sumo, anime has also been a huge staple to Japan's culture. MOSHI ANI (with ANI entailing "ANIME") brings May'n to the stage, known widely for her role on "Macross Frontier." as well as Runa Haruna, singer/model off of magazine "KERA."
Nov. 7(Sat.)《MOSHI POP》
~Models and idols GALORE~
Day 2 welcomes leading representatives, both bands and models, of the J-pop culture to the stage. Japan pop culture has become somewhat of a social phenomenon in recent years – let's just say it's not easy to make it to the top in the "war amongst idols." These are the ones who've survived the feat – and you're about to witness it all on one stage.
From Dempagumi.inc to Silent Siren, as well as Mito Natsume who made her fantastic debut when she "cut her bangs too short (Maegami Kirisugita)" will be lighting up the stage. Don't  miss all the "Aomoji-kei" models that'll also make it on stage this day.
Nov. 8(Sun.)《MOSHI COOL》
〜An edgy twist to the KAWAII we've come to know〜
Although KAWAII plays a huge role in the J-pop culture that's been heating up as we speak, day 3 proves that it's not all about being KAWAII – you gotta be edgy if you want to make the cut. Watch Yasutaka Nakata's massively popular unit CAPSULE, the world's KAWAII icon Kyary Pamyu Pamyu, and Lady Gaga's perennial fashion director-produced color-code. This stage is sure to be one you can't keep your eyes off so make sure you enter with a full stomach!
MOSHI FES has so far taken place in major cities across the world including New York, London, Los Angeles and more – with the 3 themes assigned for each Tokyo date, MOSHI FES delivers the best of J-pop culture to the world with this three-day-event.
Are you a local that's infatuated with Japan's hugely entertaining culture? Or are you from a different country being in constant awe of what you witness out in the city? Whichever category you fall into, this event's sure to keep all eyes entertained, and all ears and bellies satisfied. Don't miss out on Tokyo's hottest event of the year.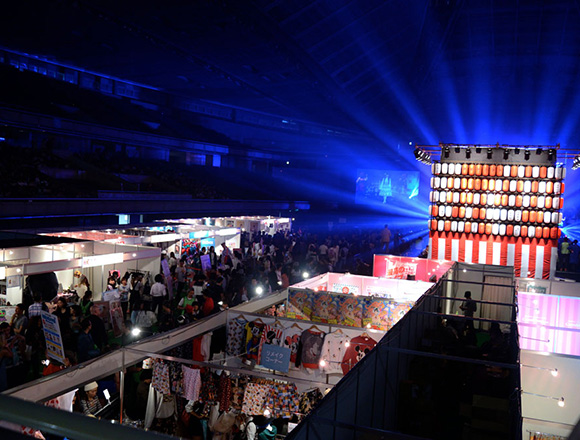 ◼︎ Event information
《MOSHI MOSHI NIPPON FESTIVAL 2015 in TOKYO》
Dates: Nov. 6 (Fri) – 8 (Sun)
Nov. 6 (Fri) Doors open: 16:00 / Doors open (Main Stage): 17:00 / Starts: 18:00
Nov. 7 (Sat), 8 (Sun) Doors Open: 12:00 (Main Stage Opens: 12:00 / Show Starts: 14:00)
Venue: Tokyo Metropolitan Gymnasium (1-17-1 Sendagaya, Shibuya, Tokyo)
Ticket: Presale tickets ¥4,320 (6th) / ¥4,860 (7th, 8th)
Two-day ticket (7 & 8) ¥8,100 / Three-day ticket ¥10,800
※ Foreign passport holders may enter for free upon bringing passport and registration
http://fes15.moshimoshi-nippon.jp/
▼ MAIN ACTS
Nov. 6 (Fri) 《MOSHI ANI》
drop、Hachioji P、Runa Haruna、Kamiyado、LinQ、May'n、TEMPURA KIDZ、Yanaginagi、Yoshida Rinne、Yun*chi
Nov. 7 (Sat) 《MOSHI POP》
Artists:Dempagumi.inc, Golden Bomber, Iwasa Misaki, Lisa Melody, Lovely★DOLL, Natsume Mito, Nijino Conquistador, 9nine, PIIIIIIIN, Silent Siren, Shiina Pikarin, Rina Tanaka
Models:Fumiko Aoyanagi, Misa Kimura, MANON, Okuhira Tetsuko, Ryucheru, Seto Ayumi, Tanaka Rina, Yura, YuRi
Nov. 8 (Sun) 《MOSHI COOL》
AMIAYA, CAPSULE, color-code, CTS, DAISHI DANCE, Kyary Pamyu Pamyu, m-flo, RAM RIDER, Suiyoubi no Kampanera, TeddyLoid, Una, WORLD ORDER
Writer:MoMo、Photos:Yasuyuki Motode(SHUTTER)
※ Photos are from MOSHI MOSHI NIPPON FESTIVAL 2014