Spy x Family Filters Appear on RootMe Purikura Machines for a Limited Time
RootMe purikura machines around Japan have revealed some limited edition Spy x Family themes for a limited time! These will be available until March 5, 2023. 
Spy x Family has become a worldwide phenomenon, with the original manga series by Tatsuya Endo has sold over 27 million copies. Twilight, a world-class spy, is forced to act like a family man in order to complete a difficult mission. The family comedy has struck a chord with audiences everywhere, and the first season of the anime adaptation aired in April, returning in October for a second season.
Forger Family Set
Anya and Friends Set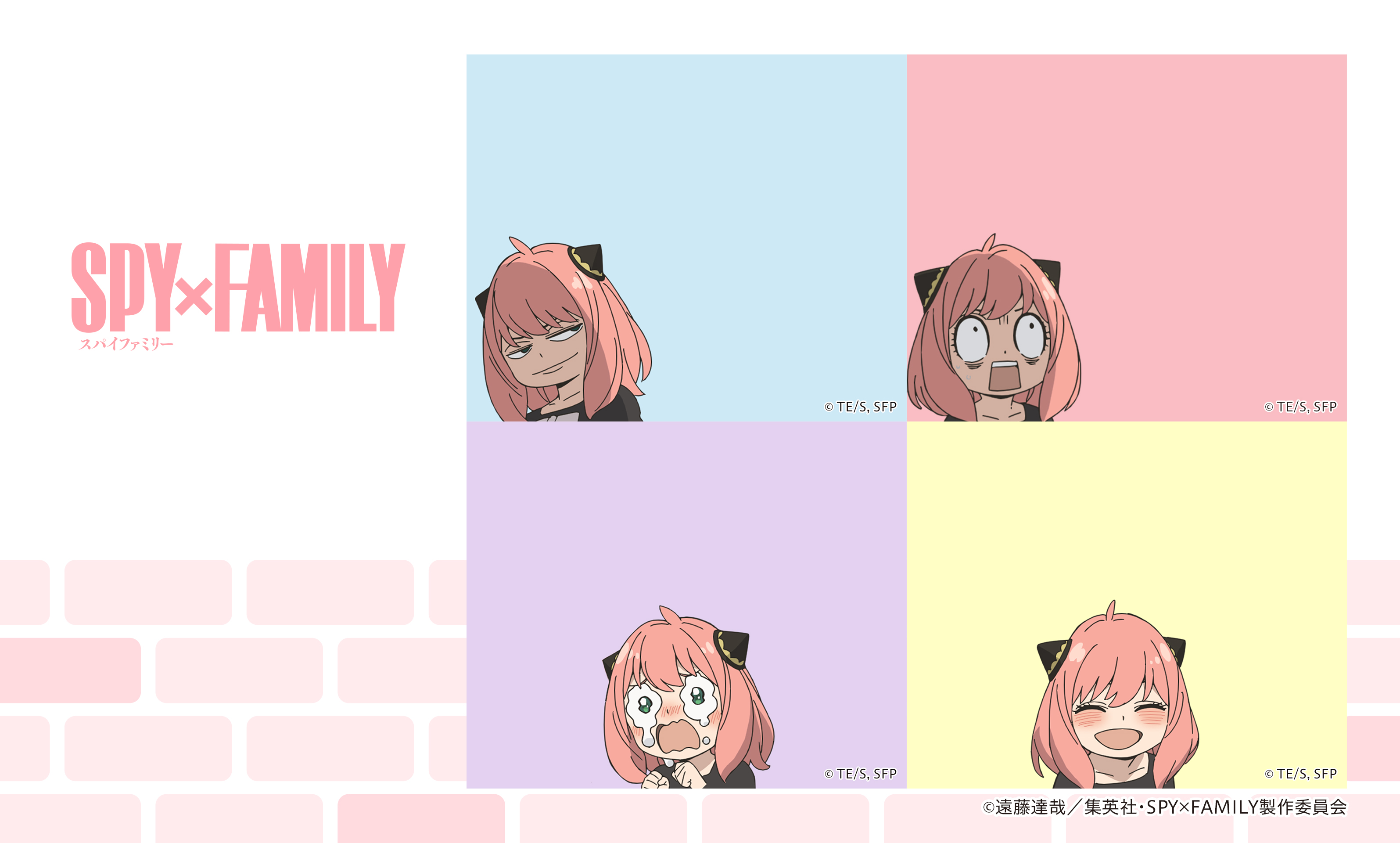 Anya Expressions Set
Anya's Famous Scenes Set
Four themed decorative frames are available at most RootMe machines nationwide. These designs range from the Forger family to Anya's adorable facial expressions, to famous scenes from the series. 
These designs can, of course, be printed at the machines, and the photographs can also be downloaded to your smartphone. Fans won't want to miss this!

*To use the filters, users must register (for free).
©遠藤達哉/集英社・SPY×FAMILY製作委員会
RELATED ENTRIES
Universal Cool Japan 2023 Announces SPYxFAMILY Collaboration

SPYxFAMILY continues to take the world by storm. In 2023, fans will be able to test their skills as part of the Forger family at Universal Studios Japan! From February 17 until July 2, the SPYxFAMILY Secret Mission will be underway at the Osaka location. Guests will need to decipher a mysterious code to take part in an immersive experience with the popular characters. 

SPYxFAMILY is the fastest-selling comic in the history of Shonen Jump. It ranked in the top spot in the animation category of the Yahoo! Search Awards 2022, pulling in audiences with its blend of hard-hitting action and sweet family comedy. 

This special attraction is the first-ever interactive experience inspired by the series. Guests can enjoy two separate instances: a puzzle-solving rally taking place at different locations around the park, and a live show that only those completing the rally can enjoy. During the rally, guests will act as rookie WISE agents as they decipher mysterious codes around the park. Of course, fans can expect to see Loid, Yor, and Anya while on their mission!

※1 The first-ever puzzle-solving rally & live show in the history of the series!

※2 Shonen Jump+, which began publishing the series in 2014, has announced that for the first time in its history, the total number of copies sold, including digital copies, has exceeded 10 million as of the release of the seventh volume.

※3 SPYxFAMILY won first place in the animation category of the Yahoo! Search Awards 2022, seeing a sharp increase from the previous year.

SPY x FAMILY Secret Mission – Attraction Details        

The SPYxFAMILY Secret Mission will allow fans of the hit series to step into the shoes of a WISE agent as they seek to unravel a mystery at Universal Studios Japan!

Guests will take on a top-secret mission with the Forger family as a new WISE agent connected to Operation Strix. Using their wits, they must decipher a series of codes hidden around the park. Successful spies will be granted a top-priority mission from Loid to participate in a live show featuring all three members of the beloved family.

Come enjoy the world of SPYxFAMILY at Universal Studios Japan in 2023!

©遠藤達哉/集英社・SPY×FAMILY製作委員会

原作/青山剛昌「名探偵コナン」(小学館「週刊少年サンデー」連載中)

© 2023 青山剛昌/名探偵コナン製作委員会

© SCRAP All Rights Reserved.

©CAPCOM CO., LTD. ALL RIGHTS RESERVED.

TM & © Universal Studios & Amblin Entertainment

Universal Studios Japan TM & © Universal Studios. All rights reserved.

Information

Universal Cool Japan – SPY x FAMILY Secret Mission

Running: February 17 – July 2, 2023

Venue: Universal Studios Japan, Park-wide

Official Site: https://www.usj.co.jp/web/ja/jp

TinyTAN Returns to Purikura Machines for Second Time for 'Butter' Version

SEGA's popular ROMAPI purikura machines nationwide are currently teaming up with BTS! Fans can find some adorable Butter-inspired stamps with their favorite TinyTAN characters, useful for spicing up snapshots. The collab is running until December 12, 2022.

During this event, a total of 39 TinyTAN stamps are available, all inspired by the group's hit song Butter. Two stamps are also available, and images can also be sent to your smartphone using Purikura ON. 

 

Fans of BTS shouldn't miss this opportunity to snag some cute shots!

CA4LA Opens Second Preorders for SPY x FAMILY Hat Inspired by Anya

Given the incredible popularity of the recent collaboration between the SPY x FAMILY anime series and the famous Japanese hat brand CA4LA, a re-release of a certain item has been announced! Preorders for Anya's beret are now open and will run until November 15, 2022.

Anya Ver. Beret

Anya is a beloved character from the SPY x FAMILY series, and this beret is based on her Eden Academy uniform. It is available in both child and adult sizes, and the lining features the Eden Academy emblem and CA4LA logo, as well as Anya's name. 

Orders can be placed through the ShoProMall Selection website. As this product is made-to-order, once a certain number of orders are placed, preorders will close.

Information

SPY x FAMILY and CA4LA Collaboration Beret (Anya Ver.)

Preorders Open: October 17 – November 15, 2022

Price: ¥18,700 (Tax Included)

Details/Buy: ShoProMall Selection (https://mall.shopro.co.jp/c/selection)

Popular Ice Cream Sandwich Gets Spy x Family Makeover with New Illustrations and Campaign

Starting October 10, the popular ice cream sandwich Biscuit Sandwich will begin a collaboration with the popular anime and manga series Spy x Family. The second season began on October 1.

The collaboration will introduce limited-edition packaging in three styles featuring close-ups of the three main characters–Loid, Yor, and Anya. Two of the designs were newly drawn for this collaboration.

While the main characters are featured on the front, the back shows Franky, Becky, and Henry Henderson. Customers will also want to search for a hidden Anya somewhere on the packaging.

Along with this special packaging, three different campaigns will be underway featuring an original QUO card, a USB featuring original voice recordings, and a cooler bag shaped like the penguin that appears in the series. For those snagging the USB, you'll be able to hear Anya begging for ice cream and some other cute lines. This USB will be delivered in a case made to look like an ice cream sandwich, and fans won't want to miss out on their chance to add it to their collection!

BUMP OF CHICKEN Releases Music Video for SOUVENIR, the Second Opening for Anime Series Spy x Family

Rock band BUMP OF CHICKEN has released the music video for the song SOUVENIR, the second opening theme for the popular anime series Spy x Family. The second cour of the series began airing on October 1.

SOUVENIR is the band's first new song in about six months and was added to streaming services on September 29. Unsurprisingly, the track has been a hit, performing well on the charts.

The music video was directed by Spikey John, who is working with BUMP OF CHICKEN for the first time. 

Prior to the music video's release, a fast-paced teaser video shot on a highway was released, and many fans have been anxious to see what the full-length video would look like.

Are you watching Spy x Family? How do you feel about the new opening song and animation? 

©遠藤達哉/集英社・SPY×FAMILY製作委員会

SPY×FAMILY Reveals Second Cour Opening Theme by BUMP OF CHICKEN

BUMP OF CHICKEN's new song SOUVENIR has been chosen as the opening song for the second cour of the SPY×FAMILY anime series! New episodes will begin airing on TV Tokyo and other stations starting October 1. 

Tatsuya Endo's original manga has been serialized in Shonen Jump+ since March 2019 and has won a number of awards, selling over 25 million copies to date. The highly-anticipated second cour of the anime series is only weeks away!

SPY×FAMILY Cour 2 Trailer

The new trailer features the song SOUVENIR by the popular rock band BUMP OF CHICKEN, which will serve as the opening theme. A terrorist plot is about to begin in an attempt to end the war between east and west, and to prevent this, Loid, Sylvia, and other WISE agents are busy tracking down the bad guys. The trailer is packed with both hilarious and series moments, and fans of the characters are in for a treat when the show returns next month.

The song SOUVENIR will begin streaming on September 29. The jacket design for the release was created by VERDY, who has been working with the band for years. Please keep an eye and an ear out for this welcome addition to the SPYxFAMILY world!

©遠藤達哉/集英社・SPY×FAMILY製作委員会

Fans Can Take Pictures with BE:FIRST in Collaboration Purikura Machines

Two Sega purikura machines–ROMAPI and lalamee–will start a collaboration event with BE:FIRST on September 15! Until November 7, fans can get some snapshots with their favorite members at machines nationwide.

This collaboration event will feature moving photo frames, with lalamee offering 24 varieties and ROMAPI offering 28 varieties. Fans will also find 25 exclusive stickers featuring the members' names, mini-characters, and logos! Fans can also take 3-second video moments with the members, giving them the feeling that they're taking pictures side by side with the popular idols.

lalamee: 24 varities / ROMAPI: 28 varieties

Original Collaboration Effects

Original Collaboration Stamps

Limited Edition Original BE:FIRST Stickers

In addition, a total of five songs will appear as background music, including the group's newest song Scream featured on their first album BE:1. Photos can be downloaded to smartphones using the Purikura ON app, which will also feature voice messages from the members!

 

Select stores will also be holding a gift campaign where customers can get a limited original BE:FIRST sticker by showing off their purikura creations. 30 machines nationwide will also be decorated to celebrate the campaign. 

BE:FIRST fans won't want to miss this exclusive opportunity to get a snapshot with their favorite member!

©SEGA

CA4LA Releases SPY x FAMILY Hats Inspired by Loid and Anya

Hat brand CA4LA is taking preorders for two unique hats inspired by Loid and Anya Forger from the popular series SPYxFAMILY! Whether you want Loid's Trilby or Anya's Beret, be sure to place your orders before July 27, 2022.

Loid Ver. Trilby

Antique Silver Pin with Organization Motif

Lining with Loid Forger Embroidery

Adjustable Size using Velcro

Anya Ver. Beret

A Stella Star Pin, Merits at Eden Academy

Original Lining with the Eden Academy and CA4LA Logos

Adjustable Size using Velcro

Loid Forger is an undercover spy who acts under the codename Twilight. The hat he often wears in the series has been perfectly reproduced by CA4LA, with a slick design featuring an antique silver pin with the logo of his organization and his name stitched inside the lining. 

Anya's adorable beret is based on her Eden Academy uniform. This hand-stitched hat is available in either child or adult sizes! The Stella Star pin, considered a merit at Eden Academy, accents the side of the hat. The inner lining features a unique pattern perfect for fans!

Enjoy being fashionable while also showing off your love for SPYxFAMILY!

©遠藤達哉/集英社・SPY×FAMILY製作委員会

Information

SPYxFAMILY x CA4LA

Preorders Open: June 22 – July 27, 2022

*Items must be reserved.
*Each product is made to order. Products are available while supplies last.
Expected Delivery Date: Early December 2022 or after
*The estimated delivery date may change.
Where to Buy: ShoProMall Selection: https://mall.shopro.co.jp/c/selection
Official Site: https://www.shopro.co.jp/

SPYxFAMILY Pop-Up Store Opens at Matsuya Ginza

The SPYxFAMILY pop-up shop, first held inside Tokyo Station's Character Street in April, will be coming to Matsuya Ginza from June 29 until July 12, 2022. 

Limited edition merchandise will be making a return, each featuring exclusive illustrations that saw huge popularity at the Tokyo Station event. Guests will also be able to purchase eight new items!

The lineup includes a rubber coin case (3 varieties, random), a clear multi-use pouch (3 varieties, random), an acrylic keychain featuring Anya, a Peanuts T-shirt with a new Anya illustration, and a mug. Each item is accented with Anya's pink hair, adding to the cute factor.


Bonus Sticker

Bonus Cooling Towel

Goods

Customers spending ¥3,300 or more at the pop-up shop will receive a bonus sticker. Those spending ¥5,500 can choose between a mug or a cooling towel!

©遠藤達哉/集英社・SPY×FAMILY製作委員会  

SPYxFAMILY Inspires First Collaboration at Uniqlo

UNIQLO's graphic tee brand UT has unveiled a selection of shirts inspired by the popular anime series SPYxFAMILY! Tatsuya Endo's original manga has been serialized in Shonen Jump+ since March 2019 and has won a number of awards, selling over 18 million copies to date. In April, the anime series premiered to great global fanfare, inspiring the new collaboration.

Popular characters appear on the new t-shirt designs, including everyone's favorite mind-reader Anya. The pink-haired child appears in a hilarious way–with half of her scheming face hidden by the shirt's pocket. The handsome spy Twilight and assassin Yor also appear in their own designs, so fans can choose the shirt that shows off their favorite character! One gorgeous design shows the series' logo with a silhouette of Twilight in the background. 

Have you been keeping up with SPYxFAMILY? Who's your favorite member of the Forger family? 

SPYxFAMILY Collaboration Cafe Opens at in Shibuya for a Limited Time

An official SPYxFAMILY cafe will be held at the Chugai Grace Cafe on the seventh floor of the Shibuya MODI building between June 2 and June 19!

Collaboration Menu

Reconciliation Mission Omelet Rice

Anya's Favorite Nuts Pancake

Aim for Imperial Scholar Parfait

Yor's Bloody Orange Juice

Yuri's Hungarian Souvenir Wine-style Drink

Goods

Pins (Mini Character ver.)

Acrylic Stand (Mini Character ver.)

Acrylic Keychain

Bromide (Set of 2, random)

Anya Cushion

Handkerchief in Tin Case

Smartphone Ring

Menu Order Bonus/Online Reservation Bonus: Coaster

Goods Purchase Bonus: Postcard

Guests can enjoy menu items based on popular characters, such as Anya's Favorite Nuts Pancake which is made to look like the adorable pink-haired telepath. Original merchandise featuring mini-versions of the cast in cafe garb will be on sale during this period as well.

Have you been watching the anime adaptation of SPYxFAMILY?

©遠藤達哉/集英社・SPY×FAMILY製作委員会

Official HiGE DANdism to Release Newest EP 'Mixed Nuts' in June

Official HiGE DANdism will release the Mixed Nuts EP on June 22, 2022. The album will include a total of four songs, including Mixed Nuts, the opening theme for the current anime series SPY x FAMILY, and Anarchy, the theme song for the film The Confidence Man JP: Episode of the Hero.


The CD+Blu-ray/CD+DVD versions will include nine songs from the Official HiGE DANdism Road to One-Man Tour 2021-2022 held on June 21 at Pia Arena MM in Kanagawa, the band's first concert in over a year. Depending on where you buy the album, you'll receive a special bonus, so check out the album's special site for more details.

The group has also recently concluded their 2021-2022 -Editorial- Tour which began in September 2021 on April 17 in Matsue, Shimane Prefecture. The tour saw a total of 48 performances and 300,000 spectators.


To celebrate the conclusion of the tour, the band will stream the Saitama Super Arena concert held in March! The stream will begin at 20:00 on May 1 and tickets are on sale now, so check the band's official website for more details.

©遠藤達哉/集英社・SPY×FAMILY製作委員会