Don't miss the rare collaboration between Mika Ninagawa and Ishoku Hada Gal.
At "Roppongi Art Night 2017) which was held from the 30th of September (Sat.) to 1st of October, "Ishoku Hada Gal" who is gathering much attention on the Internet, appeared at the performance "TOKYO Dochu" which was directed by "Mika Ninagawa" who worked as the main program artist for this event. An amazing collaboration of violent color artists was realized.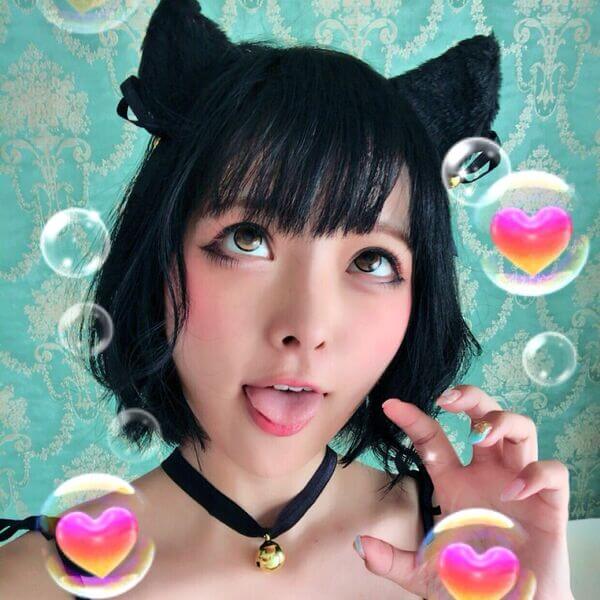 "Ishoku Hada Gal" is a project produced by "miyako" who works as a model and writer. A photo taken at "Hasu" in Kabukicho Shinjuku gathered much attention from both home and abroad centering around net news and twitter.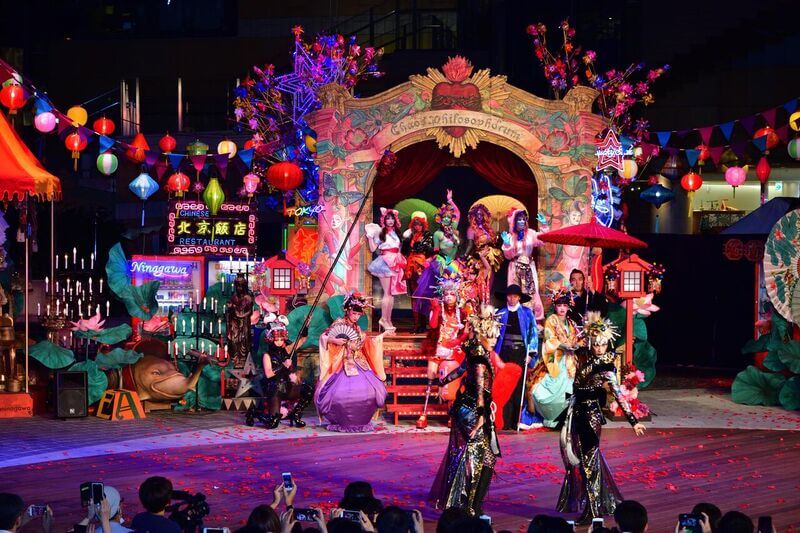 The main stage which was installed in Roppongi Hills Arena is a huge, colorful installation work by Mika Ninagawa which invites the viewers to another world. The performance "TOKYO Dochu" using the main stage was held twice (from 18:00 and from 19:45).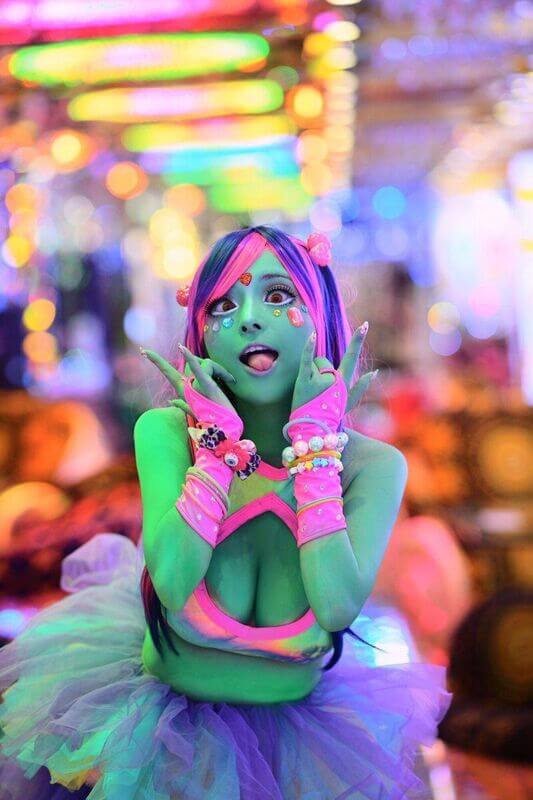 The opening theme of the movie "GHOST IN THE SHELL" "Kenji Kawai / Utai I" was played during the event and guests such as Ishoku Gal, KUMI, Chibi Moeko, GIMICO, Akira Hiyama, Ryuden, Aoi Ymada, MASHUFO, Kiriko, Girl, An''z, POILAB appeared on stage.
Shout of glee went up from the crowds in the packed venue (Roppongi Hills Arena).
RELATED ENTRIES
Experience the Attack on Titan VR Game at the MORI Tower Sky Deck in Roppongi Hills

As part of the ongoing Attack on Titan Exhibition FINAL event that is taking place at MORI Arts Center Gallery until September 8, a new addition has been added to the event that will take place from August 6 to September 8.

Titled "Sky Deck ~The Colossal Titan's Invasion~," the event will take place on the open-top roof of Roppongi Hills MORI Tower that will make use of the surrounding environment and utilise AR technology to project the Colossal Titan before your very eyes, up 270 meters high.

What happens when the Colossal Titan himself appears before you in real life? This virtual experience will give you a peek into the cruel and terrifying world of Attack on Titan.

Information

Attack on Titan Exhibition FINAL x Sky Deck ~The Colossal Titan's Invasion~

Location: Roppongi Hills Tokyo City View Sky Deck (Roppongi Hills MORI Tower Rooftop)

Running: August 6, 2019 – September 8, 2019

Time: 11:00-18:00

*Sky Deck opening hours extended to 22:00 (last entries 21:30) on August 25

*Sky Deck opening hours reduced to 17:00 on August 10 due to the firework festival (August 11 if postponed)

*Last entries are 30 minutes before each respective closing time

Price: Sky Deck fee only (AR is free to experience): General ¥500 / Aged 4-12 Years ¥300

*Separate fees are charged for entry to the exhibition, sky deck, and Mori Art Museum

*The recommended age for the AR experience is 7+ years

Full Details (Japanese): http://tcv.roppongihills.com/jp/news/2019/08/3400/index.html

Attack on Titan Exhibition FINAL (English): https://www.kyojinten.jp/en/

Witness Beautiful Japanese Art at Hotel Gajoen Tokyo's 100 Step Staircase

Those interested in Japanese art should most definitely visit the hotel and museum Hotel Gajoen Tokyo which is now holding the 5th Wa no Akari x Hyakudan Kaidan art exhibition until September 1.

It is taking place at its Hyakudan Kaidan, or '100 Steps Staircase'―which was registered by Tokyo Prefecture as a Tangible Cultural Property in 2009 for its exceptional architecture and artistic beauty. This year's event has been made bigger and better with brand new exhibits.

Visitors will ride the exquisitely decorated elevator and first come to an Aomori Nebuta Festival-style float as pictured above with its bright colours and angry gaze. This piece was created specially for the event. It also gives off an original summery smell too.

As you follow the path deeper into the exhibition―having first taken off your shoes―you will come a line of cloth crafts. You can switch on the lights inside to light up each piece which radiate the natural colours of the material. There are many cloth work pieces on display to enjoy.

This is what it looks like when looking up the 100 Step Staircase from the bottom. You will come to several rooms when ascending the stairs with light displays in them.

This is the first room inside which is a display created by bamboo lighting artist NITTAKE from Nichinan, Miyazaki. The bamboo is beautiful on its own but even more so when the lights are turned on in a dark room as the entire room is turned into artwork itself.

Continuing on you come to the "Nagasaki Lantern Festival." You can see the lights before you even enter the room and they plunge you into that Japanese festival atmosphere. It's truly spectacular inside. It's different from the previous room which was dark with lights hanging from it. It's even more bright and colourful. It made me want to visit the real Nagasaki Lantern Festival which boasts 1 million visitors every year.

This room contains umbrella art using Japanese umbrellas from Yamaga, Kumamoto. The colours of the umbrellas turn the room into something magical. The room has a relaxing, soothing vibe to it that makes you want to gaze in silence.

Dangling further up the stairs are wind chimes which continue the summer vibes.

There are many unique art pieces too such as these goldfish from Yanai, Yamaguchi. There is artwork from around 40 individuals and groups so there is lots to be discovered. Take your time to admire each and every thing in there.

The stairs actually go up to 99. Once you have seen the final exhibition on the top floor it's time to return to the bottom where you take your shoes off.

Whether you're interested in art or Japanese culture, this exciting event is one not to be missed this summer.

Information

Wa no Akari x Hyakudan Kaidan 2019 ~Kokoro no Shikisai~

Location: Hotel Gajoen Tokyo (1-8-1 Shitameguro, Meguro Ward, Tokyo)

Running: July 6, 2019 – September 1, 2019

Opening Hours: [Mon-Thurs] 10:00-17:00 (Last Entries 16:30) / [Fri-Sat & August 11-18] 10:00-20:00 (Last Entries 19:30)

*Photography allowed (Tripods, flash and photography for business purposes forbidden)

Price: Same-Day ¥1,600 / Advanced ¥1,300 (Special Advanced Price of ¥1,100 Until July 5) / University & High School Students ¥1,200 / Elementary & Junior High School Students ¥600

*Student ID required. Preschoolers permitted free entry.

TEL: 03-5434-3140

Online Tickets: https://www.e-tix.jp/100event/#akari

Official Website: https://www.hotelgajoen-tokyo.com/100event/wanoakari2019

Sebastian Masuda And Other Phenomenal Artists Create Outstanding Doraemon Exhibition

28 artist groups and individuals have created artistic pieces to represent Japan's favourite animated character Doraemon. From July 12 to September 23, 2019, you can see these magnificent creations at the Doraemon Exhibition Osaka 2019 which will take place at Osaka Culturarium at Tempozan.

The Doraemon Exhibition Osaka 2019 features a range of artists who exhibit their works in Japan and even in foreign countries. This is a fantastic chance to meet a range of new Doraemon that the world has never seen. This event covers a range of genres through modern art that is overflowing with creativity and dedication for the anime character that has grasped the nation. 

On July 11, the day before the opening of the exhibition, there was a special opening ceremony and private viewing event held exclusively for staff and the press, which was a massive success. 

Press releases of the event reveal that artists Yasumasa Morimura and Sebastian Masuda were present at the ceremony for photos and greetings. 

Yasumasa Morimura commented with deep emotion: "I am so happy to have finally taken part in the Doraemon Exhibition. For this creation, I used lots of paper to make the costumes. I collaborated with Junko Koike, collecting lots of Doraemon manga as raw materials for the dress. As Doraemon has the power to manipulate time and space, and has the ability to create a door that leads to anywhere he desires, I thought a grey dress would be appropriate. In fact, the entire exhibition venue is just like the inside of Doraemon's pocket ー it is packed with the work of 28 solo artists and groups. What a fun experience it is. I hope that many people in the Kansai region come see this," he explained.

Sebastian Masuda commented: "I'm actually the same age as Doraemon and I share the same birthday as Noby; the main character from the series. I was born with a love for Doraemon."

He then commented on his art piece: "I actually wanted to make it as big as the Budha statue at Todaiji Temple in Nara, but we wouldn't be able to fit it in the venue so I made it two metres tall instead", he laughed. "I collected materials from markets from all around the world, so the final piece is literally made up of the colours of the world," he continued. 

His message to the people of Osaka is: "I would love it if lots of children came to see this. It would really make my day to hear reactions from them like "whoa, it's huge" or "that's so cool!""

Please come stop by to visit your favourite Doraemon!

Information

The Doraemon Exhibition Osaka 2019

Running: July 12, 2019  ー September 23, 2019 (74 days) 

※ No closed days.

Venue:  Osaka Culturarium at Tempozan (next to the Osaka Aquarium Kaiyukan) 

Address: 1-5-10, Kaigandori, Minato Ward, Osaka

Open: 10:00 ー 17:00 ※ Last entries: 30 mins before closing time 

Entry prices

General:¥1,500

Middle/High School: ¥1,200

4 y/o ー Elementary School: ¥800

Enquiries: (Hello Dial)  TEL: 050-5542-8600 (8:00 ー 22:00, no holidays)

Teasing Master Takagi-san Season 2 Celebrated With Exhibition at Shibuya PARCO

An exhibition will be held at the Shibuya branch of shopping complex PARCO to celebrate the forthcoming second season of the popular anime adaptation of Teasing Master Takagi-san which will begin airing on July 7.

Teasing Master Takagi-san is an ongoing romantic comedy and slice of life manga series by Sōichirō Yamamoto serialised in Monthly Shōnen Sunday. The manga has sold over 7 million copies. The first season of the anime series aired from January to March last with an OVA in July.

The exhibition will plunge fans of the series into its world with original illustrations for the anime and manga and more on display. Fans can also get their hands on exclusive merchandise including capsule toys and canvas art.

A3 Poster – ¥1,000 (Tax Included)

Acrylic Key Rings (7 Designs) – ¥500 (Tax Included) *Capsule toy; design given is random

Folder Set: ¥1,200 (Tax Included)

Canvas Art: ¥2,500 (Tax Included)

Fans of Takagi and her antics with Nishikata won't want to miss out on this special limited-run exhibition.

©2019 Sōichirō Yamamoto・Shogakukan/Teasing Master Takagi-san Season 2 Production Committee

Information

Teasing Master Takagi-san Exhibition

Location: GALLERY X BY PARCO (13-17 Udagawacho, Shibuya, Tokyo)

Running: July 11 – 22, 2019

Opening Hours: 11:00-20:00

Entry: Free

Event Page: https://art.parco.jp/galleryx/detail/?id=254

The Entire World Is Curious About PAPABUBBLE's Candy Art Museum To Open In Ginza

Described as the "most interesting sweets shop in the world", PAPABUBBLE sells a range of cute and fun confections. On July 1, PAPABUBBLE will open a Candy Art Museum on basement floor 2 of GINZA SIX.

PAPABUBBLE has set up shop in over 30 cities worldwide. The main shop will contain art pieces made from candy. Considering all the candy shops that are currently out there in the world, nobody has ever seen anything quite like this before. 

The museum contains around 20 different ornaments that are edible sweets. Visitors who wish to purchase the ornaments can do so. Besides the standard sweets, the display items and range of sweets for sale will be changed every day. 

When the museum opens in July, visitors will be able to enjoy the wonderful texture and flavour of candy lampshades, enjoy the artistic and charming glow of candy mushrooms, and gaze in bewilderment at an antique vase baumkuchen cake. 

To commemorate its grand opening, customers who spend more than ¥5,000 (after tax) on display items or on the sweets shop range will receive either a soft gummy brain or soft gummy dentures. This campaign will be running throughout July. 

Along with the grand opening of the art museum, there will also be Ginza-limited products on sale that are completely unique to the Ginza branch. The lineup includes sweets made from ingredients that are rarely seen in Japan. This includes colourful and fruity chocolate such as rocky roads and soft candy sweets made from snow sugar. PAPABUBBLE will also sell souvenirs that represent Ginza such as Kirihako boxes which are beautiful boxes made from wood. 

If you are in Tokyo, you just cannot miss this museum that is overflowing with originality.

Information

Candy Art Museum by PAPABUBBLE (Gallery of Sweets Art by PAPABUBBLE)

Address: B2F, 6-10-1, Ginza, Chuo Ward, Tokyo 

Opens: July 1, 2019 

Opening Hours: Mondays ー Sundays (10:30 ー 20:30)

TEL: 03-6228-5535

PAPABUBBLE JAPAN Official Website: http://www.papabubble.jp

KAWS' HOLIDAY Scultupure Makes its Way to Mount Fuji With Merchandise Collection

The next stop for New York-based contemporary artist KAWS' HOLIDAY sculpture known as COMPANION is Mount Fuji. The 40-meter long art piece will arrive near the mountain on July 18 as teased in a sketch drawn by KAWS.

The HOLIDAY project is a collaboration between KAWS and Hong Kong-based creative studio AllRightsReserved. The COMPANION has made his way around Seoul, Taipei and Hong Kong, with his fourth stop set for the land of the rising sun's World Heritage Site and symbol Mount Fuji.

KAWS:HOLIDAY JAPAN is a camping experience sponsored by Herschel Supply where visitors can admire the sculpture with Mount Fuji in the background at the Fumotoppara campsite in Shizuoka Prefecture. It will take place from July 19 to 24.

KAWS will travel to Japan to kick off the experience with the "Ceremonial Camp Day" event on July 18. Tickets will go on sale worldwide for just 24 hours via the official website from June 28 at 10:00am (JST). The tickets will roll through a lottery system with 400 randomly selected winners.

Exclusive merchandise will also be available to purchase worldwide over on DING DON Takuhaibin's online store from July 18.

Items include various plush toys, 9.5″ vinyl figures, a set of three kokeshi dolls, a set of four ceramic plates, t-shirts, cushions and more. They are all limited in stock so be sure to get your hands on them quick. There will also be Japan-exclusive colours for the t-shirts and plush toys too.

Information

KAWS: HOLIDAY JAPAN
Running: July 18, 2019 – July 24, 2019
Location: Fumotoppara Campsite
Address: 156 Fumoto, Fujinomiya, Shizuoka Prefecture

KAWS: HOLIDAY JAPAN Ceremonial Camp Day
Date: July 18, 201
Ticket Window: June 28, 2019 at 10:00 (JST) – June 29, 2019 at 10:00 (JST)
Event Details: https://kawsholidayjp.dingdongtakuhaibin.com/en

KAWS:HOLIDAY Merchandise Collection

On Sale: July 18, 2019 at 10:00 (JST)

DING DONG Takuhaibin: http://www.dingdongtakuhaibin.com/

Payment Methods: PayPal, Visa, MasterCard, American Express and Discover

*Limited supplies

Hotel Gajoen Tokyo to Hold Japanese Art Exhibition at Hyakudan Kaidan

Hotel Gajoen Tokyo is both a museum and a hotel which celebrated its 90th anniversary in December 2018. The establishment is set to hold its 5th Wa no Akari x Hyakudan Kaidan art exhibition at its Hyakudan Kaidan, or '100 Steps Staircase'―which was registered by Tokyo Prefecture as a Tangible Cultural Property in 2009 for its exceptional architecture and artistic beauty.

The event will run from July 6 to September 1 and will feature all-new exhibits from 40 independent artists and groups from around Japan: from Aomori in the north to Kagoshima in the south.

Bamboo Artwork by NIITAKE

Participating in the exhibition for the first time is bamboo artist NIITAKE from Nichinan, Miyazaki. His pieces will include entrancing room installations as well as a colourful collaboration with the Nagasaki Lantern Festival which enjoys an incredible one million visitors.

emullenuett: The Sand Art Duo

emullenuet are an up-and-coming duo who create artwork out of sand. The two of them have created some pieces just for this exhibition such as Japanese ranma transoms.

Edo Furin Wind Chimes

This dramatic exhibit will include lacquer work, glass work, metal carving and more by Tokyo Teshigoto―a group backed by the city of Tokyo which is a collaboration between contemporary designers and traditional Edo techniques which aims to pass down theses kills to the next generation. Summertime furin which chimes will also line the showcase with their delicate designs and sounds. Other contemporary artists will also display their work with Japanese-style paper, allowing for visitors to see cultural assets established during the early Showa period.

Aomori Nebuta

This year's exhibition will also see the return of some legends who have enjoyed popularity at previous runs of the event. As you descend the huge mother-of-pearl raden elevator you will be welcomed by an overwhelming assortment of standout pieces.

Ishimaki Kokeshi

Other popular names include Tadaharu Kawamura, a sculptor who works with natural materials such as leaves, shells and Japanese lantern cherries, and Takatoshi Hayashi who is known for their kokeshi dolls.

Information

Wa no Akari x Hyakudan Kaidan 2019 ~Kokoro no Shikisai~

Location: Hotel Gajoen Tokyo (1-8-1 Shitameguro, Meguro Ward, Tokyo)

Running: July 6, 2019 – September 1, 2019

Opening Hours: [Sun-Thurs] 10:00-17:00 (Last Entries 16:30) / [Fri-Sat & August 11-18] 10:00-20:00 (Last Entries 19:30)

*Photography allowed (Tripods, flash and photography for business purposes forbidden)

Price: Same-Day ¥1,600 / Advanced ¥1,300 (Special Advanced Price of ¥1,100 Until July 5) / University & High School Students ¥1,200 / Elementary & Junior High School Students ¥600

*Student ID required. Preschoolers permitted free entry.

TEL: 03-5434-3140

Online Tickets: https://www.e-tix.jp/100event/#akari

Get a Night Pass to the teamLab Borderless Digital Art Museum in Odaiba

MORI Building DIGITAL ART MUSEUM: EPSON teamLab Borderless is an art museum co-managed by MORI Building and teamLab which is home to a borderless world without any maps in sight. The museum is currently displaying its spring display until the end of May.

It has been announced that this summer, from July 13 to September 1, the museum will extend its weekday hours to weekend hours where it will stay open until 21:00. They will also begin selling a limited number of Night Passes which enables guests to enter the museum from 18:00 for a closer, more intimate interaction with the exhibitions.

If you'll be in Japan this summer then take advantage of this opportunity to enter teamLab's immersive borderless world of digital art.

Information

MORI Building DIGITAL ART MUSEUM: EPSON teamLab Borderless

Address: 1-3-8 Aomi, Koto Ward, Tokyo

Price: Adults – ¥3,200 / Children – ¥1,000 / Disability Discount – ¥1,600

Night Pass: Price: Adults – ¥2,900 / Children – ¥1,000 / Disability Discount – ¥1,500

*Night Pass available from July 13 to September 1 only. Entry from 18:00 permitted.

Opening Hours: Weekdays 10:00-19:00 / Weekends 10:00-21:00

*Opening hours to run from 10:00-21:00 all week from July 13 to September 1.

*Last entries are one hour before closing time.

Closed: Every 2nd and 4th Tuesday

*Also closed Saturday June 22 and Saturday August 10. Open on Tuesday August 13.

Official Website: https://borderless.teamlab.art/

Bask in the Cool Summer Evenings at MIDTOWN LOVES SUMMER 2019

Tokyo Midtown is holding an event this summer titled MIDTOWN LOVES SUMMER 2019 from July 12 to August 25.

The concept of the event is "The Evening Cool of Japanese Summer" and will have people enjoying the warm evenings on verandas, beside the murmuring streams, and in big open environments surrounded by nature.

A digital art exhibition will be set up with benches for people to enjoy. This piece of modern digital art captures the cool of Japanese summer. Fog will fill the large lawn and colourful lights will illuminate the area to create a magical atmosphere.

At the outdoor ROKU MIDPARK LOUNGE you will be able to sit down at a table and enjoy the feeling of the cool air under the shade of the trees. This limited-time lounge is held annually and this year is taking place in collaboration with Japanese craft gin brand ROKU. Enjoy sipping on some special cocktails and tucking into food.

ASHIMIZU presented by Iyemon takes place at Midtown Garden's small running stream where you can dip your legs into the water. This is the 10th time it has been held and has become a popular summer event.

The Roppongi Uchimizu Daisakusen is also making a return. This annual summer event brings in lots of people every year. Uchimizu is a Japanese pastime of sprinkling water onto the pavements, and this year it is also being held as a way to tackle Tokyo's 'heat island' effect. Stored water will be used including rain water and waters from wells. Take your own bottle, fill it up and get spraying!

Information

MIDTOWN LOVES SUMMER 2019

Running: July 12, 2019 – August 25, 2019

Location: Tokyo Midtown

Mizu to Ikiru SUNTORY Hikari to Kiri Digital Art Garden

Running: July 12, 2019 – August 25, 2019 (*Will close if it rains)
Time: Fog 15:00-23:00 / Lights 18:00-23:00
Location: Lawn Plaza
Price: Free

ROKU MIDPARK LOUNGE

Running: July 12, 2019 – August 25, 2019 (*Will close if it rains)
Time: Weekdays 17:00-22:00 (Last Orders 21:30) / Weekends & Holidays 15:00-22:00 (Last Orders 21:30)

*Weekend times apply from Tuesday August 13th to Friday August 16th
Location: Midtown Garden

ASHIMIZU presented by Iyemon

Running: July 12, 2019 – August 25, 2019 (*Will close if it rains)

Closed: Tuesdays
Time: 14:00-20:00
Location: Midtown Garden

Roppongi Uchimizu Daisakusen

Date: July 23, 2019

Time: Reception open from 17:20 / Departure at 17:40 (*Will stop if it rains)
Locations: Departure from Tokyo Midtown Canopy Square. Will run from the Roppongi Crossing area to the Gaien Higashi-doriarea.
Price: Free

Tokyo Midtown Official Website: https://www.tokyo-midtown.com/

Kyoto's New Art Hotel BnA Alter Museum to Showcase Japanese Art to the World

BnA Alter Museum is a new art hotel set to open Kawaramachi-Takatsuji, Kyoto on May 17 that will showcase Japanese artwork to guests from across the globe. Its 31 rooms feature artwork from 16 up-and-coming artists, there is a gallery on the 10th floor, and more. The hotel hopes to serve as a hub to promote new culture from the Kansai region through unprecedented and experimental artwork.

Each and every room is its own unique art project. This is the third hotel that BnA has opened. The hotel chain has been picked up by over 250 media companies around the world including The Guardian and Conde Nast for its approach to compensate artists by giving them part of the revenue earned from guests.

The number of hotels using art and artwork is in the increase, but at BnA this isn't simply a painting on the wall. The entirety of each room is a whole art piece from the furniture to the materials used.

9 art directors are also on board with the project in addition to the 16 artists to ensure the hotel becomes an important player in Kansai's art scene. There will be a room in the hotel with a 24-hour video produced by Daito Manabe who has worked on Perfume's performances and is a key player in the upcoming Tokyo 2020 Olympics.

There's also a room with interactive sounds and lights created by BOREDOMS vocalist Yamantaka EYヨ, and room that plays with water and produced by Tetsuya Umeda who has created various installations and art performances around the world, and more. Art directors include Noboru Tsubaki from Kyoto University of Art and Design, Ogaki Gaku of ASITANOSIKAKU, and more.

There will also be a bar called Untitled, a cafe, gallery and art shop, all of which can be used by non-guests.

As you climb the stairs of the 10th floor gallery of the BnA Alter Museum you are met with a towering 6 meter tall art piece. Events will also be held at the hotel so that non-guests can enjoy the facility too.

Information

BnA Alter Museum

Address: 267-1 Tenmacho, Shimogyo Ward, Kyoto
Business Hours:
・Front: 24 hours
・Staircase Gallery: 11:00-18:00 (Also open 7:30-11:00 for guests only)
・Cafe: 12:00- 18:00
・"Untitled" Bar: 18:00-02:00

TEL: 075-748-1278

BnA Official Website: https://www.bna-hotel.com/

Former Japanese football player Hidetoshi Nakata attended opening ceremony for KitKat and sake pairing event currently being held in Roppongi!

A regional KitKat Pairing Bar called "Gotouchi no KitKat Pairing Bar" is currently running in Roppongi Hills, Tokyo. The pop-up bar features an AI's recommendations of regional KitKats with Japanese sake from among 1,650 combinations of pairings.

You can also witness the event vehicle covered in 15 varieties of Gotouchi KitKat prints at the event in Roppongi Hills.

The sake brands featured at the event are brands carefully selected by famous Japanese former football player Hidetoshi Nakata, who has been promoting sake to the world. He has built his expertise by visiting more than 350 breweries nationwide. Nakata was also present to kick off the event! Nestlé's managing executive officer Cedric Lacroix also makes an appearance.

Cedric Lacroix commented that the products created with the help of Nakata have a favourable reputation in Japan. He stated that he is incredibly pleased to be working with Nakata for the pairing bar, as he is full of knowledge in the field of sake.

Nakata stated:

"We don't have the mindset of creating a new product, but we intend to focus on the act of celebrating with people from the region by creating something new.

Besides the KitKat Nihonshu Masuizumi and Umeshu Tsuru-ume, there is now a third collaboration KitKat flavour being released!

You can experience 150 different pairings of KitKats and sake that have been carefully chosen by Nakata before they are on sale anywhere else! The AI will be introducing regional (Gotouchi) KitKats such as Kyushu Amaou strawberry and Gunma Asian skunk cabbage KitKat!

"The sweetness of the chocolate combined with the sharp aftertaste of the dry alcohol is very interesting. The taste differs from person to person so I would like everyone to try it for themselves", continued Nakata.

"Having chocolate with alcohol is quite a normal thing to do, however, both chocolate and Japanese sake have a long, deep-rooted culture in Japan. There's the impression that Japanese sake only goes well with traditional Japanese food (Washoku). Hopefully, this event helps people to discover this new combination of chocolate and Japanese sake", he continued passionately. 

The Gotouchi KitKat Pairing Bar will be running until national holiday Monday 29th April. Come try this brand new experience involving regional KitKat flavours and their matching Japanese sake!

Information

Gotouchi no Kit Kat Pairing Bar / ご当地キットカット ペアリング BAR

CRAFT SAKE WEEK at ROPPONGI HILLS

Address: Roppongi Hills Arena, 6-9-1, Roppongi, Minato Ward, Tokyo

Open daily from 19th ー 29th April 2019 (12 p.m. to 9 p.m.)

One order = 2 CRAFT SAKE WEEK event coins.

For one order, you can choose 1 type of Japanese sake (60 ml) from 110 varieties + one KitKat from 15 varieties.

※ The coins can be purchased at the CRAFT SAKE WEEK venue and can be used for purchasing food and drink.

 

CRAFT SAKE WEEK at ROPPONGI HILLS 2019

場所: Roppongi Hills Arena, 6-9-1, Roppongi, Minato Ward, Tokyo

Running: Friday 19/04 ー national holiday Monday 29/04/2019 (11-day event)

Event hours: 12:00 ー 21:00, last orders: 20:30

Participating breweries: 10 per day, 110 in total.

There are 15 restaurants in total.

※ Please refer to the website below for more information.

Price: CRAFT SAKE starter set ¥3,500 (Includes sake glass + 11 food & drink coins)

Additional food & drink coin sets:

10 coins ー ¥1,500 set

22 coins ー ¥3,000 set  

38 coins ー ¥5,000

※ After making your first purchase, you can return to purchase extra coins without the sake glass fee by reusing your glass.

Official website: http://craftsakeweek.com/rh/

Limited Edition Starbucks Mamezara Plates & More Releasing at Roppongi Hills

An array of new products and food dishes limited exclusively to the stores at Roppongi Hills are being released this month.

ULTRABOOST 19W: ¥23,760 (Tax Included)

adidas Brand Core Store stocks a plethora of sportswear from running shoes to training gear, football clothing and more. These are the new and improved ULTRABOOST trainers which have been stripped down and remodelled. They maintain solid resilience like a spring, boast unrivalled durability, and are high in efficiency. They hold the wearer's foot in proper place when running while exhibiting reliable elasticity ensuring great propulsive power. adidas has made them even more adequate for the shape of the foot and cut the points of the shoe that apply unwanted pressure. They fit so well they feel like a second layer of skin.

Baby Shoes collection: ¥37,800 (Tax Included) *1 size in 3 colours, EU Size 18

Christian Louboutin's second baby shoes collection will be sold exclusively at Roppongi Hills from April 18. Available in three colours, the design features a small handmade ribbon with the shoe upper being made entirely from satin. The red leather souls add a cute touch to the shoes' overall looks. Each design matches the colours of the women's 2019 spring/summer La Massine Flat collection meaning mothers can match with their kids.

Starbucks Mamezara Set ART: ¥2,700 (Before Tax) *Up to 5 per person

The Roppongi Hills branch of Starbucks will release a set of three mamezara plates on April 25 made in the image of a Starbucks cup. One features the coffee chain's logo and the other two are illustrations inspired by the artistic culture of Roppongi Hills.

Limited Edition Lunch "Fukuoka Prefecture Japanese Yam & Wagyu Black Beef Sukiyaki Gozen": ¥3,780 (Tax Included)

Restaurant Kakiyasu's limited-time lunch set was originally set to run until mid-April but it has been extended until the end of May. The set comes with grated and fluffy Japanese yam from Fukuoka Prefecture topped on the thinly sliced beef.

There are lots of other exclusive items and dishes coming to Roppongi Hills too. Check the store list below.

Information

adidas Brand Core Store

Area: Hillside (Floor 2F)

Opening Hours: 11:00-21:00

TEL: 03-5771-1020

Official Website: http://adidas.jp/maintenance/index.html

MUSE de Deuxieme Classe

Area: West Walk (Floor 2F)

Opening Hours: 11:00-21:00

TEL: 03-5413-3607

Official Website: http://deuxieme-classe.jp/

Christian Louboutin

Area: West Walk (Floor 2F)

Opening Hours: 11:00-21:00

TEL: 03-6812-9810

Official Website: www.christianlouboutin.com

Starbucks Coffee (West Walk Branch)

Area: West Walk (Floor 2F)

Opening Hours: 07:00-23:00

TEL: 03-3403-7713

Starbucks Coffee (West Walk Lounge Branch)

Area: West Walk (Floor 1F)

Opening Hours: Weekdays 11:00-21:00 / Saturday 09:00-21:00 / Sunday & Holidays 9:00-20:00

TEL: 03-5771-1117

Starbucks Coffee (Metro Hat/Hollywood Plaza Branch)

Area: Metro Hat/Hollywood Plaza (Floor B1F)

Opening Hours: 07:00-23:00

TEL: 03-3403-7716

Starbucks Coffee (Tsutaya Tokyo Branch)

Area: Roppongi Keyakizaka-dori (Floor 1F)

Opening Hours: 07:00-04:00

TEL: 03-5411-2667

Kakiyasu

Area: West Walk (Floor 5F)

Opening Hours:

[Weekdays] Lunch 11:00-15:00 (Last Orders 14:00 / Dinner 17:00-23:00 (Last Orders 20:30)

[Weekends & Holidays] Lunch 11:00-15:00 (Last Orders 14:00 / Dinner 17:00-22:00 (Last Orders 20:30)

TEL: 0120-33-1129

Official Website: https://www.kakiyasuhonten.co.jp/

Roppongi Hills Official Website: https://www.roppongihills.com/