ATARASHII GAKKO! Performs for 8,000 Fans at First Arena Concert, Budokan Show Announced for January 2024
On October 29, ATARASHII GAKKO!'s First Arena Solo Concert 2023 HAMIDASHIHTEIKU was held at Tokyo Metropolitan Gymnasium.
The four members made their world debut in 2021 as part of 88risinng, a record label introducing Asian culture and artists to global audiences. Recently, they have continued to garner attention for their appearance on the music program Music Station and the premiere of their first-ever television show. Tickets for the first arena show were sold out immediately, including extra sales.
The concert kicked off with MANINGEN, beginning with Suzuka's commanding vocals as the group suddenly appeared on top of the massive set. The 8,000 fans in attendance were already as excited as they could be, and as Saishuu Jinrui began soon after, the group's intense performance raised the energy in the venue to even higher levels. The girls even performed covers of Dounimo Tomaranai and Neraiuchi, and Suzuka asked the audience to clap along to these popular songs from the past. Following this, H ZETT M, who produced many tracks on the group's first and second albums Maenarawanai and Wakage ga Itaru, appeared on stage. Fans cheered loudly for such a major player behind ATARASHII GAKKO!'s early hits, and the girls performed the tracks Koi no Jadanki, zzz, and Koigeba in quick succession, creating a super special collaboration for the audience.
Although the members are typically seen in their signature school uniforms, they dressed up in the American Family costumes they wore in the music video forPineapple Kryptonite for a rare performance never seen at one of their live shows before. The audience roared in unabashed excitement as OTONABLUE, which has garnered 3.1 billion views in related videos on TikTok and subsequently won the 2023 TikTok Trending Grand Prize for the first half of the year, began to play. Fans were eager to move along with the chorus, performing the popular neck-swing dance with enthusiasm.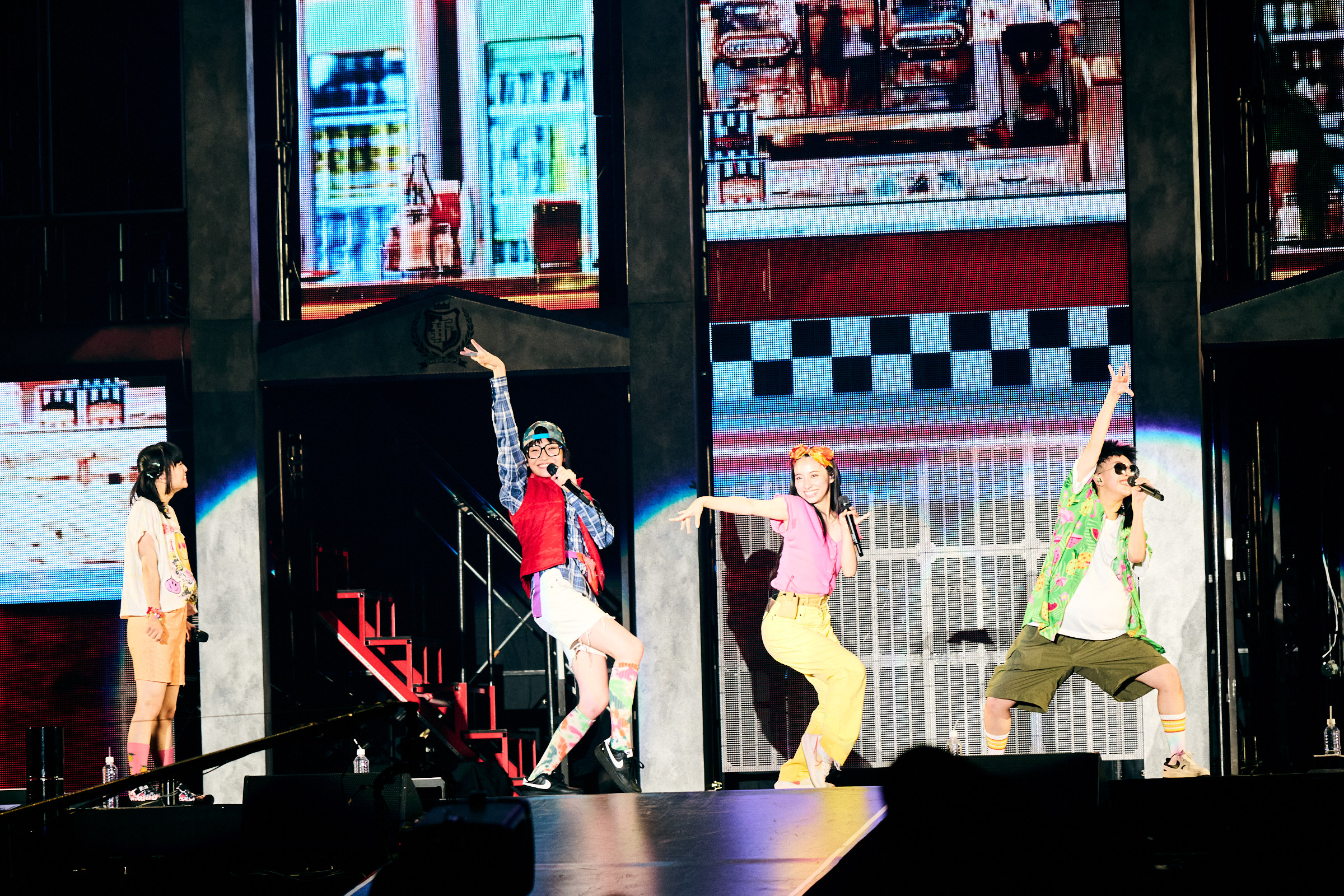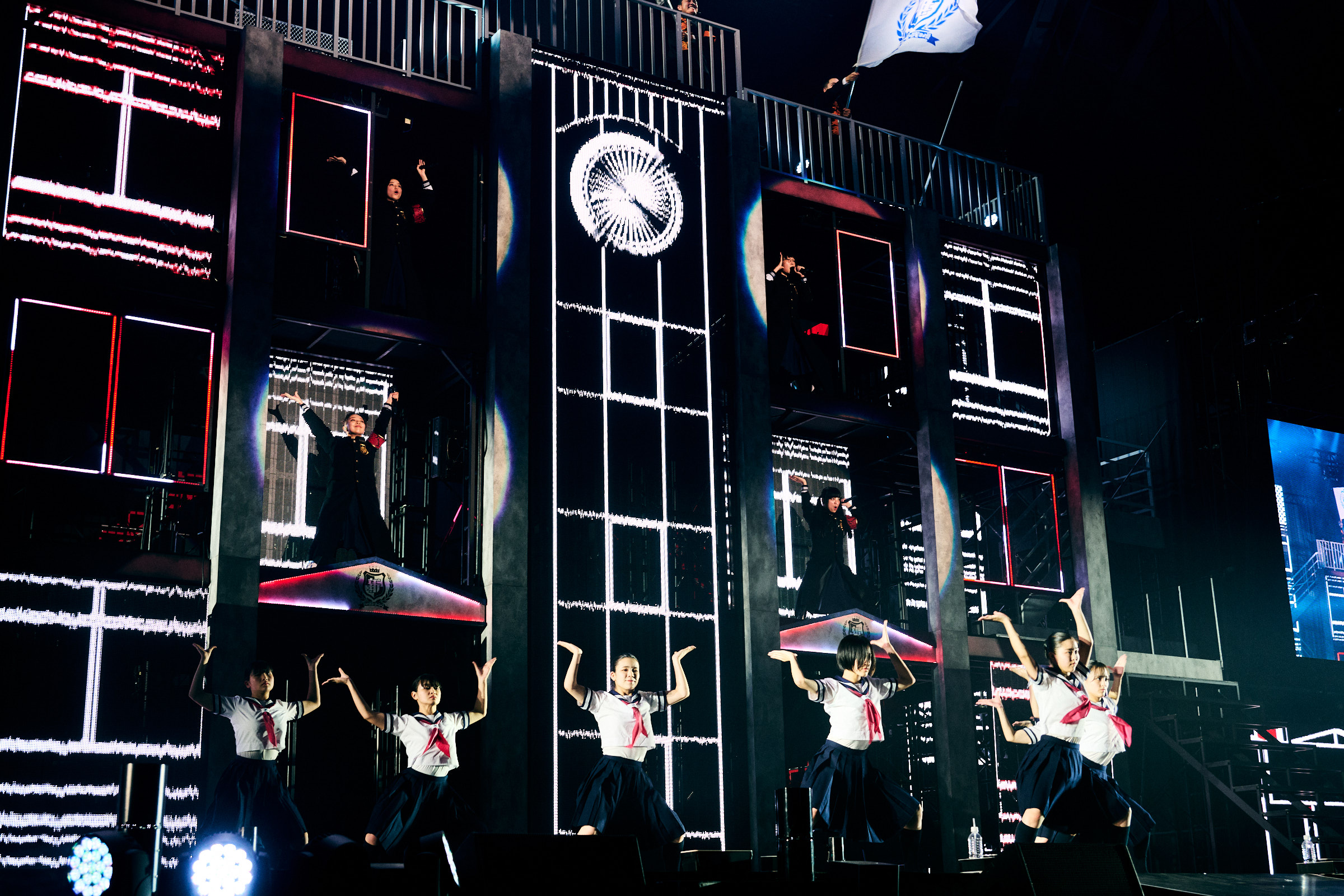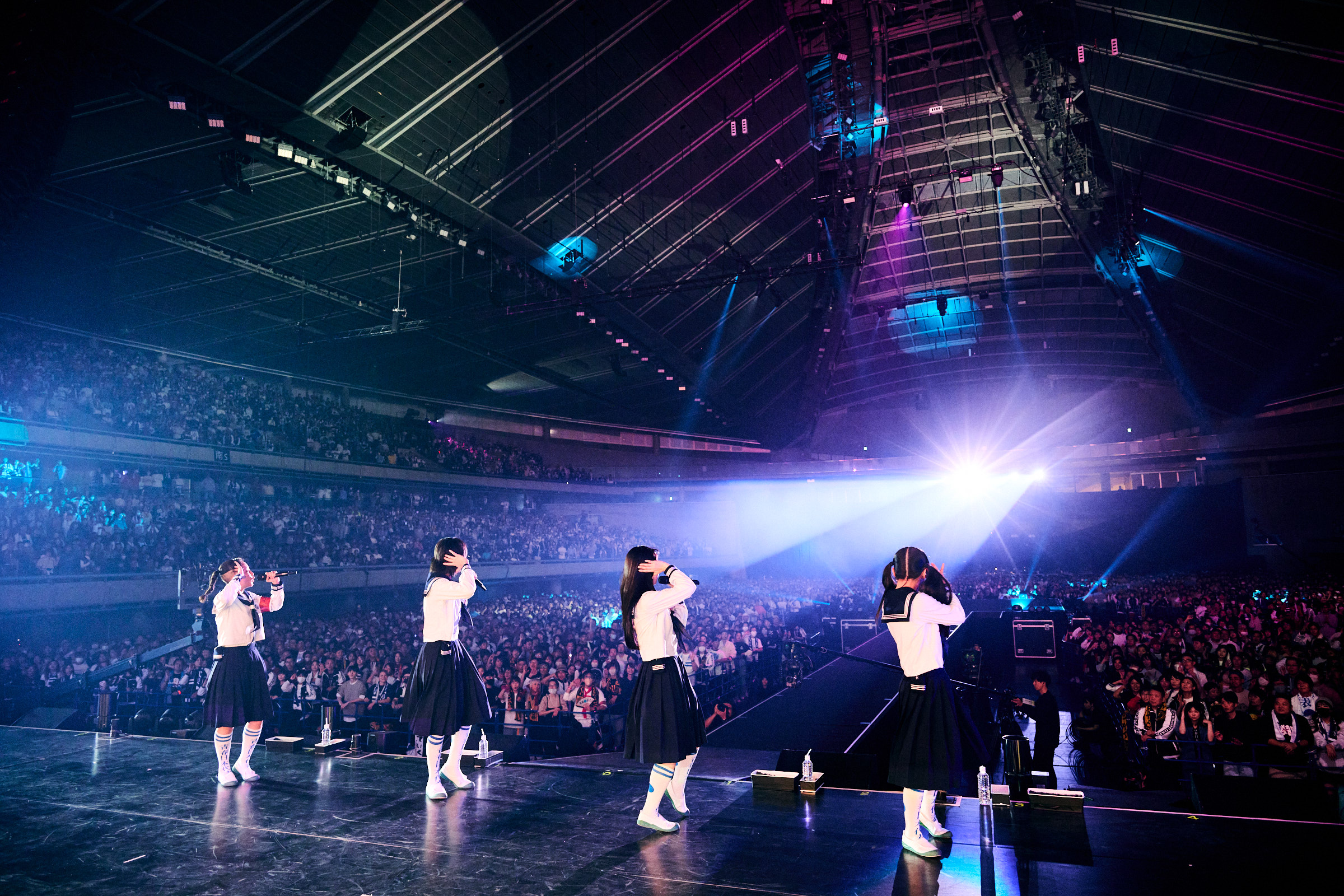 "Tokyo Metropolitan Gymnasium, can we keep going," the girls asked as they performed SEISHUN WO KIRISAKU HADO, showing the true extent of their energy. During the interlude towards the end of the concert, the venue was full of over-the-top cheers and dances as fans begged for more.
To bring the show to a close, ATARASHII GAKKO! performed Tokyo Calling, their newest song released on October 20. Wearing their Earth Defense Force costumes that were shown in the music video, Suzuka addressed everyone in attendance. "From Tokyo, Japan, to the world, let's show our power! You all represent the youth of Japan!"
During the encore, ATARASHII GAKKO! announced that their first solo Budokan concert would be held on January 9, 2024. "You're all coming, right," the members called out.
The girls performed a total of 25 songs to an overjoyed sea of fans. ATARASHII GAKKO! will begin their first overseas tour in November, and this rare domestic solo concert ended as a massive success.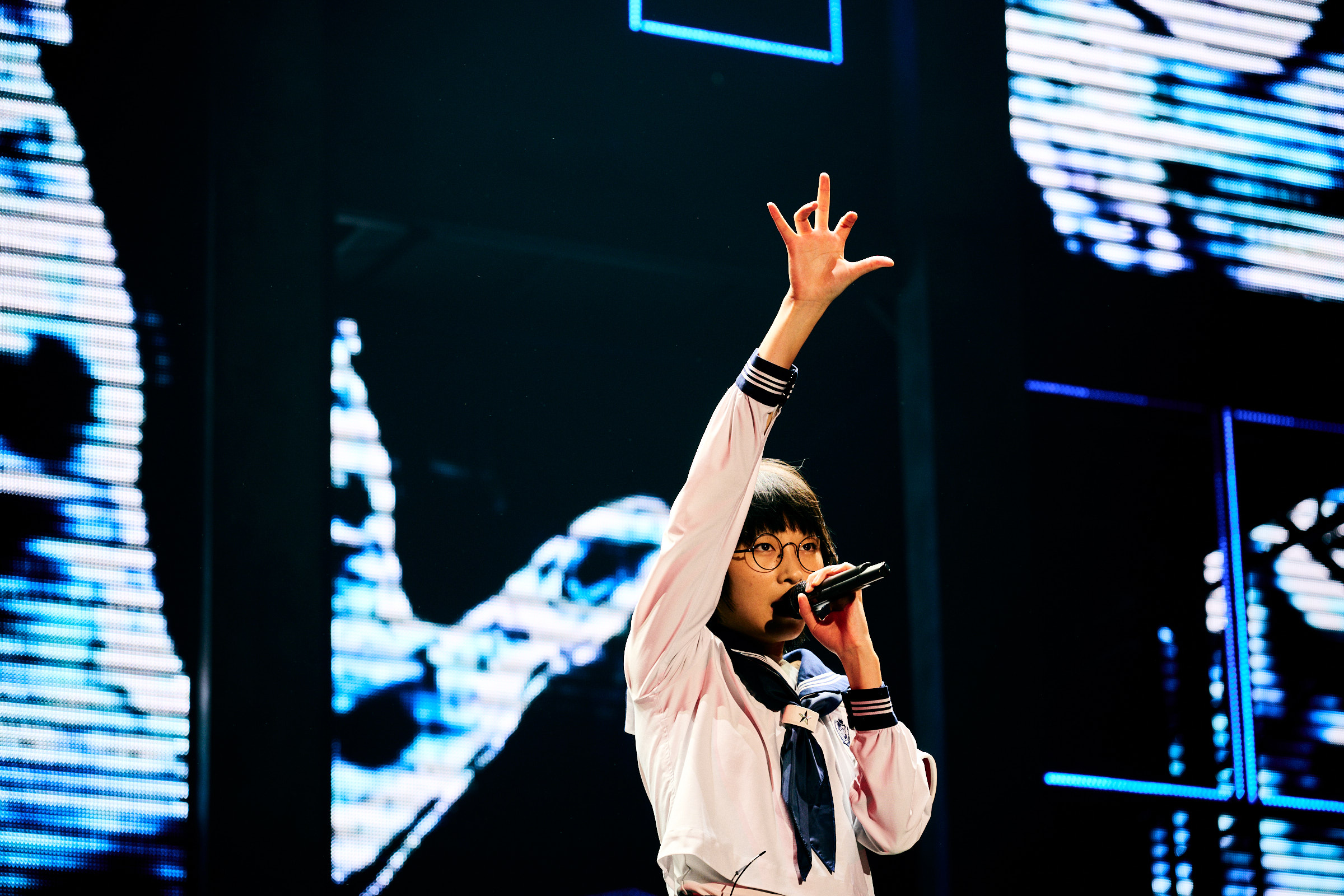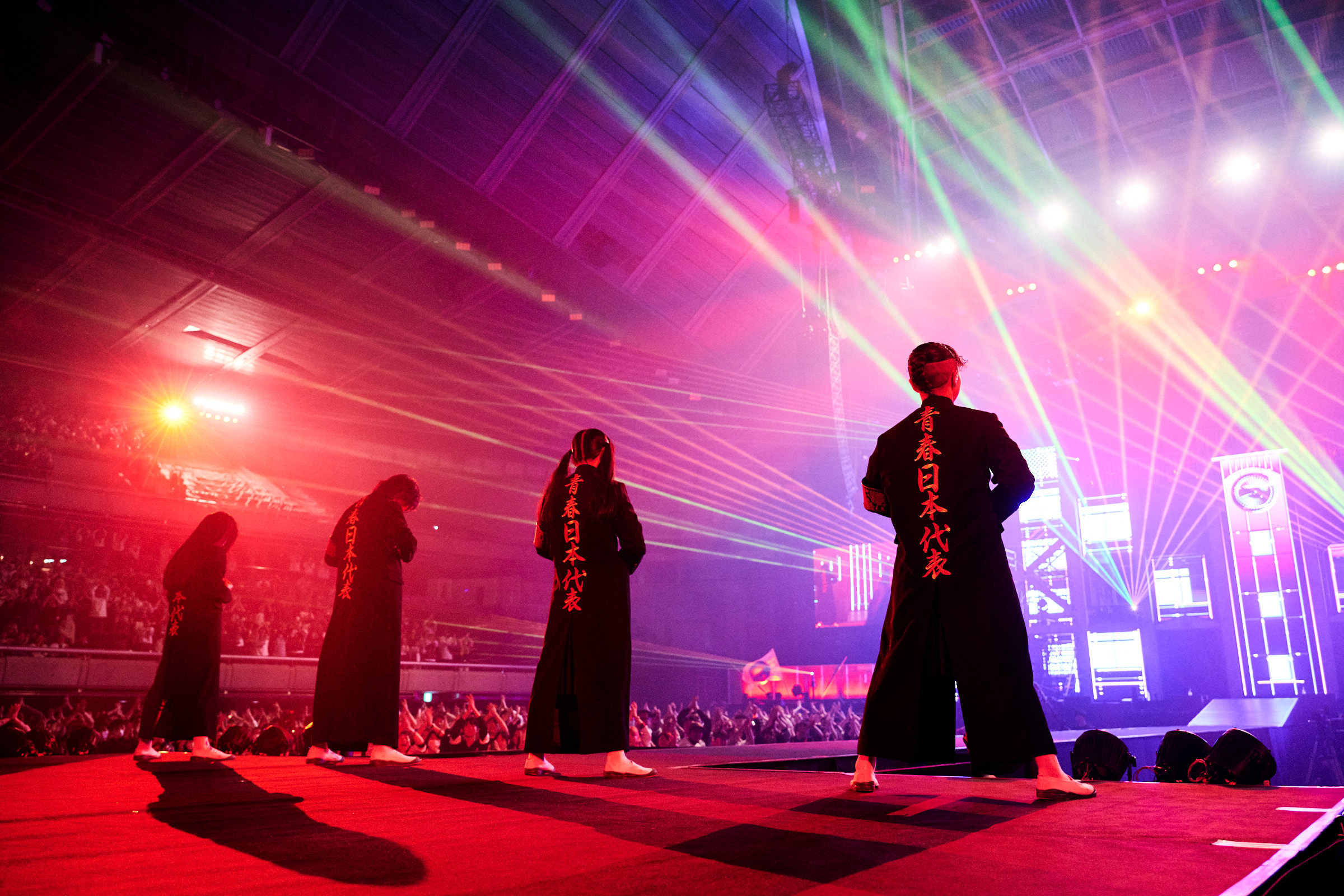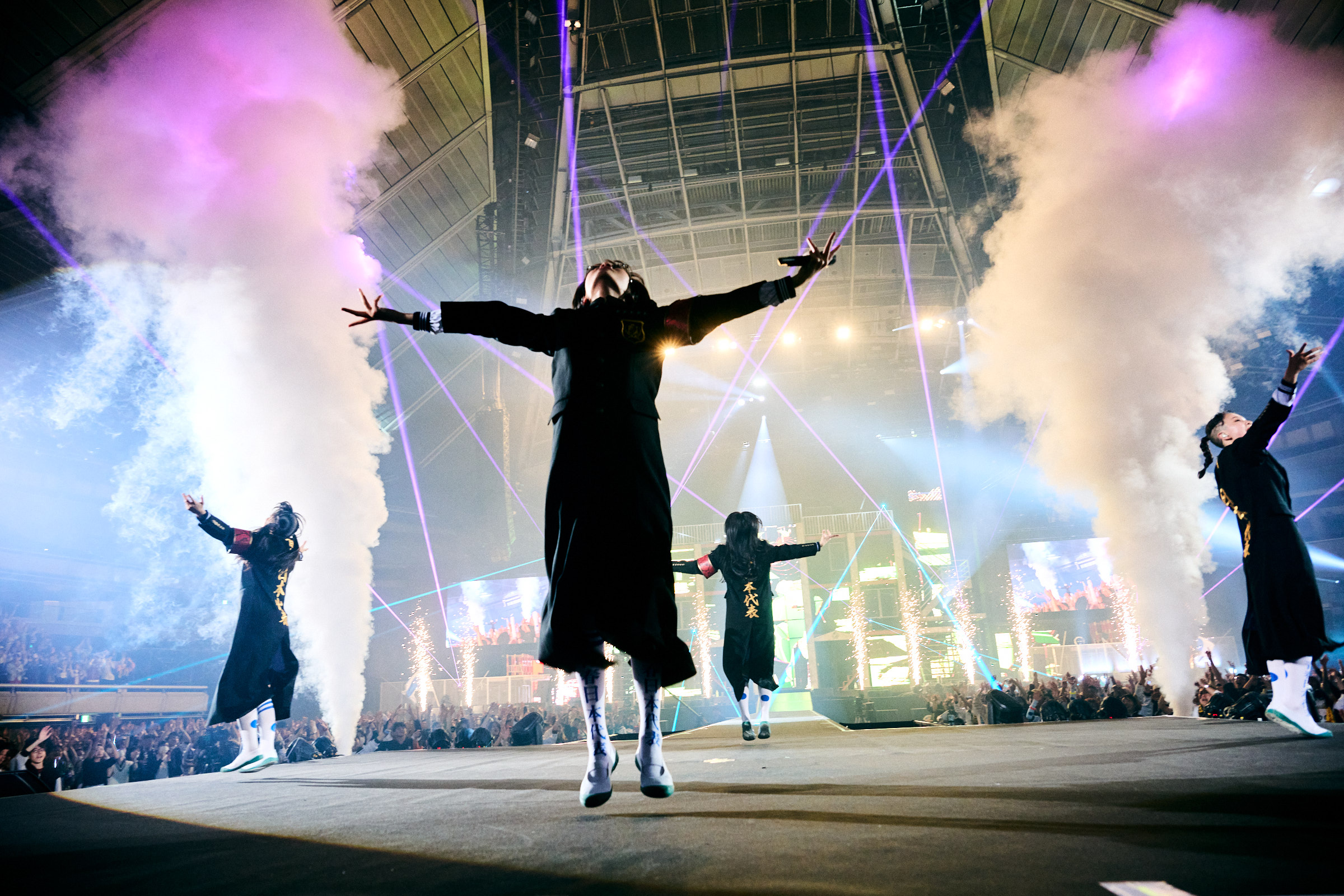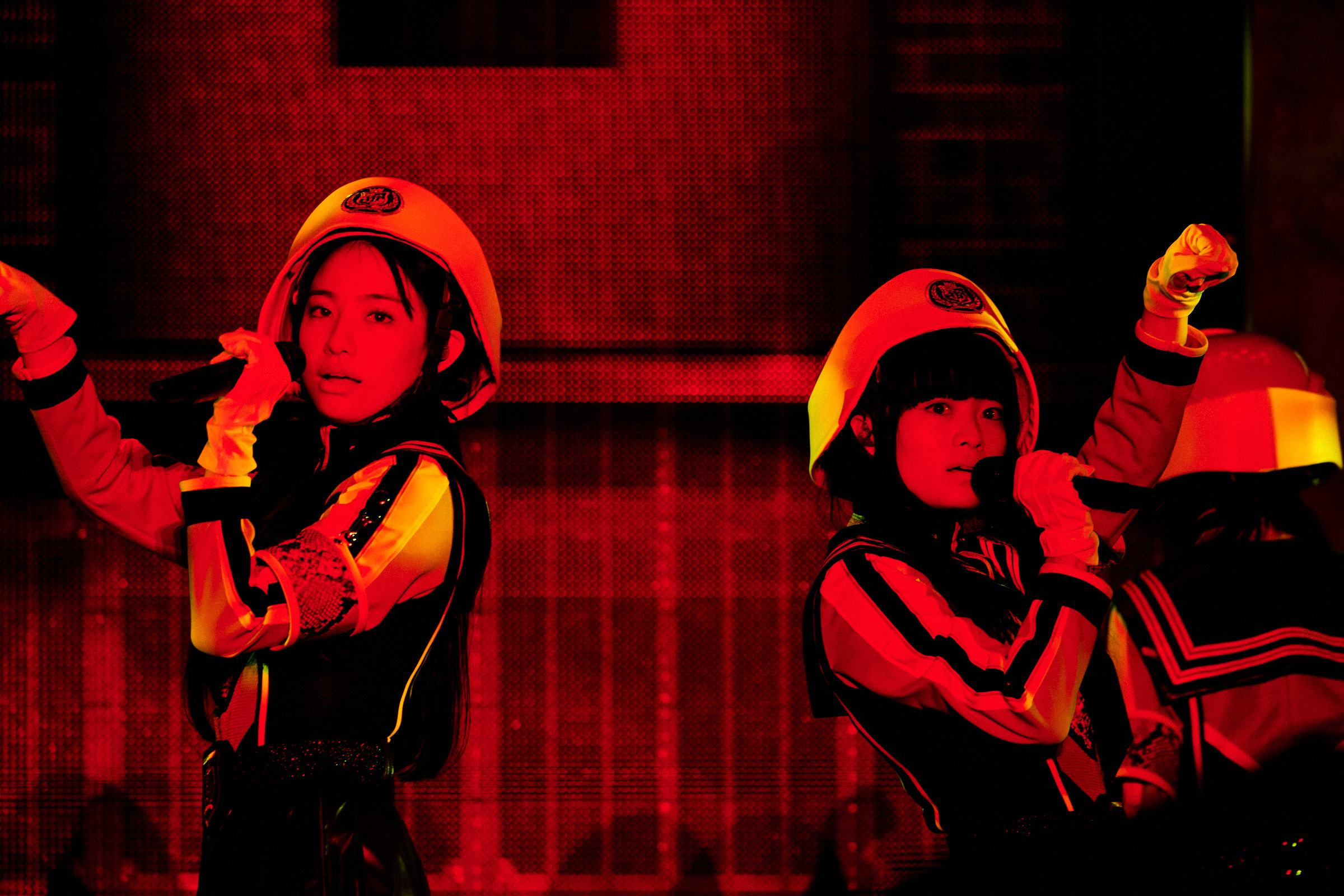 ■Setlist
01. MANINGEN
02. Saishuu Jinrui
03. Koibumi
04. Suki Lie
05. Giri Giri
06. Dounimo Tomaranai
07. Neraiuchi
08. Koi no Shadanki
09. zzz
10. Koigeba
11. Happy Hormones
12. CANDY
13. Fantastico
14. Pineapple Kryptonite
15. Free Your Mind
16. OTONABLUE
17. NAINAINAI Remix
18. NAINAINAI
19. Pineapple Kryptonite Remix
20. Odoru Honno 001
21. SEISHUN WO KIRISAKU HADO
22. Tokyo Calling
Encore
01. OTONABLUE (Hyperschool Remix)
02. Que Sera Sera
03. Amoeba Toutoshi
Information
ATARASHII GAKKO! First Arena Solo Concert 2023 'HAMIDASHITEIKU'
Date: October 29, 2023
Venue: Tokyo Metropolitan Gymnasium
■U-NEXT Livestream Information
Available: November 12, 10:00 ~ November 25, 23:59
Details: https://www.video.unext.jp/livedetail/LIV0000003523
<Budokan Concert Information>
ATARASHII GAKKO!'s First Budokan (Tentative Title)
Date: January 9, 2024
Venue: Nippon Budokan
[Tickets]
Prices:
S-seat: ¥18,000 *Arena seats or front seats in the stands
A-seat: ¥9,000 *Seat in the stands
B-seat: ¥8,000 *Seat towards the back of the stands
*No admission for children under 3 years old. Anyone older than 3 must have a ticket.
*Up to 4 tickets per application.
[Contact]
DISK GARAGE
050-5533-0888 (Weekdays 12:00~15:00)
RELATED ENTRIES
Concert Report: ATARASHII GAKKO! Mesmerizes Packed Crowd in St. Paul during the Final U.S. Performance of the Seishun Tour

Upon my arrival on Thursday, November 16, I wondered if the intimate space of the Amsterdam Bar & Hall in downtown St. Paul, Minnesota would be able to contain the massive personalities of ATARASHII GAKKO! The four members never hold back–either on or off the stage, it seems–and as fans began to arrive en masse, it was clear that the Twin Cities wasn't lacking a fanbase for the dance-vocal group currently taking the world by storm.

Just under three weeks prior, ATARASHII GAKKO! had performed for a whopping 8,000 fans at their first arena concert, held at the famed Tokyo Metropolitan Gymnasium. Now, they were preparing to walk out to a crowd of only a few hundred, most with cocktails in hand and lyrics memorized. The majority of the concertgoers seemed more than passingly familiar with the group, though a few bewildered onlookers couldn't possibly have been prepared for what the night would bring. Needless to say, although the stage was quaint, the concert was anything but. None of the members' usual energy had diminished, and despite this being the final stop on the U.S. portion of the tour, there wasn't a hint of fatigue to be found during the hour-long set.

The show was sold out weeks in advance, and plenty of eager fans equipped with glowsticks and wearing the group's signature socks rushed toward the stage to secure the best spot. Other attendees swarmed the merch booth, eager for a hoodie or bag to show their pride.

For the show to be standing room only was a boon–it's unlikely anyone in the audience could have remained seated once the four girls appeared following the intro, quickly leading into the high-energy number Seishun wo Kirisaku Hado. Fans were instantly chanting in unison, responding eagerly as Suzuka addressed the room, her enthusiasm bordering on contagious.

Nine years after its formation, ATARASHII GAKKO! Recently announced that the group would be making its Kouhaku debut at this December's 74th Kouhaku Uta Gassen. The New Year's Eve staple features performances from the most popular musical acts of the year, proving that the group has found its footing both domestically and abroad.

Fans swatted balloons around and jumped in time to the beat as saisyu jinrui, one of the group's older songs, began to a sea of applause. Suzuka, Rin, Mizyu, and Kanon didn't seem phased to hear the largely American audience singing along in Japanese, though their appreciation and joy were palpable as they moved in perfect unison. CANDY and The Edge followed, with the members taking turns asking the audience to raise their hands or clap along. Anyone who wasn't already a fan was likely converted by the commanding energy sweeping the room, making it impossible not to move along.

During the MC portion, the members showed off their English, asking the audience "do you know Seishun?" They explained that it means "to live your life to the fullest," and quickly invited the audience to celebrate this important idea. Throughout the show, they would often initiate a call and response, teaching those assembled a few words in Japanese and expressing their interest in returning to America for another tour in the future. Given how quickly the tickets sold out this time around, the sky's the limit for concerts in the future.
In January, ATARASHII GAKKO! will perform at Nippon Budokan for the first time, ushering in a new era of popularity for the four members. It makes me wonder what massive U.S. venues may someday play home to another of their unforgettable shows. Madison Square Garden? Radio City Music Hall? The Hollywood Bowl?

As the question "Suki?" rang out, the crowd cheered, as Suki Lie has become a fan favorite since its release earlier this year. The girl's choreography, as usual, was a highlight of the show, with Fantastico and the Yohji Igarashi remix of Pineapple Kryptonite quickly sending the audience into a rhythmic frenzy.

Just in front of me, I watched a couple mimic the vast majority of moves in perfect unison, taking time to laugh and joke when they failed to hit the mark. That's the essence of ATARASHII GAKKO!–fun. The group represents 'fun' in its purest form, asking fans to recall the freedom of youth and to reach out to grasp it one more time, without fear of failure or embarrassment. Dance as if no one is watching, sing along in a language you cannot understand, and dress up in a school uniform despite being in your upper 30s. Why not?

As expected, the entire building shook as fans marched along during the group's newest release Tokyo Calling. It had been enough of a warm-up, and as each of the girls placed a hand behind their heads, Otona Blue, the group's magnum opus, rang out to a sea of screams. The track has amassed an incredible response on TikTok over the past year; this, despite being released way back in 2020. ATARASHII GAKKO! performed the song on THE FIRST TAKE, with the YouTube video now sitting at 50 million views. Everyone likely woke up with a sore neck after mimicking the classic choreography during the chorus.

After the explosive energy of WOO! GO! and NAINAINAI, the girls began to say their goodbyes, asking their fans to visit Japan someday and promising to return to St. Paul sometime in the future. Exiting the stage, they returned only a few minutes later after the audience demanded an encore, this time dressed more casually and eager to chat with a few fans at the front, one of whom was holding up a skilled drawing of Suzuka. The singer accepted the gift gladly, with other fans handing bouquets to the other members. As the lights in the venue brightened, the group snapped a few photos with the audience, creating the perfect keepsake for such a perfect night.

No one wanted such an energetic time to end, and the group knew just how to bid farewell to America–with the lively rock track Free Your Mind. The venue became a sea of clapping hands, and the concert came to a close on the highest possible note.

With a performance at Kouhaku fast approaching and their first-ever Budokan show only two months away, it's almost certain that ATARASHII GAKKO! will return to the U.S. in the future. Until then, American fans will continue to support these four powerhouses from afar, eager for the day we meet–and dance–again.

Report: Carley Garcia

ATARASHII GAKKO! Appointed as Image Characters for the 61st Sendenkaigi Awards

The members of ATARASHII GAKKO! have been chosen to appear as image characters for this year's Sendenkaigi Awards. The monthly Sendenkaigi magazine sponsors the event focusing on creativity and trends in the world of marketing.

Many people from both inside and outside the advertising world submit their creations, and the Sendenkaigi Awards has become a place for creatives to discover words that shine. This year's applicants were encouraged to explore new ways of expression to break stereotypes and foster new ideas. The members of Atarashii Gakko! are a fitting addition to this year's event, as the group is known for its unapologetic individuality.

ATARASHII GAKKO! will appear on official posters displayed at train stations and bookstores. The group will also appear on the cover of the October/November issue of Sendenkaigi magazine.

Information

Sendenkaigi Awards Official Site

ATARASHII GAKKO! Announces First Overseas Tour

After releasing the new MANINGEN EP on August 16, the members of ATARASHII GAKKO! announced that they would embark on their first overseas tour, ATARASHII GAKKO! The SEISHUN Tour, this November.

The group's song OTONABLUE has reached an astounding 3.1 billion views on TikTok, winning the TikTok Trending Award for the first half of 2023 with over 14 million followers on the social media site. ATARASHII GAKKO! performed in New York in May and at the Head in the Clouds festival in Los Angeles in July, continuing to make headlines. Their tour will kick off at the Fonda Theater in Los Angeles and continue for 10 shows across North America, Hong Kong, and Bangkok.

Before embarking on their global tour, the group will perform a solo show at the Tokyo Metropolitan Gymnasium on October 29. Tickets sold out quickly, and the group's more dedicated fans can't wait for the rare opportunity to see ATARASHII GAKKO! perform solo in Japan.

Information

ATARASHII GAKKO! The SEISHUN Tour
(All dates local time)
11/7 Los Angeles, CA – The Fonda Theatre
11/8 San Francisco, CA – The Regency Ballroom
11/10 New York, NY- Music Hall of Williamsburg
11/11 Washington, D.C.- Black Cat
11/13 Toronto, ON- The Axis Club
11/15 Chicago, IL – Lincoln Hall
11/16 St. Paul, MN- Amsterdam Bar & Hall
11/18 Mexico City, MX- Corona Capital (https://www.coronacapital.com.mx/)
12/2 Hong Kong- Clockenflap Festival (https://www.clockenflap.com/) *Tickets available anytime
12/3 Bangkok, TH- Maho Rasop Festival (https://www.mahorasop.com/) *Tickets available anytime

[Tickets]
Spotify Presale: August 17, 2:00AM ~ Limited 1-day sale
General Sales: August 18, 10:00AM (August 19, 2:00AM JST)

Special Tour Site
https://atarashiigakko.com/atarashii-gakko-the-seishun-tour

<NEW EP>
MANINGEN EP – ATARASHII GAKKO!
Release Date: August 16

【Tracklist】
M1: MANINGEN
M2: KOIBUMI
M3: Que Sera Sera
M4: OTONABLUE – From THE FIRST TAKE
M5: NERAIUCHI (50 th anniversary cover)

Streaming URL: https://lnk.to/MANINGEN_EP

ATARASHII GAKKO! Wins Grand Prize in the TikTok Trend Awards for the First Half of 2023 with 'ATARASHII GAKKO! Wins Grand Prize in the TikTok Trend Awards for the First Half of 2023 with 'OTONABLUE'

The wildly popular track OTONABLUE by ATARASHII GAKKO! won the top prize for the first half of 2023 in the TikTok Trend Awards.

Although the track was initially released years ago, OTONABLUE became popular this year after its curious neck-swing dance became a popular subject on TikTok. As of June 21, 2023, the total number of videos using the song on the short video app exceeds 3.1 billion. The award recognizes the track's incredible impact on TikTok, considering the total amount of likes and views on related videos. The neck-swing dance has become a major trend with young people both on the app and outside of it.

The group performed OTONABLUE live at the awards ceremony, wowing the crowd with their rendition of the iconic choreography. The award was bestowed by Ichiro Yamaguchi of Sakanaction, a TikTok ambassador and presenter at the ceremony.

Information

■ TikTok Trend Awards 2023 (First Half) Overview
The first half of the TikTok Trend Awards nominates popular hashtags, challenges, music, food, items, and other trending subjects on TikTok during the first half of 2023. The most popular trend in each category is chosen after a comprehensive evaluation of the app's data, and the winners are picked by measuring the number of total posts and the number of views inside the app.

Special Site
https://activity.tiktok.com/magic/eco/runtime/release/64954f7c32040b046858c775?appType=tiktok&magic_page_no=1

'MANINGEN' by ATARASHII GAKKO! Chosen as Theme Song for TV Asahi Drama Series 'Keibuho Daimajin'

MANINGEN, a new song from ATARASHII GAKKO!, will be the opening theme for TV Asahi's Friday Night Drama series Keibuho Daimajin.

The series is an adaptation of the popular manga series of the same name by Richard Wu (Takashi Nagasaki) and will star Toma Ikuta. Directed by Takashi Miike, fans are excited to see artist Kouji Kouno and Richard Wu reunite to create something new following the successful drama series Inspector Kurokocchi. A special teaser trailer featuring the new theme song is available on the TV Asahi YouTube channel.

An EP featuring MANINGEN will be released physically on August 16. The track will be available to stream worldwide on August 9.

<Comment from Keibuho Daimaijin Star Toma Ikuta>

"I've been a massive fan of ATARASHII GAKKO! for years. I love the girls' music and performances, so I'm thrilled to be able to work on this project together with them. They put so much effort and energy into their dance routines and stage performances, and they always have this over-the-top presence. I'm looking forward to seeing what kind of performance they come up with this time. The track starts with Suzuka's elongated vocals, which sound incredible as expected. I think it matches the series perfectly, and listeners will get the sense that the drama will only continue to grow. You'll feel as though the story has only just begun."

Information

■Drama Information
Keibuho Daimaijin (TV Asahi Friday Night Drama)
Airing: Fridays at 11:15 starting July 7
Directed by: Takashi Miike, Ryusuke Kurahashi
Original Series: Keibuho Daimaijin (Written by Richard Wu / Art by Kouji Kouno / Published by Nihon Bungeisha)

Official Site
https://www.tv-asahi.co.jp/daimajin/

■Music Information
MANINGEN – ATARASHII GAKKO! (EP)
Release Date: August 16, 2023
EP to include MANINGEN, the opening theme for the TV Asahi Friday Night Drama series Keibuho Daimaijin, Otonablue -From THE FIRST TAKE, and Koibun
MANINGEN – ATARASHII GAKKO! (Digital Single)
Release Date: August 9, 2023
Available to stream worldwide on all major music download and streaming services

ATARASHII GAKKO! Releases Legendary 'OTONABLUE' Performance from THE FIRST TAKE on Streaming Services

On June 16, the girls' vocal and dance group ATARASHII GAKKO! released OTONABLUE – From THE FIRST TAKE on streaming services.

Originally released in 2020, OTONABLUE has become incredibly popular over the past year, with its 'neck-dance' choreography trending on TikTok. With views on the social media site surpassing 2.5 billion, a music video was thrown together and released, pulling in over 20 million views in two months.

On April 7, ATARASHII GAKKO! performed a special version of OTONABLUE on THE FIRST TAKE, commemorating their first time on the program with new choreography. Filmed in a single take, their appearance pulled in 20 million views in record time, becoming the channel's most popular video of 2023. This special live version is now available to stream.

ATARASHII GAKKO! Named as Ambassadors for NIKE Gamma Force

Nike's Gamma Force line, a modern interpretation of classic 80s sneakers, will be available at ABC-MART and ABC-Mart Online. To celebrate the launch, a new visual and collaborative video featuring the members of ATARASHII GAKKO! have been released.

In the video, the girls are seen performing a flashy dance while wearing shoes from the Gamma Force line. The featured song, SUKI LIEwas featured on the group's new EP ICHIJIKIKOKU and in standard ATARASHII GAKKO! style, the members express themselves freely while holding absolutely nothing back.

Information

ATARASHII GAKKO! x Gamma Force Bonus Campaign
Those who purchase shoes from the Gamma Force line at ABC-MART stores or online will receive original stickers featuring ATARASHII GAKKO! One sheet will include special edition stickers, including key visuals and illustrations of the members wearing Gamma Force and their signature socks.

Special Site
https://www.abc-mart.net/shop/e/e1000650w/

*One sticker sheet per purchase will be available while supplies last
*Bonus campaign begins May 11 both in stores and online
*The campaign will end once all stickers are gone

'SEISHUN WO KIRISAKU HADO' by ATARASHII GAKKO! Chosen as Theme Song for New Drama Series 'Young Ladies Don't Play Fighting Games'

On May 19, the drama series Young Ladies Don't Play Fighting Games will begin airing on NTT Docomo's Lemino streaming service. SEISHUN WO KIRISAKU HADO, a new song from ATARASHII GAKKO!, will serve as the theme song.

Inspired by Eri Ejima's manga series of the same name, the over-the-top comedy series follows female students at an elite finishing school as they fall in love with fighting games–the furthest thing from a dignified hobby. The fast-paced song SEISHUN WO KIRISAKU HADO was written and composed by Kenta Matsukuma and has a catchy melody and passionate lyrics that perfectly fit the energy of the series.

<Comment from ATARASHII GAKKO!>

"SEISHUN WO KIRISAKU HADO, a song from our new EP ICHIJIKIKOKU, has been chosen as the theme song for Young Ladies Don't Play Fighting Games! We're so incredibly honored! The enthusiasm that the characters feel for video games is channeled through this feel-good track, and the choreography has provided us with a brand-new challenge! The excitement is exploding!"

■STORY
Aya Mitsuki (Mizuki Kayashima) is a commoner and a new student at Kuromi Girls' Academy, a refined and elegant school that expects the best from its young ladies. She aims to become as perfect as her fellow student and idol Shirayuri (Ririka Tanabe). One day, Aya catches her passionately engaged in a fighting game in an empty classroom. Sworn to secrecy about her idol's secret pastime, Aya is actually a gamer herself. As the two begin competing against each other in no-holds-barred virtual combat, they start to become closer!

Information

Young Ladies Don't Play Fighting Games
(Lemino original drama series)
Streaming Date: May 18, 2023
Where to Stream: Lemino, Hikari TV
Original Work: Young Ladies Don't Play Fighting Games by Eri Ejima (Serialized in MF's Monthly Comic Flapper / KADOKAWA)
Theme Song: SEISHUN WO KIRISAKU HADO
– ATARASHII GAKKO! (Lyrics & Composition: Kenta Matsukuma)

Where to Stream
https://lemino.docomo.ne.jp/

Atarashii Gakko! Announces First Arena Tour in October

Atarashii Gakko! concluded the first performance of their current solo concert tour in Tokyo and Osaka with some major news. At Zepp Osaka Bayside on April 30, the girls announced that they would be kicking off their first arena tour on October 29.

The Osaka stop on the current tour, titled We're in Japan but this is Only Temporary Tour 2023, will be broadcast on TV Asahi CS Channel 1 on June 25 and will include an exclusive interview.

Information

Atarashii Gakko! Arena Tour
Date: October 29, 2023 / Doors open 16:00, Show starts 17:00
Venue: Tokyo Metropolitan Gymnasium
*No admission for children under 3 years old. Ticket required for all guests above the age of 3.

<Tickets>
① Incredible Up-Close Ticket: ¥15,000 (Preorder) / ¥15,500 (Day-of)
*Front block of the arena (Rows 1-20)
② Arena Ticket: ¥8,500 (Preorder) / ¥9,000 (Day-of)
*Area behind the front block of the arena.
③ Standing Ticket: ¥7,000 (Preorder) / ¥7,500 (Day-of)
④ Sneak-Peek Rehearsal Ticket: ¥3,000 (Preorder) / ¥3,500 (Day-of)
*Ticketholders can watch a live rehearsal for approximately 20 minutes on the day of the performance.

<Fan Club Presale>

URL: https://www.fansnet.jp/leaders/posts/6447986d0b223b00e9c4b4d6

Details Here
https://leaders.asobisystem.com/firstarena

<Full Version>
Atarashii Gakko! – We're in Japan but this is Only Temporary Tour 2023
Broadcast Date: June 25, 2023 at 16:00~
Channel: TV Asahi CS Channel 1
*The broadcast date, time, and content are subject to change without notice.

Atarashii Gakko! Appears on Popular YouTube Channel THE FIRST TAKE

Atarashii Gakko! took to the stage on THE FIRST TAKE for the first time. The members performed their hit song Otonablue, which has become a major hit on social media for its unique choreography during the chorus.

Since its release, Otonablue has continued to be a hot topic, with the live performance video racking up over 8 million views on YouTube and related TikTok videos pulling in over 400 million views.

Information

Atarashii Gakko!

Atarashii Gakko! to Release New EP 'Ichijikikoku'

Atarashii Gakko! will release a new EP titled Ichijikikoku (Temporary Return to Japan) on April 12, 2023.

The 7-track EP will include the popular hit Otonablue. The live version of the song has attracted over 8 million views on YouTube and over 400 million plays on TikTok. Ichijikikoku will also include Janaindayo, the theme song for the film Baby Assassins 2, and Suki Lie, the theme song for the TV Tokyo drama series Nani ka Okashii 2. Additionally, the song Seishun wo Kirisaku Hadou was produced by Kenta Matsukuma, who has worked alongside BiSH and other popular music acts. The songs Odoru Honnou 001 and Otome no Bigaku were produced by H ZETT M, who also produced the group's first and second albums.

The EP is now available to preorder on iTunes. As a preorder bonus, fans will receive a video of Atarashii Gakko! performing Otona Blueduring last year's solo concert Unnamed but triumphant return solo concert ~Welcome to Snacktime Um-hum~.

On the EP's release day, Atarashii Gakko! will hold a commemorative TikTok Live from Tokyo Tower starting at 20:00 (JST). The music video for Janaindayo will be released immediately following the broadcast at 21:00.

The title for the group's 2023 solo concert tour in Tokyo and Osaka has also been revealed–We're in Japan but this is Only Temporary Tour 2023. Tickets have already sold out for two performances, and an additional date has been added at Zepp Shinjuku on May 1. Tickets are now available via lottery.

Atarashii Gakko! continues to impress audiences around the world. With 10 million followers across social media and the highest TikTok follower count of any female artist in Japan*, the girls aren't slowing down in 2023, performing at the Head In The Clouds music festival in New York City in May.

*According to TWIN PLANET

Atarashii Gakko! Collaborates with Rohto Pharmaceuticals on Youth Support Project

Rohto Pharmaceuticals has teamed up with the popular group Atarashii Gakko! to launch a new cross-brand youth support project for Gen Z titled MOTTO MOTTO MOTTO / Want More, Get More.

For the first step of the new project, an original collaboration video was released that incorporates both the things that young people want and Rohto products in the lyrics. Trackmaker SASUKE appears as the male student in the video, and the members of Atarashii Gakko! support young people saying what they want to say as they live happy everyday lives.

The project aims to convey a powerful message, and through the new song, both Rohto and the members of Atarashii Gakko! want to remind young people to reach for their dreams without hesitation while not being afraid to try new things. The song itself is catchy, so be sure to give it a listen!

<Interview with Atarashii Gakko!>

Group: Hello, everyone! We're Atarashii Gakko!, and we stand for individuality, freedom, and chasing after what you want!

Q. Tell us about something greedy you did when you were a student.

SUZUKA: I confessed to everyone I fell in love with in middle school.

Group: What–! That's insane! How did you confess?

SUZUKA: I wrote letters, I sent LINE messages…but not all of those were received well. (Laugh) But when I like someone, I can't help but want to tell them! My sister told me that it was too outspoken like that, men would run away from me, but is that true? (Laugh)

RIN: I was super greedy when it came to school lunch!

Group: CUTE!

RIN: Anyway, I looked so forward to lunch every day, I just wouldn't want it to end.

KANON: You're still like that now! (The members laugh)

RIN: It was like, since we were having certain foods on certain days, I wanted seconds of everything while I could get them. I'd eat what I could get myself, and then if someone didn't want theirs, they'd give it to me and I'd eat all of it.

Q. What's something you've started doing lately?

KANON: I keep a record of what I spend each day. I couldn't keep up with it when I wrote it by hand, so I use an app on my phone. Even if I spend a tiny amount at the convenience store, I track it. That way, I see if I stuck to my budget or if I was too greedy.

SUZUKA: I couldn't do that! I just keep track of what I spend internally. It's like having an internal metronome.

KANON: An internal metronome? I've never heard of this. (Laugh)

MIZYU: I've just started trying to breakdance! I've started watching YouTube videos lately and I've had friends tell me about it, so I thought I'd ask if they'd join me in the studio.

SUZUKA: Well, those dance moves will start popping up in our choreo. Maybe we pause for a breakdance performance, you can have the spotlight for five minutes. (Laugh)

Group: That's so long! (Laugh)

Q. What Rohto products have you used?

Group: A ton!

MIZYU: Their face wash and eye drops!

RIN: I use their Mentholatum Repair One Lip Balm.

SUZUKA: I use their Gokujun All-in-One.

Group: We use a ton of their products, and we're so thankful.

SUZUKA: I use the Gokujun gel every day.

RIN: I was browsing the website and I realized "oh, that's what my mom would buy when my skin was itchy!" I didn't realize how many Rohto products I've used!

SUZUKA: That's why when we were approached for the collab, I was so excited. I didn't realize how many products Rohto made; I use so many of them in my daily life. I'm super thankful.

MIZYU: You were a huge Rohto supporter without even realizing it.

KANON: I feel like they've really taken care of me for a while.

Q. What were your impressions after the shoot?

SUZUKA: We were in the same pose for about an hour and a half. (Laugh) They were shooting from above, so everyone was trying to balance and we constantly felt like we were going to lose our footing.

RIN: But the result was an incredibly awesome and very greedy photo.

SUZUKA: You were too greedy with what you had on the desk!

MIZYU: SUZUKA had a rice ball that was bigger than her face. (Laugh)

SUZUKA: I used enough for three rice balls and it was way too heavy. I had to hold it for an hour and a half so my arm is sore now. (Laugh) I'm getting rice ball vibrations.

Q. Give a message to the viewers.

MIZYU: If there's something you want, go and get it now!

RIN: Before you lose sight of what you want, push forward with all your might and rush after it!

SUZUKA: Forgive yourself for being a little greedy sometimes!

KANON: It's okay to be greedy!

Group: Want More, Get More! MOTTO MOTTO MOTTO! This has been Atarashii Gakko! Bow! School's over!

Information

MOTTO MOTTO MOTTO / Want More, Get More.