A readable fish tank!? The very popular picture book, "Rainbow Fish" and AQUA PARK SHINAGAWA have started the collaborative event
A very popular picture book series which sold more than three million copies worldwide, "Nijiiro no Sakana" (Rainbow Fish / Kodansha) and AUQA PARK SHINAGAWA have started a collaborative event.
The picture book series, "Nijiiro no Sakana" depicts the process where the most beautiful fish in the world with rainbow-colored scales finds out the importance of sharing something with somebody else, fighting with courage and finding something that is important. It was created based on the theme of presenting important elements of childhood development centering around "friendship" and "kindness."
During the event, illustrations of "Nijiiro no Sakana" will be exhibited on the wall of exhibition area inside the aquarium. Also, illustrations of scenes from the eight picture books will be set up behind the fish tanks and fish illustrations based on the characters of the picture books will be exhibited so that customers can enjoy the story of the picture books while watching real colorful fish swim by.
Plus, they will sell cute goods such as picture books, stuffed toys, mug cups and pen cases at the shops inside the aquarium.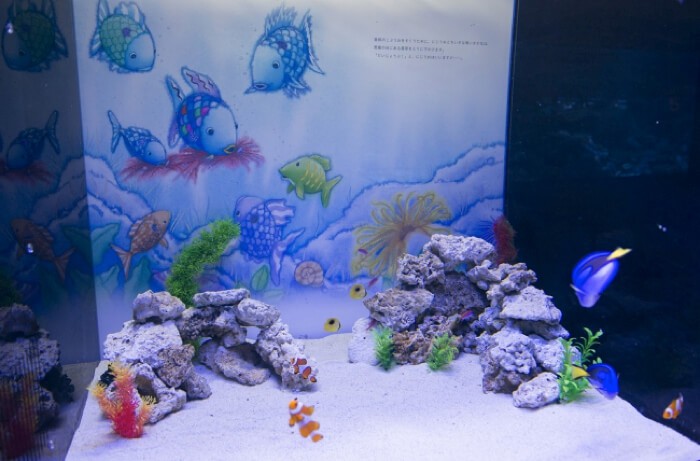 Let's enjoy the wonderful world of this "readable fish tank" at AQUA PARK SHINAGAWA!
◼︎Information
Nijiiro no Sakana × AQUA PARK SHINAGAWA collaborative exhibition
Address: 〒108-8611 4-10-30 (inside Shinagawa Price Hotel), Takawa, Minatoku, Tokyo
Business hours: 2017,10,07 (Sat.) to 12,25 (Mon.)
TEL:03-5421-1111 (audio guide)
RELATED ENTRIES
Inuyasha Spin-Off Anime 'Yashahime' Releases First Trailer, Promotional Exhibition to Take Place Across Japan

The first trailer for the upcoming TV anime series Yashahime: Princess Half-Demon is here. The anime, which will air from October 3, serves as a spin-off series of the anime adaptation of Inuyasha which originally ran from 2000-2004 and wrapped up with Inuyasha: The Final Act in 2010.

Confirmed cast members for Yashahime: Princess Half-Demon include Sara Matsumoto as Towa Higurashi, Mikako Komatsu as Setsuna, and Azusa Tadokoro as Moroha.

To promote the series, a series of exhibitions celebrating the history of Inuyasha will take place across Japan including Tokyo, Osaka, Nagoya, Fukuoka, and Niigata—the latter of which is the hometown of Inuyasha author Rumiko Takahashi. Merchandise will also be available for fans to buy.

The main visual for the exhibition

Details on tickets, merchandise, and the full content of the exhibition will be announced in the near future, so stay tuned.

ⒸRumiko Takahashi / Shogakukan・Yomiuri Telecasting Corporation・Sunrise 2009

Information

Inuyasha Exhibition

Tokyo Exhibition

Running: November 7, 2020 – November 23, 2020
Time: 10:00-21:00 (Last Entries 20:00)
Location: Ikebukuro PARCO 7F PARCO FACTORY
*Open until 18:00 (Last Entries 17:00 on November 23
*Advance tickets to be sold but are not required
*Opening hours subject to change depending on the COVID-19 situation at the time
*Exhibition subject to sudden changes, postponement, or cancellation depending on the COVID-19 situation at the time
*For the latest details and updates, check the event's official website and Twitter page

Niigata, Nagoya, Osaka and Fukuoka Exhibitions
Details TBA

TV Anime "Yashahime: Princess Half-Demon"
Initial Broadcast: October 3, 2020
Sunrise Official Website: http://hanyo-yashahime.com/
YTV Official Website: https://www.ytv.co.jp/hanyo-yashahime/

TV Anime The Rolling Girls Exhibition to Take Place in Tokyo This September

The Rolling Girls is an anime series produced by Wit Studio that aired in 2015. In celebration of the 5th anniversary of the girly, road movie-like series, the anime will be released in a special Blu-ray box in Japan on December 16, 2020.

The 5-year milestone will also be celebrated with an exhibition at Space Caiman in Tokyo from September 18 to 21. There will be illustrations and messages posted up from the anime's production staff, including the director Kotomi Deai, screenwriter Yasuyuki Muto, character designer tanu, and character setter Katsuhiko Kitada, and as well as the Mob themselves—the four main characters.

The event will be one no fan will want to miss out on as staff and fans come together to express their love for the series.

A special display will also be set up which will showcase drafts and production materials from when the anime was being produced.

This includes character illustrations, image boards, character settings, original works, background art, and more. Fans can also get their hands on some exclusive 5th anniversary merchandise too.

©2015 The Rolling Girls Production Committee製作委員会

Information

The Rolling Girls 5th Anniversary Book
Release Date: September 18, 2020
Price: ¥2,500 (Tax Included)
Size: B5
Pages: 40 (Full Colour)

The Rolling Girls Exhibition
Running: September 18, 2020 – September 21, 2020
Time: 12:00
Location: space caiman, 4-5-15 Nihonbashihongokucho, Chuo-ku, Tokyo
Entry Price: ¥800 (Tax Included)
*Information on tickets TBA

Official Website: rollinggirls.com

Studio Ghibli Exhibition to be Held in Aichi Prefecture This Summer

Aichi Prefecture and Chunichi Shimbun have revealed that they are to hold a Studio Ghibli exhibition at Aichi Prefectural Museum of Art from July 22, 2020 – September 3, 2020.

Yubaba wearing a Mask ©TS ©Studio Ghibli

The exhibition, called Ghibli no "Dai Janai" Hakurankai (Ghibli's "Not So Big" Exhibition), will be taking all necessary safety measures against COVID-19 to ensure people's safety.

Never before seen Ghibli material a must-see for fans

Ghibli Park's "Seishun no Oka" (Hill of Youth) Area ©Studio Ghibli

The exhibition will look back at Studio Ghibli's past as well as into the studio's future. Fans will be able to look at construction materials and sketches of Ghibli Park, a new Studi Ghibli themed facility set to open at Aichi Expo Memorial Park in autumn 2022, as well as dolls of the characters from the upcoming animated film Earwig and the Witch which is being written by Hayao Miyazaki and directed by his son Goro. The film was originally scheduled to premiere at the 2020 Cannes Film Festival before the event was cancelled due to COVID-19 and will now be aired by NHK this winter.

The Cat Bus from the Studio Ghibli Museum will also be showcased at the event; stills taken from Studio Ghibli's films such as Laputa: Castle in the Sky, Porco Rosso, Howl's Moving Castle, Princess Kaguya and more will be displayed; there will be a photo spot for taking photos, and much more.

Fans of Spirited Away will also be able to get their own omikuji fortunes from the giant Zeniba and Yubaba faces.

Information

Ghibli no "Dai Janai" Hakurankai (Japanese Name: ジブリの"大じゃない"博覧会)
Running: July 22, 2020 – September 3, 2020
Location: Aichi Prefectural Museum of Art Galleries A/B/H/I
Address: 1-13-2 Higashisakura, Higashi-ku, Nagoya, Aichi
Opening Hours: 10:00-16:00 (until 20:00 on Fridays) *Last entries 30 mins before closure
Closed: Mondays

Official Website: https://www.ghibli-daijanaiexpo.jp/

Japan's Pingu Exhibition to Take Place in Ginza Showcasing Lots of Noot Noot Treasures

This year marks the 40th anniversary of the Swiss claymation children's television series Pingu. Japan is celebrating the milestone with the "Pingu Exhibition" which will take place on the 8th floor of Matsuya Ginza in Tokyo from August 12 to 24.

Original material for Pingu by the show's creator Otmar Gutmann will be exhibited, as well as the actual clay figures, dioramas, storyboards, and more that were used during the filming in Switzerland. Many of the 400 or so items on display have never been shown in Japan before.

There will also be a recorded interview with Seishi Kattou, the only Japanese animator that was working in the Pingu studio at the time. But the fun doesn't end there, as there will even be an AR attraction made using CG and original animations from the Pingu in the City 3D CG film.

A peek into the exhibition

The secret story behind Pingu's creation

Visitors will be able to learn about the author Otmar Gutmann as well as see production materials, storyboards, and other treasured items that give insight into how the creator and studio gave rise to Pingu.

Exhibits: Notes from Otmar Gutmaan, storyboards, clay figures, dioramas, pilot episode screening, and more

The Clay Room

Pingu's iconic exaggerated elastic movements are made possible through the use of clay. These movements play an important part in conveying characters' emotions and are one element of the show's storytelling. These movements will be exhibited in the event's Clay Room where you'll get to see different models morphing into different shapes. These clay figures are all handmade by the Pingu studio staff themselves.

Exhibits: Clay figures, tools, Pingu studio videos, and more

3DCG Animation and Pingu in the future

Pingu in the City is a Japanese 3D CG animated series which used the same style of the original series but instead opted for computer animation, adding a different layer of charm to the internationally adored series. Visitors will be able to enjoy this digital Pingu in a variety of ways.

Exhibits: Digital videos, AR, and more.

There will also be exclusive Pingu exhibition merchandise on sale, as well as pre-sales of Pingu merchandise yet to go on sale.

Shin Sobue (Pingu Exhibition Art Director) | Comment

"This will be the first all-out exhibition for Pingu, a series which has transcended borders from Switzerland and the UK to Japan. This will be a happy exhibition that neatly divides everything for people to enjoy, from its mysterious language to its comical movements, story, and laid-back humour." (Translated from Japanese by MMN)

©2020 JOKER

Information

Pingu 40th Anniversary Exhibition
Running: August 12, 2020 – August 24, 2020
会場: 松屋銀座 8階 イベントスクエア 東京都中央区銀座3-6-1
時間:営業日、開場時間は松屋ウェブサイトをご覧ください。
*最終日は17:00閉場 *入場は閉場の30分前まで
電話番号:03-3567-1211(松屋銀座 大代表)

Official site:http://www.pingu.jp/40th
*展示内容等は変更となる可能性があります。

ピングーアニメ公式サイト:http://www.nhk.or.jp/anime/pingu/

DIOR FROM PARIS TO JAPAN Exhibition Shows Off Dress Line-Up Inspired by Japanese Culture

The DIOR FROM PARIS TO JAPAN exhibition at HANKYU Umeda Store in Osaka began on March 1 where it is set to run until March 22.

The collection features a complete line-up inspired by Japan's rich culture, from dresses serving haute couture to exquisite Lady Dior bags re-interpreted by various artists. This exhibition is a coming-together of DIOR and Japan and expresses savoir faire the way a maison should.

The exhibition is also home to a gift shop selling a range of different items. It also has an audio guide presented by Japanese actress and fashion model Yuko Araki and actor and model Ryusei Yokohama, both of whom were selected as Japan Fashion Ambassadors for this exhibition.

See the worlds of DIOR and Japan collide at DIOR FROM PARIS TO JAPAN.

Information

DIOR FROM PARIS TO JAPAN
Running: March 1, 2020 – March 22, 2020
Location: HANKYU Umeda Gallery (HANKYU Umeda Store Floor 9F)
Address: 8-7 Kakudacho, Kita, Osaka
Entry: Free

Official Website: http://bit.ly/DiorFromParisToJapan

Studio Ghibli Museum Photo Exhibition to be Held at HMV&BOOKS SHIBUYA in Tokyo

A photo exhibition will be held at the HMV Museum in Shibuya from March 6, 2020 for a limited time in promotion of the release of Studio Ghibli Museum's first official photo book, Ghibli Bijutsukan Monogatari ("The Story of the Ghibli Museum").

"Ghibli Bijutsukan Monogatari" Photo Book – ¥3,800 (Exhibition Pre-Sale: March 6, 2020 / General Release: March 20, 2020)

Photography is strictly forbidden at the Studio Ghibli Museum, but this exhibition gives a rare look inside without having to go inside. There will be panels of photos of both inside and outside the museum, a display of miniature figures of characters like the Robot from Laputa: Castle in the Sky, writings from Studio Ghibli film producer Toshio Suzuki, and more. The museum's popular photo spots will also make an appearance at the exhibition for taking a photo next to.

Exclusive Desk Calendar (*Limited to 500 people per day, first-come first-served)

Desk calendars will also be available, featuring the photos used at the exhibition.

Exclusive Exhibition Merchandise

Tote Bag – ¥2,000 / T-Shirt – ¥2,800 / Hanging Scroll – ¥30,000 / Photos (3 Designs) – ¥8,000 Each

Visitors will be able to get their hands on the photo book early at the exhibition, and those who buy it at HMV&BOOKS SHIBUYA will be invited to a signing and talk session on March 7, 2020 on a first-come, first-served basis. The signing will be attended by Kanyada and Toshio Suzuki, who will also be present at the talk event in addition to film director Ryutaro Nakagawa.

Exclusive merchandise will be sold at the exhibition. The exhibition itself encourages people to feel like a lost child, and its layout will reflect that without any set paths or routes.

Dive into the wonderful world of Studio Ghibli at the Ghibli Bijutsukan Monogatari Photo Exhibition.

*Please note that the number of people allowed to enter the exhibition will be restricted due to the ongoing situation surrounding the new coronavirus. This will widen the space between visitors and allow them to enjoy the exhibition in an uncrowded space. More details can be found on the official HMV Museum website.

Information

Ghibli Bijutsukan Monogatari Photo Exhibition

Location: HMV Museum (HMV&BOOKS SHIBUYA Floor 6F)

Running: March 6, 2020 – March 19, 2020

Opening Hours: 10:00-21:00 (Open from 17:00 on March 6, 2020)

Last Entries: 20:30

Entry Price: ¥500 (Tax Included) *Free for preschool children

Event Page (Japanese): https://www.hmv.co.jp/news/article/2002141000/

*Opening hours subject to alteration

*For more details, please check the event page above or HMV&BOOKS SHIBUYA's official Twitter page

NAKED SAKURA AQUARIUM: Cherry Blossoms and the Sea Come Together at Tokyo's Maxell Aqua Park

Maxell Aqua Park Shinagawa has announced the holding of a new exhibition entitled "NAKED SAKURA AQUARIUM" which will run at the Tokyo-based aquarium from March 1, 2020 to April 19, 2020.

Offering "cutting-edge Tokyo entertainment," the exhibition is combined music, lighting, and visuals with living beings. Using the latest in leading edge tech, visitors will be treated to a visual treat of animals living harmoniously with the season. The exhibition promises you will notice something new with each visit. Enter a world of spring like never before as cherry blossoms and the ocean come together through digital art.

Cherry Blossom Tayori

The entrance to the aquarium will be in full bloom with cherry blossoms. The water tanks in the centre will be perfectly pink and house madai snapper, a type of fish also nicknamed "sakura-dai" around this season.

Spilling Cherry Blossoms

This area will be like an atrium, with water tanks and showcases lined up beautifully next to each other and decorated with cherry blossom art flowers. The water tanks, which bring to mind the image of a "banquet," will house sakura-dai, sea goldie, and other fishes.

Dancing Cherry Blossom Garden

In the immersive Patterns area, you can see the "possibilities" of the four seasons as digital art works to combine a seasonal landscape with the sea creatures on display.

Also in the Dancing Cherry Blossom Garden will be Cape penguins who will put on a performance using their physical abilities. The performance, which is split into two parts, will make use of projection mapping. The first part will see the bloom of yaezakura cherry trees, while the second part will have jacaranda, also called the "purple cherry blossom," a flower that blooms in South Africa where Cape penguins originate.

Dolphin Performance Day Version – Cherry Blossom Dance

The daytime dolphin performance sees visitors gathering in the amphitheatre. This interactive performance is inspired by springtime banquets and Hanami flower-viewing. Enjoy seeing the dolphins dance high-speed to the rhythm of Japanese rock music.

Dolphin Performance Night Version – Cherry Blossom Story

The nighttime dolphin performance uses the water, lighting, visuals, and music to celebrate cherry blossoms in the evening. Enjoy a more delicate, but powerful performance from the dolphins, and see the flowers in all their beauty.

Jewellery Fish Rumble

The ceiling and walls of the spacious Jewellery Fish Rumble area all have reflective mirror surfaces. Countless pink and blue illuminations light up this evening cherry blossom-themed area, where you can enjoy a digital Hanami experience together with the jellyfish.

Katou Flower Lantern

The NAKED SAKURA AQUARIUM cafe and bar is adorned with a cylindrical water tank with illuminated coral. The cafe/bar is inspired by Katou, which is when the evening light feels like it is being lit up by fully bloomed cherry blossom flowers. The menu includes a selection of cherry blossom and matcha drinks, as well as a selection of sweet treats perfect for the Hanami season.

3 Dango & Mini Taiyaki – ¥500 (Red Bean Paste/Cream)

Sakura Mizu-warabi Rice Cake – ¥500

Enjoy a completely different kind of Hanami experience at Maxwell Aqua Park.

*Photos are for illustrative purposes only

Information

NAKED SAKURA AQUARIUM at Maxell Aqua Park Shinagawa

Running: March 1, 2020 – April 19, 2020
Address: Shinagawa Prince Hotel, 4-10-30 Takanawa, Minato Ward, Tokyo
Opening Hours: 10:00-22:00
Prices: General (High School Students and Older) ¥2,300 / Elementary-Middle School Students ¥1,200 / Children (4+ Years) ¥700
Exhibition Page: http://www.aqua-park.jp/special/snowaquarium2019/en_index.html

Maxell Aqua Park Shinagawa Official Website: http://www.aqua-park.jp/aqua/en/

Interview: Internationally Popular Japanese Artist Chocomoo Talks About Upcoming Harajuku Exhibition

A huge exhibition of Chocomoo's artwork is set to adorn WITH HARAJUKU HALL from August 20 to September 28 this year for "Chocomoo EXHIBITION -OUR SECRET PARTY- Supported by WITH HARAJUKU."

Chocomoo is a Japanese artist born and bred in Kyoto. Her work is known for its originality and pop style which she draws in black and white. Her work has been used for clothing and apparel brands, for music artists, and for many other special collaborations with other companies. She is active internationally and draws huge popularity with Japanese women between the ages of 10-20. We have translated an interview with her which was just released.

Chocomoo Interview

"I've loved drawing ever since I was a kid. I'd draw in notebooks, sketchbooks. When I went to New York for the first time, too, I kept a sketch diary and would draw in the park. I was later asked by a guy who managed a gallery if I'd put my work on at his site."

It was there at that gallery exhibiting several of her works that the first buyer came by.

"I sold my first piece of art. A piece of art drawn by an 'ordinary person,' not someone who was an active artist. It was about 30 dollars, if I recall, but I was super happy."

 

New York helped pave the way for Chocomoo to begin her first steps towards becoming an illustrator.

She would post her art on her blog and social media, which was seen by singers and songwriters who got in touch with her. She penned artwork for their tour merchandise, album covers, and more. Recently, she collaborated with Italian car brand FIAT. They released 100 limited edition cars with her art on it. Japanese convenience store FamilyMart even sold umbrellas with Chocomoo's illustrations on them. The reach of her work has no limits.

"When I create a piece, I incorporate a lot of positive words into it in the hopes that it lifts people up."

One distinct aspect of Chocomoo's art is the black and white monotone colouring. When asked why she draws in this way, she said: "I did calligraphy from elementary school to high school and was captivated by how we would write in black. When using black ink, it has a matte look to it, and when using black paint, it's got a glossiness. I think that's part of the reason why I do it."

This will be Chocomoo's biggest exhibition. She is currently working on new material and looking into the details of the exhibition. Speaking about it, she said: "I want to try evolving in a way that's me. I'm aiming to stimulate the people who come to see my work in a different kind of way."

She also commented on the 'OUR SECRET PARTY' part of the exhibition title. "It's an exhibition of my work, but I want everyone to enjoy it like they would a party. There's also new things to be discovered which you won't no about unless you visit, so I put 'secret' in there."

 

Chocomoo was asked to give a comment on her future plans and goals. She said, with a smile: "I want to steadily keep doing what I'm best at without changing what I already have, but I also want my work to reach lots of children too. I'd be happy for them to colour in my work, and I want to challenge myself to making some kind of video format aimed at kids. After that, since I've already painted a car, I want to go bigger and paint an aeroplane!"

Interview/Original Text: Naho Sotome (五月女菜穂)

Photos: 大黒屋 Ryan 尚保

English Translation: Joshua Kitosi-Isanga

As Chocomoo looks to expand her portfolio and reach, we look forward to seeing what she has in store for her exhibition in Harajuku.

©2020 Chocomoo

Information

Chocomoo EXHIBITION -OUR SECRET PARTY- Supported by WITH HARAJUKU
Running: August 20, 2020 – September 28, 2020
Location: WITH HARAJUKU HALL (1-14-30, Jingumae, Shibuya, Tokyo) *Building under construction at the time of posting this article
Exhibition Website: http://chocomoo-exihibition.com/

Andy Warhol Exhibition in Kyoto: Select Major Artworks Revealed

An exhibition centred around Andy Warhol, the American artist who was at the forefront of the pop art movement, is set to roll up to the Kyocera Museum of Art in Kyoto from September 19, 2020. Around 200 pieces of art will be showcasedーover 100 of which have never been displayed in Japan beforeーas well as 15 video art pieces.

Three Marilyns (1962), Andy Warhol. The Andy Warhol Museum. *First showcasing in Japan

All of the pieces to be shown at the exhibition are the property of The Andy Warhol Museum, which is located in Pittsburgh, Pennsylvania in the US, where Warhol was born.

The Last Supper (1986), Andy Warhol. *First showcasing in Japan

Tunafish Disaster (1963), Andy Warhol. *First showcasing in Japan

Peacock (1957), Andy Warhol. *First showcasing in Japan

The line-up displays Warhol's diverse works, including his highly treasured Three Marilyns, as well as Tunafish Disaster from his Death and Disaster series, the enormous The Last Supper piece, Peacock which makes use of the Japanese style of gold leaf art, and more.

Kyoto (Kiyomizu-dera) (1956), Andy Warhol.

The exhibition will also turn its attention to Warhol's connections to Kyoto which haven't been discussed before. It will feature Warhol's sketch of Kiyomizu-dera in Kyoto which he drew during his trip around the world.

*All pieces are property of The Andy Warhol Museum

© The Andy Warhol Foundation for the Visual Arts, Inc. / Artists Rights Society (ARS), New York

Witness the Breathtaking Illuminations and Tokyo City Night Lights at Shinagawa Season Terrace Illumination 2019

Shinagawa Season Terrace Illumination 2019 is set to run from December 1 to 25.

The event will take place at Shinagawa Season Terrace, a towering office building in Tokyo, where the rolling grass lawn will be lit up beautifully with enchanting blue lights. They offer a breathtaking view against the city nightscape of Tokyo's skyscrapers. Last year's event saw nearly 17,000 people in attendance.

2019 marks the 4th run of the event, and this year, the long staircase leading up to the lawn will also be lit up, welcoming visitors to see the illuminations from their first step upon arrival. The lights will flicker in 10 different patterns from the first floor (ground floor) up to the second.

Entry is free, and visitors will be able enjoy an unbroken view of the structural spectacle that is Tokyo Tower too. If you're in Tokyo this December, be sure to mark Shinagawa Season Terrace Illumination 2019 in your calendar for the holiday season.

*Pictured photos are for illustrative purposes only

Information

Shinagawa Season Terrace Illumination 2019

Running: December 1, 2019 – December 25, 2019

Time: 17:00-22:00

Location: Shinagawa Season Terrace (1-2-70 Konan, Minato Ward, Tokyo)

Access: 6 minutes on foot from Shinagawa Station's Konan Exit (JR Line side)

Entry: Free

Event Website: https://sst-am.com/

*The event will take place if there is light rainfall but will be suspended in the case of stormy weather

Official Touken Ranbu Event to be Held Across Japan to Celebrate Game's 5th Anniversary

The key visual for the upcoming "Touken Ranbu Honmaru Haku 2020" event has been released. The event will take place across Japan, including Sunshine City in Ikebukuro, Tokyo from January 5 to 19 next year in celebration of the online browser and mobile game's 5th anniversary.

The event was first held in 2017 to celebrate two years since the game's release where it was taken to 5 cities around Japan. This new event promises to be even bigger and better than before, with each room having its own theme. It will be a coming together of everything encompassing the franchise, including the anime, stage play, musical, film and more. After Ikebukuro, it will head to Osaka, Aichi, Fukuoka, Hiroshima, Niigawa, Ishikawa, and elsewhere. More dates and details are to be announced.

All tickets are designated to specific time slots for each day. Pre-sale tickets for Ikebukuro opened on October 25 will close on October 31, so don't miss out.

Information

Touken Ranbu Honmaru Haku 2020

Running: January 5, 2020 – January 19, 2020

Time: 10:00-19:00

Venue: Ikebukuro Sunshine City Exhibition Halls A & B (3-1 Higashi-Ikebukuro, Toshima Ward, Tokyo)

Entry Price: ¥2,000 (Tax Included) / With Folder ¥2,600 (Tax Included)

*Same-day and advance ticket prices are the same

Event Website: http://honmaruhaku2020.jp

Shibuya PARCO Refurbishments Reveal Collaboration Exhibitions With AKIRA, AUTO MOAI, JUN INAGAWA And More

The new fully refurbished Shibuya PARCO shopping complex is set to reopen on November 22, 2019. When Shibuya PARCO closed for renovations in 2016, GALLERYX BYPARCO was moved to Spain-zaka in the centre of Shibuya. This November, GALLERY X will return to its home on the basement floor 1 of the shopping complex. 

The first opening exhibition of GALLERY X is titled "AKIRA ART OF WALL Katsuhiro Otomo × Kosuke Kawamura AKIRA ART EXHIBITION" which will see an entire wall decorated in a collage of art by manga author and film director Katsuhiro Otomo and his legendary series AKIRA until May 2020. 

The art wall is in fact a relocation of the AKIRA art wall that has existed at the infrastructure building site in Shibuya for almost two years. Parts of it was damaged over time, and so it will resurface at PARCO MUSEUM TOKYO on the 4th floor of the new Shibuya PARCO. That's not all: there will also be valuable original works displayed as well as posters, 3D model recreations of things seen in AKIRA, the series soundtrack by Geinoh Yamashirogumi playing, 3D attractions where you can interact with a futuristic "Neo Tokyo" and much more. 

AUTO MOAI (December 2019)

Kazuki Iio (Zun) (December 2019)

Misaki Tanaka (February ー March 2020)

JUN INAGAWA (April 2020)

The first exhibition will be followed by a strong lineup of exhibitions. The exhibition areas will be filled with a wide range of attractions, making it appealing for a wide range of people with different tastes. 

* The above information and dates are subject to change at any moment without prior notification.

GALLERY X is full of originality and is a source of the latest entertainment culture so please check it out. 

Information

GALLERY X

Address: Shibuya PARCO floor B1, 15-1 Udagawacho, Shibuya, Tokyo

Opening Hours: 11:00 ー 21:00

Official Website: art.parco.jp/