MOSHI MOSHI NIPPON FESTIVAL 2018 to be held in Shibuya!
Every year, we here at MOSHI MOSHI NIPPON hold one of Tokyo's biggest festivals: "MOSHI MOSHI NIPPON FESTIVAL in TOKYO." We're happy to announce that the next MOSHI MOSHI NIPPON FESTIVAL will be held on Saturday March 24th and Sunday March 25th next year.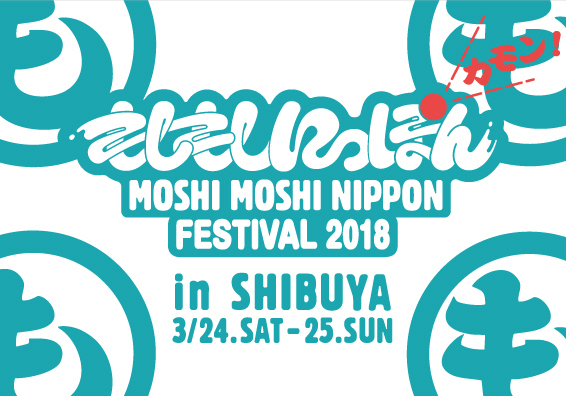 Until last year, the event was routinely held at Tokyo Metropolitan Gymnasium in Setagaya. But that is about to change, as next year's festival will be held in Shibuya centered around Harajuku! "MOSHI MOSHI NIPPON FESTIVAL 2018 in SHIBUYA" will be even bigger and better as we deliver to the world Japanese culture from Shibuya and Harajuku.
MMN Festival 2018 will taken place across a huge list of shops, venues and more around the Shibuya and Harajuku area. You'll be able to witness and experience Japanese culture to the fullest – from music to fashion, food, kawaii and traditional culture, tourist information and more – at various locations around town. For more details, be sure to keep up to date with our website and don't forget to follow us on our social media pages.
We look forward to seeing you in Shibuya and Harajuku on March 24th-25th for a new kind of Japanese festival!
RELATED ENTRIES
Giant 1/6 Scale Tokyo Ghoul Figure to be Sold at Tokyo Otaku Mode TOKYO in Shibuya PARCO

Tokyo Otaku Mode Inc. is set to display and start taking orders for a new 1/6 scale figure by Figurama from Sui Ishida's hit manga and anime series Tokyo Ghoul. Available in Japan only, it will be sold at the new Tokyo Otaku Mode TOKYO store from November 22 at 10:00am at the new Shibuya PARCO shopping complex.

Figurama is a Hong Kong-based figurine maker which has crafted many figures from popular titles such as Attack on Titan, Hellsing, Devilman, and Trigun, to name a few. The standout characteristic of their work is the size of their figures, the composition, and how detailed the figures are despite being so large.

The Tokyo Ghoul figure set to appear at Tokyo Otaku Mode TOKYO stands 63cm high, 44cm wide, and 35cm deep. It features series protagonist Ken Kaneki versus Yamori, who made Kaneki's hair turn white.

Only 800 of these figures have been made, of which Tokyo Otaku Mode TOKYO will sell 40, making them an extremely rare and limited edition collectors items. Perfect for any fan of the hit series!

©Sui Ishida/Shueisha・Tokyo Ghoul Production Committee

Information

TOKYO GHOUL: KANEKI VS YAMORI 

Maker: Figurama
Series: Elite Fandom
Scale: 1/6 

Materials: Ecofriendly Polystone, Translucent Resin, PU, LED 

Size: 63cm x 44cm x 35cm
Price: ¥100,000 (Tax excluded, shipping charge included)

Figurama Official Website: https://figurama-collectors.com/ 

Brightburn Horror Film Japan Release Promoted With Supervillain March in Shibuya

In May this year, US-based film production and distribution company The H Collective partnered with Japanese e-commerce company Rakuten to establish Rakuten H Collective Studio and the distribution company Rakuten Distribution. It has been announced that the first film they will release, together with Toho-Towa Distribution, will be Brightburn on November 15, 2019.

Brightburn is an American supervillain horror film directed by David Yarovesky and produced by James Gunn and Kenneth Huang. The movie is an amalgamation of genres including horror, sci-fi, suspense and drama. The global hit song bad guy by Billie Eilish serves as the movie's credit roll theme.

The film tells the story of Tori Breyer (Elizabeth Banks) whose struggles with fertility are lifted and her dreams for motherhood come true when a mysterious baby boy appears to her. Things take a turn for the worse however as darkness begins to manifest itself in the child, Brandon Breyer (Jackson A. Dunn), and he begins to act out his deviant urges.

In promotion of the film, an army of 48 people dressed as Brightburn marched through the streets on Shibuya on Wednesday. They called themselves BBK48, a pun on the Japanese idol group AKB48, with "BBK" standing for Brightburn Kyoufu no Kakusancha ("Fear Spreading Collective"). They began on Koen Dori Street and made their way to Shibuya's famous Scramble Crossing, weaving in and out of the crowd who reacted in fear and surprise at the red-cloaked band of baddies. Many photos were taken by passersby and posted onto social media.

They continued along Basketball Street (Center-gai Shopping Street), catching everyone off guard as they marched in unison.

Have you seen Brightburn yet? Let us know what you thought on Twitter or Facebook.

©The H Collective

Information

Brightburn

Release Date: November 15, 2019 (Japan)

Producers: James Gunn/Kenneth Huang

Director: David Yarovesky

Starring: Elizabeth Banks, David Denman, Jackson A. Dunn, and more

Publishers: Rakuten Distribution/Toho-Towa Distribution

Official Website (Japanese): https://www.rakuten-movie.co.jp/brightburn/

BABYMETAL Collaborates On Fashion Designer Yohji Yamamoto's Ground Y Collection

2019 is the year of BABYMETAL, with their latest album METAL GALAXY having dropped in October and making them the highest Japanese group/artist to place on the Billboard Top 200 in the US in 56 years. As they continue knee-deep in their ongoing world tour, you might be wondering what else they have in the pipeline.

Well, we can confirm that for you right here and now: they have teamed up with internationally-lauded Japanese fashion designer Yohji Yamamoto on his revolutionary Ground Y collection which boasts a genderless and ageless style.

Pre-sales of the collection will take place at the new Shibuya PARCO which is set to open on November 22. This will be followed by sales at GINZA SIX, Laforet Harajuku, and the online store THE SHOP YOHJI YAMAMOTO.

The collection will bring together the unique world of BABYMETALーa band which has won love the world over and has featured as guest acts on many tours of international artistsーand Yohji Yamamoto, a rebel and innovator in the fashion industry whose DNA is woven into the Ground Y line. The inspiration for this jet black collaborative collection is "galaxy," an homage to BABYMETAL's latest record METAL GALAXY.

There are numerous items in the collection, including a jumbo cut and sewn embroidered with both the BMD FOX APPAREL logoーBABYMETAL's official apparel brandーand the Ground Y logo. There's also a big hoodie featuring a 360° print and BABYMETAL's logo, a draped silk satin long shirt, and more.

MASATOSHI YAMASHIRO snapped the photos in this photoshoot, a Tokyo-based photographer who started his career in LA and New York and works with fashion magazines, advertisements, and more.

Information

Ground Y feat.BABYMETAL "GALAXY" Collection

Items: Long Shirt / Shirt Dress / Jumbo Cut & Sewn / Big Cut & Sewn / Big Hoodie / Big Sweater

Prices: Cut & Sewn ¥25,000-¥28,000 / Hoodie ¥35,000 / Sweater ¥38,000 / Shirt Dress ¥110,000-¥120,000 (All prices tax-excluded)

Release Date: November 28, 2019 (Pre-sales bein at Ground T Shibuya PARCO on November 22, 2019)

▼SHOP INFO:

Ground Y GINZA SIX (Floor 4F, 6-10-1 Ginza, Chuo Ward, Tokyo)
Ground Y LAFORET HARAJUKU (Floor 1F, 1-11-6 Jingumae, Shibuya, Tokyo
Ground Y FaSoLa STARS (Narita International Airport 1, Passenger Terminal Central Building Floor 3F, Narita, Chiba)
Ground Y SHIBUYA PARCO (Floor 2F, 15-1 Udagawacho, Tokyo) *Opens November 22, 2019
THE SHOP YOHJI YAMAMOTO: http://theshopyohjiyamamoto.jp/JP/shop/c/c20

Masaki Aiba & Jun Matsumoto Take Over Shibuya Station Billboards in New Promo Ads

Meiji plastered up some new billboard advertisements for their Meiji Oishii Gyunyu milk and Meiji Milk Chocolate products at Shibuya Station on Monday.

Actors and singers Masaki Aiba and Jun Matsumoto were chosen to be part of the ad promos for the products respectively.

The advertisements will also feature back-to-back in the Saturday November 9 issue of Japanese newspaper Yomiuri Shimbun where they have both written columns about what they like about their chosen products.

The pictures in this photoshoot were also released as downloadable wallpapers on Tuesday. Links below!

Laforet Harajuku Announces 2019 Christmas Market, Menu & More

Laforet Harajuku is set to hold LAFORET CHRISTMAS 2019 from November 15 to December 25. Stores throughout the shopping centre will sell various holiday season fashion items that make perfect Christmas gifts, and up on the second floor at GOOD MEAL MARKET, you can look forward to the Laforet Christmas Menu.

All customers who spend over ¥3,000 (tax included) from November 15 onward will receive an original mirror, and those who spend over ¥5,000 (tax included) from December 14 onward will receive an original handkerchief. Both of these items will be available on a first-come, first-served basis until December 1 at Dinalog in Laforet Museum Harajuku.

Additionally, the main Christmas visual for this year's event was designed by Japanese art director YUNI YOSHIDA.

A two-day market will take place on Saturday December 14 and Sunday December 15 in Laforet Museum Harajuku titled Laforet Market vol.9 "Christmas."

CHRISTMAS GIFT

If you're searching for the perfect surprise gift to friends, family, a special someone or yourself, you're bound to find a fitting match for them during the event as stores in Laforet Harajuku display their Christmas goods in their windows.

Kailijumei/5F

Kailijumei 2019 Christmas Coffret – ¥5,500 (Tax Included)

Charles Chaton/4F

Flower Frill Cushion – ¥5,500 (Tax Included)

JUEMI Syncretic/1F

e.m.OrganicCollegeStarRing – ¥24,200 (Tax Included)

Les Merveilleuses LADURÉE/1F

Limited Edition Rose Ladurée – ¥13,200 (Tax Included)

CHRISTMAS FOOD "Laforet Christmas Menu"

"Pink" is the themed of the Christmas menus being whipped up at Laforet's restaurants.

Chipoon /2F

Tomato Soy Milk Cream Noodles – ¥935 (Tax Included)

This vegan noodle dish combines the full-bodied taste of soy milk with refreshing tomatoes to create a tempting mild flavour.

machi machi /2F

Strawberry Cheese Tea (Taro Topping) – ¥858 (Tax Included)

A fusion of Jasmine green tea and fresh strawberries to create a unique and delicious beverage.

Cafe de paris /B1F

Kumono Smoothe – ¥605 (Tax Included) / Whipped Cream Topping +¥110 (Tax Included)

Cafe de paris opened on November 1 and will be selling their exclusive cute drinks.

Laforet Market vol.9 "Christmas"

The Laforet Market is an opportunity for 40 shops to come together to sell fashion, food and miscellaneous Christmas goods. There will be workshops carried out be creators and artists, performances, and more.

If you'll be in Harajuku the holiday season then don't pass up the opportunity to visit Laforet Harajuku this Christmas.

Shibuya PARCO's AKIRA ART OF WALL AKIRA ART EXHIBITION Merchandise Revealed

The new Shibuya PARCO shopping complex is set to open on November 22, 2019. It will house the new PARCO MUSEUM TOKYO (floor 4) and GALLERY X (floor B1), both of which aim to promote art and culture to the people of Tokyo. Both venues are home to the AKIRA ART OF WALL Katsuhiro Otomo × Kosuke Kawamura AKIRA ART EXHIBITION.

The unmissable ART WALL is covered in illustrations from the legendary manga series AKIRA, which was written by manga author and film director Katsuhiro Otomo, who stands at the forefront of the manga scene in Japan. The ART WALL was reconstructed in collaboration with collage artist Kosuke Kawamura. Details on the merchandise and entry process have been announced. 

Exhibition Merchandise

T-Shirt: ¥4,000 (Before Tax)

Long-Sleeved T-Shirt: ¥6,000 (Before Tax)

iPhone X/XS Case: ¥3,500 (Before Tax)

There will be a large number of commemoration merchandise to celebrate the opening of the exhibition. Each person can purchase up to four items per entry. This includes the same item of different sizes. A ticket must be for the exhibition in order to purchase merchandise. 

Exhibition Commemoration Book Set

AKIRA ART OF WALL Set of 4 Accordion Fold Books (comes in a special box)

The first three books display the different areas the of the AKIRA collage during Shibuya PARCO's renovation project. The fourth book contains the actual project itself with pictures by TAKAMURADAISUKE and includes both a discussion between and individual interviews with Katsuhiro Otomo and Kosuke Kawamura. Each book was specially designed by Katsuhiro Otomo and Kosuke Kawamura down to the covers. These books are filled with high quality and unparalleled designs. 

AKIRA ART OF WALL

Price: ¥10,000 (Before Tax)

Authors: Katsuhiro Otomo, Kosuke Kawamura

Book Set of 4 (3-Set Accordion fold book series on the making of the ART WALL + Interview Book) 

Comes with an A2 Poster

  

Collaboration Merchandise

AKIRA ART OF WALL × nana-nana

AKIRA ART OF WALL × nana-nana

AKIRA PVC A5: ¥9,500

AKIRA PVC A4: ¥10,500

AKIRA OPAQUE A5: ¥11,500

AKIRA OPAQUE A4: ¥12,500

AKIRA iPhone Case: ¥6,800

This is just a small selection of merchandise available at the exhibition. Fans will not be able to control themselves upon stumbling into the collaboration-limited merchandise goldmine.

Tickets for entry between November 22 and December 1 will be selling on a first-come, first-served basis on the ticket website E Plus. Depending on how many tickets are sold in advance, it may be possible to buy tickets on the door. This will be clarified nearer to the time.

©MASH・ROOM/KODANSHA ©Kosuke Kawamura ©︎AKIRA ART OF WALL EXHIBITION

Information

AKIRA ART OF WALL Otomo Katsuhiro × Kosuke Kawamura  AKIRA ART EXHIBITION

Location: PARCO MUSEUM TOKYO (Shibuya PARCO Floor 4)

Running: November 22 – December 16 (10am  – 9pm)

GALLERY X(Shibuya PARCO Floor B1) November 22, 2019 – December 8, 2019 (11am – 9pm)

* Last entry at both venues is 6pm on the last day)

*Entry to PARCO MUSEUM TOKYO is 30 minutes before closing time on all days)

Entry prices: ¥1,000 (General Entry), ¥800 (High School and Under), Free for Pre-School and Under

*E Plus tickets will sell from 12pm on November 2.

* Visitors who purchase advanced tickets will receive a logo sticker.

Official Exhibition Website: https://art.parco.jp/museumtokyo/detail/?id=299

 

Advanced Tickets

Tickets: Advanced tickets will include a specified date and time slot.

Selling Period: November 2 (12pm) until 6pm on the day of entry 

Entry Date/Time Slots: November 22 (10am) – December 1 (8pm)

Entry prices: ¥1,000 (General Entry), ¥800 (High School and Under), Free for Pre-School and Under (Tax Included)

*Tickets are valid for entry to both the  PARCO MUESEUM TOKYO venue and GALLERY X venue.

Show your Advanced Ticket to the staff upon arrival to receive your free logo sticker.

*Stickers will not be given to those who purchase tickets on the door or children who are Pre-School-aged or under. 

 

Ticket Website: https://eplus.jp/akiraten/

Ticket Enquiries: http://support.eplus.jp/

PARCO Art Official Website: https://art.parco.jp/

New South Korean Cafe 'Cafe de paris' Opens in Laforet Harajuku

In South Korea, which has been dubbed "a cafe battleground," one particular cafe called Cafe de paris has stood out from the rest for their visually impacting fruity desserts. This immensely popular chain is now heading to Laforet Harajuku with a new branch opening on November 1.

Cafe de paris first appeared in Japan back in February this year, with its eye-popping "Bon Bon" parfait series attraction a great deal of attention for its Instagram-worthy appearance. In just six months, it exceeded 100,000 customer visits. The cafe, however, was only open for a limited time. But that's about to change, as Laforet Harajuku welcomes the country's first permanent branch.

The cafe interior takes on a light blue and white colour scheme, with table and counter seats lining the room and gorgeous chandeliers adorned overhead.

Kumo Smoothie – ¥594 (Tax Included)

To commemorate its opening, the new shop has developed a new item exclusive to the Laforet Harajuku branch: the "Kumo Smoothie." Inspired by fluffy clouds, this fruit-packed smoothie comes in a pink strawberry milk flavour and blue sky-coloured soda flavour.

And of course, Cafe de paris's famous fruit-topped Bon Bon parfaits will be sold too, with the upper part of the parfait towering 20m high. There are 5 seasonal fruits to choose from, such as strawberry, mango and grape.

Cafe de paris has plenty of cute must-buy goodies for customers to enjoy, so if you're in Japan, why not take the opportunity to try out something popular in South Korea  too while strolling around Harajuku?

Information

Cafe de paris

Address: Laforet Harajuku Floor B1F, 1-11-6 Jingumae, Shibuya, Tokyo

Grand Opening: November 1, 2019

Opening Hours: 11:00-21:00

TEL: 03-6447-0084

No Fixed Holidays (Except when Laforet Harajuku is closed)

Official Website: http://www.cafedeparis.jp/

The Pompompurin Cafe's New Autumn Dessert Will Warm & Fill You Up

If you've not yet been to the Pompompurin Cafe, or this is your first time hearing about itーthemed entirely on Sanrio's popular character Pompompurinーthen their two new menu items, available this autumn for the entire month of November, is sure to pull you in.

As the leaves turn red and gold and people order pumpkin spiced lattes for takeout, the Harajuku, Yokohama and Umeda branches of the Pompompurin Cafe want to get in on the autumnal action too. So they have created a special chicken stew and fruit gratin, served as colourful as the season itself is and perfect during any time of the day when your belly is calling for nutrition.

Chicken Brown Stew: Strolling Along While Looking at the Autumn Colours – ¥1,290 (Before Tax)

This chicken stew features Pompompurin and his best friend and hamster Muffin. The dish depicts a scene of both of them strolling and getting along while looking at the autumn leaves. Purin is made from rice and sits inside the rich stew while a mashed potato Muffin perches on top of him wearing his hat.  They are surrounded by carrots and other veggies made to look like the vibrant leaves of Japan's maple and ginkgo trees.

Fruit Gratin: Hot Spring Warm-Up – ¥1,090 (Before Tax)

If you're looking to satisfy your sweet tooth but also want to warm up then look no further than at Pompompurin and Muffin relaxing together in the hot spring that is this fruit gratin dessert. Purin is made from pumpkin flavoured ice cream while Muffin is of the vanilla kind. They are warming themselves up in a fruit-packed custard cream sauce. The fruit is drizzled in sauce and cooked to make the fruit even sweeter and intensify its flavour. Did you see the cute towels on their heads too? Many people do this in Japan when getting into the hot spring (or "onsen"), and you might have seen it if you watch anime too.

The fall fun doesn't stop there however, as all people who dine at the cafe will receive the lunch mat pictured below, and everyone who orders a drink will get a coaster. Available while supplies last.

Lunch Mat (3 Designs)


Coaster (1 Design)

Stay warm while its cold at the Pompompurin Cafe this autumn.

©1996, 2019 SANRIO CO., LTD. APPROVAL NO.S602780

Information

Pompompurin Cafe

Official Website: http://pompom.createrestaurants.com

■Pompompurin Cafe Harajuku

Address: CUTE CUBE HARAJUKU 3F, 1-7-1 Jingumae, Shibuya, Tokyo

Opening Hours: 11:00-21:00 (Food Last Orders 20:00 / Drinks Last Orders 20:30)

Access: 3-minutes on foot from the Takeshita Exit at Harajuku Station

TEL: 03-5786-0770

■Pompompurin Cafe Yokohama

Address: Yokohama Sotetsu Square, 2-1-5 Minamisaiwai, Nishi-ku, Yokohama-shi

Opening Hours: 10:00-21:00 (Last Orders 20:30)

Access: 5-minutes on foot from West Exit at Yokohama Station via JR

TEL: 045-311-6750

■Pompompurin Cafe Umeda
Address: Hankyu Sanbangai South Wing B2F, 1-1-3 Shibata, Kita-ku, Osaka-shi
Opening Hours: Weekdays 11:00-22:00 (Last Orders 21:30) / Weekends & Holidays 10:00-22:00 (Last Orders 21:30)
Access: 3-minutes from Osaka Station via JR
TEL: 06-6292-7140

Eat & Drink in Harajuku at MOSHI MOSHI ROOMS' Rooftop BBQ

Since opening in Harajuku last year, MOSHI MOSHI NIPPON's ultra-kawaii hotel MOSHI MOSHI ROOMS has been the talk of the town. We are here to announce a new BBQ plan for guests which is held on the hotel rooftop and which you can attend empty-handed.

MOSHI MOSHI ROOMS is only an 8-minute walk from Harajuku Station. You'll know you've arrived when you spot our neon sign pictured above. It's on the roof of this building you can look forward to getting your teeth into a delicious BBQ and chugging down drinks.

The rooftop design takes on a pop appearance, mixing blue with yellow. This cute design alone is enough to get you excited for what's to come. And since there are no tall buildings around us, you get a great view of Harajuku from below.

The BBQ plan comes equipped with everything you need: a fire, plates, cups, ingredients, and alcohol. We have a great option of drinks, including beer, wine, whisky, and soft drinks. There's also a beer server so you can enjoy your beer nice and frosty. If we don't have a drink you'd like, you can bring your own too. There's a FamilyMart and other shops nearby, so head there to stock up.

BBQ Set – ¥6,000 Per Person (Before Tax) *Photo is a select portion example for 5 people

For grub, our lineup includes meat, fish, egetables, fried onigiri, and sweets. There's Japanese beef too, as well as Japanese chicken, pork, lamb, sausage, and more. We prepare the most delicious ingredients for the current season. There's a lot of different meats to choose from, so rest assured you won't go hungry.

All the food is seasoned for you, so you can drop it all on straight away and get straight to eating.

Make a toast with your drinks and tuck in! The wagyu beef is nice and plump once it comes off the fire. One bite of the soft meat will treat your taste buds to a luxurious sweetness and the meat's delightful juices.

The chicken is seasoned sweet and spicy. It has a crunchy exterior and soft inside. The lamb is seasoned well too and has that distinct deep flavour lamb has.

Our fish and vegetables are all in season too. The fish pictured above is salmon cooked in foil and seared skipback tuna. The salmon is seasoned with butter and soy sauce. All of the delicious flavour of the skipback tuna is intensified while prepared on the fire, and the inside is sumptuously tender. It's seasoned with citrus soy sauce.

This here is giant okra which I tried for the first time. Giant okra is in season right now too. It's a lot more elastic than your regular size okra and has a juiciness when you bite into it.

I was so full already… until dessert arrived! These is a dessert sweet potato roasted on the fire.

I topped it with vanilla ice cream and tea flavoured ice cream before sprinkling on cornflakes to finish.

The mix of the hot potato and cold ice cream is a match made in heaven inside your mouth. The roasted sweet potato has a subtle sweetness which mixes perfectly with the creamy ice cream. I originally thought I was full but there's always room for dessert.

There are parasols too in case it rains. You can even rent out tents from the hotel if you like.

If you're looking to stay in Harajuku, come and see us at MOSHI MOSHI ROOMS and enjoy a BBQ with a rooftop view of Harajuku.

Writer: Sayuri Mizuno (MOSHI MOSHI NIPPON)

Translator: Joshua Kitosi-Isanga

Information

MOSHI MOSHI ROOMS BBQ Plan

Address: 2-18-7 Jingumae, Shibuya, Tokyo

Price: From ¥6,000 Per Person (Reservations Available)

Set Ingredients:

・Meat: Wagyu beef and other meats in season

・Fish: In season fish

・Vegetables: In season vegetables

・Other: Fried Onigiri, Satsuma Sweet Potato Dessert

・Drinks: 1 Beer Server, White Wine, Red Wine, Whisky, Shochu, Tea, Water, Orange Juice, Cola (soft drinks are served in 2ltr bottles)

Set Equipment:

・Grill, BBQ, Tongs, Plates, Cutlery, Cups

Reservation/Enquiries: info@moshimoshi-nippon.jp

*Prepared ingredients will differ from season to season

10 Things You Can Do at the MOSHI MOSHI ROOMS Hotel in Harajuku | Birthday Party Edition

MOSHI MOSHI ROOMS is a hotel accommodation service run by MOSHI MOSHI NIPPON located in Harajuku and bookable via Airbnb. Our hotel isn't just popular for sleep, however: it has become a hot spot with stylish girls who get together and use it as a party space.

This is the Birthday Edition of our Top 10 list of things you can do at MOSHI MOSHI ROOMS. Enjoy a very special birthday in Harajuku you'll never forget!

Girls' Night In Edition: https://www.moshimoshi-nippon.jp/262308

⑤Get your hair and eyelashes done at Harajuku's popular salon L by HOME for your special day

L by Home is a popular salon in Harajuku that's just a 2-minute walk from MOSHI MOSHI ROOMS. The salon offers a special plan in collaboration with MOSHI MOSHI ROOMS.

If you book a room at MOSHI MOSHI ROOMS you can receive a special price at L by HOME. Celebrate your special hair by getting a cute hair arrangement and eyelash extensions. The extensions come in different colours depending on which room you book at the hotel, be it SAKURA or ORIGAMI. You will receive a message about it after booking on Airbnb.

▶︎Hair Arrangement

Price: ¥3,000 per 30 minutes

*Shampoo is available at an extra cost

▶︎Eyelashes

Price: ¥10,000 per hour

Service: The base colour is brown and you can pick an additional colour of your choice

SAKURA Colours (brown×cotton, aqua, pink, magenta)

ORIGAMI Colours (brown×burg, lite brown, purple, gold)

▶︎L by HOME

Address: 2F, 3-27-15 Jingumae, Shibuya, Tokyo

TEL: 03-5411-0366

Opening Hours: Hair Salon 11:00-21:00 (10:00-19:00 on Sundays & holidays) / Eyelash Lason 11:00-20:00 (10:00-19:00 on weekends & holidays)

URL:http://l.home-harajuku.com/

⑥Adorn your hotel room with cute decorations

Guests are free to use rooms as they please, so be sure to decorate it for the big day with cute decorations, so long as you use tape that doesn't damage the walls or furniture. There are lots of shops in the Harajuku and Omotesando area that sell birthday goods: FLYING TIGER COPENHAGEN, ASOKO, AWESOME STORE, and DAISO to name a few.

⑦Experience a kawaii birthday like no other at MOSHI MOSHI ROOMS

Enjoy an unforgettable birthday in one of our special rooms, like SAKURA which is completely pink throughout. There are a limited number of beds in the rooms but there is no limit to how many people stay in a single room, so invite all your friends over for a huge party! And if you tell us in advance that you're bringing a cake in, you can borrow a cake stand from us so you can make the cake even cuter. The stand is 18cm in diameter so it should hold a whole cake, but be sure to check the size of yours in advance.

There's no doubt you'll enjoy your birthday party even more if you spend it in our pink haven. There is a kitchen with plates, cutlery and everything you need to cook up more snacks and food for your party too.

We will continue the Top 10 list in the next article entitled Food Edition. Remember, if you're looking to stay in Harajuku, be sure to book with MOSHI MOSHI ROOMS for a hotel stay like no other.

Models: Aiko / Ringo
Photographer: Haruka Yamamoto
Writer: Sayoko Ishii

Translator: Joshua Kitosi-Isanga

Shibuya PARCO Refurbishments Reveal Collaboration Exhibitions With AKIRA, AUTO MOAI, JUN INAGAWA And More

The new fully refurbished Shibuya PARCO shopping complex is set to reopen on November 22, 2019. When Shibuya PARCO closed for renovations in 2016, GALLERYX BYPARCO was moved to Spain-zaka in the centre of Shibuya. This November, GALLERY X will return to its home on the basement floor 1 of the shopping complex. 

The first opening exhibition of GALLERY X is titled "AKIRA ART OF WALL Katsuhiro Otomo × Kosuke Kawamura AKIRA ART EXHIBITION" which will see an entire wall decorated in a collage of art by manga author and film director Katsuhiro Otomo and his legendary series AKIRA until May 2020. 

The art wall is in fact a relocation of the AKIRA art wall that has existed at the infrastructure building site in Shibuya for almost two years. Parts of it was damaged over time, and so it will resurface at PARCO MUSEUM TOKYO on the 4th floor of the new Shibuya PARCO. That's not all: there will also be valuable original works displayed as well as posters, 3D model recreations of things seen in AKIRA, the series soundtrack by Geinoh Yamashirogumi playing, 3D attractions where you can interact with a futuristic "Neo Tokyo" and much more. 

AUTO MOAI (December 2019)

Kazuki Iio (Zun) (December 2019)

Misaki Tanaka (February ー March 2020)

JUN INAGAWA (April 2020)

The first exhibition will be followed by a strong lineup of exhibitions. The exhibition areas will be filled with a wide range of attractions, making it appealing for a wide range of people with different tastes. 

* The above information and dates are subject to change at any moment without prior notification.

GALLERY X is full of originality and is a source of the latest entertainment culture so please check it out. 

Information

GALLERY X

Address: Shibuya PARCO floor B1, 15-1 Udagawacho, Shibuya, Tokyo

Opening Hours: 11:00 ー 21:00

Official Website: art.parco.jp/

Following up from the opening of their Shinjuku branch back in 2016, BEAMS JAPAN has announced that it will open a second branch in Shibuya on December 5, 2019. It will be found inside the new Shibuya FUKURAS which is also set to open beside Shibuya Station to this December.

Shibuya-Exclusive Field Watch – ¥15,000 (Before Tax)

BEAMS JAPAN Shibuya is set to be the second hub for BEAMS "TEAM JAPAN," a project which aims to build a community around the brand and promotes products made in Japan. Opening with a completely original line focused on "super basic" clothing, it is sure to be a welcome addition to the streets of Shibuya―one of Japan's leading districts when it comes to Japanese fashion and culture.

BEAMS JAPAN Hachiko Logo Long T-Shirt – ¥7,800 (Before Tax)

Scramble Crossing/Traffic Safety Caps – ¥5,800 Each (Before Tax)

The new store will stock a whole range of different clothing items, including attire exclusive to the branch such as the above-pictured caps and watch inspired by Shibuya;s tourist sites like the Scramble Crossing and Hachiko statue.

Information

BEAMS JAPAN SHIBUYA

Grand Opening: December 5, 2019

Address: Tokyu Plaza Shibuya 2F, 1-2-3 Dogenzaka, Shibuya, Tokyo
Opening Hours: 10:00-21:00
Stocked Labels: Men's <BEAMS> / Women's <Ray BEAMS> <BEAMS BOY> / Other <BEAMS JAPAN> <TOKYO CULTUART by BEAMS>

BEAMS JAPAN Official Website: https://www.beams.co.jp/beams_japan/