#Sweetsfes by Tastime to launch photogenic sweets event at Ikebukuro Sunshine City
Tastime is a gourmet application that allows you to find places to eat and drink easily. The app is a big hit on Instagram. Tastime will be running a sweets festival event (#スイーツフェス by Tastime) at Ikebukuro Sunshine city on 16th and 17th December.
This sweets festival event "#スイーツフェス by Tastime" is the long-awaited food X photogenic event, aiming to entertain 5000 people.
For this event at Ikebukuro Sunshine City, the most popular sweet treats on Instagram will be selling. You can also enjoy taking photogenic photos at a photo booth.
There will be 6 shops taking part, including Eddy's Ice Cream and Sweet XO Good Grief. This Christmas-themed event will also be serving up season-limited sweet treats!
The photogenic booths include Christmas-themed booths and also booths that aren't just fun to take pictures in, but also to feel around!
No cash will be accepted at this event. Instead, pay for your share of sweet treats through the "Tastime" application!
How to purchase tickets to this event:
1. Tap the QR code icon at the bottom of the application
2. Enter your card details (click on カードを設定する to do this) and then click "入場チケットを購入" (purchase event entry ticket)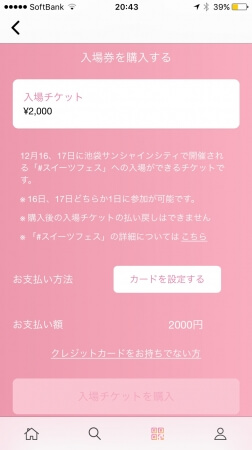 3. You've done it!
How to purchase sweets at the event: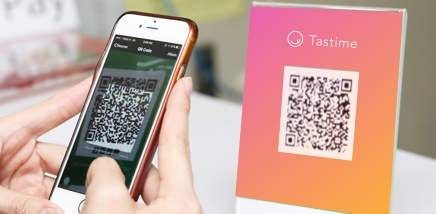 At the cash register, read the QR code of the sweets you want to carry out your purchase.
(*The money will be deducted from the card with which you signed up)
Enjoy limited edition photogenic sweet treats at Tastime's sweets festival! ♡
RELATED ENTRIES
That Time I Got Reincarnated as a Sanrio Slime Fair Opens at Three KIDDYLAND Stores

From September 21 to October 11, three KIDDYLAND stores will be holding a fair dedicated to the anime That Time I Got Reincarnated as a Slime, which has become a big hit overseas. 

 

The series, which was created by Fuse, aired two seasons from October 2018 to March 2019. It has been confirmed that a sequel will be made in the year 2020. Following the anime's successful reception, a novel version of the anime series which goes by the same name was produced by GOT A CHANCE novel. More than 14 million copies have been sold so far.

The story follows an extraordinary event which happened to a normal man. The main character Satoru Mikami died to random knife attack and was reincarnated as a monster called a slime. The series became massively popular once the adorable figure of the main character as a slime was revealed.

That Time I Got Reincarnated as a Sanrio Slime: Slime Keyring (5 designs): ¥1,200 each (before tax)

All your favourite characters have been reincarnated in a cute Sanrio-style! Head to the KIDDYLAND fair to get your hands on a KIDDYLAND-limited Slime Keyring. A large variety of new goods are being sold here ahead of any other shop and online service.

That Time I Got Reincarnated as a Sanrio Slime: Cuddly Characters Badge (5 designs): ¥680 each (before tax)

Come explore all your favourite characters in their adorable Sanrio form!

©川上泰樹・伏瀬・講談社/転スラ製作委員会

Information

That Time I Got Reincarnated as a Sanrio Slime Fair IN KIDDYLAND

Location: KIDDYLAND (Harajuku, Ikebukuro Sunshine City, Sannomiya)

Running: September 21 ー October 11,2019 

More Information: https://www.kiddyland.co.jp/event/ten-sura/

My Hero Academia Themed Cafe to Open at SEGA Ikebukuro GiGO in Tokyo

A cafe based on the hit TV anime series My Hero Academia will open at SEGA Ikebukuro GiGO on October 12.

Drinks Menu

 

Drinks – ¥600 Each (Before Tax)

Original Latte Art (11 Designs) – ¥700 Each (Before Tax) *Choose your own

Food Menu

Menu ①: October 12, 2019 – November 1, 2019

Katsu-Lover Midoriya's Pork Rib Noodles / Eijiro Kirishima's Crunchy Kakiage Don – ¥1,200 Each (Before Tax)

Menu ②: November 2, 2019 – November 24, 2019

Katsuki Bakugo's Spicy Mapo Doufu / Shoto Todoroki's Fire & Ice Tomato Cheese Pasta – ¥1,200 Each (Before Tax)

Dessert Menu

Menu ①: October 12, 2019 – November 1, 2019

Ochaco Uraraka's Japanese-Style Dessert Set with Matcha Milk – ¥1,200 (Before Tax) / Tenya Iida's Source of Strength Orange Parfait – ¥900 (Before Tax)

Menu ②: November 2, 2019 – November 24, 2019

U.A. Dessert Plate – ¥1,200 (Before Tax) / Tsuyu Asui's Kero Kero Parfait – ¥900 (Before Tax)

Enjoy a fun selection of food, drinks and desserts inspired by the My Hero Academia character cast. You can only pick between one meal and/or dessert when ordering.

 

Bonus Merch

When ordering from the drinks menu or one of the latte art coffees, you will receive one drinks coaster selected randomly from the following designs during the following dates.

Coaster Line-Up ①: October 12, 2019 – November 1, 2019

Coaster Line-Up ②: November 2, 2019 – November 24, 2019

And when ordering from the food or dessert menu, you will receive one of the below-pictured original bromide pictures chosen randomly. All of these bonus items are first-come, first-served.

Merchandise Shop

The cafe will also have its own merchandise corner selling exclusive items in collaboration with SEGA.

Available From October 12

Holographic Pin Badge (7 Designs) – ¥500 Each (Before Tax) *Chosen randomly, up to 10 allowed per person in one transaction 

Acrylic Key Ring with Stand – ¥1,200 Each (Before Tax) *Chosen randomly, up to 10 allowed per person in one transaction

Available From November 2

Mini Card (7 Designs) – ¥600 Each (Before Tax)

There are lots of other pieces of merchandise to get your hands on too. The cafe-exclusives are available only to those who use the cafe.

You must book a table in advanced if you want to visit, so be sure to get yours in quick.

©Kohei Horikoshi / Shueisha・My Hero Academia Production Committee ©SEGA

*Photos are for illustrative purposes only. Actual product may differ.

Information

SEGA Collabo Cafe My Hero Academia

Running: October 12, 2019 – November 24, 2019

Location: SEGA Collabo Cafe Ikebukuro GiGO (SEGA Ikebukuro GiGO Floor B2F, 1-21-1 Higashi-Ikebukuro, Toshima Ward, Tokyo

Schedule

Menu ①: October 12, 2019 – November 1, 2019

Menu ②: November 2, 2019 – November 24, 2019

*Menu items and coaster designs will change for each menu

*More details can be found on the SEGA Collabo Cafe official website

Cafe Website: https://sega-collabocafe.com/ikebukuro/heroaca02.html

My Hero Academia Official Website: https://heroaca.com/

Sanrio-Style Sarazanmai Café to Steal the Scene at Tokyo and Osaka

A café based on the popular anime Sarazanmai is coming to Tokyo on September 19 and Osaka on September 26 and will run for a limited time only. The café designs were produced by Sanrio. 

Sarazanmai is a TV anime which was produced by animation studios MAPPA and  Lapin Track. The anime became incredibly popular when it aired between April and June 2019 on the Fuji TV programming block Noitamina. The last episode was met by an undying stream of grateful messages from fans and even those involved in the creation of the series. 

Sanrio produced Sarazanmai designs which are perfect for the traditional coffee shop theme and the retro Asakusa atmosphere of the series. The collaboration cafés will open in Ikebukuro in Tokyo and Nipponnbashi in Osaka.

Menu

Football Curry of Youth: ¥1,380 (before tax)

Football is what connects the three main characters Kazuki, Kuji and Enta. Come taste the delicious flavour of budding friendship in the form of a delicious curry at the café.   

Pudding a la Mode of Friendship: ¥1,280 (before tax)

The three middle schoolers are represented in the form of colourful fruit. This is a delicious dish easily enjoyed by anybody. 

Sparkling Jelly Juice (Kazuki/Kuji/Enta): ¥650 each (before tax)

These jelly drinks are also themed around Kazuki, Kuji and Enta. The jelly lurking at the bottom of the cup adds a wonderful accent to the flavour.  

Original Goods

Badge (10 random designs): ¥450 (before tax)

Mug (one design only): ¥1,500 (before tax) 

Special Bonus Goods

Those who book seats in advance (¥500 + tax) and order from the menu will receive an original design sticker. You will be presented with one of four designs at random. 

For each item ordered from the menu, you will receive an original design drink coaster. One of six designs will be given to you at random. 

This café is the perfect place to relax at your own pace this autumn. 

© イクニラッパー/シリコマンダーズ

Information

Sarazanmai Café (Designs Produced by Sanrio)

Open:

・Ikebukuro, Tokyo: September 19 ー October 27, 2019

・Nipponnbashi, Osaka: September 26 ー November 5, 2019 

Advanced reservations accepted from 7pm on September 6, 2019 

Reservation Fee: ¥500 (comes with a bonus for reserving)

Official Website: https://sarazanmai-sanrio-cafe.jp/

The Helpful Fox Senko-san Anime Themed Food & Drink Served Up in Ikebukuro

The Ikebukuro South Entrance branch of Danmaya Suisan is collaborating with the TV anime series The Helpful Fox Senko-san to served up a range of themed food and drinks from July 30 to August 30.

The story of The Helpful Fox Senko-san follows Kuroto Nakano, a salary man completely exhausted from his mundane routine of simply going back and forth to and from work. One day, an 800-year-old fox girl by the name of Senko appears to him to take care of him. Senko's food has a cosy homemade feel to it that serves to heal the heart and soul of her salary man. The food at Danmaya Suisan serves to bring this idea to life.

Ordering the Senko-san Set will get you all the food Senko-san serves in the anime series including meat and potatoes, sashimi and inarisushi. You'll also receive a free original lunch mat and rock glass designed by Senko-san. These items are available in limited supply.

For drinks, there are two alcoholic and two nonalcoholic, both inspired by Senko-san and Shiro.

If you decide to order a drink you'll receive one of four possible coasters.

Keep in mind that you need to book a table in advance to dine at the cafe, so if you're looking for some personal attention and hospitality from Senko-san, be sure to book ASAP!

Information

The Helpful Fox Senko-san x Danmaya Suisan Ikebukuro South Entrance

Reservations: 070-6407-4611 (Weekdays 10:00-22:00 / Weekends & Holidays 15:00-22:00)

*Please note that due to the high number of people expected, dining will be limited to 90 minutes per table to accommodate more customers

*If you want to order the Senko-san Set then please book this over the phone too

Menu

Senko-san Set: ¥1,080 (Tax Included)
Senko-san Set (With Rock Glass): ¥2,138 (Tax Included) *Limited supply

Alcohol

・Senko-san's Rum Ginger: ¥518 (Tax Included)

・Shiro's Beer Shake: ¥518 (Tax Included)

Nonalcohol

・Senko-san's Mango Smoothie: ¥518 (Tax Included)

・Shiro's Calpis Smoothie: ¥518 (Tax Included)

Danmaya Suisan Ikebukuro South Entrance

Address: Yoronotaki Ikebukuro Bldg. Floor B1F, 1-10-15 Nishi-Ikebukuro, Toshima Ward, Tokyo

Business Hours: Weekdays 16:00-Midnight / Weekends & Holidays 15:00-Midnight

Official Website: https://www.yoronotaki.co.jp/search/detail.html?CN=2793

Ojamajo Doremi Anime Themed Cafe to Open in Tokyo & Osaka

To celebrate the 20th anniversary of TV anime series Ojamajo Doremi, two themed cafes named Ojamajo Doremi Cafe&Kitchen will open in Tokyo and Osaka from July 12 and August 29 respectively.

Ojamajo Doremi is an original magical girl created by Toei Animation that ran from February 1999 to January 2003. The series was a huge hit with young girls in Japan when it was released, sending them into a magical daze and further spreading the love for magical girl series. The Cafe&Kitchen is aimed at today's young girls and the girls from back then who have now turned into women. The cafe promises to be kawaii through and through.

Doremi's Adoration! Steak Sandwich Plate: ¥1,490と

Steak is Doremi's favourite so there was no way the cafe was going to leave it off the menu. This steak sandwich is served in a baguette and is served with cheese sauce to make the steak even more delicious.と

Momoko's New York Memories… Meat Ball Pasta Salad: ¥1,290

This dish is inspired by Momoko's memories of how New York tasted back when she lived there as a young girl. The salad pasta bowl is colourful and filled to the brim, representing Momoko's overflowing energy and liveliness. Pour the saffron flavoured cream cheese over to make it look and taste even more American.

Ojamajo Doremi's 20th Birthday Cake: ¥1,190

The Cafe&Kitchen is a celebration of the series's 20th anniversary, so they whipped up a birthday cake fitting for a magical girl. It's a combination of roll cake and sponge cake so you're sure to never tire of the flavour. Help celebrate Doremi's 20th by tucking into this whipped cream covered birthday cake!

Magical Girl Apprentice's Rainbow Pancakes: ¥1,190

Based on the iconic colours of the magical girls, this stack of cute pancakes are shaped like hearts. Scoop up the anglaise sauce and eat together with the pancakes for an even sweeter flavour.

Onpu's Purple Tapioca Milk: ¥790

The famous idol Onpu gets her very own brown sugar bubble tea with tapioca pearls. Served in her image colour, the drink is whipped with whipped cream and showered with rainbow sprinkles♡

Aiko's Blue Lemonade Float: ¥890

You're sure to cool yourself down in the summer heat with Aiko's blue lemonade topped with deliciously refreshing ice cream, lime and mint.

Acrylic Key Ring (6 Designs): ¥600

Clear Pouch (1 Design): ¥1,500

With art director by popular creators Etoile et Griotte, who are popular with lovers of kawaii things, the Cafe&Kitchen will also sell a selection of cute and exclusive merchandise.

Customers who book a table in advance (¥500 per person, excluding tax) and order from the menu will receive one of the six above-pictured original clear stickers chosen randomly.

Those who dine at the cafe will also receive one of these two possible original lunch mats.

Finally, customers who order a drink will receive one of six possible character coasters.

Visit the Ojamajo Doremi Cafe&Kitchen this summer to celebrate 20 years since the series first aired.

*All prices listed are pre-tax prices. Photos are for illustrative purposes only

©Toei Animation

Information

Ojamajo Doremi Cafe&Kitchen

Tokyo

Location: Gourmet Stadium II, Dining Park Ikebukuro, Seibu Ikebukuro Floor 8F

Address: 1-28-1 Minami-Ikebukuro, Toshima Ward, Tokyo

Running: July 12, 2019 – August 31, 2019

Osaka

Location: Abeno contact

Address: Abeno Q's Mall Floor 4F, 1-6-1 Abenosuji, Abeno Ward, Osaka

Running: August 29, 2019 – September 29, 2019

Booking Price: ¥500 (Comes with booking present, up to 4 people per booking)

Cafe Website: https://ojamajodoremi-cafe-and-kitchen.jp

Hatsune Miku Magician Themed Merchandise Releasing in Collaboration With Rascal

Hatsune Miku is collaborating with Rascal the Raccoon for the third time to release a string of merchandise for Magical Mirai 2019 in August.

The theme this year is "magician" and features illustrations of Miku, Rin, Len, Luka, Kaito and Meiko. The drawings were designed by Tama who was the illustrator for the second collaboration. Designs will also include superdeformed characters.

The items will also go on sale at ANi★CUTE in Ikebukuro, Tokyo on August 30.

©N.A. ©S.P./N.A. ©G.J.

Information

Magical Mirai 2019

▶︎Osaka

Running: August 9, 2019 – August 11, 2019

Venue: INTEX Osaka Hall 4/5 (Address: 1-5-102 Nankōkita, Suminoe Ward, Osaka, Osaka Prefecture)

▶︎Tokyo

Running: August 30, 2019 – September 1, 2019

Venue: Makuhari Messe International Exhibition Hall 1-2 (2-2-1 Nakase, Mihama Ward, Chiba, Chiba Prefecture)

Event Website: https://magicalmirai.com/2019/

ANi★CUTE

Address: Sunshine City Alpa Floor 2F, 3-1-2 Higashi-Ikebukuro, Toshima Ward, Tokyo

Merchandise Release Date: August 30, 2019

Business Hours: 10-00-20:00

TEL: 03-6914-2668

Hatsune Miku Website: http://piapro.net/

Rascal the Raccoon Website: http://www.araiguma-rascal.com/

Come Try These Tasty Matcha Meals and Desserts at OMATCHA SALON ー Coming Soon to Ikebukuro PARCO, Tokyo

From June 20, a new matcha tea shop will open on 8th floor of Ikebukuro PARCO Main Building (the restaurant floor). The OMATCHA SALON uses uji matcha green tea purchased from an old and traditional Kyoto shop called Kitagawa Hanbee Syouten.

Their famous Matcha Soba Seiro comes in 14 varieties. (Seiro is a cold noodle dish served with a warm dipping sauce). Along with the grand opening, OMATCHA SALON also announced the release of a curry and uji matcha soba noodle menu that is bound to be loved by everybody. The curry is to be served risotto-style with cheese and cha soba* made with Japanese-style dashi stock and then cooked in a porcelain dish.

 *Cha soba is thin Japanese soba noodles that are infused with green tea.

The menu also features a detox salad cha soba which is served with a range of vegetables and assorted grains that are high in nutrients which are good for detoxing.

Other kinds of cha soba include the thick-sliced bacon carbonara cha soba which is made with a rich and creamy sauce, aromatic bacon and an onsen egg, which has a thicker yolk and runnier egg white.

There are also five tongue-tantalizing desserts, bubble tea made with fresh tapioca pearls, and much more. The desserts menu includes the Kitagawa Hanbee Syouten Mitarashi Dango which is a skewered rice dumplings in a sweet soy glaze and served with tiramisu which is made from mascarpone cream and uji matcha. There is also a tiramisu served with strawberry daifuku (rice cake stuffed with bean jam).

You should also check out the Ikebukuro-limited menu that serves Kogashi flour muscovado shaved ice.

As soon as you enter the OMATCHA SALON, you will notice a teakettle in the "CHASHITSU" where you can watch the finest selection of matcha tea being made before your very eyes. If you are looking for a place to take a relaxing break from your busy day, look no further than the OMATCHA SALON, Ikebukuro, PARCO.

Information

OMATCHA SALON Ikebukuro PARCO

Location: 8th floor Ikebukuro PARCO main building

Address: 1-28-2, Ikebukuro, Minamiikebukuro, Toshima City,

Opening Hours: 11:00 ー 23:00 (Last orders: food: 22:00, drinks: 22:30) 

TEL: 03-5927-1133

OMATCHA SALON Official Website: https://omatcha-salon.jp/

Tokyo Ghoul Cafe: Touka Actress Maika Yamamoto Gives Food Report

In the run up to the release of Tokyo Ghoul S on July 19―the sequel to the live-action adaptation of Tokyo Ghoul―an official themed cafe based on Tokyo Ghoul:re will open at Ikebukuro PARCO on June 6 for a limited time.

Before the official opening of the cafe, however, actress Maika Yamamoto who plays Touka Kirishima in the upcoming movie attended a pre-opening on June 4 which was held for the press. She tried and commented on the menu and also gave a talk.

Yamamoto wore the same uniform that Touka wears in the film when working at the Anteiku Cafe. The first item from the eye catching menu she tried was the Kaneki Sekigan Curry, a curry rice dish inspired by Kaneki's red ghoul eye. Notwithstanding its frightening appearance, Yamamoto commented on the tantalising aroma of the curry and its delicious taste.

She then took a sip from the Touka Jelly Drink, a beverage based on the character she plays. She admired its gorgeous blue hue, describing it as cute and Instagram-worthy.

The final dish she tried was the Gourmet Tsukiyama Roast Beef which is of course based on the film's antagonist and Gourmet himself, Shuu Tsukiyama. Before taking a bit, Yamamoto said, "This reminds me of when Tsukiyama eats in the movie!"

She summed up her thoughts on the cafe menu: "I was suspicious of how everything would taste at first, but I'm surprised at how delicious it all was. It was fun to be photographed too. I feel like I can eat all of this as a ghoul. I'm relieved."

Yamamoto was also questioned about her role in the film. She responded: "The film is bigger and better than the last, and both the action and CG is really well done too. The visuals are incredibly cool. Kubota [Masataka], Shota [Matsuda] and all the cast are really wonderful too, so please be sure to watch it!"

She also left a message for fans looking forward to the film, saying: "The last 20 minute ghoul versus ghoul scene is of course a highlight, but the drama between the humans and ghouls is amazing too, so I want people to take note of that aspect as well. And the music is beautiful, so make sure to take in everything until the credits roll!"

"Before seeing the movie please come to this cafe and immerse yourself in the world of ghouls and then go and see the movie. You might get an affinity [with the ghouls!]" she concluded with a smile.

The cafe will run from June 6 to July 15. The menu is packed with drinks and dishes inspired by the unique and memorable characters from the series. A selection of new official merchandise of the manga will also be sold.池

©2019 Tokyo Ghoul S Production Committee ©Sui Ishida / Shueisha

Information

Tokyo Ghoul:re Cafe

Location: Ikebukuro PARCO (1-28-2 Minami-Ikebukuro, Toshima Ward, Tokyo)

Running: June 6, 2019 – July 15, 2019

Tokyo Ghoul:re Cafe Official Website: http://the-guest.com/

Tokyo Ghoul S

Based On: Tokyo Ghoul (Young Jump Comics, Shueisha) by Sui Ishida

Directors:Hiramaki Kazuhiko / Takuya Kawasaki

Screenwriter: Chūji Mikasano

Distributed by: Shochiku

Release Date: July 19, 2019 (Japan)

Official Website: http://tokyoghoul.jp/

Manga Series 'The Quintessential Quintuplets' Gets Exhibition in Ikebukruo

An exhibition centred on the hugely popular Weekly Shonen Magazine manga series The Quintessential Quintuplets by Negi Haruba is set to take place on the 4th floor of the Ikebukuro Sunshine City World Important Mart building from August 17 to September 1 this year.

Its theme is "an exhibition that both guys and girls can enjoy." Though the series is serialised in a magazine aimed at males, it enjoys huge support from female readers. The anime's first season ran from January to March this year which bolstered the fan base on both sides. It has become the most read romance series serialised in a male magazine by women.

Girls have taken to social media to express their love for the series, with some saying how the worries the quintuplets experience and their growth overlaps with their own. Others have described how cute the heroines are even from a female perspective.

The exhibition will house a plethora of illustrations, including hand drawn pictures by Negi Haruba, unfinished and completed illustrations, as well as outfit displays and more. Original merchandise will also be sold.

If you're a fan of the quintuplets and are in Tokyo in August then be sure to drop by the exhibition.

Information

The Quintessential Quintuplets Exhibition

Locations: Ikebukuro Sunshine City World Important Mart Building Floor 4F (3-1-1 Higashi-Ikebukuro, Toshima Ward, Tokyo)

Running: August 17, 2019 – September 1, 2019

For details on advance tickets and more check out exhibition's official website here: http://www.gotobun-exhibition.com/

#Matcha Parco collaboration café opens at Hiroshima Parco! Come try these delicious matcha treats!

Parco is currently collaborating with milk products and sweets company Morinaga Milk Industry Co., Ltd. and have created a limited-period matcha-flavoured ice cream café called #Matcha Parco cafe. The cafe is currently open in three cities; Ikebukuro, Tokyo, Nagoya and Fukuoka. Due to its overwhelming popularity, a new collaboration cafe is to open at Hiroshima Parco!

The collaboration cafe original menu was developed by registered dietician/food researcher Asuna Suzuki. The menu includes all kinds of special matcha treats based on Morinaga's brands PINO, PARM, MOW and Mitsu to Yuki, and this is the only place you can try them!

PINO × Marmalade ¥800 + tax

【Limited】Ice zenbu nose X mitarashi shira tama ¥1,200 + tax

The cafe to open in Hiroshima will open at SUZU CAFE which is located on floor B1 of the Honkan (main building) of Hiroshima Parco. The cafe will run from Friday 24/05 ー Sunday 16/06. The grand menu includes the PINO X marmalade, PARM X caramel almond, the MOW berry sauce and the mitsu to yuki condensed milk fruit; these are same treats that are currently being sold at Nagoya, Ikebukuro, and Fukuoka Parco cafes. As well as these four desserts, the grand menu also includes Nagoya's top limited dessert the "ice zenbu nose mitarashi shiratama".

This is your chance to maximise your matcha madness!

Information

#Matcha Parco

Carlova360 Nagoya Parco Higashikan 4th floor: Fri 19/04 ー National holiday Mon 06/05 ※ Now closed.
24/7 cafe apartment, Fukuoka Parco Shinkan 3rd floor: Sat 11/05 ー Mon 27/05
Suzu Café Hiroshima Parco floor B1: Fri 24/05 ー Sun 16/06
Café Address, Ikebukuro Parco Honkan 6th floor: Sat 01/06 ー Sun 16/06
※ You can also enjoy the café's regular menus whilst #Matcha Parco is running

 

Parco official website: https://sapporo.parco.jp/

Morinaga Milk Industry Co., Ltd. official website: https://www.morinagamilk.co.jp/

Come see the new baby seal at Sunshine Aquarium! Aquarium turns to the public for name-choosing!

A mummy and baby Baikal seal can be seen at Sunshine Aquarium, Tokyo from Wednesday 15th May! From the same day, the aquarium will be accepting suggestions for a cute name for the baby seal!

Three weeks after birth, the baby seal started to lose its white baby fur. Now, its fur is completely ash grey! The baby has been weaned off milk and has started to eat fish, however, it is still craving all the attention! When the staff approach, the baby immediately starts to whine and quickly shuffles towards them. The staff stroke the baby's belly and after looking up at the staff happily, the baby often falls asleep!

The baby seal can be visited by the public from Wednesday 15th May and from the same day, the aquarium will start to take name suggestions from the public. The nickname will be announced on Thursday 13th June!

There is also a chance for you to get your hands on original goods and postcards to celebrate! Please take this opportunity to view these extremely precious Baikal seals and think of a lovely name while you're at it!

※After a month since birth, the baby will grow black fur and become an adult!

Information

Help the aquarium choose a name for the new baby Baikal seal!

Applications accepted: Weds 15/05 ー Sun 09/06

There will be a ceremony on Thursday 13th June to announce the baby's name. (subject to change)

Application procedure: The application box will be located at the exit of Sunshine Aquarium. Please write your name suggestion, the reason you chose it and then fill out the necessary information to complete your application. Only one name application can be made per person.  

Prizes: The top 10 names will be selected and those who chose the names will receive a selection of Baikal seal-themed goods. Out of all applicants, 50 will be randomly selected by lottery to receive Baikal seal poster which is approximately life-sized! Now that's the real seal!

※ B1-size poster prize.

Tairaku Tea: Ikebukuro's New Taiwanese Tapioca Sweets Shop

Tairaku Tea is a shop originating in Taiwan that makes homemade tapioca sweets. They opened a new branch in Japan near Naka-ikebukuro Park on April 27.

 

All the tapioca used in the shop is made specially made tapioca flour all directly imported from Taiwan.

This flour is used to make homemade tapioca pearls every morning, meaning they are fresh and irresistibly chewy. While in the shop, there's also a chance to see the pearls being made. The machine filers the flour through and turns it into cute colourful balls♡

The menu is centred around "Brown Sugar Tapioca Milk Tea." You can pick from three different milk teas including Assam, jasmine and houjicha. For the tapioca pearls you can choose brown sugar black pearls or clear honey pearls.

These fresh and delicious drinks are worthily Instagrammable. One sip will have you transported onto the streets of Taiwan―and completely addicted.

Information

Tairaku Cha Ikebukuro Higashi-guchi

Address: Amms Bldg. BF1, 1-15-12 Higashi-Ikebukuro, Toshima Ward, Tokyo
TEL: 03-5953-8929