【Tokyo Stroll】The cafe you that you want to visit to see someone #3 "Galant" —a retro café in Ueno
"It's a mysterious café vacuum sealed with an energy that feels like it's the time of the Japanese economic miracle"
We're at the third installment of this series where we take a stroll to old-fashioned cafes filled with a sense of nostalgia.
I, Ema Tanioka, will be introducing to you another retro café that I am in love with. Today, we go to "Galant" in Ueno, a town where the Showa mood still lingers.
Galant has continued to be loved by many people since it opened its doors back in 1977. This year marks the 40th anniversary of the popular café. "Galant" sounds a little space-y, don't you think? It's a little different from the norm. When I enquired to the staff about the origin of the café's name, they told me that it comes from the Mitsubishi Galant as the owner is a fan of cars. To think that a car's name became the name of a café! But it has a ring to it and is easy to remember, so it might actually be a huge success.
Anyway, without further ado, let's make our way there!
Galant is on the 2nd floor of this building. As you head up the stairs, it no longer felt like I was in the real world. A completely different world opened before me. Because of the entrance's chic brickwork, I was surprised by the dazzling lights floating inside.
And here!
Here too! There was so much sparkle.
The first thing to peak my interest was the uniform the staff were wearing. So cute… You don't see that red & yellow combination much these days. It helped amplify that retro mood of the café even more.
The male staff wore red & black! Black was the base colour and had that well defined, guy-like feel to it. Together with the checkered vests, it completed that retro look. It was wonderful. The café was also playing popular Showa era songs. I really felt like I had stepped back in time.
And then… and then! The menu arrived!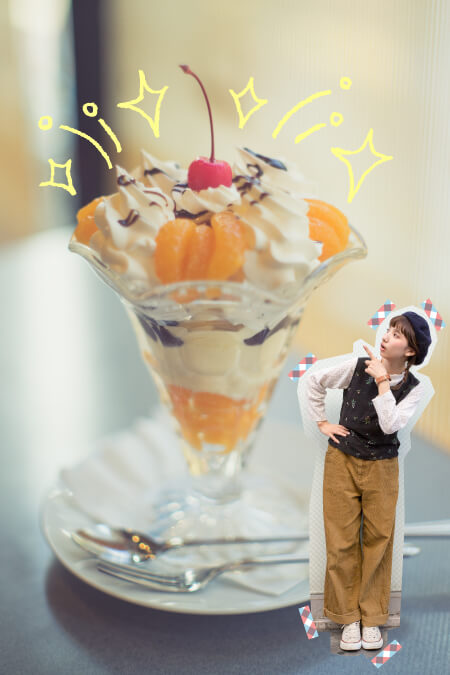 The most popular item on the menu is the chocolate parfait (¥900 tax incl.). It was absolutely stuffed with cream all the way to the middle. For people who love sweet things this is an irresistible delight. By the way, I must ask, what do you do when it comes to the cherry on top of the parfait? The truth is, I absolutely love parfaits, but I'm really not into the cherry – I usually leave it until the end. Even though it looks so cute on the parfait…
Another item is the cream soda (¥750 tax incl.). When going to a café, you just have to get a cream soda!! It's because you don't see them around much besides at cafes and family restaurants, so I'm the person that ends up ordering one unintentionally when if I see it on the menu.
There's a nice fat serving of ice cream in there. It's a drink you can enjoy that has the aesthetic of a dessert. The melon soda is crystal clear like a precious gem. The best part about cream soda is how the ice cream slowly melts into the drink. It's pretty fun to watch!
Galant is the kind of café where the more you get to know it, the more you start to love it. Its fans have been supporting it for many years, and even when I become a grandma in the future, I reckon it'll still be bustling all the same.
■Information
Galant (ギャラン)
Address: 6-14-4 Ueno, Taitō, Tokyo
Open: 8:00-23:00
Open all week.
Access: 2-minutes' walk from Ueno Station via the Tokyo Metro Ginza Line / 1-minutes' walk from Exit 5b at Ueno Station via the Hibiya Line
Model&Writer:Ema Tanioku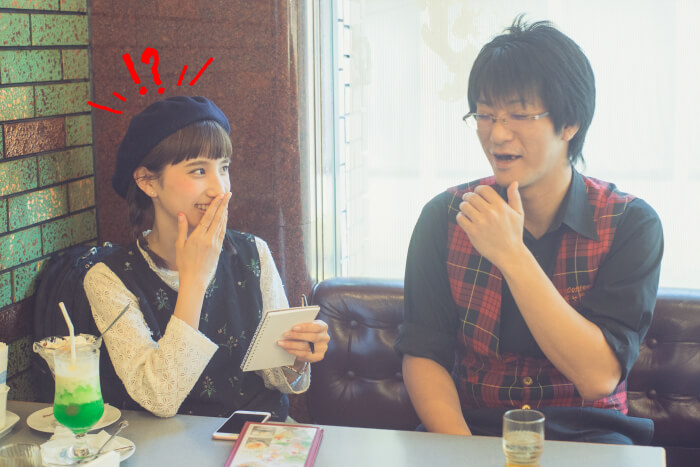 Profile:Ema and Eri Tanioku are well-known Aomoji-kei twin models that go by their duo name "EmaEri." Their twin-like fashion co-ordination and cute looks have earned them a fast growing fan base. They are officially appointed tourism ambassadors and work both in Japan and overseas to promote Harajuku culture. They work as fashion models in a wide range of areas and have appeared in fashion magazines as well as on TV, in dramas, movies and more.  Instagram:@ematanioku
Photograph:Haruka Yamamoto
Editor:Ryoichi Komaba
Design:Yuko Abe(ASOBISYSTEM)
Translation:Joshua Kitosi-Isanga
RELATED ENTRIES
Ueno's National Museum of Western Art Celebrates Reopening with Live Commentary for 'In Dialogue with Nature' Exhibit

The National Museum of Western Art, located in Ueno Park, reopened in April 2022 after being closed for renovations for 18 months. The first special exhibition post-reopening will feature Van Gogh's works in Japan for the first time, along with paintings depicting modern nature from both the National Museum of Western Art and the Museum Folkwang in Essen, Germany.

To commemorate the post-renovation reopening of the National Museum of Western Art in Tokyo, this exhibition traces the development of modern art born out of the dialogue between nature and humankind.

The event was realized in collaboration with the Museum Folkwang, and both institutions were founded on private collections: that of Karl Ernst Osthaus (1874–1921) in Germany and Matsukata Kojiro (1866–1950) in Japan.

The exhibition will feature over 100 paintings, drawings, prints, and photographs from both museums, spanning from German Romanticism to the art of the twentieth century, ranging from Impressionism to Post-Impressionism. 


Guests can enjoy all aspects of the infinite expanse of nature as shown in both collections, from the smallest roadside flowers to the vast universe and all humanity contained within. Would you like to come and experience this unique exhibition?


Information

The National Museum of Western Art Reopening Event
In Dialogue with Nature: From Friedrich, Monet and Van Gogh to Richter

Running: June 4 – September 11, 2022

Closed Mondays, July 19 (*Open July 18 and August 15)

Venue: The National Museum of Western Art (Ueno Park, Tokyo)

Hours: 9:30-17:30 (Open until 20:00 on Fridays, Saturdays)

Niconico Museum Homepage: https://ch.nicovideo.jp/niconicomuseum

Hard Rock Cafe Releases Limited-Edition Pins of Ueno Zoo's Panda Xiang Xiang

Hard Rock Cafe Ueno is celebrating the 4th birthday of Ueno Zoo's giant panda Xiang Xiang with a collection of birthday pins. The limited-edition line-up was released on Thursday.

4th Birthday Pin | 300 Available | ¥2,200

4th Birthday Pin 2 | 500 Available | ¥2,200

The two pin designs are limited in stock, the first featuring Xiang Xiang with her mother and father has 300 available, and the second one has the cute giant panda on an aeroplane branded with her birthday date with 500 available.

Both pins capture Xiang Xiang's energetic personality and are cute souvenirs to take home after meeting her at Ueno Zoo.

Information

Hard Rock Cafe x Ueno Zoo Pims
Released: June 10, 2021 at Hard Rock Cafe Ueno Station Tokyo

Address: Atre Ueno Floor 1F, 7-1-1 Ueno, Taito-ku, Tokyo

TEL: 03-5826-5821
Also available online: https://hrcjapan.official.ec/

Hard Rock Japan Official Website: http://hardrockjapan.com/

Ueno's Real-Life Panda Idol Xiang Xiang's 4th Birthday Celebrated With Merchandise Release

Ueno Information Center is celebrating the 4th birthday of Xiang Xiang, the giant panda who was born at Ueno Zoo back in 2017, with the release of a merchandise collection. The line-up arrived on Wednesday and is available both at the information center and via their online store.

Although strict measures are in place at the center to reduce the risk of COVID-19 spreading, celebrations for Xiang Xiang aren't completely cancelled, as fans of the adorable panda, who has become something of an idol in Ueno, can get their hands on some fun goodies.

Ueno Panda Family Memorial Pins 2021 | ¥2,530 (Tax Included)

Ueno Panda Family Clear Pouch YE | ¥2,200 (Tax Included)

Ueno Panda Family Cooling Lunch Tote Bag | ¥1,650 (Tax Included)

The collection features motifs of Xiang Xiang, her mother Shin Shin, and her father Ri Ri. The pin collection, which comes in a gold leaf-laced box, includes Shin Shin in a tree peony, Xiang Xiang amongst the cherry blossoms, and Ri Ri with lotus flowers.

The pouch sees Xiang Xiang happy and energetic with her parents. It comes in a summery yellow and is made from semi-transparent matted vinyl. Perfect for storing away makeup, stationery, and any other bits and bobs.

The cooling bag is made from aluminium on the inside for keeping your food fresh. It's big enough for fitting a bento and 500ml bottle, making it handy for taking your lunch out with you.

Happy 4th Birthday, Xiang Xiang!

Information

Ueno Information Center Xiang Xiang's 4th Birthday Collection

Released: June 9, 2021

Where: Ueno Information Center

Ueno Information Center Official Website: https://uenoinfo.jp/

Ueno Information Center Online Shop: https://edotokyo1.com

Cow Brand Soap x BEAMS Japan Take Over Kotobukiyu Bath House in Tokyo

BEAMS Japan and Cow Brand Soap have teamed up to an event titled Sento no Susume 2021 which began on April 23. As part of the event, the two brands have come together at the popular Tokyo-based bath house Kotobukiyu where illustrations for the collaboration drawn by manga artist Mari Yamazaki (Thermae Romae, Olympia Kyklos) has been put up on the outside, inside, and along the walls.

See the illustrations being plastered in the video below.

At the bath house entrance, along the walls, and everywhere else

Fashion shoots are being held at the bath house

Limited-edition merchandise for Sento no Susume 2021

For many years, sento public bath houses have been big part of Japanese culture and are located up and down the country. They are places people go to unwind, relax, and destress. However, with times changing, they are because less part of people's lives, and the facilities themselves are seeing significant wear and tear as well as not having successors to take over the businesses. Sento no Susume aims to revitalise sento and raise their cultural value once again by showing how they can be enjoyed. The first event was held in January and February in 2019.



This year will be the second hosting of the event and invites manga artist Mari Yamazaki on board who has given Kotobukiyu a makeover with her iconic artwork themed on exercise and bathing. Six sports are featured in her drawings for the bath house including basketball, climbing, javelin, surfing, judo, and volleyball.

Have you experienced a Japanese sento before?

Rurouni Kenshin x Hello Kitty Collaboration Launching to Promote Manga's Upcoming Live-Action Films

In promotion of the forthcoming live-action films Rurouni Kenshin: The Final and Rurouni Kenshin: The Beginning, both of which will be released on April 23 and June 4 respectively this year, the series is rolling out a collaboration with Sanrio's globally-beloved character Hello Kitty on April 14.

Original Merchandise

Rurouni Kenshin x Hello Kitty Plush Toys (2 Designs) | ¥3,850 Each (Tax Included)

Rurouni Kenshin x Hello Kitty Plush Toys (4 Designs) | ¥2,750 Each (Tax Included)

Rurouni Kenshin x Hello Kitty A4 Folder Set | ¥495 (Tax Included)

Rurouni Kenshin x Hello Kitty Bottle | ¥1,540 (Tax Included)

Rurouni Kenshin x Hello Kitty Tote Bag | ¥2,200 (Tax Included)

Rurouni Kenshin x Hello Kitty Ballpoint Pens & Mechanical Pencils (2 Designs) | ¥770 Each (Tax Included)

Rurouni Kenshin x Hello Kitty Hand Towels | ¥1,430 (Tax Included)

Rurouni Kenshin x Hello Kitty Pins (6 Designs) | ¥330 Each (Tax Included)

Rurouni Kenshin x Hello Kitty Acrylic Stands (8 Designs) | ¥715 Each (Tax Included)

Rurouni Kenshin x Hello Kitty Sweets Paradise Collaboration Cafe

Menu Excerpt

Kenshin Hello Kitty Beef Bowl / Battousai Hello Kitty Omurice

Enishi Hello Kitty Orange Crepe / Tomoe Hello Kitty Anmisu / Kaoru Hello Kitty Strawberry Pancake

Acrylic Mascot Key Rings

10 Designs

Plush Toys

This marks the second collaboration between Rurouni Kenshin and Hello Kitty, the first taking place back in 2014 in promotion of Rurouni Kenshin: The Legend Ends. Fans can get their hands on a collection of cute merchandise with Hello Kitty dressed as various characters from the series, as well as tuck into a themed menu which will first be served at Sweets Paradise Ueno ABAB from April 22 before rolling out to six more Sweets Paradise branches in Japan.

©和月伸宏/集英社 ©2020 映画「るろうに剣心 最終章 The Final/The Beginning 」製作委員会

Tokyo's Masterpieces From The National Gallery London Exhibition Adds Extra Nighttime Dates

The National Museum of Western Art in Tokyo has been hosting the Masterpieces From The National Gallery London exhibition since June 18 this year, and has just announced additional nighttime hour viewings, so the exhibit will be open until 21:00 from October 13 to 17.

The exhibition brings together a special selection of 61 masterful works from The National Gallery London in Japan for the first time, such as Vincent van Gogh's Sunflowers, Johannes Vermeer's Lady Seated at a Virginal, and Claude Monet's The Water-Lily Pond.

Tickets for the evening viewings between October 13 and 17 will be available to purchase from September 19 via FamilyMart, e+, and Yomiuri Shimbun's online store in Japan. More details are available on the exhibition website.

Information

Masterpieces From The National Gallery London Exhibition – Tokyo
Running: June 18, 2020 – October 18, 2020

Venue: National Museum of Western Art

Opening Hours: 09:30-17:30 (until 21:00 from October 13 to 17)

Closed: Mondays
Enquiries: 03-5777-8600(ハローダイヤル)

Exhibition Website: https://artexhibition.jp/london2020/

*The exhibition will move to The National Museum of Art in Osaka from November 3, 2020 to January 31, 2021

Tokyo Stroll: The Café That You Want to Visit to See Someone #14 – 'Kayaba Coffee' in Yanaka

In this edition of The Café That You Want to Visit to See Someone, I visited Kayaba Coffee, a coffee shop in Yanaka, Tokyo, which is a perfect example of the old and traditional shitamachi neighbourhoods.

Kayaba Coffee is just a 10-minute walk from both Nezu Station and Nippori Station.


This is a place I've visited in my private time out of work and I'm always excited to go. Kayaba Coffee was established in 1938, and actually closed in 2006. But due to public demand, the cafe reopened just two years later in 2008. It's a popular coffee shop loved by people of all generations.

Time to head on in.

The first floor houses the counter and table seats, while the seating on the second floor is traditional zashiki style on tatami flooring. Although it's a cafe, you I feel so relaxed in there that it's like I'm visiting my grandma's house. The sun shines through the big windows, making you all warm and want to take a nap.

I ordered their super popular egg sandwich! The menu was changed in May this year, and a new and improved version of their egg sandwich was put on there. It's made using sourdough bread from VANER, a local bakery in Uenosakuragi not far from the cafe.


Breakfast Menu – Egg Sandwich | ¥1,000

The chewy, sour bread is the perfect combination with the fluffy eggs.

Lemon Squash | ¥600

The lemon squash has a cinnamon aftertaste. Everything on the menu is made with love and perfection; before I realised it, I was hooked on going there.

Strawberry Shaved Ice | ¥800

This was my first shaved ice of the year! I went with the classic strawberry flavour. The syrup is super juicy and nearly collapsed the fluffy shaved ice the moment I put it on. It has a syrupy texture and the strawberry juice has a sweet and sour kick that's just simply delightful♡

And you can make it even sweeter by pouring over your desired amount of condensed milk. It was really tasty.


Kayaba Coffee is the same as it was back in the day, and continues to be loved dearly. I think even people who visit it for the first time will feel a sense of nostalgia. If you have a place you can go to relax on bad days or when you're feeling down, it's sure to give you the strength to work hard again. This cafe is a wonderful place that's close to people's hearts.

I want to visit there again already.

Writer/Model: Ema Tanioku
Photographer: Haruka Yamamoto
Design: Yuko Takayama (ASOBISYSTEM)

Translator: Joshua Kitosi-Isanga

Information

Kabaya Coffee
Address: 6-1-29 Yanaka, Taito-ku, Tokyo

Opening Hours: [Tue-Fri] 8:00-18:00 (Last Orders 17:30) / [Weekends] 8:00-19:00 (Last Orders 18:30)

Closed: Mondays

New Desserts Arrive at Tokyo's Panda Themed Cafe Mainichi Panda CAFE by Saryo Ginza Seigetsudo

Saryo Ginza Seigetsudo, a cafe located on the 2nd floor of Matsuzakaya Ueno in Tokyo, has been holding its "Mainichi Panda CAFE" event since October last year where it is serving up panda themed food and drink, selling panda plush toys and books, and the cafe itself is decorated with all things pandas.

Mainichi Panda CAFE by Saryo Ginza Seigetsudo is now introducing four new panda desserts, and its exhibition theme is celebrating the birthdays of Ueno Zoo's giant pandas Xiang Xiang and Lili.

Adzuki Bean & Warabimochi Panda Parfait | ¥1,100

Japanese style parfait topped with panda-shaped ice cream.

Panda Jonamagashi & Matcha Set | ¥1,100 *Only 4 served per day

A Japanese 'jonamagashi' confection made to look like a panda wearing a straw hat.

Panda Pancake-Style Dorayaki w/Orange Peel | ¥1,100 (With Coffee ¥1,430)

Saryo Ginza Seigetsudo's signature dorayaki served pancake style and branded with a cute panda face.

Lemon Yogurt Cake Set | ¥1,210

A slice of refreshing lemon and yogurt cake.

Mainichi Panda Exhibition (Excerpt)

The cafe has a special photo exhibition on display of the cute giant panda family that is housed in Ueno Zoo.

Postcards


Postcard image

The first 100 customers who dine at the cafe each day will receive a free postcard of Ueno Zoo's pandas.

If you love pandas, and have visited Ueno Zoo before, then you won't want to miss a visit to Saryo Ginza Seigetsudo.

Information

Mainichi Panda CAFE by Saryo Ginza Seigetsudo
Address: Matsuzakaya Ueno 2F, 3-29-5 Ueno, Taito Ward, Tokyo
Opening Hours: 10:00-20:00 (Last Orders 19:30) *Opening hours subject to change
TEL: 03-3832-1111

Tokyo Stroll: The Café That You Want to Visit to See Someone #13 – 'Sepia' in Shibamata

In this edition of The Café That You Want to Visit to See Someone, I visited Sepia in Shibamata, a Showa-retro style cafe which I've always wanted to visit.

The cafe is just a 2-minute stroll from Shibamata Station which appears in the Japanese film Otoko wa Tsurai yo. The walk along the road that leads to Sepia, which is nearby the Buddhist temple Shibamata Taishakuten, is a pleasant one. Tokyo is a city consistently perceived as one that is cutting-edge in every aspect, but what I felt from each and every building surrounding Shibamata Station was a kind of warmth that you feel when something has history to it.

It's been seven years since I came to Tokyo. Visiting Shibamata made me me realised how many places there are which I still don't know about. It invigorated me. As my mind wandered with these pondering thoughts, I finally spotted the sign outside the cafe, and it sure is a cute one!

The moment I stepped inside, I stood, my mouth agape, and looked at my surroundings. It's the first time I've entered such a bright, shining cafe. It was littered with characters I've never seen before, manga, magazines, and more.

When you hear the word kira kira ("glitter," "sparkle"), the first thing that comes to mind for a lot of people is probably Harajuku and the Harajuku style, but Sepia's version of kira kira is a nostalgic one betwixt 1965 and 1975 during the Showa Period. The cafe is incredibly delicate in every spot and corner, like I'm looking inside some grand treasure chest.

The owner of Sepia is Kiyoko Hasezawa. The cafe gets its name from the manga Milky Sepia Monogatari by Ako Mutsu. Ms. Hasezawa said that she wanted to bring to life the world of the manga she loved. The cafe is full of her dreams and is enjoyed by everyone, both children and adults alike.

The cafe menu is even inspired by the food that appears in the Milky Sepia Monogatari manga. The hard pudding I had, which combined caramel sauce and cream, was an absolute delight.

Homemade Showa Pudding & Cream Soda Set: ¥1,200

If we're talking cafes, then you can't go wrong with cream soda. The cream soda served at Sepia comes in seven different flavours and colours: melon, Blue Hawaii, strawberry, lemon, peach, grape, and orange. I was spoilt for choice on which to go for, but in the end I went with the pink-coloured strawberry. It had a sweet flavour and was really delicious.

Strawberry Cream Soda: ¥750

I devoured the hotcakes too. The pastry was so fluffy and tasty – I could have eaten a hundred of them. The second one I ate with honey.

Hotcakes: ¥600


At the back of the cafe, they also have the "Candy Candy Museum." There's a personal collection of items from Candy H Milky, a female fashion enthusiastic who used to be a customer at Sepia. There's a photo spot for snapping a photo in the cafe too.

It's a great time getting to go and look at the displays after eating. I recommend going to see the collection yourself with your own eyes. Entry to the museum is ¥300.

There's a tearoom up on the second floor which has a nostalgic vibe to it. I felt warm and relaxed, like I'd been transported to my grandma's house.

Humans can't travel back in time, but if we look after mementos properly, we can go back there in our minds and memories. Sepia, a place that continues to be cherished and loved, is everybody's treasure trove.

My oh my, I really want to go back there again.

Writer/Model:Ema Tanioku
Photographer:Haruka Yamamoto
Design:Yuko Takayama(ASOBISYSTEM)

Information

Sepia
Address: 7-4-11 Shibamata, Katsushika-ku, Tokyo
Days Open: Fridays, Saturdays, Mondays
Business Hours: 12:00-17:00 (Last Orders 16:30)
For the latest information, visit Sepia's official Twitter page @sepia_mama

Sanrio Gift's New Shop in Ueno Welcomes Hello Kitty Panda Merchandise & More

Sanrio opened a new gift shop called Sanrio Gift Gate in Ueno on January 24, 2020. This is the 107th branch of the gift shop to open in Japan, following the openning of the Asakusa branch which opened in Asakusa last year. Aimed at tourists both Japanese and foreign, it sells merchandise of Sanrio's popular cast of characters.

You can't miss the shop as a giant Pompompurin embracing a panda suit-clad Hello Kitty are waiting to greet you at the entrance. The panda is a symbol of Ueno due to Ueno Zoo housing giant pandas.

The souvenir shop features a range of Ueno exclusives, including a line-up of six popular Sanrio characters wearing panda outfits.

Plush Toys (6 Designs) – ¥2,200 Each / Small Plush Toys (6 Designs) – ¥1,760 Each

Who could resist one of these cute toys? The bigger ones at 16cm tall and the small ones 11cm. The line-up includes fan favourites Hello Kitty, Pompompurin, Cinnamoroll, My Melody, Kuromi, and Pochacco.

There's also pop-up cards with a variety of designs, including one that opens up into Ameya-Yokochō open-air market, another that turns into Hello Kitty and a panda sat down, and more.

Edo-Tamagawaya x Hello Kitty Pink Tonkotsu Ramen – ¥390

Budoonoki Sanrio Character Baumkuchen – ¥594 Each (Hello Kitty/My Melody/Pompompurin/Cinnamoroll)

The Salt Industry Center of Japan x Hello Kitty Table Salt – ¥248

There's also food and snacks amongst a whole range of other goodies, all perfect as gifts and souvenirs.

Be sure to stop by Sanrio Gift Plaza the next time you're in Ueno.

ⓒ 1976, 1996, 2020 SANRIO CO.,LTD. TOKYO, JAPAN  Original Text: SANRIO CO.,LTD.

*All listed prices include tax. Sold items receive stock turnovers.

Information

Sanrio Gift Gate Ueno
Address: Plaza U Bldg. 1F, 4-8-6 Ueno, Taito Ward, Tokyo

Business Hours: 11:00-20:00 (subject to change – please check website for latest info))

Other: Duty-Free/Payment possible with Alipay and WechatPay.
Shop Information: https://www.sanrio.co.jp/shop/sh8122100/

Tokyo Stroll: The Café That You Want to Visit to See Someone #12 – 'J-COOK' in Gaiemmae

In this edition of The Café That You Want to Visit to See Someone, I visited J-COOK in Gaiemmae, a place I visited one time while off work which ended up in me wanting to absolutely feature it in the series!

It's just a 5-minute stroll from Gaiemmae Station.

The cafe enjoys lots of sunlight, which is brightened further by all the plants scattered through the shop. The cafes I have visited to date are often a little darker with only a little light seeping through the windows to create a certain atmosphere, and they are wonderful, but this was the first I have ever visited with so might light and so many plants. The air felt clear, adding to the level of comfort in the cafe, perhaps because there are so many plants adorning the interior.

The cafe also has a space with a slightly more darker light and atmosphere on the left side. I haven't sat in that area yet, so I think I'll try it out on my next visit.

When I come to J-COOK, my eyes always wander over to the marzipan creations (¥450).

These ones here were actually all individually handmade by the owner's husband from the early morning.

If you look really closely, you'll notice all the dog designs are different. When ordering, get to pick out which one you want, so try finding your perfect pup!

I had mine together with an iced coffee (¥450). The sweet marzipan is a delicious combination with the bitterness of the coffee.

I also got some potted cream (¥450). It's kind of like a Japanese custard pudding with just a moderate amount of sweetness.

I had mine with a bit of brandy which had fragrant vanilla notes. They've had this brandy for 33 years since the store first opened.

The cream was sensational, and the gentle notes linger afterwards.

They have a lot of different homemade soups too which are perfect for the coming cold weather. I got the New Orleans-style gumbo soup. It's spicy with clam and okra in it.

Relaxing jazz music plays in the cafe while you sit and enjoy your drink and meal.

J-COOK is a wonderful little cafe run by a husband and wife. When I first came, the wife came and talked to me. She's super friendly, and although it was our first meeting, she made me feel really comfortable and welcome. She must be full of happiness, which in turn naturally gives people who visit the strength to be positive and work hard.

I reckon their smiles have saved a lot of people.

I can't wait to visit again!

Writer/Model: Ema Tanioku

Photographer: Haruka Yamamoto

Design: Yuko Abe (ASOBISYSTEM)

Translator: Joshua Kitosi-Isanga

Information

J-COOK

Address: 3-36-26 Jingumae, Shibuya, Tokyo

Opening Hours: [Tue-Sat] 8:00-22:00 (Last Orders) / [Sun] 11:00-18:00 (Last Orders 17:30)

Closed: Mondays

Official Twitter: @jcookjp

A Date With Yutaro: Soaking Up the Japanese Summer Sun & Visiting the Art Aquarium | Tokyo Stroll

It's been a while since our last date with Yutaro. He's been very busy with film shoots. He had some spare time today so we paid a visit to Nihonbashi for our next date. "ECO EDO Nihonbashi: Enjoy Cool Edo With All Five Senses" is an event held every year in the Nihonbashi area which takes the Edo period cultural idea of "coolness"―an in, to enjoy being cool during the summer-and puts a modern spin on it. There are many exciting things to look forward to, including the art aquarium which proves massively popular every year.

We gave ourselves more time to arrive at the meeting place to be in the safe side, but it seems Yutaro-kun was already there waiting for us!

Nihonbashi Information Center | IPPIN CAFÉ "Sparkling Herb Tea" – ¥518 (Tax Included)

"Here, you must be boiling." Yutaro-kun kindly offers a cup of IPPIN CAFE's limited-edition sparkling herb tea. It's a delicious mix of fizzy soda and lemon, a perfect refreshment for the summer. Since he ordered takeout the drink came with a goldfish straw. Goldfish are a staple sight during Japanese summer festivals so it's very fitting for the occasion! 

With our drinks in hand, it's time to head to Nihonbashi for our Edo summer date!

Wind-Chime Forest Path

Lining the path between Fukutoku Shrine and Fukutoku Garden is the Wind-Chime Forest Path where around 200 Edo-style wind chimes dangled. This year, during the evenings, the path is illuminated with beautiful lighting. 

When the breeze rolls past the wind chimes ring one by one-a cool and refreshing sound.

"I hear each one of these Edo wind chimes are individually handmade by craftsmen."

When you hear the sound of the wind chimes it makes you feel cool like a gentle breeze of the wind.

After strolling along the Wind-Chime Forest Path we make our way towards this year's ECO EDO Art Aquarium event.

The moment we step instead Yutaro is already dazzled by all the goldfish: "Wow! I knew about this place from what I'd seen online, but this my first time here! This art aquarium really is something!"

The full title of the event is "ECO EDO Nihonbashi ART AQUARIUM 2019 ~Edo, Coolness of Kingyo~ & Night Aquarium."  Goldfish were a huge part of the common culture in Nihonbashi during the Edo period. This event recreates that and brings that "coolness" aspect while combining it with contemporary art by having people observe the fish in lots of different artistic environments.

Super Oiran

"This is the biggest fish tank, apparently it has 3,000 fish swimming inside!"

"Seeing the light reflect on the water from the illuminations lets you see the fish in a different light, doesn't it?"

Looks like Yutaro-kun is having a lot of fun taking photos.

He's equally interested in just about every fish tank!

These other fish tanks have a different aesthetic to them. Their Japanese-style designs make for great photos.

Kaleidorium 3D

"This one's beautiful, it's like a kaleidoscope."

It really does look like one. When you take a peek instead you can glimpse all kinds of colourful fish gently swimming around.

Ceiling Kingyo

"There're goldfish swimming on the ceiling too. So cool! This aquarium is incredible. It brings together the great culture of Edo and contemporary art."

The Art Aquarium bustles every single year with visitors, but this year will mark its last run. It's being held at Nihonbashi Mitsui Hall, so if you have the chance to go then please do.

We of course checked out some local Nihonbashi treats too! We stopped by morozoff for some cheesecake after the aquarium.

morozoff Kamadashi Cheesecake (Goldfish) – ¥270 Each (Tax Included)

These cute cheesecakes with their goldfish designs are available for a limited time only. They're filled with sweet red bean paste. They perfect with iced tea.

"Got some! Let's eat them while we head back."

Goldfish Lantern Walkway

Our first date in Nihonbashi was so much fun. While on the date Yutaro-kun spoke about the new live-action film he's in, Kaguya-sama: Love Is War.

"It's a romance film with mind games to try and make the other person confess their love. I play the character Tsubasa. His number one highlight scene is the kabedon scene. That was my first day shooting, so I was super nervous, but I got along well with the other actors, and the atmosphere on set was harmonious, so I was able to relax for the shoots. Tsubasa is a genuine guy who will believe things that have been said to him in earnest. You've definitely gotta check out all his scenes throughout the film!"

"A lot of the cast are the same age as me, so we were all energetic together in the waiting room. There's a scene at the end where all the cast get together. It took 3 days to shoot so we ended up getting along really well."

"This film has made me realise that love comes in many shapes, and that mind games happen in a variety of ways between guys and girls. There's cute scenes that express that small bit of pride that teenagers have, the embarassment they feel, when they get butterflies, scenes that will warm your heart. The film has various elements to it so I thoroughly enjoyed watching it myself. I hope that couples in love in their teens and twenties watch it, and I also hope that married couples watch it and crack up laughing too."

"In the film it's summer break, and they go and see fireworks and stuff. It's definitely one to watch durnig the summer. You're gonna come watch it too, right? Shall we go?"

An offer we cannot refuse! We'll definitely go and see it with you, Yutaro-kun! 

Model: Yutaro

Writer: Yuki Yokoo

Photographer: Kayo Sekiguchi

Information

ECO EDO Nihonbashi 2019 ~Enjoy Cool Edo With All Five Senses~

Running: July 5, 2019 – September 23, 2019

Location: Nihonbashi Area

TEL: 03-3242-0010 (Nihonbashi Information Center)

Event Page: https://www.nihonbashi-tokyo.jp/en/ecoedo2019/

ECO EDO Nihonbashi ART AQUARIUM 2019 ~Edo, Coolness of Kingyo~ & Night Aquarium

Running: July 5, 2019 – September 23, 2019

Location: Nihonbashi Mitsui Hall Floor 5F (Entrance at 4F),  COREDO Muromachi 1, 2-2-1 Nihonbashimuromachi, Chuo Ward, Tokyo

Opening Hours: Art Aquarium 11:00-19:00 / Night Aquarium From 19:00

[Sun-Fri] 11:00-22:00 (Last Entries 22:00) [Sat & days prior to public hoiday] 11:00-23:30 (Last Entries 23:00)

Access: Directly connected to Exit A6 of Mitsukoshimae Station, accessible on the Tokyo Metro Ginza Line and Hanzomon Line / Directly connected to Shin-Nihombashi Station / 8-minutes on foot from East Exit of Kanda Station JR 8-minutes on foot from Nihonbashi Exit of Tokyo Station

TEL: 03-3270-2590

Event Page: https://www.nihonbashi-tokyo.jp/en/ecoedo2019/contents/005.html

Kaguya-sama: Love Is War Film

Release Date: September 6, 2019

Adapted from the manga of the same name by Aka Akasaka (Shueisha/Weekly Young Jump)

Cast: Sho Hirano (King & Prince), Kanna Hashimoto, Hayato Sano, Natsumi Ikema, Nana Asakawa, Mayu Hotta, YUTARO, Takashima Masahiro, Jiro Sato

Official Website: https://kaguyasama-movie.com/

TALENT PROFILE

Yutaro

Yutaro was born in Hiroshima on June 3rd 1998. His modeling career has earned him lots of attention as a fashion icon of the new generation. The famous model also works as a "charisma" shop assistant. Yutaro has gained his reputation as a "mysterious and handsome guy" from his appearance on Japanese variety shows. His debut was made on the show "Gyoretsu no Dekiru Horitsu Sodanjo" and has since then appeared on numerous different TV shows. He challenged himself to appear on stage for the very first time in March this year and is gaining popularity by the day for his diverse work.