New Era releases new cap collection made using Japanese-produced melton cloth
Melton is a popular type of cloth used worldwide. Using an original light melton produced in Bishu, New Era are releasing a new cap collection using the premium fabric.
New Era was established in 1920. The company is internationally renowned for its iconic headwear and apparel, and is the only official cap producer for major league baseball.
The melon used in the caps is thick cloth that is smooth to the touch, the same used to make winter coats such as pea and duffel coats. The fabric is like felt and has heat insulation to ensure the inside stays warm. Because of this, the same fabric is used in stadium jackets and military wear.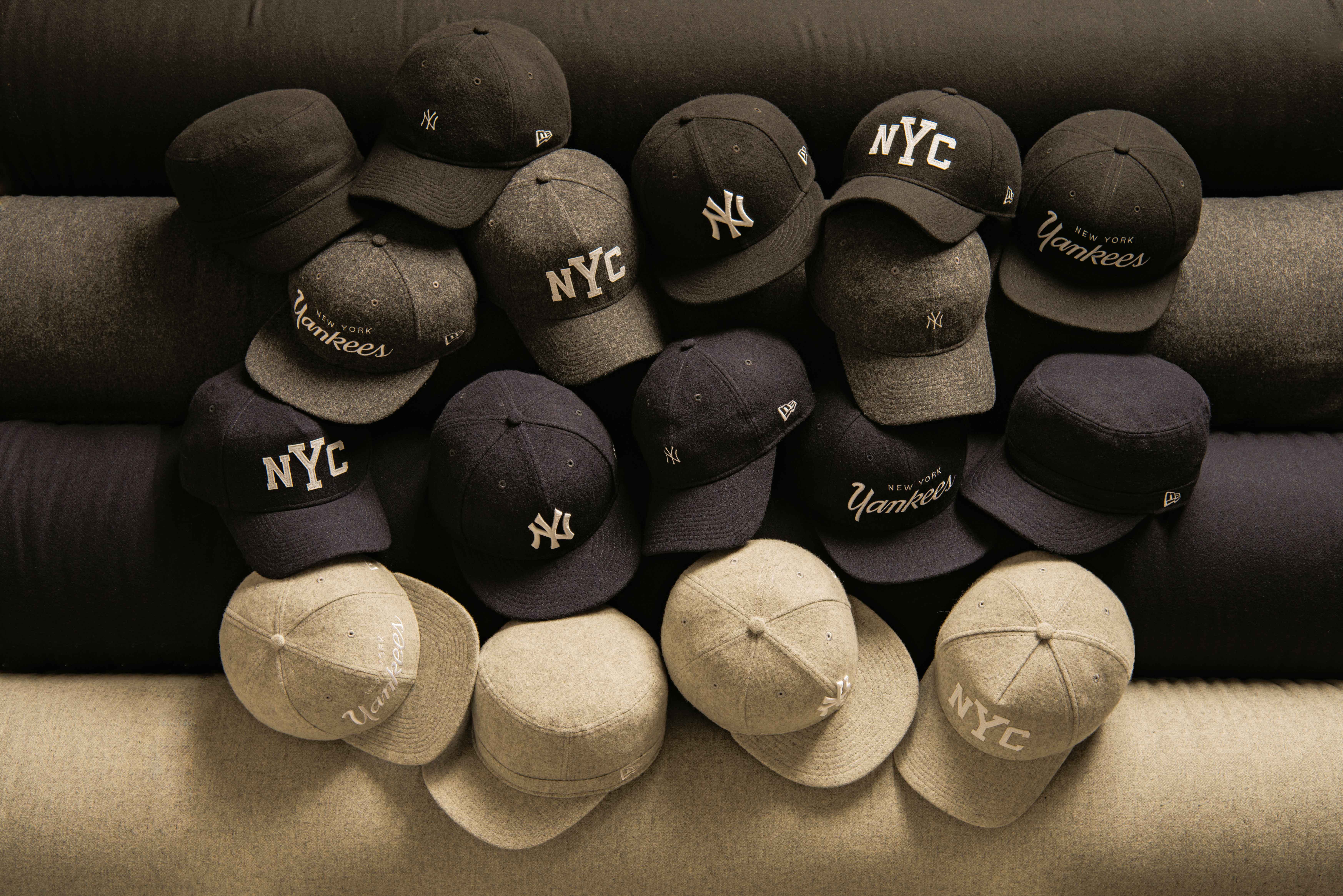 The hats comes in black, navy, charcoal and grey. Each cap has a white logo, and the warm fabric has a sporty feel to it.
Don't miss out on New Era's new cap collection using melton produced in Japan.
RELATED ENTRIES
Artist Takashi Murakami and New Era to Release First Collaboration Collection

World-renowned artist Takashi Murakami and international headwear brand New Era have come together to release their first collaborative collection.

Murakami's embroidered artwork appears on New Era's iconic hats, and to prepare for this unique collaboration, artwork combining the icons of both companies will also appear on select products. For those who don't wear hats, apparel and bags will also be available at New Era's online store and select stores nationwide. The collection went on sale in Japan on January 1, 2022.

Globally Popular Anime Demon Slayer: Kimetsu no Yaiba To Collaborate With New Era

NEW ERA, an international headwear brand, has released a collaborative collection with the hugely popular Demon Slayer: Kimetsu No Yaiba anime, based on the manga by Gotouge Koyoharu. The collaboration will be available in NEW ERA® STORE's nationwide and online from August 19, 2021. 

The lineup is made up of 37 different items, with many themed around characters from the show or featuring the logo.

Demon Slayer: Kimetsu No Yaiba Collaboration page: https://www.neweracap.jp/collections/demonslayer


If you're a Demon Slayer fan then make sure to check out this special collaboration!

Information

Demon Slayer: Kimetsu No Yaiba x NEW ERA

Availability: NEW ERA® STORE nationwide & online

Official Site: https://www.neweracap.jp 

Dress Like EarthBound's Ness With New Era's Hat Collection

New Era has announced its first collaboration with the Mother video game series, also known as EarthBound outside Japan. Two hats, one inspired by Ness's hat from Mother 2, and a 'SMAAAASH!!' version, will be released at the Mother no Hiroba pop-up shop at Shibuya PARCO as well as at participating TOCHIBI stores in Japan on July 1.

NEW ERA® 9FIFTY™ SMAAAASH!!/Ness – ¥7,700 Each (Tax Included)

Both hats feature New Era's iconic 59FIFTY® model, which was first released in 1954, and feature the 9FIFTY™ snapback adjuster. One is coloured red and blue with a white top, just like Ness, and the other is full black with the word 'SMAAAASH!!' on the front.

The Mother no Hiroba pop-up shop will be open at Hobo Nichijo on the 8th floor of Shibuya PARCO in Tokyo from July 1 to 11. EarthBound fans can get their hands on a range of related merchandise.

©SHIGESATO ITOI / Nintendo ©HOBONICHI

Information

MOTHER x New Era Collection

Released Date: July 1, 2021

Product Details: https://www.1101.com/n/s/mother2_newera_pre

MOTHER no Hiroba Pop-Up Shop

Running: July 1, 2021 – July 11, 2021

Opening Hours: 11:00-20:00

Location: Hobo Nichijo (Shibuya PARCO Floor 8F)

Address: 15-1 Udagawacho, Shibuya, Tokyo

Entry: Free

Re:Zero x New Era® Cap Collection Features Emilia & Rem Designs

Japanese online retailer ARMA BIANCA released a new collection of caps by New Era® in collaboration with the anime series Re:Zero − Starting Life in Another World featuring Emilia and Rem designs.

 

The Line-Up

Emilia | ¥8,228 (Tax Included)


The cap features the letters 'EMT' decorated with Emilia's hairpin. The underside of the cap is decorated with various scenes of Emilia from the anime series along with the words 'Emilia-tan,' 'Seriously,' and 'Angel' in Japanese. The tip of the cap also has the New Era logo on it.

Rem | ¥8,228 (Tax Included)


The front of Rem's cap has 'FROM 0' embroidered on the front and scenes of the popular character underneath. It also has phrases she says written in English including 'Let us start over from here,' 'From one…,' and 'No.' This cap also bears the New Era logo.

The caps have a casual and simple design to them, making them easy to coordinate with outfits while also celebrating the globally-popular anime.

©長月達平・株式会社KADOKAWA刊/Re:ゼロから始める異世界生活2製作委員会

Yohji Yamamoto's Brand Ground Y Releases Collection in Collaboration With New Era

Yohji Yamamoto's brand "genderless and ageless" fashion brand Ground Y is releasing a new clothing collection in collaboration with New Era at Ground Y stores, THE SHOP YOHJI YAMAMOTO, and select dealers on March 22.

The Line-Up

9THIRTY™ | ¥8,800 (Tax Included)

Logo Cotton Tee | ¥12,100 (Tax Included)

Logo Cotton Hoodie | ¥17,600 (Tax Included)

The line-up takes New Era's "9THIRTY™" Spring/Summer 2021 collection and adds Ground Y's logo in a metal plate. The plate is simple yet double almost as an accessory in its stylish look.

New Era, who are known for their headwear series, started developing high-quality bags and apparel in recent years. They have now developed their very first randoseru backpack. 

A randoseru is a kind of firm and sturdy backpack often used by elementary school students. Its most appealing and distinctive features are the large smooth flap and slightly rounded corners. 

Randoseru: ¥75,000 (Before Tax)

This randoseru backpack was developed to hype up the daily lives of new students eagerly anticipating the start of the 2021 academic year.

Colour samples from New Era's 59FIFTY® baseball cap visor sticker inspired the black and gold colour scheme. New Era's logo designs can be seen all over the bag. It even comes with a cap clip for you to carry your headwear. The new randoseru bags are set for release in April 2020. 

This fashionable randoseru bag is full of beautiful details and is just what you need to start your next school year. 

One Piece x New Era® Collaborate On Limited Edition Rucksacks

Headwear and apparel brand New Era® is collaborating with the internationally-beloved hit anime series One Piece, which turned 20-years-old on Sunday (October 20), to release a stylish new rucksack from the PREMICO webstore.

The rucksack takes inspiration from the Straw Hat Pirates and fuses it with New Era's iconic street fashion style.

The bag's outer pocket features delicate embroidery of the crew's skull logo as well the name "STRAW HAT" in all-caps.

The interior design of the rucksack features a print of an old-fashioned map and bears a cushioned pocket with plenty of room for stashing your tablet, notebook laptop or other items.

There's also a side pocket for carrying a bottle. The charm dangling from the outside pocket features a ship anchor for that extra pirate aesthetic.

The bag comes in a black colour with a standard unisex silhouette, meaning it can easily be incorporates in a wide variety of styles.

Each bag also comes with a cap clip with the One Piece logo on one side and the New Era logo on the other.

This is a limited edition rucksack with only 2,000 being made, making this a must-grab for all fans!

©️Eiichiro Oda / Shueisha・Fuji TV・Toei Animation

Information

NEW ERA x ONE PIECE Official Rucksack Collaboration

Release Date: October 21, 2019

Delivery: Mid January 2020

Price: ¥19,800 (Does not include tax or shipping fee)

Quantity: 2000

Official Website: https://iei.jp/op48pr/

Yohji Yamamoto & New Era® Team Up to Release New Skull & Rose Pattern Items

New items have arrived in Yohji Yamamoto and New Era's® collaborative series and are available from April 18.

The key motif of this season's release is the skull and rose design that was featured Yohji Yamamoto Homme in the fall and winter season back in 2014. The new line-up includes caps, a rucksack, t-shirts and hoodies.

59FIFTY® – ¥15,000 (+tax) each


Rucksack – ¥34,000 (+tax)


Coach Jacket – ¥38,000 (+tax)

The skull and rose patterns on the brims and linings of the clothing items will no doubt up the ante in your fashion style.

Cotton Tee – ¥16,000 (+tax) each


Sweat Pullover Hoodie – ¥30,000 (+tax)

You can't overlook the t-shirts or jackets either, which also feature the simple logo like on the black hoodies.

The items in this line can be purchased from Yohji Yamamoto company stores as well as at New Era® Tokyo, New Era® Osaka, New Era® Fukuoka, New Era® Kyoto, and via the New Era® Online Store. They are gaining rapid popularity so make sure to check them out ASAP.

■InformationYohji Yamamoto × New Era Collaboration Series

On Sale: April 18, 2018

Available: Yohji Yamamoto company stores, New Era® Tokyo, New Era® Osaka, New Era® Fukuoka, New Era® Kyoto, New Era® Online Store

New Era Official Website:
http://www.neweracap.jp

Mega Man & Dr. Wily Caps to be released in Collaboration With NEW ERA®

Capcom video game franchise Mega Man has teamed up with headwear and apparel brand NEW ERA® to release two caps: a Mega Man design and a Dr. Wiley design.


The front of the Mega Man cap features a large print of the character's serial number "DRN.001". On the back is an embroidery of Mega man himself as well as an E Tank tag in retro 8-bit designs. The cap also dons Mega Man's iconic blue colour, including under the visor.


The Dr. Wily model includes the character's iconic logo on the front. On the back is Dr. Wily himself in 8-bit together with the boss fight icon.

Mega Man fans are definitely going to want to pick up one of these two caps, which look like the start of a battle sequence when lined up next to each other!

■Information

①Mega Man×NEW ERA® Cap ② Dr. Wily×NEW ERA® Cap
Reservation Period: March 28, 2018 until all stock are sold, when sales will cease.
Delivery: Beginning of June 2018

Price: ¥5,800 each  (tax excl.)

Sales Page: https://www.super-groupies.com/feature/detail.php?id=534

Dealer: SuperGroupies(スーパーグルーピーズ)
©CAPCOM CO., LTD. ALL RIGHTS RESERVED.

New collaborative item of "Yohji Yamamoto" and New Era, "9TWENTY™" is now on sale

The first collaborative curved visor cap created by "Yohji Yamamoto" and "New Era" called "9TWENTY™" is now on sale at Yohji Yamamoto's directly managed shops/official dealers, NEW ERA® TOKYO、NEW ERA® OSAKA、NEW ERA® FUKUOKA、NEW ERA® KYOTO、NEW ERA® Online Store (http://store.neweracap.jp) from the 28th of February (Wed.).

 "Yohji Yamamoto" and New Era have been creating collaborative caps of "59FIFTY®," a well-known standard line of baseball caps. This time, they started selling the collaborative model, 9TWENTY for the first time.

9TWENTY™ ¥11,000+(tax)

The cap has a small logo stich on the front and is probably the simplest line of caps they have created. It can be said that it is a basic item which is totally different from the existing capsule collection caps.

Don't miss this new simple cap!

■Information

9TWENTY™

Color: black

Stitch's color: white

Material: cotton

Product number: 11596327

Price: 11,000 yen + tax

NEW ERA® Online Store :http://store.neweracap.jp

From "New Era Cap Company" comes the second collaboration with "Pokémon" to release caps in the ongoing headwear series. The first releases in the series came out in September and proved to be incredibly popular. The new line-up will include caps that take on the design of everyone's favourite Pokémon.

©Nintendo・Creatures・GAME FREAK・TV Tokyo・ShoPro・JR Kikaku ©Pokémon

59FIFTY®

¥5,500 (+tax)

This cap comes with a Pokémon logo design in an arch type font, and there is a Pokéball embroidered on the back. There will also be a "Kids 59FIFTY®" release with the same design.

59FIFTY®

¥5,500 (+tax)

The Pokémon League is a championship tournament that Pokémon trainers can enter once obtaining all the gym badges in a certain region. This cap features all 8 gym badges from the Kanto Region in the Pokémon world on the left side.

59FIFTY®

¥6,000 (+tax)

This collection of caps come with designs of several different Pokémon. Each cap also features the number of each Pokémon as registered in the National Pokédex. There will also be "Kids 59FIFTY®" releases with the same design.

From the left: Bulbasaur (#001), Charmander (#004), Squirtle (#007), Pikachu (#025), Snorlax (#143), and Mew (#151).

Pallet Town ("Masara Town" in Japan) is the home of Ash Ketchum ("Satoshi" in Japan) from the Pokémon anime and the place he leaves to become a Pokémon Master. The cap is completely white which represents the description of Pallet Town as featured in the series. In Japan, the town noticeboard of Pallet Town describes it as "the colour of pure-white beginnings."

There's no question you'll be popular with the other kids when you're out in town wearing your Pokémon cap!

■Information