Learn how to photograph animals at Animal World, which has just opened in Osaka!
"Animal World" opened on Friday 17th November. This is an institution that specialises in animal photography. Here, you're in control of the camera! This is your chance to learn how to take good photos and videos of the wonderful creatures of our planet. From horned owls to hedgehogs, there are 15 species of animals waiting for you!
There are 15 cute and peculiar animal species at Animal World, including meerkats, prairie dogs, leopard geckos, African spurred tortoises, hedgehogs, horned owls, rabbits, and much more. Not only can you learn how to take photos, but you can also have your photograph taken with the animals!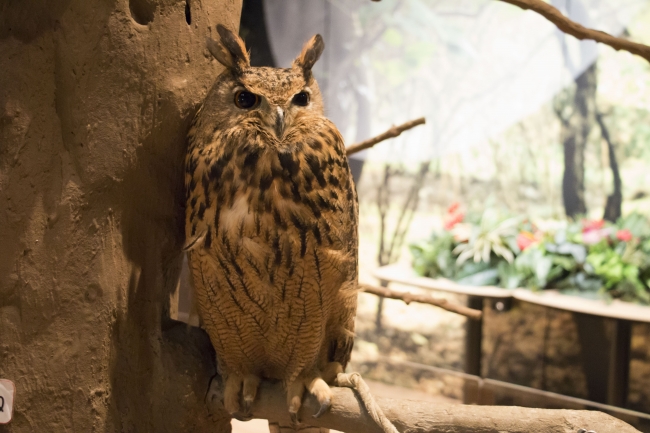 Using a 360 degree view camera, you can also take photos from the view of the animals! It is possible to get your hands on an electric copy of your photos.
※ You will not be permitted to touch certain animals.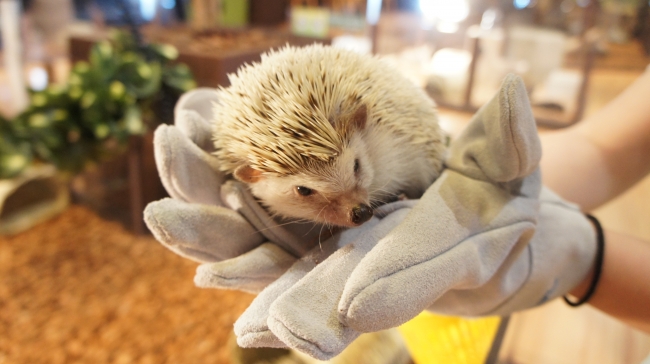 There will be videos and panels explaining photography tips and giving general information about the animal's lifestyle and habitat.
Share a fun moment with your new animal friends at Animal World.
◼︎Information
Animal World
Address:Located adjacent to the side entrance of Orbi Osaka
Opening hours:10:15 ~ 19:45(Last entries: 19:15)
Price(including tax):"Orbi Osaka 1DAY Passport + Animal World ticket (オービィ大阪1DAYパスポート+アニマルワールド)
Adult: ¥2,700/High school/ university students ¥2,268/primary/middle school students: ¥1,836/infants(4 years+)¥1,404
※ Animal World provides services in 30-minute slots
※ Those under primary school age must be accompanied by an adult
※ The animals stated here are subject to change
RELATED ENTRIES
Enjoy cherry blossoms from theme park rides at Osaka's Hirakata Park! ♡ Over 300 trees about to bloom!

From the end of March to the beginning of April, sakura will bloom at Hirakata amusement park. There are approximately 300 sakura trees and eight varieties of tree including Yoshino cherry blossoms. Amongst the park attractions is the "Skywalker"; a giant ferris wheel that overlooks the park. The path to the ride is hilly and lined with sakura trees, so during full bloom, the path is completely covered in a bed of pink petals!

This theme park is unique in that you can enjoy the cherry blossom view and the rides simultaneously! The roller coaster ride "Red Falcon" is also located near a road lined with sakura trees, so you can enjoy an even more wonderful sakura-viewing experience! Plus, you can take your cherry blossom viewing to a whole new level on the "Skywalker" as the carriages of the ride overlook the park from the sky and remain in mid-air for approximately 10 minutes. ♡

Thanks to the arrival of spring, you can enjoy Hirakata Park sakura to the max!

Information

Opening hours

Weekdays: 10:00 ー 17:00

Weekends & national holidays:

・ Monday 25th March ー Friday 5th April 10:00 ー 18:00
Saturday 27th April ー holiday Monday 6th May: 10:00 ー 19:00

Entry prices: Adults: (Middle school+) ¥1,400, children: (2 y/o ー elementary school): ¥800

Website: http://www.hirakatapark.co.jp/

Boneless Dog & Cat Café Returns to Harajuku and Osaka

Boneless Café 2019 is a collaboration with the popular LINE messenger app stamps Boneless Dog & Boneless Cat that's set to run from February 28 in Harajuku and March 13 in Osaka.

The duo were created by Niigata-based graphic designer and illustrator Mofuya. When they arrived on LINE their popularity shot through the roof and they have gone on to sell books, merchandise and more, and their fan base continues to expand.

Boneless Cat's Fried Rice & Salmon (w/ Chinese Soup): ¥1,390 (Before Tax)

Boneless Dog's Snug Doughnuts: ¥990 (Before Tax)

The café's concept is that both animals have found themselves lost in a world of food. The designs of the food and merchandise incorporate Boneless Dog's lovely-dovey personality and Boneless Cat's morose attitude.

Boneless Café Acrylic Key Rings (7 Designs): ¥500 Each


Boneless Café Pin Badge (8 Designs): ¥350 Each

Also on sale is a range of exclusive merchandise not sold anywhere else.

There is also bonus merchandise available to those who book a table online. This includes stickers, lunch mats and more.

Dive into the delicious world of food together with Boneless Dog and Boneless Cat.

Information

Boneless Café 2019
Tokyo: Harajuku Box Cafe & Space (Running: February 28, 2019 – April 14, 2019)
Osaka: Shinsaibashi Contact (Running: March 13, 2019 – April 14, 2019)
Reservations: https://boneless-dogcat-cafe.jp

©Mofuya/LINE

Takoyaki Monchhichi Toys Arrive at Shops in Osaka

Monchhichi is a line of toy monkeys by Sekiguchi Corporation. The toys were first released in 1974 and have since become popular around the world. There was even an American cartoon series of the toys by Hanna-Barbera Productions which aired in 1983.

A limited edition takoyaki version of the toys is being released at souvenir shops and variety shops in Osaka at the end of this month.

©Sekiguchi

The name 'Monchhichi' is a combination of the French word mon which means 'mine' and the Japanese puchi which means small and cute and chichi which is the sound of sucking of a pacifier.

There have been many limited edition versions of Monchhichi sold in Japan, including exclusive Tower Records designs and festival designs. The toy line is also popular outside of Japan. MOSHI MOSHI NIPPON attended Japan Expo in France this year, and they were being sold there too.

Osaka is famous for its takoyaki, a round bite-sized food typically filled with octopus and drizzled in sauce and mayonnaise. If you're heading to Osaka anytime soon, you can pick up the special takoyaki Monchhichi as a souvenir or gift!

■Information

Osaka Takoyaki Monchhichi

On Sale: End of July 2018

Available: Souvenir shops and variety shops in the Kansai region

Helmet Cake on Sale at Sheraton Miyako Hotel Osaka for Children's Day

In Japan, May 5th is Children's Day (Kodomo no Hi). During this time, it is custom to put up decorative armour and helmets around the house. In olden times, this was a practice held only by military families, but it was common amongst the masses in the Edo Period. This custom is still practiced even today.

The Sheraton Miyako Hotel Osaka's café and gourmet shop Café Bell is now selling a helmet-shaped cake for Children's Day.

Helmet Cake

This chocolate crunch cake is layered with more chocolate, vanilla and strawberry mousse and coated in even more chocolate. The helmet crest is sprinkled with reddish-brown gold dust. It has an image that yells 'brave' to it.

A traditional kaiseki multi-course dinner with free drinks has been prepared for families to celebrate Children's Day. There's also a children's bento that contains chimaki – a rice cake wrapped in bamboo leaves – that's said to ward off evil and contribute towards the healthy maturity of a child. Also, as a bonus to the plan, anniversary cakes will be given out!

Don't miss out on this special menu at Sheraton Miyako Hotel Osaka.

■Information

Café Bell, Sheraton Miyako Hotel Osaka 2F

Address: 6-1-55 Uehonmachi, Tennōji-ku, Osaka

Available: May 3, 2018–May 6, 2018 (*Please reserve at least 1-day in advance)
Opening Hours: 8:00-20:00

Price: ¥3,500
TEL: 06-6773-5582
Webpage: https://www.miyakohotels.ne.jp/osaka/restaurant/list/cafebell/index.html

Japanese Food at Uemachi, Sheraton Miyako Hotel Osaka 3F

Address: 6-1-55 Uehonmachi, Tennōji-ku, Osaka

Available: April 22, 2018–May 31, 2018 (*Please reserved at least 3-days in advance)

Time: 7:00-10:00 / 11:30-14:30 / 17:00-21:30
Prices:
・Individual Course – 1 Person (Noon): From ¥13,500 / (Evening): From ¥16,500
・Half Course – 1 Person (Noon): From \9,000 / (Evening): From \13,500
・Children's Bento – 1 Person: \4,000
TEL: 06-6773-1253
Webpage: https://www.miyakohotels.ne.jp/osaka/restaurant/list/uemachi/index.html

*Price includes kaiseki meal and drinks.
*Up to 4 people.
*2 hours max allocated.
*Discount coupons and vouchers not accepted for this plan.

Animo Zoo Opening in Horie, Osaka – Cats, Rabbits, Hedgehogs and More!

Animo is a new indoor zoo set to have a pre-opening on March 24th, 2018 that will house a whole litter of animals from cats to rabbits, hedgehogs, owls and more. It will open along "Orange Street" in the stylish area of Minamihorie-dori in Nishi Ward, Osaka.

When the zoo fully opens, it will have many more animal breeds than the pre-opening, and the interior design will be even better.

The mini zoo will be home to small animals such as cats, rabbits, guinea pigs, hamsters, hedgehods as well as owls, lizards, snakes and more.

The charm of this place is the combination of the cute décor that is based on the theme of 'yume-kawaii' (dream-cute) popular with middle school students, together with each of the animals lively bustling together. You can meet the animals face to face in their rooms! In addition, a collection of merchandise will be sold including original accessories as well as other small bits and bobs.

Meet the cute band of animals yourself!

■Information

Animo

Address: Minamihorie Collet 1F, 1-15-9 Minamihorie, Nishi Ward, Osaka, Osaka Prefecture

Opening Hours: 11:00-19:30 (Last Entries 19:00)

Price: Entry \600 (20 minutes) / Extension \200 (10 minutes per) / Free Pass \1,500 (Weekdays only. Unlimited time. Limited to 2-hours during busy times.)

No Fixed Holidays.

TEL: 080-9816-3835

Website: http://animo1.jp/ (Homepage in development – Opening in May)

Glorious Chain Café Release New Matcha Desserts in Shibuya & Osaka Branches

Glorious Chain Café, managed by DIESEL, introduced two brand new matcha desserts to their menu on February 16th. They are sold at Glorious Chain Café branches in Shibuya, Osaka and Shinsaibashi.

The new items include a matcha smoothie made with fruits and a matcha parfait that's packed with jelly, rice flour dumplings, a waffle and more, giving a layered texture to the dessert.

Rice Flour Dumpling & Adzuki Bean Matcha Parfait – ¥1,480 (tax incl.)

Piled inside this parfait is sweet adzuki bean paste, rich matcha flavoured jelly, and sticky rich flour dumplings. The parfait is topped with a waffle which you can stuff with the ingredients in the glass. The highlight of this Japanese dessert is the mix of bitterness and sweetness.

Matcha & Fruit Smoothie – ¥800 (tax incl.)

The strawberries decorating the side of the smoothie will catch your eye for sure. The matcha smoothie is mixed with fruit berries and banana, and at the bottom sits whipped cream and strawberry puree which, while stirring, can be enjoyed as a sweet drink with the same texture as a parfait.

Tuck into these new Japanese-style matcha desserts at Glorious Chain Café.

■Information

Glorious Chain Café Shibuya

Address: Cocoti 1F, 1-23-16 Shibuya, Shibuya-ku, Tokyo

Opening Hours: 11:30-23:00 (last orders 22:00)

No Fixed Holidays.

TEL: 03-3409-5670

Glorious Chain Café Shinsaibashi

Address: 3-12-9 Minamisenba, Chuo-ku, Osaka-shi, Osaka Prefecture

Opening Hours: 11:00-23:00 (last orders 22:00)

No Fixed Holidays.

TEL: 06-6258-5344

Homepage: https://www.diesel.co.jp/cafe/

ROLL ICE CREAM FACTORY Release Valentine's Day & White Day Menu in Harajuku and Osaka

There's always long lines of people waiting to get into the hugely popular roll ice cream shop ROLL ICE CREAM FACTORY. Those lines are about to get exceedingly longer, as the Omotesando main branch in Harajuku and Dōtonbori branch in Osaka unveiled their limited-time Valentine's Day & White Day menus on February 2nd.


So what exactly is 'roll ice cream'? Just as the name suggests, liquid ice cream is poured onto a freezing cold plate which is then rolled with a spatula to create cylindrical shapes. As expected, roll ice cream continues to make its way onto Instagram for its cute visual impact and unique design. Roll ice cream began in Thailand before becoming a boom over in New York. It's now popular worldwide having spread across Europe and the rest of Asia too.

The limited edition Valentine's Day & White Day menu features a colourful eye-catching arch made from marshmallows. Decorating the bottom of the rainbow are two lovey-dovey teddy bears holding hands on a cute date.

There's also limited-time offer chocolates and cookies made in the shape of hearts too. Make your roll ice cream Valentine's & White Day story even more special by adding more toppings.


For people who'd rather order a set roll ice cream instead of customizing their own, there's a regular menu that has been partly renewed featuring combinations of different bases and toppings.

The regular menu lists 13 different roll ice creams, including a new version of the limited edition seasonal chocolate mint flavour that was received very well, and a new version of the popular strawberry flavour.

Don't miss out on the new cute limited-time offer menu at ROLL ICE CREAM FACTORY!

◼︎InformationValentine's Day & White Day Limited-Time Menu

Available: February 2, 2018 – March 14, 2018

ROLL ICE CREAM FACTORY – Omotesando (Harajuku) Main Branch
Address: JUST Harajuku 1F, 4-28-12 Jingumae, Shibuya, Tokyo
Opening Hours: 10:00-21:00
No fixed holidays.
Access: 1-minute by foot from Meiji-Jingumae Station via Tokyo Metro / 5-minutes by foot from Omotesando Station via Tokyo Metro / 5-minutes by foot from Harajuku Station via JR Yamanote Line
TEL: 03-3470-0227

ROLL ICE CREAM FACTORY – Dōtonbori (Osaka) Branch
Address: 2-2-2 Dōtonbori, Chuo-ku, Osaka-shi, Osaka Prefecture
Opening Hours: 10:00-22:00
No fixed holidays.
Access: 1-minute by foot from Namba Station
TEL: 06-6212-0155

Gorgeous Christmas cakes are on sale at Hotel New Otani Osaka

Hotel New Otani Osaka is selling Christmas cakes at "Patisserie SATSUKI" under the theme of "a Christmas where you can eat a full-fledged dessert." (from the 20th of December 2017 (Wed.) to the 25th (Mon.).

Christmas is a time when many people want to spend a gorgeous time by exchanging presents with their boyfriend/girlfriend or family members or enjoying eating dinner at a restaurant.

Full-fledged Christmas cakes which are suitable to be eaten during the romantic Christmas season made by skilled patissiers of Hotel New Otani are now being sold.

 Christmas Love Short Cake – height 8cm × length 17cm – 16,200 yen (10 pieces per day)

A cake which uses one whole high-quality muskmelon produced in Shizuoka Prefecture and "Amao®," the king of strawberries produced in Fukuoka Prefecture. A dough made of almond milk and diced strawberry solidified with arrowroot is put inside the three-layered sponge cake so the texture of the cake is very unique. It makes for a perfect gift.

 

Extra Super Christmas Amao Short Cake – diameter 18cm – 19,440 yen

This cake uses strictly selected "Amao®" strawberries produced in Fukuoka Prefecture and almond cream and "wasanbon" (refined Japanese sugar) cream add spice to the flavor of strawberries. A regular short cake includes thinly sliced strawberries, but this short cake uses half-cut big strawberries. Thus, the cake has a juicy flavor and is a gorgeous product that uses lots of strawberries.

Super Christmas "Amao®" Strawberry Short Cake -diameter 21cm – 12,960 yen

"Super Christmas Short Cake" uses strictly selected ingredients using a sponge cake made of expensive wheat and castella produced in Nagasaki Prefecture. The strawberries are sandwiched between "wasanbon" sponge cake and sugar sponge cake and the cream produced in Omuta (Kyushu) will makes for a superb texture.

The cake uses the 2L sized "Amao®" strawberries produced in Fukuoka Prefecture and are marinated with natural honey produced in France. Let's eat this special product which is simple but uses gorgeous ingredients.

Super Christmas Double Short Cake – diameter 24cm – 27,000 yen

A gorgeous product where you can enjoy very popular "Super Short Cake" and "Super Melon Short Cake" at once. The product uses the highest quality muskmelon (the price per melon is around 10,000 to 15,000 yen) produced in Shizuoka Prefecture which is known as the area of production. A Christmas dessert which both dessert-lovers and fruit-lovers will love.

Super Christmas Opera – 18cm × 18cm – 32,400 yen

"Super Christmas Opera" is a cake which has fabulous decorations and is made of 14 layers. The height of the cake is 8.5cm and each layer uses different ingredients. The product uses two kinds of butter cream and almonds coated with caramel. The decisive factor of the taste is caramel butter cream and all the ingredients are sandwiched with seven-layered biscuits which has the flavor of espresso. On top of the dark chocolate, high quality, precisely made decorations are placed. It is a cake for adults who love chocolate.

Let's enjoy a special Christmas with "Hotel New Otani Osaka's" gorgeous cakes.

■Information

Hotel New Otani Osaka

Patisserie SATSUKI "Christmas Cake Collection 2017"

Address: 1-4-1, Shiromi, Chuoku, Osakashi, Osaka

TEL:06-6920-7325

Reservation period: two days before the day which the product will be shipped.

Offering date: 2017,12,20 (Wed.) to the 25 (Mon.)

Price: ※tax included

Christmas Love Shortcake 16,200 yen

Extra Super Christmas Amao® Shortcake 19,440 yen

Super Christmas Amao® Shortcake 12,960 yen

Super Christmas Double Short Cake 27,000 yen

Super Christmas Opera 32,400 yen

URL:http://www.newotani.co.jp/osaka/restaurant/p_satsuki/index.html?Psubid=426

First shop debuts in Kansai! ROLL ICE CREAM FACTORY opens shop in Dotonbori

In a previous article we introduced the highly popular roll ice cream shop in Harajuku, Tokyo, ROLL ICE CREAM FACTORY. And now their second shop has opened in Dotonbori, Osaka.

Opening day was December 16th, 2017. In commemoration of their opening, they will sell 2 special Christmas Osaka-shop-limited ice creams, "Holiday Chocolate" and "Holiday Strawberry."

 

ROLL ICE CREAM FACTORY has been a big hit in Harajuku, and no doubt the Dotonbori shop will be another case of "waiting in line is inevitable" popularity.

I scream, you scream, we all scream for "roll ice cream!"

■Information

ROLL ICE CREAM FACTORY -Dotonbori Shop

Address: 2-2-2 Dotonbori, Chuo-ku, Osaka-shi, Osaka

Hours: 11:00~22:00 (planned)

Access: One minute walk from Namba Station

Holidays: Not fixed

TEL:06-6212-0155

A pop up store offering products such as limited products of HELLO KITTY events will be opened at Osaka, Daimaru Umeda

The shop "HELLO KITTY ACTION POP UP SHOP ~MEET THE 2 RIBBONS~" which will offer products from the popular characters of "HELLO KITTY's project "HELLO KITTY ACTION 2017" and limited products of the events will be opened. The shop will be opened for a limited time offer from the 18th of October 2017 (Wed.) to the 31st of October (Tue.).

200 products including limited products which cannot be bought at usual stores will be sold at the shop. Products of "HELLO KITTY ACTION" (a cerebration project of the 45th anniversary of HELLO KITTY – 2019) will be sold too.

They will offer gorgeous amenities such as a limited paper bag (the bag will be given to customers who purchase products in the store).

Moreover, they will hold a photo-taking session with HELLO KITTY (live character) on the 29th of October (Sun.)!

Why not getting 「HELLO KITTY ACTION POP UP SHOP ~MEET THE 2 RIBBONS~」limited products!

◼︎Information

HELLO KITTY ACTION POP UP SHOP ~MEET THE 2 RIBBONS~

Venue: Daimaru Umeda Shop 1F event space

Address: 1-1, 3rd street, Umeda, Kitaku, Osakashi, Osaka

Date: 2017,10,18 (Wed) to 10,31 (Tue)

Photo-taking Session

Date: 2017,10,29 (Sun)

First session: 11:00~ Second session: 13:00~

Third session: 14:30~ Fourth session:16:00~
※30 groups per session

※40 persons on a first come first serve basis

Venue: Event space, beside the south escalator of the 5th floor, Daimaru Umeda Store

■How to participate in the event

※ Reservation tickets will be handed out at Daimaru Umeda Shop 1F Central Concourse

※The participating time can be designated (first-come-first-out). Please note that the reception of reservations will be ended after the number of the visitors reaches the fixed number.

The "numbered ticket" for participating in the photo-taking session will be handed out to customers who spend more than 1,080 yen (tax included) (one ticket per receipt) at 5F Sanrio Shop from 10:00.

※Staff of the event will take the photos using each participant's digital camera or smart phone. Please do not forget to bring your own camera.