Collaborative items created by READYMADE® produced by Yuta Hosono and A BATHING APE® will be sold
The collaborative items created by BATHING APE® and READYMADE®, a remake brand produced by the designer Yuta Hosono, will be sold.
The designer, Hosono selected vintage cloths and created unique products using the icons of BAPE® such as Ape Head and the shark motifs (stich and patch).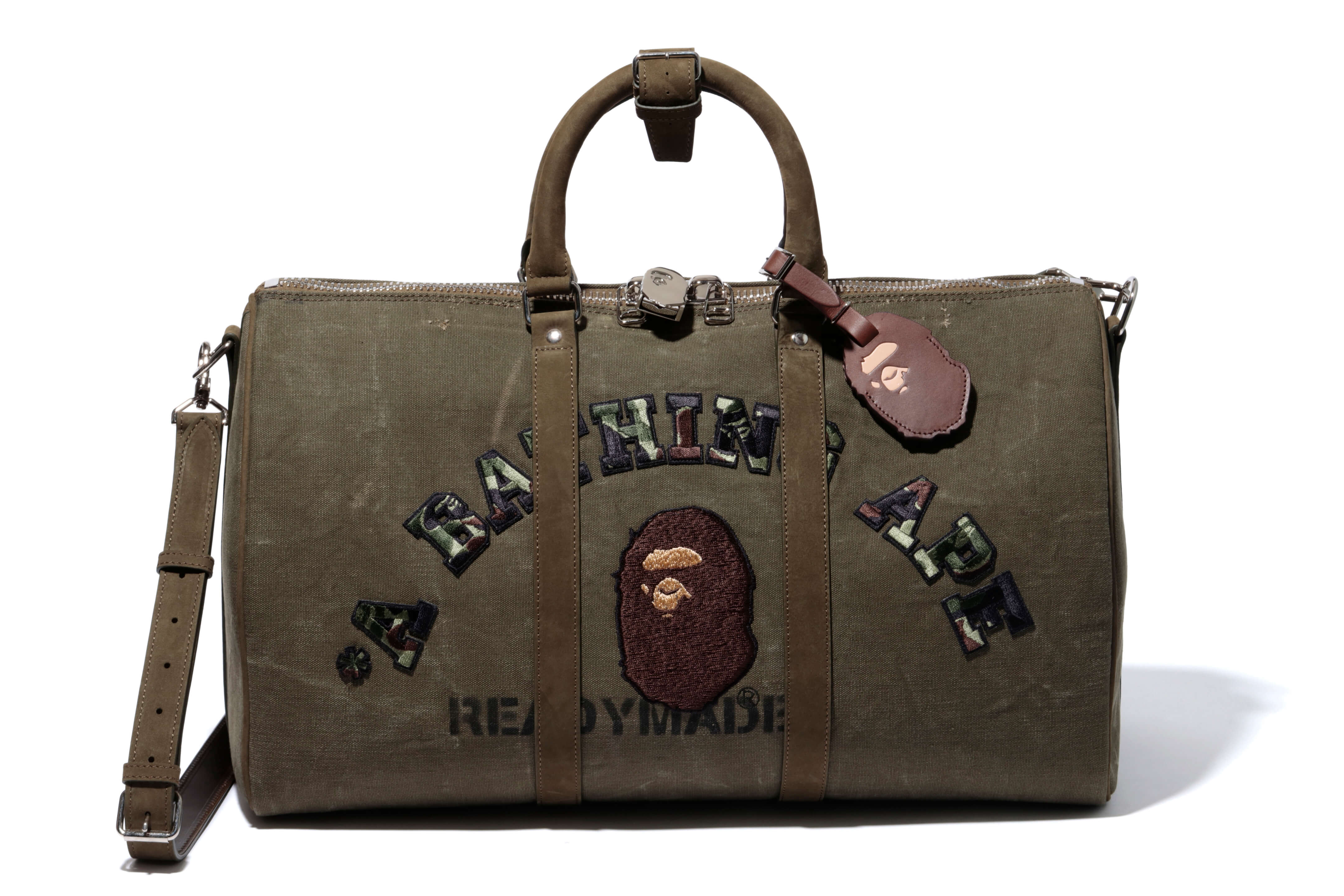 The products were sold in advance at the select shop "MAXFIELD LOS ANGELES" in October and items such as down jacket, shorts, Boston bag and shoulder pouch which sold out rapidly will be sold at each store from the 25th of November (Sat.) (limited time offer).
Also, each item will be exhibited beforehand on BAPE STORE® Harajuku from the 23rd of November (Thurs. – holiday).
Don't miss these rare collaborative items.
RELATED ENTRIES
BAPE® Releases Face Mask Case For Storing Your Mask

A BATHING APE® released its new face mask case on Saturday (May 23) for people to hygienically put away their face masks, whether to store away or for on the go. The cases will be given to everyone that purchases something from the BAPE STORE® or BAPE.COM in Japan.

The case features BAPE's iconic APE HEAD design. It's made from PVC and so can be hand washed so people can safely and hygienically store their face masks. The case can of course be used to store hand sanitiser or hand wipes too.

Information

BAPE® MASK CASE

Release Date: Saturday, May 23rd, 2020
Available: BAPE STORE® and BAPE.COM in Japan to all customers. One case per transaction. Available while supplies last.

Product Page: https://bape.com/blogs/news/bape-mask-case

Coca-Cola to Release New Bottle Designs in Collaboration With BAPE®

Coca-Cola System is joining monkey paws with A BATHING APE® to release two new bottle designs in limited quantities throughout Japan on May 25.

The designs come as part of Coca-Cola's slim bottle line which was first released in Japan back in 2015. This is the first time the slim bottles have collaborated with a fashion brand. There are two designs: the classic BAPE® ape and BABY MILO.

Left: Coca-Cola Slim Bottle BAPE® Design / Right: Coca-Cola Slim Bottle BABY MILO Design

A BATHING APE® has collaborated with Coca-Cola in Japan twice in the past since 2014. The slim bottles are 250ml for that quick refreshing hit, and are made from aluminium to keep your drink cold. It features the same stylish shape as Coca-Cola's glass contour bottles.

Coca-Cola's bottles have high design concepts having collaborated with the Olympics and FIFA World Cup, and in Japan they release seasonal bottles as well as bottles with tourist hot spots.

Information

Coca-Cola Slim Bottle BAPE® Design

Coca-Cola Slim Bottle BABY MILO Design
Release Date: May 25, 2020
Official Website: https://www.cocacola.jp/

A BATHING APE® is set to open preorders for brand new products on their official online shop BAPE.COM. BAPE® items exclusive to the official online shop that drop every Saturday will now be available on Fridays. Customers refraining from visiting the store in person can take advantage of BAPE®'s free shipping campaign which has been extended until May 11, 2020.

The latest news and updates on BAPE®, AAPE, BAPY®, BABY MILO® STORE, online store-limited items and much more can be found on A BATHING APE®'s official online shop.

Information

BAPE STORE® To Open in COMME des GARCONS in Osaka's Luxury Brand Hotspot

Japanese fashion label COMME des GARCONS OSAKA has moved to Midosuji in Shinsaibashi, Osaka and is set for its grand opening on April 3, 2020. 

The first floor will be occupied by BAPE STORE® (A BATHING APE®), making it the first ever COMME des GARCONS to house a BAPE STORE®. 

COMME des GARCONS was founded by world-famous fashion designer Rei Kawakubo in 1969. Besides developing a number of world famous brands such as COMME des GARCONS HOMME PLUS, she also founded the multi-brand retailer DOVER STREET MARKET GINZA, becoming a key figure in the world's leading fashion. As the second largest city in Japan after Tokyo and the largest in west Japan, Osaka has remained the economic and cultural epicentre of the Kansai region for centuries. Kawakubo's latest step in the world of fashion is the brand new opening of BAPE STORE® COMME des GARCONS OSAKA along Midosuji street, Shinsaibashi – a main street of central Osaka which is a hotspot of luxury designer shops. 

 

Last year, BAPE STORE® opened in Kyoto, marking a year since BAPE STORE® opened in the Kansai region. The interior of BAPE STORE® COMME des GARCONS OSAKA was done by Rei Kawakubo. This atmosphere and design is completely different to existing BAPE® stores and will also sell limited COMME des GARCONS and A BATHING APE® collaboration merchandise that are not available anywhere else.

If you're in Osaka and love high-end fashion, the brand new BAPE STORE® COMME des GARCONS store and its limited merchandise is worth checking out. 

BAPE STORE®

Information

BAPE STORE® COMME des GARCONS OSAKA

Address: Floor 1 COMME des GARCONS OSAKA, 4-4-21, Minamisenba, Chuo Ward, Osaka

Grand Opening: April 3, 2020

Items Release Date To Be Confirmed.

Special Edition Website: https://bape.com/pages/cdg_osaka/

BAPE® just released a new line of colourful items with the Busy Works logo on them. The collection was released in Japan on March 2 at stores stocking A BATHING APE® merchandise.

WHITE BWS One Point Tee: ¥6,800 (Before Tax)

Black Busy Works Bucket Hat: ¥7500 (Before Tax)

Red Busy Works Frisbee: ¥1,800 (Before Tax)

Black Busy Works Rubber Coaster: ¥1,000 (Before Tax)

All of these items and more are now available from BAPE®.

MMN Interviews Former 2NE1 Member Dara at BAPY® HARAJUKU STORE's Opening Event

BAPY BY A BATHING APE®︎ is a women's clothing line by A BATHING APE®︎, the internationally popular Japanese fashion brand that has collaborated with some of the most famous brands and music artists around the world.

The company launched their secondary brand BAPY®︎ in 2001. In October this year, the brand's name re-launched under the new name "BAPY BY A BATHING APE®︎."

As part of the rebranding process, the company opened up their new BAPY® flagship store in Harajuku which is decked out in the brand's iconic coral pink colour. The store's opening reception party was held on November 14 which saw appearances from Japanese actress Mariya Nishiuchi amongst a whole list of models and influencers. Among them as a special guest was Dara, former member of South Korean girl group 2NE1.

Dara is a busy fashionista who has enjoyed invitations to countless shows hosted by top brands across the globe. She was donning clothes from BAPY BY A BATHING APE®︎ at the reception party but still stood out from the crowd as she showed her support for the brand's relaunch.

MOSHI MOSHI NIPPON had the chance to interview Dara and ask her about women's fashion, her favourite spots in Japan and more.

―Welcome to Japan! How long has it been since you were last in Tokyo, and where are you thinking of visiting next?

I was last in Tokyo in March of this year, so it's really been a while. It's a place I visit a lot for fun so I wanted to come back again soon. It's been four years since I last came to Japan for something work-related. There's lots of shops I want to go to. Japan has my favourite curry and ramen restaurants. I want to shop at places like Don Quijote too.

―Are there any places in Japan you would recommend to the people of South Korea or your fans around the world? If so, what's your reasoning?

Japan has way too many really delicious restaurants, I'm always stuck deciding what to eat. My acquaintances work in the fashion industry so they've shown me some little-known shops. Especially in places like Harajuku and Omotesando. There's shops we often go to there to buy clothes. They have everything – brands, streets, vintage stores, you name it, so I recommend it to people.

―Street fashion is seeing another boom amongst girls in Japan. You regularly don street fashion. Please tell us some tips on how to look stylish with BAPY.

When I visit Japan I get the impression that Japanese women really enjoy fashion and have fun with it in many ways. I'm mainly into and wear street fashion. BAPY too has all sorts of different items, like casual trainers, hoodies, coats, jackets. I personally like to wear colourful trainers and a hoodie and then add to that a coat that matches the season. And if you're going for heels or boots you can bring out both a street vibe and sexy feminine look. That's why it's my favourite style. "Mix-and-match" is the thing to take away from it.

―Your outfit today is cute too! Please tell us your tips on coordinating an outfit.

With this look I've gone for a more girly, chic style than street. I put on a beret to bring out the cuteness. I also really love the grey checkered skirt, jacket and long boots too. I think the style comes together well.

 

―Please leave a message for your fans around the world.

This BAPY event was my first work in Japan in four years. The people I met at the event (models, the people involved etc.) kindly showed their love and support for myself and 2NE1 as they always do. It really surprised me but it made me really happy. I think the fans feel the same too. I will continue to work harder. I want to look cool doing all kinds of different things. I'm forever grateful to everyone and want them all to feel happiness! See you again ^^

Enjoy BAPY BY A BATHING APE®︎'s new line-up as well as the street fashion tips kindly provided by Dara herself!

Information

BAPY BY A BATHING APE®︎

Address: 4-21-5 Jingumae, Shibuya, Tokyo

Tel: 03-5474-8869

Opening Hours: 11:00-20:00 (No Fixed Holidays)

Official Website: https://bape.com/bapy/

Dara Official Instagram: https://www.instagram.com/daraxxi/

adidas Originals Teams Up With BAPE® for New Collection on July 28

A Bathing Ape®, known commonly as BAPE®, has joined with adidas Originals to release a new collaborative collection set for July 28.

BAPE® is a fashion industry leading brand from Tokyo that first hit the streets in 1993. Over the course of 25+ years, their name has become a symbol of street culture. They continue to deliver many iconic designs to people, such as the BAPE STATM footwear, SHARK HOODIE, the APE HEAD logo, the BAPE® CAMO pattern – the list goes on.

The new collection takes adidas' timeless 'adicolor' apparel and uses BAPE's® 1st CAMO as the print. There are four exclusive camo-fused colours to choose from: red, black, blue and original green.

BAPE® TRACK TOP (From Top: DP0183、DP0184、DP0185、DP0186) – RRP ¥18,000 (+Tax)

BAPE® SSL TEE (From Top: DP0191、DP0194、DP0193、DP0192) RRP ¥7,990 (+Tax)

BAPE® TRACK PANTS (From Top: DP0187、DP0189、DP0190、DP0188) RRP ¥15,000 (+Tax)

 

The items are marked with a big size trefoil logo in their respective colours as a homage to the golden age of the hip-hop scene.

They also feature the APE HEAD logo – a symbol of streetwear – and an adicolor x BAPE® minimalist label on the cuffs to fuse both the sports and street cultures of both brands.

 

■Information

adidas Originals by A BATHING APE®

Available Stores:

adidas Originals Flagship Store Tokyo

adidas Online Shop: http://shop.adidas.jp/originals/bape/

Stores stocking A BATHING APE® items

The Uraharajuku brand, A BATHING APE® will release a collection based on the concept of "DIRTRACE.

The apparel brand in Uraharajuku called A BATHING APE® will release a collection based on the concept of "DIRTRACE" which is the name of an off-road BMX racing bicycle.

The collection consists of full zip hoodies, sweat pants, googles, helmets, jackets, T-shirts etc., all different pieces of BMX racing uniforms. The line-up is unique to BAPE®.

BMX 26 inch

COLOR:GREEN MEN'S ¥110,000 +TAX.

SPECIAL ORDER:The quantity of the product is limited. The product will be shipped from mid December.

The original BMX (26inc) was created by "W-BASW," a bicycle-specialty store located in Shibuya, Tokyo and supervised by the creator Egawa "YOPPI" Hobun.

BMX MASK FULL ZIP HOODIE

COLOR:BLACK MEN'S ¥35,800 +TAX.

BMX JERSEY WIDE L/S TEE

COLOR:WHITE MEN'S ¥13,000 +TAX.

BMX SWEAT PANTS

COLOR:RED MEN'S ¥24,000 +TAX.

BMX SOCKS

COLOR:WHITE MEN'S ¥2,200 +TAX.

The graphic design is from the special collection of SK8THING.

The products will be sold at all official A BATHING APE® stores throughout Japan from the 30th of September (Sat.).

Check the special website for detailed information!

BAPE KIDS® celebrate their 10th anniversary with Hello Kitty & My Melody collaborative t-shirts!

It's been 10 years since BAPE KIDS® was created as part of clothing brand BAPE. To celebrate, BAPE have announced a collaboration with the Sanrio characters "Hello Kitty" and "My Melody" to release special anniversary t-shirts. The BAPE KIDS® store in Harajuku will also be holding an anniversary event to celebrate 10 years.

BAPE KIDS® will turn 10 years old on November 22nd, 2016. In line with this, a collaborative, limited edition t-shirt design featuring Hello Kitty and My Melody will be available at the BAPE KIDS® store in Harajuku from Saturday November 19th. The Sanrio characters will also be joined by 10 BABY MILO® designs to mark the 10 year anniversary. BAPE KIDS® will also be selling limited edition junior size items (150cm-160cm) for the very first time on the same day.

In addition, BAPE KIDS® Harajuku will be hosting an anniversary event. You'll be able to meet the mascot character BABY MILO® who will be there to make the event even more fun. Special sweets with BABY MILO® printed on them will also be handed out. It's looking to be a day of big celebration of 10 years for BAPE KIDS®.
※The special sweets are limited in quantity. Once all have been handed out there will be no more.

■Information
Photography Location: BAPE KIDS® Harajuku
Date: Saturday November 19th, 2016
Photography Time: First Slot – 15:00-15:30 / Second Slot 16:30-17:00
Address: 3 Chome-29-11 Jingumae, Shibuya-ku, Tokyo TEL. 03-5770-4455
Website: bape.com

ーーー
■Related Article: A Bathing Ape® × Coca-Cola Second Capsule Collection on sale from October 22nd!

http://www.moshimoshi-nippon.jp/20104

■Related Article: A BATHING APE® × Minions Collab Items Are Out Now

A Bathing Ape® × Coca-Cola Second Capsule Collection on sale from October 22nd!

A Bathing Ape® has teamed up with Coca-Cola to release a capsule collection line this month. This is the second collaboration between the two companies, fusing original Bape® camouflage apparel with Coca-Cola's logo written in different languages.


The new line also features the previously well-received ape head drinking from a Coke bottle. There's all kinds of things up for grabs in this collaborative line-up. In addition to a variety of t-shirts and hoodies, you will also be able to get your hands on an apron, a glass, and much more. Moreover, people who spend over ¥30,000 (tax included) in one purchase will receive a special novelty frisbee as a present. Please be aware that frisbees are limited in stock and will not be available again once all have sold out.

The items will be available at A Bathing Ape® stores nationwide from Saturday October 22nd (not available at BAPE STORE® Shibuya or BAPEXCLUSIVE™ Aoyama).

■Information
A Bape Store® pop-up shop will be appearing in Harajuku for a limited time of 9 days from October 22nd to October 30th. Those who get there early will receive a free bottle of Coca-Cola (190ml). If you're nearby Harajuku during the limited period, please be sure to visit.
※Please be aware that the free Coca-Cola is limited and won't be available again once all have been handed out.

A BATHING APE® x COCA-COLA POP UP STORE in BAPE STORE® Harajuku

4-21-5 3rd Floor, Jingumae, Shibuya, Tokyo 150-0001
TEL. 03-5474-0204
OPEN: 11:00 – CLOSE: 20:00

ーーー

■Related Article: A BATHING APE® × Minions Collab Items Are Out Now