"The Doraemon Exhibition Tokyo 2017" opened at the Mori Arts Center Gallery in Roppongi earlier this month and has received much praise.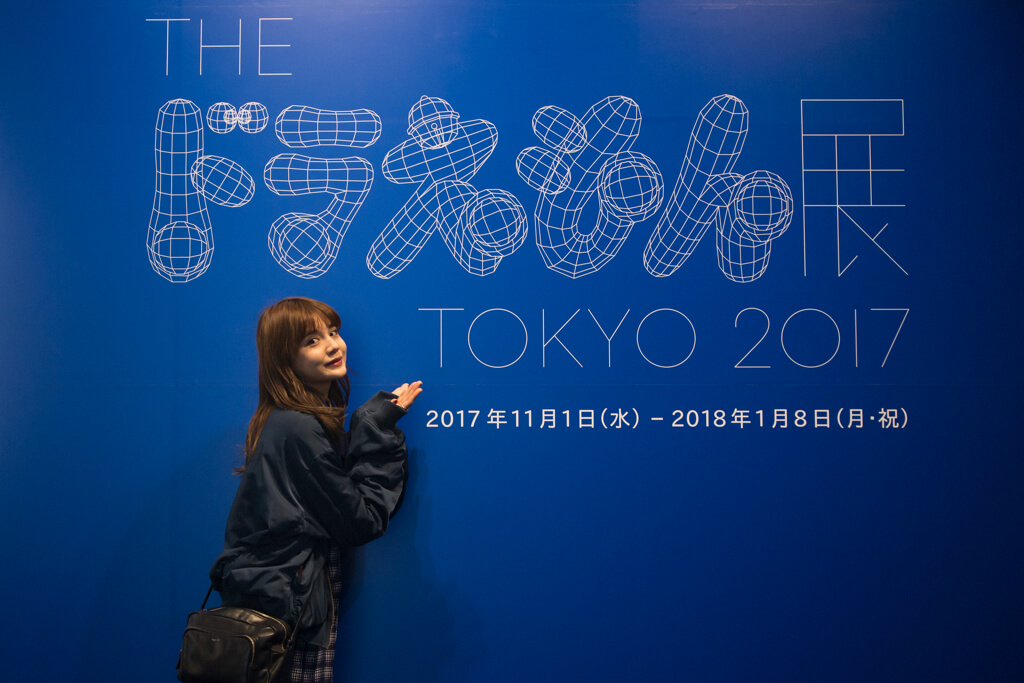 The exhibition is a collaboration between the internationally adored Doraemon and 28 contemporary artists. Each of them was asked to create their own Doraemon with many works coming out from acclaimed artists such as Takashi Murakami and Mika Ninagawa. Today, we are joined by Rinko Murata who will serve as our guide around the exhibition to see the world's most beloved blue robot cat.
You will find the exhibition at the Mori Arts Center Gallery located nearby Roppongi Station via the Tokyo Metro Hibiya Line and the Toei Ōedo Line. It's situated inside Roppongi Hills, so you can enjoy a bit of shopping after stopping by the exhibition.
Upon entering the gallery, the first thing you'll see a huge piece of art by Takashi Murakami. There are countless scenes taken from Doraemon and turned into artwork with the finest details, so be sure to really give each piece a good look.
A stand-out feature of this entire exhibition is the number of huge artworks on display, all of which bring to life the world of Doraemon that Fujiko F. Fujio created.
Sebastian Masuda was present at the gallery. His own piece, "Saigo no Weapon," was also on show. Inspired by the movie "Doraemon: Nobita's Dorabian Nights," his giant Doraemon is made of things like fur and toys! It was breathtaking and completely captures the essence of Harajuku's kawaii culture.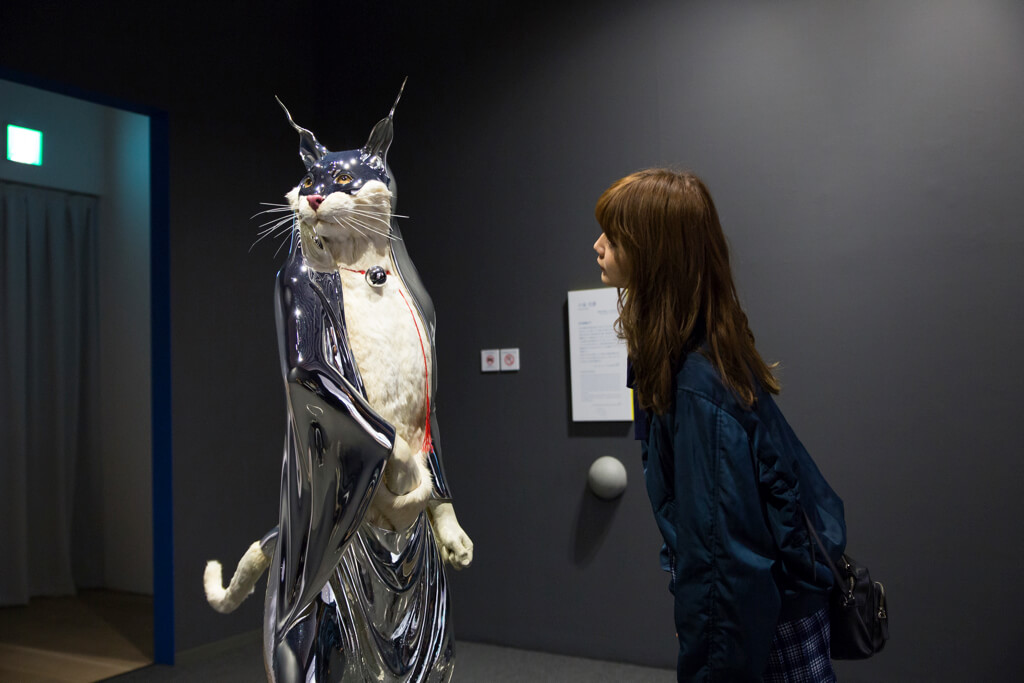 The exhibition is also home to life-sized figures besides illustrations and photographs! Pictured above is "Kuse Doraemon" by Motohiko Odani, a stylish and original take on Doraemon that breaks away from the aesthetic of manga.
This next piece is "Dorasu" (2002) by Yasumasa Morimura and The Lawyers. It takes the round shape of Doraemon to become a dress. Both the front and back are worthy of note so be sure to check it out! Rinko-chan indomitably decided on the same pose as the statue while dumbfounded by its impact.
The works on show by artists like Tomoko Konoike, ShiShi Yamazaki and Kotobuki Shiriagari are so fascinating you'll be back to look at them over and over again. Rinko-chan's favourite was "Doraemon no Uta on Mt. Moriyoshi" by Tomoko Konoike which has an impressive snowy white landscape. Listen to Konoike singing by herself on the snowy mountain, you'll be completely sucked in.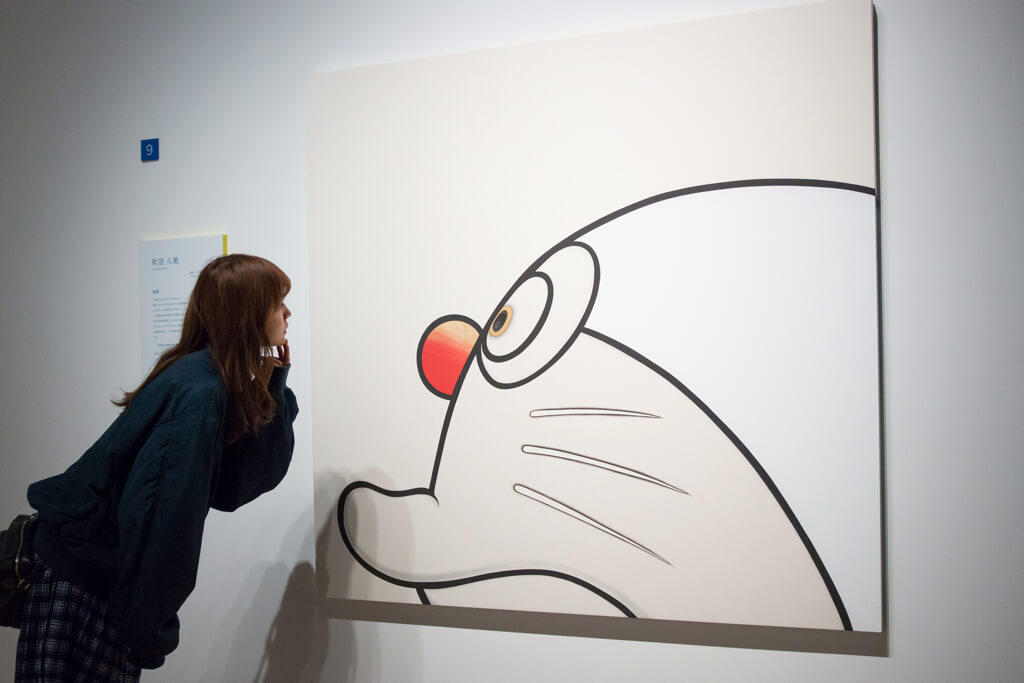 What we mustn't forget when it comes to Doraemon is the charm of the character. "Seisou" by Kumi Machida elicits joyous, New Year's-like feelings. The picture has a Japanese taste to it thanks to the ink and gold leaf on on Japanese canvas paper.
Rinko-chan's number one favourite was Yoshitomo Nara's take on Dorami from the series. "The title of this work says it all: 'Dorami @ Midnight Still Without Her Ribbon That Was Taken by Gian.' The gravity of this picture completely absorbs you in, you have to see it up close for yourself! I've never really looked at Dorami so closely before, but this is quite high spec."
Another Rinko-chan recommendation is "Watashi no Ie no Doraemon no Shashin" (Photos of Doraemon in My Home), which charmingly depicts heart-warming everyday photos. Doraemon is the focus in these portraits which are comprised of memories of Kayo Ume's family. Her grandpa is too cute!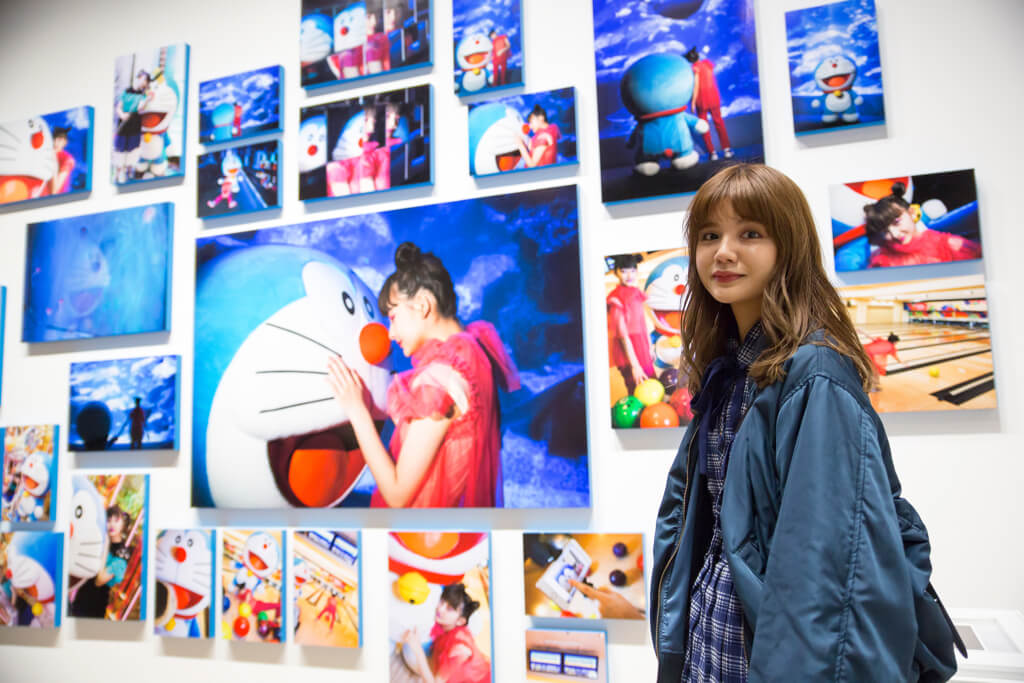 Mika Ninagawa's display shows her and Doraemon on a date for a day. It features photos from 2017 as well as photos taken last year too, so it's fun to compare.
The museum shop sells lots of limited edition merchandise you can only buy for this exhibition. The backpack (¥13,000 tax excl.) features a collage of scenes from the original Doraemon manga. The shop is filled with magnificent items that can be used not just as fan merchandise but as fashion accessories too.
There's even a merch line-up by artists who are participating in the exhibition! The stylish items pictured above are from Sebastian Masuda.
The venue also has a cafe called "THE SUN" which is serving a collaborative Doraemon menu! After browsing the exhibition, you can complete your day of Doraemon by tasting an original line-up of foods available only here.
Before we end today's trip, here are some parting thoughts from Rinko-chan on her time at the exhibition.
"All of the art pieces on show pave the way for originality. I was able to get a glimpse into a new kind of Doraemon world I have never seen before. Although they all maintain their own individuality, the line between the original manga and exhibition pieces were not blurred so I was able to get an even deeper feel into the original work. I came to realise what an amazing manga it really is! Doraemon has been reborn and changed by lots of artists leaving lots of new discoveries to be found, so I hope everyone will visit!"
"The Doraemon Exhibition Tokyo 2017" is running until January 8, 2018, so why not start making your New Year's plans now?
■Information
The Doraemon Exhibition Tokyo 2017
Running: November 1, 2017 to January 8, 2018 *no closures for the duration of the event
Location: Mori Arts Center Gallery (Roppongi Hills Mori Tower 52F)
Address: 6-10-1 Roppongi, Minato, Tokyo
Open: 10:00-20:00 (until 17:00 on Tuesdays) *last entries are 30 minutes before the closing time
Price: Same-Day – General – ¥1,800 / Middle & High School Students – ¥1,400 / 4-Years Old to Elementary School Students – ¥800
Advance – General – ¥1,600 / Middle & High School Students – ¥1,200 / 4-Years Old to Elementary School Students – ¥600
*All prices include tax.
"THE SUN" Cafe
Location: Roppongi Hills Mori Tower 52F
Collaboration: November 1, 2017 to January 8, 2018
Open: 11:00-22:00 (food last orders 21:00 / drinks last orders 21:30)
*An ticket is required for entry to the cafe. A ticket for either the "The Doraemon Exhibition Tokyo 2017," viewing platform or Mori Museum is accepted.
*A limited edition collaborative menu will be available for the duration of the Doraemon exhibition.
Model:Rinko Murata @rinco1023
Writer:Ryoichi Komaba
Photographer:Haruka Yamamoto
Translator:Joshua Kitosi-Isanga