AFA Singapore Kicks off Tomorrow!
Anime Festival Asia, that got anime-fans in Thailand and Indonesia jumping for joy in their previous installments, is kicking off this weekend in Singapore!
The event spawns booths with a wide variety of items from Japan as well as stages where your favorite anisong artists will be belching out theme songs to your beloved anime show. Gathering a mammoth crowd of J-fans from both in and out of the country, the installation is sure to be a sweet one again this year. Check out the long list of J-things you can entertain yourself with at this year's rendition here: 
http://animefestival.asia/afasg15/
One thing to look out (especially for) at the venue? Our MOSHI MOSHI NIPPON booth! The booth will be providing MOSHI MOSHI fans with original "Gudetama" items (see below) as well as the massively popular shades carved into the words "KAWAii!!"
There'll also be an opportunity for you to win a prize by filling out our questionnaire, and we'll be giving out gifts to those who've liked our Facebook page. Get all your freebies from our booth at AFA, aka the perfect embodiment of Japanese pop culture and anime, starting tomorrow cutting all the way through the weekend!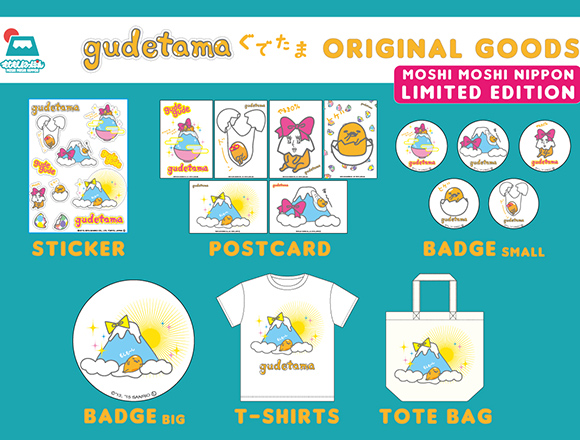 RELATED ENTRIES
Toy Company Steiff Begins Fourth Limited Time Collaboration with Fragment Design

Steiff Japan/MS1880, a top-quality plush toy brand founded in Germany in 1880 and known to the world as the first to market teddy bears, has announced its fourth collaboration with fragment design, a project led by world-renowned creator Hiroshi Fujiwara. Only 1,000 special-edition teddy bears will be available to purchase when sales begin on June 25.

Hiroshi Fujiwara's fragment design project has teamed up with a number of brands in the past, including Nike, Converse, and Levi's. In past collaborations with Steiff, fans have been able to grab special keychains, a teddy bear rug, and more. 

My First Fragment: ¥9,900 (Tax Included)


The 'My First Fragment' plushie is 26cm tall and is a striking shade of black, symbolic of the fragment design project. The brand's thunderbolt appears on the bear's chest and 'My First FRGMT' is embroidered on one of its feet. Part of the Cuddly Friends series, this teddy bear is soft to the touch and begging for a hug, making it perfect for babies and small children. Of course, there's nothing wrong with having it on your desk at work as well!

Preorders will be open for those purchasing a bear from Isetan Shinjuku and Hankyu Umeda starting June 22.



Don't miss out on this unique collaboration! After all, who could have expected a 120-year-old teddy bear company to release an item with so much Japanese streetwear flare?

Information

My First Fragment

Where to Buy:

June 22 – July 5: Isetan Shinjuku, 1F Mens Promotion Space

June 22 – June 28: Hankyu Umeda 11F, Kotokoto Stage 111
June 25 ~: Steiff Aoyama / Abeno Harukas / Online Shop / Beams Roppongi Hills / Beams Kids / Beams Official Online Shop

*Preorders for Isetan Shinjuku / Hankyu Umeda: June 22 – June 24

Steiff Online Shop: https://www.steiff-onlineshop.com/ 

Reebok to Release Second Looney Tunes Collaboration Sneaker Collection

Athletic lifestyle brand Reebok has announced its second collaboration with Looney Tunes! The new sneaker collection is scheduled to release on May 26, 2022.

Classic Leather Legacy AZ

Instapump Fury 95

Instapump Fury Zone

Hurrikaze ll Low

Club C

Nano X1

Hurrikaze ll Mid

Looney Tunes Jacket

 

The collection will include 13 items total, including new versions of classic Reebok kicks like the Instapump Fury 95 and the Classic Leather. A jacket featuring Bugs Bunny will also be available!


Don't miss out on these one-of-a-kind Looney Tunes items!

LOONEY TUNES and all related characters and elements © & ™ Warner Bros. Entertainment Inc. (s22)

Information

Reebok × Looney Tunes

Release Date: May 26, 2022

Official Site: https://reebok.jp

Danganronpa and Illustrator Kei Mochizuki Team Up for Second Collaboration

From May 20 until June 5, select Loft locations around Japan will be offering special collaborative goods featuring characters from the Danganronpa series as drawn by illustrator Kei Mochizuki.

This will be the second collaboration between the popular series and illustrator, given the immense turnout for the first event. Unique merchandise will be on sale at each venue with bonus items being given to those who spend a certain amount!

Goods

From pins to acrylic stands, the goods feature the characters from Danganronpa drawn in a sleek new way. With so many designs to choose from (48, in fact), which items would you want to take home?


(C)Spike Chunsoft Co., Ltd. All Rights Reserved.

Information

Danganronpa x Illustrator Kei Mochizuki

Running: May 20 – June 5, 2022

Locations: Shibuya Loft / Umeda Loft / Nagoya Loft / Sapporo Loft / Tenjin Loft / Omiya Loft / Sendai Loft / Niigata Loft / Kyoto Loft

Official Site: https://www.algernonproduct.co.jp/

Nike's Newest Sneakers Coming to atmos pink Locations, New Visual Featuring bala. Unveiled

Nike's newest sneakers, the 'W AIR MAX 90 FUTURA,' will be available at atmos pink locations nationwide starting May 28, 2022.

The W AIR MAX 90 FUTURA is an easy-to-wear sneaker combining classic Nike style and an updated patchwork design in a number of colors. Heavily inspired by Tokyo streetwear, the newest visual for the sneakers feature the up-and-coming artist group bala. Brought together by ASOBISYSTEM, the group includes creative director OWNCEAN from the duo UNA+MATCHA, who is also active as a DJ and model. The five female members of the group are known for their modern style and freedom of expression. For those interested, a new interview with bala. is available only on the official atmos pink Instagram page.

bala.

In 2022, the new project bala. was launched to gather artists and creators presenting cutting-edge music, fashion, and art from Japan to the rest of the world. bala. will link with the global music scene and present fans with an honest vision of Tokyo culture. The project aims to be a collective of artists that connects both underground and overground cultures, pop and alternative genres, and Japan and Asia with the world. The collective is led by MANON, an iconic presence in the Japanese rap scene; ASA Wu, a trilingual singer from Taiwan; SUNNY ONLY1, a Gen-Z alternative pop singer and model; and a creative crew called  'KissGelz' (MANON, Dan, Kayno). They will create a new cultural hub under the bala. umbrella. 

Atarashii Gakko! to Perform at 88Rising's Head in the Clouds Music Festival in LA for Second Consecutive Year

After performing at the Head in the Clouds music festival last November, four-member vocal-dance group Atarashii Gakko! has been invited to perform again in 2022! The festival, organized by 88Rising, will take place in Pasadena, CA on August 20 and 21. 

Last January, Atarashii Gakko! debuted globally as a part of 88Rising, a label promoting Asian music and culture throughout the American music scene. During Coachella 2022, Utada Hikaru performed on the 88Rising stage!


At last year's Head in the Clouds festival, Atarashii Gakko! performed for an audience of 25,000. Even though most of the audience didn't speak Japanese, they didn't hesitate to cheer and jump along with the music! The group has released a number of catchy new tracks since last year's festival, so fans should look forward to some crazy new content on stage in 2022.


On May 24, Atarashii Gakko! released Pineapple Kryptonite (Yohji Igarashi Remix). The catchy new track made an appearance at the group's recent solo concert at Zepp DiverCity on May 20.

Keep an eye on Atarashii Gakko! as they continue to take over the world!

Atarashii Gakko! Profile


A four-member dance-vocal unit known for the member's individuality and freedom. 

The group's full name is 'Atarashii Gakko no Leaders (New School Leaders).'

Each of their explosive live performances has been choreographed by the members themselves. Their powerful dance moves are hotter than daikon radish in oden, and the group made its world debut in 2021 as a part of 88Rising, a music label promoting Asian acts and culture to the world. 

Atarashii Gakko! has over 3.9 million TikTok followers to date. 

As they continue to grow their fanbase, the incredibly talented girls have received a number of offers to expand their activities.

Concert Photo: codyburkhardt

MAN WITH A MISSION Releases Music Video for 'GUNDAM Iron Blooded Orphans Special Edition' Theme Song

Rock band MAN WITH A MISSION is getting ready to release a new album, Break and Cross the Walls II, on May 25. Ahead of this exciting date, the group has revealed the music video for Blaze on YouTube!

Blaze has been featured as the opening theme for Mobile Suit GUNDAM Iron Blooded Orphans Special Edition, the nine-episode digest edition of the 2015-2017 anime series, since April. The clip is packed with the anime's memorable scenes, so be sure to check it out! 

The theme song is also available on all popular music streaming sites.

Blaze – MAN WITH A MISSION (GUNDAM Iron Blooded Orphans Special Edition Anime Music Video)
https://youtu.be/rTamYmhLOaw

MAN WITH A MISSION will start a nationwide tour, MAN WITH A MISSION Presents Break and Cross the Walls Tour 2022, on June 16.

NAKED's Projection Mapping Show at Tokyo Tower Illuminates the City at Night

Digital art collective NAKED has announced a new projection mapping show taking place at Tokyo Tower starting May 24! Welcome summer with the 'Tokyo Tower City Light Fantasia ~Summer Landscape 2022~ event on the second floor of the 150-meter-high main deck of the classic landmark.

In 2019, the company introduced the 'Tokyo Tower City Light Fantasia ~Cool Japanese Summer~ event, which has now been upgraded to a new version. Guests will now be treated to a colorful show highlighting the transition of the seasons in Japan from the rainy season to early summer to midsummer, filled with hydrangeas, sunflowers, and fireworks. Colorful flowers bloom in the rain giving way to a bright summer day complete with the sound of cicadas and bright white clouds in the sky. After the sun sets over the sunflower fields, fireworks light up the Tokyo sky.

The 'Tokyo Tower City Light Fantasia' nightscape event was planned, directed, and produced by NAKED, and began in 2014. By combining the night view from the observatory with projection mapping, guests can experience something one-of-a-kind.

Following the original launch of the event, it has traveled to towers and observatories around Japan including Abeno Harukas and the Nagoya TV Tower, playing off the particular characteristics of each locale.
 

This event isn't the only thing going on at Tokyo Tower this summer. Guests can also enjoy the DANDELION PROJECT by NAKED and Ryotaro Muramatsu in the northwest section of the second floor of Tokyo Tower's main deck. The project is based on the concept of world peace and harmony and was unveiled at Miyashita Park, Tokyo Tower, Gardens by the Bay in Singapore, and Nijo Castle in Kyoto in 2020. The networked art project invites guests to send their wishes for world peace on digital dandelion fluff to other locations where DANDELIONs are planted around the world, and these messages are delivered in real-time. 

Come enjoy this incredible night view while you can!

Information

CITY LIGHT FANTASIA ~Eternal Lights in TOKYO~

Venue: Tokyo Tower Main Deck (Height: 150m) 2F Facing North

Running: May 24 – September 4, 2022
Periods:
May 24 – June 5, 19:00 – Close
June 6 – July 18, 19:30 – Close

July 19 – August 21, 19:00 – Close

August 22 – September 4, 18:30 – Close
Fee: The event is included in the price of observation deck admission. 

Official Site: https://naked.co.jp

Kirby and Suntory Tokucha Team Up for New Video, "Kirby and the Secret of Your Stomach"

Suntory's popular Iyemon Tokucha tea was released with a revamped design on April 5, 2022. To celebrate the return of many people's favorite drink, the company has teamed up with popular game character Kirby for an adorable new YouTube video available on the Suntory channel!

The video highlights the health benefits of Suntory's Green Tea Lemon Tokucha through the eyes of Kirby, who has retained his adorable shape even after sucking in tons of objects for the past 30 years.

 

The video starts with a scene from an early Kirby title in which Kirby swallows Waddledy. The story follows Waddledy and his Suntory Tokucha as they venture deep into Kirby's stomach. How does his journey end? You'll have to watch to find out…

This story is a play created by Waddle Dee to entertain King Dedede, the King of Dream Land. The King is desperate to learn the secrets of the Tokucha, and the other characters are surprised and happy to see everyone's favorite penguin taking an interest in his health!

Kirby and the Secret of Your Stomach

Enjoy the video and try to find some tasty Tokucha in a store near you!

© Nintendo / HAL Laboratory, Inc.
KB22-P4135

Information

Kirby and the Secret of Your Stomach
Now Available to Stream

Hotel New Otani Tokyo Taking Reservations for Kanahei's Small Animals Collaboration Room

Are you a fan of Piske and Usagi? Hotel New Otani Tokyo is now taking July and August reservations for the special Kanahei's Small Animals collaboration room! 

The room's interior is covered in Piske and Usagi illustrations, all of which were drawn exclusively for the collaboration. Piske and Usagi worked hard to prepare this room to welcome guests, so be sure to take in every square inch!

Stuffed Animal / Name Tag (Stuffed Animal Ver.) / Slippers / Tote Bag / Door Plate

A total of five original amenities will be included with each reservation. This is the first Kanahei room collaboration, so these items are truly one-of-a-kind!

Even those not staying in the Kanahei room will be able to buy an original Piske and Usagi cushion and acrylic stand!

Information

Kanahei's Small Animals Collaboration Room

Now accepting reservations

Rooms available in July and August

Venue: Hotel New Otani Tokyo

*Reservations available online only

Collaboration room available from May 1, 2022 until April 30, 2023
https://www.newotani.co.jp/tokyo/stay/plan/kanahei/

Minatomirai Yokohama Opens 'Purplish Flower Garden' Summer Event Inspired by Hydrangea

Anniversaire Cafe Minatomirai Yokohama has opened a limited-time fair inspired by beautiful hydrangea! The 'Purplish Flower Garden' event is currently inviting guests to enjoy gorgeous sweets and drinks inspired by these spring and summer blooms until July 10, 2022.

Purplish Flower Plate

Purplish Flower Pain Perdu

Matcha Mont Blanc

Purplish Soda / Rainy Peach

Purplish Flower Stand Afternoon Tea

Purplish Flower Plate Afternoon Tea

Petits Fleur

The menu includes three desserts, two beverages, two afternoon tea plans, and one take-out dessert perfect for enjoying beside the sea. Come enjoy an elegant moment at the 'Purplish Flower Garden' event if you can!

PAC-MAN Celebrates 42nd Birthday with Theme Song, Music Video, and Fortnite Collaboration

PAC-MAN is one of the most important characters in video game history, so celebrating his birthday is a given! Bandai Namco has announced a number of projects to take place in 2022 based on the theme of 'Be PAC-TIVE!!'

PAC-MAN Official Theme Song, We are PAC-MAN!

The 'Be PAC-TIVE' initiative wants to inspire people to eat well and live well, and to place more importance on cultivating a healthy body and mind. PAC-MAN's circular shape is also symbolic of a circle of friends, harmony, the spirit of cooperation, and the shape of the planet we all inhabit. Who knew that a simple character and game like PAC-MAN could be so deep?


We are PAC-MAN! (Japanese ver.):  https://youtu.be/JKque0N2bww
We are PAC-MAN! (English ver.): https://youtu.be/5_JzxszEpmc
We are PAC-MAN! (Chinese ver.): https://space.bilibili.com/287390748

PAC-MAN MUSEUM+ Commemorative T-Shirt

The PAC-MAN MUSEUM+, which includes 14 classic and modern titles from the PAC-MAN universe, will soon be available. New T-Shirts commemorating the release will be available on Amazon starting May 23. The birthday version of the shirt will be released on June 23, and will feature the key visual alongside a festive newly-drawn illustration. 

Collaboration with Popular Online Game Fortnite

PAC-MAN will also be teaming up with the globally-popular online game Fortnite starting June 2! Players will be able to purchase items with a PAC-MAN motif.

It's likely that you haven't played a PAC-MAN game in a while, so why not pick one up for old times' sake?

PAC-MAN MUSEUM™+ & ©BANDAI NAMCO Entertainment Inc.
"PlayStation"および"PS4"は、株式会社ソニー・インタラクティブエンタテインメントの登録商標または商標です。
Nintendo Switchは任天堂の商標です。
STEAM および STEAM ロゴは、米国およびまたはその他の国の Valve Corporation の商標およびまたは登録商標です。

Eve Releases Music Video for 'Bouto,' Produced by Studio Khara, to Commemorate Tour Finale and Birthday

To celebrate Eve's birthday and the end of his current tour, the artist has revealed the music video for Bouto! Produced by Studio Khara, the video was released as a surprise on Eve's official YouTube channel.

Bouto Music Video

Bouto was included on Eve's newest album Kaizin, released in March 2022. The track was also included in the musical film Adam by Eve: A Live in Animation. Eve's current tour has been absolutely huge as the artist celebrates performing again since the world was altered due to the pandemic. The music video was animated by Khara, known by anime fans as the studio behind Evangelion. Don't miss this incredible combo of music and art!

Information

Kaizin

Kaizin Disc (Limited Edition, Special Box Set): ¥5,500 (Tax Included)

Special Edition (CD+Blu-ray): ¥4,400 (Tax Included)

Standard Edition (CD): ¥3,300(Tax Included)

Streaming Links: https://tf.lnk.to/_kaizin

Eve Official Site: https://eveofficial.com/