Dessert Ehomaki (Japanese good fortune sushi roll)! Strawberry dessert "Eho Roll" will be sold at Yokohama Grand Inter-Continental Hotel.
Yokohama Grand Inter-Continental Hotel will sell "Eho Roll" created by the pattisier of the hotel, a dessert of big strawberries wrapped with cocoa-tasting crape dough from the 27th of January 2018 (Sat.) to 3rd of February (Sat.)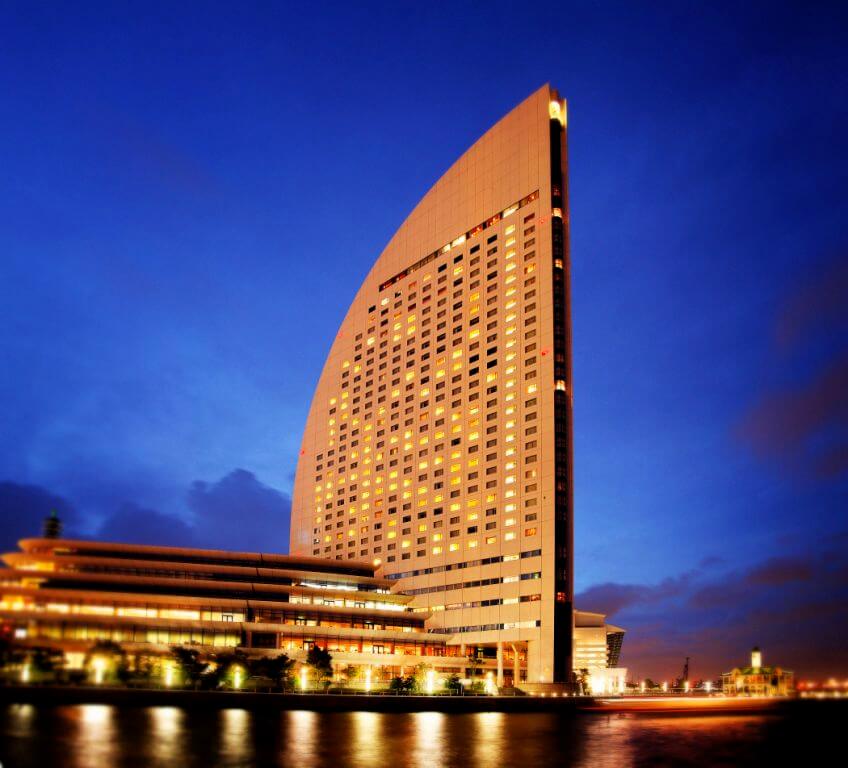 Yokohama Grand Inter-Continental Hotel is one of the most famous hotels in Yokohama. It is famous for its "yacht sail" wall. The building consists of 31 floors including 594 rooms, 8 restaurants/bars and 15 small/large banquet halls and you can view the ocean from all the rooms. The windows in each room are very big and therefore the room is very bright. You can enjoy the special views of Yokohama from either the Bay View Side where you can view the Bay Bridge and Yokohama Port or the City View Side where you can view Yokohama Red Brick Warehouses and the city of Yokohama.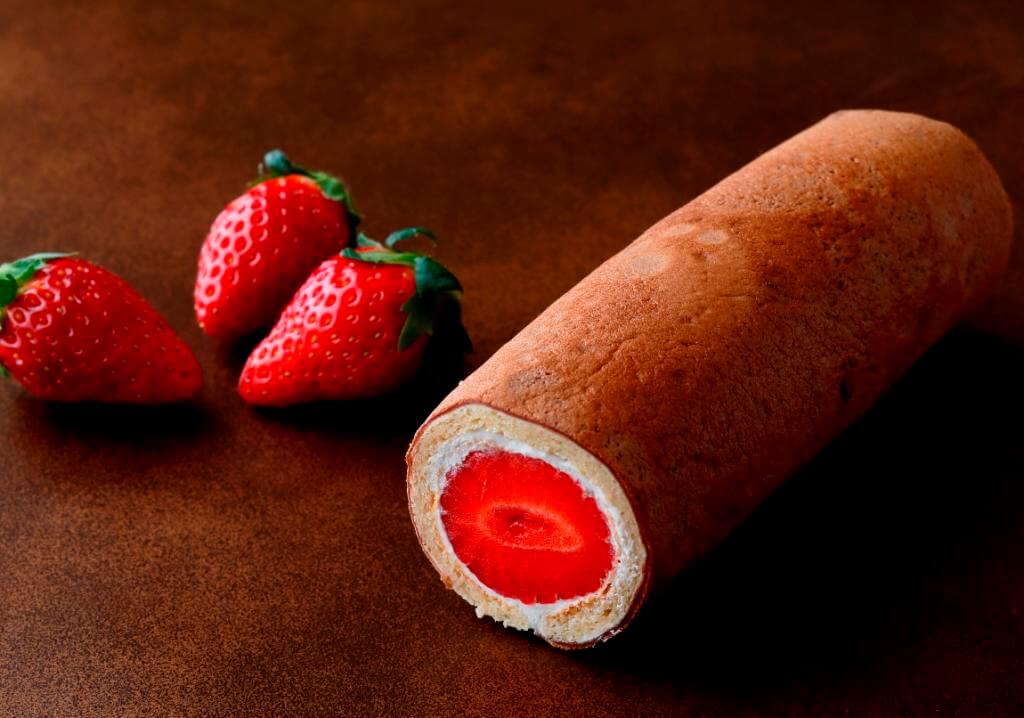 "Eho Roll" which is going to be sold is a sweet version of ehomaki which is a special food of Setsubun. Setsubun is a traditional event in Japan where people wish for a state of perfection and healthiness. Ehomaki is a big sushi roll which brings luck.
Sweet raw cream and many big strawberries are stuffed inside the sponge cake, and the ingredients are wrapped in a cocoa-flavored crape. It is a sweet ehomaki where you can enjoy the combination of the sourness of strawberries and the quality sweetness of the raw cream.
Why not try this season-limited dessert which both children and adults can enjoy.
■Information
Eho Roll
Available date: 2018,01,27 (Sat.) to 02,03 (Sat.)
Available venue: Gourmet et Souvenir  "i MARINA" (2F)
Business hours: 10:00 to 20:00 ※The quantity of the product is limited
Price: 692 yen – one piece (tax included)
Yokohama Grand Inter-Continental Hotel
Gourmet et Souvenir "i MARINA"
TEL: 045-223-2366
RELATED ENTRIES
Tokyo Bay Night Cruise Collaborates with Hatsune Miku for Four Days Only Starting February 2023

For four days only starting in February 2023, fans of Hatsune Miku will want to take an incredible night cruise around Tokyo Bay. The virtual singer will collaborate with the popular Tokyo Bay Night Cruise which travels between Yokohama and Tokyo. The event will include special tickets, exclusive bonuses for guests, collaborative goods, and onboard decorations. Collaborative goods will be available to purchase on the ship or from the Shimapochi online store.

Outline

Dates: February 19, February 26, March 5, March 12

Night Cruise Itinerary:

Osanbashi, Yokohama / Check-in 16:00-18:00

Osanbashi, Yokohama / Departure 18:10, Enjoy the night view from the ship

Takeshiba Wharf, Tokyo / Arrival 19:45

*Guests will be led by a special MC narrating the night scenery. Snacks and drinks will be available for purchase.

Special Ticket Fare:

Adults ¥2,000 / Children ¥1,500 (Includes consumption tax and fuel price adjusted for inflation)

[Includes Hatsune Miku Collaboration Sticker and Postcard (6 varieties, random)]

Special tickets featuring Hatsune Miku will only be available to those reserving their spot online. Reservations can be made two months prior to the boarding date. Space is extremely limited, so grab a spot while you can!

Those not interested in bonuses can also enjoy a night cruise during this period, with adult tickets costing ¥1,000 and children's tickets costing ¥500. More details will be released at a later date.

Report: Kyary Pamyu Pamyu's Tasty Time in Gastropolis Kobe – Sweets Edition

Kobe is filled with famous sightseeing spots like the nostalgic Ijinkan neighborhood and port. The city is packed with fashionable shops and restaurants and is highly regarded for its selection of tasty sweets!

The port city, with over 150 years of history, has fostered a unique and diverse culinary culture.

Recently, Kyary Pamyu Pamyu began starring in a series of promotional videos for the Gastropolis Kobe project. The artist traveled to the city to partake in plenty of delicious treats, and MOSHI MOSHI NIPPON went along for the ride! Here are some of the singer's favorite spots around town.

Kobe, known as a city where East meets West, is lined with sweets shops that are unique to the area.

The tea salon TOOTH TOOTH Dekoboko Sabo opened in 2019 in the Kobe City Museum and offers a menu that mixes Western food and sweets with tea and ingredients from traditional Japanese cuisine. Kyary ordered the Dekoboko Sabo Afternoon Tea Set, a collection of western sweets blended with the essence of traditional Japanese flavors. Guests are invited to enjoy their tea and sweets in a one-of-a-kind space filled with Meiji period flare and retro Western furniture. Those interested will need to make a reservation, so be sure to remember the next time you're in Kobe.

TOOTH TOOTH Decoboco Sabo

Address: 24 Kyomachi, Chuo Ward, Kobe (Inside the Kobe City Museum)

Hours: 9:30-17:30 (Last Order at 16:30) 

Closed Mondays

Official Site: https://toothtooth.com/restaurant/decoboco-sabo

The next stop was Kobe Nankin-machi, one of the three major Chinatowns in Japan. Kobe MILK is known nationwide for its Apricot Pudding, which is made with local ingredients. The raw apricot pudding is mixed with milk brought from the foot of Mt. Rokko and other ingredients from Hyogo Prefecture. Of course, Kyary ordered some, and was amazed by its fluffy texture. You can only enjoy it in Kobe–also, the shop sells other puddings mixed with seasonal fruits, so don't miss those either!

Kobe MILK

Address: Shin-Motomachi Building 1F (1 Motomachi-dori, Chuo-ku, Kobe)

Hours: Weekdays 9:30-19:00 / Weekends 9:30-19:30

Official Site: https://kobe-milk.com

For Kyary's final stop, the singer visited the Moore House, a cafe located in a building with over 100 years of history. Guests are surrounded by greenery, and the Western-style building is incredibly elegant. The Strawberry Mille-feuille Kyary ordered was created by an expert patissier and based on the strawberry mille-feuille recipe from the legendary French restaurant Maxim's de Paris in Ginza. A generous amount of custard cream complements the crispy pie crust and enhances the sweetness of the fresh strawberries. We'd recommend it with a glass of champagne–if you're of age.

Kitano Ijin-kan Moore House

Address: 2-9-3 Kitanocho, Chuo-ku, Kobe

Hours: 11:00-17:00

Closed Tuesdays

Official Site: https://www.kitanomoore.com/cafe/

The streets of Kobe are packed with sweets that you can only enjoy if you visit. Why not come experience these incredible spots like Kyary did?

Kobe Sweets Trailer: https://youtu.be/Sx9B1ZdAvlI

'Edo Punk! The Dynamic World of Ukiyo-e' Released in Japanese and English

Ukiyo-e paintings became popular during the Edo Period of Japanese history. For those weaning to see some of the most rad ukiyo-e paintings around, the new book Edo Punk! The Dynamic World of Ukiyo-e is now available at bookstores nationwide and online. Luckily, the book is also bilingual in English and Japanese!

Kuniyoshi Utagawa, popular in Japan and abroad and known for his unique perspective, and Yoshitoshi Tsukioka, the inspiration for many modern manga series, are both featured in this tome. The many pieces featured combine elements of fantastical beauty and harsh realities, and fans can read commentary by Shoko Haruki. Haruki worked at the Hokkaido Museum before becoming a curator at the Edo-Tokyo Museum in 2017. She specializes in Japanese art history.

The book is now available at bookstores nationwide and online.

Information

Edo Punk! The Dynamic World of Ukiyo-e

Release Date: November 24, 2022

Price: ¥2,400 (Excluding Tax)

Author: Shoko Haruki

Official Site: https://pie.co.jp/book/i/5414/

Craft Beer Service Otomoni Releases Tsundere-themed IPA

Craft beer subscription service Otomoni opened orders for a new Tsundere-themed Hazy IPA on November 15, 2022. The beer has a sweetness level that changes on its temperature and was brewed as part of the 15th installment of the JAPANESE BEER ODYSSEY, which aims to share aspects of both traditional and modern Japanese culture through craft beer.

For better or worse, Japan's otaku culture is now a major part of the country's appeal to people around the world.

Japan's video game and anime market is now legendary around the globe, and millions flock to the country each year to become more immersed in its popular culture. Just look at the annual Comiket event–over 700,000 visitors attend each year!

 

To celebrate the upcoming Comiket, a new beer has been brewed that pays homage to modern otaku culture. The Tsundere Hazy IPA is perfect for otaku who love a little challenge when it comes to their love life.

Brewed with NOMCRAFT Brewing in Wakayama Prefecture, the Tsundere Hazy IPA features two distinct flavors, each coming out more strongly depending on the beer's temperature. 

 

When poured, the beer has a very tropical aroma, and when ice-cold, it's more refreshing and less sweet. 

 

As the temperature of the beer rises, the smell becomes more fruity and strong, with the smell of hibiscus certain to make your mouth water. Whether you like bitter or sweet, this may be the perfect beer for you. 

Would you try this tsundere-themed beer? 

The Sumida Hokusai Museum Opens Hyakunin Isshu Exhibition Featuring 105 Unique Works

The Sumida Hokusai Museum in Sumida-ku, Tokyo, will be holding the 'Hokusai at Play with the 100 Poems' exhibition from December 15, 2022 until February 26, 2023. The exhibition will focus on the Hyakunin Isshu, a famous collection of 100 poems integral to Japanese traditional culture.

Hyakunin Isshu Uba ga Etoki – Sojo Henjo / Katsushika Hokusai, The Sumida Hokusai Museum.

Hyakunin Isshu Uba ga Etoki – Ariwara no Narihira / Katsushika Hokusai, The Sumida Hokusai Museum. (Phase 2)

The Five Great Poets, Tsuki – Katsushika Hokusai, The Sumida Hokusai Museum. (Permanently on Display)

By the middle of the Edo period, the Hyakunin Isshu, or 100 classical poems, had become an established part of Japanese culture. Hokusai, an ukiyo-e artist of the period, painted a total of 27 of these famous poems, incorporating his own ideas and views to create unique pieces still beloved so many years later. This exhibition features 24 paintings from the museum's Hyakunin Isshu collection along with dozens more items pertaining to this legendary collection of writings. Don't miss it!

Information

Hokusai at Play with the 100 Poems

Running: December 15, 2022 – February 26, 2023

*Certain exhibits will be changed between the first and second phases. 

Phase 1: December 15, 2022 – January 22, 2023

Phase 2: January 24 – February 26, 2023

Hours: 9:30-17:30 (Last entry at 17:00)

Official Site: https://hokusai-museum.jp

Hotel Gajoen Tokyo to Hold Tours of Historic Hundred Stairs

The historic Hotel Gajoen Tokyo, which blends a hotel and a traditional Japanese museum, will offer a tour of the Hyakudan Kaidan (Hundred Stairs) from December 3 until December 25, 2022. This Tangible Cultural Property of Tokyo is an incredible sight, and those with an interest in Showa-era architecture won't want to miss it.

In 1988, part of the old Gajoen structure was torn down to make way for new structures along the Meguro River basin,  and the hotel underwent a large-scale renovation over a period of three years. The Hundred Stairs were originally built in 1935 and designated as a Tangible Cultural Property by the Tokyo Metropolitan Government in 2009.

Over the years, the Gajoen has served as a restaurant and gathering place for visitors from both the Showa-era and Heisei-era. Filled with traditional Japanese aesthetics, the location is now filled with art and pieces of cultural significance. A number of special exhibitions are held throughout the year. 

 

Why not come enjoy this tour of a piece of Japanese history?

Information

Winter Tour: Hyakudan Kaidan 2022
~Architecture, Beauty, and Tales of Tradition~

Running: December 3 – December 25, 2022
Hours: 12:30 – 18:00 (Last entry at 17:30)
Venue: Hyakudan Kaidan (Hundred Stairs)
Tangible Cultural Property of Tokyo, Hotel Gajoen Tokyo
Details: https://www.hotelgajoen-tokyo.com/100event/tour2022

Nagoya Castle to Hold Special Autumn Night Art Viewing for a Limited Time

The historic Nagoya Castle will hold a special nighttime viewing event for 14 days only, from November 25 until December 8, 2022. During this period, Honmaru Palace will be open to the public at night, and the Chrysanthemum Corridor inside will be open to visitors for the first time. 


The Ninomaru Garden will also be illuminated and will transport guests to a different place and time by showing a space only possible during dark hours.

Inspired by the relationship between light and shadow, this event focuses on changes that occur over time and the creation and emergence of new ideas and things.

Honmaru Palace, Typically Closed to the Public, to be Open at Night

Nagoya Castle's Honmaru Palace was completed in 1615 and served as the primary residence of the Lord of the Owari Domain and as the Domain's government office. The interior of the palace was lavishly decorated with paintings and other art pieces and was praised as a masterpiece. Sadly, it was destroyed by an air raid in 1945. Restoration work began in 2009 and was completed in 2018 with unparalleled accuracy. The Honmaru Palace gives off a completely different aura at night. 

First Public Viewing of the Jodan-no-ma in the Joraku-den

The Joraku-den was added to Nagoya Castle to accommodate the third Shogun, Iemitsu, on his way to Kyoto. It is the most luxurious of all the Honmaru Palace buildings, and this event marks the first time that the Chrysanthemum Corridor on the north side will be open to the public. Visitors are welcome to admire the golden-blue paintings as they stroll through the historic site.

See Spectacular Paintings when Entering the Tsugi-no-ma Room

During this period, visitors can enter the Tsugi-no-ma room to view classical period paintings, giving a more clear idea of how people acted and dressed during this time in history.

[Ninomaru Garden Special Viewing] 


~Witness a Never-Before-Seen Feudal Lord's Garden through a Spacial Presentation~

Scenography for this unique show was provided by the creative label PERIMETRON. In order to show another side of the Ninomaru Garden at night, the company focused on light's characteristics, from reflection and transmission to refraction and absorption. Light and shadow intertwine in various ways, and guests will be transfixed by this curious showing.

Information

Nagoya Castle: Autumn Night Special Viewing ~KEI~

Running: November 25 – December 8, 2022

Viewing Hours: 9:00-19:30 (Gates close at 20:00)

Official Site: https://www.nagoyajo-kei.jp/

ANNA'S by Landtmann in Shibuya Scramble Square Now Offering Halloween Sweets

ANNA'S by Landtmann, a cafe located inside +Q Beauty on the 6th floor of Shibuya Scramble Square, has begun selling two Halloween cakes! These spooky sweets will be available until October 31, 2022.

Halloween Mont Blanc

Halloween Poison Apple

Guests will be able to snag the Halloween Mont Blanc and Halloween Poison Apple cakes, available for ¥580 each including tax. The Mont Blanc is filled with pumpkin custard and Chantilly cream. The Poison Apple is a sweet and sour cake featuring a blend of chocolate mousse covered in red glaze and applesauce with apple pulp.

Which of these two adorable cakes would you like to enjoy this autumn?

Second Sylvanian Families Sweets Buffet to Open with a Christmas Theme

Keio Plaza Hotel in Tokyo will hold a special Christmas-themed Sylvanian Families buffet starting November 1, 2022. This is the second Sylvanian Families event following the previous Halloween-themed buffet, which became extremely popular. Some guests even bring their own Sylvanian Families dolls!

Starting in November, visitors can enjoy a full lineup of 20 scrumptious dishes inspired by the cake shop found in Sylvania Village. Some sweets are also inspired by the many beloved characters found in the series, and anyone wanting to get into the Christmas spirit won't want to miss this exclusive event. For those without a sweet tooth, some light lunches will also be available.

The restaurant will also erect a decorative display of Sylvanian Families enjoying a Christmas party and a sweet diorama made exclusively of desserts by the pasty chef. Guests can enjoy tea time while getting lost in this magical world, so get excited about the Christmas season!

1. Sweets Inspired by the World of Sylvanian Families

2. Become Enthralled by a Wonderful Winter World of Sweets

3. Exclusive! Sweets Diorama and Sylvanian Families Photo Spot

4. Light Meals Perfect for Winter and Burgers Featuring Original Illustrations

5. A Special Plan to Enjoy the Buffet with Sylvanian Families Babies

Information

Sweets Collection with Sylvanian Families

Running: November 1 – December 31, 2022

Venue: Keio Plaza Hotel's Jurin Restaurant

Price: ¥5,500 (Adults) / ¥3,000 (Children 4-12) *Children under 3 free

Details/Reservations: https://www.keioplaza.co.jp/event/autumn-sweets/#event02

Hilton Tokyo Odaiba to Hold Second Touken Ranbu ONLINE Collaboration Sweets Buffet

From October 21 until November 30, 2022, Hilton Tokyo Odaiba will hold the Touken Ranbu ONLINE Special Buffet ~Black & White~ event! This second collaboration with the popular series will be held Grillogy Bar and Grill on the second floor.

Dessert Menu

Drink Menu

Drink Order Bonus: Original Coaster (8 varieties)

At the buffet, guests can enjoy luxurious dishes inspired by characters from the sword-centered game and anime series. The desserts blend Japanese and Western cuisine, and special cocktails will be available during the first phase, each coming with a special coaster as a bonus! In addition, original goods will be on sale at the venue, so don't miss it!

Information

Touken Ranbu ONLINE Special Buffet ~Black & White~

Running: October 21 – November 30, 2022

Reservation Start Dates and Times: 

Lottery Opens: September 16, 12:00~

General Reservations Open: October 6, 12:00~

*Lottery reservations and general reservations will be open
for the first and second runs.

*Please see the official website for the full reservation schedule.

Venue: Hilton Tokyo Odaiba 2F Restaurant, Grillogy Bar and Grill

*Reservations required

Tickets/Details: https://odaiba.site/

Online Shop: https://touken-yorozuya.com/

Coffee from Around Japan to be Featured at the Yokohama Coffee Festival

Yokohama Coffee Festival is coming back for the first time in three years! The event will bring together the best coffee from around Japan, showing off the personality and individuality of each shop. The festival was created to build bridges between shops and customers and to spread coffee culture in Yokohama. Coffee fans should head to Yokohama Park on October 23, 2022. 

Coffee tickets–four cups for ¥1,000–will be available to purchase on the day of the event, allowing visitors to compare different shops. From those who are just starting to enjoy coffee to those who are coffee fanatics, this event will allow everyone to enjoy coffee to the max! Be sure to chat with the charming baristas as you explore the festival!

Information

Yokohama Coffee Festival

Date: October 23, 11:00-17:30

Venue: Yokohama Park

Yokohama Royal Park Hotel to Hold Halloween Sweets Fair in October

From October 1 until October 31, Yokohama Royal Park Hotel will hold a special Halloween Fair at its delicatessen and lounge Coffret. In addition to six playful sweets from the Halloween Frankenstein to the Halloween Mummy, two types of autumn bread featuring pumpkin and purple sweet potato will be available, allowing guests to enjoy the taste of the season!


Halloween Frankenstein

Halloween Cat

Halloween Mont Blanc

Halloween Mummy

Halloween Pudding

Halloween Pound Cake

Pumpkin Cream Fondue / Halloween Anpan

  

Come enjoy this Halloween with some cute and silly sweets!

Information

Halloween Fair

Running: October 1 – October 31, 2022
Venue: Coffret Delicatessen and Lounge, 1F
Hours: Lounge 10:00-20:00 (*Cakes served starting at 11:00) /
Delicatessen 11:00-20:00
Reservations: 045-221-1111 (Representatives available 11:00-20:00)