AMIAYA produce visual to SCANDAL's forthcoming album "HONEY"
SCANDAL have announced their new album HONEY will be released on February 14th. "HONEY" comes as the band's eighth album in total and the first in almost 2 years. A new artist photo in promotion of the release has been unveiled.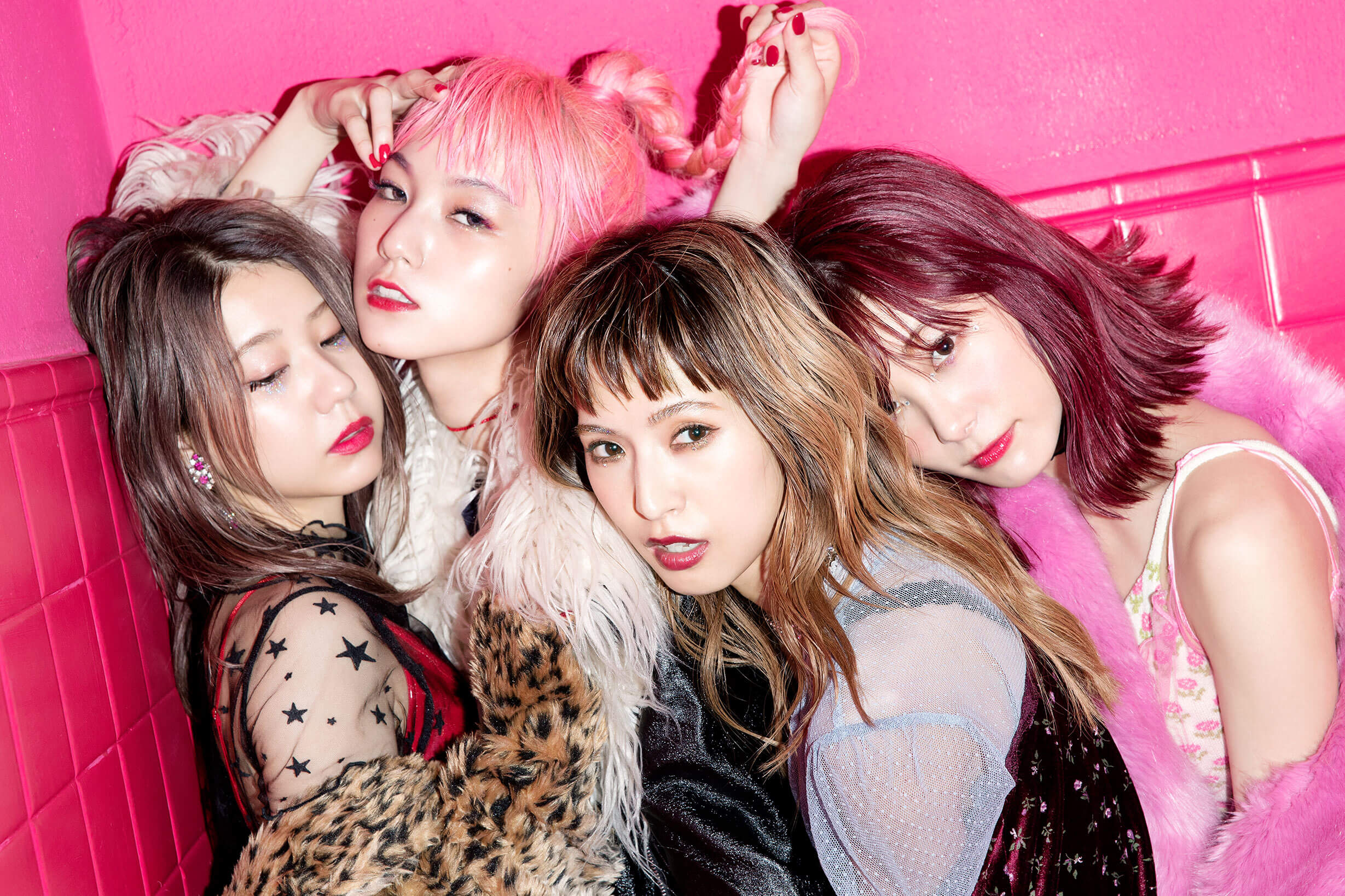 Tokyo fashion icons and twin unit AMIAYA are in charge of producing the visuals for SCANDAL's forthcoming release.
AMIAYA – who also work as creative directors for the popular brand "jouetie," one that receives widespread support – have fused together a vision of fashion and music conceivable only from such creative minds as theirs to present a somewhat different SCANDAL we're used to seeing, a line-up brushed with vibrant colour and a dash of sweetness.
Now to wait in eagerness for the release of HONEY's key visual and the album itself.
■Information
SCANDAL New Album – "Honey"
On Sale: February 14, 2018
Limited Pressing Edition (CD+T-shirt) – ¥5,700 (tax incl.) [ESCL4957-4958]
First Press Limited Edition (CD+DVD) – ¥3,700 (tax incl.) [ESCL4959-4960]
Regular Edition (First Press) (CD only) – ¥3,200 (tax incl.) [ESCL4961]
HONEY Promotional Website: http://www.scandal-honey.com/
RELATED ENTRIES
SCANDAL Releases Live Performance of 'Prism' Filmed during 2022 World Tour

The popular girl group SCANDAL will release a live performance video of the song Prism, which was performed during the World Tour last year. The group will also release MIRROR, a documentary, on Blu-ray and DVD on February 22, 2023.

SCANDAL embarked on the WORLD TOUR MIRROR 2022 from March to September 2022, performing in Japan, North America, and Europe. While the girls faced difficulties performing in the U.S. due to the pandemic, they have continued to tour Japan and abroad, celebrating 15 years of musical activities. The new live video was produced using select scenes from each show on the world tour. Prism shows off the individuality of the four members, filled with confidence and a trailblazing spirit.

Starting April 7, the SCANDAL TOUR 2023 unlimited UTOPIA will begin, visiting seven cities across Japan: Sapporo, Sendai, Tokyo, Yokohama, Nagoya, Osaka, and Fukuoka. The group's new song Line of sight is currently being used as the theme song for the arcade card game Mobile Suit Gundam Arsenal Base LINXTAGE.

Rock Band SCANDAL Writes 'Line of Sight,' Theme Song for Mobile Suit Gundam Arsenal Base LINXTAGE

On February 22, the popular rock band SCANDAL will release the documentary MIRROR on Blu-ray and DVD. In April, the artists will embark on the SCANDAL TOUR 2023 – Unlimited UTOPIA, performing in seven cities across Japan.

The new song Line of Sight was written by the band to serve as the theme song for the arcade card game Mobile Suit Gundam Arsenal Base LINXTAGE, scheduled to release in late February. Read SCANDAL's comment below!

Mobile Suit Gundam Arsenal Base LINXTAGE〈LINXTAGE SEASON:01〉PV

—
"We're pleased to announce that we've been put in charge of the theme song for Mobile Suit Gundam Arsenal Base LINXTAGE.
This summer, SCANDAL will celebrate our 17th anniversary. What a great time to get this incredible offer!
We met with the team behind Arsenal Base and shared our thoughts and feelings before starting production on the song.
In the game, music is played during battle scenes, where players' emotions are heightened. Considering that, we wrote a fast-paced, danceable track.
In the end, we combined our own thoughts and feelings with the world of Gundam. Be sure to listen to the lyrics closely!
Please enjoy our music as you play Arsenal Base!
—

Mobile Suit Gundam Arsenal Base is a real-time strategy arcade card game in which players take on the role of a commander in control of five mobile suits and five pilots fighting to destroy a collection of enemy battleships. Found in many arcades across Japan, players place pilot cards on the terminal in dedicated boxes. The terminal then reads a QR code on each card. The series will soon introduce tons of new content including the LINXTAGE BATTLE system, in which two players can enter battle at the same time. Be sure to listen to a snippet of Line of Sight in the new PV!

SCANDAL Wraps Domestic Tour, Starts North American and European Tour in July

Following the release of their 10th album MIRROR in January 2022, all-girl band SCANDAL began their world tour in March of this year. After successfully performing 11 shows in 10 locations around Japan, the girls will be heading to North America and Europe starting in July. The final Japan performance took place at the famous Nakano Sunplaza on June 11.

Celebrating 15 successful years in 2021, the ten-track 10th original album MIRROR includes popular singles like eternal and ivory. The album includes songs written, composed, and sung by each member, and is beloved by longtime and new fans alike. The group's previous world tour was canceled due to the pandemic, and this will be the first time the girls have performed abroad in four years. During the group's final show in Japan, SCANDAL performed 22 songs from both their new album and past releases, delighting longtime fans and newcomers alike.

The concert at Nakano Sunplaza began with the title song MIRROR. The audience's excitement only increased as the members began playing Flashback No. 5 and EVERYBODY SAY YEAH, two classic tracks. The band continued to perform songs from the new album, with some written and sung by specific members. Tracks from the beginning of SCANDAL's career also appeared in the setlist, including Instant Sentimental, Take Me Out, and A.M.D.K.J. The show fittingly ended with one more time, the last song on MIRROR.

SCANDAL will travel to North America in July and to Europe in September, so keep an eye out for when the girls come to your town!

SCANDAL WORLD TOUR 2022 – MIRROR in JAPAN

https://open.spotify.com/playlist/65LIl0fhilWNrU7SgfMsDk?si=Fm31NSFKROyqjZMYDU3OSg

Information

SCANDAL WORLD TOUR 2022 – MIRROR

■North America

July 9, 2022 – Queen Elizabeth Hall(Toronto)

July 11, 2022 – Sony Hall(New York City)

July 13, 2022 –  Big Night Live(Boston)

July 15, 2022 – The Masquerade(Atlanta)

July 16, 2022 – House of Blues(Chicago)

July 18, 2022 – The Imperial(Vancouver)

July 20, 2022 – The Neptune(Seattle)

July 22, 2022 – House of Blues(Anaheim)

July 26, 2022 – Legacy Hall(Dallas)

■Europe

September 22, 2022 – Lido(Berlin)

September 24, 2022 – O2 Academy Islington(London)

September 27, 2022 – Yoyo(Paris)

SCANDAL Official Site: https://www.scandal-4.com/

W Osaka Reveals Special Menu Inspired by Fashion Duo AMIAYA

Luxury hotel W Osaka will be offering 'ICHIGO AFTERNOON TEA – Dressed up for Spring,' a special menu inspired by the fashion duo AMIAYA, from April 1 until May 31, 2022. The menu items will be available at the Living Room area on the hotel's third floor.

W Osaka Fashion Ambassador AMIAYA

ICHIGO AFTERNOON TEA – Dressed up for Spring

LIVING ROOM

The event will utilize some of the popular strawberry dishes currently popular at the hotel, but will also include some raspberries and orange sweets. Some dishes will be decorated with flower petals, inspired by the vivid fashion of W Osaka's fashion ambassador AMIAYA. The twins have attracted worldwide attention as models and DJs, and they celebrated their first anniversary on March 16. 

Savory options include a Quiche with Sakura Shrimp and Spring Cabbage and Caramelized Onion and Chevre Cheese plate. Guests can enjoy a total of 12 items prepared by the W Osaka chef team, all displayed on a beautiful afternoon tea stand. Each menu comes with a welcome drink and free refills for tea and coffee.

Digital Fashion, NFTs, and the Metaverse Come Together for AMIAYA x STREET x MetaTokyo Collab

AMIAYA, a twin fashion unit representing Tokyo and signed to ASOBISYSTEM, is diving into the Metaverse! MetaTokyo is teaming up with the models to create NFT photography, open a digital pop-up museum, and provide wearable items for fans' avatars. The collaboration is an official installation for Metaverse Fashion Week held on the global metaverse platform Decentraland. The event began on March 24, 2022.


'AMIAYA x STREET TOKYO FASHION 2021ss' takes center stage in this collaboration. The photobook was made with popular street snap magazine STREET with photos taken by editor-in-chief Shoichi Aoki. The two models are seen wearing the latest Tokyo fashion on the streets of Harajuku and other areas of Japan's capital city. The company is intent on promoting local culture and fashion worldwide as part of the 'Web 3.0 Era.'


SPACE, a pop-up museum built on land owned by MetaTokyo in Decentraland, is now highlighting the AMIAYA and STREET collaboration with an immersive photo exhibition. Fans can also snag AMIAYA-themed wearables for their avatars.

Photos from the AMIAYA x STREET collab are now available as NFTs on OpenSea, the world's largest NFT marketplace. A total of 330 unique items will be available, so don't miss out!

Fashion Icons AMIAYA Collaborate with Fashion Magazine STREET on Photo Exhibition

The book store BOOKMARC, owned by Marc Jacobs, will host a new photo exhibition featuring the fashion unit AMIAYA. The pink-haired twins have attracted worldwide attention as fashion icons representing Tokyo style. The event is being sponsored by the fashion magazine STREET, which has been disseminating street fashion since 1985. The event is running until March 30, 2022. 

AMIAYA x STREET TOKYO FASHION 2021 Spring/Summer is a photo collection showing off the newest trends modeled by AMIAYA with the help of STREET Magazine.


AMIAYA have been active as a models since their teenage years, and these photographs taken by STREET editor-in-chief Shoichi Aoki prove that they have many successful years ahead of them.

Information

AMIAYA x STREET x MetaTokyo Photo Exhibition

Running: March 18 – March 30, 2022
Location: BOOKMARC (4-26-14 Jingumae, Shibuya-ku, Tokyo)

Official Site: http://www.marcjacobs.jp

SCANDAL Releases Music Video for 10th Anniversary Title Song 'MIRROR'

SCANDAL's 10th original album MIRROR was released on January 26, 2022, and ranked #5 on the Oricon Weekly Album Chart. Every album the group has released has ranked in the top five. The music video for the album's title track, MIRROR, has finally been released!

The song, composed by MAMI on guitar and RINA on drums, is an epic rock anthem and a perfect symbol for the album. The music video was directed by Motherfucko, who previously directed the music video for Ai ni Naranakattanosa.

MIRROR Music Video

MIRROR is on sale now.

Information

MIRROR

Now Available

Standard Edition (CD): ¥3,300 (Tax Included)

Special Edition A (CD+DVD): ¥4,400 (Tax Included)

Special Edition B (CD+Magazine): ¥4,400 (Tax Included)

Limited Edition (CD+DVD+GOODS *With Luxury Box): ¥11,000 (Tax Included)

Streaming Links: https://jvcmusic.lnk.to/MIRROR

Official Site: https://www.scandal-4.com/

Additional North American Dates Added to SCANDAL's World Tour

All-girl rock band SCANDAL is celebrating 15 successful years in 2021. Their ten-track 10th original album 'MIRROR' was released on January 26, 2022, and includes popular singles like eternal and ivory. 'MIRROR' includes songs written, composed, and sung by each member, and is already beloved by longtime and new fans alike.

The music video for the love balled Ai ni Naranakattanosa has also been unveiled. Written and composed by guitarist MAMI, it's a song that realistically describes the sad feelings of a woman in unrequited love. The video was directed by motherfucko, who also directed the videos for Fuzzy and one more time. It also features young actors Miyu Nakamura and So Morozumi telling the story of a woman who realizes that her feelings for her boyfriend aren't love.

Ai ni Naranakattanosa Music Video

SCANDAL has also announced additional shows for the North American leg of their 2022 World Tour, which is scheduled to start in March. There will be nine shows in total: Toronto, New York, Atlanta, Anaheim, Dallas, Boston, Chicago, Vancouver, and Seattle. The setlist will include songs from the album as well as popular songs from the group's history. 

Information

 MIRROR

Release Date: January 26, 2022

Standard Edition (CD): ¥3,300 (Tax Included)

Special Edition A (CD+DVD): ¥4,400 (Tax Included)

Special Edition B (CD+Magazine): ¥4,400 (Tax Included)

Limited Edition (CD+DVD+GOODS) *With Luxury Box: ¥11,000 (Tax Included)

SCANDAL Official Site: https://www.scandal-4.com/

All-girl rock band SCANDAL is celebrating 15 successful years in 2021. Their 10th original album 'MIRROR' was released on January 26, 2022, and the track Ai ni Naranakattanosa has become a major topic on social media. The love song is now available on music streaming platforms!

The song was written and composed by guitarist MAMI. A song that realistically describes the sad feelings of a woman in unrequited love, the track was first performed live during the Christmas concert held on December 24, 2021. It immediately received a slew of sympathetic comments on social media, and a teaser trailer for the song's music video has been unveiled ahead of its January 26 premiere. 

Ai ni Naranakattanosa Teaser (YouTube Shorts)

Those listening to the song on Spotify will be able to watch each member of SCANDAL performing on the app's Canvas screen randomly. 

MIRROR is now available to stream on iTunes, Apple Music, and Spotify. Those who preordered the album received an original wallpaper.

Those purchasing SCANDAL's new album at participating stores will be entered into a drawing to win an autographed poster! A special exhibition will also be held at Tower Records Shibuya, Shibuya TSUTAYA, HMV&BOOKS Shibuya, Joshin Nihonbashi, and Tower Records Kyoto. TV screens at each location will display the lyrics to certain tracks on the album, bringing fans even closer to the meaning behind each song.

Information

Ai ni Naranakattanosa

Streaming Links: https://jvcmusic.lnk.to/MIRROR

*The song is now available to stream on music streaming services and major download sites like iTunes, etc.


10th Album 'MIRROR'

Standard Edition (CD): ¥3,300 (Tax Included)

Special Edition A (CD+DVD): ¥4,400 (Tax Included)

Special Edition B (CD+Magazine): ¥4,400 (Tax Included)

Limited Edition (CD+DVD+GOODS *With Luxury Box: ¥11,000 (Tax Included)

Official site: https://www.scandal-4.com/

All-girl rock band SCANDAL celebrated its 15th anniversary in 2021. On January 26, the group will release their 10th original album 'MIRROR,' and ahead of release, a trailer is highlighting each new track.

Complete Song Trailer for 'MIRROR'

The album will come in four different editions: a standard edition, Special Edition A, Special Edition B, and a Limited Edition. The songs included will be the same for each and will include popular tracks like eternal, ivory, and one more time, as well as seven new tracks for a total of ten songs. 'MIRROR' will include songs written and composed by each member, and the new trailer also teases that each girl will provide main vocals for different tracks. Guitarist MAMI sings ivory, bassist TOMOMI sings The Identity of Love, drummer RINA sings She's a Wave, and vocalist HARUNA is in charge of all other tracks.

The latest installment of SCANDAL's documentary series has also been posted to the group's  YouTube channel and gives a behind-the-scenes look at the making of the album. 

'"her" Diary 2021 on YouTube #12' Documentary Series

Those who purchase the CD will be able to watch an online live show on January 30, 2022. Tickets will be available on a first-come, first-served basis, and fans can apply to attend by preordering or purchasing 'MIRROR" online or at select CD stores nationwide. Check the official website for details.

All-girl rock band SCANDAL is celebrating 15 successful years in 2021. Their 10th original album 'MIRROR' will be released on January 26, 2022, and the DVD and special goods included with each special edition have been revealed. 

Special Edition A will include a DVD featuring unreleased footage from the documentary series '"her" Diary 2021 on YouTube.' Newly-recorded interviews with the band members will also be included. 

Special Edition B will come with "her Magazine Vol.3," which was also included with the single 'Masterpiece/Blink,' and the group's previous album 'Kiss from the darkness.' The limited edition will include a DVD with seven music videos as well as an original 'MIRROR' long-sleeve T-shirt (Size L). 

Concept photos for 'MIRROR' have also been released, produced by art director Junya Handa. Solo concept photos of each member were released from December 13 to December 16. 

Clear folders will also be included with the special and limited editions, with early preorder bonuses available until December 19 at 18:00. 

"her" Diary 2021 on YouTube #11

The newest episode of '"her" Diary 2021 on YouTube #11" is now available, and details the production meeting for 'MIRROR,' so be sure to give it a watch!

Information

MIRROR

Release Date: January 26, 2022

Standard Edition (CD): ¥3,300 (Tax Included) 

Special Edition A (CD+DVD): ¥4,400 (Tax Included) 

Special Edition B (CD+Magazine): ¥4,400 (Tax Included)

Limited Edition (CD+DVD+GOODS *With Luxury Box: ¥11,000 (Tax Included) 

Preorder Site: https://www.her-label.com/MIRROR/

SCANDAL Official Site: https://www.scandal-4.com/

All-girl rock band SCANDAL is celebrating 15 successful years in 2021. On January 26, 2022, the group will release their 10th original album 'MIRROR,' their first album release since 'Kiss from the darkness' in February 2020. 

The album will contain 10 songs, including the singles eternal, Ivory, and one more time, released this year. It will be available in four different versions, including a Standard Edition with the CD only, a Special Edition with a DVD, a Special Edition with a magazine, and a Limited Edition box set including a DVD and original goods. 

Pre-orders for 'MIRROR' are open now, with those reserving a copy eligible to receive an original clear folder and other goods depending on the store. 

SCANDAL has also announced their world tour, 'SCANDAL WORLD TOUR 2022 "MIRROR," starting March 12, 2022, at the Atsugi City Cultural Hall with 11 performances in 10 cities throughout Japan. Starting in July, they will perform at five cities in North America: Toronto, New York, Atlanta, Anaheim, and Dallas. In September, they will play in Berlin, Longdon, and Paris. For ticket information, please visit SCANDAL's official website. 

Information

MIRROR

Release Date: January 26, 2022

Standard Edition (CD): ¥3,300 (Tax Included) 

Special Edition A (CD+DVD): ¥4,400 (Tax Included) 

Special Edition B (CD+Magazine): ¥4,400 (Tax Included)

Limited Edition (CD+DVD+GOODS *With Luxury Box: ¥11,000 (Tax Included) 

*The DVD included in Special Edition A and the Limited Edition are different. 

*The album will also be available to stream on January 26, 2022. 

10th Album 'MIRROR' Preorders: https://www.her-label.com/MIRROR/

Official Site: https://www.scandal-4.com/