The second version of "Miko ni Nareru Room Wear" is now on sale
From the project which commoditizes "delusional dreams" "MOCOLLE," the renewed version of "Ouchi de Yuru Miko!" which accomplished an amazing 232% in crowd funding, will be sold at Village Vanguard Online.
This is a dreamy item which realizes the dreams of men thinking, "There are not so many chances to see Mikos (female attendants) but I can't go to shrines just to see mikos and I can't wait until New Year's Day… What about making a room wear that looks like miko's costume and ask my girlfriend to wear it?" In addition, it is an item that fulfills the dream of girls who wanted to become a miko.
The room wear is cute by is very functionable and easy to wear. This time, they released two sizes, M and L. One can attach tasuki (sash) to make the room wear cuter.
The room wear is a one-piece suit so that it can be worn easily.
When wearing a furisode (long sleeved kimonos) the sleeves get in the way when working on something and therefore the tasuki is attached to the product (2 colors – red and white are attached).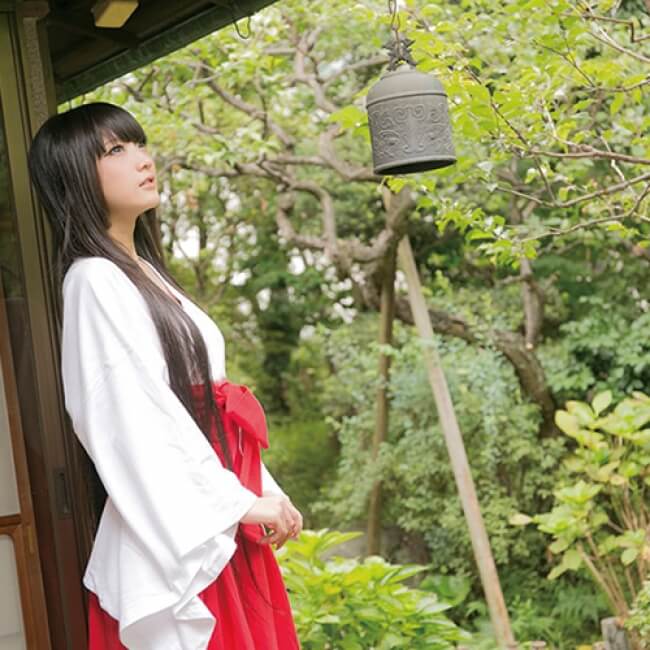 Don't miss this chance to watch a miko in your room or become a miko!
RELATED ENTRIES
Village Vanguard Online Store Opens Rilakkuma Pop-Up Shop with Massive Plushies

If you visit Japan, you'll likely find yourself in a Village Vanguard shop eventually. The popular chain sells just about everything under the sun for low prices, from apparel and toys to books and DVDs. Until January 6, 2022, visitors to Village Vanguard Online can peruse a special Rilakkuma pop-up shop named 'My Imaginary Rilakkuma.' Most importantly, a super long Rilakkuma stuffed animal will only be available from this shop!

Big Long Huggable Plush (Rilakkuma/Kiiroitori)

Plushie Keychain (5 varieties)

Plushie (Korilakkuma/Kiiroitori)

Acrylic Stand (2 varieties)

Shopping Bag​

Rilakkuma is known for always being lazy, but can you imagine if he decided to actually work hard for a day? You might fall in love with him a little more. The acrylic stands read "You look beautiful today," and "Let's make today a wonderful day." Will you be snagging any of these items? 

Yuki Tokuda x Village Vanguard Cute Illustration Collection Released

Popular Japanese illustrator Yuki Tokuda, who is known for their adorable artwork, released a collection of items exclusively on Village Vanguard on Friday.

The Line-Up

Girl & Animals Mug | ¥1,430 (Tax Included)

Densetsuno Usagi Tote Bag | ¥2,310 (Tax Included)

Ebiten iPhone Case  (12/12 Pro/12mini) | ¥2,530 (Tax Included)

Densetsuno Usagi Acrylic Key Ring | ¥715 (Tax Included)

Sankakukin Acrylic Key Ring | ¥715 (Tax Included)

Densetsuno Usagi Pin | ¥385 (Tax Included)

Sankakukin Pin | ¥385 (Tax Included)

Hitogata-kun Pin | ¥385 (Tax Included)

Sticket Sheet | ¥605 (Tax Included)

Yuki Tokuda is a Japanese illustrator whose line-up of original characters have proven extremely popular with people on Japanese social media, including Hitogata-kun, his unnamed girl character, and line-up of mysterious animals and creatures. His work spans books, illustrations, 3D sculptures, and more.

©YUKI TOKUDA

Lovisia Releases Detective Conan Cosmetic Collection

Japanese cosmetic brand Lovisia has released its New Styley collection in mid-April this year. The collection is based on the popular anime series Detective Conan, also known as Case Closed outside Japan, in promotion of the upcoming film Detective Conan: The Scarlet Bullet.

Detective Conan Eyeshadow – Conan & Kid Gold and Brown | ¥2,200 (Tax Included)

Detective Conan Eyeshadow – Conan & Kid Gold and Brown | ¥2,200 (Tax Included)

Detective Conan Lipsticks – Clear, Coral Pink, Beige Pink, Scarlet Red, Nude Beige | ¥1,320 Each (Tax Included)

USGMEN x Village Vanguard Clothing Collection Releases

The popular Japanese LINE sticker character series USGMEN is now taking orders for a new collection of merchandise on Village Vanguard for a limited time. The collection dropped on March 13.

The Line-Up

USGMEN White T-Shirt | Medium, Large | ¥4,180 (Tax Included)

USGMEN Yellow T-Shirt | Medium, Large | ¥4,180 (Tax Included)

USGMEN Black Suuetto T-Shirt | Medium, Large | ¥5,830 (Tax Included)

USGMEN Hoodie | Medium, Large | ¥6,380 (Tax Included)

USGMEN Cap | ¥3,630 (Tax Included)

USGMEN Face Mask | ¥1,430 (Tax Included)

USGMEN Clear Pencil Case | ¥2,200 (Tax Included)

USGMEN – Usagi & Same Acrylic Key Rings | ¥770 Each (Tax Included)

USGMEN Tote Bag | ¥2,530 (Tax Included)

USGMEN Sacoche | ¥2,420 (Tax Included)

©︎うさぎメン

Classic Japanese Candies Feature On Eco Bag Collection

Village Vanguard has released a new collection of eco bags featuring designs of long-time classic and nostalgic Japanese candy brands.

Marukawa Fusen Bubble Gum (Orange) | ¥968 (Tax Included)

Marukawa Fusen Bubble Gum (Strawberry) | ¥968 (Tax Included)

Marukawa Fusen Bubble Gum (Grape) | ¥968 (Tax Included)

Kuppy Ramune | ¥968 (Tax Included)

Cocoa Cigarette | ¥968 (Tax Included)

Popular Japanese Illustrator UZNo Releases Merchandise Collection Featuring Their Original Character Artwork

The popular Japanese illustrator UZNo, who is known for their cute original character art, has teamed up with Village Vanguard to release a collection of merchandise. The items are available to order until March 14.

UZNo T-Shirts (Medium/Large) | ¥3,850 Each (Tax Included)

UZNo Mug Set | ¥3,300 (Tax Included)

UZNo Acrylic Coasters | ¥935 Each (Tax Included)

UZNo Acrylic Key Rings | ¥770 Each (Tax Included)

UZNo Tote Bags | ¥2,420 Each (Tax Included)

The adorable made-to-order line-up captures the warm and fuzzy world of UZNo's characters – a must have for the collection!

© UZNo

Cosplay the Characters From Magia Record With the Release of the Anime's School Uniform

Japanese clothing company Cospa, which specialises in cosplay costumes, has announced the release of the school uniform worn by the main characters of the ongoing TV anime series Magia Record: Puella Magi Madoka Magica Side Story.



Blouse Set (Blouse/Innerwear/Ribbon) – ¥29,500 (Before Tax) / Skirt – ¥19,500 (Before Tax)

The outfit is a faithful reproduction of the school uniform, capturing all of its little details. The cute pink checked skirt features a print produced specifically for this outfit. The back part of the thick waist belt has rubber instead it so it snaps perfectly around the waist, giving you a waistline just like Momoko and the others.

Rena Minami's Ribbon – ¥3,500 (Before Tax)

Cospa is also selling the ribbon worn by Rena Minami, a member of the team alongside Momoko Togame and Kaede Akino. Pair together with the school uniform for a kawaii cosplay of Rena.

The blouse set and skirt will be released in late April and the ribbon in mid-May, Pre-orders are now open on the official website below.

© Magica Quartet/Aniplex・Magia Record Anime Partners

Gamers! Rally Your Teammates For A New Quest: TOKYO GAME SHOW

The TOKYO GAME SHOW is in a league of its own. It is a mecca for gamers who cannot get enough of Japanese games and entertainment. This is where Japan's major game publishers from all kinds of platforms unite to put on an enormous exhibition. 

This includes the opportunity to explore games that are yet to be released as well as hear new announcements about the direction developers are steering the future of gaming. There's no lagging behind. This is a major event for the gaming industry, raking in leagues of heroes every year. 

On August 28, a total of 2,417 game booths were announced, which is the largest number the event has ever seen in its history. This event is home to games on a range of platforms including for console, smartphone and PC. The enormous variety of genres includes the most cutting-edge and latest trends including Esports, VR and much more.

For those of you who love cosplay, this event is your chance to finally meet your fantasy. The outside area of Hall 9 will have a Cosplaying Area Stage where two events will take place: a cosplay fashion show and a gathering. 

On Saturday 14th, Hall 1 event stage will hold the Cosplay Collection Night@2019 event where participants and event staff will take over the stage in game character cosplay. Spectating is free, so feel free to watch as each cosplayer dominates the entire stage, showing off their excellent craftsmanship and skills as they walk the runway and strike a pose definitely worth saving in your highlights! 

On Sunday 15th at 2:30 pm, cosplayers will take to the stage in units of two or more to put on a dance or combat show that you just cannot critically miss out on. 

Schedule:

September 14 (Sat)  From 12:00 ー Cosplay Runway  From 15:30 ー Cosplay Runway

September 15 (Sun) From 13:30 ー Cosplay Runway From 14:30 ー Cosplay Dance and Combat Shows From 15:30 ー Cosplay Runway

The Gathering is where cosplayers can interact with one another and have photos taken ー the perfect opportunity to send those friend requests. On September 14, a gathering dedicated to the Final Fantasy Tales Series will take place on the Cosplay Area Stage. On September 15, there will be gatherings for the Dynasty Warriors and Samurai Warriors series.

Schedule:

September 14  13:00-13:30 Final Fantasy Series Gathering  14:00-15:00 Final Fantasy Tales Series Gathering 

September 15 12:30-13:00 Dynasty Warriors and Samurai Warriors Series Gathering

More information on the exhibitions, booths and events will be announced on the morning of September 12 so please check it out. 

There is no better way to multi kill your time than to spend the entire day at TOKYO GAME SHOW 2019 ー get your tickets and GLHF!

Information

TOKYO GAME SHOW 2019

Event Information

Business Days*: September 12 & 13, 2019 (10:00~17:00)

*Business Days are open to industry and press only.

Public Entry*: September 14 & 15, 2019  (10:00~17:00)

*Doors may open at 9:30 am according to conditions on the day.  

Venue: Makuhari Messe (Mihama Ward, Chiba)

Exhibition Halls 1-11/ Event Hall/ International Conference Hall

Entry Fee: Advanced tickets: ¥1,500 (after tax)

On The Door: ¥2,000 (after tax)

Those under Elementary School age can enter for free (public entry days only)

Official Website: https://expo.nikkeibp.co.jp/tgs/2019/en/

Pour on the soy sauce and a scary Kabuki face will appear?! Order your Village Vanguard soy sauce dishes now!

Village Vanguard is well known for their collaborations with characters and their animal-themed designs. This time, they've made a Kabuki-themed soy sauce dish that you can order online.

Young, old, male or female, Japanese people love their traditional theatre shows called "Kabuki". One fascinating feature of Kabuki is the impressive makeup of the actors and actresses called "Kumadori


They made animal-themed soy sauce dishes, then character-themed ones, and now finally, we've got Kabuki-themed ones! There are many different designs in this new series ー you can enjoy all their different expressions! This is bound to make your dinner table a thousand times more exciting!

There are a total of six designs. Please come and choose from this wonderful selection!

Free Cosplay Makeup Books to be Given Out at Comiket 95

KATE is a Japanese cosmetic brand aimed at makeup lovers who enjoy trying out new makeup. The company will have their own booth at this Comiket 95 which is set to run at Tokyo Big Sight from December 29 to 31 where they will hand out free books on cosplay makeup.

Japanese illustrator TCB designed an original line-up of characters (pictured above) for the book based on popular cosplayers: Akira Itsuki, Kasyou Rosiel, Nashiko Momotsuki, Will, and Eiri. The book includes a mountain of cosplay photos and how-to's from the cosplayers.

If you're attending this year's Comiket and love cosplay then make sure to get there early to pick up a copy!

Cute Neko no Buu-chan Merchandise Arrives at Village Vanguard

Village Vanguard are now selling cute new merchandise for Neko no Buu-chan, an adorable cat character created by Japanese illustrator Kino Takahashi.

This cute die cut smartphone ring functions as a stand to keep your phone propped up.

The cookie tin is filled with Buu-chan cookies! The designs are just too cute to eat.

There's even Buu-chan's first ever line of t-shirts. There's 3 colours to choose from. A must-have for this summer.

There's a range of other new Buu-chan items to get your hands on too, like stickers and badges. Litter your room with this cute kitty!

Shogi Rucksack Now Available for Pre-Order at Village Vanguard

Village Vanguard is now taking pre-orders for their shogi backpacks.

Shogi is often referred to as 'Japanese chess.' Japan is currently undergoing a shogi boom. The anime series March Comes in Like a Lion, which finished airing in March this year, follows the story of Rei Kiriyama, a 17-year-old professional shogi player. The two-season series became a hit in Japan and overseas, even getting a live action adaptation.

Sota Fujii is a 15-year-old high school student in Japan who made headlines for becoming the youngest person to achieve professional status as ranked by the Japan Shogi Association. He is currently ranked 7-dan.

Thanks to anime fans and budding young shogi players, the scene is gaining much attention with males and females of all ages. Now they can express their love for the game by wearing this backpack.

The bag comes with a pouch reading Oushou (王将), or 'King,' one of the shogi pieces. You can stow away all of your shogi pieces inside for easy access if a new opponent appears.

The bag is also perfect for mirushou, a rapidly growing population of shogi fans who like to watch shogi games but don't play and don't necessarily know the rules.

The bag can be used for carrying bigger items too, whether they're related to shogi or not. They're great for day-trips, overnight stays or as a souvenir from Japan!

If you're a fan of shogi or know someone who is, then look no further for a present than this!