Hilton TOKYO BAY's "dreamy and cute" buffet will be held
Tokyo Disney Resort's ® official hotel Hilton TOKYO BAY (lounge O) will offer a dessert buffet "Strawberry Field" from the 13th of January 2018 (Sat.) to the 1st of July (Sun.).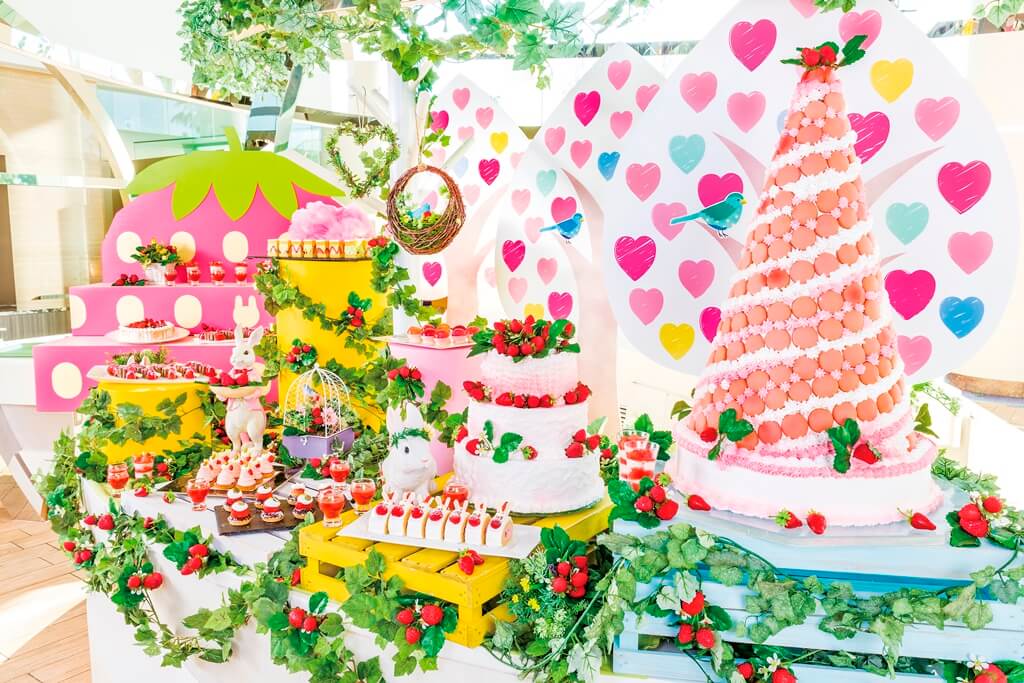 The most eye-catching item on the buffet table created with the theme of "strawberry field" is a giant strawberry cake which is 1.2meters X 1.2 meters. Some of the strawberry seed's patterns are shaped in a rabbit's face. Colorful small birds gathering in the trees which have heart-shaped berries are celebrating the advent of spring. In addition to the "strawberry" desserts, about 35 kinds of standard desserts and small dishes will be offered inside a "yumekawa" (cute and dreamy) space. You can feel like you have become a heroin in a folktale by visiting this photogenic space. This space is suitable for taking photos which can be uploaded onto your SNS.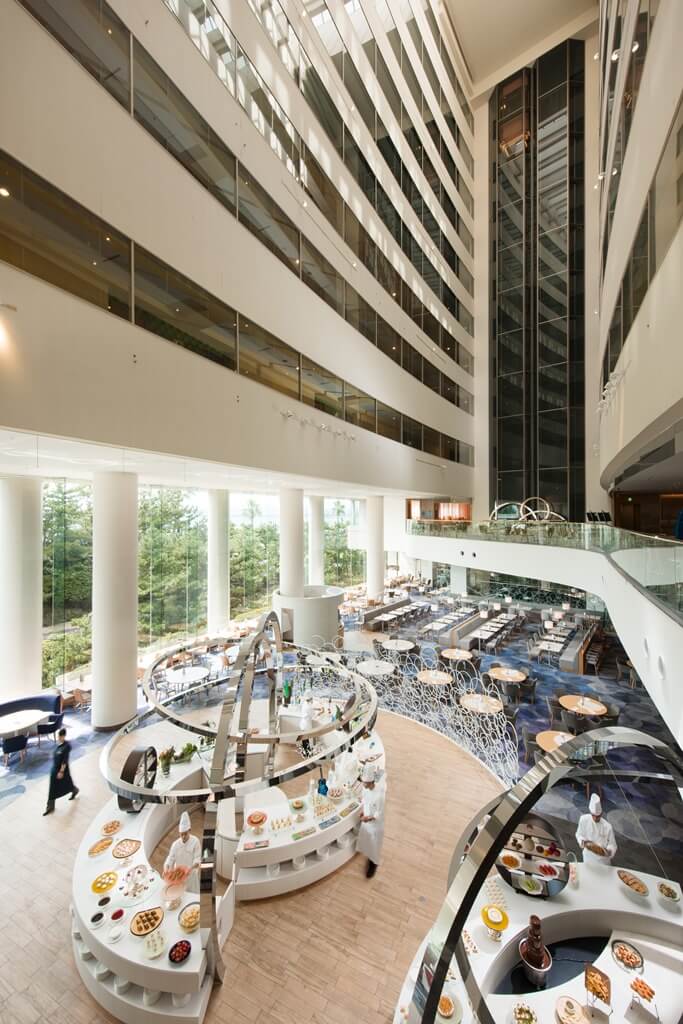 Also, this dessert buffet where you can enjoy the collaboration of chocolate and strawberries is suitable to be used as a gift for valentine's day. The buffet is recommended for persons who want to give a present to their girlfriend/boyfriend, friends or girls who want to have a party with friends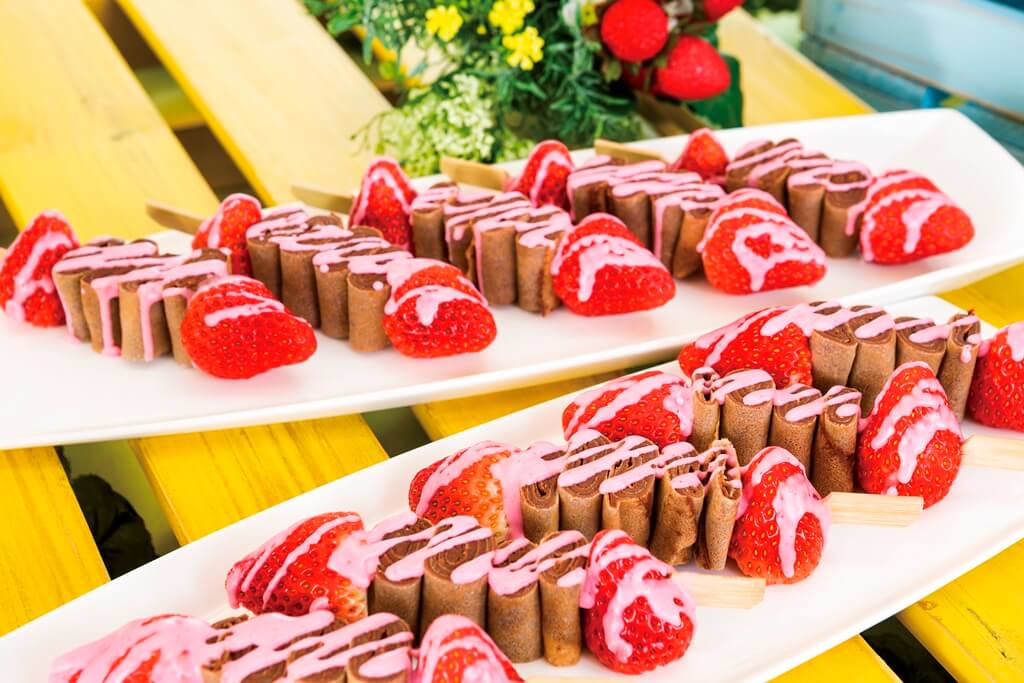 "Strawberry and Chocolates' brochette"
A brochette of chocolate ganache wrapped in a crape and fresh strawberries. The look of the product is cute but it is fairly heavy since it has lots of chocolate ganaches inside.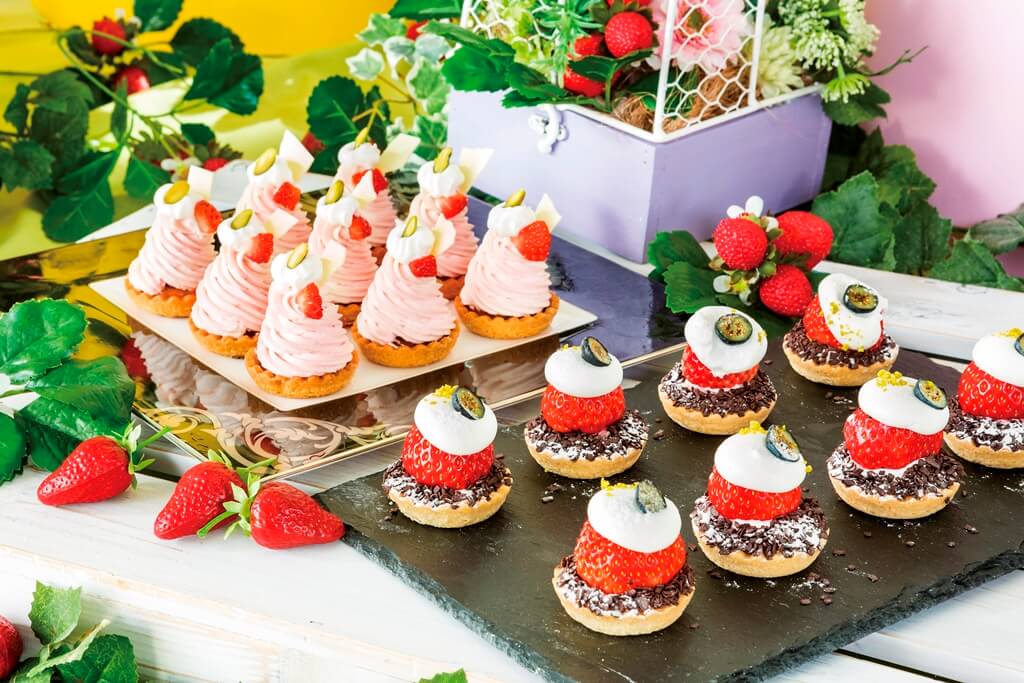 "Strawberry Cheese and Chocolates' Mont Blanc"
This is a Mont Blanc which uses two kinds of creams, custard and chocolate cream and cream cheese and strawberry cream.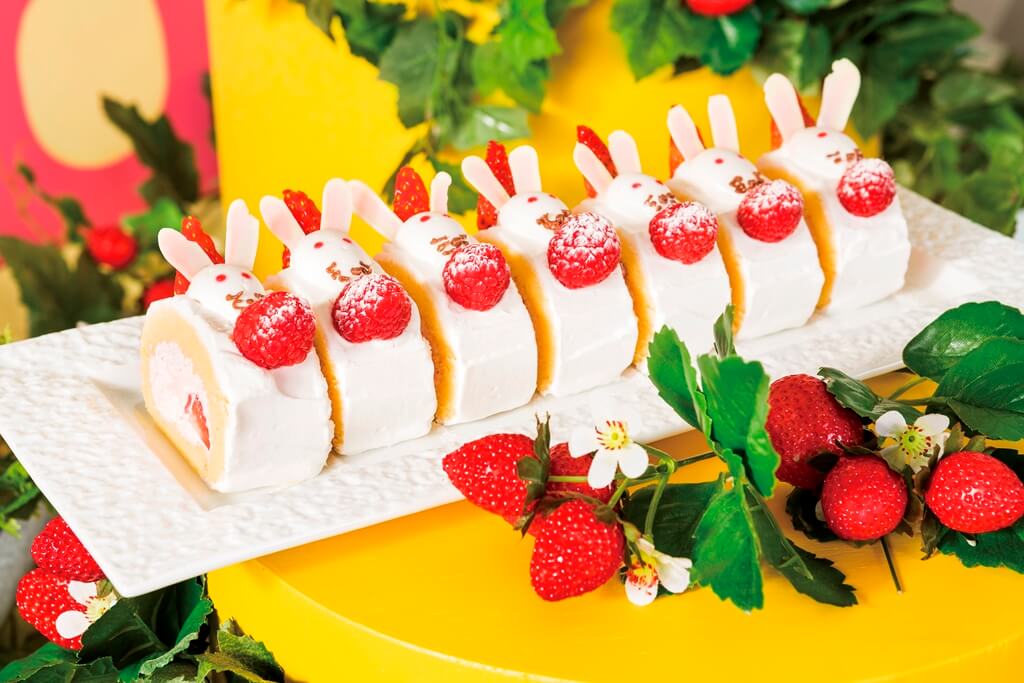 "Strawberry Rabbit Roll"
This is a roll cake using rhubarb and strawberries wrapped in strawberry cream and it is a playful product which represents the cute ears of a rabbit using white chocolate. Rhubarb is a kind of vegetable that looks like sweet coltsfoot and has a fresh texture and sourness. You can enjoy soft flavor of the roll cake and the sourness of the rhubarb.
Let's enjoy this photogenic buffet.
■Information
Dessert Buffet "Strawberry Field"
Venue: Hilton TOKYO BAY lobby, "lounge O"
Date: Saturday, Sunday and holidays – two buffets (13:30~15:30/16:00~18:00)
Price: Adult – 2,800 yen / child (4 to 12 years old) – 1,600 yen
※drink bar is included
※the prices noted above do not include service fee and tax
Reservation (TEL): 047-355-5000 – restaurant
RELATED ENTRIES
[Event Report] CANDY TUNE, the Newest Idol Group from KAWAII LAB, Holds Debut Performance, FRUITS ZIPPER and IDOLATER Also Take the Stage

On March 14, ASOBISYSTEM's idol project KAWAII LAB. held a live event at Spotify O-EAST. The event, titled KAWAII LAB. SESSION ~CANDY TUNE~, saw the first-ever performance from CANDY TUNE, the newest idol group from KAWAII LAB, also known for creating the popular groups FRUITS ZIPPER and IDOLATER.

KAWAII LAB. is a new project by ASOBISYSTEM created to introduce Japan's growing idol culture to the world.

FRUITS ZIPPER is one of the most talked-about idol groups in recent memory, with their solo concert shows selling out instantly and their song Watashi no Ichiban Kawaiitokoro pulling in over 690 million views on TikTok. KAWAII LAB also produces IDOLATER, a group known for exploring the boundary of music, fashion, and other unique aspects of culture through an idol perspective.

In March, the seven-member idol group CANDY TUNE was announced. Its members include Rino Fukuyama, Mizuki Kirihara, Natsu Minami, Nanako Ogawa, Bibian Murakawa, Shizuka Miyano, and Kotomi Tachibana.

Tickets for this show were completely sold out in advance. The packed venue was filled with excitement, with fans looking forward to the live performance far before the show started.

To start, Misa Kimura, a model and talent who serves as the general producer of KAWAII LAB., appeared with FRUITS ZIPPER members Suzuka Chinzei and Runa Nakagawa. Despite the project only being active for one year, she seemed to be filled with incredible emotion at the addition of CANDY TUNE to the lineup, bringing the total number of idols signed to KAWAII LAB to 19.

IDOLATER was the first to take the stage, called out by Misa Kimura herself. Dressed in fashionable light blue outfits, the girls immediately grabbed the fan's hearts with their cool performance of Kesenai…before moving into Endless Summer, Vapor City, Kimi ni MuCHU♡XX, and Mahou no Kagi wo Te ni Iretara in quick succession. The girl's potential was on full display as they played hit after hit.

IDOLATER's stylish and clean live performance ended with DIAMOND and Endroll wo Mukaeru Mae ni.

When Misa reappeared on stage, she announced that IDOLATER would be holding its anniversary solo concert on April 22 at Spotify O-WEST. Member Fuka Oishi was delighted to be performing at the largest venue in IDOLATER's history. "I'm so thrilled," she said.

FRUITS ZIPPER took to the stage next, and the venue was immediately illuminated with colorful penlights. The members were greeted with loud applause as the starting track began to play.

The group performed RADIO GALAXY first, and the audience's enthusiasm was palpable as the songs jumped between various genres like a roller coaster ride, from EDM and hip-hop to idol pop and mellow tunes. Continuing into Sekai wa Kimikara Hajimaru, the sweet love song made the audience swoon as they heard the girl's incredible vocals.

Suzuka Chinzei also congratulated CANDY TUNE on its debut during the MC portion of the performance. FRUITS ZIPPER also promised to keep the stage lively until it was their turn to perform at their own debut show.

The group then performed Happy Chocolate, a popular song currently trending on TikTok. Their comical and cute choreography spread into the audience where fans mimicked their moves, making it a truly sweet and memorable moment.

As the girls began performing the fast-paced song Kanpeki Shugide☆, the mood in the venue took a turn, and things became much more lively. As expected, the group performed the massively-popular track Watashino Ichiban Kawaiitokoro as the finale, and just as Suzuka promised, the audience was all warmed up for CANDY TUNE to finally take the stage!

Just as was the case with IDOLATER, another major announcement was made during the MC portion. The first KAWAII LAB Official Fan Club event for FRUITS ZIPPER was announced to take place on April 10 at Shirokane Takanawa SELENE b2. The group's first live show was originally scheduled to take place at this venue on April 10 last year, but it was postponed due to the pandemic.

Finally, it was time for the new group CANDY TUNE to appear. Misa Kimura took to the stage first "I'm so nervous," she said to the audience. "Can we get some cheers?"

The fans erupted with loud applause, and soon after, the seven members of the group–Rino Fukuyama, Mizuki Kirihara, Natsu Minami, Nanako Ogawa, Bibian Murakawa, Shizuka Miyano, and Kotomi Tachibana–took their first steps onto the stage, ready to share the wonders of Harajuku with the world.

Dressed in colorful outfits, they first performed hanamaru, a song written to cheer up anyone who listens to it. The girls were clearly a little nervous, but they danced as hard as they could, obviously doing their very best. As the song blended into Kiss Me Patissier, the audience erupted–it was hard to believe that this was the first time that the song had ever been performed live. The song is one of the most popular tracks from the group's first album, and its flirty lyrics immediately melted fans' hearts.

During the MC, Murakawa, a former HKT48 member and veteran idol, spoke to the fans. "Isn't this venue too full," she said with a laugh. Each girl introduced herself, offering some insight into why they had become idols and what they hoped to achieve going forward. It seemed that their time chatting had cut through the tension, and they performed Nanairo Prologue in high spirits. As if in sync with the members, the fans' voltage also rose to a fever pitch, and following the performance of Mikan na Seishun, the audience exploded with thunderous applause.
After all four songs from the group's first album had been performed, it was revealed that, like the senior groups in KAWAII LAB, CANDY TUNE also had a surprise to reveal. On the big screen, it was announced that CANDY TUNE's first solo live performance would be held at Spotify O-WEST on June 27. The members immediately shouted with joy.

"Aren't you full yet," Murakawa asked the audience, before announcing one more song.

CANDY TUNE performed hanamaru again, but unlike the first time, a music video produced in secret for the occasion played on the screen. Sounds of surprise and excitement immediately erupted from those in the audience.

The audience's voltage was at its highest during this performance, which was synchronized with the music video featuring the members in cute cheerleader outfits and a picnic scene that their friendship with one other. Although it was their first time on stage together, the seven members showed as much poise and dignity as their seniors.

At the end, each member shared a message with their fans. "I have a bad habit of second-guessing my own happiness. There have been so many times in my life when I wonder if I should be as happy as I am–but right now, I'm so incredibly overjoyed," said Fukuyama.

"I was so nervous before we got here," said Kirihara. "But when I saw all of your faces, I knew from the bottom of my heart that I had made the right choice to become an idol!"

"Even if I'm reborn, I hope to stand on this same stage again," said Minami while crying.

"I didn't really feel like an idol until today, and I was so afraid to stand up here in front of a packed audience," said Ogawa. "I never thought I'd be an idol," echoed Tachibana. Both showed intense appreciation for the countless fans that had gathered at the venue.

"I will always cherish this moment," said Miyano. "I hope to make many more memories in the future!"

"I never thought I could care for people so quickly after meeting them," said Murakawa, shedding a few tears. "I have so much love and affection for everyone, and I want the seven of us to keep working hard to share Harajuku with the world. Standing here now, I know that we can become an idol group loved around the globe!"

After each group had finished their performances, all 19 idols from all three KAWAII LAB groups stood on the same stage together.

As a final surprise, Misa Kimura announced that KAWAII LAB. SESSION would be held on June 12 at Zepp Shinjuku, a venue scheduled to open in April. "I'm so excited that we get to perform at Zepp," said FRUITS ZIPPER member Yui Sakurai.

With excitement in the venue still building, the final performance and the long-awaited collaboration began. All 19 members formed a circle and began to perform FRUITS ZIPPER's breakout hit Watashino Ichiban Kawaiitokoro. Fans in the audience were permitted to record during this part of the concert, and after the show concluded, countless videos were posted to social media sites.

A project to shoot a TikTok video of Happy Chocolate with the audience also took place at the end of the event. FRUITS ZIPPER member Mana Manaka gave a brief explanation of the choreography before taking a video of the fans gathered at the venue. The night ended as the idols and fans danced together.

KAWAII LAB is continuing to produce cutting-edge idols ready to be shared with the world. With the addition of CANDY TUNE, the future is looking bright, and fans will want to watch out for what's coming next.

Text: Masatoshi Mayuzumi
Photo: Shinsuke Hayashi / Miki Higashi

■Setlist

[IDOLATER]
Kesenai…(short ver.)
Endless Summer
Vapor City
Kimi ni MuCHU♡XX
Mahouno Kagiwo Teniiretara
DIAMOND
Endrollwo Mukaeru Maeni

[FRUITS ZIPPER]
RADIO GALAXY
Sekaiwa Kimikara Hajimaru
Happy Chocolate
Kanpeki Shugide☆
Watashino Ichiban Kawaiitokoro

[CANDY TUNE]
hanamaru
Kiss Me Patissier
Nanairo Prologue
Mikanna Seishun
hanamaru (MV.ver)

[KAWAII LAB.]
Watashi no Ichiban Kawaiitokoro

Information

<FRUITS ZIPPER Fan Club Exclusive Concert 'FIRST CONTACT'>

Date: April 10, 2023

Venue: Shirokane Takanawa SELENE b2
Time: Doors open 17:30 / Show starts 18:30
General Admission Presale Tickets: ¥4,500 (Standing, Tax Included)
*Excluding drinks
*This event is for members of the KAWAII LAB. Official Fan Club only.
*Accompanying guests must also be Fan Club members. We will confirm if you are a fan club member upon entrance to the venue.

Details: https://kawaiilab.asobisystem.com/news/detail/10284

<IDOLATER Anniversary LIVE>

Date: April 22, 2023

Venue: Spotify O-WEST

Time: Doors open 17:30 / Show starts 18:30
VIP Admission: ¥10,000 (Tax Included)

VIP Bonuses:
・Access to the front area of the venue
・Commemorative goods

General Admission: ¥1,500 (Standing, Tax Included)
*Excluding drinks

Details: https://kawaiilab.asobisystem.com/news/detail/10283

<KAWAII LAB. SESSION>

Date: June 12,

Venue: Zepp Shinjuku (Tokyo)

Time: Doors open 17:30 / Show starts 18:30
Starring: IDOLATER, FRUITS ZIPPER, CANDY TUNE
Admission: ¥5,000 (Priority Standing, Tax Included) / ¥3,000 (General Standing, Tax Included)
*Excluding drinks

Details: https://kawaiilab.asobisystem.com/news/detail/10281

<CANDY TUNE First Solo Concert>

Date: June 27, 2023

Venue: Spotify O-WEST

Time: Doors open 17:30 / Show starts 18:30
Admission: ¥5,000 (Priority Standing, Tax Included) / ¥2,000 (General Standing, Tax Included)
*Excluding drinks

Details: https://kawaiilab.asobisystem.com/news/detail/10285

CANDY TUNE Releases First Album 'CANDY TUNE'

CANDY TUNE, the newest group from KAWAII LAB, released their first album on March 7. KAWAII LAB is continuing to introduce Japanese idol culture to fans around the world.

The seven-member group is comprised of members Rino Fukuyama, Mizuki Kirihara, Natsu Minami, Nanako Ogawa, Bibian Murakawa, Shizuka Miyano, and Kotomi Tachibana. Just like candy, which comes in tons of different flavors and shapes, the members will bring their own unique personalities and quirks to their pop tunes as they carry on KAWAII LAB's mission of sharing Harajuku style with the world.

Two songs on the group's first album CANDY TUNE were produced by Naoki Kubo and Suu, former members of SILENT SIREN–the sweet and playful Kiss Me Patissier and the inspiring song hanamaru. Hirotaka Hayakawa, who has produced hit songs for countless artists, also contributed. Nanairo Prologue tells the story of the seven members moving forward across a rainbow-colored bridge, andMikan na Seishun (Unfinished Youth) has a fast-paced sound sure to be a hit with new fans. The group's artist photo and the jacket art for the album were provided by Yuko Takayama (yenter).

CANDY TUNE will hold its debut concert titled KAWAII LAB. SESSION ~CANDY TUNE~ on March 14 at Spotify O-EAST. To commemorate the special occasion, IDOLATER and FRUITS ZIPPER will also perform. The three groups will perform the FRUITS ZIPPER hit track Watashi no Ichiban Kawaiitokoro together during the event, and tickets are now on sale.

Additionally, new interviews with the members and behind-the-scenes footage have been uploaded to CANDY TUNE's official YouTube channel.

Information

CANDY TUNE – CANDY TUNE (1st Digital Album)
Streaming: March 7, 2023
Streaming URL: https://kawaiilab.lnk.to/CANDYTUNE
Available to stream on all major subscription music streaming services

Tracklist:
M1 Kiss Me Patissier
M2 hanamaru
M3 Nanairo Prologue
M4 Mikan na Seishun
M5 Kiss Me Patissier -Instrumental-
M6 hanamaru -Instrumental-
M7 Nanairo Prologue -Instrumental-
M8 Mikan na Seishun -Instrumental-

[Debut Concert Details]
Event Title: KAWAII LAB. SESSION ~CANDY TUNE~
Venue: Spotify O-EAST
Date: March 14, 2023
Time: Doors open 17:30 / Show starts 18:30 / VIP Event Ends 22:30
Performers: IDOLATER / FRUITS ZIPPER / CANDY TUNE

[Tickets]
Admission: VIP ¥5,000 / General ¥3,000 / Day-of ¥3,500
Tickets: https://w.pia.jp/t/candy-tune/

<Profile>
The idol group CANDY TUNE consists of seven members: Rino Fukuyama, Mizuki Kirihara, Natsu Minami, Nanako Ogawa, Bibian Murakawa, Shizuka Miyano, and Kotomi Tachibana.

The group was formed by the KAWAII LAB project, started by ASOBISYSTEM to promote Japanese idol culture around the world. CANDY TUNE will make its debut in March 2023.

Just like candy, which comes in tons of different flavors and shapes, the members will bring their own unique personalities and quirks to their pop tunes as they carry on KAWAII LAB's mission of sharing Harajuku style with the world.

Twitter: https://twitter.com/candy_tune_
Instagram: https://instagram.com/candy__tune
TikTok: https://www.tiktok.com/@CANDY_TUNE
YouTube: https://www.youtube.com/channel/UCU0PgOXf0lxzVxN2TLzMJkw
note(Live Schedule):https://note.com/candy_tune

<What is KAWAII LAB?>

KAWAII LAB is a new project by ASOBISYSTEM aiming to promote Japanese idol culture to the world. The company works to discover, train, and produce idols with the potential to be active on the world stage.

KAWAII LAB is produced by Misa Kimura, a model and TV personality. A fan of idols for many years, Kimura was formerly the leader of the idol group Musubizm.

Other KAWAII LAB. groups include IDOLATER, a culture-holic idol group consisting of finalists from ASOBISYSTEM's first national audition in 2018, and FRUITS ZIPPER, a group transmitting NEW KAWAII from Harajuku to the world debuting in April 2022.

In March 2023, the project launched a new idol group.
KAWAII LAB. will continue to promote Japanese idol culture to the world, launching and developing new idol groups, not only in Tokyo but in other cities as well!

Twitter: https://twitter.com/kawaii__lab
YouTube: https://youtube.com/channel/UCW8Q9LBGGBgK6a-u0C0h95A
Fan Club: https://kawaiilab.asobisystem.com/

【KAWAII LAB.】New Idol Group「CANDY TUNE」Debut Concert Planned for March 14 at Spotify O-EAST

A new idol group is coming in March 2023 from KAWAII LAB. , to promote Japan's growing idol culture to the world.

So far, four members have been announced ahead of the group's debut concert. The group name and details of their debut concert have just been revealed!

Following IDOLATER and FRUITS ZIPPER, the third idol group born from KAWAII LAB. has been announced as CANDY TUNE. The name is meant to evoke the image of both kindhearted girls and catchy melodies and harmonies.KAWAII LAB. will continue to focus on its concept of promoting Harajuku culture to the world.

The four members announced so far are Mizuki Kirihara, Rino Fukuyama, Natsu Minami, and Nanako Ogawa. More members will be announced in the near future.

Clockwise from top: Mizuki Kirihara, Nanako Ogawa, Rino Fukuyama, Natsu Minami

CANDY TUNE's debut concert titled KAWAII LAB. SESSION ~CANDY TUNE~ will be held on March 14 at Spotify O-EAST! IDOLATER and FRUITS ZIPPER, both created by KAWAII LAB., will also perform, with the members of CANDY TUNE performing on the same stage as their seniors for the first time.

Information

KAWAII LAB. SESSION ~CANDY TUNE~
Venue: Spotify O-EAST
Date: March 14, 2023
Time: Doors open 17:30 / Show starts 18:30 / VIP Event Ends 22:30
Performers: IDOLATER / FRUITS ZIPPER / CANDY TUNE
https://w.pia.jp/t/candy-tune/

[Tickets]
Admission: VIP ¥5,000 / General ¥3,000 / Day-of ¥3,500
Tickets: https://w.pia.jp/t/candy-tune/
VIP Admission Lottery: February 2 at 21:00 – February 15 at 23:59
General Sales: February 18, 12:00~

■CANDY TUNE Official Social Media
Twitter:@candy_tune_
Instagram:@candy__tune
TikTok:@CANDY_TUNE

Rilakkuma Celebrates 20th Birthday with Strawberry Buffet at the Keio Plaza Hotel

The Keio Plaza Hotel in Tokyo is celebrating Rilakkuma's birthday in the sweetest way! The Strawberry Collection with Rilakkuma sweets buffet will be available from January 7 until March 31, 2023 at All-Day Dining Jurin on the hotel's second floor. 

 

The most popular strawberry buffet will be back and better than ever in 2023. Sweets featuring Rilakkuma and his friends will be on full display, including strawberry tarts, tiramisu, and other strawberry-filled sweets. The lazy bear's favorite pudding and pancakes will also be available along with soothing hot tea for the cold winter months. This will mark the first time that Rilakkuma's sweets buffet will appear at a hotel.

Small tartlets featuring Korilakkuma and Kiiroitori will be too cute to eat, and Chairoikoguma will appear on cookie sandwiches.

The dessert plate will include gorgeous fondant chocolate with images of Rilakkuma and each of his friends to set the mood for the opening of the event.

 

The location itself will also be decked out in sweet decorations, with guests being welcomed at the door. Taking pictures is encouraged, so make a reservation today if you're looking to impress on Instagram!

 ©2022 San-X Co., Ltd. All Rights Reserved. 

Information

Strawberry Collection with Rilakkuma

*Reservations required
Running: January 7 – March 31, 2023
Venue: All-Day Dining Jurin / 2F

Times: (1) 15:00-17:00 (Last order at 16:30) / (2) 15:30-17:30 (Last order at 17:00)

Details/Reservations: https://www.keioplaza.co.jp/event/strawberry-sweets/

Interview: MIOCHIN's Kawaii Girl's Guide to Tokyo

Many visiting Tokyo in the future will want to find the most kawaii spots imaginable, and we know just the girl to serve as a guide! In today's special interview, we chatted with MIOCHIN to share her recommendations. If you haven't seen her colorful pop pics on TikTok and Instagram, you'll want to jump into the MIONOSEKAI!

Q. MIOCHIN, what store is a must-visit in Harajuku?

"That would be SUGAR HIGH at Harajuku Alta! You can find colorful sweets and cute goods from all over the world. I always stop by when I have time because they have popular snacks I've seen on TikTok, tons of jewelry, and things I can use every day♪

It's also a really good spot for buying small souvenirs and gifts for people!★"

Q. What store in Tokyo really embodies your personal worldview?

"The minacute CONCEPT STORE at Ikebukuro Sunshine City. I'm actually the store's producer!★

Not only did I design this shop, but I'm also selling cute accessories in collaboration with minacute!!"

"The store feels like a big toy box and it's filled with so many items that kids would love. Not only that–you can find popular brands from around the world and tons of sparkle too★

We also hold workshops and events on weekends, so please come visit!♪★"

Q. What's your go-to Kawaii Spot?

(The HARAJUKU Room)

"If you're looking to surround yourself with everything cute, it's all about MOSHI MOSHI ROOMS! Each room is perfect for snapping photos–I've visited so many times for parties and photo shoots★

There are four rooms: DOSKOI, HARAJUKU, ORIGAMI, and SAKURA, and each has a uniquely cute interior♪ If you're planning on staying the night in Harajuku, be sure to check it out!"

Q. Where can the readers find cute clothes like the ones found in your wardrobe?

(Skirt, Jacket: grapefruitmoon)

"Check out grapefruitmoon, a vintage clothing store. They have so many neat items from the 60s to the 80s, and the designs and shapes are so unique. I'd recommend browsing their retro dresses and funky bottoms★Whether you're into more monotone fashion or something more flashy and bright, you'll find it!♪"

Q. Where do you buy your makeup?

"ANNA SUI. I just can't get enough of the brand's vision, and the cosmetics are really one-of-a-kind. Honestly, I buy most of them–I especially love the perfumes. I love the scents and the designs are just too damn cute! It's my favorite collection."

Q. To wrap things up, do you have a message to readers coming to Japan in the future?

"I'm so glad that so many people are interested in Japan. I post so many colorful things on social media and always want to share Japanese culture with the world!♪

There are so many interesting places that you can only find here, and fascinating activities that you have to visit to enjoy!

I hope you'll come enjoy our food, fashion, and sightseeing spots. And don't forget to shop for some kawaii goods!★

And I hope that once you do, you'll love Japan even more!"

PROFILE: MIOCHIN

Active as an illustrator, TikToker, and streamer, MIOCHIN is known for her colorful pop world MIONOSEKAI. She has fans young and old from around the world and often broadcasts on YouTube and TikTok, recently attracting attention for her duet videos on the latter. Her original videos focus on everything from makeup and art to impressions. 

Instagram: https://www.instagram.com/dtdq2828/

TikTok: https://www.tiktok.com/@mionosekai

YouTube: https://www.youtube.com/channel/UCnyOak5Hd4WG0oLECz6L0Og

Twitter: https://twitter.com/dtdq2828

Report: Kyary Pamyu Pamyu's Tasty Time in Gastropolis Kobe – Sweets Edition

Kobe is filled with famous sightseeing spots like the nostalgic Ijinkan neighborhood and port. The city is packed with fashionable shops and restaurants and is highly regarded for its selection of tasty sweets!

The port city, with over 150 years of history, has fostered a unique and diverse culinary culture.

Recently, Kyary Pamyu Pamyu began starring in a series of promotional videos for the Gastropolis Kobe project. The artist traveled to the city to partake in plenty of delicious treats, and MOSHI MOSHI NIPPON went along for the ride! Here are some of the singer's favorite spots around town.

Kobe, known as a city where East meets West, is lined with sweets shops that are unique to the area.

The tea salon TOOTH TOOTH Dekoboko Sabo opened in 2019 in the Kobe City Museum and offers a menu that mixes Western food and sweets with tea and ingredients from traditional Japanese cuisine. Kyary ordered the Dekoboko Sabo Afternoon Tea Set, a collection of western sweets blended with the essence of traditional Japanese flavors. Guests are invited to enjoy their tea and sweets in a one-of-a-kind space filled with Meiji period flare and retro Western furniture. Those interested will need to make a reservation, so be sure to remember the next time you're in Kobe.

TOOTH TOOTH Decoboco Sabo

Address: 24 Kyomachi, Chuo Ward, Kobe (Inside the Kobe City Museum)

Hours: 9:30-17:30 (Last Order at 16:30) 

Closed Mondays

Official Site: https://toothtooth.com/restaurant/decoboco-sabo

The next stop was Kobe Nankin-machi, one of the three major Chinatowns in Japan. Kobe MILK is known nationwide for its Apricot Pudding, which is made with local ingredients. The raw apricot pudding is mixed with milk brought from the foot of Mt. Rokko and other ingredients from Hyogo Prefecture. Of course, Kyary ordered some, and was amazed by its fluffy texture. You can only enjoy it in Kobe–also, the shop sells other puddings mixed with seasonal fruits, so don't miss those either!

Kobe MILK

Address: Shin-Motomachi Building 1F (1 Motomachi-dori, Chuo-ku, Kobe)

Hours: Weekdays 9:30-19:00 / Weekends 9:30-19:30

Official Site: https://kobe-milk.com

For Kyary's final stop, the singer visited the Moore House, a cafe located in a building with over 100 years of history. Guests are surrounded by greenery, and the Western-style building is incredibly elegant. The Strawberry Mille-feuille Kyary ordered was created by an expert patissier and based on the strawberry mille-feuille recipe from the legendary French restaurant Maxim's de Paris in Ginza. A generous amount of custard cream complements the crispy pie crust and enhances the sweetness of the fresh strawberries. We'd recommend it with a glass of champagne–if you're of age.

Kitano Ijin-kan Moore House

Address: 2-9-3 Kitanocho, Chuo-ku, Kobe

Hours: 11:00-17:00

Closed Tuesdays

Official Site: https://www.kitanomoore.com/cafe/

The streets of Kobe are packed with sweets that you can only enjoy if you visit. Why not come experience these incredible spots like Kyary did?

Kobe Sweets Trailer: https://youtu.be/Sx9B1ZdAvlI

Interview Series Vol.3: What Does 'Kawaii' Mean to You?

"Japan is such an interesting country, where so many cultures blend and evolve."

Moshi Moshi Nippon is dedicated to sharing Japanese pop culture with audiences around the world. Recently, we launched a new interview series with foreign influencers active in Japan, and for the third edition, we're chatting with Zhu Zhu! A popular influencer with over 2 million followers on Weibo, Zhu Zhu claims that since coming to Japan, her fashion has become 'softer.' We sat down to ask her what kind of Kawaii she's found in Japan.

Q. Why did you first come to Japan?

"In 2013, I moved to Japan with my family because Beijing's air pollution had become really bad. It's already been nine years!"

Zhu Zhu when she first came to Japan

Q. When you first arrived in Japan, what surprised you?

"When I first came to Japan, what really surprised me was the wide use of the word 'kawaii.' It's so interesting that literally anything can be called kawaii. Sure, it makes sense to call girls, animals, or clothes cute, but in Japan, people call things cute that people in other countries would never refer to in that way. I mean, I think calling things 'cute' when you mean 'good' is something really commonplace here. (laugh)" 

Q. Tell us what you find the most Kawaii in Japan!

"There are so many cute things in Japan, but I think that the sweets take the cake. I was surprised by how small they are unlike in other countries. And there are so many kinds! Cakes, baked goods, wagashi, they're all so incredibly kawaii!"

Q. How did your encounter with Kawaii culture in Japan change you?

"Since I first came into contact with the Japanese version of kawaii, I think my style has become softer. When I was overseas, I typically just worse really simple outfits and makeup, but now, I'm always conscious of looking girly and cute."

Q.In Japan, what are you interested in right now? Where do you want to visit in the future?

"I recently read an article about Yufuin Floral Village, which is England-inspired. It looks so cute and I really want to go!"

Q. Do you have anything to say to our readers who want to visit Japan in the future?

"Japan is such an interesting country, where so many cultures blend and evolve. No matter how many times you visit, you can always find something new. Please visit!"

Zhu Zhu Profile

An influencer from China with 2 million followers on Weibo. Nicknamed "Big Cousin" on social media, she has been a favorite of many Japanese brands for years. Since moving to Japan, Zhu Zhu has actively shared fashion, beauty, travel, and food posts on social media. In addition to appearing on TV and in magazines, she has collaborated with a number of major Japanese apparel and cosmetics companies. 

An Interview with Seidenba Saku: "Kawaii Is Something You Define Yourself."

Moshi Moshi Nippon is dedicated to sharing Japanese pop culture with audiences around the world. Recently, we launched a new interview series with foreign influencers active in Japan, and for the second edition, we're chatting with Seidenba Saku. The face of the music group DiAN, she's a multi-talented pop artist, writer, and designer. We asked the Beijing and Tokyo-based artist about what she thinks about Kawaii culture in Japan.

-Photo1

Q. Why did you first come to Japan?

"When I was in middle school, my favorite English teacher taught me some Japanese. After that, I started to get into Japanese literature and manga, and I was really influenced by a Shuji Terayama play in high school. Japanese content started to become a part of my daily life, and I started to get curious about the country itself. I wanted to see the place where all of these amazing things were created with my own eyes. Now I've been in Japan for almost ten years!"

-Photo2

Q. When you first arrived in Japan, what surprised you?

"I thought that people who dressed really eccentrically would be difficult to 

approach. I had no idea what kinds of lives they led, and I was nervous about 

talking to them. After coming to Japan, I realized how nice they were! 

They work so hard, I was incredibly impressed!"

Q. What do you think about Kawaii culture in Japan?

Kawaiiといえば、日本の音楽はすごくカワイイと思います!パフォーマンスの現場、制作スタンスを問わず、音楽そのものに対する熱い思いが伝わってきます。音楽は人生にどう向き合うかを教えてくれると言っても良いと思います。そのくらい、日本の音楽には影響を受けました。

-Photo3

Q. How did your encounter with Kawaii culture in Japan change you?

"My first real exposure to Kawaii culture was in middle school. I bought a ton of Japanese magazines like KERA and Gothic&Lolita Bible, and reading those made me realize that I could be who I wanted to be and dress how I wanted to dress. I could express myself as much as I wanted to. Kawaii is something you define yourself." 

-Photo 4

Q.In Japan, what are you interested in right now? Where do you want to visit in the future?

"A friend and coworker of mine in the art world recently told me that Toyama is the "Venice of Japan," and that it's totally different when compared to any other Japanese city. I'd like to visit, so I can see a totally unique side of Japan!"

-Photo 5

Q.Do you have anything to say to our readers who want to visit Japan in the future?

"Trust your instincts and go find your own version of Kawaii!"

PROFILE 

Seidenba Saku

Born in Beijing, Seidenba Saku is the vocalist and art director of DiAN, a three-member music group with sound producer A-bee and composer immi. She is also a writer, designer, director, and graphic artist, having worked with a number of companies in the past. Based in both Beijing and Tokyo, she continues to attract attention from audiences and industries around the world.

ANNA'S by Landtmann in Shibuya Scramble Square Now Offering Halloween Sweets

ANNA'S by Landtmann, a cafe located inside +Q Beauty on the 6th floor of Shibuya Scramble Square, has begun selling two Halloween cakes! These spooky sweets will be available until October 31, 2022.

Halloween Mont Blanc

Halloween Poison Apple

Guests will be able to snag the Halloween Mont Blanc and Halloween Poison Apple cakes, available for ¥580 each including tax. The Mont Blanc is filled with pumpkin custard and Chantilly cream. The Poison Apple is a sweet and sour cake featuring a blend of chocolate mousse covered in red glaze and applesauce with apple pulp.

Which of these two adorable cakes would you like to enjoy this autumn?

Second Sylvanian Families Sweets Buffet to Open with a Christmas Theme

Keio Plaza Hotel in Tokyo will hold a special Christmas-themed Sylvanian Families buffet starting November 1, 2022. This is the second Sylvanian Families event following the previous Halloween-themed buffet, which became extremely popular. Some guests even bring their own Sylvanian Families dolls!

Starting in November, visitors can enjoy a full lineup of 20 scrumptious dishes inspired by the cake shop found in Sylvania Village. Some sweets are also inspired by the many beloved characters found in the series, and anyone wanting to get into the Christmas spirit won't want to miss this exclusive event. For those without a sweet tooth, some light lunches will also be available.

The restaurant will also erect a decorative display of Sylvanian Families enjoying a Christmas party and a sweet diorama made exclusively of desserts by the pasty chef. Guests can enjoy tea time while getting lost in this magical world, so get excited about the Christmas season!

1. Sweets Inspired by the World of Sylvanian Families

2. Become Enthralled by a Wonderful Winter World of Sweets

3. Exclusive! Sweets Diorama and Sylvanian Families Photo Spot

4. Light Meals Perfect for Winter and Burgers Featuring Original Illustrations

5. A Special Plan to Enjoy the Buffet with Sylvanian Families Babies

Information

Sweets Collection with Sylvanian Families

Running: November 1 – December 31, 2022

Venue: Keio Plaza Hotel's Jurin Restaurant

Price: ¥5,500 (Adults) / ¥3,000 (Children 4-12) *Children under 3 free

Details/Reservations: https://www.keioplaza.co.jp/event/autumn-sweets/#event02

Interview: What Type of 'Kawaii' Did This Popular Foreign Influencer Find in Japan?

"Kawaii is marshmallow-flavored medicine for the soul."

Moshi Moshi Nippon is dedicated to sharing Japanese pop culture with audiences around the world, and today, we're featuring a foreign influencer living and working in Japan! This time, we interviewed Etsuna, a popular influencer from China, discussing how Yume Kawaii fashion brings her comfort and the many types of 'kawaii' she's found during her time in Japan. 

Q. What brought you to Japan?

"After graduating with a major in animation, I was working at a university in Shanghai as a teacher, but I decided to enroll in Tama Art University's graduate program to study for my master's degree. That's when I came to Japan, and I've been here for 15 years!"

Q. When you first came to Japan, what surprised you? Was anything different than what you had imagined? 

"Everyone wore such bold makeup, and that really surprised me! When I first came to Japan 15 years ago, I think the gyaru trend was still big, and a lot of girls had that strong Harajuku style and big personalities. Heavy eye makeup and blush was the big thing. I thought everyone was getting ready to film for a TV show." 

Q. What do you think of when you heard the word 'kawaii' in Japan?

"MOSHI MOSHI ROOMS, character cafes, and Yume Kawaii fashion…they are all so unique and so adorable! Those things are what I think of when I hear the word 'kawaii.'"

Q. Did finding Japanese kawaii culture change you in any way?

"Before I experienced kawaii culture, I was a teacher, so I wore a lot of black, white, and gray every day. But after encountering kawaii style for the first time, I started experimenting with different kawaii subcultures, like the Mori Girl trend back in the mid-2000s. Eventually, I fell in love with Yume Kawaii (Dreamy Kawaii) fashion, which is filled with pastels and a fantasy-like aesthetic. I've been dressing in that particular style for about ten years now. To me, kawaii is like marshmallow-flavored medicine for the soul. It's very healing." 

Q. When it comes to Japan, what interests you now? Where would you like to visit in the future?

"Today, it feels like Japanese fashion is becoming more and more simple, and the Harajuku kawaii trend is starting to disappear. Is that because people don't like standing out in that over-the-top way? Do they feel embarrassed if they dress differently than most people? I've met a lot of people who love Yume Kawaii fashion, but they might not have the courage to wear it themselves. That's why I'm currently researching how to bring Yume Kawaii to AR. If I can bring it to the virtual world in a way that blends with the real world, I can create a brand-new experience for everyone. Using mobile AR technology, people will be able to transform their everyday clothes into something with more Yume Kawaii style!"

Etsuna's Original Yume Kawaii AR Filter

Q. Please give a few words to those living abroad who are interested in visiting Japan!

If you really want to experience Japanese kawaii culture, stay at MOSHI MOSHI ROOMS in Harajuku! There are so many fashionable people in Tokyo too, and if you hang out near Harajuku Laforet on the weekend, you'll see people taking plenty of pictures. Come have a special trip to Japan and surround yourself with all things kawaii! Have fun!" 

Information

PROFILE

Etsuna

Born in China, Etsuna is a graduate of Tama Art University in Tokyo. In addition to sharing kawaii culture on her social media accounts, she founded her independent brand 'Etsuna otsukA' in 2011, which has been featured in a number of magazines. Her Weibo video channel TokyoGoGo, featuring uploads edited by Etsuna herself, has become incredibly popular. She is currently active as a designer and TV personality, mainly in Japan and China. 

Special 'Roots of Kawaii' Exhibition Marking Rune Naito's 90th Birthday to Open in October

A special exhibition commemorating the 90th birthday of Rune Naito will be held at the Hanshin department store in Osaka from October 19 until October 31. Titled 'Roots of Kawaii,' the event will look back at the life of the esteemed artist, illustrator, writer, and designer. Known for his illustrations of large-headed baby-faced girls, he first became interested in art after discovering the works of Jun'ichi Nakahara, joining Nakahara's company after graduating high school. In 1959, Naito got his big break, designing the cover of the girls' magazine Junior Soleil. Following this, Naito would become active as an illustrator for a number of magazines, and from the 1960s on, he began other activities, even producing a line of commercial goods from glassware to stickers. 

The exhibition's theme is 'Life's fantastic dreams,' and over 300 items will be on display, including rare original drawings, goods, personal sketches, and more. The event will be held in celebration of Rune Naito's birthday on November 20, and will also feature a special shop. Admission is ¥1,000 for adults, ¥700 for high school and college students, and free for junior high school students and younger. Discounts are available by preordering tickets. For details and tickets, check out the official website.

Information

Rune Naito's 90th Birthday Exhibition

Running: October 19 – October 31, 2022
Venue: Hanshin Department Store, Umeda Main Store 8F
(1-13-13 Umeda, Kita-ku, Osaka)

Details/Tickets: https://www.naitou-rune.jp