Walk the Santera Mairi "Three Temple Pilgrimage" in Hida for romantic relationship success!
The Santera Mairi is a traditional event that is held on January 15th every year in the city of Hida, Gifu Prefecture.
Santera Mairi, or "Three Temple Pilgrimage," is a winter festival that has continued for over 200 years. For this one day, the streets of Furukawacho breathe an enchanting air as they are lit with tranquil candles before people begin their trip to the three temples: Enkoji, Shinshuji and Honkoji.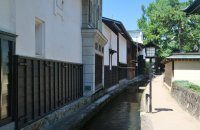 During the Meiji and Taisho periods, groups of of young girls passed through the treacherous snowy Nomugi Pass which runs between Nagano and Gifu Prefecture to reach the silk mills in Shinshuu. When it was time for them return home for the New Year, they would put on their best clothes and make a pilgrimage to the Setogawa Canal to meet with boys. Since then, it has become known as a pilgrimage for successful love.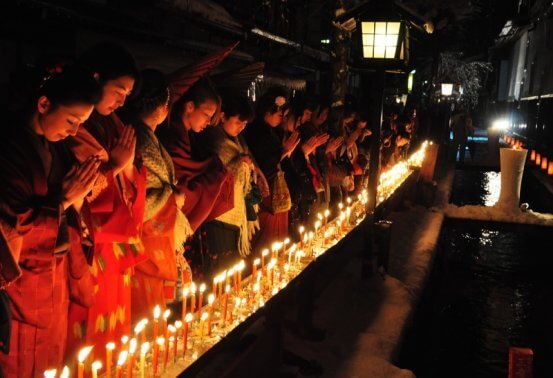 On January 15th, the day of the Santera Mairi, it's a quiet period and the area blanketed with deep snow. Lots of people bustle for the pilgrimage, the town is filled with women in traditional dress, and the streets are lined with enchanting candles.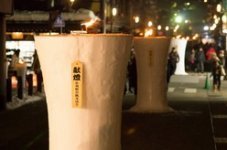 Two-meter high "Heavy Snow Candles" are placed around Furukawa, and along the Setogawa Canal women light a thousand candles to pray for successful love. Candles weighing 13kg are offered at each temple and lit.
The gentle light of the candles wraps the town with a serene atmosphere, all made possible by the town's candle shop "Mishima Warousoku."

Mishima Warousoku is one of only 10 shops in Japan that specializes in making 'warousoku' candles by hand. They create rare candles for the Santera Mairi tied to tradition.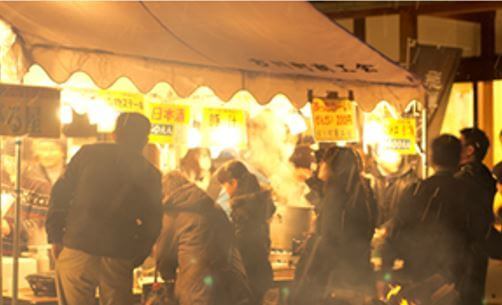 Another true pleasure of the event is the food and the food stalls selling special products which are a huge boom every year. The town is packed with stalls selling Hida style food such as char grilled with salt, Hida beef croquettes, local goheimochi which are skewered rice cakes served with soy sauce and miso, chicken karaage, and more. This year's event will also see a rice sampling booth that won the International Contest on Rice Taste Evaluation. You'll have the opportunity to experience the taste of local rice from Hida that is praised all over Japan.
There will also be a women's rental service for Sunday bests. The event will also hold "Egoma Week" for the very first time from January 14th-21st where meals will be served with Hida egoma, or Japanese perilla, a type of plant. Hida's local special egoma is an ingredient gaining attention right now for its brain-boosting and anti-aging effects. You can try original egoma dishes from participating restaurants.
Challenge yourself to the Santera Mairi in Gifu and increase the success of your romantic relationship.
◼︎Information
Santera Mairi
Location: Furukawa-cho, Hida-shi, Gifu Prefecture
Date: Monday January 15, 2018
Contact: 0577-74-1192  
Website: https://www.hida-kankou.jp/santera/ Stalls (festival area): 12:00-21:00
1000 Candles Lighting (along Setogawa Canal) – 16:00-21:00
Snow Candle Lighting (town high streets) – from 16:00
Mishima Warousoku
Address: 3-12 Ichinomachi, Fukukawa-cho, Hida-shi
Contact: 0577-73-4109
RELATED ENTRIES
Buddhist-Life Themed Cafe Opens at Takayama Zenko-ji Temple in Gifu

Takayama Hotel Zenko-ji isn't your typical hotel: this Buddhist temple invites anyone, regardless of faith or nationality, to stay in one of its five rooms. The property has now opened the 'Activity Cafe Zenko-ji,' a place to rest and relax while learning more about various cultures and, of course, traditional Buddhism. 

The well-ventilated and airy temple.
All drinks, including coffee and tea, are free of charge. 

The Takayama Zenko-ji Lounge Area

Enjoy free Wi-Fi, ample power supplies, and clean restrooms. 

Feel free to work remotely and have meetings in the main hall. 

Being in a new space will open up your mind and expand your creativity. 

The cafe was first opened for a limited time beginning in April 2021, inviting locals and tourists alike to come and find stress relief while praying for an end to the Coronavirus pandemic. However, given the location's immediate popularity, it will now be open for good. 

In the midst of the Coronavirus pandemic, an increasing number of people have lost their physical and mental balance. For both the locals and visiting tourists, the temple is meant to be a place where anyone can find a sense of calm and peace of mind. Deep in the city of Takayama, this is where people are meant to relax, feel energized, and regain who they used to be before this stress became the new normal. 




Hiroshi Yamamoto, a Buddhist priest who works as the manager at Temple Hotel Zenko-ji, is the founder of the Activity Cafe. Hoping to help bring back the bustling tourist atmosphere of Takayama, he intends the space to be a meeting ground for locals and visitors from around the world to interact naturally. 

After graduating from an American university and working as an English teacher, Yamamoto became ordained as a Buddhist monk. Now a certified meditation instructor, he specializes in teaching meditation and Buddhist programs in English. 

Those utilizing the cafe can experience asceticism by walking through a dark tunnel to help find their inner peace, and can also try their hand at sutra-writing!

How would you like to spend some time at the Activity Cafe in Takayama? 

Information

Activity Cafe Takayama Zenko-ji

Address: 4-3 Tenma-cho, Takayama, Gifu

Phone: 0577-32-8470

Reservations not needed

Official Site: https://oterastay.com/zenkoji/cafe/

GALLERY COLLAGE: Stay at the New Contemporary Art Gallery in Gifu

GALLERY COLLAGE is the name of the new contemporary art gallery that recently opened at NIPPONIA Mino Shokamachi, an accommodation housed in a remodelled townhouse that's situated in a place famous for its mino variant of Japanese washi paper.

1. Raising local value with contemporary art

The world of local culture, such as local business and customs, has been abandoned in favour of rapid economic growth and globalisation. But those halcyon days and their background, which are rooted in their respective local history, culture, and nature, have once again come to be of huge importance to many people. It's in these times that things like the sounds of insects in the evening that are local to the area should serve as the direction that people move forward in. The artwork showcased at GALLERY COLLAGE will depict scenes familiar to locals to show them in a new light. In doing so, NIPPONIA Mino Shokamachi hopes that connecting contemporary art with washi paper will promote and raise the value of the local traditional industry.

2. Season Lao's "Mino – blank-leaving" exhibition on show

Contemporary artist and photographer Season Lao is currently holding his Mino – blank-leaving exhibition at the site. He has used his unique approach to utilise mino paper, a type of Japanese washi paper with a history spanning 1,300 years and is also registered as a UNESCO Intangible Cultural Property. An online talk will take place on May 22 hosted by participants of Lao's photography workshop that was held for the event's opening. It focuses on photos taken by locals, including pictures from their high school days.

3. Season Lao's Accommodation Plan

With support from NIPPONIA Mino Shokamachi, the Season Lao Accommodation Plan will see guest rooms decorated in numerous artworks by the artist, and guests will be given a tour of the mino paper factory amongst other exciting things.

Watch Gifu Prefecture's 'Jikabuki' Local Kabuki Theatre Plays On YouTube

As part of this year's Gifu, Land of Clear Waters Ji-Kabuki All-Star Performance 2020, Gifu Prefecture has posted a special commentary video over on the official YouTube channel of Gifu Seiryu Bunka Plaza which combines footage from two local kabuki plays held this year.

The local kabuki of Gifu

Japan is home to 200 jikabuki, or 'local kabuki,' preservation organisations, 30 of which can be found in Gifu Prefecture. Gifu is one of the most active regions for jikabuki in the whole of Japan. The prefecture also has 9 historical shibai-goyas, or playhouses, some of which are over 100 years old.

Gifu, Land of Clear Waters Ji-Kabuki All-Star Performance 2020

https://www.youtube.com/channel/UCx_NJKW7JOicMjhzfqBC1hQ 

Gifu Seiryu Bunka Plaza made the decision to postpone the 11 jikabuki performances that were scheduled to take place January to July 2020 this year. They are being rescheduled for 2021, so for now people can enjoy the content over on their official YouTube channel.

Autumn Lights Set to Illuminate Kyoto's Konkai-Komyoji Temple This November

Autumn illuminations are set to shine on Konkai-Komyoji Temple in Kyoto from November 13.

Konkai-Komyoji Temple is a Buddhist temple that was founded in 1175. It is one of the eight temples of the Jodo sect of Buddhism and his home to numerous treasures including a painting by Edo period painter Itō Jakuchū, folding screen paintings by Tomioka Tessai, and more. There are many wonders to behold at the temple, such as the Tora-no-ma which has sliding doors that depending on how they are open or closed display a different number of tigers, or the Shiun Gardens which have a stream that reflects the beautiful autumnal colours of the overhead trees.

The temple is also home to the Goko Shuyui Amida Butsu statue, which has been picked up by the Japanese media on many occasions and referred to as the "Afro Buddha" due to its afro hairstyle.

There will be Japanese music performances with traditional instruments like the koto and shinobue three times an evening for the illumination event. If you're in Kyoto this autumn, this is one event to not miss.

Information

Konkai-Komyoji Temple Autumn Lights
Running: November 13, 2020 – December 6, 2020

Viewing Hours: 17:30-20:30 (Last Entries 20:00)

Price: General ¥1,000 / Elementary School Students ¥500 / Infants – Free / Groups of 20+ ¥800 each

Konkai-Komyoji Temple

Address: 121 Kurodanichō, Sakyō-ku, Kyoto
Official Website: https://www.kurodani.jp/lightup_aut/

Kyoto's Rokuo-in Temple to be Illuminated in the Autumn Evenings

Keifuku Electric Railroad is lending its strength to Rokuo-in Temple in Kyoto this autumn to light up the ancient site in the evenings from November 14 to December 6.

Shari-den (Photo taken in 2019)


Temple path (Photo taken in 2019)

This year marks the 5th run of the autumn evening light-ups. The temple, just a four minute walk from Rokuoin Station, is known for its beautiful maple trees which blossom breathtaking autumnal colours during the fall season.

Temple reception hall with fusuma images


Fusuma image example

The temple is selling new goshuin temple stamp books this year for the light-up event. Visitors will also be able to see 56 fusuma images drawn by contemporary Japanese artist Takaya Fuji.

Rokuo-in Temple will close early next year for approximately 2 years and 9 months for repairs. The temple is also currently limiting the number of people allowed at once, making this year the best time to see the autumn leaves.

Information

Rokuo-in Temple Evening Light-Up
Running: November 14, 2020 – December 6, 2020
Time: 17:30-19:30 (last Entries 19:00)

Price: ¥2,000 (Comes with matcha and Japanese confections)

Capacity: [Weekdays] 100 People / [Weekends] 150 People

Access: 4 minutes on foot from Rokuoin Station
Apply Here: 嵐電webサイト専用フォーム

Kyoto's New Hotel Mitsui Garden Hotel Kyoto Kawaramachi Jokyoji Fuses With a Temple

Mitsui Garden Hotel Kyoto Kawaramachi Jokyoji, a new hotel by major real estate developer Mitsui Fudosan and Mitsui Fudosan Hotel Management, opened bookings for the new hotel last Friday. The hotel is set to officially open on September 28, 2020.

The hotel was developed to integrate into Jokyoji, a temple in Kyoto with a history spanning over 500 years. Even in Japan, where it is common for temples to undergo reconstruction, this is a rare project. The hotel aims to be a model case for breathing new life into temples.

The hotel is just a 1-minute walk from Kyoto-Kawaramachi Station and within walking distance from the bustling retail area of Shijō Kawaramachi, the Hanamachi district Ponto-chō, and Kyoto's geisha district Gion. Guests are wrapped in the serene atmosphere of Jokyoji Temple where they can enjoy its historically maintained art, get involved in morning activities, and more.

Entrance Lobby

Mitsui Garden Hotel Kyoto Kawaramachi Jokyoji's design concept is "Hotel Temple." Nikken Space Design crafted the hotel's interior design, which makes use of Jokyoji Temple's preserved wood, gold leaf-covered folding screens and other features, while adding a modern white and black colour scheme throughout, giving a sense of comfort and high quality. From the lobby, guests can glimpse the main area of the temple and feel one with it.

Spacious rooms and baths

  

Guest rooms, even the standard room types, are a spacious 24m². All rooms can accommodate 2+ people, and there are even triple rooms which can house 3 people. Every room also comes with separate toilets and showers. Up on the second floor are the baths where guests can wind down after a day of travelling and sightseeing.

Restaurant

The 2nd floor restaurant, Sanga Ono Kyoto Jokyoji, was developed by ONO GROUP which has built many restaurants in Fukuoka Prefecture. This is the company's first restaurant to be built outside Fukuoka. Guests can enjoy delicious Japanese rice, Kyoto vegetables, tai-chazuke (green tea poured over sea bream), Kyoto-style grilled fish, and more. The restaurant will also serve Japanese buckwheat noodles overseen by Akamachaya Asago, a restaurant listed in the Michelin Guide.

Experience Jokyoji Temple

Jokyoji Temple was founded in 1171 by Taira no Shigemori. In 1591, the temple was moved to Teramachi-dori where it has stayed to this day. When the hotel opens its doors, it will offer various activities to guests. Those who take part in the morning activity will receive a goshuin stamp from the chief priest.

Experience a hotel and a temple like never before as both are fused together at Mitsui Garden Hotel Kyoto Kawaramachi Jokyoji.

Kyoto Sightseeing | Yokokuji Temple's Annual Hydrangea Week Event Announced

This year's Hydrangea Week at Yokokuji Temple is set to take place from June 13 to July 5 where 5,000 breathtaking hydrangea will take over the temple grounds.

Yanagidani Kannon, also known as Yokokuji Temple, is located in Kyoto Prefecture's city of Nagaokakyo and has been used as a place of prayer for many people with eye disease since the Heian Period. It is believed that praying at the temple will cure eye disease.

Special Opening of the Joshoin: Spectacularly Lush Flowers

Normally, the Joshoin only opens on the 17th of every month, but for this autumn week event, it will be open every day. It's an area normally limited to officials and those in the imperial family. The beauty of its autumn colours have come to be enjoyed by VIPs, dating back to the pre-war period when it was designated as a place of scenic beauty. The Nanboku-cho Period painting Amida Sanzon Raigo Zu of Amida standing on a lotus pedestal will be displayed during the opening.

Entry Price: ¥1,000

Entry Times: 9:30-14:30

Limited Edition Goshuin: "Oku-no-in," "Wagan-aigo," "Airyoku"

We've covered goshuin many times on MOSHI MOSHI NIPPON. They are stamps or seals you can receive at most temples and shrines in Japan. Collected in a goshuincho, or stamp book, you pay a fee and the staff there will write gorgeous Japanese calligraphy in your book of the temple or shrine name and the date you visited along with a stamp. Every temple and shrine has their own unique stamps.

For Hydrangea Week, you can get the following words written in your book: Oku-no-in (Inner Shrine) Wagan-aigo, (Gentle Face, Loving Words), and Airyoku (Power of Love).

Goshuin: "Omoi"

This special goshuin prays for the fulfilment of people's Omoi, which can mean thoughts, desires, wishes, affections, and so on. It also features a picture of the temple water basin.

Price: ¥600

Seasonal Pressed Flower Goshuin Kit

This special goshuin kit has you pressing your own flowers to create your own personal and unique design. The theme of this kit changes each season. For June, the theme is hydrangeas.

Price: ¥1,000

Hydrangea Goshuincho

The temple is also selling seven different goshuincho stamp books. Orders are being carried out on the official website.

Price: ¥3,500 (+¥500 handling fees)

Yanagidani Kannon Treasure Exhibition

The "Yanagidani Kannon Treasure Exhibition" is a monthly showcasing of the temple's treasured articles which are normally unavailable to the public. For June, they will be showing the art piece Daffodils by Japanese painter Keika Kanashima who was active during the Taisho and Showa periods. Her work is also on display at the Imperial Household Agency. The painting incorporates the Shijō school of Japanese painting as well as the intai style.

Items Bestowed to the Imperial Household & Buddhist Art

The temple will display items bestowed to the Imperial Household from its collection, including Emperor Nakamikado's mirror which has a deep green hue, a flower vase owned by Japan's last empress regnant Empress Go-Sakuramachi, and more.

Information

Hydrangea Week
Location: Yanagidani Kannon, Yokokuji Temple (Dōnotani-2 Jōdodani, Nagaokakyo, Kyoto)
Running: June 13, 2020 – July 5, 2020

Time: 9:00-16:00 (Last Entries 15:00)
Price: ¥300 (Combination ticket for entry, access to the Joshoin and Jihouku costs ¥1,000)

Official Website: http://yanagidani.jp/

Japan Opens Temple Priest Consultation Service For Those Worried About COVID-19

A new online consultation service by the name of "Soudan no Madoguchi" (Consultation Window) has been launched in Japan as a measure against rising stress levels as a result of the COVID-19 pandemic outbreak.

Stress levels are soaring in Japan because of the sudden societal changes people have had to adapt to, such as having to work from home. The novel coronavirus has had enormous impact the world over. Those in Japan who are suffering from heightened stress can now make use of the Soudan no Madoguchi one-to-one online consultation service where they can talk to a Buddhist temple priest.

The priests will listen to peoples' worries, whether it be about the worry of working from home, difficulties faced with raising kids, and so on. Consultations can take place without any references to Buddhism, but they are available in Japanese only. Slots are booked via the service's official website. The standard fee is ¥2,000, but this is not compulsory: those who have had a consultation can decide their own price at the end of the session.

Aoe Kakuhō – Chief Priest at Ryokusen-ji Temple

Mitsuaki Tooshima – Assistant Priest at Kyogan-ji Temple

Priests that people can talk to are all active priests from the contemporary world of Buddhism and include priests with MBA's, those with experience holding seminars on mental health, and more. Sessions offer the chance for people to look inward and relieve their worries. The service is a great way for those who want to talk to someone but are unable to.

One Piece Goshuin Shrine Stamp Books Get Luffy and Trafalgar Law Designs

Movic has collaborated to release two special goshuincho books at Animate stores in Japan as well as the Animate and Movic online stores and select Mugiwara shops.

A Goshuincho is a book for collecting goshuin, which are stamps or seals given at shrines and temples across Japan. Every shrine and temple has its own unique goshuin which are stamped alongside calligraphy handwritten by the staff there and then who write the date and the name of the temple or shrine. We have covered goshuin here on MOSHI MOSHI NIPPON many times – click for more details.

Goshuincho – Luffy

Goshuincho – Trafalgar Law

The designs feature Luffy and Trafalgar Law made from gold leaf stood against backgrounds with traditional Japanese designs. Both books also feature their respective pirate logos. They are the perfect gift for any fan of One Piece heading to Japan to see the temples and shrinesーor to just add to their collection at home!


The order window for these books will run from March 16, 2020 to April 15, 2020 at Animate, Animate online, Movic online, at select Mugiwara storesーthe latter being the official One Piece merchandise shop. You won't be able to order them after April 15, so be sure to get your order in quick.

*Photos are of the product still in development. Actual product is subject to alterations.

*Product sales subject to change, extensions, or cancellations.

©Eiichiro Oda / Shueisha・Fuji TV・Toei Animation

Information

Goshuincho (2 Designs)
Price: ¥3,300 each (Tax Included)
Size: Approx. 16cm x 11cm
Product: Front Cover – Cloth with gold leaf / Inside: 24 folds
Order Window: March 16, 2020 – April 15, 2020

Release Date: June 19, 2020

Order here: https://www.movic.jp

Cherry Blossom Themed Sumikko Gurashi Store to Open at Ginkaku-ji Temple in Kyoto

The all-new Sumikko Gurashi Dou store is set to open permanently at Ginkaku-ji Temple in Kyoto on March 19, 2020.

Ginkaku-ji is a famous temple in Kyoto that was first built in 1490. It lives as a representation of the Higashiyama culture which flourished towards the end of the Muromachi Period. In 1994, it was designated as a World Heritage Site. The temple stands as a famous tourist spot of Kyoto.

Glasses Case – ¥1,500 / Contact Lenses – ¥1,100 / Mini Towels – ¥600 / Hanging Plush Toys – ¥1,100 / Cookies – ¥1,000 (All prices are pre-tax)

The new Sumikko Gurashi Dou store will be based entirely on the Sumikko Gurashi characters created by San-X. "Sumikko Gurashi" translates roughly to "life in the corner." The shop will take on a cherry blossom theme, where you can get your hands on exclusive and licensed products.

Sumikko Gurashi Yaki Takeout Cup (Contains 6) – ¥300 / Sumikko Gurashi Yaki Omiyage Bag (Contains 12) – ¥700 / Tapioca Drinks (3 Flavours) – ¥500 / Ice Cream (3 Flavours) – ¥500 (All prices are pre-tax)

There's also takeout food and drinks, like sweet and fluffy baby castella sponge cake, tapioca drinks, soft serve ice cream, and more.

And of course, the entire store will be adorably decorated in all things Sumikko Gurashi to ease your soul. If you're travelling to Kyoto and Ginkaku-ji Temple, then make sure you pop into Sumikko Gurashi Dou.

©2020 SAN-X CO., LTD. ALL RIGHTS RESERVED.

Kyoto Brighton Hotel Offers 5 New Hotel Plans For Springtime, Cherry Blossom & Temple Experiences

Kyoto Brighton Hotel is now selling reservations for its new "Haru no Asobi Plan" (Springtime Fun Plan) which is taking place between March and May this year and offers guests the opportunity to enjoy Kyoto in the spring and its cherry blossoms.

Spring in Kyoto is the most popular season for tourists and travellers who flock from not only across Japan but from around the world. The Haru no Asobi Plan is made up of 5 exciting plans to see the ancient capital's breathtaking cherry blossoms, vibrant green maples, and other offerings.

"Asakatsu" – An early morning temple visit and stroll

Get away from the crowded streets and enjoy the rare opportunity to experience incredible early morning sights you don't normally get to see. Spend a quiet morning in a gorgeous environment in this plan. Several temples and gardens are in place for the experience: Kōdaiji Temple, Bishamon-do Temple, Taizō-in, Haradanien, and Tenryū-ji.

Kiyomizu-dera Temple special night viewing

One of the must-visit spots when travelling to Kyoto is Kiyomizu-dera, officially a World Heritage Site. This plan rents out the temple for you to experience it at nighttime. The main building is currently undergoing large-scale renovation to secure the roof as well as the inner construction of the temple. Seeing the temple is truly a sight to behold.

You are guaranteed a view of the famous "Stage of Kiyomizu," an enormous veranda attached to the main hall. The surrounding trees will be lit with enchanting lights, and you'll be able to gaze at the distant city nightscape. Experience Kyoto like never before as the warm lights illuminate the Niōmon (Deva Gate), 3-storey pagoda, and purified water which runs from the Otowa Waterfall.

Discover the world of Kyoto embroidery

The traditional practice of Kyounui, or Kyoto-style embroidery, has continued since the Heian Period and is even garnering attention overseas. It's a delicate and refined style of embroidery unique to Kyoto.

After your embroidery session which will take place in a Kyoto town house nearby the cherry blossom-filled Hirano Shrine, you'll look at kimono and yukata so beautiful they'll look like they should be in an art museum, before heading to eat together with the creator.

See the green maple trees of Hōgon-in on a private train

Board the private 1-2 carriage Randen train on the Keifuku Electric Railroad, which runs from Shijō-Ōmiya to Arashiyama. This cute retro train will take you Arashiyama where the green maples are breathtakingly beautiful.

You'll also get to stroll through the quaint gardens of Hōgon-in Temple, view artwork painted by Noriko Tamura, and more.

Sky Bus

Enjoy a panoramic view on a private ride of the Sky Bus, a double-decker bus which is gaining huge popularity right now. You will ride through the city of Kyoto and see the rows of pink cherry blossoms. In April, they will also do an evening tour of the cherry blossoms so you can see them at night, and in May they'll do a green maple tree tour.

Discover the beauty of Kyoto in this very special hotel plan at Kyoto Brighton Hotel.

5 Temples in Kyoto Announce Exclusive Viewings For Their Secret Cultural Assets

The history of Yamashina dates back over 1,400 years when Kyoto, then known as "Heian-kyō," was the official capital of Japan. Located in the southeastern part of Kyoto, Yamashina is rich in history, abound with nature, and has maintained a traditional industry that has gone unbroken since ancient times.

This year, with the arrival of Japan's new emperor and the opening of a brand new era, five of Yamashina's great temples are set to unveil several cultural assets, which until now have never been shown to the public.

They are as follows.

Anshoji Temple's Wooden Jūichimen Kannon Statue (Important National Treasure)

Kajū-ji Temple's Sliding Door Panel Artwork  – "Eight Views of Ōmi" & "Tatsuta River Autumn Leaves" (Important National Treasures)

Zuishinin Temple's Gold Lacquered Fan Inkstone Case & 4-Panel Folding Screen

Bishamon-do Temple's Imperial Prince Flag & Tortoise Shell Doors

Honkokuji Temple's Kyōzō (Important National Treasure)

Get away from the hustle and bustle of central Kyoto and steep yourself in its history with this very special once-in-a-lifetime opportunity.

Information

Special Viewings

Running: November 16, 2019 – December 1, 2019

Viewing Times:

Anshoji Temple, Kajū-ji Temple & Honkokuji Temple: 9:00-16:30 (Last Entries 16:30)

Zuishinin Temple: 9:00-17:00 (Last Entries 16:30)

Bishamon-do Temple: [Until November 31] 8:30-17:00 (Last Entries 16:30) / [From December 1] 8:30-16:30 (Last Entries 16:00)

Price

Anshoji Temple: ¥500 / Kajū-ji Temple: ¥400 / Bishamon-do Temple: ¥500

Zuishinin Temple: ¥500 (¥700 during illuminations at 6pm-8:30pm)

Honkokuji Temple: ¥500 (+¥500 to view the Kyōzō)

More details can be found over on Totteoki Kyoto Travel: https://totteoki.kyoto.travel/ (Japanese)