Take a tour of Harajuku's fresh-est information center, MOSHI MOSHI BOX with Anisong artist/model Ruki
In this series, MOSHI MOSHI Ambassadors will be giving you a heads up on some of the hotly tipped spots of Harajuku. What marks the first of many to come, the debut edition invites Spanish model/artist, Ruki, to take you on a tour through the colorful tourist information center smack in the center of Harajuku, MOSHI MOSHI BOX!
We meet up with our kawaii host at the BOX, and find her decked out head to toe with her ribboned hairband, checkered skirt and knee high socks. How adorable! Now let's head in!
The MOSHI MOSHI BOX is located right where the two main streets of Harajuku, Takeshita Doori and Meiji Doori, intersect. If you were wondering who was behind this colorful eye-candy architecture, you could take a mighty guess and you might just get it right…it's Sebastian Masuda, the go-to for Kyary Pamyu Pamyu's music videos and art direction. Spot his grand creation, the World Clock, which you're more likely to be drawn to for its colorful decoration rather than actually figuring out the time.
Believe it or not, it was only last year that Harajuku got its first and only tourist information center: MOSHI MOSHI BOX. But thanks to this creation, tourists are now able to discover some handy information at Tokyo's must-visit fashion district.
The BOX provides visitors with maps of Shibuya, Harajuku, Daikanyama as well as other areas central to Tokyo, that are available for free. Even if you don't speak a word of Japanese – don't worry. The BOX always have an English-speaking staff ready to give away the best kept secrets of this neon-filled concrete jungle.
If you have any questions on, say, how to get to Meiji Jingu, which train to hop on to get to your destination, etc. head over to the BOX and ask away!
Looking for a place to convert your mother money to ¥¥¥? Look no further, the BOX has got a currency exchange machine that'll work for seven different currencies (US dollars, Euro, Chinese Yuan, South Korean Won, English Pounds, Australian dollars, Taiwan dollars) Also use this convenient machine as an ATM.
If your phone's running out of battery, or you desperately need to connect to one of your SNS', free power and Wi-Fi are also some of the many things you can get here, so drop by, because we know you need that stuff.
In addition to this graceful service, the BOX also has a shipping service readily available – if you're afraid your luggage is going to surpass the limit from the large chunk of shopping you've done, save a couple ¥¥¥ by shipping it here.
The BOX is also making moves so in the near future, you'll be able to book tours/hotels straight from their information desk.
Buy your souvenirs here!
The BOX not only provides you with information – they've also got a sweet selection of omiyage (or souvenirs). What you'll see Ruki holding is a Mt. Fuji key case and a pair of sushi socks. Initially they'd readied the Mt. Fuji key case in red as well, but due to much love, they've emptied themselves from the shelves. Wait for it to re-stock, perhaps?
On the other hand, the sushi socks are still in-stock (phewf) and the egg sushi and shrimp sushi deem to be most popular. They'll look great anywhere – on your feet, or even as an interior decoration to boast your love for Japan.
This other item would be a delightful one for all you lazy egg lovers: say hello to MOSHI MOSHI BOX x Gudetama collab goods! These are obviously only available here so get them or else Gudetama will get too lazy to make an appearance on the shelves. Other items that can be purchased here include HARAJUKU sunglasses, origami crane piercings, and many others that'll keep you lingering around the store for a while.
If you've been keeping an eye out for the doll animation "MILPOM" that stars models Saki Shibata and Anna Yano as voice actresses, they've got collab items for that too. What can we say, if you've got a soft spot for anything pop and cute, you'll be letting a cry of joy over here.
Experience Karaoke for free!
First off, you're going to be astonished by how much color you're surrounded by once you enter this room. What is this Candyland you've lost yourself into? "Ruki, what's this place? WHY ARE YOU HOLDING A MIC?"
A Karaoke box where you can belch out a song for free? Yup, they've got that. Karaoke is deeply embedded in Japanese culture (as we all learned from Lost in Translation) – even if you may not know any Japanese songs, the machine's also got a wide selection of songs that aren't Japanese, so don't hesitate to sing that song you just can't stop singing in the shower!
On Wednesdays they've got a "Crepe challenge" free for anybody who wants to participate. Get a score of over 90 and you can win a crepe for free! Remember, you won't win anything unless you try.
Ruki, by the way, has landed a major label debut this November – "Please Ruki, let us hear you sing! One song? Pretty please? (laughs)"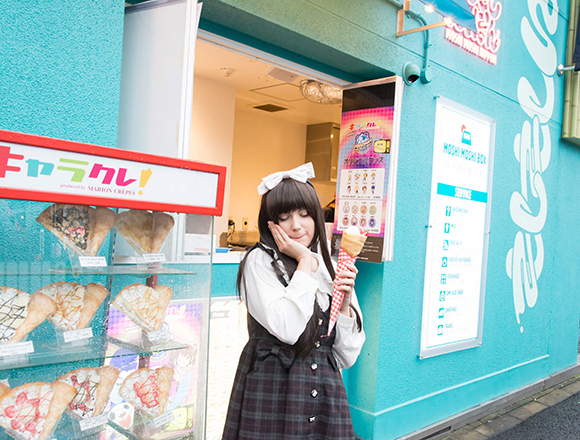 What completes the whole Harjauku experience? A CREPE. Stopping by at Harajuku and grabbing a more or less affordable crepe might just be a daily routine if you were a teen living in Tokyo, but as a tourist, it's one more thing that'll instantly enhance your Harajuku experience.
You can also check the crepe off your list at MOSHI MOSHI BOX's original crepe store, "Kyara-Kure," you can even get limited-time offers on character-shaped crepes!
You're now stocked with information on the highly buzzed spots of Tokyo and souvenirs to bring home, your phone's charged and you've got your daily social media fix, you've changed your money to ¥¥¥, you've eaten your crepe and you've sung a song at an actual karaoke box. What more can you ask for? Seriously though.
How did you enjoy our mini tour of the place?
The second floor gallery space offers events from time to time, so drop by and have a look at what's on while you're around.
See you at the BOX!
MOSHI MOSHI BOX
Address: 3-23-5 1F Jingumae, Shibuya-ku, Tokyo
Hours:10:00am~6:00pm
(Kyara-kure – 10:00am~7:30pm, Holidays are irregular)
Model:Ruki
Ruki was born in Spain and flew to Japan in hopes of becoming the world's famous anisong singer. Hobbies include collecting figures, Japanese idols from the 80s, Japanese culture (kimono, arts, architecture, traditional culture, etc.) She also enjoys watching anime, reading manga, cosplaying and eating cutlet curry.
Stream Ruki's Debut Album "Japani Beats! Ruki Special Vol.1" here.
Photos: Yuta Mukaiyama, Writer: MoMo (SHUTTER)