Tully's Coffee Japan will sell winter-season limited items including, "Tully's Snowman Latte" from the 10th of January (Wed.).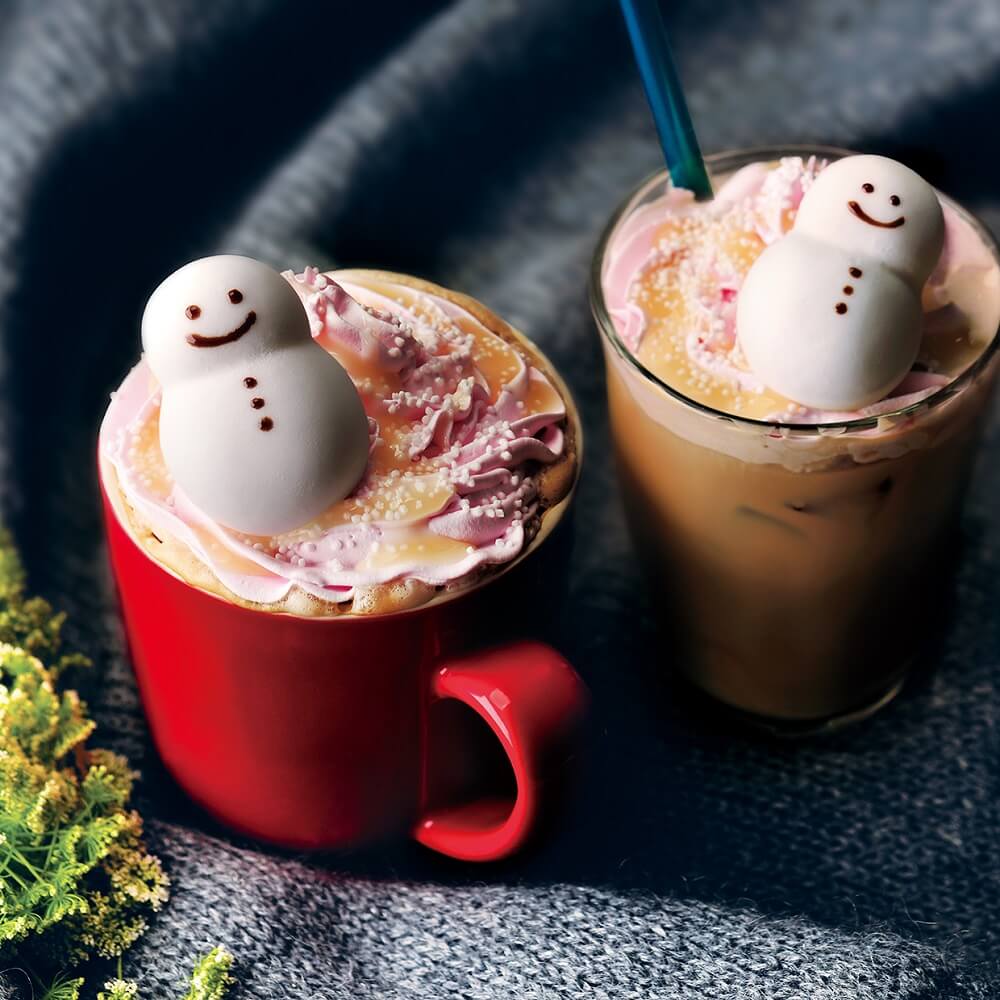 "Tully's Snowman Latte" is a cute-looking drink which is a white-chocolate-based café latte topped with fluffy marshmallows which look like a snowman.
The drink was released in Hokkaido in 2015 and gathered much popularity. Therefore, the sales areas of this drink have been expanding.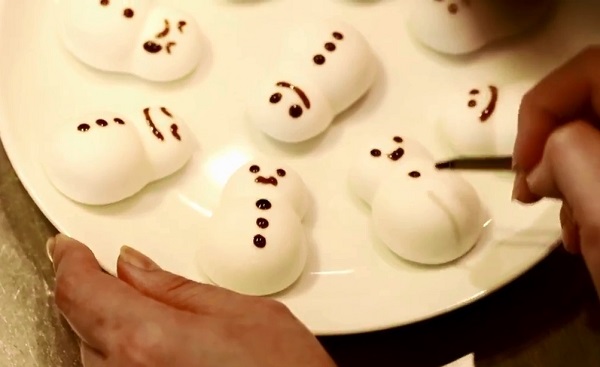 The snowman of each drink has a different facial expression.
This year, they renditioned a scene where snow is loaded on a pink-colored strawberry whip cream.
Let's enjoy this lovable drink!
Also, "& TEA Fruits Rose & Very Berry Tea" is a blended tea of several kinds of berries such as strawberries and cranberries and has the rich flavor of berries topped with fresh fruit.
Mix it together with your straw and enjoy the combination of the tea and the fruits.
◼︎Information
Turrys Snowman Latte (HOT/ICED)
Tall:590 yen / Grande: 650 yen
※The facial expression of each snowman is different.
&TEA Fruits Rose &Very Berry Tea (HOT/ICED)
Tall: 490 yen (one size only)
※Prices noted above include tax.
※Some stores do not sell these items.
URL:www.tullys.co.jp
RELATED ENTRIES
Matcha and Fruit Shaved Ice & Other Desserts Arriving to Saryo FUKUCHA in Kyoto This Summer

Saryo FUKUCHA is a cafe that was opened by FUKUJUEN in Kyoto Station in April 2019. A new batch of seasonal summertime menu items are set to arrive this June, including shaved ice drizzled in Uji tea and fruit sauce, a refreshing Uji matcha soda made with fresh fruit and jelly, and floats. These items will be served from June 1 to September 30 with a takeout option available.

Summer Menu

Uji Matcha & Fruit Shaved Ice


Matcha Berry Shaved Ice: ¥950 / Strong Matcha Berry Shaved Ice: ¥1,100 / Houjicha Banana Shaved Ice: ¥950 (All Before Tax)

The "Matcha Berry" shaved ice is paired with rich Uji matcha ice cream and berry sauce. It's also topped with a wafer cake shaped like a flower and filled with white bean paste, rice flour dumplings, and fruit.

Uji Tea White Peach Soda / Uji Tea Lemon Soda: ¥650 Each (Before Tax)

Full-bodied kabusecha tea from Uji made into a soda with fresh fruit pieces and jelly for a refreshing combination. Pick from super refreshing lemon or subtly sweet white peach.

Uji Matcha Float / Houjicha Float: ¥700 Each (Before Tax)

These floats are made using the best tea leaves selected by FUKUJUEN which are used to make a rich and frothy tea latte. Added to that is a dollop of soft serve ice cream topped with red bean paste and dried wheat gluten. Choose between authentic Uji matcha or aromatic houjicha.

Takeout Menu

Strawberry Flower Wafer Cake / Chestnut Houjicha Wafer Cake: ¥350 Each (Before Tax) 

Fruit wafer cakes are a popular dessert at Saryo FUKUCHA, and for the first time ever they are making them available for takeout so customers can enjoy them at home too. Pick from the strawberry flower flavour made with white bean paste or the chestnut and houjicha with chocolate cream.

Cream Anmitsu (Matcha/Houjicha): ¥700 (Before Tax)

FUKUCHAs specially-made anmitsu, or syrup-covered anko bean jam, is the perfect way to cool down on a hot summer's day. It's mixed with Uji tea honey and topped with various toppings like milk agar-agar, black soybeans, rice flour dumplings, white peach, raspberry, and mizu manju.

Information

Saryo FUKUCHA
Address: 901 Higashi Shiokojicho, Karasumadori Shiokoji Sagaru,, Shimogyo-Ku Kyoto Station Bldg. 2F, Kyoto 600-8216 Kyoto Prefecture
Opening Hours: 8:30-21:00 (Last Orders 20:30)
*The cafe is currently running on reduced opening hours as of May 26, 2020. Hours are now 10:00-19:00 (Last Orders 18:30). Times are subject to change.
TEL: 075-744-0552

Official Website: https://fukucha-fukujuen.com/

3 New Limited-Edition Botanical Drinks to Arrive This Summer at BOTANIST Tokyo

BOTANIST Tokyo, the flagship shop of BOTANIST in Omotesando, has announced a new collection of limited-edition drinks will be served on the second floor BOTANIST Cafe from July 12, 2020. BOTANIST Tokyo is currently closed but it scheduled to reopen on June 1.

There are three new refreshing drinks to choose from, all of which can be ordered for takeout. From apple mint to grapefruit, each beverage us the perfect accompaniment for cooling you down in Japan this summer.

REFRESH MENU


Refresh Soda: ¥600 (Tax Included)

A combination of grapefruit jelly and fizzy soda water make this one of those drinks that you go "Ahh!" afterwards on a hot summer's day. There's also a hint of sweet green apple.

Botanical Melon Soda: ¥800 (Tax Included)

This is a smoothie which blends together two types of melon soda and adds melon jelly and a dollop of ice cream. It's like a dessert in a cup!

Banana & Avocado Refresh Smoothie: ¥720 (Tax Included)

Enjoy the sweetness of banana and sugar beet together with the smoothness texture of the avocado in this smoothie which has apple and mint mixed into it for that refreshing summertime kick.

The cafe's regular menu has also been revised to add three new desserts.

REGULAR MENU


Vegan Waffles w/Drink: ¥800 (Tax Included)

These vegan waffles are healthier for the body if you're looking for some guilt-free indulgence. It's topped with soy whipped cream, maple syrup, and fruits of your choice.

Lemon Cheesecake w/Drink: ¥1,000 (Tax Included)

A crunchy cookie base, a creamy cheese top, and a lemon to top it all off. The combination of the salty flavour with the sour hit is a match made in heaven.

Homemade Rich Pudding: ¥500 (Tax Included)

An in-house made purin, which is a type of Japanese custard pudding. It's a delightful mix of rich egg and subtly sweet soy whipped cream.

Customers who spend over ¥4,000 (tax included) on items in the Refresh Series will also be entered in for a chance to win a "Refresh Soda." The soda is available while supplies last.

Information

REFRESH MENU
Serving: June 1, 2020 – July 12, 2020

REGULAR MENU
Serving: From June 1, 2020

BOTANIST Tokyo
Address: 6-29-2 Jingumae, Shibuya, Tokyo (1st Floor – Shop / 2nd Floor – Cafe)
TEL: 1st Floor: 03-5766-3777 / 2nd Floor: 03-5766-3778
Opening Hours: 11:00-20:00
Official Website: https://shop.botanistofficial.com/

McDonald's Japan to Release Ramune Flavoured McShake

McDonald's Japan is teaming up with confectionery company Morinaga & Company to release the "McShake® Morinaga Ramune" at all McDonald's branches in Japan. This is the first time McDonald's Japan has collaborated with the product.

Morinaga Ramune is a candy soda, and the perfect match to McDonald's sweet and creamy to cool down during spring and early summer.

The mixed beverage maintains the same refreshing taste as the original McShake® while drawing out the full flavour of the Ramune. It's available in a small size only while supplies last and is the same light blue colour as Morinaga Ramune. It's also served in an original cup.

Top 10 Instagrammable Drinks and Desserts to Try Making While You #StayHome

Japan's biggest social media photo aggregator Snaplace has curated a Top 10 menu list of the most popular drinks and desserts people have been posting on Instagram Japan with the hashtag #おうちカフェ ("Cafe at Home") with which people are making their own tasty treats to bring the cafe experience indoors during the lockdown.

The line-up features coffee, ice cream, cream soda and lots of other delights which have ranked due to how little preparation is needed and how easy the recipes are to follow. Let's take a look.

1sr Place: Dalgona Coffee

Dalgona coffee has taken the internet by storm for its beautiful two-layered appearance. Popular in South Korea, the drink has also garnered much attention in Japan. And you can substitute the coffee part to create a completely different beverage like a matcha, strawberry latte, chocolate, and so on.

How to make Dalgona Coffee: https://www.moshimoshi-nippon.jp/312230

2nd Place: Candy Strawberries

Candy strawberries have taken over candy apples in terms of popularity this year. And you can have fun trying it out with other fruits too while at home during the lockdown like grapes, fruitsーwhichever fruit is your favouriteーand skewer them.

3rd Place: Toast Arrangements

Top your toast with ingredients like fresh cream, Greek yoghurt, cream cheese, sliced cheese, fruits, vegetables, and so on to change up your morning breakfast. There are so many different recipe inspirations for toast arrangements to find on social media.

Related Article: Stay Home: 6 Toast Arrangements to Bring the Cafe Experience to Your Home During the Lockdown

Related Article: Stay Home: 6 More Toast Arrangements to Bring the Cafe Experience to Your Home During the Lockdown

4th Place: Marshmallow Cookies
5th Place: Fruit Sandwiches (Check out recipes here)
6th Place: Cream Soda
7th Place: Eggs Benedict
8th Place: Snoopy Gyoza
9th Place: Candy Marshmallows
10th Place: Deko ("Giant") Ice Cream

Try making your own Instagram-worthy menu at home.

Stay Home: 5 Simple and Kawaii Drinks to Try Making During the Lockdown

Here at MOSHI MOSHI NIPPON, we post news and information about Japan in six languages. Our aim is to deliver a variety of content related to Japan for those who love and enjoy Japanese culture.

Right now, people across the globe are in self-isolation as a result of the coronavirus pandemic. The same goes for Japan too, so we've taken this opportunity to create a new series on the website to show how we're spending time at home here in Japan. The future is yet uncertain, and we hope for normality to return for all of us soon. We created a new articles series called Stay Home with which we hope to take your mind off the situation, even for just a little bit, to help you feel calmer. It might give you some tips on what you can do while spending time at home.

In this edition of Stay Home, we're taking a look at five simple and kawaii drinks that were featured with the trending Japanese hashtag #おうちカフェ ("Cafe at Home"). Try making one of these drinks yourself to bring the cafe experience into your home.

Related Article: Stay Home: 5 Simple and Delicious Drinks to Try Making During the Lockdown

This is a strawberry version of the dalgona coffee which is hugely popular right now. It's a super simple recipe that you can make in just 3 minutes, so give it a go yourself.

Ingredients
・3 packs of Milmake powder (strawberry flavoured) ・4-5 tbsp fresh cream ・Milk

*If you can't get your hands on Milmake, use another strawberry flavoured powder as a substitute 

Method
1: Add the Milkmake and fresh cream to a bottle.
2: Shake the bottle until the mix becomes thick.
3: Pour the mix over milk, top with a strawberry, and enjoy!

2: Colourful Cream Soda @miki__718

Miki's made a serving of several colour and cute cream soda drinks. This is another easy recipe where she added coloured syrup to soda poured into cute glasses.

Ingredients

・Soda ・MONIN syrup ・Ice cream ・1 strawberry

Method

1: I recommend using MONIN syrup to make your colourful soda.

2: Mix together the soda and MONIN syrup, then add a dollop of ice cream and finish with a strawberry!

3: Strawberry Cream Cider @onew_tc72

Chihiro's beverage is a cream soda with fresh fruit inside. If you're looking for a fruity drink then this one's for you.

Ingredients

・Strawberries ・Vanilla Ice Cream ・Soda ・Thyme (for decorating)

Method

1: Slice the strawberries into small pieces.

2: Add the cut strawberries into the soda and spoon in a large dollop of ice cream.

3: Adorn with the thyme and a whole strawberry and enjoy!

chii's mango soda is made using a homemade jam. The orange drink looks super stylish with the giant ice cube inside. A cool and refreshing pick for those hot days.

Ingredients
・100g mango ・15 sugar ・A squirt of lemon juice ・1 tsp rum

Method
1: Boil all of the ingredients together.
2: Mix in soda and jam.
3: Top with rosemary and drink up.

HITOMI's choice is the popular mikan latte! You can use sliced orange for the topping too if you can't get your hands on mikan.

Ingredients
・200ml milk ・Sugar to taste ・Yoghurt ti taste ・1 mikan ・Sliced mikan (for topping)

Method
1: Blend all of the ingredients together in a blender.
2. Once smooth, add to a cup a finish with a slice of mikan or orange.

Make Authentic Matcha at Home With the New Ippukubox Set

TAKAHASHI KOGEI has launched a new matcha making set called the Ippukubox which comes with everything you need to make authentic Japanese matcha.

For many of us, our time indoors has increased. When taking a break from remote work we head to the kitchen to make ourselves a drink. We've all had those moments when we're torn between making coffee, black tea, herbal tea, and so on. In those undecided moments, why not try making a cup of matcha instead?

The Ippukubox is a 15cm box which comes with all the necessary gear for making mathca: a chawan cup, chasen tea whisk, chashaku teaspoon, and a natsume tea caddy for preserving your matcha.

The inside of the box is lined with Echizen paper from Fukui Prefecture which not only makes it look beautiful, but protects your matcha tools from becoming damaged as a result of rubbing together.

Generally in Japan, when you think about making matcha, the traditional tea ceremony springs to mind which follows strict rules when it comes to making the drink. But the Ippukubox is made for personal use, and so you can add as much or as little matcha or hot water as you like, and practice making it even if you don't know the proper techniques. You can even add hot milk to make a matcha latte and enjoy a tasty treat with it.

The chawan teacup is Echizen ware from Fukui and was made specially for the Ippukubox. Its cute size makes it fit perfectly in the palm of your hand, but it's also spacious enough for using the whisk.

The outside design of the box is also made in such a way that it fits seamlessly into modern living and dining spaces. Each wooden box is handcrafted individually and is layered in a matte coating to protect the wood.

*This chawan teacup is different to the one included in the set

The lid of the box can even be used as a tray as pictured above to fit your drink and snack.

Information

Ippukubox
Release Date: May 15, 2020

Price: ¥13,000 (Before Tax)

Official Website: https://o-takahashikogei.com
*Please note that the Ippukubox does not come with matcha or snacks.

Bring the Cafe Experience Into Your Home During the Lockdown With BOTANIST Tokyo's Smoothe Recipe

With the lockdown in place as a result of the coronavirus and businesses closed, BOTANIST's flagship cafe in Tokyo has released two recipes for people to enjoy the BOTANIST cafe experience from their very own home.

The two beverages in question are the delicious-looking "Smoothie Bon Bon Pineapple & Kiwi" and the healthy vegan-friendly "Spring Smoothie." Both are super simple to make, so check out the recipes below.

Smoothie Bon Bon Pineapple & Kiwi

The ingredients used in this tropical drink give it a marble effect, combining pineapple with shiikuwasha syrup and apricot whipped cream. At the very bottom is a sweet kiwi sauce to stir into the drink with your straw for a further depth of flavour.

Ingredients (Serves 1)

▼Smoothie
100g pineapple / 10ml juice of shiikuwasha citrus / 60ml milk / 5g granulated sugar

▼Amaretto Whipped Cream

20ml whipped cream / 1ml amaretto syrup / 30ml kiwi sauce

▼Toppings
10-13 pineapple slices cut like diamonds / 25g granola / 5g crunchy chocolate pieces / 1 mint leaf

Shiikuwasha can be replaced with lemon or lime juice. Taste as you go and adjust to your palate as necessary. Adding amaretto syrup to the whipped cream gives it an apricot taste, but the amaretto is optionalーplain whipped cream works great too. If you can't get your hands on kiwi sauce, substitute with fresh kiwis. Slice and crush to make it into a puree so it's small enough to be sucked through your straw.

Method

①Measure out your ingredients. Cut your pineapple into diamond slices (see below).
②Put the kiwi sauce into your cup or glass.
③Mix the whipped cream and amaretto syrup. Use a spoon to spoon the whipped cream around the inside of the cup to create a marble effect.
④Blend together your smoothie ingredients and pour into the cup.
⑤Top with the granola.
⑥Spread your pineapple slices around the outside of the cup. Finish with your chocolate crunch pieces and mint leaf.

Slicing the Pineapple

①Slice off the top and bottom of your pineapple.
②Slice through the length of the pineapple to divide into four sections.
③Chop off the inner white part of the pineapple.
④-⑥Following the picture below, slice your pineapple into diamond chunks and throw away the skin.
⑥Slice the chunks into thin diamonds.
⑦Spread the slices to create a sunflower pattern. Adjust according to your cup size. Make sure your granola is lower than the lip of your cup so you can properly balance the shape of your pineapple flower.

Spring Smoothie

This refreshing smoothie is packed full of spring berries. It's the perfect spring accompaniment with the sweet and sour kick of the strawberries and raspberries and the subtle sweetness of the sugar beet and soy milk.

Ingredients (Serves 1)

50g strawberries / 30g raspberries / 30g sugar beet* / 230ml soy milk
*The sugar beet can be replaced with gomme syrup to make the beverage vegan-friendly. If you're using caster sugar or granulated sugar, make sure it is fully dissolve into the soy milk first before making the drink.

Method

①Measure out your ingredients. A scale like the one above is super useful in this situation since it saves on washing too!
②Put in all the ingredients and mix until smooth.
③Pour into a large glass.

BOTANIST Tokyo is currently temporarily closed as a result of the ongoing COVID-19 pandemic. Bring the cafe experience home by making one of their tasty smoothies!

Information

BOTANIST Tokyo
Address: 6-29-2 Jingumae, Shibuya, Tokyo (Shop – Floor 1F / Cafe – Floor 2F)
Telephone: 03-5766-3777 (Floor 1F) / 03-5766-3778 (Floor 2F)
Official Website: https://botanistofficial.com/shop/

Stay Home: 5 Simple and Delicious Drinks to Try Making During the Lockdown

Here at MOSHI MOSHI NIPPON, we post news and information about Japan in six languages. Our aim is to deliver a variety of content related Japan for those who love and enjoy Japanese culture.

Right now, people across the globe are in self-isolation as a result of the coronavirus pandemic. The same goes for Japan too, so we've taken this opportunity to create a new series on the website to show how we're spending time at home here in Japan.

The future is yet uncertain, and we hope for normality to return for all of us soon. We created a new articles series called Stay Home with which we hope to take your mind off the situation, even for just a little bit, to help you feel calmer. It might give you some tips on what you can do while spending time at home.

In this edition of Stay Home, we're taking a look at five cute and tasty-looking drinks that are featured with the trending Japanese hashtag #おうちカフェ ("Cafe at Home"). Try making one of these drinks recipes yourself then sit back, relax, and savour every sip.

1: Dalgona Coffee @kaopan

This dalgona coffee recipe was provided by Kaori who has a series here on MOSHI MOSHI NIPPON called Kaori's Easy Recipe where she shows how to create fun and simple character recipes. It has a bitter taste but is temptingly creamy, giving it a flavour you'll become addicted to.

Ingredients

☆Instant Coffee ☆Hot Water ☆Powdered Sugar (Granulated works fine too) ・Milk

Method

1: Add one tablespoon each of all the starred (☆) ingredients into a bowl and whip well.

2: Simply add cold milk to the sweetened coffee and it's finished.

3: Mix while drinking and enjoy.

This dalgona matcha was made by Yuka Onoda. This is a you've got to drink to try if you're not a fan of coffee. The amount of milk will change depending on the size of your mug, so give it a go.

Ingredients

☆2 tbsp sugar ☆1 egg white ☆2 tbsp matcha powder ・8 tbsp fresh cream ・Milk

Method

1: Whip all of the starred (☆) ingredients together well.

2: Mix in fresh cream until it thickens.

3: Pour in your milk and you're done.

3: Cherry Blossom Cream Soda @banakooooo

This homemade cream soda recipe was made by Banako, one of our MOSHI MOSHI FRIENDS who writes articles on cafes and cream sodas in Japan. This is the perfect beverage for those unable to enjoy the cherry blossoms.

Ingredients

・Soda/Carbonated Water・Pink coloured juice・Pickled cherry blossom leaves*・Vanilla Ice cream

*The pickled cherry blossom leaves were bought online

Method

1: Add ice to a glass and pour in the soda.

2: Pour in some pink coloured juice to your liking to change the colour of the water.

3: Add some of the pickled cherry leaves and a dollop of vanilla ice cream.

4: Top with some more pickled cherry leaves to garnish.

Kotone's home cafe drink is a dessert-style beverage made using Oreos. This one's a must-try for anyone who loves Oreos.

Ingredients

・3 Oreos (2 without the cream)・Milk (to taste)・Fresh cream (to taste)

Method

1: Lay two Oreos into a glass.

2: Add the milk. Whip fresh cream and add.

3: Finish by topping with an Oreo.

Chihiro serves us a refreshing orangeade from their home cafe. The perfect refreshment for the arrival of the warm spring weather.

Ingredients:

☆1 orange ☆100g sugar ☆1 tbsp honey ・1 bottle of soda/carbonated water・3 orange slices・2 thyme sprigs

Method

1: Peel the starred (☆) orange, then place that and the rest of the starred ingredients into a bottle that has been sterilised by boiling. Leave in the refrigerator for 1-2 days.

2: Slice three piece of orange and cut them in half.

3: Add the syrup you made from step ① into an ice-filled cup. Pour in the soda/carbonated water and add the orange slices and thyme.

Matcha Flavoured Caffè Latte to be Released by Japan's Popular Chilled Coffee Cup Brand

Mt.RAINIER is launching a matcha flavoured caffè latte in Japan for a limited time starting from April 21, 2020.

Mt.RAINIER launched in February 1993 as a pioneering brand of chilled coffee in a cup. Since then, the company has introduced countless flavours which retain the authentic quality of a drink you would sip on in a cafè. With the number of people working from home rising, Mt.RAINIER is looking to be an easy grab for its customers to refresh and relax them during this time.



With the Olympics being delayed until next year, 2021 is the new year expected for Japan to be in the spotlight. With many people interested and becoming interested in Japanese culture, including the Japanese themselves, the market for providing products to enjoy Japan and its culture is expected to grow. Mt.RAINIER is hopping on board this train with its new "Nippon Color Vibes" drinks series which will include beverages that capture the vibe of Japanese culture. The first drink in the line was cherry blossom flavoured, and the upcoming entry is matcha.


The Mt.RAINIER Matcha Caffè Latte blends together matcha made from leaves carefully selected by tea experts with milk and a shot of espresso.

Information

Mt.RAINIER Matcha Caffè Latte

Price: ¥150

Release Date: April 21, 2020

Location: Everywhere in Japan

Official Website: https://www.mtrainier.jp/nipponcolorvibes/

*The Mt.RAINIER Matcha Caffè Latte will be featured on the website from April 21, 2020 at 11:00 A.M. (JST)

GODIVA's Irresistible Chocolixir Sakura Drink Available This Spring

GODIVA Japan Inc. is releasing a new chocolate drink as part of their Chocolixir series. The new drink flavour "Chocolixir Sakura" will be sold from February 16 to April 9, 2020 at GODIVA shops only. 

Chocolixir Sakura: ¥630 (Before Tax)

Cherry blossom jelly and pink chocolate curls rest on top of a white cloud of whipped cream to create the appearance of cherry blossom petals. The drink creates the image of beautiful sakura petals as they reflect off the water's surface, creating the warm image of the rays of the spring sun. The sweet aroma and creamy melt-in-the-mouth white chocolate is divine. This chilled drink also contains small pieces of smashed white chocolate, creating a fun texture in your mouth. 

It looks just as wonderful as it tastes. One sip will fill your heart with the refreshing vibes of spring. GODIVA's velvety smooth chocolate drinks are always to die for. You just have to try it. 

New Bubble Tea Shop Opens in Ochanomizu to Heal Fatigue and Improve Skin

Sugar Factory is the mastermind behind four trendy brands in Japan including the colourful candy floss shop TOTTI CANDY FACTORY, which is famous for its giant Harajuku rainbow cotton candy, and candy coated strawberry shop Strawberry Fetish. On September 26, they will be opening a bubble tea shop in Ochanomizu called Wu-Cha which is committed to serving only the best quality.

Wu-Cha uses large tapioca pearls sourced from Taiwan. From start to finish, the process of making these fresh tapioca pearls involves four hours of careful procedures. They are boiled and steamed carefully according to a strict schedule to create a springy texture. As the pearls are soaked evenly in syrup, each pearl is packed with deliciousness that will explode in your mouth with every bite. 

Okinawa Brown Sugar Milk Tea: ¥470

Matcha Milk Tea: ¥550

Extensive research went into creating recipes to use these tapioca pearls. Raw ingredients such as Okinawa brown sugar and Kyoto Uji matcha have been carefully sourced from their places of origin to maximize the flavours. A generous amount of all these special ingredients have been used to develop these delicious and authentic milk teas. 

Strawberry Milk: ¥550

Mango Yoghurt: ¥ 550

The Strawberry Milk and Mango Yoghurt are made with fresh fruit pieces and look just as refreshing as they taste.  

Beautiful Skin Tea: ¥450

Fatigue Recovery Tea: ¥450

There is a large variety of drinks to enjoy with a range of healing effects. Alongside the bubble tea series and the fruity tea series, there is also a herb tea series. 

Whether you are tired, unwell or just in need of a quick sugar boost, this bubble tea shop is the fairy godmother to all your problems. Every drink is packed with love and you absolutely must try it. 

Information

Wu-Cha (伍茶)
Address: 3-20-4, Ogawa-machi, Kanda, Chiyoda, Tokyo

Opening Hours: 11:00-21:00

No regular holidays

Six Scrumptious and Satisfying Sodas in Kyoto You Have To Try

At MOSHI MOSHI NIPPON, we have introduced a lot of kawaii bubble tea drinks you can in enjoy in Kyoto. However, we have much more to offer you than just bubble tea news! Today we have summarised the top soda drinks you can enjoy in Kyoto which both look and taste amazing. With the help of kyoto cafe life tiara 's phenomenal photos, we will be introducing you our top six picks.

SHIN-SETSU /Nakagyō-ku

Blood Orange (left)  Blue Curaçao (right): ¥690

With a variety of 24 colourful cream sodas on the menu, this café offers a rainbow of flavours to enjoy. Your aesthetic soda is best enjoyed within the the picturesque American-style interior of the café, which is filled with antiques and cute pink decorations.

▼SHIN-SETSU

Address: 277 Enpukujimaecho, Nakagyo Ward, Kyoto

Opening Hours:

Weekdays: 12:00-19:00(L.O)

Saturdays 13:00-19:00(L.O)

Sundays 12:00-19:00(L.O)

No fixed holidays

Official Instagram: @shinsetsu.kyoto

Rhône(ローヌ)

On top of the refreshing blue ocean of soda floats a scoop of ice cream ー what a nostalgic image. The bright red cherry accents the flavour. Rhône serves not only delicious sodas but also homemade pudding and many other delicious desserts which are sure to leave your stomach satisfied. 

 

▼Rhône

Address: 645-1, Sanjoinokumacho, 

Nakagyo Ward, Kyoto

Opening Hours: 12:00-22:00

Closed: Wednesdays and Thursdays

Kissa Zou (喫茶ゾウ)

After becoming a big hit in Nagoya, Kissa Zou opened a new branch in Kyoto earlier this year in April. An adorable elephant (zou) can be seen riding the very top of your scrumptious soda. It is just too cute to eat!

▼ Kizza Zou 

Address:440-3 Santeicho, Kamigyo Ward, Kyoto,

Opening Hours: 9:00-18:00(L.O 17:00)

No fixed holidays

NOTTA CAFE

Cream Soda with Oiri Sweets (left) :  ¥600 Custard Pudding (right): ¥500

NOTTA CAFE's cream sodas have decorated the front pages of magazines before. A large crowd of oiri (Japanese-style round sweets) of a variety of colours can be seen huddled together riding the ice cream float on top of this cream soda. This ice cream soda is one of a kind and full of a variety of textures and flavours so you must try it.

▼NOTTA CAFE

Address: 37 Saiinkitayakakecho, Ukyo Ward, Kyoto

Opening Hours: 11:30-20:00 (Wednesdays: 11:30-21:00)

Closed: Mondays (additional irregular holidays)

Kissa Soirée (喫茶ソワレ)

Blue Sky Cream Soda (left) Strawberry Cream Soda (right): ¥700 each

This soda is topped with vanilla ice cream and a sakuranbo cherry. When the ice cream mixes with the soda, it becomes creamy. The interesting interior of this café is the perfect place to enjoy your luxurious sparkly cream soda.

▼Kissa Soirée

Address: 95, Nishikiyamachidori Shijo Agaru Shincho, Shimogyo-ku, Kyoto

Opening Hours

1st floor: 13:00-19:00 (L.O.18:00)

2nd floor: 14:00-19:30 (L.O.18:45)

Closed:Mondays

Maeda Coffee (前田珈琲)

This butterfly pea herb tea has minty aroma and a refreshing taste.  When you mix it, it gradually turns pink so you can enjoy the flavour as well as the changing appearance of your drink.

▼Maeda Coffee

Address:  236 Takoyakushi Dori Karasuma Nishi Iru Hashibenkeicho, Nakagyo- ku, Kyoto

Opening Hours: 7:00-19:00

Open all year round.

If you are ever in Kyoto, make sure to check out these cafés. If you are looking for more inspiration, look no further than kyoto cafe life tiara's Instagram, which is full of delicious desserts in the Kansai region.

Text and photos: @happy_pinkrose_tiara