The second collaborative eyeglasses of Mash Kyrielight from "Fate/Grand Order" is now on sale
A simple version of Mash Kyrielight's (Fate/Grand Order) collaborative eyeglass which does not have the "shield" design on the frame is now on sale.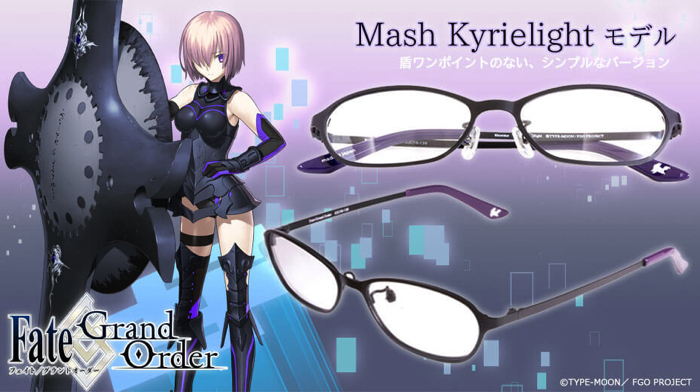 These eyeglasses use the motif of Mash Kyrielight from the very popular smart-phone RPG game, "Fate/Grand Order" produced by the game brand, TYPE-MOON.
The current model which is gaining popularity has a "shield" design on the left frame which Mash uses as a weapon, but the new version does not.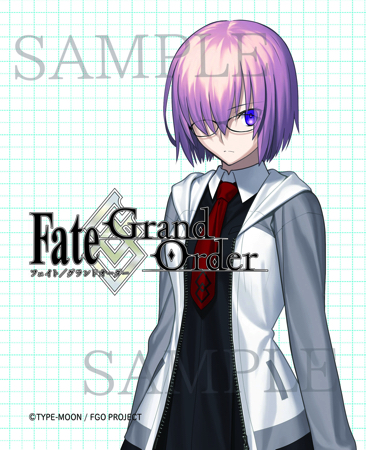 The model was created under the concept of "creating a pair of eyeglass that the character wears regularly."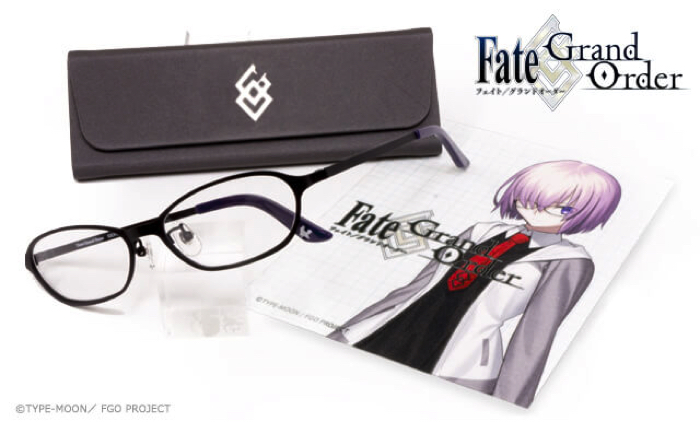 Both versions have an illustration of "Pho kun" on the inner side of the frame.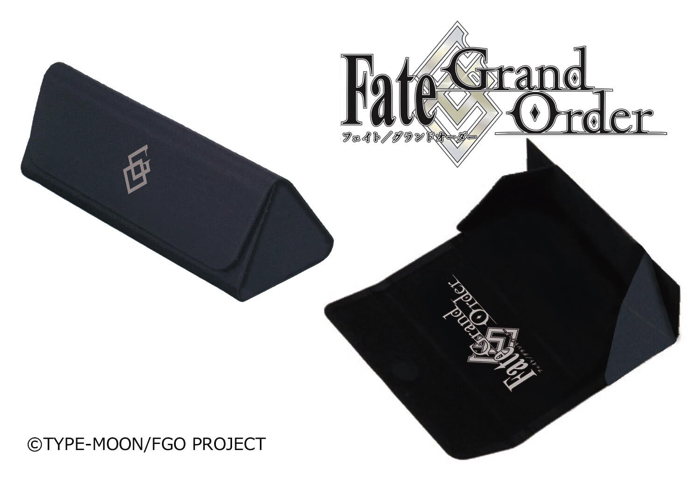 The product comes with a foldable originally designed case and a "Mash eyeglasses cleaning cloth."
※"Pho kun eyeglass cleaning cloth" will come with the first limited edition as an amenity.
This new version was created by the famous Japanese eyeglasses maker "Less than human." The eyeglasses are comfortable to wear but the intensity is very strong.
It is an eyeglass frame which can be used every day and it is recommended for both men and women.
Why not try using this pair of collaborative eye glasses of "Fate/Grand Order?"
◼︎Information
 "Fate/Grand Order" Mash Kyrielight resembling Collaboration Eyeglass (without the shield design)
Release date: 2018,01,06 (Sat.)
Price: 11,000 yen (tax not included)
Function: Prescription and PC lenes can be attached (fee for the lenses is not included)
URL : https://eyemirror.jp/fgo/
<Available stores>
Animation collaborative eye glass specialized store -Animegane-
Address: Sezon Akihabara Building 1F, 4th avenue, 8-3, Sotokanda, Chiyodaku, Tokyo
Shitsuji Megane eyemirror
Address: 1-31-13, Higashi Ikebukuro, Toshimaku, Tokyo
<Male-order shop>
Shitsuji Megane eyemirror online shop
RELATED ENTRIES
JINS x Jujutsu Kaisen Limited Edition Collab Eyewear Unveiled, Orders Opening Soon

Eyewear brand JINS has collaborated with popular anime Jujutsu Kaisen to produce the new 'JINS x Jujutsu Kaisen' collaboration frames, which will be available on the JONS online shop and in limited quantities in JINS stores nationwide between October 10 and October 25 2021. 

Lineup

Itadori Yuuji Model ¥5,500 (Tax Incl.)

Fushiguro Megumi Model: ¥8,800 (Tax Incl.)


Kugisaki Nobara Model: ¥13,200 (Tax Incl.) 

Zenin Maki Model: ¥13,200 (Tax Incl.)

Inumaki Toge Model: ¥13,200 (Tax Incl.)

Nanami Kento Model|l: ¥13,200 (Tax Incl.)


Gojou Satoru Model: ¥13,200 (Tax Incl.)

Each product comes with an original soft case and glasses cloth.

Panda Glasses Case (sold separately)

 Anime Jujutsu Kaisen, based on the manga of the same name, tells the story of the Jujutsu Sorcerers who use their powers to take down the Curses born from the negative energy of humans. The  show was broadcast throughout 2020 and 2021 both within Japan and overseas, becoming one of the most popular anime of the current era.  

 

The products in the first JINS x Jujutsu Kaisen collaboration were designed with the daily lives of the unique anime characters in mind. Taking inspiration from the fashion and lifestyle of each character, the glasses are full of hidden references to the Jujutsu Kaisen world. Character motifs have been incorporated into the frame details, resulting in glasses that are both stylish and versatile.

The lineup features protagonist Itadori Yuuji along with Fushiguro Megumi, Kugisaki Nobara, Zenin Maki, Inumaki Toge, Nanami Kento, and Gojou Satoru. Each of the seven characters has their own original design. Each pair comes with a Tokyo Prefectural Jujutsu High School themed glasses case and cloth. 

Plus, don't miss out on the plush panda glasses case, which is only available to purchase separately on the JINS webshop!

 

 

Orders are available both online and instore. The popular 'MEGANE on MEGANE' service, which first started in 2019 and was installed in store on September 16,  allows customers to try on the glasses virtually over your current pair. The collaboration glasses will be available to try on virtually in all stores during the order period, while some stores may also have physical pairs available to try. 

 

 

Dive deeper into the 'Jujutsu Kaisen' world with these fun JINS glasses!

 

Information

JINS x Jujutsu Kaisen

Order Period: 10:00 on October 8 until October 25 2021 at 23:59 

※Instore pre orders will be available from October 8 until October 25 during store opening hours.

Order Locations: JINS Online Shop, JINS stores nationwide

Stores with display samples: Sapporo Passeo, Sendai Ichibancho, Shibuya, Atre Akihabara, Yokohama JOINUS, Odakyu ACE, Kotochika Kyoto, LINKS UMEDA, Canal City OPA

Details: https://www.jins.com/jp/collabo/jujutsukaisen/ 

Official Site: www.jins.com 

Zoff Announces New Disney Collection Glasses for 20th Anniversary

Glasses brand Zoff has released a new collection titled the "Disney Collection Zoff 20th Anniversary Line," featuring Mickey Mouse and Minnie Mouse motifs. The collection will be released on September 17 2021 in Zoff stores nationwide and online.

Mickey Mouse Model

Minnie Mouse Model

Case, Glasses Cloth

The very first Zoff store opened 20 years ago. To mark the occasion, a selection of commemorative glasses will be available in their Disney collection, featuring Mickey and Minnie Mouse. The pair are dressed up more than usual, seemingly invited to a fun party. The design is special and full of details, as are all of the models in the Disney Collection.

Be sure to check out these special frames, with their charming Disney features!

Eyewear brand JINS Teams Up with Swedish Artist Eleonor Boström for New Collaboration

Top Japanese eyewear brand JINS is collaborating with Swedish ceramicist and illustrator Eleonor Boström on a new line of unique glasses. The new collection will be available at JINS stores nationwide and online starting August 19.

Product Lineup

JINS x Eleonor Boström (Combi) 4 models, 12 varieties, 3 colors: ¥8,800 (Tax Included)

JINS × Eleonor Boström (Metal) 4 models, 12 varieties, 3 colors: ¥13,200 (Tax Included) 

Soft Case

Patterned Cleaning Cloth

Campaign Prize: Ceramic flower made by Eleonor

The world has fallen in love with Swedish artist Eleonor Boström, and wonders what she'll make next–for the past ten years, she has created works inspired by dogs, claiming that she hasn't grown tired of it yet. Her work is characterized by utilizing dogs to express thoughts on society, reality, fantasy, and flowers. While her style seems humorous and lighthearted, her message is more serious: people get caught up in the minutiae of daily life, and we should all take time to stop and smell the roses. This collaboration, based on the concept of living every moment to the fullest, is a symbol of self-acceptance and relaxation.

This collaboration has been made possible by TONKACHI, a popular art initiative hosting a number of creators. JINS x Eleonor Boström is the second collaborative eyewear series the initiative has created, the first being JINS x Polly Fern.

Edgar, the pet dog of the British character Sybil who appeared in the Polly Fern collection, features heavily in this collaboration. With 8 models and 24 varieties of slim metal frames, there's something for everyone! Each pair is playful yet subtle, and are paired with a soft case and cleaning cloth which are limited to this collection. The case itself features a simple embossed design featuring Edgar, while the cloth is printed with a four-frame comic drawn by Eleonor exclusively for this release.

The third project with TONKACHI is planned to be a collaboration with Marianne Hallberg, a ceramic artist from Gothenburg, Sweden.

Fate/Grand Order THE MOVIE -Divine Realm of the Round Table: Camelot- Wandering; Agateram New PV Released

A new promotional video was released for the anime film Fate/Grand Order THE MOVIE -Divine Realm of the Round Table: Camelot- Wandering; Agateram which was released in Japan today (December 5).

Fate/Grand Order THE MOVIE -Divine Realm of the Round Table: Camelot- Wandering; Agateram (Pre-Release PV)

Fate/Grand Order The Movie Divine Realm of the Round Table: Camelot is a two-part anime film series based on the popular mobile RPG game Fate/Grand Order.

Original Stickers (Illustrator: Riyo) | 100,000 available on first-come, first-served basis

Production I.G, Fate/Grand Order Craft Essence

Theatres across Japan are handing out original stickers from today with 100,000 available on a first-come, first-served basis. A Craft Essence campaign is also being held in-game.


​Theatres in Japan are also selling tickets where cinemagoers can get their hands on a set of limited-edition folders originally given out during the run of the first film, Paladin; Agateram.

©TYPE-MOON / FGO6 ANIME PROJECT

Information

Fate/Grand Order The Movie Divine Realm of the Round Table: Camelot
1st Film: Wandering; Agateram / 2nd Film: Paladin; Agateram
2nd Film Released: December 5, 2020
Official site:https://anime.fate-go.jp/ep6-movie/

Zoff Reveals Fate/Grand Order THE MOVIE Divine Realm of the Round Table: Camelot Model Glasses

To promote the upcoming release of the Fate/Grand Order THE MOVIE Divine Realm of the Round Table: Camelot, Japanese glasses brand Zoff is releasing six models inspired by characters from the anime film on their official website on December 4 at 11:00am (JST).

Gawain Model


The frame design comes in blue and black which is reminiscent of Gawain's long, draping cloak. The glasses cloth is blue and white.

Lancelot Model


The frame design is a striking purple colour. It features metal parts in the corners just like the shoulders of Lancelot's armour. The glasses cloth is a military black with purple to capture Lancelot's hair.

Tristan Model


The frame design, including the front bridge and temple, are shaped in such a way to capture Tristan's armour, and coloured just like his colour palette.

Ozymandias Model


The frame design features a gold temple to capture the majestic vibe of Ozymandias.

Bedivere Model


The frame design has a delicate design to make the wearer look gentle.

Mash Kyrielight Model


The frame design has crosses on the side like Mash's enormous shield and is coloured purple.

Bonus Item

Front: Single Character / Back: All Characters

Those who purchase a pair of these glasses will receive a free character card.

All the glasses can be tried on at Zoff Ikebukuro Sunshine City Alpa for a limited time. The glasses are limited-edition and so are available while supplies last.

Aimer to Perform at Fate/stay night: Heaven's Feel III. spring song Live Viewing

Fate/stay night: Heaven's Feel III. spring song will be released on August 15, 2020 and will serve as the final entry to the ongoing anime film trilogy.

The previous film Fate/stay night: Heaven's Feel II. lost butterfly was released last year and was seen by over 1.09 million people in Japan, grossing over ¥1.67 billion in the box office.

A new commercial for the upcoming third and final film was shown on TV in Japan on August 8 featuring new cuts of the main characters. It can be seen below.

"Fate/stay night: Heaven's Feel III. spring song" CM



A special live viewing is scheduled to take place on August 15, 2020, the same day the film releases. This viewing will showcase a section from the film as well as feature a talk by the film's director Tomonori Sudō, who has directed the entire trilogy, as well as the main voice cast. Aimer will also perform live on the stream. Those who attend the live viewing in Japan will receive a free Fate/stay night: Heaven's Feel III. spring song holographic poster. Tickets are now available to buy via the official website.

©TYPE-MOON・ufotable・FSNPC

Fate/Grand Order: Camelot -Wandering; Agateram- Anime Film's Main Theme Details Revealed

Fate/Grand Order The Movie Divine Realm of the Round Table: Camelot is an upcoming two-part anime film series, with the first part Wandering; Agateram set for release on August 15, 2020. The series is based on the popular mobile RPG game Fate/Grand Order which has over 50 million downloads worldwide.

It has been revealed that the first film's main theme is entitled Dokuhaku ("Monologue") which is written and sung by Maaya Sakamoto and composed and arranged by Takahito Uchisawa of J-rock band androp. Uchisawa previously collaborated with Sakamoto on her 24th single Replica. Nasu Kinoko, the creator of the Fate series, said that the song influenced him when he was writing the scenario for Divine Realm of the Round Table: Camelot, and that it's a popular song amongst players of FGO.

It was also revealed that Maaya Sakamoto will perform the second main theme for the Fate/Grand Order game. Titled Katsudou, the lyrics were written by Sakamoto, it was composed by Koga Shohei of yourness, and the song was arranged and music performed by yourness.

Maaya Sakamoto | Comment

"I asked the director how he wanted me to portray the last scene of the first film and how best to connect it to the second. I gave seriously thought to the song's role as a main theme song and came up with this song, 'Dokuhaku.' When you see that final scene in the theatre, I'm sure you'll be staring at the credit roll unable to even stand as you process the many different emotions swirling inside Bedivere. I think the song we've written is a suitable match for that final moment. Be sure to experience it in the theatre."

©TYPE-MOON / FGO6 ANIME PROJECT

Information

Fate/Grand Order The Movie Divine Realm of the Round Table: Camelot (Wandering; Agateram / Paladin; Agateram)
Wandering; Agateram Release Date: August 15, 2020
Official Website: https://anime.fate-go.jp/ep6-movie/

'Fate' Anime Series Fairs to be Held at Animate Stores in Japan

Two fairs for the popular Fate anime series are set to be held at Animate branches across Japan: the "Fate/Grand Order – Absolute Demonic Front: Babylonia Climax Fair" and the "Fate/stay night Movie: Heaven's Feel – III. Spring Song Release Fair."

Fate/Grand Order – Absolute Demonic Front: Babylonia

Fate/stay night: Heaven's Feel

The Fate series began in 2004 with the release of the PC game Fate/stay night. This was the start of things to come to what would be turned into a franchise, eventually spawning anime series, animated movies, books, games, and more. The series continues to grow in popularity and is lauded the world over.

Special Clear Cards (5 Designs)

The "Fate/Grand Order – Absolute Demonic Front: Babylonia Climax Fair" will be held in conjunction with the TV anime series Fate/Grand Order – Absolute Demonic Front: Babylonia, which is set to begin airing on March  7, 2020. Fans who purchase or pre-order related merchandise will be gifted one of the above-pictured cards, including one of Ereshkigal and Kingu. Merchandise with these illustrations will be sold at Animate stores from March 7 onward, including folders, acrylic stands, and more.


Illustrations used on merchandise at the fair

The other fair will be held in promotion of the upcoming film Fate/stay night Movie: Heaven's Feel – III. Spring Song, the third and final movie in the Heaven's Feel trilogy. Fans will also get special cards at this fair when purchasing or pre-ordering merchandise. Like with the other fair, all-new character merchandise will be available to pick up using the above illustrations, like folders, acrylic stands, and more, from April 4.

 

©TYPE-MOON / FGO7 ANIME PROJECT
©TYPE-MOON・ufotable・FSNPC

Fate/Grand Order Anime Ending Theme Singer milet to Stream Live Studio Concert On YouTube

It has been announced that Japanese singer milet will promote the release of her upcoming 5th EP Prover/Tell me with a live streamed performance on YouTube which will take place on her channel on February 19, 2020 from 21:00 (JST) below.

milet 5th EP – "Prover / Tell me" Release Promotion STUDIO LIVE

milet is a Japanese singer-songwriter whose debut track inside you took home the Tokyo Drama Award last year. It also dominated the Recochoku Yearly Charts foro 2019, placing number one in the Download and Streaming categories for New Artist. milet made her industry-shaking debut in March last year, and continues to march forward with unstoppable force.

Her new song Prover, taken from her upcoming new EP Prover Tell me which is set for release on February 19, began being used as the second ending theme for the ongoing TV anime series Fate/Grand Order – Absolute Demonic Front on Sunday. The song was released as an individual track on online music platforms, placing on the Top 10 on iTunes, mora, Recochoku and elsewhere.

milet is set to embark on her "Green Lights" tour from March 6, 2020. The tour will take her to 7 locations for 8 shows including two performances at Akasaka BLITZ in Tokyo. Her solo tour last year saw all tickets sold out.

Information

Prover/Tell me

Release Date: February 19, 2020

First Press Limited Edition (CD+DVD): ¥1,500 (Before Tax) [SECL-2535~2536]

Regular Edition (CD): ¥1,250 (Before Tax) [SECL-2537]

Limited Pressing Edition (CD+DVD: ¥1,600 (Before Tax) [SECL-2538~2539] *Fate/Grand Order – Absolute Demonic Front: Babylonia CD cover

milet Official Website: http://www.milet.jp/

Fate/Grand Order – Absolute Demonic Front: Babylonia
Initial Broadcast: October 5, 2019
Official Website: https://anime.fate-go.jp/ep7-tv/

milet's Fate/Grand Order – Absolute Demonic Front: Babylonia Ending Theme Released Digitally

Milet will release her new EP Prover/Tell Me on February 19, 2020. In the run up to its release, the singer just dropped the track Prover today digitally ahead of the CD. The song is being used as the second ending theme for the ongoing TV anime series Fate/Grand Order – Absolute Demonic Front: Babylonia.

milet is a Japanese singer-songwriter whose debut track inside you took home the Tokyo Drama Award last year. It also dominated the Recochoku Yearly Charts foro 2019, placing number one in the Download and Streaming categories for New Artist. milet made her industry-shaking debut in March last year, and continues to march forward with unstoppable force.

Together with the early release of Prover, the song's official music video was also posted on the singer's official YouTube channel.

The video was shot in a single take, and sees milet alone aboard a tiny boat with the vast night sky above her. A great storm surges, but we see her pull through, with a flock of birds flying overhead towards the end.

milet – "Prover" MUSIC VIDEO


milet is set to embark on her "Green Lights" tour from March 6, 2020. The tour will take her to 7 locations for 8 shows including two performances at Akasaka BLITZ in Tokyo.

ⒸTYPE-MOON / FGO7 ANIME PROJECT

Information

Prover/Tell me

Release Date: February 19, 2020

First Press Limited Edition (CD+DVD): ¥1,500 (Before Tax) [SECL-2535~2536]

Regular Edition (CD): ¥1,250 (Before Tax) [SECL-2537]

Limited Pressing Edition (CD+DVD: ¥1,600 (Before Tax) [SECL-2538~2539] *Fate/Grand Order – Absolute Demonic Front: Babylonia CD cover

Download/Stream Links:

milet Official Website: http://www.milet.jp/

Fate/Grand Order – Absolute Demonic Front: Babylonia
Initial Broadcast: October 5, 2019
Official Website: https://anime.fate-go.jp/ep7-tv/

Fate/Grand Order Season 2 Ending Theme Song Unveiled as 'Prover' Performed by milet

Popular anime Fate/Grand Order – Absolute Demonic Front: Babylonia, which broadcasts every Saturday from 23:00, has just unveiled the key visuals for season 2's new ending theme song which was performed by milet. The new ending theme song is called Prover and there is a chance to hear it in the anime's second promotional highlights compilation video Sōshūhen 2 Tamashii no Tatakai, which will be dropped on December 28.

milet's song inside you, which was released in March 2019, became a prize-winning theme song, earning the Tokyo Drama Award of 2019. milet recently sprung up as a new artist and is now becoming more and more widely known. You can hear the Fate/Grand Order's season 2 ending theme song performed by milet in the upcoming promotion video. 

The release of a small snippet and summary of episode 12 Ou no Shi (Death of the king) which is set to premiere on January 4, 2020 has also been announced to whet our appetites even more for the new season. 

A Statement by milet

I'm the singer of the season two ending theme song for Fate/Grand Order – Absolute Demonic Front: Babylonia. I just cannot express how happy I am to have actually contributed to a series that is not only deeply rooted in our culture, but so many people, including myself, have loved endlessly. This song is dedicated to all FGO characters who are fighting for their lives. I, along with other Fate fans, will always be absorbed in the fascinating world of FGO. I hope this song helps us to get even closer to the series. 

ⒸTYPE-MOON / FGO7 ANIME PROJECT

Information

Prover / Tell me

Release Date: February 19, 2020

First-Press Limited Edition (CD + DVD)

Price: ¥1,500 + Tax

Catalog Number: SECL-2535~2536

Regular Edition

Price: ¥1,250 + Tax 

Catalog Number: SECL-2537

Limited Pressing Edition (CD + DVD)

*Fate/Grand Order – Absolute Demonic Front: Babylonia Special Package

Price: ¥1,600 + Tax

Catalog Number: SECL-2538~2539

milet Official Website: https://www.milet.jp/

Fate/Grand Order – Absolute Demonic Front: Babylonia

Currently available on a number of popular channels

・TOKYO MX/BS11/ Gunma TV/ Tochigi TV: Every Saturday from 23:00

・MBS: Every Sunday from 03:08

・AT-X: Every Monday from 21:30

*Watch on repeat: Every Wednesday from 13:30/ Every Saturday from 05:30/ Every Monday from 02:30

・Hokuriku Broadcasting: Every Saturday from 01:55

Streaming

・AbemaTV: Every Saturday from 23:00

・Niconico live broadcast/ Niconico Channel/ Docomo Anime Store: Every Sunday from 23:00

・Amazon Prime Video/ Bandai Channel/ Hulu/ videopass/ J:COM On Demand/ Mega Pakku (メガパック)/ FOD/U-NEXT/GYAO!, Anime-houdai/ Hikari-TV/ Video Market: Every Tuesday from 12:00

・dTV: Every Tuesday from 18:00

・Netflix: Every Tuesday from 24:00

*Broadcasting and livestream times are subject to change.

Official Website: https://anime.fate-go.jp/ep7-tv/

Aimer to Perform Fate/stay night: Heaven's Feel III. spring song Main Theme

Japanese singer-songwriter Aimer, known for her deep and husky voice, is currently on her sold out 24-date tour Aimer Hall Tour 19/20 "rouge de bleu" which is taking her to 17 locations across Japan.

Aimer revealed at her concert on Saturday 14th in Sendai that she will perform the main theme song for the upcoming anime film Fate/stay night: Heaven's Feel III. spring song which will release as the final film in the planned trilogy in 2020. Aimer also performed the main themes for the previous two films, Fate/stay night: Heaven's Feel I. presage flower (2017) and Fate/stay night: Heaven's Feel II. lost butterfly (2019).

The title of the song is Haru wa Yuku ("Spring Continues"). It will be produced by Yuki Kajiura who also produced the previous two main themes by Aimer, Hana no Uta and I beg you.

I beg you peaked at No. 1 on Oricon's Weekly CD Singles charts, so excitement is high to hear Aimer's next collaboration with Kajiura.

Haru wa Yuku will release on March 25, 2020 as Aimer's 18th single. It will include a new song entitled marie which is being used as the image song for "The Habsburg Dynasty 600 Years of Imperial Collections," an exhibition currently taking place at the National Museum of Western Art in Tokyo from until January 26, 2020 in commemoration of Japan and Austria's 150 years of friendship.

Aimer said: "I am both happy and privileged to be able to sing all of the main theme songs until the final film like this. I would like to thank Kajiura, as well all of the people associated with the series, and all of the people who love the series, from the bottom of my heart. I was overwhelmed when Kajiura presented me with this song. I knew we'd have to perfect it down to the tiniest details. But I also wanted to sing about love, and all of the emotions it comes with, succinctly in one answer, and so I sang with everything I had. I cannot stop hoping that 'Haru wa Yuku' is a sing that the people who have watched the story to the end will love."

Yuki Kajiura said: "I am so happy from the bottom of my heart to have been able to work on the three main theme songs of Fate/stay night: Heaven's Feel with Aimer. Over the course of the series, her voice has added to its flavour, and has consistently tied together everything from the sound to the world and how the heroines are portrayed. And she has once again poured her soul into 'Haru wa Yuku,' the song of the final chapter. I hope people enjoy it."