Rinko Murata, Saki Shibata, Ayumi Seto & Culumi Nakada collaborate on Zoff's clear lens sunglasses
Rinko Murata, Saki Shibata, Ayumi Seto and Culumi Nakada are teaming up with glasses brand Zoff to release their own designs for the company's "Zoff UV clear sunglasses." Pre-orders for the glasses will open via Zoff's online store on January 12th.
The "Zoff UV" line of glasses come equipped with clear lenses that provide 100% UV protection while still making you good, absorbing the UV light from your eyes, which is said to be one of the causes of spots and freckles.
Rinko Murata Design
"I wanted glasses with a thin metal frame, so that's the shape I went for with this collaboration. This design will adapt to your everyday look, and gives an even more stylish impression."
The burgundy colour is great against the skin, sophisticated, and has a vintage-like quality to it, so when you put on the glasses it brings out all the small nuances of your face. It's a colour that'll with any outfit you wear. The "tortoiseshell" design gives a nuance of refined dress and a classic look. This design will work best with your favourite one piece or simple outfit.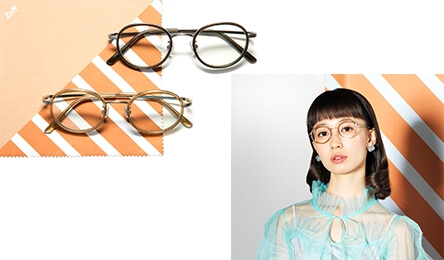 Saki Shibata Design
"To bring out a vintage quality and elegance, I put in patterns and took time focusing on the colour tones and materiality for each of them. Especially the materiality. The matte khaki and beige have a glossy finish to them, that's my favourite part."
Getting the khaki design right was trial and error from beginning to end. If the green in the khaki was too strong, it was difficult to co-ordinate the design with outfits and wouldn't look good with the face, so a grey-black khaki was decided on. It can be worn smoothly with a casual look. The choice of beige has excellent compatibility with the skin, and while emitting a soft atmosphere, it also brings everything together neatly. This design works well with co-ords of a similar colour, as well as choices like a red and white striped with denim, shirts and so on.
Ayumi Seto Design
"I went with a soft cat eye design, something which anyone can wear easily. The materiality changes with each colour and so changes how you come across. The light blue frame has a glossy finish completed with shiny gold, giving it a bright and brilliant look all the way. The khaki doesn't have a glossy finish and is silver to give a cooler look."
The blue design emits a bright and gorgeous image. It tends to be thought of as difficult, but this design works with various hair colours. The temples which fit over the ear are furnished with a striking navy tortoiseshell design. This design goes perfectly with girly clothing such as checkered gingham shirts, frills, bow-ties! The khaki design is even more remarkable than black, and gives a much sharper and cooler impression than brown. The temples on this pair come with a brown tortoiseshell pattern. There's glitter inside too. In terms of co-ordinating, there are lots of options: you can go khaki-on-khaki with MA-1 and military style clothing, off-white knitwear, and other warm attire. This design also works with denim and casualwear.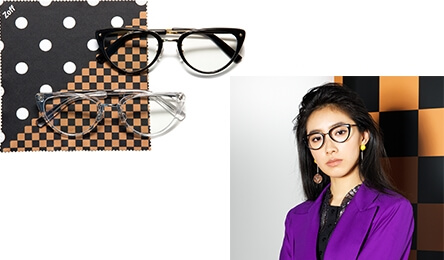 Culumi Nakada Design
"I used vintage glasses as reference to come up with my designs. To bring out that retro vibe, I went ahead and decorated the edges by showing the screws in the frame. I was very particular about the shape of the frame. It's a cat eye design but more subtle, so even beginners to the cat eye look can wear them easily. I was conscious in creating a design that lots of people would get their hands on."
The standard black design is easy to wear and for those people who want to try out the cat eye look but don't want something that stands out so much. If you've ever thought you wanted to add a little something to your co-ord or you've grown tired of your wardrobe, then up your game with this pair of glasses. The clear design is for those people who want to just dip their toes into something fashionable and people looking for glasses that are different from everyone else's. It looks great on the face and can be worn with casual and office styles.
Each and every pair of these clear lens sunglasses have been crafted with the utmost care and an unrivaled attention to detail. Choose your favourite and look great!
■Information
Zoff UV Clear Sunglasses "NEO MODERN GIRL"
Price: ¥7,500 (tax excl.)
*comes with non-prescription 100% UV protection lenses
*prescriptions are available from ¥3,000 (tax excl.) in-store at Zoff
*comes with glasses cleaning cloth
On Sale: January 19, 2018
*pre-orders open via Zoff online store from January 12th
*available early via Live Shop! from January 12th
Official Webpage:http://www.zoff.co.jp/sp/zoffuv/neo-modern-girl/
RELATED ENTRIES
Model Shibata Saki's Trip to Mie Prefecture to Air on BS12 for 2 Consecutive Weeks

On November 18 and November 25, national free broadcasting service BS12 will air 'NEXT TRIP: A Luxury Resort Trip to Ise and Shima.' The host for the excursion will be popular model Shibata Saki (nicknamed Shibasaki), who is a well-known figure to women of all ages.

NEXT TRIP is a new travel program that helps travelers figure out where to go next. The theme of the series is "Where should I go once the world settles down?" From visiting popular city spots to faraway resorts in Japan and abroad, the show aims to introduce people to locations they haven't discovered yet, showcasing what the world has to offer. Those watching should keep a lookout for spectacular scenery, gourmet local food, outdoor activities, and so much more. 

[Part 1] November 18, 2021, 9:00 – 'NEXT TRIP: A Journey to Ise'

In this episode, Saki Shibata travels to Ise, Mie Prefecture, first visiting Ise Shrine to pay her respects. The shrine is one of the holiest and important sites in the Shinto faith and was said to be established in the year 4 BCE. After visiting the Inner Shrine on a bright and sunny morning, Shibata travels to the ancient Okage Yokocho street to find some souvenirs and enjoy a local cafe to enjoy Ise's famous rice cakes and traditional Japanese sweets. For lunch, she visits a very retro western-style building. At the nearby Ise Ninja Kingdom, guests can wear ninja costumes, and Shibata does just that! As the day comes to an end, Shibata opts to stay at a luxurious ryokan, Ikyuu, and highlights the incredible dinner and other services the lodging offers.

Air Date: November 18, 2021 / 9:00-10:00

[Part 2] November 25, 2021, 9:00 – 'NEXT TRIP: A Luxury Resort Trip to Ise and Shima' 

The second part of the trip begins with cycling. Visiting the famous Married Couple Rocks on the coast of Futami, Shibata sets out for Shima. After enjoying the breathtaking view from the 'Mailbox in the Sky' on the Ise-Shima Skyline, she stays at a resort overlooking the Shima coast. Guests are welcome to take a leisurely stroll around the grounds and enjoy a luxury cruise or dinner. The sunset is something Saki Shibata will surely never forget.

 

Air Date: November 25, 2021 / 9:00-10:00

Where do you want to travel in Japan once the world settles down?

First Collection from Fragrance Brand ainou Produced by Four ASOBISYSTEM Talents

ASOBISYSTEM has teamed up with cosmetics company Bijinaru to launch a new fragrance brand ainou. Offering a variety of products, the first collection was produced by models Yuri Suganuma, Saki Shibata, Rinko Murata, and Goto Yutaro. The four were asked to come up with fragrances inspired by their own personal thoughts and feelings. Products will be on sale starting October 20 at PLAZA/MINiPLA locations nationwide and at the ainou online store. 


ainou = i know

 

Scents can evoke memories. 

If we could share our precious memories through scents…

 

The Scent of Memories

ainou

 

1st Collection Producers

Yuri Suganuma

'A clear, sweet, and fresh aroma,' produced by Yuri Suganuma

ainou 0 Fragrance Mist Eau de Toilette

 

With the nickname 'Yuripa,' Suganuma has gained a massive following among young women. She has become a social media influencer and often shares her beauty knowledge online, having obtained certification in cosmetics and skincare. Suganuma has acted as an MC for numerous events, has produced apparel and accessories in the past, and has collaborated with popular brands from Zoff to CA4LA. She recently started her own brand, LOBJECT. 

Saki Shibata

'The happy scent of flowers and grass after the rain,' produced by Saki Shibata

ainou 8 Fragrance Mist Eau de Toilette

 

Nicknamed 'Shibasaki,' she is a model from Aichi Prefecture who is loved by women of all ages. During her time as a fashion model, she has appeared on the cover of popular women's magazine mer for 12 consecutive months and has also appeared in numerous commercials and other mediums. She has also begun selling her clothing and vintage items overseas as part of a broadcast she produces and has collaborated with many other designers and brands. Shibata has traveled all over Japan to help revitalize small towns and has served as a PR ambassador for several outlying islands. 

Rinko Murata

'The unforgettably sweet scent of a bouquet,' produced by Rinko Murata

ainou 23 Fragrance Mist Eau de Toilette

 

Murata has appeared across a wide range of mediums, including in fashion magazines, on the radio, in web and TV advertising, and strutting the catwalk in fashion shows. She writes a popular online column titled 'Curry Tokidoki Rinko Murata,' where she catalogs her hobby of visiting curry shops, as well as 'Pub Patrol,' a series in Tabelog Magazine. Murata is active in product collaborations and has produced a number of popular products using her heightened sense of style. She also is the director of her own brand, idem. 

Goto Yutaro

'A scent that causes you to turn your head,' produced by Goto Yutaro

ainou 66 Fragrance Mist Eau de Toilette

 

Goto Yutaro was born on June 3, 1998, in Hiroshima prefecture. In 2016, he began his career as a vintage clothing store clerk before becoming a model known to the industry as being 'too cute.' He began his acting career in 2017 and has appeared in the popular drama series Trouble of the Blue Vampire and Cherry Magic! Thirty Years of Virginity Can Make You a Wizard?! With a number of films currently in the pipeline, the actor is expected to continue his upward trajectory as a unique talent on screen. The star is currently appearing in the NHK drama series Komi Can't Communicate, as well as in theaters in both It's a Summer Film and Kaguya-Sama: Love is War Final. 

Zoff Announces New Disney Collection Glasses for 20th Anniversary

Glasses brand Zoff has released a new collection titled the "Disney Collection Zoff 20th Anniversary Line," featuring Mickey Mouse and Minnie Mouse motifs. The collection will be released on September 17 2021 in Zoff stores nationwide and online.

Mickey Mouse Model

Minnie Mouse Model

Case, Glasses Cloth

The very first Zoff store opened 20 years ago. To mark the occasion, a selection of commemorative glasses will be available in their Disney collection, featuring Mickey and Minnie Mouse. The pair are dressed up more than usual, seemingly invited to a fun party. The design is special and full of details, as are all of the models in the Disney Collection.

Be sure to check out these special frames, with their charming Disney features!

New Balance 996 Model Sneakers to be Redesigned, Relabeled

Since their creation in 1988, the 996-model sneaker has been one of New Balance's most popular models. This month, the 996 will be reborn as the New Balance Standard, with the same comfortable feel and some minor changes to the logo.

In the new campaign, Natsume Mito, Saki Shibata, Fumiko Aoyagi, and Shiho Takechi will be modeling the new shoes, each in a sleek new color. The photos are meant to depict women living their daily lives with positivity, as they did in 1988 and as they do today.

The 996 model sneakers are the third model in the 99X series. Released in 1988 as a running shoe meant to be used on paved surfaces, its comfort and design has made it a best-seller among both men and women.

Will you be grabbing a pair of these updated kicks?

Fukuoka-based Rock Band yonawo Wears Zoff Glasses at Album Release Event

New Generation rock band yonawo is celebrating the release of their new album with a live online event, yonawo 2nd full album 'Haruka Ima' Online Live Supported by Zoff. The event will take place on August 14, 2021, and will start at 20:00, so don't be late!

The band garnered plenty of attention this April after appearing as models for the Zoff CLASSIC Summer Collection. yonawo is scheduled to appear at a number of music festivals this summer, and their unique style is turning heads in the fashion industry. 

The upcoming live stream will be free to watch, so fans from around the world should be sure to tune in! 

This event is being held as a part of the new Zoff Rock project, blending music and fashion with Zoff's stylish eyewear designs. Viewers will have a chance to win a pair of glasses worn by the yonawo members by taking a screenshot of the event and posting it on Twitter with the hashtag #yonawozoff! Be sure to follow the official Zoff Twitter Account (@Zoff_INFO) and say which glasses you'd like in your entry! The glasses will also come in a case signed by the members. 

With the release of their new album, yonawo will also be holding their biggest one-man live tour to date, playing shows in seven locations across Japan. Tickets for the show are on sale now!

Keep your eyes on this up-and-coming group!

Information

yonawo 2nd full album 'Haruka Ima' Online Live Supported by Zoff

When: August 14, 20:00

Free Stream

Where to Watch: yonawo's Official YouTube Channel
https://www.youtube.com/c/yonawo

Campaign Period

August 14, 2021 (after the stream) until August 15, 2021, 23:59

How to Enter: 

Follow Zoff's Official Twitter Account (

@Zoff_INFO)

Take a screenshot during the livestream

Choose which member's glasses you'd like to wear with the hashtag #yonawozoff

Post a tweet with the above contents, and you'll be entered

Campaign Details: https://www.zoff.com/news/210811_yonawo

*If you do not indicate which member's glasses you'd like, your submission will be invalid.

*Winners will receive a lens exchange coupon redeemable at any Zoff store nationwide. 

*Prizes will be shipped in an autographed glasses case. 

Zoff ROCK: https://zoffrock.com/ 

Opening August 17, 2021

yonawo and Hikari Shibata Feature in Zoff's Summer 2021 Eyewear Promo

Japanese glasses brand Zoff has announced the release of a Summer Collection in its popular Zoff CLASSIC series which will hit Zoff stores across Japan on April 30, 2021.

The Line-Up

ZA191010_13A1 | ¥5,500 (Tax Included/Includes Lens Set)

ZA191019_50A1 Light Yellow/ZA191019_21A1 Pink | ¥8,800 Each (Tax Included/Includes Lens Set)

ZA201011_21A2 Pink | ¥5,500 (Tax Included/Includes Lens Set)

ZA201012_60A1 Light Green | ¥5,500 (Tax Included/Includes Lens Set)

ZC191009_64A1 Olive/ZC191009_11A1 Light Grey | ¥8,800 Each (Tax Included/Includes Lens Set)

ZC191010_40A1 Ivory/ZC191010_00A1 Clear | ¥8,800 Each (Tax Included/Includes Lens Set)

ZH211001_50A1 Light Yellow/ZH211001_49B1 Tortoiseshell/ZH211001_42A1 Light Brown/ZH211001_14E1 Black | ¥8,800 Each (Tax Included/Includes Lens Set)

ZH211002_72A1 Navy/ZH211002_49A1 Tortoiseshell/ZH211002_23A1 Dark Pink/ZH211002_00A1 Clear | ¥8,800 Each (Tax Included/Includes Lens Set)

ZH211003_72A1 Navy/ZH211003_64E1 Olive/ZH211003_50A1 Light Yellow/ZH211003_18E1 White & Black/ZH211003_12A1 Grey | ¥5,500 (Tax Included/Includes Lens Set)

ZN211006_50A1 Light Yellow/ZN211006_48A1 Brown Gradation/ZN211006_20A1 Light Pink/ZN211006_12A1 Grey/ZN211006_00A1 Clear | ¥8,800 (Tax Included/Includes Lens Set)

ZY212001_57F1 Antique Gold/ZY212001_14F1 Black | ¥8,800 (Tax Included/Includes Lens Set)

ZY212002_43E1 Brown/ZY212002_21E1 Pink | ¥8,800 (Tax Included/Includes Lens Set)

ZY212010_57F1 Antique Gold/ZY212010_56E1 Gold/ZY212010_21E1 Pink/ZY212010_14E1 Black | ¥8,800 (Tax Included/Includes Lens Set)

ZF213005_14E1 Black/ZF213005_48E1 Brown Gradation/ZF213005_68F1 Green Gradation | ¥13,300 (Tax Included/Includes Lens Set)

ZF213006_14E1 Black/ZF213006_21E1 Pink/ZF213006_43E1 Brown | ¥13,300 (Tax Included/Includes Lens Set)

ZF213007_14F1 Black/ZF213007_24E1 Dark Red/ZF213007_41F1 Beige | ¥13,300 (Tax Included/Includes Lens Set)

Zoff CLASSIC is a popular series with a line-up of around 150 different glasses options at any given time, with designs ranging from detailed and authentic vintage looks to more seasonal and trendy modern takes. Also as part of the bigger series is the Zoff SMART CLASSIC range. This one has 44 models made from a fusion of high-functioning titanium and ultem which make each pair a comfortable wear. With glasses and face masks being a common combination today, Zoff's Summer Collection this year is a fresh line-up that doesn't weigh heavily on the eye area, allowing them to stand out above face masks.

Donning the looks for Zoff's summer promo shoot is all four members of the Fukuoka-based Japanese band yonawo as well as model and camerawoman Hikari Shibata. This marks the first time the yonawo members have come together to feature in a promotion like this and is a chance for fans to see them all in glasses.

Zoff is hosting a campaign for 10 lucky people to win a wear of glasses from the Zoff CLASSIC Summer Collection. Check the link below.

Disney: Twister-Wonderland Designer Glasses to be Released by Zoff

Japanese eyewear brand Zoff is collaboration with the mobile game Disney: Twisted-Wonderland to release a collection of seven glasses this April on their official website.

Specially-crafted frames based on the Dorms

The collection features seven different glasses each inspired by a different Dormitory of Night Raven College as seen in Disney: Twisted-Wonderland. The temple, for example, features inlet parts based on the seven Dorms, so fans can represent their favourite while looking stylish at the same time. The coupling glasses cases, too, are branded with a simple yet sophisticated design of the Dorm emblems, and each case even comes with a glasses cloth bearing the names of the students.

The frames and cloth designs up close

Heartslabyul Design | ¥11,100 (Tax Included)

Looking head on at the glasses, you can see crowns on either side, while looking from the sides are playing card marks.

Savanaclaw Design | ¥11,100 (Tax Included)

Thick frames with gold combination colouring and claw marks featured on the sides. This glasses are made using laser technology.

Octavinelle Design | ¥11,100 (Tax Included)

The front and temple have an octopus leg design and the inner side part has a shell. The black and purple make for a striking colour fusion.

Scarabia Design | ¥11,100 (Tax Included)

These glasses look basic at first glance, but gleaming on either side are cobra heads wrapping around the front. The golden temple section features delicate metal engraving.

Pomefiore Design | ¥11,100 (Tax Included)

The metal engravings and crowns on the front sides elevate your countenance without going over the top. The curvy temple also serves to make the wearer look even more beautiful.

Ignihyde Design | ¥11,100 (Tax Included)

An iconic mix of black and blue. The blue temple has a transparency to it, and if you're a fan of Ignihyde, you'll be able to spot the motif on the front sides.

Diasomnia Design | ¥11,100 (Tax Included)

The spinning wheel motif gives the temple a three-dimensional feel. A basic but stylish colour choice perfect for work.

Glasses Case

The glasses case bears the Dorm symbols on the front while the inside has the game title logo.

 

Each glasses cloth is different for each Dorm as pictured throughout

Information

Disney: Twisted-Wonderland Zoff Eyewear Collection

Orders: Open Mid April 2021 (Limited Edition)

Delivery: Late October 2021

Zoff's Disney Design Glasses Collection is Every Disney-Lover's Dream

Japanese eyewear giant Zoff released a new collection of Disney glasses on Friday (March 5) featuring designs inspired by Mickey Mouse, Minnie Mouse, Donald Duck, and Daisy Duck. Official titled the "Disney Collection created by Zoff Happiness Series," the line-up hit all Zoff stores, excluding outlets, and their online store in Japan.

The Line-Up

Mickey Mouse

Casual Line Boston(ZA211001_43A1 | ¥5,500 (Tax Included)

Casual Line Wellington ZA211002_14E1 | ¥5,500 (Tax Included)

Classic Line Wellington ZC211001_14E1 | ¥8,800 (Tax Included)

Classic Line Boston ZC212001_21E1 | ¥8,800 (Tax Included)

Minnie Mouse

Casual Line Boston ZA211001_68A1 | ¥5,500 (Tax Included)

Casual Line Oval ZA211003_43A1 | ¥5,500 (Tax Included)

Classic Line Square ZC212002_43E1 | ¥8,800 (Tax Included)

Classic Line Square ZC212002_21E1 | ¥8,800 (Tax Included)

Donald Duck & Daisy Duck

Casual Line Wellington ZA211002_72A1 | ¥5,500 (Tax Included)

Casual Line Oval ZA211003_44A1 | ¥5,500 (Tax Included)

Casual Line Boston ZA211001_21A1 | ¥5,500 (Tax Included)

Casual Line Oval ZA211003_81A1 | ¥5,500 (Tax Included)

Glasses Case & Glasses Wipe

Mickey Mouse Anti-Fog Spray – ¥800 (Tax Included) / Minnie Mouse Lens Cleaner – ¥800 (Tax Included)

Japan's Leading Glasses Brand Zoff Revamps Logo For 20th Anniversary

Next Wednesday (February 24) will mark the 20th anniversary that Japanese glasses brand Zoff opened its first store in 2001. Since launching, the leading eyewear brand has sought to create a generation when glasses play the leading part in the lives of wearers.

At the core of Zoff has been a desire to create a society where anyone and everyone can enjoy glasses freely and easily. In the wake of their 20th anniversary, Zoff is now set to cement itself as an indispensable brand in society and people's lives by exhibiting new value in glasses as a tool that expands the possibilities of humans, and that doesn't stop at vision correction apparatus. "Eye Performance" is the mantra of Zoff going into their 20-year milestone.

New Logo

To brand that concept, Zoff has create a new logo that features a Siberian husky, something that has become a much-loved symbol of the brand. Their original husky logo was a photo taken by a child. This has been replaced with a new illustration that matches the brand's iconic blue colour.

We look forward to seeing where Japan's leading eyewear brand looks to next as they approach their 20th anniversary.

Zoff Eyewear and Dragon Quest X Launch Slime Collaboration

Glasses brand Zoff launched its Dragon Quest X themed eyewear collection last Friday (December 18). To promote the collection, the Harajuku branch of Zoff will decorate the shop window with Dragon Quest X Online advertising starting on January 2, 2021. On the same date and at the same store, they will also hold a special Twitter campaign for people to win some free Zoff x Dragon Quest X glasses inspired by the Slimes from the game.

Zoff+DRAGON QUEST X

Dragon Quest's Slime Family are known to both players and non-players of the game. The characters come in many different forms like the classic Slime as well as the Bubble Slime, Metal Slime, Slime Knight, and more. The armourers of Dragon Quest have come together to use these slimes to meld legendary new glasses for adventurers.

Slimes, slimes everywhere at Zoff Harajuku!

To promote the Zoff+DRAGON QUEST X collection, the Zoff Harajuku store will be decorated in all things Dragon Quest X Online starting on January 2, 2021. Adventurers are invited to take part in an omikuji lottery draw. Those who draw the highest rank will receive some exclusive Slime merchandise. There are but 10 of these draws to find for just 10 lucky adventurers.

Running: January 2, 2021 from 11:00am (JST) *Until all run out
Location: Zoff Harajuku (Co-Op Olympica Floor 1F, 6-35-3 Jingumae, Shibuya, Tokyo)

Adventurer X & Hero Princess Anlucia life-size panels

In 11 Zoff stores, visitors will find life-size panels of Adventurer X and Hero Princess Anlucia wearing Slime glasses which they can take a photo next to.

Participating Stores
Zoff Ario Sapporo / Zoff Sendai LOFT / Zoff Harajuku / Zoff Seibu Shinjuku PePe / Zoff Nikke Colton Plaza / Zoff AEON MALL Zama / Zoff Marché Grand Tree Musashikosugi / Zoff Nagoya PARCO / Zoff Grand Front Osaka / Zoff AEON MALL Dainichi / Zoff Shinsaibashi PARCO / Zoff AEON MALL Fukutsu

Slime Glasses added in-game to Dragon Quest X Online

Those who buy eyewear from the Zoff+DRAGON QUEST X collection will be able to receive an in-game item code for Slime Glasses which their character can wear. If players buy multiple pairs, they will receive multiple codes which they can use on different characters.

Twitter campaign

To participate in the Twitter campaign to win Slime merch, all you need to do is retweet the tweet that will be sent out on Zoff's official Twitter page @Zoff_INFO on January 2, 2021.

Slime Eyewear Lottery Twitter Campaign
Running: January 2, 2021 – January 11, 2021

Ⓒ 2012-2020 ARMOR PROJECT/ BIRD STUDIO/SQUARE ENIX All Rights Reserved.

Zoff Reveals Fate/Grand Order THE MOVIE Divine Realm of the Round Table: Camelot Model Glasses

To promote the upcoming release of the Fate/Grand Order THE MOVIE Divine Realm of the Round Table: Camelot, Japanese glasses brand Zoff is releasing six models inspired by characters from the anime film on their official website on December 4 at 11:00am (JST).

Gawain Model


The frame design comes in blue and black which is reminiscent of Gawain's long, draping cloak. The glasses cloth is blue and white.

Lancelot Model


The frame design is a striking purple colour. It features metal parts in the corners just like the shoulders of Lancelot's armour. The glasses cloth is a military black with purple to capture Lancelot's hair.

Tristan Model


The frame design, including the front bridge and temple, are shaped in such a way to capture Tristan's armour, and coloured just like his colour palette.

Ozymandias Model


The frame design features a gold temple to capture the majestic vibe of Ozymandias.

Bedivere Model


The frame design has a delicate design to make the wearer look gentle.

Mash Kyrielight Model


The frame design has crosses on the side like Mash's enormous shield and is coloured purple.

Bonus Item

Front: Single Character / Back: All Characters

Those who purchase a pair of these glasses will receive a free character card.

All the glasses can be tried on at Zoff Ikebukuro Sunshine City Alpa for a limited time. The glasses are limited-edition and so are available while supplies last.

Rinko Murata Produces Sparkling Sudachishu Japanese Sake 'Awasu'

Liquor Innovation released a new sparkling sudachishu Japanese sake called 'Awasu' over on the Japanese online sake store KURAND today. Available as made-to-order only, the sake will be shipped out to customers in Japan at the beginning of September.

Awasu is a sparkling sudachishu—a type of liquor similar to umeshu—produced by Japanese model and brand director Rinko Murata. The beverage is made with lots of sudachi, a type of Japanese citrus, sourced from Tokushima Prefecture, which adds an extra layer of freshness to the sparkling factor as well as a sour kick. And it's not just the juice of the fruit that is used—the skin is too. Sudachi is an all-purpose ingredient that goes hand in hand with many dishes, whether it be traditional Japanese food, more modern food, or snacks, adding a refreshing taste to them.

Awasu benefits from the amount of vitamin C of the sudachi which is said to be greater than that of a lemon. It also contains honey, which is known for helping to recover from fatigue, making it a great post-work drink.

The concept of Awasu is to be a companion during those times you want to feel indulged. Rinko Murata says that the drink is "A treat for working so hard in the day. It gives you some luxury time without any effort." Awasu is served in a can, so you can easily crack one open and enjoy with ease. The freshness of the sudachi together with the subtle sweetness of the honey will reset your fatigue after a long day.

Information

Awasu – Sparkling Sudachishu
Price: ¥450 (Before Tax)
Available: Set of 6 / Set of 24
Alcohol Content: 6%
Quantity: 270ml
Ingredients: Brewed Liquor / Sudachi Juice / Sweetener / Honey / Seishu Refined Sake / Carbon Dioxide / Flavourings
Manufacturer: Honke Matsuura Brewery
Distributor: Liquor Innovation

Product Details: https://awasu.me