Jojo's Bizarre Adventure Teams Up With Street Fashion Label Glamb!
Jojo's Bizarre Adventure is a manga and anime series popular all over the world and supported by many creators for its style, characters' poses and dialogue, musical references and more.
Capturing the bizarre world of Jojo is streeet fashion brand glamb who have released a new line of 14 t-shirts and denim items based on the show. The brand has a big fan base and is even loved by musicians and tarento.
glamb are celebrating their 15th anniversary since their establishment this year. This new line of clothing they are releasing is based on Jojo's Bizarre Adventure: Stardust Crusaders. Using techniques and materials for the graphics they have refined over many years, they have created some edgy street items based on familiar characters and Stands from the series, such as Jotaro and Dio.
The clothing line is now available for pre-order via glamb Tokyo, the official Bandai character fashion site BANDAI FASHION COLLECTION, and ZOZOTOWN. The glamb store is also showcasing some samples of the clothing that you can try on until January 28th.

Jotaro T
¥6,900+tax (available early April 2018)
Colours: White / Black

DIO T
¥6,900+tax (available early April 2018)
Colours: White / Black

Iggy vs Pet Shop SH
¥18,000+tax (available late April 2018)
Colours: White / Black

Hierophant Green cardigan
¥18,000+tax (available late April 2018)
Colours: Black / Navy / Green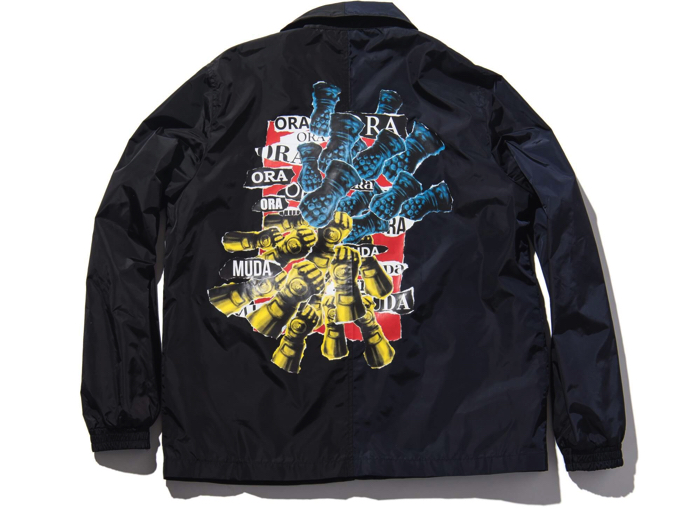 ORA vs MUDA coach jacket
¥20,000+tax (available late April 2018)
Colours: Navy x Black

Jotaro pants by Dickies
¥17,000+tax (available late April 2018)
Colours: Beige / Black / Navy

As well as the above items, you can also get your hands on open-neck shirts, cardigans, coach jackets and more.
Begin your bizarre adventure with Jotaro with this new artistic line from glamb.
◼︎Inforamtion
glamb Tokyo
Address: H.I.P Bldg. 1F, Jingumae, Shibuya, Tokyo
Contact: 03-3746-9950
Homepage:
http://www.glamb.com/ 
©Hirohiko Araki & LUCKY LAND COMMUNICATIONS / Shueisha・Jojo's Bizarre Adventure SC Production Team
RELATED ENTRIES
JoJo's Bizarre Adventure Anime 10th Anniversary Exhibition Announces More Venues, Details Tokyo Event

This year marks the 10th anniversary of the JoJo's Bizarre Adventure anime. To commemorate the event, a special anniversary exhibition will be held around Japan starting on August 10! The first venue will be Ikebukuro Sunshine City in Tokyo.

Menu

*This event will be held exclusively at the Tokyo venue. Please note that the café will not be open during the "Premium Preview" on August 9.
*The cafe will be held within the venue. Only visitors with a ticket for the day will be allowed entry.

Goods

The official website for the exhibition has revealed more information about the Tokyo event, including the collaboration cafe menu. Details about the exclusive merchandise that will be on sale have also been posted. This year's exhibition will feature a large selection of canvas boards that can only be obtained at each venue. Canvas boards exclusive to the Tokyo venue for the first leg of the tour will feature Jonathan Joestar and Dio Brando. The characters will change from venue to venue, so keep an eye out for more details!

Information

JoJo's Bizarre Adventure Anime 10th Anniversary Exhibition
Running: August 10 – September 4, 2022
Hours: 9:00~/11:00~/13:00~/15:00~/17:00~ (Last entry at 19:00)
Venue: Ikebukuro Sunshine City Bunka Kaikan Bldg. 3F, Exhibition Hall C
Official Site: https://jojoanime10th-ex.com/

JOJO 10years Anniversary Café
Venue: Ikebukuro Sunshine City Bunka Kaikan Bldg. 3F, Exhibition Hall C
Running: August 10 – September 4, 2022

Touring Venues

◆Niigata Venue
Running: September 17 – October 10, 2022
Venue: Niigata Manga Animation Museum

◆Sapporo Venue
Running: October 19 – November 7, 2022
Venue: Daimaru Sapporo 7F Hall

◆Fukuoka Venue
Running: November 30 – December 18, 2022
Venue: Hakata Hankyu 8F

◆Osaka Venue
Running: December 21, 2022 – January 9, 2023
*Closed on January 1
Venue: Hankyu Umeda 9F, Hankyu Umeda Gallery

Official Chiikawa Shops in Harajuku and Osaka to Hold 1st Anniversary Fair

Last year, Chiikawa Land, the first official Chiikawa shop, opened at the Harajuku and Osaka Umeda branches of KIDDYLAND. Both locations will celebrate the 1st anniversary of the shop's opening with a special fair on August 5, 2022.

Chiikawa is a popular character first revealed by Japanese illustrator Nagano on Twitter. In December 2020, the official online store Chiikawa Market opened, and Nagano released a book compiling the manga panels they drew and posted on Twitter. The characters have become massively popular, with the artist's social media accounts racking up over 1.1 million followers. From collaboration cafes and exhibitions to a recent anime series, the sky's the limit for these adorable characters!

Purchase Bonus

「Holographic Sticker (Not for Sale) *Designs will differ between the Harajuku and Osaka Umeda locations.

Holographic Pin (Not for Sale) / For guests spending ¥3,300 or more (including tax)

Picnic Blanket (Not for Sale) / For guests spending ¥5,500 or more (including tax)

Mug (Not for Sale) / For guests spending ¥8,800 or more (including tax)

Limited Edition Chiikawa Land Harajuku x Marion Crepes Collab

Limited Edition Chiikawa Land Harajuku x Marion Crepes Goods

Chiikawa Land Osaka Umeda Limited Edition Goods


Both the Harajuku and Osaka Chiikawa Land locations are visited by fans each day, and each store has developed unique products to celebrate the first anniversary.

 

The Chiikawa Land Harajuku location will offer products in collaboration with Marion Crepes, while the Osaka Umeda location will sell limited edition products featuring the characters in cute traditional costumes. Special bonuses will also be handed out to guests spending particular amounts, so why not come out and grab some new goods?

©nagano / chiikawa committee

Manga Series 'Eren the Southpaw' Hijacks Reebok Harajuku and Shibuya Stores

Reebok has appointed a number of popular artists in Japan and abroad to take part in their new campaign titled 'Life is Not a Spectator Sport -Move, Move!-' This collaboration started in March 2022.

 

As a part of this collaboration, Reebok is teaming up with the manga series Eren the Southpaw. Kappa's popular ensemble drama highlights a number of creators, and has a very poignant tagline: "To all those who couldn't become geniuses." Reebok's brand message matches this and is meant to be a manifesto for life, telling people to never give up, act on their own convictions, and find their own path. 

Reebok Classic Store – Harajuku Interior

Stickers / Pins

Original Scene from Eren the Southpaw 

To commemorate the release of Reebok's flagship model INSTAPUMP FURY 95 in Sax Blue, a huge piece of window art was redrawn by Kappi. The artist also provided an original manga featuring an entirely new story. Fans can find this at the Reebok Classic Store Harajuku and on the official Reebok Twitter page. The Reebok stores in Harajuku and Shibuya have also been completely taken over by Eren the Southpaw, completely decorated from top to bottom in images from the series. 

KAWAII LAB. Report #1: IDOLATER Welcomes Two New Members

KAWAII LAB. is a project spearheaded by ASOBISYSTEM with the aim of introducing the world to popular Japanese idol culture. The idol group IDOLATER was born from this idea, and in April, the girls welcomed two new members, transforming it into a fresh new 5-member group. Announced at the group's solo concert 'New IDOLATER' on April 24, Fuuka Oishi and Ririka Satsuki joined the lineup consisting of Ayu Okuda, Kurumi Tsukishiro, and Yukino Fushiki.

A typical idol group is peppy and filled with energy, but IDOLATER is doing things a little differently. What is their appeal? How do they want to shake things up? 

A Group Formed by Finalists from ASOBISYSTEM's First National Audition

IDOLATER debuted in April 2019. In the spring of 2018, ASOBISYSTEM, the management company behind Kyary Pamyu Pamyu and a number of other popular talents, announced its first large-scale nationwide audition, ASOBISYSTEM THE AUDITION 2018. IDOLATER's history began with five audition finalists–Fushiki, Okuda, Tsukishiro, and two others. The catchphrase for the audition was fitting for the group: "Seeking the next generation of talents to shape Japanese pop culture and share it with the world."

IDOLATER Welcomes Solo Singer Ririka Satsuki & Model Fuuka Oishi

Following the departure of two members and intense restrictions imposed on the group's activities due to the pandemic, IDOLATER continued to operate with only three members. Although they didn't manage to get a ton of media coverage or appeal in large-scale events, the group continued to pull in new fans and gain recognition in the idol community. After a while, Fuuka Oishi and Ririka Satsuki joined the group, giving a much-needed boost to IDOLATER's activities and energy.

Ririka Satsuki is a solo artist based in Fukuoka with an incredible husky voice. Fuuka Oishi has previously worked as a model and is popular with creators for her sweet yet listless atmosphere. Despite their incredible confidence, this is the first time either has worked as an idol!

IDOLATER and the Concept of 'Idols' 

The word 'idol' can conjure plenty of images to mind, but what does the word mean to the members of IDOLATER?

The group's music blends together elements of city pop, future funk, and house, while still keeping true to traditional J-pop roots. The familiarity of their music makes it easy to approach, and Yukino Fushiki's powerful voice alongside Ririka Satsuki's melodies shower fans with some of the best vocals in the idol world. 

The group's choreography is provided by YU-KA, formerly of TEMPURA KIDZ. Her experience as both a dancer and an idol makes her an asset, and her refreshing moves are a highlight of each IDOLATER show.

A former pattern maker for a Japanese fashion brand designed the group's costumes. 

If this sounds like the idol group for you, come and check out an IDOLATER event to see the girl's incredible appeal for yourself.

On June 19, IDOLATER will hold their second regular performance, 'Camel,' at Ebisu CreATO. (The title of the show was chosen because it sounded fun, not for any other specific reason.)

Stay tuned for the next report, where we'll delve a little deeper into the life of each member of IDOLATER!

From Harajuku to the world! Chasing the bright future of a rising star, FRUITS ZIPPER

FRUITS ZIPPER is a group quickly rising to stardom, debuted from "KAWAII LAB." KAWAII LAB is a new project to introduce Japanese idol culture from "Harajuku", a fashion town where various cultures and personalities gather, to the world. Members of the group include Amane Tsukihashi, Suzuka Chinzei, Yui Sakurai, Runa Nakagawa, Manaka Mana, Karen Matsumoto, and Noel Hayase.

Even before their debut, the group garnered attention for their breathtaking visuals. Their performances are so powerful, you would never expect such refined skill from such an adorable aesthetic, which is known to captivate the hearts of their fans. The group is produced by Misa Kimura, a model and TV personality who is also the general producer of "KAWAII LAB. She will utilize her experience and creativity as the leader of the idol group "Musubizm" to introduce idol culture to the world.

Expressing FRUITS ZIPPER's world through collaborations with creators

Furthermore, even before their debut, the group drew a lot of attention because of their collaborations with many different renowned creators. Among the collaborations includes the artist photos created by video director/art director/3DCG artist YUKARI. She uses a cutting-edge trend of CG-moving techniques, in addition to still-images. The mysterious colors of bright light that embraces the girls are definitely eye-catching.

Catchy and cute choreography of FRUITS ZIPPER

Followed by the debut song "Kimino Akaruimiraiwo Oikakete," a song with a positive message for the future, "Watashino Ichiban Kawaiitokoro," with its cute choreography and lyrics, won the hearts of people and was selected as one of the "TikTok Hot Songs in Japan" and charted on the Billboard. More than 13,000 videos using "Watashino Ichiban Kawaiitokoro" have been posted on TikTok with the hashtag "#わたしの一番かわいいところ (Watashino Ichiban Kawaiitokoro)." The long-awaited third single "Kanpeki Syugide☆", which was released on May 20, is an energetic tune created by music producer Manaka Suzuki.

Performances that reach into people's hearts and minds

A pop-culture event presented by Asobisystem "ASOBE!!," was held at Spotify O-EAST on May 26th. In addition to FRUITS ZIPPER, fellow Asobisystem members Atarashii Gakko! and IDOLATER, who is also a member of "KAWAII LAB.", performed at the event. Many other remarkable idol groups also took part in the event, enlivening the venue.
Alongside their regular performances, they are scheduled to participate in a number of events, including the "LEADING PALETTE! and "HYPE IDOL! vol. 20" at Nihonbashi Mitsui Hall both June 12th. Make sure to come and see their live performance, it's sure to steal your heart!

Additionally, KAWAII LAB. will be serialized on "Moshi Moshi Nippon," a website that provides the latest news of Japan to the world. The articles will be published in hopes of sharing the charm of IDOLATER and FRUITS ZIPPER with people not only in Japan, but also around the world. Details will be announced soon. Stay tuned for more from KAWAII LAB.!

JoJo's Bizarre Adventure: Stone Ocean Inspires Cap Collection from NEW ERA

The anime series JoJo's Bizarre Adventure: Stone Ocean has inspired a new line of hats from NEW ERA! These six caps are available to preorder now on the Premium Bandai website.

JoJo's Bizarre Adventure: Stone Ocean is the fifth season of the anime series. The first twelve episodes are available on Netflix now, while the second half will premiere in late 2022.

The 9FIFTY model is similar to the 59FIFTY with an adjustable head strap. Fans of the series can enjoy repping their favorite character through one of New Era's basic snapback caps. JOTARO PURPLE was inspired by Jotaro with a snake pattern on the underside of the brim and a deep purple color. The STONE OCEAN LOGO BLACK cap features an embroidered Stone Ocean logo.

Fans can also get hats based on Jolyne Cujoh, the main protagonist of Stone Ocean. Framed for a DUI murder, she was sent to Green Dolphin Street Prison–a motif that appears on her cap. With a crown depth based on the 9FORTY, the JOLYNE GREEN cap features a somewhat feminine butterfly motif. 

The 9FORTY model features a curved visor with a unique inner core preventing it from losing its shape. 

Which character's design will you be adding to your daily look?

© LUCKY LAND COMMUNICATIONS/集英社・ジョジョの奇妙な冒険SO製作委員会

Information

JoJo's Bizarre Adventure: Stone Ocean NEW ERA Caps

Sales Begin May 30, 2022

Where to Buy: Premium Bandai Online

Order Period: May 30 – until sold out

Shipping: November 2022

Official Site: http://p-bandai.jp/

JoJo's Bizarre Adventure Anime Series Celebrates 10 Years with Tokyo Exhibition

This year marks the 10th anniversary of the JoJo's Bizarre Adventure anime. To commemorate the event, a special anniversary exhibition will be held around Japan starting in August! The first venue will be Ikebukuro Sunshine City in Tokyo.

Fans will be able to trace the history of the many JoJo's Bizarre Adventure anime releases, and the exhibition will feature characters from Phantom Blood and Stone Ocean.

Come enjoy celebrating this major milestone and check out some special illustrations drawn exclusively for the exhibition! Special video screenings and a behind-the-scenes look at the animation production process will be held as well. 

(C)荒木飛呂彦&LUCKY LAND COMMUNICATIONS/集英社・ジョジョの奇妙な冒険THE ANIMATION PROJECT

Information

JoJo's Bizarre Adventure Anime 10th Anniversary Exhibition
Opening in locations around Japan in August 2022
First Venue: Tokyo (Ikebukuro Sunshine City Bunka Kaikan Bldg. 3F Exhibition Hall C)
Scheduled to open in Hokkaido, Niigata, Aichi, Osaka, Fukuoka
*Venues and exhibition dates for exhibitions outside of Tokyo will be announced at a later date.

Official Site: https://jojoanime10th-ex.com/

HARAJUKU App Launches Collaboration with Love Live! Super Star!! at Famous Takeshita-dori

From May 20 until June 5, 2022, AppBank is bringing fans of Love Live! Superstar!! a special treat in collaboration with the HARAJUKU app! By launching the app at a check-in spot in Harajuku, users can win a limited-edition Love Live! toy at random, such as acrylic keychains or pins.

App Splash Page

HARAJUKU Map

Random Toy Screen

For those winning a toy, the item can be picked up in front of the CUTE CUBE HARAJUKU Love Live! Superstar!! Wall Panel or at YURINAN Harajuku Takeshita-dori Yu-rin An. In celebration of the event, CUTE CUBE HARAJUKU will be featuring Love Live wall panels during this period, so be sure to go get some great pictures!

Fendi and Harajuku Omotesando Keyaki-kai Collaborate on #FendiTsunaguOmotesando Art Project

Italian luxury fashion brand Fendi has teamed up with Harajuku Omotesando Keyaki-kai on a new street art project! 'TSUNAGU – Omotesando Street Art Project' was unveiled on April 29, 2022.

 

The project, which aims to improve the city's scenery and share positive messages, is on display in Omotesando, a popular area with young people. The canvas is the formal site of the Oriental Bazaar, an iconic part of Omotesando for over four decades. Under the theme of 'hope,' three young artists will be displaying their artwork in a massive temporary enclosure on the site. Hopefully, Japan really will open tourism soon so that guests from around the world can enjoy these inspiring pieces!

The first piece of art was unveiled on April 29 and was drawn by Dai Tamura, a young Japanese artist who has attracted worldwide attention after becoming an illustrator for the NBA. The dynamic and powerful compositions vividly depict endangered animals and plants alongside delicate flowers to symbolize hope for the futures of these beautiful creatures. 



Be sure to keep an eye out for the next installation coming soon!

Information

TSUNAGU – Omotesando Street Art Project

Location: Oriental Bazaar Former Site

Address: 5-9-13 Jingumae, Shibuya-ku, Tokyo

Official Site: http://www.fendi.com

MOSHI MOSHI ROOMS HARAJUKU Announces 'My Ty Rooms Harajuku' Collaboration

ASOBISYSTEM, a company aiming to broadcast Japanese pop culture from Harajuku to the rest of the world, has teamed up with Rokuyon Corporation for a special collaboration! Rokuyon manages unique private accommodations throughout Shibuya in Tokyo, and with help from Meteor APAC, the Japanese distributor of Ty's beloved Beanie Baby stuffed animals, a new collaboration room will be available to book for a limited time only.

MOSHI MOSHI ROOMS HARAJUKU, a home-sharing facility produced by ASOBISYSTEM, is offering a Ty-inspired room from April 23 until May 22, 2022. The room looks more like an art gallery than a guest house and was designed by Ty's content director Harris.

Children can enjoy a number of Ty amenities, while adults will enjoy taking home a Ty A3-sized tote bag to remember their unique visit. Those taking the tote bag will be able to fill it with all the Ty stuffed animals they want for only ¥1,650 (Tax Included)!

A social networking campaign exclusively for guests will also be underway soon! Those posting with the hashtag #moshimoshirooms and #ty will receive one free Ty plush toy!

Information

My Ty Rooms HARAJUKU

Available: April 23 – May 22, 2022

Address: MOSHI MOSHI ROOMS HARAJUKU (2-18-7 Jingumae, Shibuya-ku, Tokyo)

Access: 8-minute walk from Meijijingu-mae Harajuku Station on the Tokyo Metro Chiyoda Line/Fukutoshin Line

Reservations: https://www.airbnb.com/rooms/47207073 

xxxHOLiC Exhibition Opens at WITH HARAJUKU HALL to Mark Upcoming Live-action Film

A special xxxHOLiC exhibition will open at WITH HARAJUKU HALL in Shibuya on April 29, 2022! The event is being held to celebrate the release of the live-action xxxHOLiC film on the same day. 

Written and illustrated by the manga group CLAMP, xxxHOLiC ran from 2003 until 2017 in Weekly Young Magazine and Bessatsu Shonen Magazine. The series has been a best-seller, with over 14 million copies in circulation, and has been adapted into an anime series, anime film, and live-action television series. An all-male stage play aired in Tokyo in September 2021. The upcoming xxxHOLiC film is the first live-action film adaptation by photographer Mika Ninagawa. This exhibit will include behind-the-scenes footage and images along with a puzzle-solving game!

Exhibition

©2022映画「ホリック」製作委員会 ©CLAMP・ShigatsuTsuitachi CO.,LTD./講談社

Exhibition Hall 

©2022映画「ホリック」表裏世界没入展実行委員会©CLAMP・ShigatsuTsuitachi CO.,LTD./講談社 Photo by Mika Ninagawa

Guests will be able to see stills, costumes, props, and artwork from the upcoming film, as well as a 'visit to the wish-granting shop!' Take some pictures at an incredibly detailed photo spot, and check out images of the film's incredible cast. xxxHOLiC will star Ryunosuke Kamiki, Kou Shibasaki, Tina Tamashiro, Daoko, Serena Motola, and many more beloved stars.

*Hokuto Matsumura, who plays Shizuka Doumeki, will not be featured in the exhibition.

xxxHOLiC Puzzle Solving Game 'The Mysterious and Curious Tale' 

Get ready for a completely original new mystery game! Players will transform into the characters of xxxHOLiC to solve a mystery assigned to Yuko Ichihara and Kimihiro Watanuki. What's the real cost of making a wish? 

©2022映画「ホリック」製作委員会 ©CLAMP・ShigatsuTsuitachi CO.,LTD./講談社

Information

xxxHOLiC Behind the Scenes Exhibition Supported by WITH HARAJUKU

Address: WITH HARAJUKU HALL (1-14-30 Jingumae, Shinjuku-ku, Tokyo)
Access: 1-minute walk from Harajuku Station on the JR Yamanote Line, a 1-minute walk from Meijijingumae Station on the Tokyo Metro Chiyoda Line/Fukutoshin Line

Running: April 29 – May 15, 2022

Hours: 10:00-16:30 (Last entry at 16:00) *Open 10:00-19:00 from May 9 – May 13 (Last entry at 18:30)

xxxHOLiC Puzzle Solving Game 'The Mysterious and Curious Tale': 17:30-19:30 (Area closes at 20:00) *Open 20:00-22:00 from May 9 – May 13

Official Site: https://xxxholic-movie-event.com

Legendary Street Fashion Magazine FRUITS Launches Collaborative Issue with atmos pink

FRUiTS, a magazine capturing the essence of Harajuku culture through fashion, will release a special issue in collaboration with women's sneaker store atmos pink and SNKRGIRL, the first and only sneaker news site for women in Japan.

SNKRGIRL, Japan's first and only sneaker media for women by women, is participating in this special collab with FRUiTS, the legendary street photo magazine that introduced Harajuku culture to the world, and atmos pink, the popular Tokyo-based sneaker select store for women.

Bikkuriman Sticker

FRUiTS editor-in-chief shot the images for the special issue. Female sneaker lovers are becoming more common in the Japanese fashion scene, with #SneakerGirls often trending on social media.

 

The new issue will feature popular influencers who attended SNKRGIRL's recent Harajuku Snap Party, as well as models, dancers, and women from many other walks of life. The magazine will be a way to see what Harajuku fashion looks like in 2022, and each issue will include a special Bikkuriman sticker!

The cover features influential model YURINO, a big name in the fashion and sneaker scene. Readers can enjoy an interview between Harajuku fashion expert Kaoru Takami and FRUiTS editor-in-chief too, so don't miss it!