Let's enjoy the "Kawazu Sakaura Festival" at "Kichijo CAREN."
Kawazu-cho, Higashi Izu, is known as the birthplace of Kawazuzakura (cherry tree) and it is here that the "Kawazu Sakura Matsuri" (festival) is held every year. Kawazuzakura is an early flowering variety which blooms in early February to early March. The flower petals are big and they are a beautiful pink color. About 150 branch shops sell their special foods at the festival venue.
Kichijo CAREN is a place where you can view many kinds of cherry blossoms while enjoying a hot spring.
The view from "Izu Kitagawa Onsen Moon Road" which was chosen as one of Japan's 100 famous views is gorgeous. Why not enjoy a romantic view from the guest room or hot spring.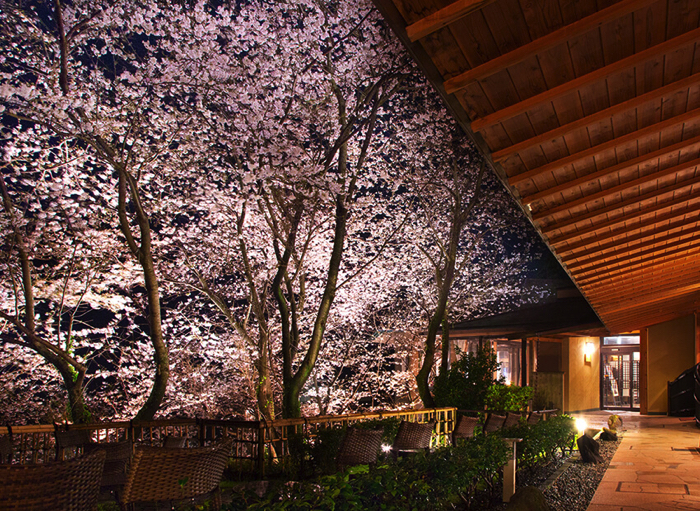 Kichijo CAREN's cherry blossom spot
A gorgeous plan where you can enjoy the night/morning view. Special services will be offered.
Early February~ Kawazuzakura/entrance, hot spring "Hekikai"
Late February~ Ojimazakura/hot spring "Wazuki" ※The "grand public bath" is designated as the men's bath or the woman's bath according to the time.
Mid/late March~ Someiyoshino/in front of the restaurants "Aodake," "Four Seasons"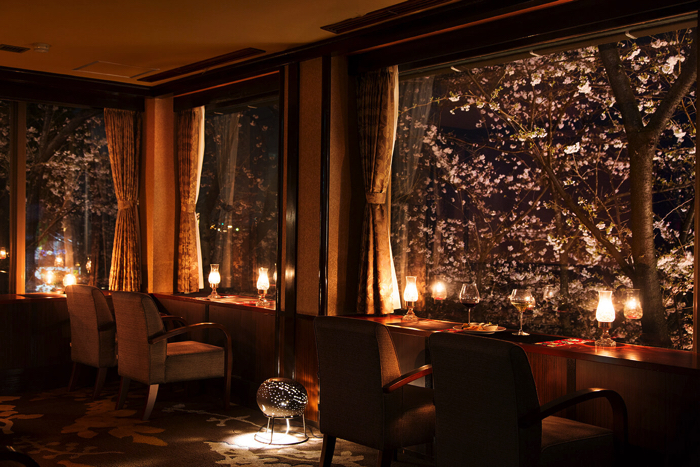 Kawazu Sakura Matsuri Private Ohanami (flower viewing) Accomodation Plan
A plan where you can enjoy the cherry blossoms while staying in the guest room.
Gorgeous amenities such as cherry blossom pancakes, cherry blossom red sea bream dishes and cherry blossom aroma therapy will be offered.
Date: 2018,02/01 to 03/31
Price: One-night stay with breakfast – 28,150 yen per person / two persons in one room – 26,150 yen / three persons – 25,150 yen
・Amenities: Afternoon tea party with cherry blossom pancakes. (14:00 to 15:30 / restaurant "Aodake")
"cherry blossom red sea bream dish will be served at dinner time
Sparkling wine and original cherry blossom aroma
"Guri tea" will be served to those of who uploaded the photos of the accommodation on their SNS with the tag "#吉祥CAREN"
Why not visit Higashi Izu/Kawazu-cho where early cherry blossoms can be viewed?
◼︎information
Kichijo CAREN (Higashi Izu / Kitagawa Onsen)
Address: Kitagawa Onsen, Higashiizucho, Kamogun, Shizuoka Prefecture
TEL:0557-23-1213
URL:http://www.kissho-caren.com/
Kawazu Sakura Matsuri
Venue: near Izu Kyuko "Kawazu Station"
RELATED ENTRIES
Enjoy a mystical night of relaxing fireflies and festival fun only this June at Higashi-Izu!

Higashi-Izu Machi Kanko Kyokai tourism association is holding their 17th evening firefly-watching event to be held in a local hot spring village of Higashi-Izu. The Higashi-Izu Machi Onsenkyo Hotaru Kansho no Sakuya" will be held from Sunday 2nd to Tuesday 11th June. Free yourself from everyday life and watch the night light up as a mystical scenery filled with fireflies descends upon you. This experience will take your body and mind to a whole new world!

The event will be held at the natural Okawa Takegasa Koen; a park which is listed to have one of Shizuoka's 100 top waterfronts. You can feel the seasons changing here, and during June, you can see a clear stream of fireflies dancing. The warm colours of their glow will put you at ease for hours.  

Numerous other events will take place alongside the firefly-watching event, such as the "Chochin walk" where you can enjoy a peaceful stroll at night with a warmly lit paper lantern. You can also stop by the "firefly town" (Hotaru-shi) where you can browse lots of local goods during the night market, or take part in the "otanoshimi chusen kai" lucky lottery where many prizes can be won. Shizuoka DC has also planned a special prize-giving program, where visitors who arrive at the park in a Yutaka (summer kimono) on a weekday of the event will be given a small gift!

Enjoy a mystical and extraordinary night of nature at Higashi-Izu. This is your chance to relax under the light of fireflies and explore the numerous shops at the firefly town!

Information

Firefly-watching evening, Higashi-Izu Hot Spring town

"Dai 17 kai Higashi-Izu Machi Onsenkyo Hotaru Kansho no Sakuya"

Location: Okawa Takegasa Koen park, Higashi-Izu Machi Ogawa Onsen (東伊豆町大川温泉 大川竹ヶ沢公園)

Running: Sun 02 ー Tues 11/06/2019

Times: 19:30 ー 21:00 (Subject to cancellation due to rain)

※ Last park entries: 20:25

Park entry fee:Please pay the "Hotaru Ikusei-kin" of ¥200 to help look after the fireflies.

 

Special edition website: http://www.e-izu-hotaru.org/

See 2,600 Cherry Blossom Trees at the Hirosaki Cherry Blossom Festival

Taking place in the city of Hirosaki in western Aomori Prefecture, this year's Hirosaki Cherry Blossom Festival will run from April 20 to  May 6.

This annual festival is the biggest in Hirosaki bringing in over 2 million people every year. Visitors will once again to be treated to a visual spectacle of 2,600 cherry blossom trees of 52 different species blooming their beautiful pink flowers in Hirosaki Park.

Various events and activities will take place throughout the festival such as boat rides, a tour carried out by the one of the gardeners, and more.

Hirosaki Cherry Blossom Celebratory Lantern Parade

The festival will hold a parade on May 3―the date on which the first flower-viewing party event in Hirosaki was first carried out. It will ring in the start of Japan's new era following Emperor Akihito's abdication with a lantern parade

Running: May 3 from 10:00am

Where: From Hirosaki Park Otemon Gate to Inner East Gate

Flower-Viewing Party in Traditional Japanese Dress

This flower-viewing party was so popular last year that it is making a return in 2019. Dress up in traditional Japanese clothing and receive a special ticket to enter the Hirosaki Castle botanical gardens for free.

Running: April 20, 2019 – May 6, 2019

Ticket Location: Ninomaru / Shinomaru Information Centre

Hirosaki Park Boat Ride

Enjoy the cherry blossoms from a different angle with a boat ride along the moat.

Running: April 20, 2019 – May 6, 2019

Time: 9:00-17:00 (Last rides at 16:30) *Subject to change depending on weather and number of boarders

Special Cherry Blossom Tour

The park's gardeners will carry out a tour of the cherry blossoms and provide interesting explanations.

Running: April 30, 2019 & May 2, 2019

Time: From 13:30 (90 minute tour)

No. of People: 40 people per tour (first-come, first-served)

Price: Free

Flower Carpet

During the cherry blossom's full bloom season thousands of petals will fall into the moat, creating a gorgeous pink carpet on the water surface. This will make for some great photographs.

Information

Hirosaki Cherry Blossom Festival

Running: April 20, 2019 – May 6, 2019

Location: Hirosaki Park (1 Shimoshiroganechō, Hirosaki, Aomori Prefecture)

Opening Hours

Honmaru/Kita no Kuruwa Area – 7:00-21:00 (9:00-17:00 from April 20 to 22 and May 6)

Botanical Garden – 9:00-18:00

Illuminations – Sunset until 23:00 (subject to change)

*Some locations in the park will charge a fee. This includes the Honmaru/Kita no Kuruwa Area. It costs ¥310 for adults and ¥100 for children.

Website: https://www.hirosaki-kanko.or.jp/web/edit.html?id=cat02_spring_sakura

Enjoy Hanami With Eimei the Giant Panda at Adventure World in Wakayama

Adventure World in Wakayama is holding a special springtime event from March 28 to April 3 called Hanami With Eimei.

A hanami flower-viewing area will be set up in front of the outdoor breeding centere where Eimei the giant panda lives meaning you get to enjoy the cherry blossoms together with her. The cherry blossoms at the park are scheduled to be at the height of their blossom on March 30.

Bask in the warm spring sun while gazing at the beautiful pink flowers with Eimei.

Information

Hanami With Eimei the Giant Panda

Address: 2399 Katata, Shirahama-cho, Nishimuro-gun, Wakayama Prefecture

Running: March 28, 2019 – April 3, 2019

Time: 10:00-16:00

Adventure World Official Website: http://www.aws-s.com/

Enjoy cherry blossoms from theme park rides at Osaka's Hirakata Park! ♡ Over 300 trees about to bloom!

From the end of March to the beginning of April, sakura will bloom at Hirakata amusement park. There are approximately 300 sakura trees and eight varieties of tree including Yoshino cherry blossoms. Amongst the park attractions is the "Skywalker"; a giant ferris wheel that overlooks the park. The path to the ride is hilly and lined with sakura trees, so during full bloom, the path is completely covered in a bed of pink petals!

This theme park is unique in that you can enjoy the cherry blossom view and the rides simultaneously! The roller coaster ride "Red Falcon" is also located near a road lined with sakura trees, so you can enjoy an even more wonderful sakura-viewing experience! Plus, you can take your cherry blossom viewing to a whole new level on the "Skywalker" as the carriages of the ride overlook the park from the sky and remain in mid-air for approximately 10 minutes. ♡

Thanks to the arrival of spring, you can enjoy Hirakata Park sakura to the max!

Information

Opening hours

Weekdays: 10:00 ー 17:00

Weekends & national holidays:

・ Monday 25th March ー Friday 5th April 10:00 ー 18:00
Saturday 27th April ー holiday Monday 6th May: 10:00 ー 19:00

Entry prices: Adults: (Middle school+) ¥1,400, children: (2 y/o ー elementary school): ¥800

Website: http://www.hirakatapark.co.jp/

Top 6 Cherry Blossom Events in Japan's Kanto Region for This Year's Hanami

The cherry blossoms are slowly blooming flower by flower in the Kanto region of Japan―which encompasses the Greater Tokyo Area and six other prefectures.

What kind of hanami, or "flower blooming" season can we expect to enjoy this year? We have compiled a list of six must-attend events celebrating Japan's beautiful cherry blossoms of the Kanto region this year.

 

Yozakura Jewel Illuminations at Yomiuri Land

Japanese amusement park Yomiuri Land is set to hold its first ever Yozakura Jewel Illumination event from March 21 to April 7. It will combine evening-time cherry blossoms with a range of different gorgeous illuminations. The 180-meter long Sakura Promenade will be lined with bright lights in the evening, creating a memorable and must-see display. The Ferris wheel, too, will be lit up with colourful lights in the image of cherry blossoms, creating a romantic spectacle.

Full Details: https://www.moshimoshi-nippon.jp/182255

Tenkuu no Ohanami 2019 at Roppongi Hills Observation Deck

The Tokyo City View Observation Deck at Roppongi Hills is holding a hanami event this spring titled Tenkuu no Ohanami 2019 ("Flower Viewing From the Sky 2019") which will run from March 15 to April 7. From the observation deck you can glimpse the cherry blossoms dotted around some of Tokyo's most famous sites and landmarks including Tokyo Tower, Tokyo Skytree, Yoyogi Park, Shinjuku Gyoen and elsewhere, each of which will be a sight to behold from up high in the sky.

Full Details: https://www.moshimoshi-nippon.jp/182366

Sakura Matsuri 2019 at Ark Hills

Sakura Matusri 2019 will run from April 5 to 7 at Ark Hills in Tokyo. The 1km long tunnel of cherry trees―a symbol and landmark of the surrounding area―will decorated with beautiful illuminations. The bridge that runs from Ark Hills's south tower to the main building is a secret hanami spot that overlooks the row of trees that run up Spain-zaka Slope. This means you can enjoy the flowers from different angles, whether down below and up close or up high overhead.

Tokyo Disney Resort's® Kawazu-zakura

Make sure to stop by Minnie's House in Tokyo Disneyland's® Toon Town which is home to a Kawazu-zakura tree. These trees typically bloom faster than Yoshino cherry trees and are known for their deep pink colour. The pink house and pink cherry blossoms are such a cute match! A range of cherry blossom- and spring-themed items will also be sold to be enjoyed together with the hanami season.

Full Details: https://www.moshimoshi-nippon.jp/180825

Rickshawing Through the Meguro River Cherry Blossoms With Hotel Gajoen Tokyo

For a three-day limited period from March 29 to 31, you can thoroughly enjoy Japanese hospitality as Hotel Gajoen Tokyo will be running a rickshaw service around Meguro River for guests to enjoy the cherry blossoms. When booking a room at the hotel you can select a plan that includes this rickshaw ride around Tokyo's foremost-leading cherry blossom viewing hot spot for 30 minutes. During the ride, guests can enjoy the spring breeze as they sweep around the cherry blossom trees of Meguro River. The plan includes a springtime cherry blossom menu and more, so if you're looking for luxury then look no further!

Full Details: https://www.moshimoshi-nippon.jp/173973

Lake Sagami Pleasure Forest Cherry Blossom Festival

The Lake Sagami Cherry Blossom Festival will be held at Lake Sagami Pleasure Forest in Kanagawa Prefecture from March 21, 2019. Just an hour's distance from Tokyo, this hanami festival is a chance to enjoy 2,500 cherry trees―the biggest collection in the Kanto region―from many different angles. Board the "Pair Lift" and glide over the gorgeous cherry blossom trees for a skybound hanami experience. Soar even higher in a hot-air balloon and see the pink landscape and evening illuminations.

Full Details: https://www.moshimoshi-nippon.jp/?p=183232

Did you enjoy this list? When visiting Japan for the cherry blossoms be sure you get to experience them in lots of different ways and from different angles.

Lake Sagami Pleasure Forest Cherry Blossom Festival Begins March 21

People are gearing up to enjoy the cherry blossoms at the upcoming Lake Sagami Cherry Blossom Festival which will take place at Lake Sagami Pleasure Forest in Sagamihara, Kanagawa from March 21, 2019.

Just an hour's distance from Tokyo, this hanami festival is a chance to enjoy 2,500 cherry trees―the biggest collection in the Kanto region―from many different angles.

Climb aboard the Pair Lift to glide over the gorgeous strip of trees and enjoy hanami from up high.

Nighttime illuminations of all the trees will also run until April 7, 2019. A whopping 6 million illuminations will light up the trees to create a magical evening spectacle.

Hot-Air Balloon Hanami

Soar even higher and gaze across the pink landscape inside a hot-air balloon.

Hanami Photo Spot

Snap a photo at the fun photo spot located halfway up the rows of cherry trees. Countless white lights and bright white trees will provide a beautiful ground to your picture.

Hanami Food

Wild Dining, a restaurant in the heart of the park, will serve up a festive menu which can be enjoyed while viewing the cherry blossoms from the giant open windows.

After admiring the flowers and illuminations, why not take a dip in the resort's hot springs? There is also a special ticket set that includes a free entry pass to the park when travelling there from Yokohama Station.

Enjoy the cherry blossoms in the daytime and evening at this year's cherry blossom festival at Lake Sagami Pleasure Forest.

Information

Lake Sagami Pleasure Forest Cherry Blossom Festival

Address: 1634 Wakayanagi, Midori Ward, Sagamihara, Kanagawa Prefecture

Running: March 21, 2019 – April 21, 2019 (Closed April 11 & 18)
*Evening illuminations from March 21 to April 7.

Opening Hours

Until April 7 – 9:00-21:00

From April 8 – Weekdays 10:00-16:00 / Weekends & Holidays 9:00-17:00

Lake Sagami Pleasure Forest Daytime Entry Prices (10:00-16:00)
Entry: Adults ¥1,700 / Children, Seniors & Pets (Dogs) ¥1,000
Free Pass: Adults ¥3,900 / Children, Seniors & Pets (Dogs) ¥3,100 Adults

Lake Sagami Pleasure Forest Evening Entry Prices (16:00-21:00) *Last entries 20:30
Entry: Adults & Seniors ¥1,000 / Children & Pets (Dogs) ¥700

TEL: 0570-037-353 (Lake Sagami Pleasure Forest)
Website: http://www.sagamiko-resort.jp/

Hot-Air Ballon Event

Date: March 23, 2019

Time: 14:00-20:00

Price: Adults ¥2,500 / Children ¥2,000

*Tickets sold at the park's Pleasure Station souvenir shop

*Illuminations from 18:00

Sakura Sweets Released at Daimaru Tokyo

Daimaru Tokyo becomes extremely busy during the hanami season due to being connected directly to Tokyo Station and having easy access.

The department store can sell up to 30,000 sweets in a single day, and with the cherry blossom season drawing close, it is now selling a selection of sakura inspired sweets. There are around 70 to choose, all dotted with cherry blossom motifs from pink coloured mont blancs to pies and cookies decorate with cherry blossom petals.

Here are just nine of those sweets flower-viewers can look forward to enjoying.

Japanese Style Sakura Roll Cake: ¥1,080 @ TOPS (Floor 1F)

Fork into a soft and beautiful roll cake filled with pink cream and decorated with cherry blossom shaped gold leaf.

Sakura Mont Blanc: ¥594 @ ANTENOR (Floor 1F)

Formed into a dacquoise dessert cake made with cherry blossom cream and strawberry jam and cream.

Kamakura Sakura Cha Hantsuki (Box of 10): ¥1,080 @ Kamakura Goro (Floor 1F)

A half-moon shaped osenbei wafer filled with slightly sweet cream with a cherry blossom tea fragrance.

Sakura Mont Blanc: ¥584 @ Patisserie KIHACHI (Floor 1F)

This sakura delight is coloured and flavoured with the bloom of cherry blossoms.

Palet Chocolate (Box of 5): ¥1,728 @ Bel Amer (Floor B1F)

Beautifully decorated round chocolates adorned with flowery flakes and cherry blossom shaped chocolates.

Sakura Pie (Box of 12): ¥1,080 @ Gin no Budo (Floor 1F)

Shaped like sakura petals, these luxurious pies are flavoured with cherry blossoms and butter.

Sakura Kudzu (Box of 3): ¥1,026 @ Ginza Suzuya (Floor 1F)

The bean paste floating inside this kudzu is laced with cherry blossom leaves.

Sakura Hitohira (Box of 18): ¥1,130 @ Ginza Tamaya (Floor 1F)

Petal-shaped cookie sandwiches filled with cherry blossom leaves and white chocolate.

Ohanami Anmitisu: ¥572 @ Funabashiya (Floor 1F)

Assorted fruit served with a seasonal syrup made with cherry blossoms.

Enjoy all the sakura sweets you can this flower-viewing season.

Springtime Strawberry Desserts & Drinks Arriving in Japan This Year

The calendar says spring is already here, but it sure doesn't feel like it yet. It's freezing out.

So you can feel more like the season has arrived we have compiled a list of cute cherry blossom flavoured desserts and succulent strawberry sweets and drinks that can be enjoyed in Japan this year.

Sakura Matsuri 2019

Tokyo Prince Hotel is set to hold a cherry blossom festival this year where they will serve a range of cherry blossom inspired menus. This includes hanami lunch boxes, sakura inspired cocktails and many other beautiful selections. Enjoy a luxurious Japanese cherry blossom spring this year while gazing at Tokyo Tower.

Full Details: https://www.moshimoshi-nippon.jp/174931

Sakura Matsuri 2019
Running: March 16, 2019-April 14, 2019

*Will run March 16 to April 25 at Porto and from March 22 to April 14 at Garden Island.

Participating Restaurants: Tower View Terrace, Porto, Garden Island, Shimizu, Maronie, Pikake, Windsor, Petrea Karaoke Room

Official Website: https://www.princehotels.co.jp/tokyo/

Itohkyuemon – Uji Matcha Sakura Nama Chocolate

Uji Matcha Sakura Nama Chocolate is a new cherry blossom flavoured raw chocolate released by Itohkyuemon, a well-established Japanese green tea store in Kyoto. A spring-like pink powder is sprinkled over the Uji matcha chocolate. After the flowery flavour of sakura spreads through your mouth, you will be struck with a milky flavour along with a moderate salty touch. It even comes packaged in a cute pink Japanese-style paper decorated with a woven cherry blossom pattern♡

Full Details: https://www.moshimoshi-nippon.jp/173633

Uji Matcha Sakura Nama Chocolate (Package of 16 chocolates)

Released: February 15, 2019 (Sales will end once stock is fully depleted)

Price: ¥1,296 (Tax Included)

Available: Online Shop / Uji Main Store/ JR Uji Station Branch / Kyoto Station Branch / Ekimae store

*You can purchase these chocolates in advance from the online store. The chocolates will be purchasable from stores from 1st March.

Product Page:  https://www.itohkyuemon.co.jp/fs/ujicha/090151

GODIVA – Shokorikisa White Chocolate Sakura Lala

GODIVA's "Shokorikisa White Chocolate Sakura Lala" beverage is available this White Day only. The mild and fluffy texture along with the sweet aroma of cherry blossoms and cherries is melted together with white chocolate. The pink frozen drink is layered with sakura jelly and whipped cream. It both looks and tastes like spring.

Full Details: https://www.moshimoshi-nippon.jp/172469

GODIVA Official Website: https://www.godiva.co.jp/

Fuji-Q Highland's Strawberry Festival

Lisa & Gaspard Town in Fuji-Q Highland―which became free to enter last year―is now hosting its strawberry themed event. Strawberry derived snacks, drinks, cookies and more line the town stores while on weekends and national holidays at Les Rêves Salon de Thé a strawberry dessert buffet fills the bellies of customers.

Full Details: https://www.moshimoshi-nippon.jp/170337

Lisa & Gaspard Town Strawberry Festa
Running: February 25, 2019 – April 19, 2019

Welcome to Lisa & Gaspard's Mirror Maze Magic Show
Opening: March 8, 2019

Fuji-Q Highland – Lisa & Gaspard Town
Address: 5 C-6-1 Shinnishihara, Fujiyoshida, Yamanashi Prefecture
Opening Hours: Weekdays 9:30-17:00 / Weekends & Holidays 9:30-18:00
*Lisa & Gaspard Town is open 30 minutes before Fuji-Q's opening hours and closes 30 minutes after Fuji-Q's closing hours
No Fixed Holidays.
Entry: Free
Free Pass: Adults ¥5,700 / Junior High School Students ¥5,200 / Children ¥4,300
TEL: 0555-23-2111

Fuji-Q Highland Official Website: https://www.fujiq.jp/
Lisa & Gaspard Town: https://www.fujiq.jp/area/lisagas/

©2019 Hachette Livre

McDonald's Japan – 3 White Chocolate & Strawberry Beverages

McDonald's Japan is now selling three white chocolate and strawberry drinks at McCafé by Barista branches for a limited time: the white chocolate strawberry smoothie, latte and iced latte. The combination of sweet white chocolate and sweet and sour flavour of the strawberries is simply irresistible!

Full Details: https://www.moshimoshi-nippon.jp/171227

White Chocolate Strawberry Smoothie / Latte / Iced Latte

Running: February 20, 2019 – Early April 2019 (subject to change)

Available: At McCafé by Barista branches of McDonald's (approx. 94 branches as of February 20, 2019)

Official Homepage: http://www.mcdonalds.co.jp/menu/barista

Lindt Chocolat Cafe – Lindt White Chocolate Sakura Ice Drink

Premium Swiss chocolate brand Lindt is now selling three new cherry blossom inspired drinks at the Lind Chocolat Cafe: the Lindt White Chocolate Sakura Ice Drink, Lindt Delice Sakura and Lindt Sakura Leaf. The sweet iced drink brings together the sweetness of Lindt's creamy white chocolate and the sourness of cherries. Its spring vibe appearance is cute too!

Full Details: https://www.moshimoshi-nippon.jp/166171

Lindt White Chocolate Sakura Ice Drink / Lindt Delice Sakura / Lindt Delice Sakura Leaf
Running: February 16, 2019 – March 31, 2019

Lindt Dome Chocolat Sakura / Lindt Chocolat Parfait Sakura
Running: March 1, 2019 – March 31, 2019

Lindt Official Website (Japanese): http://www.lindt.jp/

Starbucks Japan – Sakura Season

Springtime has arrived at Starbucks in the form of two new beverages:  the Sakura Full Milk Latte and Sakura Full Frappuccino®. Both drinks use cherry blossoms and strawberries as their base flavour, warm and cosy ingredients that call to spring. They are inspired by the dancing leaves fallen from cherry trees in full bloom.

Full Details: https://www.moshimoshi-nippon.jp/168843

Starbucks Sakura Season
Running: February 15, 2019 – February 27, 2019

Available: At most Starbucks branches across Japan

*The Sakura Full Milk Latte will be sold until March 19, 2019.

Starbucks Japan Official Website: www.starbucks.co.jp/

Cherry Blossom Doughnuts Arrive at Mister Donut

Mister Donut is releasing six cherry blossom flavoured doughnuts in Japan on March 1.

Three of these doughnuts are chewy and made in the image of a cherry blossom petal while the other three are made with Mister Donut's popular and old fashioned dough recipe released in 2013, sprinkled with pink cherry blossom powder.

Cherry Blossom Flower Doughnut – Cherry Blossom Flavoured: ¥129 (Tax Included)

Inspired by the beautiful petals of the cherry blossoms, this doughnut has a distinct chewy texture and is coated with a bright pink cherry blossom glaze.

Cherry Blossom Flower Doughnut – Soy Flour Flavoured: ¥129 (Tax Included)

Just as chewy as the above doughnut, this version is sprinkled with soy flour sugar.

Cherry Blossom Flower Doughnut – Adzuki Red Bean Paste: ¥140 (Tax Included)

Another chewy choice, this sandwich-like doughnut is filled with adzuki red bean paste and sprinkled with icing sugar.

Cherry Blossom Fashioned: ¥129 (Tax Included)

Mister Donut's old fashioned crunchy doughnut turns cherry blossom flavoured.

Cherry Blossom Fashioned Chocolate: ¥140 (Tax Included)

This version of the crunchy old fashioned doughnut comes with a delicious chocolate coating.

Cherry Blossom Fashioned Honey: ¥140 (Tax Included)

And this one is glazed with sumptuous honey.

Feel the springtime early by getting your fingers on a tasty cherry blossom doughnut at Mister Donut.

Information

Cherry Blossom Donuts

Running: March 1, 2019 – Early April 2019

Available: At most Mister Donut branches in Japan

Official Website (Japanese): https://www.misterdonut.jp/

Gaze at Cherry Blossoms and Tokyo Tower at Tokyo Prince Hotel's Sakura Festival

Tokyo Prince Hotel is set to hold Sakura Matsuri 2019 from March 16 to April 14 where they will serve a cherry blossom inspired menu.

The Shiba Park area by the hotel is a famous cherry blossom spot which brings together lots of people each year who visit to see the pink flowers in bloom. Tokyo Prince Hotel has put together a special menu to excite this year's hanami season for tourists and sightseers visiting Tokyo to view the flowers.

Sit atop the hotel's wide-open cafe and bar Tower View Terrace where you will be served colourful hors d'oeuvre, steak, temari sushi and many more springtime foods. Meals are made even more memorable with the gorgeous cherry trees standing at eye level behind which towers Tokyo Tower.

Lunch – "Hanami Box – Cherry Blossoms": ¥6,000 (Served 12:00-15:00)

Dinner – "Hanami Box – Nighttime Cherry Blossoms": ¥9,000 (Served 17:00-21:30)

Nighttime Cherry Blossoms Wagyu Beef Teppanyaki & Seafood Barbeque Set (Serves 1): ¥10,000 (Served 17:30-21:30)

Over at the hotel's beer restaurant Garden Island you can look forward to enjoying an evening BBQ under the cherry blossoms. Tuck into wagyu sirloin beef, spiny lobster and other top quality hotel ingredients as you gaze at the nighttime cherry blossoms. The restaurant also serves a meal plan that comes with an all-you-can-drink option.

Beautiful Sakura Gozen Meal: ¥5,000 (Served 11:30-14:30 / until 17:00 on Saturday & holidays)

Roll up to the hotel's Shimizu restaurant where they will be serving a vivid traditional Japanese meal which can be enjoyed with the stunning view of the cherry blossoms and Tokyo Tower outside the restaurant's enormous windows.

Sakura Course: ¥8,000 (Serving 17:00-21:30)

Maronie is a restaurant at the hotel that specialises in Chinese cuisine. Like Shimizu, you can appreciate the cherry blossoms peeking at you through the window as you dig into a delicious Chinese meal.


Lunch: Weekends ¥3,500, Saturday & Holidays ¥4,000 (Served 11:30-15:00) / Dinner: Weekends ¥6,000, Saturday & Holidays ¥6,500 (Served 17:30-21:30)

Porto, a buffet restaurant in the hotel, is preparing a springtime buffet which can be enjoyed with a full view of the pink flowers and Tokyo Tower.

Bloom: ¥4,000 (Serving 17:00-21:00)

Cherry Blossom Sweets Plate: ¥1,500 / With Drink ¥2,100 (Serving: 11:00-21:00)

The tea salon Pikake will be cooking up a range of meals including pasta served in spring colours, salad, roast beef and more as well as a special sweets plate with 4 different Japanese sweets.

Snow Sakura: ¥1,800 (Served 17:00-Midnight)

Spring Fizz: ¥1,800 (Served 17:00-Midnight)

The hotel's main bar Windsor will be pouring two different cherry blossom inspired cute pink cocktails.

Party Plan: ¥5,800 Per Person (Weekdays 17:00-Midnight / Saturdays 15:00-Midnight / Holidays 15:00-23:00)

Petrea Karaoke Room has a very special party plan planned which includes a cherry blossom themed menu as well as karaoke and all-you-can-drink.

Tokyo Prince Hotel's Hanami Season Map

If you're visiting Tokyo during the hanami season then don't miss out on this luxurious flower-viewing experience.

Information

Sakura Matsuri 2019
Running: March 16, 2019-April 14, 2019

*Will run March 16 to April 25 at Porto and from March 22 to April 14 at Garden Island.

Participating Restaurants: Tower View Terrace, Porto, Garden Island, Shimizu, Maronie, Pikake, Windsor, Petrea Karaoke Room

Official Website: https://www.princehotels.co.jp/tokyo/

Itohkyuemon releases new Uji Matcha Sakura Nama Chocolate!

Itohkyuemon, a well-established Japanese green tea store based in Uji, Kyoto, started selling the new "Uji Matcha Sakura Nama Chocolate" (宇治抹茶さくら生チョコレート) from 15th February 2019.

"Uji Matcha Nama Chocolate" (宇治抹茶生チョコレート) is the most popular item on Itohkyuemon's online shop. Using this as a base, a limited spring edition "sakura" flavour was created. A spring-like pink powder is sprinkled over the Uji matcha chocolate. After the flowery flavour of sakura spreads through your mouth, you will be struck with a milky flavour along with a moderate salty touch. This is when the flavour of matcha grows and fills your mouth. This exquisite flavour is obtained from real cherry blossom flowers and leaves. The natural powder gives the powder its vivid coloursー nothing is added to enhance its colour. Like flower petals scattered on a moss garden, the surface of the chocolates are decorated with a faint pink dusting.

The packaging has a wonderful texture and is decorated with a woven cherry blossom pattern set on pink Japanese-style paper. This compliments the green-yellow spring-themed colours. Each chocolate package is wrapped individually by hand. The box even comes with small wooden utensils so you can open the package and enjoy these tasty chocolates straight away.

Information

Uji Matcha Sakura Nama Chocolate (Package of 16 chocolates)

Release:Friday 15th February 2019 (Sales will end once stock is fully depleted)

Price:¥1,296 (price with tax included)

Available from:Online shop/ Uji main store/ JR Uji Ekimae store (in front of JR Uji station)/ Kyoto Ekimae store (in front of Kyoto station)

※  You can purchase these chocolates in advance from the online store. The chocolates will be purchasable from stores from 1st March.

Special website:  https://www.itohkyuemon.co.jp/fs/ujicha/090151

Premium Swiss chocolate brand Lindt has unveiled three new cherry blossom inspired drinks arriving at the Lind Chocolat Cafe on February 16: the Lindt White Chocolate Sakura Ice Drink, Lindt Delice Sakura and Lindt Sakura Leaf.

The beverages will be followed up by two desserts on March 1: the Lindt Dome Chocolat Sakura and Lindt Chocolat Parfait Sakura. These will be served at the Ginza branch while only the parfait will be sold at the Jiyūgaoka branch.

Lindt White Chocolate Sakura Ice Drink: Ginza Branch Eat-In – ¥1,388 (Tax Included) / Other Branches Take Out – ¥772 (Tax Included)

This sweet drink brings together the sweetness of Lindt's creamy white chocolate and the sourness of cherries. The cherries used are Amarena cherries which are bitter and slightly nutty and sour Griotte cherries. These blended with the white chocolate give a refreshing aftertaste.

The drink is topped with cream cheese and whipped cream in which sits salt-pickled cherry blossom leaves. The sweet and sour flavours of the drink and cherries are elevated by the light and fluffy cream and the distinct saltiness of the leaves.

Lindt Delice Sakura / Lindt Delice Sakura Leaf: ¥302 Each (Tax Included)

Lindt's popular Delices are macarons crafted by the company's expert chocolatiers who stuff them with ganache made from Lindt chocolate. The springtime Sakura and Sakura Leaf versions are available for a limited time only and are packed with cherry blossom flavour and fragrance.

Lindt Dome Chocolat Sakura: ¥1,890 (Tax Included)

Lindt has beautifully created a milky and mellow-tasting white chocolate dome which comes to life when a hot sauce is poured over it. This beautiful pale green sauce has a faint salty flavour to it and together with the unique flavour of the cherry blossom leaf. Enjoy watching the chocolate dome melt before your very eyes to reveal the inside dessert. This special treat can only be experience at the cafe. Check out below what happens when you drizzle on the sauce.

Your dish is also served with berry powder made to look like a fully bloomed cherry blossom. Inside the dessert is a tower of biscuit, cherry blossom white chocolate semifreddo, cherry compote, salt-pickled cherry blossom leaf whipped cream, and crunchy hazelnuts.

Lindt Chocolat Parfait Sakura: ¥1,780 (Tax Included)

Lindt's new parfait combines chocolate with ingredients perfect for the spring. The deeper you go in the dessert the more textures you can enjoy which come together in delicious harmony. It even comes decorated with a Delice Sakura Leaf.

Starting at the bottom of the glass the parfait contains crunchy hazelnuts, vanilla mascarpone mousse, cherry compote, white chocolate ice cream, and cherry sauce. It's topped with cherry blossom white chocolate ice cream, more cherry compote, a mini Delice Sakura Leaf, a white chocolate piece with strawberry powder in it, and another piece of white chocolate displaying the Lindt logo.

Feel the early spring calling with these cherry blossom treats at the Lindt Chocolat Cafe.

Information

Lindt White Chocolate Sakura Ice Drink / Lindt Delice Sakura / Lindt Delice Sakura Leaf
Running: February 16, 2019 – March 31, 2019

Lindt Dome Chocolat Sakura / Lindt Chocolat Parfair Sakura
Running: March 1, 2019 – March 31, 2019

Lindt Official Website (Japanese): http://www.lindt.jp/