Taiwanese Model Kimi Visits Harajuku's Tourist Spots in a Kimono
Hi there, Shiota here. I'm the director of the MOSHI MOSHI BOX, the official Harajuku Tourist Information Center.
A routine activity done often when travelling to places like Kyoto and Asakusa is to dress up in a kimono and walk the streets. In fact, quite recently the number of kimono rental stores in Harajuku has been on the increase.
Today, immensely popular Taiwanese model kimi (紀ト心) is going to take us to see some great kimono spots around Tokyo.
If we're talking kimono rental in Harajuku, then look no further than the MOSHI MOSHI Kimono Salon!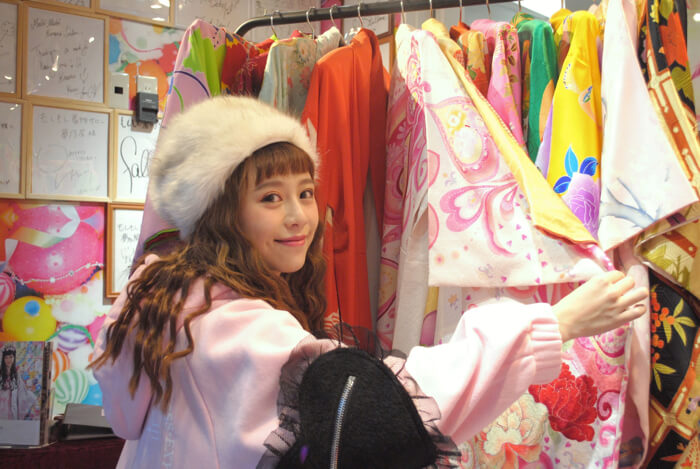 This spot is located inside the MOSHI MOSHI BOX Harajuku Tourist Information Center and offers a diverse range of kimono, from vintage wears to the kind of colourful garbs you'd expect to see in Harajuku. Whatever it is you're looking for, you'll be able to find it here.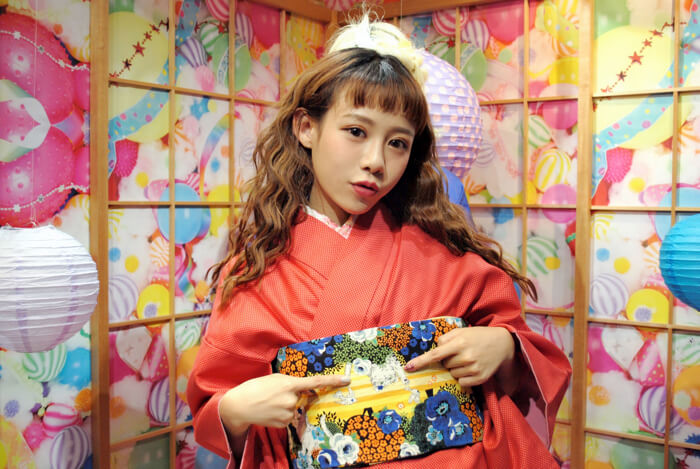 The kimono that kimi chose has small dots against red cloth. Since she's a huge cat lover, the obi she picked was love at first sight.
She left her hairstyle to the hair and make-up staff in the shop. A simple change of hairstyle made for a more glamorous feel.
With her style complete, kimi's cuteness took on a slightly more adult, mature look.
Well, without further ado, let's head on out to the streets of Harajuku!
Ura-Harajuku photo spot as seen on social media and TV
The first place kimi visited was the famous wall art that is popular right now. To find it, head down the street between Murasaki Sports and New Balance located along Meiji-Dori and walk to the end.
kimi was a little hungry, so while on her way to see the wall art she stopped off at the ice cream shop Doubutsuen on the left-hand side of the street. She bought an electric bulb soda along with some sweets that are all the rage right now in Harajuku.
We couldn't fit every kawaii photo of kimi into the article as there are just too many, but you can find them over on her Instagram page so be sure to check them out as you read on.
Taking a chill stroll along Yoyogi Park avenue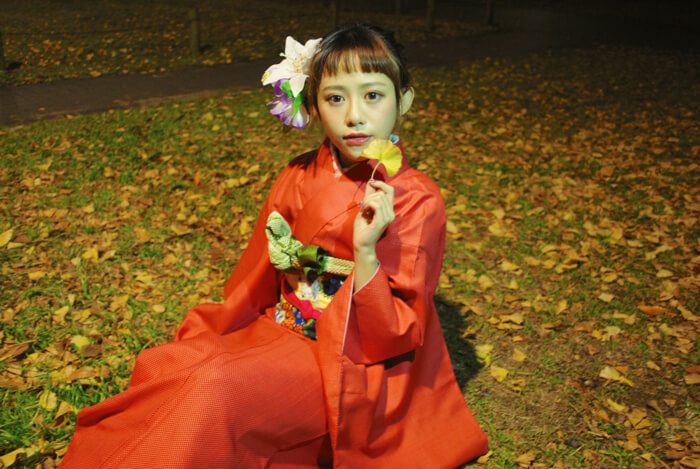 The next place she headed to was Yoyogi Park located next to Meiji Shrine. The park is famous for its very beautiful scenery; in spring the cherry blossoms flourish and in autumn the ginkgo trees shine.
When we shot these photos, it was period when the leaves on the ginkgo trees fall. The sheet of yellow that stretches to a horizon was out of the world. There's benches dotted all around the park, so you can relax if you need a break from walking in your kimono.
Tōgō Shrine is right next to the tourist hotspot that is Takeshita Street
You wouldn't believe that Tōgō Shrine is situated in the middle of Harajuku. Despite being around the hustle and busy of the busy town, time flows quietly and calmly here. It's also diagonally opposite to the MOSHI MOSHI BOX.
It's beautiful in the daytime, but its sacredness elevates when you see it lit up at night. Weddings are held here, so if you're lucky, you might even catch a glimpse of a bride in traditional Japanese wedding attire.
Did you enjoy your trip with kimi? If you're thinking of renting a kimono in Harajuku, then be sure to use this article as reference. And if you're lost or can't find your way, then pop into the MOSHI MOSHI BOX. We'd be happy to help you!
model:紀卜心(kimi) @eatzzz7
photo:Fumiko Nakazima @o_f_u_m_i
RELATED ENTRIES
10 Things You Can Do at the MOSHI MOSHI ROOMS Hotel in Harajuku | Girls' Night In Edition

MOSHI MOSHI ROOMS is a hotel accommodation service run by MOSHI MOSHI NIPPON located in Harajuku and bookable via Airbnb. Our hotel isn't just popular for sleep, however: it has become a hot spot with stylish girls who get together and use it as a party space.

This is our Top 10 list of things you can do in SAKURAーone of the hotel roomsーso you can discover the best way to enjoy your stay in Harajuku.

①Take advantage of the room decor and decorations to snap all the photos you can!

MOSHI MOSHI ROOMS opened its first room SAKURA in December last year, and more recently ORIGAMI in August. From the walls to the furnishing, SAKURA is cherry blossom pink throughout, decked out with countless gorgeous Instagram-worthy spots popular with our female guests.

You can always get a beautiful photo together with the cherry blossom flower monument in the background, located behind the bed and bloomed right up to the ceiling.

The enormous and comfy pink bed is piled full of lots of fluffy cushions. You can take some pretty romantic pictures too when snuggled on top or in the bed.

Photographer: Kayo Sekiguchi

Don't forget about the neon sign either, a symbol of the room and the Japanese kanji character for cherry blossom (桜 sakura). Sit on the sofa in front of it and make use of the sign's lighting to get a more dreamy and fantastical shot.

②Popular Harajuku takeout food perfect for a night at MOSHI MOSHI ROOMS SAKURA

MOSHI MOSHI ROOMS is located in Tokyo's fashion and culture hub of Harajuku, and that means it's within walking distance of some quintessential kawaii and Instagrammable food shops. We've picked out three we think are perfect for ordering takeout to enjoy back in your room at SAKURA.

GOOD TOWN DOUGHNUTS

Smile Mango ¥420 / Raspberry Pistachio ¥400 / Sea Salt Caramel ¥390 (All Tax Inclusive)

GOOD TOWN DOUGHNUTS is a really popular doughnut shop in Harajuku. Their big size doughnuts not only look cute, they're the real deal taste-wise, and are also made with natural yeast, wheat flour from Hokkaido, sea salt sourced in Okinawa, sugar from Tanegashima, and organic oils. They are high-quality doughnuts full of flavour and plenty filling.

GOOD TOWN DOUGHNUTS

Address: J-cube B1F, 6-12-6 Jingumae, Shibuya, Tokyo)

TEL: 03-5485-8827

Opening Hours: 10:00-20:00

No Fixed Holidays

Official Website: http://good-town.com/

AND THE FRIET

Box (2 Friet Types) w/ Dip – From ¥800 (Before Tax)

This French fry shop makes their fries from a variety of carefully selected in-season potatoes, including potatoes from Belgium. They are crunchy on the outside and fluffy in the centre. They're also delicious even when eaten cold, making them a great takeout option. You can pick two types from six varieties for one box, plus a dip of your choice. A perfect party accompaniment.

AND THE FRIET Laforet Harajuku

Address: Laforet Harajuku 2F, 1-11-6 Jingumae, Shibuya, Tokyo
TEL: 03-6434-7568

Opening Hours: 11:00-21:00

No Fixed Holidays (Except when Laforet Harajuku is closed)

Official Website: http://andthefriet.com/

TOAST LUCK

<Macarons> From Left: Soybean Flour / Crunky / Cheese – ¥371 Each (Before Tax)

At TOAST LUCK, you can enjoy a whole range of different South Korean foods, including toast which is their main menu item. They also sell these marble-coloured macarons which are a little bigger than Japanese macarons. There's lots of flavours to choose from, all of which give you a different take on your regular macaron!

TOAST LUCK

Address: 3-27-15 Jingumae, Shibuya, Tokyo

TEL: 03-6812-9499

Opening Hours: 11:00-20:00

No Fixed Holidays

Official Website: https://www.toast-luck.com/

③Line up all your food in your hotel room for a girls' night in

Gather all of your takeout goodies from around Harajuku for a girls' night in at MOSHI MOSHI ROOMS SAKURA! The room has its own kitchen equipped with utensils, a microwave and refrigerator, so you can even prep your own food too.

The living room is nice and spacious so you can really let your hair down and relax. There's a limited number of beds but there's no limit to the amount of people that can stay over, so invite all of your friends along!

④Watch movies on the projector

The room is equipped with an Android TV mobile projector which has Netflix, Hulu, YouTube and other services on it as well as games. There's endless amounts of fun to be had, so grab your snacks and put on a movie or compete together in a game. The screen projects onto the white walls, so you can pick the best spot for viewing.

Projecting it on the wall beside the bed means you can relax while watching films or music videos together.

The cherry blossom pink MOSHI MOSHI ROOMS SAKURA offers a memorable accommodation experience like no other. We will continue the Top 10 list in the next article entitled Birthday Edition.

Remember, if you're looking to stay in Harajuku, be sure to book with MOSHI MOSHI ROOMS.

Models: Aiko / Ringo
Photographer: Haruka Yamamoto
Writer: Sayoko Ishii

Translator: Joshua Kitosi-Isanga

Embark on An Aquatic Adventure to The Little Mermaid OH MY CAFE in Tokyo

It has been 30 years since Disney's The Little Mermaid came to theatres. To celebrate, The Little Mermaid cafe has dropped its anchor in Tokyo, Osaka, Nagoya and Hokkaido and will be around for a limited time only.  Curious travellers are sure to fall in love with this world filled with Disney magic.

As a big Disney fan, curious model Kanako just could not miss the opportunity to visit, so we headed over to Tokyu Plaza, Omotesando (Tokyo) to create a tongue-tantalizing report just for you. 

The entrance was a treasure trove of exciting 30th anniversary celebratory designs.

Venturing deeper, we came across illustrations of the exciting underwater world. 

Seeing all the images of the characters, memories of the film will come floating into your mind. Just how many wonders can one cafe hold?

There are five delicious meals and five delicious drinks on the menu. Everything was so cute that it was difficult to decide what to order. Time to dive in!

Ariel Vegetable Pasta with Genovese Sauce: ¥1990

This dish particularly caught Kanako's eye. A graceful print made of powdered spices and sauce depicts Ariel gliding through the sea. It went perfectly with the salad. Feel free to take the beautiful paper mat home with you as a souvenir. 

Cream Beach Risotto: ¥1,990

This creamy risotto depicts a beautiful beach. Look closely and you will spot Ariel's most prized treasure: a dinglehopper.  Feel free to take the dinglehopper home with you and add it to your collection of treasure. A layer of shrimp sauce lies hidden between the rice and mountain of salad. Can you spot Sebastian keeping a careful eye on Ariel? 

Seven Princesses of Atlantica Colourful Tartine Plate: ¥2,290

 This plate of tasty tartines depicts the seven sisters and will send you on an exciting flavour journey. The fruity tartine will fill your mouth with a fresh fruity burst of blueberries and strawberries. Next on the plate is a luxurious cream cheese tartine, followed by a chunky vegetable tartine and finally, a filling boiled egg and potato salad tartine. The tartines are surrounded by colourful sauces such as blueberry sauce, pumpkin sauce and carrot sauce. 

 Sebastian's Strawberry Smoothie: ¥890 (with themed drink coaster: ¥1,790)

This yoghurt smoothie is dedicated to King Triton's royal court composer Sebastian. Mix in the strawberry sauce before tucking in to enhance the flavour. You can also take the decoration on the glass back home with you. 

Upon noticing the coaster that came with her drink, Kanako's eyes were sparkling with desire. The drink coaster is a sure way to add some magic to all your drinks at home. Unfortunately, they are in limited supply, so make sure to get one before they are all sold out.

Next, the curious Kanako explored the merchandise corner. The illustrations on the merchandise have been specifically designed for this special cafe.

Canvas Art A/B  (two designs): ¥3,500

Now you can decorate your room with your own collection of whose-its, whats-its, and thingamabobs.

Letter Writing Set with Case (1 design): ¥800

BIC Ballpoint Pen (2 designs): ¥500 each (Flounder/Seahorse)

The pink-themed gadgets and gizmos are very cute too.

Spend over ¥1000 (before tax) in the merchandise corner and you will receive a special Little Mermaid 30th anniversary shopping bag. There are a limited number of these and they are available on a first-come-first-serve basis, so we recommend you go to the cafe as soon as possible if you want one.

This cafe is a whole world waiting to be discovered. Reservations cost ¥500 per person (before tax). Just ordering from the menu will grant you the special gift of an A5 clear file and you can even pick your favourite from 30 designs. Make sure to reserve your spot in advance and get ready to plunge straight into the fun!

©️Disney

Information

The Little Mermaid OH MY CAFE

Tokyo: OH MY CAFE TOKYO Tokyu Plaza Omotesando Harajuku (September 21 – November 9

Osaka: kawara CAFE & DINING Shinsaibashi (September 21 – November 10)

Nagoya: kawara CAFE & KITCHEN Nagoya PARCO (September 27 – November 10)

Hokkaido: Cafe Interlude (September 22, 2019 – October 14)

The Little Mermaid OH MY CAFE Official Website: https://mermaid.ohmycafe.jp/

KAWAII MONSTER CAFE Halloween 2019: Vampires, Werewolves, Frankenstein's Monster & More On the Menu

Harajuku hot spot the KAWAII MONSTER CAFE will hold a Halloween event entitled "KAWAII HARAJUKU Halloween PARTY 2019" for the entire month of October.

The Halloween season is almost upon us in Japan, where the spooky season's festivities often begin a little earlier in October as cafes, restaurants and shops start serving up their own unique Halloween-themed menus.

This year at the KAWAII MONSTER CAFE, the Monster Girls are inviting you to their kaleidoscopic Halloween party. From vampires to werewolves, Frankenstein's monster and beyond, prepare to encounter a Halloween like no other with a line-up of colourful dishes.

Colourful Pop Burger: Frankenstein's Monster – ¥1,580 (Before Tax)

The cafe's mascot character Mr. Choppy has been turned into Frankenstein's monster! This fat and juicy burger is filled with salsa sauce and melted cheese. Even the bun is cute and colourful too!

Choppy Baron's Dark Curry – ¥1,400 (Before Tax)

This time, Mr. Choppy has turned into a vampire for this pitch-black curry, laced with other Halloween colours too like purple and orange. This vivid plate isn't just tasty, its appearance has life to it too.

Nameless Cemetery Cheese Glutton – ¥3,200 (Before Tax) *Recommended for 3+ people

This surreal dish is a giant breaded coffin filled with gratin, rainbow-coloured cheese, and white sauce. Surrounding it are bats, eyeballs, and gravestones.

Monster Bongo Bongo Tiramisu – ¥1,080 (Before Tax)

An assortment of ice creams like matcha and houjicha all coated in Halloween-coloured chocolate. Hidden underneath the ghoulish pile is colourful cereal.

Midnight Pumpkin Chiffon Cake – ¥1,580 (Before Tax)

A fluffy chiffon cake topped with black sesame ice cream and a pumpkin lathered in pumpkin-flavoured fresh cream. The trickling bloody chocolate completes that Halloween look.

Bark At The Moon – ¥980 (Before Tax)

This adorable wolf dessert appeared during a full moon. It includes a crunchy doughnut on top of which is sat a sweet black sesame mousse werewolf.

Non-Alcoholic Basil Seed Jelly Cocktail – ¥900 (Before Tax) / Shake Hip Shake Chocolate – ¥950 (Before Tax)

There are two drinks to pick from this Halloween: a dark chocolate shake with a pumpkin floating on top and a cocktail filled with basil seed and jelly for an enjoyable texture. The cocktail can be served non-alcoholic or alcoholic.

There's plenty to look forward to at the KAWAII MONSTER CAFE this Halloween, so if you're in Harajuku this October, don't miss out!

*The food menu is limited to lunch time hours
*The drinks menu is available at all times

Information

KAWAII HARAJUKU Halloween PARTY 2019

Running: October 1, 2019 – October 31, 2019

Address: YM Square Bldg. 4F, 4-31-10 Jingumae, Shibuya, Tokyo
Access: 5-minutes on foot Harajuku Station via JR / 1-minutes on foot from Meiji-Jigumae Station via Chiyoda Line and Fukutoshin Line
TEL/FAX: 03-5413-6142/03-5413-6143

Business Hours
Weekdays & Saturday:
[Lunch] 11:30-16:30 (last entry 15:30 / last orders 16:00 – 90 min stay max)
[Dinner] 18:00-22:30 (last orders 22:00)

Sundays & Holidays:
11:00-20:00 (last orders 19:30)

*During busy times, a max stay time of 2 hours may be implemented.

Official Website: http://kawaiimonster.jp

This Week's Lunch: Peach & Yoghurt at dotcom space Tokyo in Harajuku

One thing I do at least once a week without fail is treat myself out to some delicious food or dessert. It's very important time well spent in order to live a happy life.

Today, I went and got my lunch early ahead of my morning work. I visited dotcom space Tokyo, a café in Harajuku where you can indulge in a laid-back experience.

©️photo Takumi Ota

The café is just a 4-minute walk from the Takeshita Street exit of Harajuku Station. Its atmosphere is so peaceful and related that you wouldn't believe it's right next to noisy and busy Takeshita Street. It's a spacious place with simple and stylish furniture and furnishings. I fancied something sweet this time, so I went and ordered the Peach & Yoghurt bread.

©️photo Takumi Ota

©️photo Takumi Ota

The interior decorating scheme is based on wood; you can feel how particular they were about the furniture. It's easy to wind down at this café due to its spacious interior. It's common to see workers scattered throughout too. It's a nice place to leave your desk for a little bit for lunch for a change of pace.

Peach & Yoghurt ¥680 / Iced Café Latte ¥550

The bread is piled with a generous serving of yoghurt cream and shiny peach which the light shines on.

I feel happy just looking at this delicious treat. Just spellbinding!

I sliced my first piece and popped it into my mouth. The bread is deliciously chewy, and the refreshing yogurt cream and sweet peach filled my mouth. The bread itself is a thick-cut slice and made by Pelican, a bakery in Asakusa. It has a chewy and moist texture you can't find anywhere else.

The yogurt cream isn't overly sweet, instead having a more refreshing flavour to it. When eaten together with the sweet ripened peach, the gorgeous mix blends together around your taste buds and melts in your mouth. Depending on the season, you can pick fruits other than peach too. They always have seasonal choices. I'm looking forward to their autumn and winter line-up.

The iced latte has a slight acidity to it, my favourite kind of flavour. It went really well with the Peach & Yogurt bread. The café is also particular about its coffee bean selection; one of its baristas is noted to be a past "Japan champion" when it comes to coffee. I've got to try the hot coffee the next time I visit.

A set meal, burger or the likes would have been good too, but I had my eyes set on a sweet dessert lunch. Getting a moment to chill out and enjoy something sweet made me happy today. I recommend enjoying some autumn fruit-topped bread too as the seasons change.

Today's Presents

Apple Juice ¥450

I's important to share the happiness between family and colleagues on when you get the chance to enjoy something tasty. I bought them some apple juice, which is poured into a cup with a smiling face on the side. It's made from 100% apples from Nagano. The straw is made from environmentally-friendly sugarcane.

Writer:Sayuri Mizuno(MOSHI MOSHI NIPPON)

This Week's Breakfast: French Toast at Bread, Espresso & in Omotesando

One thing I do at least once a week without fail is treat myself out to some delicious food or dessert. It's very important time well spend in order to live a happy life.

Today, I went out for breakfast. I got up a little earlier than usual and headed to my favourite cafe, Bread, Espresso & which is located in Omotesando.

It's really easy to get to: it's just a 5-minute walk from the A2 exit of Omotesando Station. Mornings are quiet in Omotesando, you don't see many people walking around, so it feels like a completely different place compared to its busy streets during the day.

When you enter the cafe, the smell of freshly-baked bread is the first thing to hit your senses. I sat down on one of the comfy sofa-seats and ordered myself the French toast breakfast set.

There's plenty of space between tables, so it's an environment that's easy to kick back and relax in.

Inside and outside the cafe are cute signs with that day's recommended menu items written on them. Next time I visit I think I'll try one of the lunchtime desserts. That's what I daydreamed about while waiting for my French toast to arrive.

French Toast Set w/Drink – ¥800

The French toast has a subtly sweet scent. It's made with one of the cafe's popular foods: the butter-loaded bread known as "Muu."

The toast's crusts were nice and crunchy while the middle part was fluffy. The soft bread just melts in your mouth when taking a bite, and your taste buds are treated to the sweet flavour of the egg.

The toast is delicious as it is, and you can totally leave it at that and enjoy your morning breakfast. But if you want to take it to the next level then you can drizzle the accompanying honey over the toast, giving the sweetness an even richer flavour.

I'm usually not good with the characteristic sweet taste that honey has, or the bitterness layered into the overall flavour, but this honey was on the milder side so I really enjoyed it.

After my food, I enjoyed the cappuccino the barista beautifully made for me which comes as part of the set.

My 1-hour morning was spent even more relaxed than usual here. It's much different from lunchtime which is a much busier and hurried time, so I could sink in my chair and really enjoy my drink too.

Waking up early and enjoying a relaxing breakfast. That's all I did, but it helped ease my busy mind and soul. I'm a simple person, and I think I'll be able to face my week and work hard at it after this.

Today's Presents

Futsu Furu Fig Sandwich – ¥420

Futsu Uni Fruits – ¥400

I wanted to share the happiness between friends and family on this fine day where I got to eat a delicious breakfast. These sandwiches are packed full of fruits―seasonal fruits which are best enjoyed right now. If you're wondering what other sandwiches they sell then be sure to visit.

Writer: Sayuri Mizuno (MOSHI MOSHI NIPPON)

Translator: Joshua Kitosi-Isanga

Information

Bread, Espresso &

Address: 3-4-9 Jingumae, Shibuya, Tokyo

Business Hours: 8:00-20:00

No Fixed Holidays

That Time I Got Reincarnated as a Sanrio Slime Fair Opens at Three KIDDYLAND Stores

From September 21 to October 11, three KIDDYLAND stores will be holding a fair dedicated to the anime That Time I Got Reincarnated as a Slime, which has become a big hit overseas. 

 

The series, which was created by Fuse, aired two seasons from October 2018 to March 2019. It has been confirmed that a sequel will be made in the year 2020. Following the anime's successful reception, a novel version of the anime series which goes by the same name was produced by GOT A CHANCE novel. More than 14 million copies have been sold so far.

The story follows an extraordinary event which happened to a normal man. The main character Satoru Mikami died to random knife attack and was reincarnated as a monster called a slime. The series became massively popular once the adorable figure of the main character as a slime was revealed.

That Time I Got Reincarnated as a Sanrio Slime: Slime Keyring (5 designs): ¥1,200 each (before tax)

All your favourite characters have been reincarnated in a cute Sanrio-style! Head to the KIDDYLAND fair to get your hands on a KIDDYLAND-limited Slime Keyring. A large variety of new goods are being sold here ahead of any other shop and online service.

That Time I Got Reincarnated as a Sanrio Slime: Cuddly Characters Badge (5 designs): ¥680 each (before tax)

Come explore all your favourite characters in their adorable Sanrio form!

©川上泰樹・伏瀬・講談社/転スラ製作委員会

Information

That Time I Got Reincarnated as a Sanrio Slime Fair IN KIDDYLAND

Location: KIDDYLAND (Harajuku, Ikebukuro Sunshine City, Sannomiya)

Running: September 21 ー October 11,2019 

More Information: https://www.kiddyland.co.jp/event/ten-sura/

Harajuku To Open A Micro Pig Cafe Themed Around The Three Little Pigs

Japan is famous for its animal cafés. If you are looking for something less conventional, then mipig cafe ー a heavenly cafe where you can play endlessly with adorable micro pigs ー might be just what you are looking for. mipig will be opening its second cafe in Harajuku in November 2019.

With the concept of "becoming a home for micro pigs", mipig cafe opened their first cafe in Meguro on March 1st, 2019. After just half a year, over 30,000 people visited the cafe and reservations were full every day.

Check out our previous report on the Meguro mipig cafe here: P→★ (TEMPURA KIDZ) Animal Café Diary #5: Visiting Japan's First Micro Pig Cafe 'mipig cafe'

The concept for the Harajuku branch is "entering the world of a micro pig picture book" and therefore, the cafe decoration is based on the famous story "The Three Little Pigs". This is the perfect environment to play with the adorable little pigs and create some loving memories together.

Information

Information

mipig cafe Harajuku

Address: Barbizon76, 1 Chome-15-4 Jingumae, Shibuya, Tokyo

Reservations: Advanced reservation required. The reservation period will open from approximately the end of October. 

* For more information, please check mipig's official Instagram and Twitter accounts:

Instagram: (@jpmipig)

Twitter:(@mipigcafe)

MOSHI MOSHI ROOMS Opens Origami Themed Accommodation 'ORIGAMI' in Harajuku

The second room of the ASOBISYSTEM-produced home sharing facility MOSHI MOSHI ROOMS has finally opened. Named "ORIGAMI," the room is available via Airbnb, and is a joint-effort between ASOBISYSTEM, which promotes Harajuku culture to the rest of the world, and Rokuyon, which manages unique accommodations in Shibuya.

MOSHI MOSHI ROOMS SAKURA 

MOSHI MOSHI ROOMS is an accommodation service that offers concept rooms brimming with originality which you won't find at any other hotel, hostel or home sharing facilities. The first room, SAKURA, opened in December last year, proving popular with travellers around the world with its cherry blossom theme.

Joining as the second room in the series is 'ORIGAMI,' a room based entirely on the Japanese art of paper folding which covers the entire room at every turn.

Living Room

The cosy living room is decked out with benches and stools, furnished in the style of a Japanese tea house. Dangling overhead are lights which brighten the room with their warm colour. The light shades are in fact traditional Japanese umbrellas which help bring that quaint Japanese atmosphere alongside the colourful folding fans, matcha-making tea set, and more.

Bedroom

The picturesque room is floored with tatami where you can sit and relax on a zaisu―a traditional chair with no legs used for sitting on tatami mats. The paper lanterns and sliding doors elevate an exciting air in the room. The stairs leading upstairs are made up of chests of drawers which you can use to store your luggage.

Both the upstairs and downstairs are fitted with mattresses spreading 2.6 meters wide which can accommodate up to 6 people in total. The mattresses are by Nishikawa which offer dreamy comfort and a high quality sleep. The mattresses can also be switched out for a different type depending on what kind of feel you are looking for.

Powder Room

The Powder Room is equipped with amenities including cotton swabs, cotton pads, and hairbands. Seat yourself comfortably at the wide table and get ready for your day or night out.

Shower Room

The Shower Room also has everything you need including shampoo, conditioner, and body soap. As well as a shower, there is also a Japanese-style Washlet toilet.

Everything Else & The Amenities

ORIGAMI has all of the living essentials. If you're looking to cook while staying here, the kitchen has a microwave, refrigerator, plates, pans and more. There is even a washing machine.

Guests can also rent a kimono haori. Be sure to take lots of pictures!

4F Entrance – Staircase

The ORIGAMI room begins from the staircase leading from the third floor to the fourth floor. The door is actually made of tatami mats.

Building Entrance

Our building is very easy to spot at the ground floor entrance with the giant neon sign that reads "MOSHI MOSHI NIPPON" in Japanese as well as the MOSHI MOSHI ROOMS logo on the wall.

Rooftop

Guests are free to use the rooftop which offers a panoramic view of Harajuku.

Like SAKURA, ORIGAMI is available to book on Airbnb only. Whether you're coming from overseas and in need of a room, are doing a staycation, or just want a place to get together with the girls, then book now with MOSHI MOSHI ROOMS.

Information

MOSHI MOSHI ROOMS -SAKURA-

Address: 2-18-7 Jingumae, Shibuya, Tokyo

Access: 8-minutes on foot from Meiji-Jingumae (Harajuku) Station via the Chiyoda and Fukutoshin lines

Occupancy: 1-6 people

Price: ¥40,000 (does not include handling and service charges) *1 room 1 night

*Accommodation prices are subject to change depending on the period. For full details please check the Airbnb website

Official Website: https://rooms.moshimoshi-nippon.jp

ORIGAMI Bookings: https://bit.ly/2Ug3nVv

SAKURA Bookings: https://bit.ly/2NwrA8x

Sanrio's Cinnamoroll Serving Up Drinks at the Sky Drink Stand in Harajuku

Cinnamoroll's Sky Drink Stand is finally open in Harajuku where Sanrio's adorable white puppy will be catering drinks to your taste until August 25.

The drink stand is located along Harajuku's famous Takeshita Street.

When you step inside you are taken soaring up into the clouds with its fluffy decor and decorations.

Cinnamoroll can be found all around the cafe looking adorable♡

To get a drink you first need to purchase a ticket from the ticket machine. Once you've got that, it's time to head on over to the row of Cinnamoroll plushies.

There are 27 drinks in total to choose from. You will converse with Cinnamoroll and answers his questions which will change the colour, flavour and toppings of your drink. Your specially made and unique drink will arrive bottled with a handwritten name label on the front.

As you answer the questions you will be able to see Cinnamoroll making your drink on the tablet.

After a short time your drink will arrive!

Here is my cute and sparkly drink. I wrote "MOSHI MOSHI" in Japanese (もしもし) for the name tag. Mine was a delicious fizzy summery drink with blue jelly.

If you go with friends then you can have fun comparing your different drinks too!

You can get some even cuter photos at the shop's many photo spots.

And if you want to order your drink in advance then you can use the Cinnamoroll Talk app which is compatible with Google Assistant. After you say, in Japanese, "OK Google, Cinnamoroll ni Osora Dorinku Onegai" (OK Google, please give me a Cinnamoroll Sky Drink), the order window will pop up. After you've talked with Cinnamoroll on the app you will receive an order number to collect your drink. There are also secret sentences hidden around the store for talking with Cinnamoroll, so if you find them you can have a longer chat with him!

Make your own unique summertime beverage with Cinnamoroll at the Sky Drink Stand♡

Information

Cinnamoroll Sky Drink Stand
Location: BOK Gallery Takeshita Street (Tousen Harajuku, 1-16-6 Jingumae, Shibuya, Tokyo)
Running: August 22, 2019 – August 25, 2019 (*Open to the press and invitees only on August 21)
Price: ¥700 (Tax Included) per drink
Business Hours: 11:00-20:00
*Greeting events will be held at scheduled occasions where Cinnamoroll and friends will appear at the drink stand

Harajuku Summer Festival 2019 to Take Place at Togo Shrine

GLOBAL PRODUCE, a Japanese event organiser, is set to sponsor Harajuku Summer Festival 2019 which will be held at Togo Shrine in Harajuku, Tokyo on August 23. Bringing together professional event producers, the festival will combine elements of traditional Japanese culture with the latest trends.

Food trucks and stalls will open in the dozens, including appearances from the shaved ice shop Kooriya bebe which makes its fluffy shaved ice from the natural spring waters of Mount Fuji―perfect for the hot weather―as well as Ichika, a cafe known for its tapioca Japanese tea lattes made with high quality tea leaves from Kagoshima. Current popular restaurants will also serve up delicious summertime food. There will even be the Harajuku Bon Odori 2019 dance event, and the marchers for the Tokyo 2020 Olympics will also be present.

Tokyo Bijin Project will make their first ever live appearance, a group of shining Japanese women with "wisdom, dignity and compassion" who are set to speak out for other strong women. They will talk leadership, interpretation, attending to people, the spread of Japanese culture, and more.

If you are in Japan for the summer then make sure you attend all of the different summer festivals you can.

Information

GLOBAL PRODUCE presents Harajuku Summer Festival 2019 at Togo Shrine

Date: August 23, 2019

Time: 19:00-21:00 (Reception open from 18:30)

Location: Togo Shrine (1-5-3 Jingumae, Shibuya, Tokyo)

Togo Shrine Official Website: http://www.togojinja.jp/

STRAWBERRY MANIA: Harajuku's Cutest & Tastiest Strawberry Ice Cream | Food Review

Hey, readers. It's Midori again, from MMN's editorial team.

Summertime in Harajuku means the cafes and ice cream shops start serving up some seriously kawaii and tasty ice creams. It's always nice to grab a cone to enjoy while walking around shopping, but relaxing in a cafe to enjoy it is fun too♡

If the latter sounds like your kind of thing, then I've got a new recommendation for you. I visited STRAWBERRY MANIA recently, cafe located along Takeshita Street in Harajuku that specialises in strawberry desserts.

You'll find it right above the 7-Eleven on Takeshita Street. Look for the strawberries!

There's also a sign outside showing a few of the desserts. Go up the staircase right next to it and you'll come to the cafe entrance.

No matter where you turn while you're here, your eyes will be met with strawberries. It looks so cute♡

The shopfront showcase is shelved with lots of succulent strawberry treats. The chef whips up other desserts to order besides these too. Everything's almost too cute to eat!

For the strawberry soft serve ice cream you can pick between three flavours: milk, strawberry or mixed. I couldn't pick between them so I went for mixed.

The combination of the bright red strawberry ice cream and pure white milk ice cream makes for a beautiful colour contrast.

It's also topped with a huge fresh strawberry.

I took no time at all in taking a spoonful. The strawberry ice cream has a really rich flavour. It's sweet but has that sour kick too, like you're eating a real strawberry. The milk ice cream has a milder sweetness and a real milky taste, the kind you'd imagine if it was sold at a farm with cows.

Everything is packed snug into the cone right down to the bottom, making it a filling treat. It can be ordered for takeout if you like, and if you do that you can get your ice cream straight away so you don't have to wait for seats.

They serve other things besides soft serve too, like shaved ice and parfaits. There's so much to choose from, I think you'll be spoiled for choice! Be sure to visit if you're in Harajuku.

Night Party at Harajuku's Conveyor-Belt Dessert Cafe Ron Ron for 20 Year Olds Only

MAISON ABLE Cafe Ron Ron is a popular conveyor-belt dessert cafe in Harajuku. We visited the cafe last year when it had just dropped, so be sure to check out our cover story if you want more information.

The cafe has just announced a night party that is exclusive to those in their 20's. Titled "Cafe Ron Ron 20ty's Night Party -PINK FRIDAY- supported by MAISON ABLE," the event began yesterday and will run every night up to September 27.

Customers can enjoy all-you-can-eat unlimited snacks for just ¥500 with no time restrictions. For an additional fee, you can also pick from the food menu which features 5 dishes and order from the drinks menu which includes alcohol.

Everything on the food and drinks menu is ¥500 too, making it a delicious bargain!

Desserts are served at varying time slots from 19:00. Depending on what time you arrive or decide to start eating the menu will change which is all part of the fun!

The cafe has also teamed up with the fashion rental shop airCloset next door so customers can enjoy dining at Cafe Ron Ron while wearing a yukata.

You can even continue wearing the kimono after you've eaten so you can stroll the streets of Harajuku, go to nearby festivals and more for an exciting day out in Japan's youth and culture hub. The yukata can be rented by people of all ages – full details on the websites below.

Information

Cafe Ron Ron 20ty's Night Party -PINK FRIDAY- supported by MAISON ABLE

Location: MAISON ABLE Cafe Ron Ron (6-7-15 Jingumae, Shibuya, Tokyo)

Running: August 2, 2019 – September 27, 2019

Conditions: Restricted to those aged 20-29 years (*photo ID required upon entry)

Opening Hours: 19:00-22:00 (Last Entries 21:30)

Official Website: http://cafe-ronron.com/pinkfriday/

airCloset x ABLE

Address: 6-7-15 Jingumae, Shibuya, Tokyo

Running: July 27, 2019 – September 30, 2019

Opening Hours: Weekdays 11:00-21:00 / Weekends 11:00-19:00 (Last fittings at 17:00)

Return Periods: By 21:00 on weekdays / By 19:00 on weekends)

Closed: Tuesdays

Cautions:

・Please take a camisole or tank top that can be worn under your yukata

・Foreigners are asked to take a copy of their passport when renting

・There is a luggage storage service for those who are returning on the same day

Official Website: http://cafe-ronron.com/yukataderonron/