Event Registration Now Open! MOSHI MOSHI NIPPON FESTIVAL 2018 to be held in Shibuya
This year, the MOSHI MOSHI NIPPON FESTIVAL will move away from the routine location of Tokyo Metropolitan Gymnasium and head to the Shibuya and Harajuku area! We will deliver Japanese culture to the world to the fullest in the form of music, fashion, food, tourist information, and much more from numerous locations around town.
<Find Japan's Kawaii♡ "Harajuku Kawaii Market">
Location: Laforet Museum Harajuku
Time/Date: March 24th-25th at 11:00-19:00 (subject to change)
<This picture shows a past event>
Laforet Harajuku has its own museum where we will hold a 'Harajuku Kawaii Market' with the theme of 'Find Japan's Kawaii♡'. Head on over to get involved with the many experience-based booths available, offering fashion, beauty, fortune telling, DIY and more. You'll be served up everything you need to transform into a kawaii girl simply by visiting. On stage, we will have models who are active in magazines catered to the Harajuku Style, influential figures popular across social media, and more! We will deliver Japan's kawaii culture from the hub of Laforet Harajuku!
<Featuring Japanese new music "MOSHI MOSHI MUSIC FESTIVAL">
Location: Tower Records Shibuya B1F CUTUP STUDIO / Tower Records Shibuya Rooftop Stage
Time/Date: March 24th-25th at 14:00-21:00 (subject to change)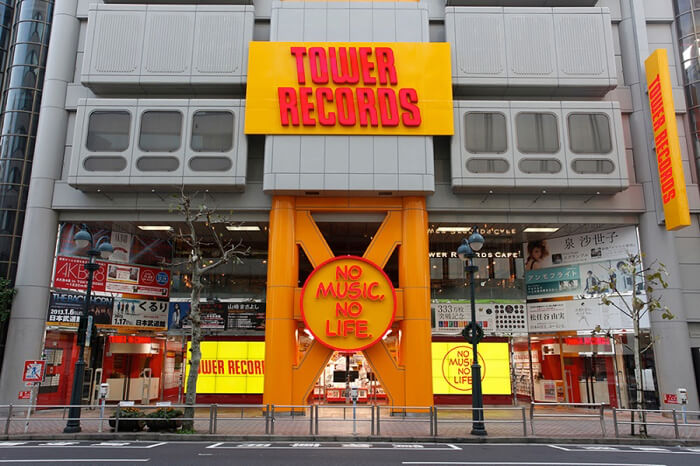 Over at Tower Records Shibuya, we will host a music event for young up-and-coming artists in the Japanese music scene. A range of artists and people from the music media who have hooked up with talented new musicians will become official curators at the event and recommend promising artists. MOSHI MOSHI NIPPON, who promote Japan's pop culture to the world, will join forces with each curator and create an exciting stage.
<Enjoy Hanami Early in Shibuya at "MOSHI MOSHI NIPPON Market">
Location: Shibuya CAST.
Time/Date: March 24th-25th at 12:00-18:00 (subject to change)
We will set up a fun market at SHIBUYA CAST. where you can enjoy Japan's symbolic cherry blossoms while eating traditional Japanese food and matcha sweets and drinking sake. There will be stalls selling vegetables, booths where you can get up close and personal with traditional Japanese culture, and more. The market will offer a cuisine and culture experience only possible in Japan.
<Tie Links With the Gods of Harajuku at "MOSHI MOSHI ENNICHI">
Location: Onden Shrine
Date/Time: March 24th-25th at 12:00-18:00 (subject to change)
A traditional day held at Onden Shrine is 'Ennichi'. Look forward to strolling along the festival walk and tucking into some festive food at the indispensable food carts, trying your luck at the classic yo-yo fishing, and more. We will also set up a stage at the shrine where you can listen to traditional Japanese gagaku, or ancient imperial court music, as well as a character DJ festival where many different well-known characters will perform. You'll be spoiled for choice on where to begin at the festival, and there's plenty for both kids and adults to enjoy.
Register & Receive an Original Bag!
People that register in advance for the event will receive an original bag as thanks. But be careful, as we only have a limited stock, so don't forget to register early.
How to Register
You must sign up in advance to go to the festival. Registering is completely free. To register, please visit the Peatix link below and follow the instructions. Once you have completed your registration, you will receive a QR code from Peatix that you must bring with you on the day of the event.
*Upon registering, you will be signed up as a MOSHI MOSHI NIPPON Member where you can receive mail magazines, and to Omotenashi Platform.
■Information
MOSHI MOSHI NIPPON FESTIVAL 2018 in SHIBUYA
Time: 11:00-21:00 (subject to change)
Organizers: MOSHI MOSHI NIPPON FESTIVAL Executive Committee
Support: Shibuya-ku / Shibuya-ku Tourism Association
Location: Shibuya & Harjauku area (Tokyo)
Main Locations: Laforet Museum Harajuku / Shibuya CAST. / MOSHI MOSHI BOX Harajuku Tourist Information Center / Onden Shrine / Tower Records Shibuya
Contents: Experience-based Activities / Performances / Fashion / Participation-based Activities / Inbound Services / and more
Price: Free (select areas will charge a fee)
Click following site to register:https://mmnf2018.peatix.com/
Official Event Page: http://fes18.moshimoshi-nippon.jp
Twitter: https://twitter.com/moshi_fes
RELATED ENTRIES
Shibuya's New Hotel sequence MIYASHITA PARK Connects the People to the City

sequence MIYASHITA PARK is a new mixed-use hotel set to open inside MIYASHITA PARK on August 1, 2020.

sequence's concept is to connect the people with the city. It offers a space for everyone whether they want a quiet time alone, whether they are sightseeing, having a work-do, celebrating a party or festival, and more. This is centred around the hotel's three notions: "SMART," "OPEN," and "CULTURE."

The hotel is inspired by the local concept of "PARK MIND" which offers guests a place to relax after a long, busy day, like in a park. It has collaborated with Tokyo-based designers and creators to bring this to life in room designs. Furniture and fittings are simple while still being of high quality.

The fourth floor entrance connects seamlessly to Miyashita Park and is home to a lobby lounge as well as the new VALLEY PARK STAND cafe and bar. Up on the fifth floor is the breakfast dining restaurant Dōngxī Restaurant & Sakaba. Up on the 18th floor, guests can enjoy a panoramic view of Shibuya, as well as dine at the entertainment restaurant SOAK whose design and concept mixes together history and the future, the West and the East. There is also art from artists coordinated by The Chain Museum.

Make Your Own Original KitKat at Tokyo's KitKat Chocolatory Miyashita Park Shibuya

Nestlé Japan is opening a new branch of KitKat Chocolatory inside Shibuya's new shopping mall Miyashita Park on August 4, 2020.


KitKat Chocolatory is a direct-to-consumer chain, serving premium, handcrafted KitKats made with top quality ingredients and production methods under full direction by Takagi Yasumasa―the owner and chef of LE PATISSIER TAKAGI. Its product line-up features a range perfect as gifts to friends, family and co-workers, or as a treat to yourself.

Japan is home to eight KitKat Chocolatory branches. The new Miyashita Park Shibuya branch will open as the fourth in Tokyo, as well as the first where you can create your own KitKat products.

My KITKAT: ¥2,000 (Before Tax)

"My KITKAT" comes as the world's first KitKat service where consumers can create their own original chocolate bars.

KitKat Waffle: ¥1,000 (Before Tax)

KitKat Chocolatory Sublime Soft Cream: ¥630 (Before Tax)

KitKat Chocolatory Miyashita Park Shibuya will also sell a variety of unique and exclusive KitKat desserts, like luxurious soft serve ice cream topped with couverture chocolate. It will also offer a cafe menu created by Nespresso, where customers can pair Chocolatory desserts with seasonal coffee menus, and more.

Shibuya-esque wall art will decorate the interior of the shop, making for plenty of photo opportunities.

Information

KitKat Chocolatory Miyashita Park Shibuya

Grand Opening: August 4, 2020

Address: Miyashita Park South 2F, 6-20-10 Jingumae, Shibuya, Tokyo

Opening Hours: 11:00-21:00 (Last Orders 20:00)

TEL: 03-6427-6811

Official Website: https://nestle.jp/brand/kit/chocolatory/

Laforet Harajuku's Midsummer Takeaway Desserts Include Cinnamoroll Goodies

Eight shops inside Laforet Harajuku are participating in the shopping mall's midsummer takeout dessert event which is taking place from August 1 to 31. This includes the new milk dessert shop "MILK MILK MILK" which opened as the first branch in Japan on July 17 this year. Desserts and merchandise of Sanrio's popular character Cinnamoroll, who won this year's 2020 Sanrio Character Ranking, will also be sold.

café de paris | Floor B1F


Many Many Fruits Sandwich: Mango ¥626 / Green Grape ¥561 (Tax Included) *Takeout only

Fresh fruit is packed onto these adorable looking sweet sandwiches.

CAFE CREPE | Floor 1F


Honey Summer Orange: ¥730 (Tax Included) *Takeout only

Another cute summer dessert finished with swirls of fresh cream, fresh orange, and a round dollop of ginger ice cream.

MILK MILK MILK! | Floor 2F


Milk Bottle Smoothie: ¥880 (Tax Included) *Takeout and have-in

Served in a cute milk bottle, what better way to cool down than with a cool strawberry smoothie?

Cinnamoroll Milk Pudding: ¥1,078 (Tax Included) *Takeout and have-in


Cinnamoroll Sky Beaker Parfait: ¥1,048 (Tax Included) *Have-in only

There are two tasty Cinnamoroll desserts to choose from, including the milk pudding made with Hokkaido milk and a parfait with a gradient or jelly and chocolate mint ice cream, topped with mint, and served in a beaker.

© 2001,2020 SANRIO.,CO.LTD. APPROVAL NO.S610695

Information

Laforet Harajuku Summer Takeout Menu
Running: August 1, 2020 – August 31, 2020
Official Website: https://www.laforet.ne.jp/

Starbucks Japan to Open New Branch Produced by Hiroshi Fujiwara in Miyashita Park

Starbucks Japan is opening a new branch in MIYASHITA PARK on August 4, 2020. Set to be Starbucks Japan's fifth "park" branch—opening inside a park—the new coffee shop is being produced by Hiroshi Fujiwara's Fragment brand.

MIYASHITA PARK is a shopping complex filled with shops stocking high quality products, and stands as a new landmark of Shibuya. On the rooftop is the newly-arranged park area which has its own skate park, bouldering wall, and more. It's home to all-new facilities, and there's also the actual park where events can take place.

Starbucks Coffee Miyashita Park offers a new style of Starbucks conceived from the mind of Hiroshi Fujiwara. Glass doors are fitted on both the front and back sides of the cafe, allowing for a full-open design. The flooring is coloured green, making it feel as if it has become one with the green outdoors of the park, and the same mesh used inside Miyashita Park is used for the ceiling.

The cafe's design was conceived to be a unique standout in the park, specifically with the image in mind of countries outside Japan where you walk along a lone road and eventually come to a gas station.

Starbucks Coffee Miyashita Park will also sell a range of merchandise at the back of the shop, as well as Starbucks coffee beans. There's also a glass table in the middle of the cafe which slots in nicely with the overall aesthetic. The fun design together with the expanse of the park outside adds for an enjoyable combination that makes it a pleasant stay as you sip your beverage.

The regular line-up of merchandise sold at the Miyashita Park branch, such as the tumblers, are all produced by Hiroshi Fujiwara's Fragment brand. Items are branded with the word "MYST" which lets you know it's from this particular branch, as well as Fragment's logo.

Discover a new Starbucks experience at Miyashita Park.

Information

Starbucks Coffee Miyashita Park
Address: 6-20-10 Jingumae, Shibuya, Tokyo

Grand Opening: August 4, 2020

Opening Hours: 8:00-22:00

Shibuya PARCO: Food, Shopping & Events in July and August 2020

Shibuya PARCO has a packed showcase for summertime this July and August, with pop-up shops, events, exhibitions, new products, and much more. The YUI ARAGAKI NYLON JAPAN ARCHIVE BOOK 2010-2019 photo exhibition, which sold out tickets, was posted as an online exhibition. The popular curry house Good Luck Curry, originally located in Ebisu, has moved to Shibuya PARCO. Let's take a deeper look at the line-up.

4F PARCO MUSEUM TOKYO Relics of Kanto Through Time


Running: August 1, 2020 – August 16, 2020 | Entry Price: ¥700

New York City-based American artist Daniel Arsham is teaming up with Pokémon for a special exhibition centred around Arsham's concept of "Fictional Archeology." Visitors can enter for a chance to win a "Crystalized Pikachu" as well as get their hands on a variety of exhibition products. A two-meter tall Pikachu made from bronze will also be put on display on the first floor of Shibuya PARCO.

Details: https://art.parco.jp/museumtokyo/detail/?id=425

B1F GALLERY X YUI ARAGAKI NYLON JAPAN ARCHIVE BOOK 2010-2019 PHOTO EXHIBITION


Running: July 16, 2020 – July 27, 2020 (Online Exhibition) | Price: ¥300

This exhibition is centred around Yui Aragaki's photo book YUI ARAGAKI NYLON JAPAN ARCHIVE BOOK 2010-2019 which compiles her work features in the fashion magazine NYLON JAPAN between 2010 to 2019. The book celebrates Aragaki at the age of 31, and was so popular at the time of its release that it sold out.

Details: https://art.parco.jp/galleryx/detail/?id=424

B1F Good Luck Curry

Good Luck Curry is a curry house managed by the chefs of Ata, a bistro in Daikanyama. Originally situated in Ebisu, the restaurant has been revamped and moved to Shibuya PARCO where they are serving a range of delicious spicy curries topped with a colourful array of vegetables.

B1F GAN-BAN FUJI ROCK COLLECTION "CREW NECK T-SHIRT" Limited Edition Sale

The "FUJI ROCK COLLECTION" of T-shirts are always so popular that their stock never fails to sell out. The new crew neck version is now available at the official FUJI ROCK shop and are being sold at Shibuya PARCO.

B1F Mirai Nihonshu-ten & SAKE BAR "Summer Sake Cocktails"

For this summer only, Mirai Nihonshu-ten and SAKE BAR are serving up two refreshing cocktails.


Left: Hakuju Salty Lemon | Right: Suzu Sweet Green

The Hakuju Salty Lemon is like a Salty Dog cocktail. It has notes of citrus and a salty sea salt bite. The Suzu Sweet Green is made with a sake known as "Kubota Suijyu" which is mixed with cocoa vinegar. It has a subtle sweetness.

Given Boys-Love Anime Film Promotion to Take Place at Tower Records Shibuya

To promote the upcoming release of the Given anime film adaptation, Tower Records Shibuya is opening an official "Given Gallery" which will take place on the store's 8th floor from August 8 to 23.

Given is a popular boys-love (BL) manga by Natsuki Kizu that is serialised in Shinshokan's Cheri+ magazine. An anime adaptation aired Fuji Television's noitaminA programming block from July to September last year.

At the exhibition, fans will find a collection of coloured illustrations by the manga's author Natsuki Kizu, display panels from the anime series, raw images taken from the upcoming film, and more.

Given x Tower Records Merchandise


Natsuki Kizu Illustrated Merchandise

Fans of the series can get their hands on a collection of exclusive merchandise at the Given Gallery.

Backstage Pass Design Postcard


Standing Panel A / Standing Panel B

Available on a first-come, first-served basis, visitors will receive one of nine possible postcards for free, each of which is designed in the style of a backstage pass. And for every ¥4,000 spent on the merchandise sold there, they will get a lottery ticket for a chance to win one of the life-sized standing panels of one the characters from the series which will be displayed at the event. Details will be announced at the event and on Tower Records Shibuya's official website.

Quiz Postcard

Original Postcard

All visitors will be handed the "Given Gallery Quiz" when attending the event. If they answer all the questions correctly, they'll receive a free postcard. Participants must be following Tower Records Shibuya (@TOWER_Shibuya). If you download the official Tower Records app and sign up as a member, you can get another original Given x Tower Records postcard too.

Though the Given Gallery is only taking place at Tower Records Shibuya, other branches of Tower Records will still be selling Given x Tower Records merchandise. You can find the branch list below.

Information

Given x Tower Records Merchandise

Release Date: August 22, 2020
Branches: Sapporo PIVOT / Ikebukuro / Shinjuku / Machida / Kawasaki / Urawa / Nagoya Kintetsu Passe / Umeda NU Chayamachi / Kyoto / Tower Records Online

Given Gallery
Running: August 8, 2020 – August 23, 2020
Location: SpaceHACHIKAI – Tower Records Shibuya 8F (1-22-14 Jinnan, Shibuya, Tokyo)
Time: 11:00-21:00 (Last Entries 20:30)
Entry Price: ¥800 (Tax Included) *1 hour slot

How to Attend: You must purchase a ticket in advance with a select time and date at the official website link below.

Official Website: http://towershibuya.jp/news/2020/07/27/147089

Given Movie

Release Date: Spring 2020

Official Website: given-anime.com

Harajuku's KAWAII MONSTER CAFE Serves Up a Special Summertime 5th Anniversary Lunch Menu

KAWAII MONSTER CAFE HARAJUKU is celebrating its 5th anniversary this year with a special limited-time summer lunch menu which is now being served until September 30.

KAWAII MONSTER CAFE opened its crazy doors on August 1, 2015. Since then, it has become an iconic must-visit spot of Tokyo's youth fashion hub Harajuku, serving Harajuku-esque food, drinks, and desserts. And they haven't held back on their colourful anniversary lunch either.

*Menu names have been translated from Japanese. The main dishes listed are an excerpt from the full menu.

MAIN DISHES

KAWAII Cold Noodles ~5 Years Begun~ | ¥980

This gorgeously colourful KAWAII MONSTER CAFE-style serving of cold noodles looks just like a parfait. The rainbow of ingredients is made to look like the goldfish scooping game seen at Japanese festivals.

Colourful Pop Burger – Froggy Looking Back Over 5 Years | ¥1,480

This frog burger has been seen at the cafe before, but this one celebrates 5 years of KAWAII MONSTER CAFE. It's a filling combination of bacon, cheddar cheese, lettuce, tomato, and of course the patty, all topped with BBQ sauce. It's served with both shoestring potato chips and lattice-cut potato chips.

SWEETS


Choppy Macaron Ice Cream | ¥950

The popular "tunkaron" macarons make their way to the KAWAII MONSTER CAFE in this ice cream dessert which is a combination of vanilla, strawberry, and chocolate ice cream made to look like the cafe's mascot Choppy. He's surrounded by a bed of sweet cotton candy.

Colourful Rainbow Ice Cream Cake (Quarter) | ¥800

KAWAII MONSTER CAFE's popular "Poison Cake" dessert arrives in an ice cream version for thr 5th anniversary. The marshmallow ice cream is filled with chocolate chips and the whole thing is coated in cream cheese. It's topped off with a rainbow made entirely from chocolate.

Melty Ice Cream Chocolate Banana Pie: ¥1,300

A custard pie topped with an upside down ice cream and adorned with a kaleidoscope of fresh cream, chocolate, sweets, and more. As you eat through the dessert, you'll find a chocolate coated banana – a classic sweet treat sold at Japanese summer festivals.

DRINK

Shake Hip Shake Chocolate Banana / Harajuku Decora Smoothie / Frozen Lemonade Ginger

Shake Hip Shake Chocolate Banana | ¥900

A shake that mixes cocoa and banana to create that Japanese summertime chocolate banana flavour.

Harajuku Decora Smoothie | ¥900

This peach smoothie is subtly sweet and has a satisfying texture that feels good when it goes down the throat. It's topped with fresh peach and nata de coco.

Frozen Lemonade Ginger | ¥850

A combination of sour lemon and fragrant ginger makes this a healthy beverage. Topped with lemon and ginger sherbet, it's a frozen, non-alcoholic cocktail.

Briana Gigante Shake: ¥950

This shake is a collaboration with Briana Gigante, a YouTuber. It's also inspired by her, mixing together coffee jelly, berry sauce, and brown cane sugar. It's finished with a topping of fresh strawberry, Oreo, and chocolate lips.

KIDS MENU

Kids Pop Mini Sliders w/Drink: ¥780

A colourful slider dish that's sure to be adored by kids. It comes with both a mini cheeseburger and fried shrimp burger with a side of nuggets and fries.

Kids Kiss Parfait: ¥850

The cafe's "Poison Parfait" has been turned into a kids version, layered with strawberry sauce, milk sauce, Japanese pudding, vanilla and strawberry ice cream, gummies, marshmallows, fresh berries, and chocolate lips.

Information

KAWAII MONSTER CAFE HARAJUKU
Address: YM Square Bldg. 4F, 4-31-10 Jingumae, Shibuya, Tokyo

Opening Hours: 11:30-19:00

No Fixed Holidays
Access: 5-minutes on foot Harajuku Station via JR / 1-minutes on foot from Meiji-Jigumae Station via Chiyoda Line and Fukutoshin Line

Official Website: https://kawaiimonster.jp/

Harajuku's New Chocolate Dessert Shop SÔ CÔ La Now Open For Business

The first Tokyo branch of the chocolate dessert shop SÔ CÔ La opened in Harajuku on July 15, 2020. Together with Harajuku Milk & Mot Tram—a shop which opened in collaboration with bubble tea shop Mot Tram and fresh cream shop Milk—SÔ CÔ La serves to further cement Harajuku as the number one place to go for desserts.

SÔ CÔ La Soft Serve Ice Cream: ¥550


SÔ CÔ La Soft Serve Ice Cream Sundae: ¥550

SÔ CÔ La will serve a range of desserts using ruby chocolate—the officially-recognised fourth type of chocolate alongside milk, dark, and white—the cocoa beans of which have a natural pink colour. It has a sweet, sour, and fruity taste. Customers can look forward to trying a range of rich desserts made with this rare type of chocolate and blended with dark chocolate.

The crunchiness of the shop's handmade "Aragosta Cones" goes perfectly with the rich chocolate blend ice cream.

Information

SÔ CÔ La Harajuku

Address: THE SHARE 1F, 3-25-18 Jingumae, Shibuya, Tokyo

Opening Hours: 11:00-20:00

TEL: 03-5772-8858

Instagram: @socola_of

Kyary Pamyu Pamyu Features in Summer Promotional Poster For Shiseido Beauty Square in Harajuku

A new summer key visual was released on July 10, 2020 for Shiseido Beauty Square, a beauty facility in front of Harajuku Station, featuring Kyary Pamyu Pamyu, who is an ambassador for the establishment.

Beauty Square's concept aims to have people discovering their beauty, having fun, sharing experiences, and learning the latest in the scene. Visitors will be able to purchase cosmetics and makeup products, participate in interactive digital content, experience the salon where hair and makeup artists will beauty up customers, and more. Focused on younger customers, Beauty Square is a place to find your inner beauty, and what better place to do it than in Harajuku—Tokyo's hub for youth fashion, beauty, and culture?

The new key visual conceives Harajuku's night sky lit up by bright and vivid fireworks, with Kyary's hair and makeup an expression of the balance and harmony of beauty. Kyary Pamyu Pamyu conveys the sense of beauty and transience of Japanese fireworks and a midsummer night's dream. Kyary will continue to collaborate with "Beauty Diversity" focused company Shiseido's top hair and makeup artist Tadashi Harada on a variety of beauty projects that will stimulate people's curiosity when it comes to beauty.

Information

Beauty Square
Opened: June 18, 2020

Address: WITH HARAJUKU Floor 1F, 1-14-30 Jingumae, Shibuya, Tokyo

Opening Hours: 11:00-20:00

No Fixed Holidays
TEL: 03-5413-7717

Official Website: https://beautysquare.tokyo/

*Website available in English, Japanese, and Chinese

Japanese Tea Flavoured Shaved Ice For Takeout at Susumu Chaya in Tokyo and Kagoshima

Japanese tea shop Susumu Chaya started up a takeout service for shaved ice on Tuesday (July 7) at all of its branches including in Kagoshima as well as Jiyugaoka and Shibuya's DESCENTE TOKYO in Tokyo.

The shaved iced takeout service was originally only available at the two Tokyo branches, but now customers in Kagoshima can enjoy the tea-flavoured desserts.

Matcha Shaved Ice: ¥750 (Before Tax)

Made using Susumu Chaya's "koicha," a rich and full-bodied matcha variety.

Houjicha Shaved Ice: ¥750 (Before Tax)

The houjicha shaved ice is made using only first-grade tea leaves picked by Susumu Chaya. It has a refreshing taste.

The shaved ice can be ordered for takeout or eaten inside the cafes. Enjoy the full flavour of Japanese tea coupled with a refreshing portion of shaved ice.

Information

Susumu Chaya Kagoshima
Address: 27-13 Uenosonochō, Kagoshima-shi, Kagoshima Prefecture
Opening Hours: 10:00-18:00
Closed: Wednesdays
TEL: 099-251-4141
Access: 8-minutes on foot from Kagoshima-Chūō Station

Susumu Chaya Tokyo Jiyugaoka
Address: 1-25-5 Jiyugaoka, Meguro-ku, Tokyo
Opening Hours: 10:00-19:00
Closed: Every 1st and 3rd Wednesday of the month
TEL: 03-6421-4142
Access: 3-minutes on foot from Jiyugaoka Station's front entrance via the Ōimachi Line

Susumu Chaya DESCENTE TOKYO Shibuya Meiji Dori
Address: 6-19-21 Jingumae, Shibuya, Shibuya-ku, Tokyo
Opening Hours: 10:00-20:00
No Fixed Holidays
TEL: 03-6804-6332
Access: 4-minutes on foot from Exit 16 of Shibuya Station

Official Website: https://susumuya.com/

Sanrio Characters Come Together at Tokyo's New POWDER ART CAFE HARAJUKU

The new limited-time character cafe POWDER ART CAFE HARAJUKU is set to open in Harajuku, Tokyo from July 15, 2020 to mid-January 2021.

From July 15 to mid-October, the cafe will be centred on the Top 10 characters of this year's Sanrio Character Ranking, an annual event where fans around the world can vote for their favourite Sanrio characters. The cafe will subsequently celebrate the 45th anniversaries of both My Melody and Little Twin Stars until mid-January next year.

At POWDER ART CAFE HARAJUKU, where the customers can draw their own designs on their orders, like latte art, Sanrio fans can look forward to a super cute menu line-up inspired by the adorable character roster.

My Melody Sweet & Sour Strawberry Shaved Ice


Tuxedo Sam Seafood Coquille Plate

If you're visiting Harajuku any time up to January next year, be sure to stop by POWDER ART CAFE HARAJUKU to make your own kawaii Sanrio character dishes.

Information

POWDER ART CAFE HARAJUKU

Address: IMON Bldg. B1F, 6-3-9 Jingumae, Shibuya, Tokyo

TEL: 03-6450-6037

Opening Hours: 11:00-21:00 (Last Orders 20:00)

Official Website: https://k-tanuma.com/company#04

Kiki's Delivery Service, Princess Mononoke & Other Studio Ghibli T-Shirts to be Sold at GBL MIYASHITA PARK in Tokyo

GBL, an online clothing company whose stock features designs from Studio Ghibli's animated feature films, is set to open its first store at MIYASHITA PARK in Shibuya, Tokyo on July 28, 2020 inside RAYARD MIYASHITA PARK.

MIYASHITA PARK is a shopping complex filled with shops stocking high quality products. GBL MIYASHITA PARK will sell a range of fun, exclusive Studio Ghibli t-shirts with designs taken from popular films from the studio.

The theme of this year's line-up is t-shirts that have a "second-hand" design to them. There are 28 t-shirts to choose from including colour variations. Six of these are exclusive to GBL MIYASHITA PARK.

Nausicaä of the Valley of the Wind T-Shirt (Pure White): ¥4,880 (Before Tax)


Princess Mononoke T-Shirt (Grey): ¥4,880 (Before Tax)


Kiki's Delivery Service T-Shirt (Red): ¥4,880 (Before Tax)

The range is made from soft cotton and is inspired by American style t-shirts. To reduce the collar from stretching over time, twill tape is wrapped around the neck part of the t-shirt. The t-shirts are also stone washed during the manufacturing process to ensure they are both soft and have that 'used' quality to them.

Laputa: Castle in the Sky T-Shirt (Grey): ¥4,880 (Before Tax)


Porco Rosso T-Shirt (Black): ¥4,880 (Before Tax)


Whisper of the Heart T-Shirt (Navy Blue): ¥4,880 (Before Tax)

Sizes come in Small, Medium, Large, XL, and XXL. The collection is a must-have for any fan of Studio Ghibli.

Information

GBL MIYASHITA PARK
Address: MIYASHITA PARK South (Floor 3F), 6-20-10 Jingumae, Shibuya, Tokyo

Opening Hours: 11:0021:00

No Fixed Holidays
TEL: 03-6434-1140

*You must book in advance to visit RAYARD MIYASHITA PARK

GBL Brand Website: http://www.gbl.tokyo