Hoshino Resort will hold a tour called "Mt.Hiei Enmusubi Sanpo"
An auberge (inn) standing on the Hiei mountain (Hieizan) "Hoshino Resort L'Hotel de Hiei" will hold an activity called "Hieizan Enmusubi Sanpo" where participatants can experience offereing a pray at Hiyoshi Taisha and walking around the Hieizan area from the 1st of April 2018.
Spring is the season when many women visit shrines/temples to wish for a good match for themselves. This activity was planned to support women who want to offer prayers to the god of marriage while traveling.
1: Collecting red seals of Hieizan Enryaku Temple
Hieizan Enryaku Temple has 12 red seals. For those who want to make a wish to the god of marriage they must visit the east tower area which includes Daikokudo and Konponchudo (the main building). Many kinds of Yaezakuras (cherry trees) can be seen in the east tower area during spring season (until the mid-May).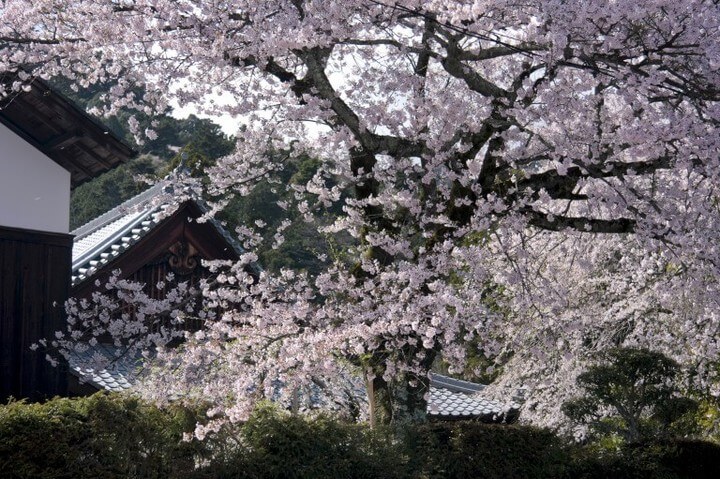 They also offer an original red seal related to the god of marriage.
2: Special worshipping event can be enjoyed at Hiyoshi Taisha
Hiyoshi Taisha located at the base of Hieizan is the main shrine of about 3800 Hiyoshi/Hie/Sanno Shrines. The protective god of Hieizan, Hiyoshi Taisha which was built about 2,100 years ago will offer a special worshipping event where you can make a wish to the god of marriage. First, you will receive a prayer at the praying building of Nishi Hongu which is designated as a national treasure. Then, you will worship the spiritual tree called "Hiyoshi Menagi/Onagi" inside Higashi Hongu. After worshipping the tree, you can get a commemorative gift which includes "Nagi no Hamamori" that brings good luck to couples.
3: Let's eat "Enmusubi Soba" at Honke Tsuruki Soba which was opened 300 years ago.
Monks in the past ate soba (buckwheat noodles) so as to prepare their stomachs for food intake after finishing a fast training. This time, a L'Hotel de's limited menu called "Enmusubi Soba Set" will be sold at Honke Tsuruki Soba which has been supporting the temple. Soba is loved by Japanese people and is thought to be a food that brings luck for marriage. The set which includes spring ingredients such as cherry blossom powder and tied kelp can be eaten after worshiping at the temple.
4: Spa treatment using "Hida no Reisui (Hida's spiritual waters)" will be offered. (option)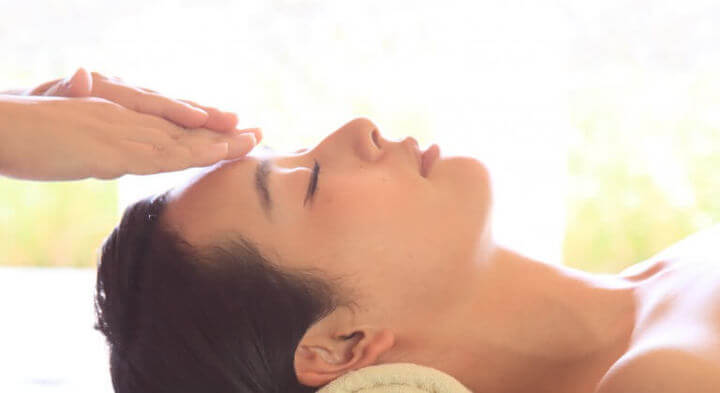 The fountain of Hieizan has been called "Hida no Reisui." L'Hotel de Hiei will offer an original spa treatment using Hida no Reisui called "Hida no Reisui Treatment" which will bring luck for marriage.
Let's participate in the "Hieizan Enmusubi Sanpo" to wish for a good match.
■Information
Date: 2018,04,01 to 05,31
Time: 9:30 to 14:00
Price: 5,500 yen (tax and service fee are included), worshiping fee, soba set price and original red seal's price are included
Reservation must be made when checking in.
Additional information
・It costs 700 yen to offer a worship at Enryaku Temple and an additional 300 yen must be paid to get a red seal.
・Someiyoshino (a variety of cherry blossom) will be in bloom from early April. Yaezakura can be viewed at Enryaku Tempe from late May.
RELATED ENTRIES
Hoshino Resorts OMO5 Otsuka―A Tourist-Oriented Hotel―Now Open

Hoshino Resorts' new tourist hotel Hoshino Resorts OMO5 Otsuka opened on May 9, 2018.

'OMO' is one of four brands developed by Hoshino Resorts, the other three being 'Hoshinoya,' 'KAI' and 'Risonare.' At OMO, they focus on tourism, offering not simply rooms, but a travel experience. They aim to elevate the excitement of travel for users by letting people fully enjoy towns and cities and the tourist spots connected to them.

OMO is a resort that focuses on the entire city that it is located in, wishing for guests to not confine themselves to the hotel  but to go out and explore the local area.

Go-KINJO is a service offered at the hotel that helps guests discover the entertaining and fantastic things available within walking distance of the hotel, allowing them to deepen their knowledge of the city.

Additionally, they offer a map of the neighborhood, have a team of OMO rangers that know all there is to know about the neighborhood, offer a guide course for searching for recommended places, and local workshops. This offers the chance for guests to immerse themselves in and experience the full appeal of Otsuka.

There's also the OMO Base, a space that acts as the center for sightseeing in the city, as well as the YAGURA Room, a 19 square meter guest room where guests can feel like they're in a secret hideout.

Hoshino Resorts OMO5 Otsuka promises to offer guests the greatest travel experience, so why not consider staying there while in Tokyo?

■Information

Hoshino Resorts OMO5 Otsuka

Address: 2-26-1 Otsuka, Toshima, Tokyo

Price: From ¥7,000 (2 People Max. Per Room / Tax & Service Charge Included)

Access: 1-minute on foot from Otsuka Station via the JR Line

TEL: 0570-073-022 (Hoshino Resorts Booking Center 9:00-20:00)

Website: https://omo-hotels.com/otsuka/

Hoshino Resorts OMO7 Asahikawa Renovates and Reopens for 2018

Hoshino Resorts OMO7 Asahikawa, one branch of Hoshino Resorts' hotels for tourists opened rebranded and reopend from Asahikawa Grand Hotel on April 28. 'OMO' is one of four brands developed by Hoshino Resorts, the other three being 'Hoshinoya,' 'KAI' and 'Risonare.' At OMO, they focus on tourism.

OMO7 Asahikawa is within 500 steps from the best location for the city's tourism where backstreets littered with the feeling of old-fashioned Japan sit. The facility maintains the excitement of trips by focusing on accessibility for tourists and being within public spaces.

Go-KINJO, a service aimed at curious city sightseers, have staff that support guests' entire trip by helping them discover new things in the city and ensuring they make the best of their time. They offer a map of the neighborhood, have a team of OMO rangers that know all there is to know about the neighborhood, offer a guide course for searching for recommended places, and local workshops.

Additionally, the OMO Base is a public space that ties together travelers with locals, packed with numerous fun activities for walking around the town. The décor takes on the image of a Hokkaido forest and uses furniture from Asahikawa which can be said to be the best furniture made in Japan. The attic-like rooms have a 'book tunnel' that collects documents which have a connection to Hokkaido and Asahikawa. There's also the OMO Café & Bar where one can enjoy the transition from morning to day and night.

The DANRAN Room is a fun and compact guest room introduced with the rebranding where everybody can sit together around the table and plan their activities for their day on their trip. The tabletops come in a green colour inspired by fresh lawns.

How about staying at OMO7 Asahikawa during your trip to Hokkaido?

■Information

Hoshino Resorts OMO7 Asahikawa

Address: 9-6 Asahikawa, Hokkaido

Hotel Price: From ¥5,000 (2 people per room / tax and service charge included)

Facilities: Guest Rooms, Lobby Lounge, Restaurant, Café & Bar, Banquet, Bridal

Room: 237 Available (Check-In 15:00 / Check-Out 11:00)

Access: 13-minutes on foot from JR Asahikawa Station

TEL: 0166-24-2111

URL:

https://omo-hotels.com/asahikawa

Extraordinary "experience nature" programs in 2018 summer offered by "Hoshinoya" throughout Japan

Japan's first luxury hotel that offers extraordinary experiences "Hohinoya" is offering many kinds of programs. In this article, I will introduce to you some programs that they are going to offer from summer of 2018.

 Hoshinoya Taketomi Island "personalized tour with guides acquainted with Iriomote Island."

"Hoshinoya Taketomi Island" located on Taketomi Island, Okinawa will offer activity tours where jungle butlers acquainted with Japan's last treasure spot, Iriomote Island will arrange the tours. The contents and the schedule of the tour can be adjusted at your own will. On this tour, you can stay at Taketomi Island and enjoy the jungle of Iriomote Island and the rich nature of the Yaeyama Island Chain.

■Information

Iriomote Island Jungle Butler

Period: throughout the year

Fixed number: one group per day

Reservation must be made 7 days before (by 17:00) via Hoshinoya Taketomi Ilsnad's HP

Hoshinoya Karuizawa "Summer-Season-Limited Special Seats of Morino Hotori café&bar"

At "Mori no Hotori café&bar" lodgers of "Hoshinoya Karuizawa" located in Karuizawa, Nagano Prefecture can use offer summer-season-limited seats between the 1st of July, 2018 to the 31st of August. This spce will be prepared under the concept of "offering a roofless private space." They are planning to offer 3 kinds of Japanese cocktails related to the Shinshu Area. Let's enjoy the nature of Karuizawa which is known as one of the most famous summer retreats in Japan.

■Information

"Mori no Hotori café&bar Special Seats"

Period: 2018/07/01 to 08/31 (fixed holiday is undecided)

Time: 20::00 to 23:00 (L.O. 22:30)

Fixed number: two groups (two persons per group)

Only the lodgers of Hoshinoya Karuizawa can use the seats

Fees: drink fee + charging fee (500 yen) (tax included, service fee (10%) not included) ※lodging fee is not included
Making a reservation is unnecessary

The seats cannot be used depending on the weather condition.

Hoshinoya Fuji "Summer Wild Game Dinner"

Japan's first grumping resort "Hoshinoya Fuji" located in Yamanashi Prefecture will offer an experience-based dinner plan named "Summer Wild Game Dinner" where you can enjoy eating special menus items cooked in a Dutch oven in the open-air dining space. The summer-season limited seasonal menu itmes use "venison" and "brawn." They offer 5 kinds of courses that use rich flavored wild game combined with Yamanashi Prefecture's (the prefecture is known as "the fruits kingdom") seven kinds of summer fruits.

■Information

 "Summer Wild Game Dinner"

Period: 2018/07/01 to 08/31

Time: 18:00~, 18:30~

Fixed number: six groups (18 persons)

Lodgers who are older than 13 years old can participate in this dinner program

Fee: 15,000 yen per person (tax, service fee (10%) and lodging fee is not included)

Reservations must be made one before (by 18:00)

Reservations can be made via the official website

※Please note that the menu itmes and ingredients might be changed according to the buying situation

Hoshinoya Tokyo "2 Days and 3 Nights Spa Program where you can rest at aJapanese accommodation / Shinkokyu (deep breath) Yojo (rest)"

The spa program named "Shinkokyu Yojo" will start from the 1st of June 2018 at a Japanese accommodation in Tokyo. You can learn about how to maintain your health and a balanced mind and body by taking a deep breath. The program includes stretching lesson, an aroma experience, spa treatment, healthy meal and hot spring experience. Let's learn about the method of breathing to become healthy.

■Information

Shinkokyu Yojo

Starting date: 2018/06/01

Fee: 147,000 yen per person (tax and service fee (10%) are not included)

Fixed number: 1 group (2 persons) per day

Please make a reservation via the website 14 days before

Only the lodgers of the accommodation can participate in this program

Hoshinoya Kyoto "Activity where you can observe cormorant fishing, a summer feature in Arashiyama"

"Hoshinoya Kyoto" located in Kyoto, Arashiyama will hold "Private Ukai (cormorant fishing) Kanshobune (observing from the boat)." In this activity, you can observe the summer feature of Arashiyama "cormorant fishing" at "Oi River" which flows in front of the accommodation. Tea ceremony dishes using the motifs of Arashiyama's views and histories will be served to the participants. You can also listen to the sound of Shamisen and drink Champaign.

■Information

"Private Ukai Kanshobene"

Date: 2018/07/01 to 09/23 (except 08/16)

Time: 19:00~ (18:30~ – 09/01)

Departing/arriving place: Hoshinoya Kyoto

Fee: 58,300 yen per person (tax and service fee (10%) are not included) ※lodging fee is not included

Only the lodgers of Hoshinoya Kyoto can participate in this program

Fixed number: 1 group per day (1 group – 2 to 4 persons)

Reservation must be made 7 days before via the website

 Hoshinoya Kyoto "Staying Experience in Okuarashiyama"

"Hoshinoya Kyoto" will hold 5 summer/waterfront activities named "Okuarashiyama Noryo Taizai (staying experience) from the 1st of July 2018 to the 31st of August. The activity includes events such as "Okuarashiyama's Noryoyuka," "Mizube no Yaza" where you can experience stretching/meditation lessons at nighttime and "Noryobune Lunch" where you can enjoy eating lunch on a boat. Why not avoid the summer heat and enjoy the culture of Okuarashima filled with maple trees.

Why not participate in one of the events noted above this coming summer!

■Information

Hoshino Resort official website;

5 Recommended Shaved Ice Flavours from Hoshino Resorts KAI in Japan

KAI is a hot spring inn service managed by Hoshino Resorts. The company have announced that they will introduce delicious shaved ice to all of its establishments for the hot summer. There's much variety in the line-up including shaved ice doused in syrup made with regionally produced apples, tomatoes and other fruits, as well as tea, sweet sake, wine and more. Definitely consider trying the shaved ice at KAI this summer as you can't get it anywhere else.

Let's take a look at some of the recommended items on the list!

KAI Ito (Ito Hot Springs, Shizuoka) – Floral Shaved Ice

Ito has a hot climate and is a region where you can enjoy many different flowers throughout the seasons in the year. For summer at KAI Ito, they are serving shaved ice blended with elderflower and herbs picked in Ito. The instant you spoon some of this fluffy shaved ice into your mouth the sweet and exquisite fragrance of nectar fills your mouth, together with an aftertaste brought about by a mix of mint herbs. This one's sure to refresh you in the hot summer heat.

KAI Atami (Izusan Hot Spring, Shizuoka) – Ume Nectar & Salt Shaved Ice

Atami is well known as a place where you can enjoy the early bloom of ume in Japan. This shaved ice incorporates Atami's ume culture by being served with a sweet and soru mix of ume jam and syrup. This style of shaved ice is eaten with salt and captures the image of the unfolding sea that lays before your eyes at the inn. The salt used comes from Heda. It's a soft, full-bodied salted flavour with a tang of sweetness inside.

KAI Matsumoto (Asama Onsen, Nagano) – Wine Shaved Ice

This shaved ice contains wine and is the perfect cool-down antidote once you're done bathing in the hot springs at KAI Matsumoto. The original syrup is made with a Concord variety of wine from Nagano Prefecture. The alcohol content is mild, so those who are no good with alcohol can enjoy this wine. This one's for the adults, so how about some refreshing shaved ice with wine after your hot dip in the onsen?

*Minors will be served Nagano Purple grape syrup.

KAI Anjin (Ito Hot Springs, Shizuoka) – Black Tea Shaved Ice

KAI Anjin have put black tea shaved ice on the menu. The name of the establishment comes from William Adams, known as Miura Anjin in Japan, an English navigator. Keeping in line with the theme, the shaved ice is a specially made syrup that uses black tea, a staple beverage in the UK. There are two flavours to choose from: milk tea and lemon tea, both of which have a strong tea flavour and wonderful sweetness. Enjoy the cool ocean breeze together with your black tea shaved ice on the top floor sun deck while gazing at the rolling sea.

KAI Kinugawa (Kinugawa Onsen, Tochigi) – Blueberry Shaved Ice

Over at KAI Kinugawa, they are serving shaved ice made with blueberries picked in Tochigi Prefecture. The special shaved ice syrup was produced specially for KAI by Aguri Koubou, who produce jam made with local ingredients, amongst other things. The interior of the building is dyed in the same indigo colour as the blurberries, and you eat the blueberry shaved ice with indigo coloured utensils. You're sure to cool off from the hot summer weather with this one!

And there's plenty more where that came from! Look nowhere else for your shaved ice this summer buy Hoshino Resorts KAI.

Hoshino Resort Kai Kaga will offer two new experience-based events "Kashikiribune de Kawakudari Hanami Taiken" and "Sakura Monaka Zukuri."

"Hoshino Resort Kai Kaga" will offer a new series of experience-based events called "Hanagoyomi" using the motifs of local culture and cherry blossoms. "Hanagoyomi" is a calendar where you can learn about flowers, plants and trees of each season.

Cherry blossom viewing party can be enjoyed while riding on a boat. "Daishojigawa no Kawakudari"

Daishoji is a castle town which is one of the most famous cherry blossom-viewing spots in Kaga Prefecture. You can ride on a traditional boat called "Yakatabune" and enjoy the splendid view of cherry blossoms. Charter boats will be rented to the lodgers of Kai Kaga this coming spring season. You can enjoy the views of beautiful/historical streetscapes and cherry blossoms while riding on a boat and enjoying Japanese desserts and traditional tea of Saga.

Perido: 2018/04/05 to the 15th

Time: 14:00~ (everyday) (30 minutes)

Venue: Daijoji Hakkando Boat Riding Area (15 minutes on car from Kai Kaga)

Fixed number: 8 persons per boat

Price: 2,000 yen per person (service fee and tax are included) ※accommodation fee is not included

Reservation must be made 4 days in advance. ※ the number of the lodgers must be more than 2.

Sakura Monaka Zukuri to Haru no Ochakai

Kanazawa is known as on of the 3 main dessert-producing areas in Japan along with Kyoto and Matsue. This castle town has been loved by many people as a tea/dessert producing area. This coming spring season, they are going to offer a cooking class where you can make crunchy monaka (wafer-cake filled with red bean jam) using dough made by a monaka specialized store and bean jam made by the established dessert maker, Yamashiro Onsen. Why not enjoy a cherry blossom monaka and tasty matcha while relaxing on the Chaniwa no Terrace where Kaga Yuzen's umbrellas are installed.

Period: 2018/03/11 to 05/31

Time: 15:00 to 18:00

Venue: tea room, Chaniwa no Terrace

Price: free

Reservation: not necessary

There is a free bus service from Kai Kaga and Kanazawa Station (one bus per day).

A free transfer bus will run from Kanazawa Station to Kai Kaga for a limited time offer. It takes about 60 minutes to get to the station. Why not enjoy touring around Kanazawa and Onsens using this transfer bus.

Period: lodgers – 2018/03/11 to 07/31 ※Except 2018/04/17, 04/28 to 05/05.

Time: 14:00 (departing from Kanazawa Station), 10:30 (departing from Kai Saga).

Price: free

Reservation must be made 4 days in advance.

Let's enjoy the beautiful views and desserts of spring.

■Information

Hoshino Resort Kai Saga

Address: 18-47, Tamashiro Onsen, Kagashi, Ishikawa Prefecture

TEL:0570-073-011

Kai Saga

Experience Hanami in Open-Air Hot Springs at Hoshino Resorts KAI Kinugawa

Kinugawa River in Tochigi Prefecture is about a 2-hour train or car journey from Tokyo. It's immensely popular as an onsen, or "hot spring" site, and is close to World Heritage Sites and places of scenic beauty. The KAI Kinugawa hot spring resort at Kinugawa Onsen is offering a limited-time "Yozakura Dining" plan from April 11th to April 20th. For one night, two people can enjoy a banquet while gazing at the cherry blossom trees in the evening. You can also experience "Hanami Roten" and admire the cherry blossoms in full bloom from the site's famous open air hot springs.

"Yozakura Dining" – admire the cherry blossoms with a springtime meal

Two people can enjoy their own private space to relish in spring dishes while viewing the evening cherry trees. The cherry blossoms cannot be seen from the regular eating spot, but in the special seats offered with "Yozakura Dining," you can look forward to soaking in the colours of evening-time cherry blossoms illuminated with dreamy lights while sat at a table co-ordinated with the colours of spring and set with Tochigi crockery like light-coloured Mashiko ware and traditional kurobane aizome, or "Kurobane indigo-dyed" tableware. Mealtime is different and each person will be tended to individually, so there's no need to worry about other people, allowing you to enjoy a relaxed time and atmosphere.

Time: 2 Slots – 17:30 / 19:30

Price: From ¥30,000 – Includes 1 overnight stay and 2 meals (Costs the price of one person for a room for 2 people. Service tax included.)

Reservations: 1 night for 2 people. 4 people on-site. You must book the plan 5 days in advance of the date you plan to stay.

https://booking.hoshinoresort.com/plans/JA/0000000121/0000000139

"Hanami Roten" – behold the cherry blossoms in full bloom

At Kinugawa Onsen, you can enjoy the picturesque scenery of Japan's four distinct seasons from the large public baths and open-air baths – from the fresh verdure in summer to the vibrant reds of autumn. The most fantastic experience of the year though is "Hanami Roten" in spring. The rows of cherry trees reflect along the surface of the water in the hot springs, granting a spectacle only observable in spring. As you raise your gaze upwards while submerged in the water, the fully bloomed cherry trees unfold before you. At night, the trees are lit up. The atmosphere changes whether you're in there during the day or at night, offering different experiences to be enjoyed.

Time: 15:00-01:00 / 05:00-11:00 (*illuminations are turned on from sunset until 1am)

Location: Public baths

Reservations: Not required

"Haru no Yuagari Drink" – smell the cherry blossoms

Upon emerging from a relaxing bathe, you will be served "Sakura Koucha," or black cherry blossom tea, offered exclusively in spring. Feel the call of spring while savouring the fresh taste of gentle cherry blossom fragrance.

Location: Place where you exit the bath

Price: Free

Reservations: Not required

Have yourself an unforgettable spring in Japan this year at Hoshino Resorts KAI Kinugawa.

■Information

KAI Kinugawa

Address: 308 Kinugawaonsentaki, Nikko-shi, Tochigi Prefecture

TEL: 0570-073-011

KAI Kinugawa Springtime Stays:

"Hoshino Resort" announces the contents of guest rooms; "OMO7 Asahikawa" and "OMO5 Tokyo Otsukas'"

The hotel brand, "Hoshino Resort OMO" announced the contents of the guest rooms called "OMO7 Asahikawa" and "OMO5 Tokyo Otsuka" which will be opened in mid-2018. The guest rooms that have casual and refreshing interiors are quite small but are very comfortable. Reservation can be made at OMO's official website.

OMO5 Tokyo Otsuka "YAGURA ROOM" (19 square meters / 3 persons can stay at once)

This room's ceiling is high, and the windows are big so that customers will not feel a sense of closeness. The concept of the room is "yagura" (traditional tower). Tatamis are used on the floor of the room and the sleeping bunk called "yagura shindai" made of hinoki cypress is located on the second floor. A closet where you can store big luggage is installed which makes you feel like you are staying in a secret base. A sofa space where you can lie down barefoot and a bath room that includes a washing area are also included in the room.

OMO7 Asahikawa "DANRAN Room" (18 square meters / fixed number – 2 persons).

This is a guest room renovated in accordance of the renovation of OMO. The room was created under the concept of "family-gathering." You can discuss plans of where to visit in Asahikawa by using the DANRAN table which has a green, artificial-grass sheet on it. You can also buy toy-figures of cows sold at the lobby of the hotel and let your cows go to pasture on the sheet. You can use the bed like a sofa since there is a storage space installed underneath the bed.

Let's enjoy their special rooms!

■Information

Hoshino Resort OMO7 Asahikawa

Address: 13 minutes on foot from JR Asahikawa Station, 6th Street, 9th district, Asahikawashi, Hokkaido

Price: 5,000 yen per person~ (when two persons are staying in one room/service fee and tax are included)

Opening date: 2018/04/28 – Rebrand open ※Hoshino Resort Asahikawa Grand Hotel

Hoshino Resort / OMO5 Tokyo Otsuka

Address: 1 minute on foot from JR Otsuka Station, 4F to 13F, be01, 26 Banchi, Kitaotsuka, Toshimaku, Tokyo

Price: 7,000 yen (when two persons are staying in one room/service fee and tax are included)

Opening date: 2018/05/09 – grand open (the hotel is under construction and will be completed in mid-2018.)

Hoshino Resort OMO official site: https://omo-hotels.com

Let's enjoy the snowy landscapes and trees covered with hoar frost while soaking in an open-air bath – Oita "Hoshino Resort Kai Aso"

An onsen (hot spring) accommodation "Hoshino Resort Kai Aso" located in Oita Prefecture's Senomonot Onsen will open an open-air bath "Yuki Rotenburo" where you can view the snow scenery (rare in Kyusyu) from the 1st of December to the 28th of February 2018. Also, they will hold events including "Yama Mizore Nabe Kaiseki" where you can enjoy nabe (hot pot) with gourd-shaped cheese and "Juhyo Trekking Tour" where you can enjoy the scenery of hoar frost-covered trees.

Very rare in Kyusyu. Yukimi Rotenburo

Kai Aso is an area in Kyushu which receives snow fall, and you can enjoy the snow scenery while soaking on an open-air bath which is installed in every room. You can also enjoy a special onsen which float kabosu and yuzu (Japanese citrus fruits) inside the bath. Also, "Yogan Onsen Set" where you can enjoy the boiling onsen using the baked plaster of melted rock. After taking a bath, you can enjoy the beauty skin pack made with limonite which contains lots of minerals. Let's enjoy this fun experience.

Date: 2017,12,01 to 2018,02,28

Snowfall period: January to February

Price: Kankitsu (citrus fruit) Bath 4,000 yen / Yogan Onsen Set 6,000 yen (tax included)

Reservation: please make a reservation 5 days before you visit the accommodation via TEL.

 "Yama no Mizore Nabe" where you can enjoy a gourd-shaped cheese.

They will offer tea-ceremony dishes using gourd-shaped cheese called "Caciocavallo" and "Yama no Mizore Nabe" offered in a caldera-shaped pot. The nabe is originally made based on the image of Aso Caldera's grasslands which is one of the largest grasslands in the world and is a nabe cuisine using a healthy soup using lots of grated daikon, Japanese beef and winter vegetables. You can cut the cheese and add it into the pot. The texture of the cheese will become chewy like mochi (rice cake). Let's enjoy this dish produced in the land of Aso using this beautiful pot.

Period: 2017,12,01 to 2018,02,28 ※Except 2017,12,29 to 2018,01,03

Price: One-night stay/two meals 43,200 yen (a room where two persons can stay, tax and service fee are included)

Reservation: https://booking.hoshinoresort.com/plans/JA/0000000115/0000000308

 "Juhyo Trekking Tour" where you can enjoy the "art of ice."

Juhyo (hoar frost covered trees) is also known as the "art of ice" where frozen water vapor sticks to trees. The phenomenon can be only seen in very cold places. The contrast between blue sky and the juhyo on a sunny day is so beautiful. Kai Aso will offer a trekking tour where participators can walk around the mountain to see juhyo. Professional guides will guide you and explain how to walk in the snowy mountains.

Date: 2017,12,20 to 2018,02,28

※Except 2017,12,28 to 2018,01,05 ※ Juhyo can be seen from mid-December to February

Time: 8:30 to 11:00 (everyday) (required time – 2 hours and half)

The trekking tour requires about an hour and half. The event will be canceled depending on weather conditions

Price: 15,000 per person (tax and service fees included) ※ transportation service and guides are included, accommodation is not included

Reservation: Kai Reservation Center – TEL (0570-073-011) ※ please make a reservation 5 days before your accommodation

Let's enjoy the winter views of Kyusyu at "Hoshino Resort Kai Aso."

■Information

Kai Aso Winter Staying Event

Enjoy Taketomi Island, Okinawa during the winter season! Hoshinoya "Picnic Joshikai" will be held

The resort in Okinawa, Taketomi Island "Hoshinoya Taketomijima" will offer a program titled, "Maboroshi no Shima no Picnic Joshikai" targeting busy women from the 1st of December 2017 to the 28th of February 2018.

Taketomi Island is a popular spot as a winter refuge since the average high temperature during the winter season exceeds 20℃. Visitors of the resort can enjoy the warm sun's rays even in winter. You can also enjoy picnicing and coral snorkel which cannot be enjoyed during the summer season.

Winter girls' party / point 1: Winter is the best time to enjoy an island holiday.

The Yaesan area has a subtropical climate area and is warm throughout the year. The sun's rays during the winter is warm and you can enjoy the island without the tourist crowds.

Winter girls' party / point 2: Enjoy Yaesan's nature during the winter

Ultraviolet rays are not so strong during the winter season (December to February) on the island, therefore you don't have to be as careful of about getting a sun burn while staying on the beach. Why not enjoy marine sports such as snorkeling and diving.

Winter girls' party / point 3 / Enjoy chatting at nighttime

The sunset in Yaesan is an hour after the sunset of Tokyo. An extraordinary atmosphere where you can hear nothing else but the sounds of nature can be enjoyed during the nighttime since the island does not have many street lights. The starry sky of Yaessan was designated as a "Dark Sky Place" (a place where a beautiful starry sky can be viewed) by IDA (International Dark-Sky Association). You can see all 21 stars of the first magnitude and 84 star-signs (out of 88). From late December to May, you can also see the Southern Cross. Why not chat with your friends while watching the beautiful starry sky?

Hoshinoya Taketomijima has a rental cycle system for guests who want to go into the town. You can enjoy the island while riding a bicycle. Moreover, you can rent a charter boat at Taketomi Island and visit "Maboroshi no Shima,"a crescent moon-shaped deserted island while enjoying the view of the clear blue colored sea. (it takes about 20 minutes to get to "Maboroshi no Shima"). A picnic set where you can enjoy the sea of Yaesan is offered too. After picnicking, it is recommended to enjoy marine sports such as snorkeling and diving. There are about 400 kinds of corals living in the marine area between Ishigaki Island and Iriomote Island and is known as one of the most beautiful marine areas in the world.

The resort also offers chocolate, fresh herb tea using herbs grown inside the facility and sparkling wine after dinner. You can enjoy a quite relaxing time after eating dinner under the beautiful sky.

Let's enjoy Taketomi Island during the winter season.

■Information

Date: 2017,12,1 to 2018,2,28 (except 2017,12,23 to 2018,1,7 / 1,13 to 1,20)

Contents: charter boat (with a guide), picnic set (with light food), snorkel experience, after dinner set

Fee: 38,000 yen per person (tax, service fee, staying fee and fee for meals are not included, the group has to include more than three persons, up to eight persons)

※Reservations must be made a week before visiting the resort. ※the resort might shut down depending on weather condition

Things you should bring: bathing suit, clothes that are OK to get wet (snorkel set and wet suits can be rented)

Examples of schedule

<First day>

15:00 Check in チェックイン

15:30 Touring the island on a rental cycle

16:45 Watching Yunagi no Uta

19:00 Dinner (extra fee must be paid))

<Second day>

08:00 Breakfast (extra fee must be paid)

09:30 Departing Hoshinoya Taketomijima Visiting Maboroshi no Shima using a charter boat

13:30 Coming back to Hoshinoya Taketomijima

18:00 Dinner (extra fee must be paid)

21:00 After dinner

<Third day>

07:00 Breakfast (extra fee must be paid)

08:00 Touring around the island on a water-buffalo carriage

12:00 Check out

Hoshino Resort:http://www.hoshinoresort.com/