5 Cafés & Spots in Harajuku With Free Wi-Fi & Electrical Outlets
Hi, everyone. I'm Shiota, the Director of the MOSHI MOSHI BOX Harajuku Tourist Information Center.
I'm sure we've all experienced it where we want to look something up but our mobile phone is about to run out of battery. So today, I'm going to introduce you to some Free Wi-Fi spots and cafés and spots with electrical outlets around Harajuku for when you need to run and look something up, when you need to work or if there's an emergency.

Nescafe Harajuku
This café has a real sense of liberation about it with the high ceiling, and it's extremely clean. It's also great location for spending a long period of time and relaxing. And if you order the "1 Day Free Mug" over in the merchandise corner, you can get all-you-can-drink coffees from their 'variety' selection!
◼︎InformationNescafe Harajuku
Address: 1-22-8 Jingumae, Shibuya, Tokyo
Opening Hours: 11:00-21:00
No fixed holidays.
Access: 3-minutes by foot from Harajuku Station's Takeshita Exit
TEL: 03-5772-2038
Website:
https://nestle.jp/entertain/cafe/harajuku/#concept
LATTEST
At LATTEST, you can look forward to enjoying a live atmosphere as baristas extract espressos and create latte art. The stylish interior is pleasant and will calm your mind. The drinks menu features strong-ish espresso coffees.
◼︎Information LATTEST
Address: 3-5-2 Jingumae, Shibuya, Tokyo
Opening Hours: 10:00~19:00
No fixed holidays.
Access: 5-minutes by foot from Meiji Jingumae
TEL: 03-6447-2607
Website:
http://lattest.jp/index.html

Design Festa Cafe & Bar
This café is situated in the courtyard at Design Festa, an art gallery. You can enjoy a healthy and organic bite to eat while surrounded by plentiful nature and unique artwork. It's a hidden gem only known to those in the know.
◼︎InformationDesign Festa Cafe & Bar
Address: 3-20-18 Jingumae, Shibuya, Tokyo
Opening Hours: 11:00~23:00
No fixed holidays.
Access: 5-minutes by foot from Exit 4 of Meiji Jingumae Staion via the Tokyo Metro Chiyoda Line / 8-minutes by foot from Takeshita Exit at Harjauku Station via the JR Yamanote Line
Website:
http://www.df-cafe.com/

Tully's Coffee Omotesando Hills
Tully's Coffee is a popular coffee chain in Japan. This one can be found on the bottom floor of the Omotesando Hills shopping complex, so it's easily accessible if you're out shopping. They have electrical outlets at the counter, so you can have a relaxing time.
◼︎InformationTully's Coffee Omotesando Hills
Address: Omotesando Hills West Building B1F, 4-12-10, Jingumae, Shibuya, Tokyo
Opening Hours: 8:00-22:00
No fixed holidays.
Access: 4-minutes by foot from Exit 5 of Meiji Jingumae Station via the Tokyo Metro Chiyoda Line / 7-minutes by foot from the Omotesando Exit at Harajuku Station via the JR Yamanote Line / 5-minutes by foot from Exit A2 of Omotesando Station
TEL: 03-6804-6310
Website:
http://www.tullys.co.jp.2-t.jp/bMLE
MOSHI MOSHI BOX Harajuku Tourist Information Center
MOSHI MOSHI BOX is a tourist information center run by MOSHI MOSHI NIPPON located at the cross road of Takeshita Street, Meiji Street, and Harajuku Street. We offer lots of different services. As well as Wi-Fi and electrical outlets, we also offer tourist information, currency exchange, and baggage storage. We can help you out!
◼︎Information
Address: 3-23-5 Jingumae, Shibuya, Tokyo
Opening Hours: 10:00-18:00
Closed: New Year's Holidays
Access: 6-minutes by foot from Harajuku Station via the JR Yamanote Line / 5-minutes by foot from Meiji Jingumae Station via the Tokyo Metro Chiyoda Line
TEL: 03-2225-6447
Was this list useful? Be sure to use it as reference when you're in Harajuku in case you're in need of Wi-Fi or device charging.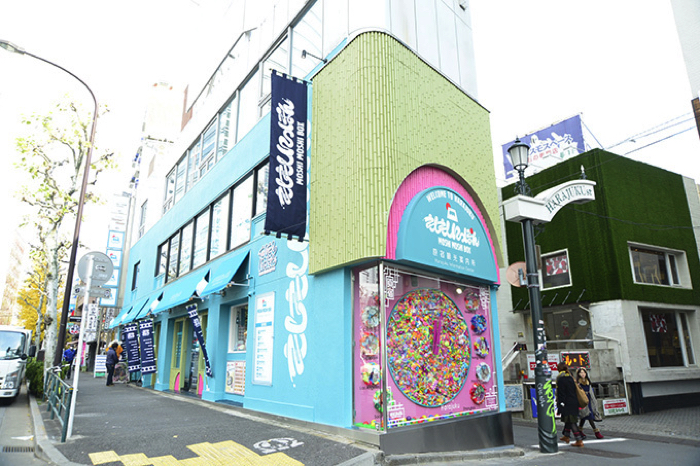 Services:
・Free Wi-Fi       ・Free water
・Free PC charging  ・Luggage storage
・Souvenirs       ・Money exchange
Hours: 10:00-18:00
Closed: New Year's Holiday
Telephone: 03-2225-6447
Twitter・Instagram: @mmb_harajuku
RELATED ENTRIES
This Week's Breakfast: French Toast at Bread, Espresso & in Omotesando

Once thing I do at least once a week without fail is treat myself out to some delicious food or dessert. It's very important time well spend in order to live a happy life.

Today, I went out for breakfast. I got up a little earlier than usual and headed to my favourite cafe, Bread, Espresso & which is located in Omotesando.

It's really easy to get to: it's just a 5-minute walk from the A2 exit of Omotesando Station. Mornings are quiet in Omotesando, you don't see many people walking around, so it feels like a completely different place compared to its busy streets during the day.

When you enter the cafe, the smell of freshly-baked bread is the first thing to hit your senses. I sat down on one of the comfy sofa-seats and ordered myself the French toast breakfast set.

There's plenty of space between tables, so it's an environment that's easy to kick back and relax in.

Inside and outside the cafe are cute signs with that day's recommended menu items written on them. Next time I visit I think I'll try one of the lunchtime desserts. That's what I daydreamed about while waiting for my French toast to arrive.

French Toast Set w/Drink – ¥800

The French toast has a subtly sweet scent. It's made with one of the cafe's popular foods: the butter-loaded bread known as "Muu."

The toast's crusts were nice and crunchy while the middle part was fluffy. The soft bread just melts in your mouth when taking a bite, and your taste buds are treated to the sweet flavour of the egg.

The toast is delicious as it is, and you can totally leave it at that and enjoy your morning breakfast. But if you want to take it to the next level then you can drizzle the accompanying honey over the toast, giving the sweetness an even richer flavour.

I'm usually not good with the characteristic sweet taste that honey has, or the bitterness layered into the overall flavour, but this honey was on the milder side so I really enjoyed it.

After my food, I enjoyed the cappuccino the barista beautifully made for me which comes as part of the set.

My 1-hour morning was spent even more relaxed than usual here. It's much different from lunchtime which is a much busier and hurried time, so I could sink in my chair and really enjoy my drink too.

Waking up early and enjoying a relaxing breakfast. That's all I did, but it helped ease my busy mind and soul. I'm a simple person, and I think I'll be able to face my week and work hard at it after this.

Today's Presents

Futsu Furu Fig Sandwich – ¥420

Futsu Uni Fruits – ¥400

I wanted to share the happiness between friends and family on this fine day where I got to eat a delicious breakfast. These sandwiches are packed full of fruits―seasonal fruits which are best enjoyed right now. If you're wondering what other sandwiches they sell then be sure to visit.

Writer: Sayuri Mizuno (MOSHI MOSHI NIPPON)

Translator: Joshua Kitosi-Isanga

Information

Bread, Espresso &

Address: 3-4-9 Jingumae, Shibuya, Tokyo

Business Hours: 8:00-20:00

No Fixed Holidays

That Time I Got Reincarnated as a Sanrio Slime Fair Opens at Three KIDDYLAND Stores

From September 21 to October 11, three KIDDYLAND stores will be holding a fair dedicated to the anime That Time I Got Reincarnated as a Slime, which has become a big hit overseas. 

 

The series, which was created by Fuse, aired two seasons from October 2018 to March 2019. It has been confirmed that a sequel will be made in the year 2020. Following the anime's successful reception, a novel version of the anime series which goes by the same name was produced by GOT A CHANCE novel. More than 14 million copies have been sold so far.

The story follows an extraordinary event which happened to a normal man. The main character Satoru Mikami died to random knife attack and was reincarnated as a monster called a slime. The series became massively popular once the adorable figure of the main character as a slime was revealed.

That Time I Got Reincarnated as a Sanrio Slime: Slime Keyring (5 designs): ¥1,200 each (before tax)

All your favourite characters have been reincarnated in a cute Sanrio-style! Head to the KIDDYLAND fair to get your hands on a KIDDYLAND-limited Slime Keyring. A large variety of new goods are being sold here ahead of any other shop and online service.

That Time I Got Reincarnated as a Sanrio Slime: Cuddly Characters Badge (5 designs): ¥680 each (before tax)

Come explore all your favourite characters in their adorable Sanrio form!

©川上泰樹・伏瀬・講談社/転スラ製作委員会

Information

That Time I Got Reincarnated as a Sanrio Slime Fair IN KIDDYLAND

Location: KIDDYLAND (Harajuku, Ikebukuro Sunshine City, Sannomiya)

Running: September 21 ー October 11,2019 

More Information: https://www.kiddyland.co.jp/event/ten-sura/

Six Scrumptious and Satisfying Sodas in Kyoto You Have To Try

At MOSHI MOSHI NIPPON, we have introduced a lot of kawaii bubble tea drinks you can in enjoy in Kyoto. However, we have much more to offer you than just bubble tea news! Today we have summarised the top soda drinks you can enjoy in Kyoto which both look and taste amazing. With the help of kyoto cafe life tiara 's phenomenal photos, we will be introducing you our top six picks.

SHIN-SETSU /Nakagyō-ku

Blood Orange (left)  Blue Curaçao (right): ¥690

With a variety of 24 colourful cream sodas on the menu, this café offers a rainbow of flavours to enjoy. Your aesthetic soda is best enjoyed within the the picturesque American-style interior of the café, which is filled with antiques and cute pink decorations.

▼SHIN-SETSU

Address: 277 Enpukujimaecho, Nakagyo Ward, Kyoto

Opening Hours:

Weekdays: 12:00-19:00(L.O)

Saturdays 13:00-19:00(L.O)

Sundays 12:00-19:00(L.O)

No fixed holidays

Official Instagram: @shinsetsu.kyoto

Rhône(ローヌ)

On top of the refreshing blue ocean of soda floats a scoop of ice cream ー what a nostalgic image. The bright red cherry accents the flavour. Rhône serves not only delicious sodas but also homemade pudding and many other delicious desserts which are sure to leave your stomach satisfied. 

 

▼Rhône

Address: 645-1, Sanjoinokumacho, 

Nakagyo Ward, Kyoto

Opening Hours: 12:00-22:00

Closed: Wednesdays and Thursdays

Kissa Zou (喫茶ゾウ)

After becoming a big hit in Nagoya, Kissa Zou opened a new branch in Kyoto earlier this year in April. An adorable elephant (zou) can be seen riding the very top of your scrumptious soda. It is just too cute to eat!

▼ Kizza Zou 

Address:440-3 Santeicho, Kamigyo Ward, Kyoto,

Opening Hours: 9:00-18:00(L.O 17:00)

No fixed holidays

NOTTA CAFE

Cream Soda with Oiri Sweets (left) :  ¥600 Custard Pudding (right): ¥500

NOTTA CAFE's cream sodas have decorated the front pages of magazines before. A large crowd of oiri (Japanese-style round sweets) of a variety of colours can be seen huddled together riding the ice cream float on top of this cream soda. This ice cream soda is one of a kind and full of a variety of textures and flavours so you must try it.

▼NOTTA CAFE

Address: 37 Saiinkitayakakecho, Ukyo Ward, Kyoto

Opening Hours: 11:30-20:00 (Wednesdays: 11:30-21:00)

Closed: Mondays (additional irregular holidays)

Kissa Soirée (喫茶ソワレ)

Blue Sky Cream Soda (left) Strawberry Cream Soda (right): ¥700 each

This soda is topped with vanilla ice cream and a sakuranbo cherry. When the ice cream mixes with the soda, it becomes creamy. The interesting interior of this café is the perfect place to enjoy your luxurious sparkly cream soda.

▼Kissa Soirée

Address: 95, Nishikiyamachidori Shijo Agaru Shincho, Shimogyo-ku, Kyoto

Opening Hours

1st floor: 13:00-19:00 (L.O.18:00)

2nd floor: 14:00-19:30 (L.O.18:45)

Closed:Mondays

Maeda Coffee (前田珈琲)

This butterfly pea herb tea has minty aroma and a refreshing taste.  When you mix it, it gradually turns pink so you can enjoy the flavour as well as the changing appearance of your drink.

▼Maeda Coffee

Address:  236 Takoyakushi Dori Karasuma Nishi Iru Hashibenkeicho, Nakagyo- ku, Kyoto

Opening Hours: 7:00-19:00

Open all year round.

If you are ever in Kyoto, make sure to check out these cafés. If you are looking for more inspiration, look no further than kyoto cafe life tiara's Instagram, which is full of delicious desserts in the Kansai region.

Text and photos: @happy_pinkrose_tiara

PEANUTS Café and PEANUTS DINER to run Nostalgic Flying Ace Fair

The PEANUTS Cafe and PEANUTS DINER located in Nakameguro, Yokohama and Kobe will be holding a nostalgic Snoopy Flying Ace Fair from September 4th at all branches.

The first time this fair was held, Snoopy dressed as an Astronaut. As this is the second time the fair will be held, Snoopy will be present at all PEANUTS Cafes and PEANUTS DINERs in a different costume. This time, his costume is themed around the series Flying Ace. Pilot Snoopy will be soaring into the scene fully equipped in his Flying Ace gear, steering his red doghouse to battle his rival the Red Baron as he did in those nostalgic daydreams. 

During the fair period, there will be a whole new menu of drinks and original merchandise themed around Snoopy's classic look where he is wearing his Flying Ace aviator hat and red scarf.

Flying Ace Green Tea Latte: ¥700 before tax (eat in) Comes with a limited original drinks coaster

Take out: ¥600 (after tax) 

The colour of the green tea takes on the image of Snoopy's green helmet. The sweetness and bitterness of the flavours perfectly balance out. The strawberry syrup adds a tangy accent of flavour. The vibrant colour creates the imagery of Snoopy's red scarf fluttering in the breeze. The drink is topped with vanilla ice cream and whipped cream and is studded with cocoa cookie bullets penetrating through its deliciously creamy surface. If you love sweet drinks, then come taste the flavour of Snoopy's adventurous daydream.

* The limited original coaster is only given to those who order to eat in.

* As there are a limited number of these coasters, there is a possibility that they will run out before the end of the fair period.

Original Flying Ace Eco Tote Bag (green/orange):¥1,500 (before tax)

The PEANUTS Cafe in Meguro has also released a limited edition Flying Ace version of their popular Original Eco Tote Bag. This bag is available in the two fair colours: green and orange. This A4-sized bag is the perfect size for multiple uses. It can be folded and stored inside your main bag as a sub bag or even used as your main bag.

If you are a Snoopy fan, make sure to stop by!

© 2019 Peanuts Worldwide LLC

Information

Flying Ace Fair: IT'S A BEAGLE LIFE "HOW'S THIS?

Running: September 4 ー November 4, 2019

Running at: PEANUTS Cafe Nakameguro
Address:2 Chome-16-7 Aobadai, Meguro City, Tokyo

Website: http://www.peanutscafe.jp/

Harajuku To Open A Micro Pig Cafe Themed Around The Three Little Pigs

Japan is famous for its animal cafés. If you are looking for something less conventional, then mipig cafe ー a heavenly cafe where you can play endlessly with adorable micro pigs ー might be just what you are looking for. mipig will be opening its second cafe in Harajuku in November 2019.

With the concept of "becoming a home for micro pigs", mipig cafe opened their first cafe in Meguro on March 1st, 2019. After just half a year, over 30,000 people visited the cafe and reservations were full every day.

Check out our previous report on the Meguro mipig cafe here: P→★ (TEMPURA KIDZ) Animal Café Diary #5: Visiting Japan's First Micro Pig Cafe 'mipig cafe'

The concept for the Harajuku branch is "entering the world of a micro pig picture book" and therefore, the cafe decoration is based on the famous story "The Three Little Pigs". This is the perfect environment to play with the adorable little pigs and create some loving memories together.

Information

Information

mipig cafe Harajuku

Address: Barbizon76, 1 Chome-15-4 Jingumae, Shibuya, Tokyo

Reservations: Advanced reservation required. The reservation period will open from approximately the end of October. 

* For more information, please check mipig's official Instagram and Twitter accounts:

Instagram: (@jpmipig)

Twitter:(@mipigcafe)

MOSHI MOSHI ROOMS Opens Origami Themed Accommodation 'ORIGAMI' in Harajuku

The second room of the ASOBISYSTEM-produced home sharing facility MOSHI MOSHI ROOMS has finally opened. Named "ORIGAMI," the room is available via Airbnb, and is a joint-effort between ASOBISYSTEM, which promotes Harajuku culture to the rest of the world, and Rokuyon, which manages unique accommodations in Shibuya.

MOSHI MOSHI ROOMS SAKURA 

MOSHI MOSHI ROOMS is an accommodation service that offers concept rooms brimming with originality which you won't find at any other hotel, hostel or home sharing facilities. The first room, SAKURA, opened in December last year, proving popular with travellers around the world with its cherry blossom theme.

Joining as the second room in the series is 'ORIGAMI,' a room based entirely on the Japanese art of paper folding which covers the entire room at every turn.

Living Room

The cosy living room is decked out with benches and stools, furnished in the style of a Japanese tea house. Dangling overhead are lights which brighten the room with their warm colour. The light shades are in fact traditional Japanese umbrellas which help bring that quaint Japanese atmosphere alongside the colourful folding fans, matcha-making tea set, and more.

Bedroom

The picturesque room is floored with tatami where you can sit and relax on a zaisu―a traditional chair with no legs used for sitting on tatami mats. The paper lanterns and sliding doors elevate an exciting air in the room. The stairs leading upstairs are made up of chests of drawers which you can use to store your luggage.

Both the upstairs and downstairs are fitted with mattresses spreading 2.6 meters wide which can accommodate up to 6 people in total. The mattresses are by Nishikawa which offer dreamy comfort and a high quality sleep. The mattresses can also be switched out for a different type depending on what kind of feel you are looking for.

Powder Room

The Powder Room is equipped with amenities including cotton swabs, cotton pads, and hairbands. Seat yourself comfortably at the wide table and get ready for your day or night out.

Shower Room

The Shower Room also has everything you need including shampoo, conditioner, and body soap. As well as a shower, there is also a Japanese-style Washlet toilet.

Everything Else & The Amenities

ORIGAMI has all of the living essentials. If you're looking to cook while staying here, the kitchen has a microwave, refrigerator, plates, pans and more. There is even a washing machine.

Guests can also rent a kimono haori. Be sure to take lots of pictures!

4F Entrance – Staircase

The ORIGAMI room begins from the staircase leading from the third floor to the fourth floor. The door is actually made of tatami mats.

Building Entrance

Our building is very easy to spot at the ground floor entrance with the giant neon sign that reads "MOSHI MOSHI NIPPON" in Japanese as well as the MOSHI MOSHI ROOMS logo on the wall.

Rooftop

Guests are free to use the rooftop which offers a panoramic view of Harajuku.

Like SAKURA, ORIGAMI is available to book on Airbnb only. Whether you're coming from overseas and in need of a room, are doing a staycation, or just want a place to get together with the girls, then book now with MOSHI MOSHI ROOMS.

Information

MOSHI MOSHI ROOMS -SAKURA-

Address: 2-18-7 Jingumae, Shibuya, Tokyo

Access: 8-minutes on foot from Meiji-Jingumae (Harajuku) Station via the Chiyoda and Fukutoshin lines

Occupancy: 1-6 people

Price: ¥40,000 (does not include handling and service charges) *1 room 1 night

*Accommodation prices are subject to change depending on the period. For full details please check the Airbnb website

Official Website: https://rooms.moshimoshi-nippon.jp

ORIGAMI Bookings: https://bit.ly/2Ug3nVv

SAKURA Bookings: https://bit.ly/2NwrA8x

Sanrio's Cinnamoroll Serving Up Drinks at the Sky Drink Stand in Harajuku

Cinnamoroll's Sky Drink Stand is finally open in Harajuku where Sanrio's adorable white puppy will be catering drinks to your taste until August 25.

The drink stand is located along Harajuku's famous Takeshita Street.

When you step inside you are taken soaring up into the clouds with its fluffy decor and decorations.

Cinnamoroll can be found all around the cafe looking adorable♡

To get a drink you first need to purchase a ticket from the ticket machine. Once you've got that, it's time to head on over to the row of Cinnamoroll plushies.

There are 27 drinks in total to choose from. You will converse with Cinnamoroll and answers his questions which will change the colour, flavour and toppings of your drink. Your specially made and unique drink will arrive bottled with a handwritten name label on the front.

As you answer the questions you will be able to see Cinnamoroll making your drink on the tablet.

After a short time your drink will arrive!

Here is my cute and sparkly drink. I wrote "MOSHI MOSHI" in Japanese (もしもし) for the name tag. Mine was a delicious fizzy summery drink with blue jelly.

If you go with friends then you can have fun comparing your different drinks too!

You can get some even cuter photos at the shop's many photo spots.

And if you want to order your drink in advance then you can use the Cinnamoroll Talk app which is compatible with Google Assistant. After you say, in Japanese, "OK Google, Cinnamoroll ni Osora Dorinku Onegai" (OK Google, please give me a Cinnamoroll Sky Drink), the order window will pop up. After you've talked with Cinnamoroll on the app you will receive an order number to collect your drink. There are also secret sentences hidden around the store for talking with Cinnamoroll, so if you find them you can have a longer chat with him!

Make your own unique summertime beverage with Cinnamoroll at the Sky Drink Stand♡

Information

Cinnamoroll Sky Drink Stand
Location: BOK Gallery Takeshita Street (Tousen Harajuku, 1-16-6 Jingumae, Shibuya, Tokyo)
Running: August 22, 2019 – August 25, 2019 (*Open to the press and invitees only on August 21)
Price: ¥700 (Tax Included) per drink
Business Hours: 11:00-20:00
*Greeting events will be held at scheduled occasions where Cinnamoroll and friends will appear at the drink stand

Top 13 Cream Sodas in Tokyo: Cool Yourself Down This Summer with Classic Drinks & Modern Beverages

Hey, MOSHI MOSHI NIPPON readers! I'm Banako of MOSHI MOSHI FRIENDS.

It's safe to say that most long-standing, older cafés in Japan serve cream soda. It's a drink that bellows with nostalgia, topped cutely with a dollop of ice cream and sparkling bright with vivid colour like some rare jewel.

It's a rather simple drink, but the number of people intrigued by its unique appearance are evidently on the rise. And I'm one of those people! I've had times where if it's available on the menu I want to order it-and further still I've gone out of my way to a café solely because I've wanted some cream soda.

Depending on the vibe and atmosphere of a café, the appearance of the cream soda will be different, which also means a different flavour. This is all part of the enjoyment of cream soda: it's fun to compare the different tastes.

I have made a long list of my most recommended cream sodas in Tokyo, all of which I have actually tried!

To make it easier to picture each drink I have also given a rating out of 5☆ stars for the strength of the fizziness, the sweetness of the soda, and sweetness of the ice cream. Use this as reference when picking your drink of choice. Enjoy this specially curated selection of drinks in cafés that you're going to want to snap lots of pictures of♡

①CAMPUS TOY cafe&bar

CAMPUS TOY is located in the Jinbocho district of Tokyo. This exciting little place has gone for an American pop vibe. They sell toys too.

The extra goodies they put in the cream soda here is influenced by the US too. The owner is a really interesting person, so much so that you end up losing track of the time as you get lost in conversation with them.

Fizziness:★★★★☆

Soda Sweetness:★★☆☆☆

Ice Cream Sweetness:★★★☆☆

CAMPUS TOY cafe&bar

Address: 2-10 Kanda-Jinbocho, Chiyoda Ward, Tokyo

Opening Hours: [Mon-Fri] 18:00-22:00

Closed: Weekends & Public Holidays

Access: 2-minutes on foot from Jinbocho Station's A2 Exit

TEL: 03-3261-7383

Instagram: https://www.instagram.com/campustoy_matz/?hl=ja

②Café Negura

This little-known-good-spot can be found in Shimokitazawa. The café interior has relaxed and retro décor. Their cream soda is served with two stacks of ice cream and a crown of whipped cream topped off with a cherry. What a cute-looking drink!

Fizziness:★★★☆☆

Soda Sweetness:★☆☆☆☆

Ice Cream Sweetness:★★★★☆

▶︎ Café Negura

Address: PACKAGE ONE Floor 1F (North Side), 2-26-13 Kitazawa, Setagaya Ward, Tokyo

Opening Hours: 11:30 ー 20:00

Closed: Mondays & Tuesdays

Access:152m walk from Shimokitazawa Station

Twitter:https://twitter.com/neguracafe_mi

③Sepia

Another retro-style café, except this one is specifically influenced by the Showa period . Situated in Shibamata, everything about this café, from the outside to the interior, breathes retro-Showa. On the second floor is the Candy Candy Museum.

Their cream soda is the quintessential classic cream soda…but with a twist. It has mikan in it, a type of orange, which is very rare with cream sodas. That gives off a retro-ness too. Another cute beverage!

Fizziness:★★★☆☆

Soda Sweetness:★★☆☆☆

Ice Cream Sweetness:★★★☆☆

▶︎ Sepia

Address: 7-4-11 Shibamata, Katsushika Ward, Tokyo

Opening Hours: 10:00-18:30 (Last Orders 18:00

Closed: Tuesdays & Wednesdays

Access: 2-minutes on foot from Shibamata Station (Accessed via the Keisei Line)

Instagram: https://instagram.com/sepiamama?igshid=1urnwdix23qbx

④ALL C'S CAFE

ALL C'S CAFE is in Koenji, the retro hub of Tokyo. Decorations of cute bears are what this café is all about. There are enormous life-sized bears everywhere, so you can get ready to snap some seriously kawaii pictures.

The café itself, as well as the adorable smiley bear on your cream soda, is sure to elicit some high-pitched "Aww's."

Fizziness:★★★☆☆

Soda Sweetness:★★☆☆☆

Ice Cream Sweetness:★★★★☆

▶︎ALL C'S CAFE

Address: Miyake Bldg. 2F, 3-25-24 Koenji, Suginami Ward, Tokyo

Opening Hours: 12:00-22:00

Closed: No Fixed Holidays (except Obon and New Year's Holidays)

Access: 5-minutes on foot from the north exit of Koenji Station (Accessed via the JR Chuo Line)

Website: http://www.allcscafe.com

⑤Café Hosekibako

Hosekibako, which means 'jewelry box' in Japanese, is right next to Chitose-Karasuyama Station. Retro vibes waft their way throughout this cozy little hideaway with the littering of Showa manga and other miscellaneous odds and ends.

This café too has the signature classic cream soda. It has a transparent appearance in its truly beautiful colour.

Fizziness:★★★☆☆

Soda Sweetness:★★★☆☆

Ice Cream Sweetness:★★★☆☆

▶︎ Café Hosekibako

Address: Koyama Mansion 102, 4-18-18 Minamikarasuyama, Setagaya Ward, Tokyo

Opening Hours: 12:00-18:30 (Last Orders 18:00)

Closed: Wednesdays

Access: 5-minutes on foot from the east exit of Chitose-Karasuyama Station (Accessed via the Keio Line)


Website: https://housekibako.wixsite.com/2009

⑥THE GREAT BURGER STAND

This hamburger shop sells an American-style cream soda, topped with swirly ice cream rather than cream soda's classic dollop. That, together with the huge glass it's served in, is enough to get you excited before you even take a sip. The café can be found in Shibuya Stream, meaning you can stop by for a breather after shopping.

Fizziness:★★★★☆

Soda Sweetness:★★☆☆☆

Ice Cream Sweetness:★★★★☆

▶︎THE GREAT BURGER STAND

Address: Shibuya Stream 1F, 3-21-3 Shibuya, Shibuya Ward, Tokyo

Access: 1-minute on foot from Shibuya Station via the JR Yamanote Line 

Opening Hours: 11:00 ー 23:00 (Last orders:  22:30)

Closed when Shibuya Stream is closed.

Access: Approx. 1-minute walk from Shibuya Station (JR Yamanote Line)

Instagram: https://www.instagram.com/the_great_burger/

⑦Coffee Shop Galant

Right beside Ueno Station you'll find Galant, a coffee shop also with an air of retro-Showa to it during the bubble economy period. You'll feel like you've been transported back in time when you see the dazzling décor and the staff uniforms. Peeking through the see-through liquid is a cute red cherry♡

Fizziness:★★★★☆

Soda Sweetness:★★☆☆☆

Ice Cream Sweetness:★★★☆☆

▶︎ Coffee Shop Galant

Address: 6-14-4 Ueno, Taito Ward, Tokyo

Opening Hours: 8:00-23:00

No Fixed Holidays

Access: Directly behind the toy store Yamashiroya (山城屋), just a two minute walk from JR Ueno Station. Also 1-minute on foot from exit 5b of Ueno Station (accessed via the Tokyo Metro Line and Hibiya Line)

Tabelog: https://www.google.co.jp/amp/s/s.tabelog.com/tokyo/A1311/A131101/13039759/top_amp/

⑧bio ojiyan cafe Harajuku

Ojiya, also known as zosui, is a type of Japanese rice-based vegetable soup. In my opinion, the ojiya served here is the tastiest in the world! Their cream soda comes in a large round cup and is a nice refreshment after a spot of ojiya.

Fizziness:★★★★☆

Soda Sweetness:★★☆☆☆

Ice Cream Sweetness:★★★★☆

▶︎bio ojiyan café

Location: 4-26-28 Jingumae, Shibuya, Tokyo

Opening Hours: 11:00-20:00

No Fixed Holidays

Access: 10-minutes on foot from JR Harajuku Station / 3-minutes on foot from the Jingumae Crossing ticket gate elevator exit of Meiji-Jingumae Station (Accessed via the Tokyo Metro Fukutoshin Line)

Website: http://mfs11.com/brand/bio-ojiyan-cafe-harajuku/

⑨PEPPERS DRIVE IN

The main dish at this Kanagawa-based restaurant is curry. Every single thing about PEPPERS DRIVE IN is influenced by retro US elements, from the car park to the nooks and crannies inside and even the trays. You can take some really cute photos literally anywhere in the restaurant. The cream soda portion stays true to the American taste too with a generous serving.


Fizziness:★★★☆☆

Soda Sweetness:★★☆☆☆

Ice Cream Sweetness:★★★☆☆

▶︎PEPPERS DRIVE IN 

Address: 1129-1 Kidokoro, Hiratsuka, Kanagawa

Opening Hours: Lunch 11:30-15:00 (Last Orders 14:45) / Dinner 18:00-22:00 (Last Orders 21:30)

Closed: Wednesdays (Except on public holidays, in which case closed the following day)

Access: 6-minutes by taxi from south exit of Isehara Station (Accessed via the Odakyu Odawara Line) / 16-minutes by taxi from the north exit of Hiratsuka Station (Accessed via the JR Tokaido Main Line)

Official Website: http://www.peppers.co.jp

⑩BRIDGE

I reviewed the melon bread pancakes at this Ginza-based café earlier this year. It's located inside a long-standing department store meaning the cream soda here has been around for a long time too, offering a more traditional taste. They are served on coasters which you can take home with you. It's a great place to stop off for a break when strolling around Ginza.

Fizziness:★★☆☆☆

Soda Sweetness:★★★★☆

Ice Cream Sweetness:★★★☆☆

▶︎BRIDGE

Address: NISHIGINZA Floor B1F, 4-1 Ginza, Chuo Ward, Tokyo

Business Hours: [Monday-Saturday] 11:00-20:30 (Last Orders 20:00) / [Sunday & Holidays] 11:00-20:00 (Last Orders 19:30)

Closed: When NISHIGINZA Department Store is closed.

Website: http://www.nishiginza.co.jp/page/shopguide/detail/?id=33

⑪HIROMAN'S COFFEE

Another snug hideout, situated in the backstreets and surrounded by trees, is HIROMAN'S COFFEE. This cute café has lots of antique picture frames, rabbit ornaments, and other tidbits. Their melon soda arrives in a cute round and plump glass. They plenty of other Instagrammable drinks too including one topped with cotton candy. This one is one to keep coming back to!

Fizziness:★★★★☆

Soda Sweetness:★★☆☆☆

Ice Cream Sweetness:★★★☆☆

▶︎ HIROMAN'S COFFEE

Address: 3-18-12 Jingumae, Shibuya, Tokyo

Opening Hours: 11:00-19:00 (Last Orders 18:30)

No Fixed Holidays

Access: 10-minutes on foot from Meiji-Jingumae Station

Instagram: https://instagram.com/hiromans_coffee?igshid=oumb3g7aergo

⑫ blikje button

⑫blikje button

blikje button in Shimokitazawa, which offers both a café and dining experience, has a vintage vibe to it with decorations that have a handcrafted feel to them.  The glasses the cream sodas come in match that aesthetic. The stroking colours of the sodas are something beautiful to behold!

Fizziness:★★★★☆

Soda Sweetness:★★☆☆☆

Ice Cream Sweetness:★★★☆☆

▶︎blikje button

Address: Shimokitazawa Central Bldg. 2F, 2-14-7 Kitazawa, Setagaya Ward, Tokyo

Opening Hours: 12:00-23:00 (Lunch 12:00-16:00/Café 12:00-18:00/Dinner 17:00-23:00) *Food last orders 22:00, drink last orders 22:30

No Fixed Holidays

Access: 2-minutes on foot from Shimokita Station via the Odakyu Line / 2-minutes on foot from the south-west exit of Shimokitazawa Station via the Keio Inokashira Line

Website: http://www.blikje-button.com/

⑬CAROLINE DINER

CAROLINE DINER is a famous café in Harajuku inspired by American diners. The cream sodas sold here are striking and nothing short of Instagram-worthy! They go perfectly with the stylish interior of the café that you'll no doubt find yourself taking photos.

Fizziness:★★★☆☆

Soda Sweetness:★★★☆☆

Ice Cream Sweetness:★★★☆☆

▶︎CAROLINE

Address: 2-14-11 Jingumae, Shibuya, Tokyo

Opening Hours: 12:00-18:30 (Last Orders 18:00)

Closed: Thursdays

Access: 10-minutes on foot from Meiji-Jingumae Station / 10-minutes on foot from Kita-Sando Station / 10-minutes on foot from Setagaya Station

Website: http://caroline1.theshop.jp/

And that's all from me Banako and my must-try recommendations for Tokyo cream soda. Do you have a favourite from this list?

Tokyo's summer is nowhere near over yet. How about treating to yourself to a nice refreshing cream soda to cool yourself down from the scorching heat?

Tokyo Stroll: The Café That You Want to Visit to See Someone #11 – 'Hatoya' in Asakusa

In this edition of The Café That You Want to Visit to See Someone, I visited Hatoya which is located in Asakusa Shin-Nakamise Arcade.

The streets of Tokyo's historical district of Asakusa are packed to end with cafés. You can be spoiled for choice, but Hatoya stood out to me in particular as it's an especially old café. Business there began back in 1927 but the actual building was built back in the Taisho period, meaning its history spans more than 90 years ago!

The outside appearance of the shop is smart and chic so it's very easy to spot. I couldn't tell by looking from the outside, but the inside is full of old decorations and odds and ends which make you feel the history of the café.

One reason why I wanted to visit this place so much is because I was drawn to their logo. It's really retro-kawaii so I just couldn't resist!

You should take some photos too if you visit.

It was time to head inside. It's really comfy and cozy in there; the atmosphere was nice and relaxed.

Framed on the wall is a map of the Asakusa area during the Taisho era. Hatoya became famous back then because people could buy coffee for a mere 5 sen (a single sen is one-hundredth of a yen).

When business first began at Hatoya, because the café was opposite the stage door of a theatre, all of the famous actors and actresses would pop in. Some include famous Japanese comedian Roppa Furukawa and film actor Kiyoshi Atsumi who played Tora-san in the film series Otoko wa Tsurai yo.

I ordered the café's popular hotcakes which cost ¥600. They have been making these same hotcakes since before the war.

They were nice and fluffy and had a deliciously gorgeous brown colour. The flavour was out of this world when the butter melted from the heat of the hotcakes and mixed together with the syrup.

The portion might look like a lot but they are fluffy and have a light flavour so can be finished with no problem.

And is the café's signature milkshake (¥500).

It's so refreshing that you can knock it back all in one go. It has a simple flavour but it tasted so good!

I also ordered the ¥600 cream soda, my favourite beverage.

I've been to many cafés, and have covered many in this series, but this is the first I have dined at with such a deep history. I found myself enthralled by the stories of the owner who has continued to treasure the café and maintained it all the same since it opened. I feel like I have learned about a world I never knew about. The next time I go to Hatoya with a friend I'll be sure to let them in on its history. I encourage you to visit too!

Writer/Model: Ema Tanioku
Photographer: Haruka Yamamoto
Design: Yuko Abe (ASOBISYSTEM)

TALENT PROFILE

Ema Tanioku

"Emaeri" is the nickname for models Ema and Eri Tanioku, who are Aomoji fashion model twins. Ema and Eri Tanioku specialise in twin fashion coordination. Over the years their fanbase has increased due to their cute looks. Ema Tanioku spreads Harajuku culture within Japan as well as overseas and works as a Harajuku Tourism Ambassador. Starting off as a model, Ema has broadened her talent range from fashion magazines to TV, and from playing the lead role in dramas to movies.

Mango Drinks Cafe CAFE MANGOSIX Opens First Japan Branch in Okinawa

MANGOSIX Japan opened its first ever CAFE MANGOSIX branch in Naha, the capital of Okinawa, on August 10.

CAFE MANGOSIX is a hugely popular cafe in South Korea which serves healthy drinks and desserts themed on its 6 S's concept: Sensual, Slim, Sweet, Social, Sexy, and Style.

Their must-try beverage is the Mango & Coconut Juice which combines rich mango with sweet coconut milk. The cafe even has some drinks exclusive to Japan so you won't find them anywhere else!

The popular Blue Lemonade from South Korea is also being sold.

Cool yourself off after sunbathing on the beaches of Okinawa by grabbing a drink from the new CAFE MANGOSIX!

Information

CAFE MANGOSIX

Address: 1-16-6 Matsuo, Naha, Okinawa

Opening Hours: 8:00-22:00

Access: 10-minutes by car from Naha Airport / 4-minutes on foot from Prefectural Office Station (via Yui Rail, aka Okinawa Monorail) / 2-minutes on foot from Okinawa Prefecture Government Building

Official Website: http://www.mangosix.co.jp/

Harajuku Summer Festival 2019 to Take Place at Togo Shrine

GLOBAL PRODUCE, a Japanese event organiser, is set to sponsor Harajuku Summer Festival 2019 which will be held at Togo Shrine in Harajuku, Tokyo on August 23. Bringing together professional event producers, the festival will combine elements of traditional Japanese culture with the latest trends.

Food trucks and stalls will open in the dozens, including appearances from the shaved ice shop Kooriya bebe which makes its fluffy shaved ice from the natural spring waters of Mount Fuji―perfect for the hot weather―as well as Ichika, a cafe known for its tapioca Japanese tea lattes made with high quality tea leaves from Kagoshima. Current popular restaurants will also serve up delicious summertime food. There will even be the Harajuku Bon Odori 2019 dance event, and the marchers for the Tokyo 2020 Olympics will also be present.

Tokyo Bijin Project will make their first ever live appearance, a group of shining Japanese women with "wisdom, dignity and compassion" who are set to speak out for other strong women. They will talk leadership, interpretation, attending to people, the spread of Japanese culture, and more.

If you are in Japan for the summer then make sure you attend all of the different summer festivals you can.

Information

GLOBAL PRODUCE presents Harajuku Summer Festival 2019 at Togo Shrine

Date: August 23, 2019

Time: 19:00-21:00 (Reception open from 18:30)

Location: Togo Shrine (1-5-3 Jingumae, Shibuya, Tokyo)

Togo Shrine Official Website: http://www.togojinja.jp/

STRAWBERRY MANIA: Harajuku's Cutest & Tastiest Strawberry Ice Cream | Food Review

Hey, readers. It's Midori again, from MMN's editorial team.

Summertime in Harajuku means the cafes and ice cream shops start serving up some seriously kawaii and tasty ice creams. It's always nice to grab a cone to enjoy while walking around shopping, but relaxing in a cafe to enjoy it is fun too♡

If the latter sounds like your kind of thing, then I've got a new recommendation for you. I visited STRAWBERRY MANIA recently, cafe located along Takeshita Street in Harajuku that specialises in strawberry desserts.

You'll find it right above the 7-Eleven on Takeshita Street. Look for the strawberries!

There's also a sign outside showing a few of the desserts. Go up the staircase right next to it and you'll come to the cafe entrance.

No matter where you turn while you're here, your eyes will be met with strawberries. It looks so cute♡

The shopfront showcase is shelved with lots of succulent strawberry treats. The chef whips up other desserts to order besides these too. Everything's almost too cute to eat!

For the strawberry soft serve ice cream you can pick between three flavours: milk, strawberry or mixed. I couldn't pick between them so I went for mixed.

The combination of the bright red strawberry ice cream and pure white milk ice cream makes for a beautiful colour contrast.

It's also topped with a huge fresh strawberry.

I took no time at all in taking a spoonful. The strawberry ice cream has a really rich flavour. It's sweet but has that sour kick too, like you're eating a real strawberry. The milk ice cream has a milder sweetness and a real milky taste, the kind you'd imagine if it was sold at a farm with cows.

Everything is packed snug into the cone right down to the bottom, making it a filling treat. It can be ordered for takeout if you like, and if you do that you can get your ice cream straight away so you don't have to wait for seats.

They serve other things besides soft serve too, like shaved ice and parfaits. There's so much to choose from, I think you'll be spoiled for choice! Be sure to visit if you're in Harajuku.