SILENT SIREN released the teaser movie of their live!
SILENT SIREN is a girls'band consisting of 4 members. To commemorate their 5th anniversary in 2017, they released an original album, "GIRLS POWER" recently.
In commemoration of their 5th anniversary, they held a large-scale tour (19 venues, 26 lives) named "5th ANNIVERSARY SILENT SIREN LIVE TOUR 2017 'Shinsekai'." They are planning to release the video of their live held at Nippon Budokan on the 7th of March and the teaser movie (fan-club-limited video) was released.
The video of the live held at Nippon Budokan, held on the day they debuted 5 years ago, includes many contents such as the video of the band rehearsing and an interview video which was taken after they finished their performance.
A palace pre-sticker is included in the first-limited edition.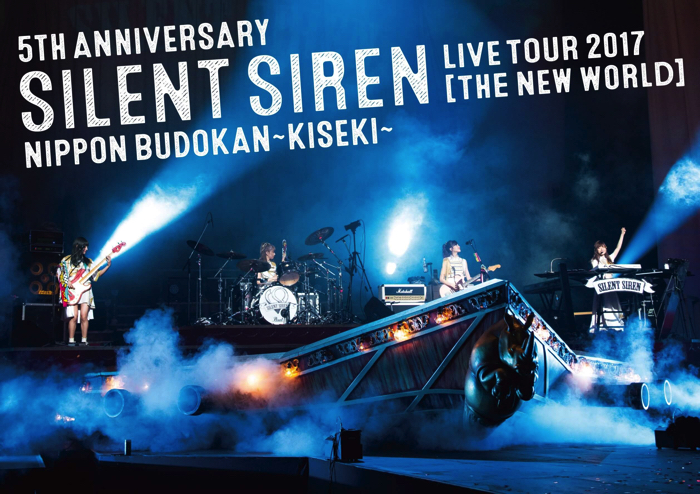 Other than the Blu-ray first limited edition and the DVD first limited edition, the fan-club limited edition which only the members of the fan club, "Sai Sai Family" can purchase will be released.
The fan club limited edition includes the interview video and the 68p special book including many kinds of photos and it is a three-dimensional case.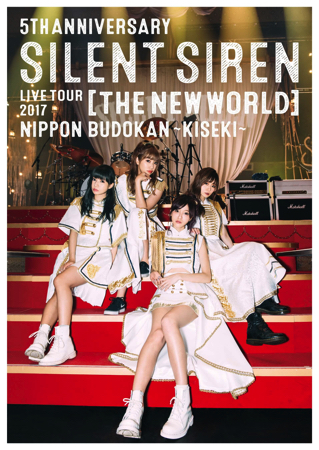 The fan club limited edition can be reserved via the membership site and the acceptation of reservation will be ended on the 4th of February (Sun.) 23:59.
Let's celebrate the 5th year anniversary of Sai Sai.
◼︎Information
5th ANNIVERSARY SILENT SIREN LIVE TOUR 2017 "Shinsekai" Nihon Budokan ~Kiseki~
※four editions available
Release date: 2018,03,07 (Wed.)
Fan club limited edition
Interview video of the Nippon Budokan live, 68P special book including the photos of the rehearsal and live, three-dimensional case
Blu-ray Fan Club limited Edition
【Blu-ray+GOODS+SPECIAL BOOK】
Price: 7,800 yen + tax
Amenity: Pass replica sticker
Price: 7,800 yen + tax
SPECIAL BOOK is included, three dimensional case
DVD Fan Club Limited Edition
【DVD+GOODS+SPECIAL BOOK】
Price: 6,800 yen + tax
Amenity: Pass replica sticker
SPECIAL BOOK is included, three dimensional case
Blu-ray First Limited Edition
【Blu-ray+GOODS】
Price: 5,800 yen + tax
Amenity: Pass replica sticker
DVD First Limited Edition
【DVD+GOODS】
Price: 4,800 yen + tax
Amenity: Pass replica sticker
■Blu-ray Fan Club Limited Edition
【Blu-ray+GOODS+SPECIAL BOOK】
Price: 7,800 yen + tax
Amenity: Pass replica sticker
SPECIAL BOOK is included, three dimensional case
■DVD Fan Club Limited Edition
【DVD+GOODS+SPECIAL BOOK】
Price: 6,800 yen + tax
Amenity: Pass replica sticker
SPECIAL BOOK is included three dimensional case
【SILENT SIREN live information】
★SILENT SIREN LIVE TOUR 2018 〜"Girls will be Bears"TOUR〜
03,18 (Sun) Yokohama BAY HALL
03,22 (Thurs.) Fukuoka DRUM LOGOS
03,24 (Sat.) Kumamoto B.9 V1
03,25 (Sun.) Kagoshima CAPARVO HALL
03,31 (Sat.) Koriyama Hip Shot
04,01 (Sun.) Koriyama Hip Shot
04,07 (Sat.) Nagano CLUB JUNK BOX
04,08 (Sun.) Kanazawa Eight Hall
04,14 (Sat.) Takamatsu MONSTER
04,15 (Sun.) Kochi X-pt.
04,21 (Sat.) Shizuoka SOUND SHOWER ark
04,22 (Sun.) Shizuoka SOUND SHOWER ark
04,27 (Fri.) Taksaki club FLEEZ
04,28 (Sat.) Niigata LOTS
04,30 (Mon./holiday) 和歌山SHELTER
05,01 (Tue.) Kobe Harbor Studio
05,06 (Sun.) Sendai Rensa
05,10 (Thurs.) Kashiwa PALOOZA
05,11 (Fri.) Mito LIGHT HOUSE
05,24 (Thurs.) Hakodate club COCOA
05,26 (Sat.) Sapporo PENNY LANE 24
05,27 (Sun.) Obihiro MEGA STONE
06,01 (Fri.) HEAVEN'S ROCK Saitama Shintoshin
06,02 (Sat.) HEAVEN'S ROCK Utsunomiya
06,09 (Sat.) Morioka Club Change WAVE
06,10 (Sun.) Yamagata Session
06,12 (Tue.) Zepp Nagoya
06,16 (Sat.) Hiroshima CLUB QUATTRO
06,17 (Sun.) Okayama CRAZYMAMA KINGDOM
07,01 (Sun.) Zepp Osaka Bayside
07,13 (Fri.) Toyosu PIT
07,14 (Sat.) Toyosu PIT
【TOTAL INFORMATION】
SILENT SIREN Official Site http://silent-siren.com/