Collaborative menu items of Kerokero Keroppi and Pomupomu Purin will be sold in Pomupomu Purin Cafes in Umeda, Harajuku and Nagoya Prefecture!
A café "Pomupomu Purin Café" using the motif of "Pomupomu Purin" will sell collaborative menu items of "Pomupomu Purin" and "Kerokero Keroppi" in their Umeda Store from the 15th of February 2018 (Thurs.) to 31st of March (Sat.) and Harajuku Store / Nagoya Store from the 1st of March (Thurs.) to 31st of March (Sat.).
The collaborative menu items were created under the theme of "the lively character, 'Kerokero Keroppi' came to 'Pomupomu Purin' Café!" You can enjoy the two characters' menu items including desserts and foods.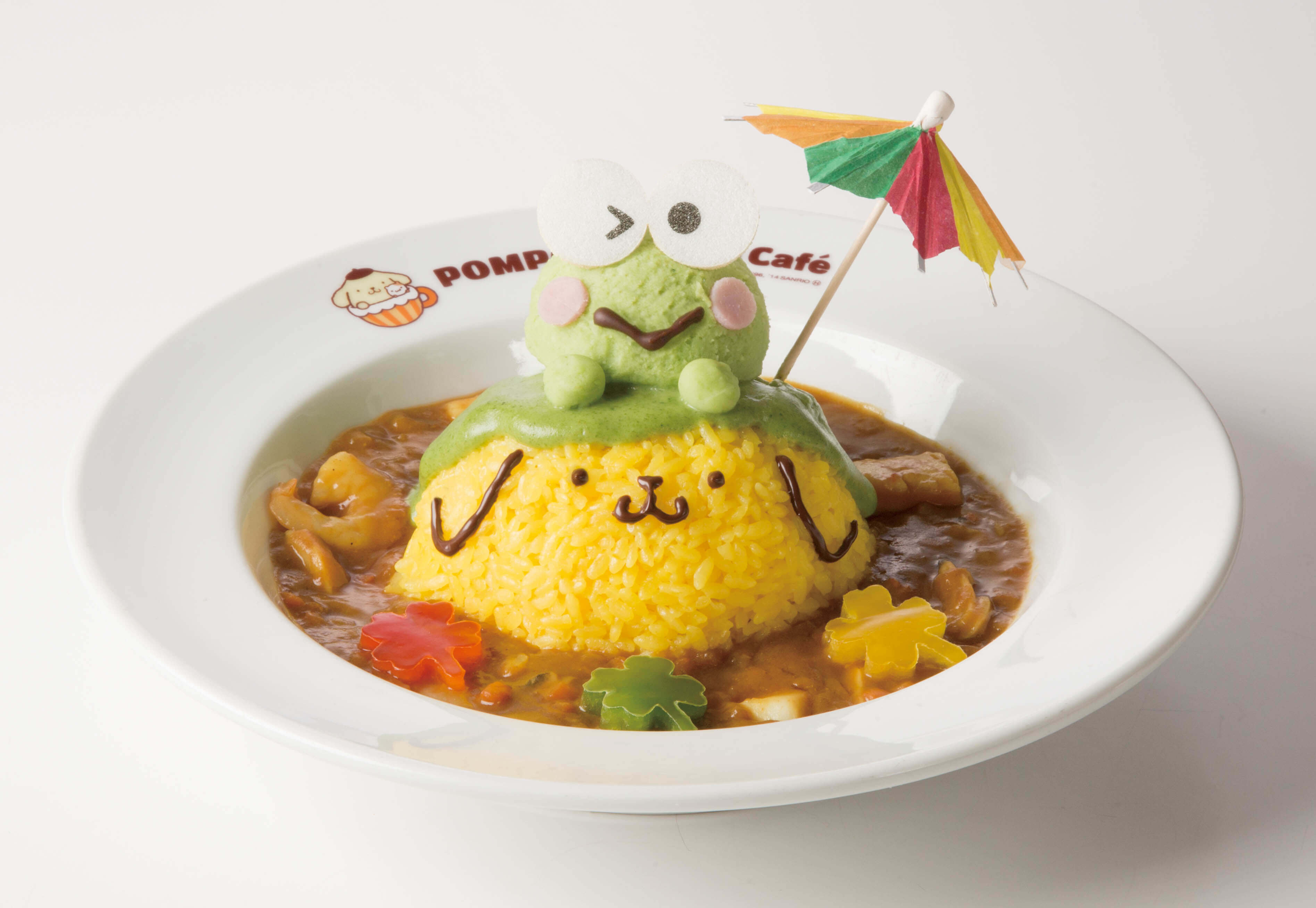 Keroppi ga Amayadori Purinto Sea Food Curry – 1,190 yen + tax
Keroppi made with mashed potatos including spinach is sitting on Purin Island made with saffron rice♪ A large serving menu item which has cute paprikas (three colors) shaped like a clover leaf.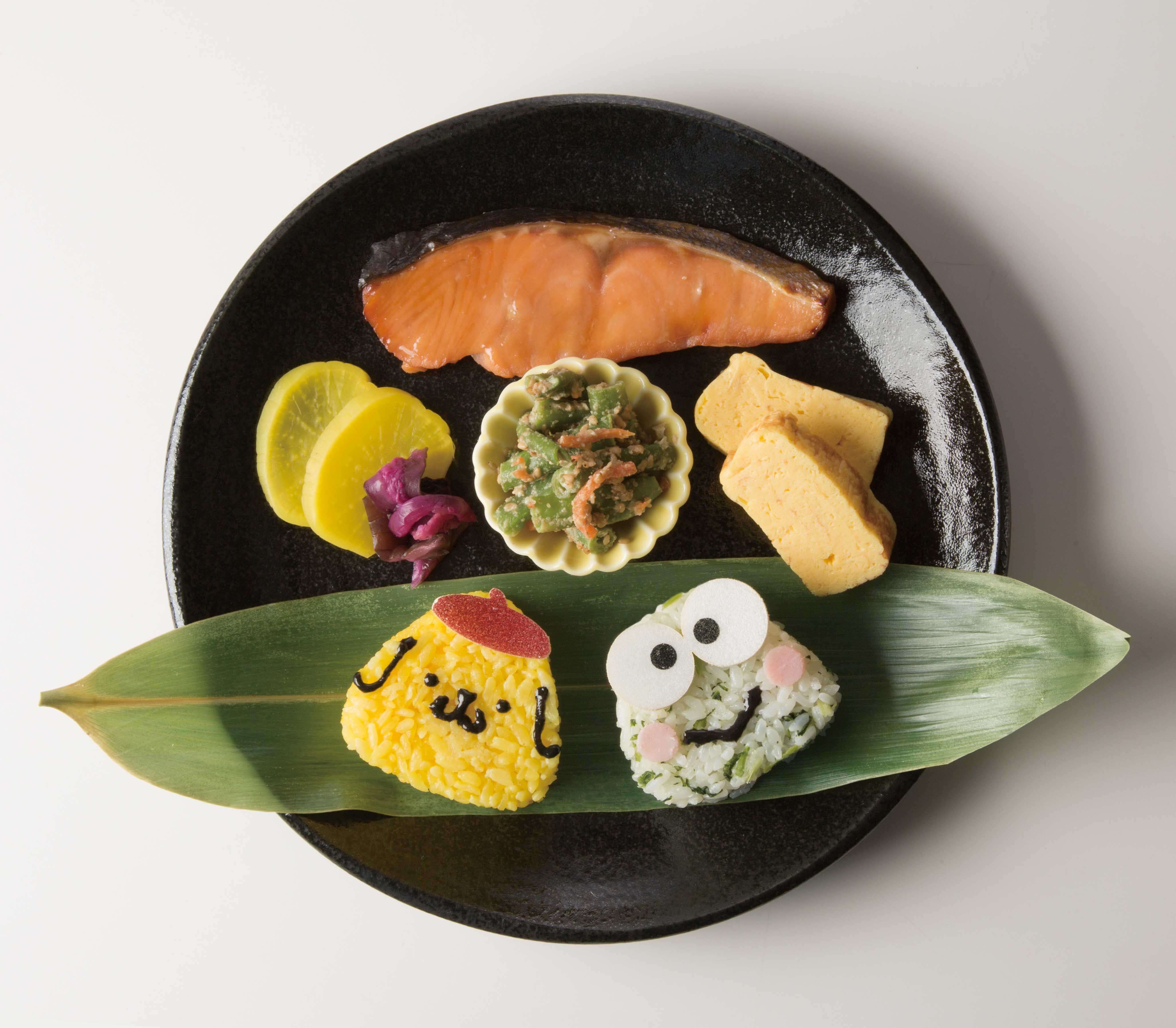 Nakayoshi Onigiri Plate – 1,090 yen + tax
A cute menu item where Purin made with saffron rice and Keroppi made with coleseed rice are sitting side by side.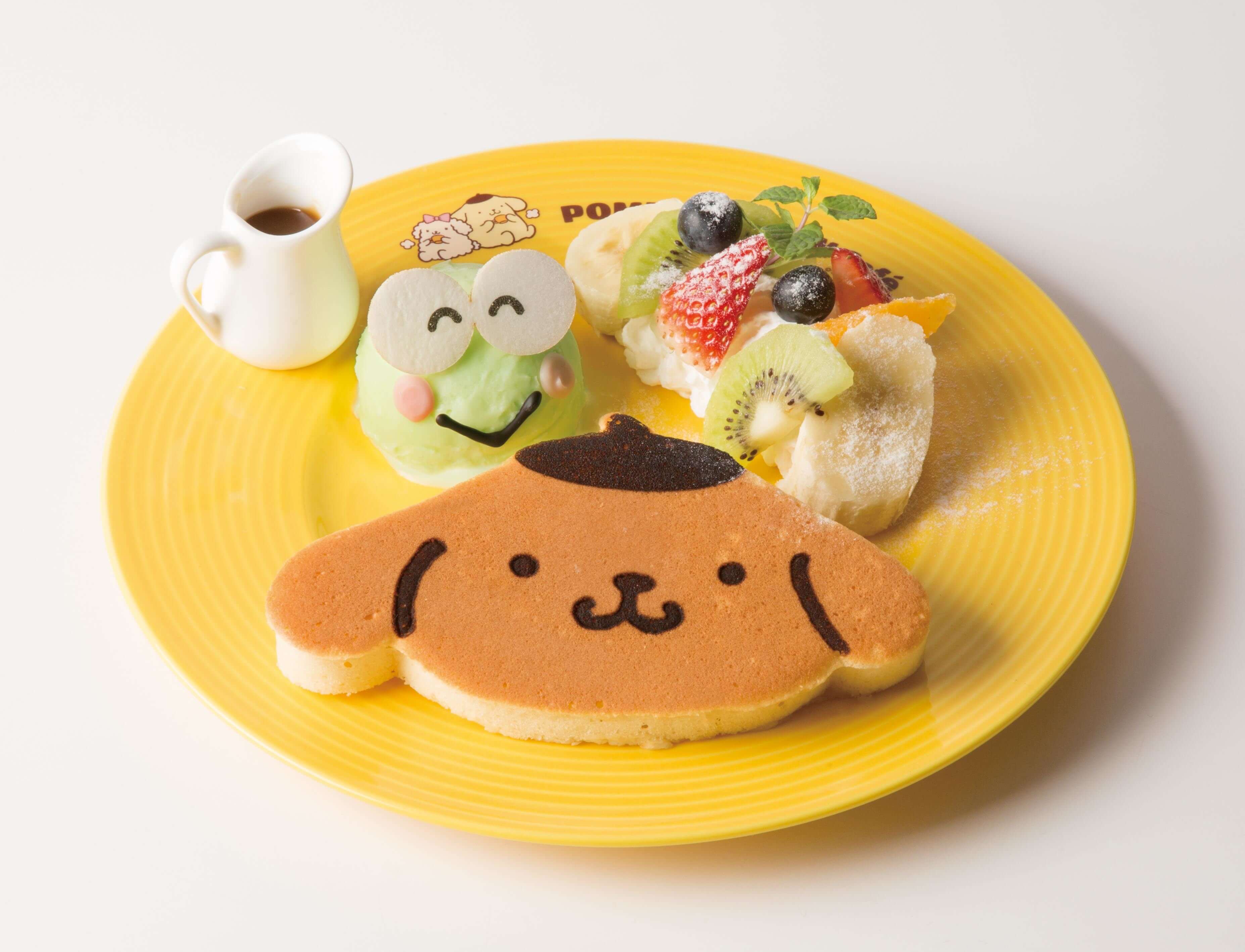 Pomu Pomu Purin Pancake Keroppi to Issho♪ 990 yen + tax
A plate that includes Purin made with a fluffy pancake and Purin made with melon sherbet. Let's pour lots of thick caramel sauce on it when eating this menu item.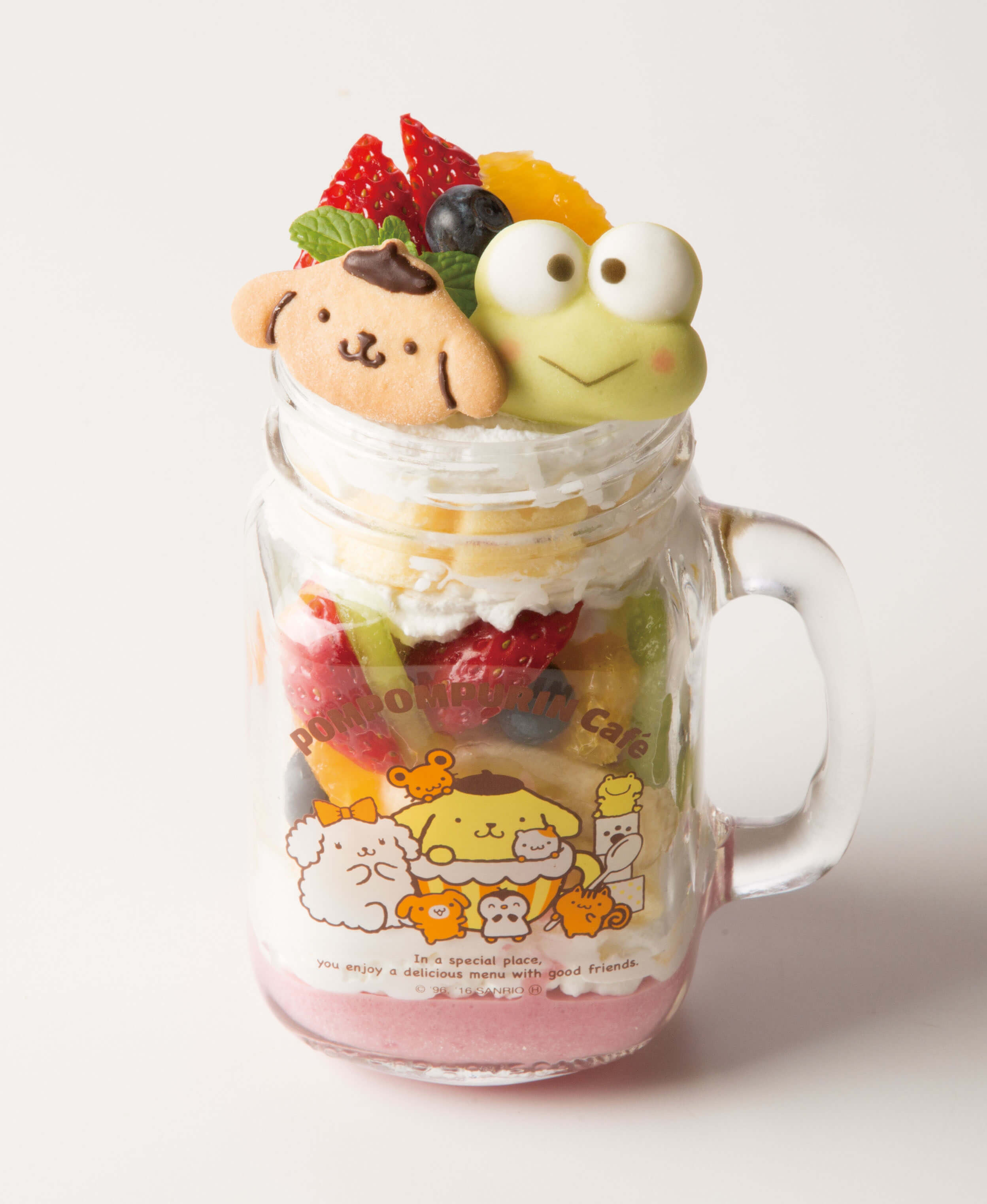 Fruit Tappuri Jar Trifle – 1,090 yen + tax
A dessert including lots of fruit and cream where you can enjoy many kinds of flavors.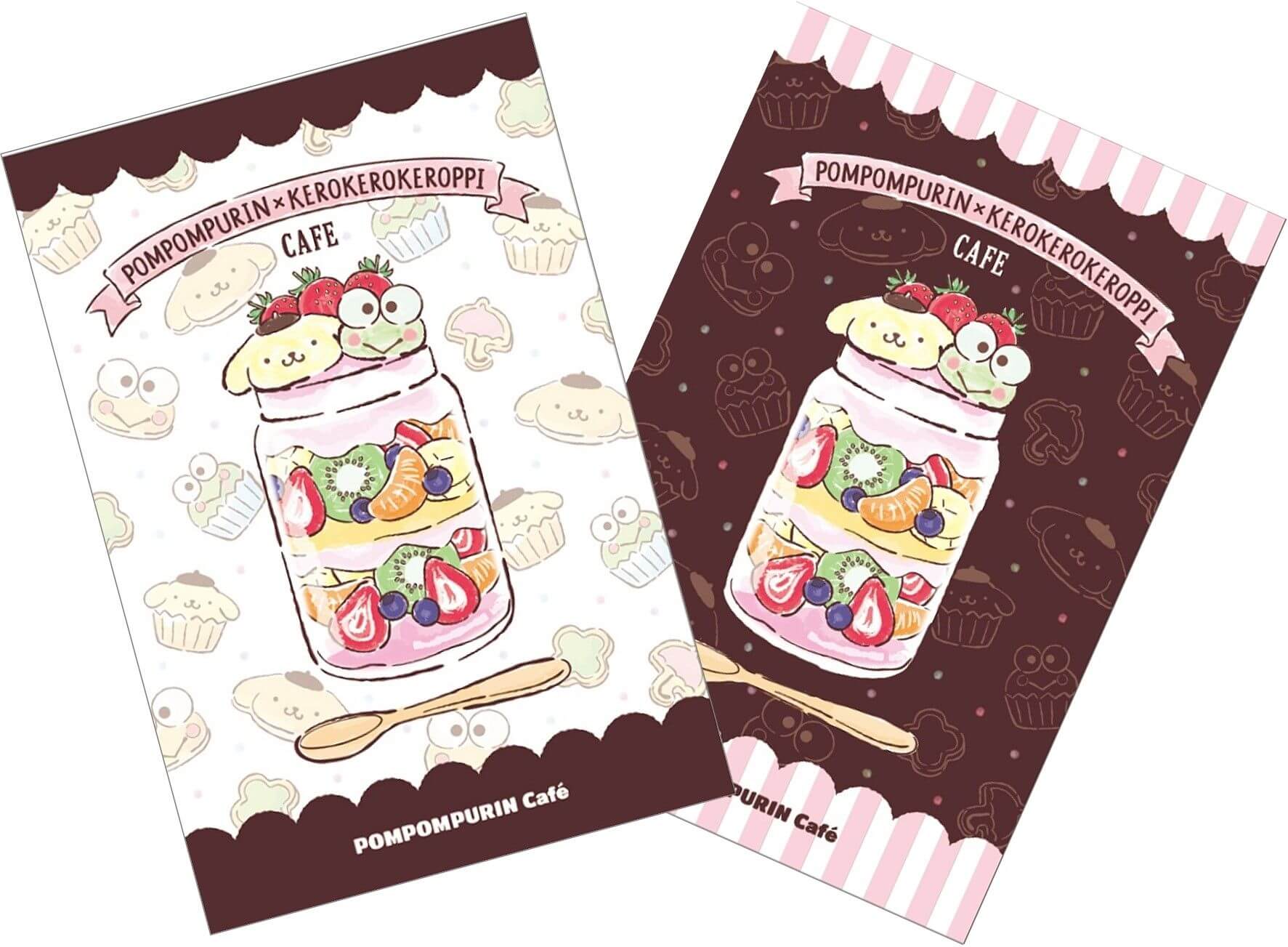 Other limited menu items are also available♡ Moreover, for those of you who ordered a collaborative menu item you can get an original postcard (one card per menu.)
Each store has its own limited menu items so let's enjoy them!
■Information
Pomupomu Purin Café Harajuku Store
Date: 2018/03/01 (Thurs.) to 03/31 (Sat.)
Address: CUTE CUBE HARAJUKU 3F, 1-7-1, Jingumae, Shibuyaku, Tokyo
Business hours: 11:00 to 21:00 (food L.O. 20:00) / (drink L.O. 20:30)
Fixed holidays: None
TEL:03-5786-0770
Pomu Pomu Purin Café Nagoya Sakae Store
Date: 2018/03/01 (Thurs.) to 03/31 (Sat.)
Address: BECOME SAKAE 2F, 3-32-6, Sakae, Nakaku, Nagoyashi
Business hours: 11:00 to 20:00 (food L.O. 19:30) (drink L.O. 19:30)
Fixed holidays: New Year's Day
TEL:052-249-8320
Pomupomu Purin Café Umeda Store
Date: 2018/02/15 to 03/31 (Sat.)
Address: B2F, Hankyu Sanbangai Minamikan (third town, south building), Shibata, Kitaku, Osaka-shi
Fixed holidays: same as the facility
TEL:06-6292-7140
Pomupomu Purin Café official website:
RELATED ENTRIES
Chibi Maruko-chan Themed Cafe Heading to Tower Records Cafe Omotesando

To celebrate the 30th anniversary of the Chibi Maruko-chan anime series, Tower Records Cafe in Omotesando is collaborating with the franchise to turn its establishment into all things Maruko-chan for a limited time from September 5 to 29. Also, 22 branches of Tower Records as well as the Tower Records online store will sell collaborative merchandise.

Maruko-chan's Hamburger Plate – ¥1,500

The hamburger plate will be served throughout the entire collaboration. Hamburgers are Maruko-chan's favourite meal, and this one is served with vegetables and a rice ball with her adorable face on it.

The collaboration will be split into two different periods with different food and merchandise line-ups. The food in the second period has yet to be unveiled, so we will take a look at some of the things for the first period.

Collaboration Period ①

Nagasawa-kun's Onion Soup Pasta – ¥1,500

Served with a whole onion, this soup seeped vongole pasta is inspired by the onion-head himself Nagasawa-kun.

Chi Chicken Sandwich – ¥1,500

This dish is  inspired by the scene in the anime series when Maruko fights with her sister over who gets to have a notebook as there is only one of them. When her sister claims ownership, Maruko proceeds to write "idiot" on the front cover while she's asleep and slips it back onto her bookshelf. This tuna mayo packed sandwich comes with a sandwich bag featuring the design of the notebook.

Noguchi-san's Birthday Cake – ¥1,200

Celebrate Noguchi-san's birthday (September 9) with this very special blueberry and milk crepe birthday cake.

30th Anniversary Melon Soda Float – ¥800

Topped with a dollop of ice cream and a cherry, the melon soda comes with a special 30th anniversary straw tag.

Chibi Maruko-chan Lattes – ¥700

The character lattes will have different character designs for each period as pictured above with the top row being the first collaboration and the bottom the second.

For every menu item ordered, customers will receive a random postcard. The postcards above feature the designs from the first collaboration period.

And the ones above here are those in the second.

And if you order a set of three items (food, drink and dessert), you'll receive an exclusive lunch mat. All of these items are first-come, first-served so you'll want to get to the cafe ASAP when it opens.

The exclusive merchandise takes on a music theme with original designs, from a towel to a tote bag and more.

Three t-shirts and a hoodie will also be sold exclusively at Tower Records Shibuya, Tower Records Shinjuku, Tower Records Cafe Omotesando, and the Tower Records online store.

Full information can be found on the official website below.

*All prices are tax-inclusive. Photos are for illustrative purposes only.

*Please enquire with shop staff about any food allergies.

ⒸSakura Production/Nippon Animation

Information

Chibi Maruko-chan x TOWER RECORDS CAFE

Running: September 5, 2019 – September 29, 2019

Period ①: September 5, 2019 – September 17, 201

Period ②: September 18, 2019 – September 29, 2019

*The menu line-up and free gifts will be different for each period

TOWER RECORDS CAFE Omotesando
Address: Imon Harajuku Bldg. 2F, 6-3-9  Jingumae, Shibuya, Tokyo

Opening Hours: 11:00-21:30 (Last Orders 20:30)
Official Website: http://tower.jp/restaurants/cafe/omotesando

*No reservations, however during busy times numbered tickets will be handed out. Details on numbered tickets will be announced on the cafe's official Twitter page: @TRC_Omotesando

Chibi Maruko-chan x TOWER RECORDS Collaboration Merchandise
Release Date: September 5, 2019 (*Pre-orders now open)
Available: At 22 Tower Records branches and the online store
Tower Records Online: https://tower.jp
Collaboration Page: https://tower.jp/chibimaru

4 Must-Try Kawaii Aesthetic Tapioca Drinks in Aichi Prefecture

Japan is a haven for bubble tea and tapioca-based beverages. Here on MOSHI MOSHI NIPPON we have covered many stores selling these tasty drinks in Harajuku―the town which started the tapioca boom in Japan―but today we will be heading southwest of Tokyo to Aichi Prefecture, located in central Honshu Island, to look at 4 must-drink tapioca drinks.

We are joined by meme whose Instagram page is packed full of drinks and desserts from cafes across Japan.

The Flower Table in Sakae

Located inside the MITSUKOSHI shopping complex in Nagoya's retail and entertainment district Sakae is The Flower Table. I absolutely recommend this store for those who aren't good with sweet drinks as you can choose between having sugar or no sugar.

Your taste buds are hit by the flavour of the milk tea on the first sip which has a bite to it. The tea leaves used by the shop in this drink are from Kusumi Tea, a Paris-based premium tea brand.

If you're someone who likes chai then this taste is sure to tempt your palate. Not only does the milk tea taste exquisite, the tapioca pearls are sweet and satisfyingly chewy too. And let's not forget to mention their adorable takeout cup designs!

▼The Flower Table

Address: MITSUKOSHI Nagoya Sakae Store Floor 3F, 3-5-1 Sakae, Naka Ward, Nagoya, Aichi Prefecture

Opening Hours: 10:00-19:30 (Food Last Orders 19:30)
*Food not served until 11am, only drinks between 10-11am
*Afternoon tea sets, parfaits and other teatime menu options served from 2pm

Official Website: https://theflowertable.owst.jp/en/

BON CAFÉ in Sakae

BON CAFÉ can also be found in Sakae. I had heard lots of praise about this place before my first visit so I was eager to get in there. I ordered two drinks: the mango cream cheese tea (with cream and tapioca pearls) and the brown sugar milk tea (with tapioca pearls). It's hard to tell by the photos but both drinks are packed with tapioca pearls aplenty.

I'd heard before that the mango cream cheese tea was like a "dessert that you can drink," and I can confirm that it's true. It's topped with fresh cream and pearls so it's just as satisfying as a mango parfait.

▼BON CAFÉ

Address: Apa Hotel Nagoya Nishiki Floor 2F, Nishiki 3-15-30, Naka Ward, Nagoya, Aichi Prefecture

Opening Hours: 11:00-23:00 (Last Orders 22:00)

No Fixed Holidays

Official Website: https://bon-cafe.jp/tapioca/

Peripatos in Kita-Okazaki

Drinks at Peripatos are takeout-only. Their bottle designs are cute and simple with just a kitty illustration on them. The three drinks in the photo are Very Berry, Tropical, and Hazelnut & Caramel Sauce with coffee jelly.

The tropical drink has pieces of fresh mango in it while the Very Berry has fresh strawberry and chewy strawberry flavoured tapioca pearls in it. My friend ordered the Hazelnut & Caramel one which has coffee flavoured jelly in it instead of tapioca pearls. You sip it while crushing the jelly.

The shop interior is really cute too!

▼Peripatos

Address: 4-4 Ida Nishimachi, Okazaki, Aichi Prefecture

Opening Hours: [Mon-Tues & Fri-Sat] 11:00-21:30 / [Thurs & Sun] 11:00-18:00

Closed: Wednesdays

Official Instagram Page: https://www.instagram.com/c.peripatos/

Watashi to Cafe in Kariya

At Watashi to Cafe I ordered the strawberry milk tapioca drink. The pearls in this drink are strawberry flavoured too, and there's a lot of them making is super tasty. The glasses they come in are cute too.

They also sell beautiful herbarium-like drinks. These don't have tapioca pearls in them but I recommend these too!

▼Watashi to Cafe

Address: 2-20 Minamisakuramachi, Kariya, Aichi Prefecture

Opening Hours: Lunch 11:00-15:00 / Dinner 15:00-Midnight

Closed: Tuesdays

Official Website: https://watashitocafe.gorp.jp/

Did you enjoy this list? meme has lots of other tempting recommendations of drinks and desserts on their Instagram page too, so if you're looking for something to try while in the Tokai region of Japan be sure to give them a follow.

Translation: Joshua Kitosi-Isanga

Sanrio's Cinnamoroll Serving Up Drinks at the Sky Drink Stand in Harajuku

Cinnamoroll's Sky Drink Stand is finally open in Harajuku where Sanrio's adorable white puppy will be catering drinks to your taste until August 25.

The drink stand is located along Harajuku's famous Takeshita Street.

When you step inside you are taken soaring up into the clouds with its fluffy decor and decorations.

Cinnamoroll can be found all around the cafe looking adorable♡

To get a drink you first need to purchase a ticket from the ticket machine. Once you've got that, it's time to head on over to the row of Cinnamoroll plushies.

There are 27 drinks in total to choose from. You will converse with Cinnamoroll and answers his questions which will change the colour, flavour and toppings of your drink. Your specially made and unique drink will arrive bottled with a handwritten name label on the front.

As you answer the questions you will be able to see Cinnamoroll making your drink on the tablet.

After a short time your drink will arrive!

Here is my cute and sparkly drink. I wrote "MOSHI MOSHI" in Japanese (もしもし) for the name tag. Mine was a delicious fizzy summery drink with blue jelly.

If you go with friends then you can have fun comparing your different drinks too!

You can get some even cuter photos at the shop's many photo spots.

And if you want to order your drink in advance then you can use the Cinnamoroll Talk app which is compatible with Google Assistant. After you say, in Japanese, "OK Google, Cinnamoroll ni Osora Dorinku Onegai" (OK Google, please give me a Cinnamoroll Sky Drink), the order window will pop up. After you've talked with Cinnamoroll on the app you will receive an order number to collect your drink. There are also secret sentences hidden around the store for talking with Cinnamoroll, so if you find them you can have a longer chat with him!

Make your own unique summertime beverage with Cinnamoroll at the Sky Drink Stand♡

Information

Cinnamoroll Sky Drink Stand
Location: BOK Gallery Takeshita Street (Tousen Harajuku, 1-16-6 Jingumae, Shibuya, Tokyo)
Running: August 22, 2019 – August 25, 2019 (*Open to the press and invitees only on August 21)
Price: ¥700 (Tax Included) per drink
Business Hours: 11:00-20:00
*Greeting events will be held at scheduled occasions where Cinnamoroll and friends will appear at the drink stand

Hatsune Miku Music Cafe Opening in Tokyo & Fukuoka

The Hatsune Miku Music Cafe is set to return for the third time this month. It will open in Akihabara, Tokyo on August 23 and in Hakata, Fukuoka on August 28.

The music cafe will be supported by VOCALOID music label KARENT. VOCALOID fans can look forward to dining while listening to music from their favourite characters―Miku, Luka, Rin, Len, MEIKO and KAITO―on high quality speakers and giant monitors.

Customers are able to request songs be played by picking from the record shelf. The huge discography will include the cafe's official theme song and music video Jazz Chorus no Natsu Takenawa which is written and composed by buzzG.

Fans can look forward to character-inspired food and drinks and can get their hands on a range of exclusive merchandise with designs illustrated by Kisaragi Yuu.

And if you gather enough stamps on your stamp card―one per visit―you'll be able to get priority access to a DJ event on October 6.

Merch

Leek Bag – ¥1,500 (Tax Included)

Multi Pouch (6 Designs) – ¥2,800 (Tax Included)

Food Menu

Miku's Leek Record Curry – ¥1,200 (Tax Included)

"Jazz Chorus no Natsu Takenawa" Summer Sky Jelly From the Starry Heavens – ¥600 (Tax Included)

When ordering something from the food menu you can receive one of 18 possible mini acrylic stands, chosen randomly.

Drinks Menu

Rin & Len's Yellow Mango Milk – ¥750 (Tax Included)

Luka's Pink Peach Soda – ¥750 (Tax Included)

There's lots more merchandise, food and drinks as well as this too. You can see the full line-up on the official website.

© Crypton Future Media, INC. www.piapro.net

*The rate of consumption tax is set to increase from 8% to 10% in Japan from October 1, 2019 and so the prices listed here will increase
*Photos are for illustrative purposes only

Information

Hatsune Miku Music Cafe – 3rd Run

・Ani ON STATION AKIHABARA
Address: Daidoh Limited Bldg. 1F, 3-1-16 Sotokanda, Chiyoda Ward, Tokyo

Running: August 23, 2019 – October 6, 2019
*Closed on September 1, 2019
*Regular hours will not run on October 6, 2019 due to the DJ event

・Ani ON STATION Hakata Bus Terminal
Address: Hakata Bus Terminal 7F, 2-1 Hakataekichuogai, Hakata Ward, Fukuoka, Fukuoka Prefecture
Running: August 28, 2019 – September 29, 2019

Entry Price: ¥500 (Tax Included)

Cafe Website: https://bandainamco-am.co.jp/cafe_and_bar/anionstation/special/miku_cafe3/
Ani ON STATION Official Website: https://bandainamco-am.co.jp/cafe_and_bar/anionstation/

Tokyo's Pokémon Cafe Unveils Halloween Themed Menu Line-Up

The Pokémon Cafe in Nihonbashi, Tokyo has revealed its Halloween food and drink line-up for the spooky season which will arrive early on September 7 be served until October 31.

The cafe is known for always having a cute selection of meals and beverages inspired by each season. So, what do they have in store for Halloween 2019?

Pikachu's Greedy Halloween Plate 2019 – ¥1,706 (w/ Plate ¥2,894)

This year's Halloween plate features Pikachu wearing a witch's hat. This filling plate features a pumpkin salad, spaghetti and more. Plenty to keep you going until the late-night candy snacking!

Discovering Celebi!? Oak Forest Pesto Pasta – ¥1,706

This adorable and healthy, vegetable-packed Celebi dish includes basil flavoured short pasta and a cute.

Zorua's Halloween Roast Beef Burger – ¥1,706

This hearty burger is packed with a generous serving of roast beef. You'd best not leave a crumb or Zorua might play a trick on you!

When ordering a drink at the cafe you'll receive one of six possible coasters. One of the designs is being kept a secret!

And for the duration of the Halloween event, there's also a limited-edition lunch mat and clear coaster to get your hands on. These are limited in stock so you'll want to catch 'em all quickly! And don't forget, you have to book a table in advance to dine at the Pokémon Cafe.

© 2019 Pokémon.©1995-2019 Nintendo/Creatures Inc./GAME FREAK inc.

Pokémon, ポケットモンスター and ポケモン are registered trademarks of Nintendo, Creatures Inc. and GAME FREAK inc.

Information

Pokémon Cafe
Address: 2-1-2 Nihombashi | Nihombashi Takashimaya SC East Bldg. 5F, Chuo 103-0027, Tokyo Prefecture
Business Hours: 10:30-22:00

Access: 5-minutes on foot from Tokyo Station's Yaesu North Exit via JR Line / 5-minutes on foot from Nihonbashi Station's B2 Exit via Tokyo Metro Ginza Line and Tozai Line / 4-minutes on foot from Nihonbashi Station via Toei Asakusa Line

TEL: 03-6262-3439

Reservations: https://reserve.pokemon-cafe.jp/

Official Website: https://www.pokemoncenter-online.com/cafe/

Adorable Moving Ear Hats to be Released by Sanrio

Sanrio has announced that it will release six hats with moving ears inspired by six of its characters at Sanrio stores, its online store, and shops stocking Sanrio goods in Japan on August 21.

The hats move by using an air pump that you pump with your fingers. Look adorable at events, on your Instagram story posts and pretty much anywhere by choosing from one of the six characters: Hello Kitty, My Melody, Pompompurin, Cinnamoroll, Kuromi and Pochacco.

The hats are fluffy, comfortable to wear, and of course make you look kawaii as you walk along with the ears bouncing up and down. The hats are also one size fits all and so can be worn by both kids and grown-ups!

©️1976, 1989, 1996, 2001, 2005, 2019 SANRIO CO., LTD.

Information

Sanrio Character Moving Ear Hats
Release Date: August 21, 2019

Available: At most Sanrio stores, select stores stocking Sanrio merchandise, and online via the Sanrio Shop, Rakuten, and Yahoo

Designs: Hello Kitty, My Melody, Pompompurin, Cinnamoroll, Kuromi and Pochacco

Price: ¥2,052 Each (Tax Included)

Sanrio Official Website: https://www.sanrio.co.jp/goodsinfo/mx-mimiga-ugoku-201908/

Top 13 Cream Sodas in Tokyo: Cool Yourself Down This Summer with Classic Drinks & Modern Beverages

Hey, MOSHI MOSHI NIPPON readers! I'm Banako of MOSHI MOSHI FRIENDS.

It's safe to say that most long-standing, older cafés in Japan serve cream soda. It's a drink that bellows with nostalgia, topped cutely with a dollop of ice cream and sparkling bright with vivid colour like some rare jewel.

It's a rather simple drink, but the number of people intrigued by its unique appearance are evidently on the rise. And I'm one of those people! I've had times where if it's available on the menu I want to order it-and further still I've gone out of my way to a café solely because I've wanted some cream soda.

Depending on the vibe and atmosphere of a café, the appearance of the cream soda will be different, which also means a different flavour. This is all part of the enjoyment of cream soda: it's fun to compare the different tastes.

I have made a long list of my most recommended cream sodas in Tokyo, all of which I have actually tried!

To make it easier to picture each drink I have also given a rating out of 5☆ stars for the strength of the fizziness, the sweetness of the soda, and sweetness of the ice cream. Use this as reference when picking your drink of choice. Enjoy this specially curated selection of drinks in cafés that you're going to want to snap lots of pictures of♡

①CAMPUS TOY cafe&bar

CAMPUS TOY is located in the Jinbocho district of Tokyo. This exciting little place has gone for an American pop vibe. They sell toys too.

The extra goodies they put in the cream soda here is influenced by the US too. The owner is a really interesting person, so much so that you end up losing track of the time as you get lost in conversation with them.

Fizziness:★★★★☆

Soda Sweetness:★★☆☆☆

Ice Cream Sweetness:★★★☆☆

CAMPUS TOY cafe&bar

Address: 2-10 Kanda-Jinbocho, Chiyoda Ward, Tokyo

Opening Hours: [Mon-Fri] 18:00-22:00

Closed: Weekends & Public Holidays

Access: 2-minutes on foot from Jinbocho Station's A2 Exit

TEL: 03-3261-7383

Instagram: https://www.instagram.com/campustoy_matz/?hl=ja

②Café Negura

This little-known-good-spot can be found in Shimokitazawa. The café interior has relaxed and retro décor. Their cream soda is served with two stacks of ice cream and a crown of whipped cream topped off with a cherry. What a cute-looking drink!

Fizziness:★★★☆☆

Soda Sweetness:★☆☆☆☆

Ice Cream Sweetness:★★★★☆

▶︎ Café Negura

Address: PACKAGE ONE Floor 1F (North Side), 2-26-13 Kitazawa, Setagaya Ward, Tokyo

Opening Hours: 11:30 ー 20:00

Closed: Mondays & Tuesdays

Access:152m walk from Shimokitazawa Station

Twitter:https://twitter.com/neguracafe_mi

③Sepia

Another retro-style café, except this one is specifically influenced by the Showa period . Situated in Shibamata, everything about this café, from the outside to the interior, breathes retro-Showa. On the second floor is the Candy Candy Museum.

Their cream soda is the quintessential classic cream soda…but with a twist. It has mikan in it, a type of orange, which is very rare with cream sodas. That gives off a retro-ness too. Another cute beverage!

Fizziness:★★★☆☆

Soda Sweetness:★★☆☆☆

Ice Cream Sweetness:★★★☆☆

▶︎ Sepia

Address: 7-4-11 Shibamata, Katsushika Ward, Tokyo

Opening Hours: 10:00-18:30 (Last Orders 18:00

Closed: Tuesdays & Wednesdays

Access: 2-minutes on foot from Shibamata Station (Accessed via the Keisei Line)

Instagram: https://instagram.com/sepiamama?igshid=1urnwdix23qbx

④ALL C'S CAFE

ALL C'S CAFE is in Koenji, the retro hub of Tokyo. Decorations of cute bears are what this café is all about. There are enormous life-sized bears everywhere, so you can get ready to snap some seriously kawaii pictures.

The café itself, as well as the adorable smiley bear on your cream soda, is sure to elicit some high-pitched "Aww's."

Fizziness:★★★☆☆

Soda Sweetness:★★☆☆☆

Ice Cream Sweetness:★★★★☆

▶︎ALL C'S CAFE

Address: Miyake Bldg. 2F, 3-25-24 Koenji, Suginami Ward, Tokyo

Opening Hours: 12:00-22:00

Closed: No Fixed Holidays (except Obon and New Year's Holidays)

Access: 5-minutes on foot from the north exit of Koenji Station (Accessed via the JR Chuo Line)

Website: http://www.allcscafe.com

⑤Café Hosekibako

Hosekibako, which means 'jewelry box' in Japanese, is right next to Chitose-Karasuyama Station. Retro vibes waft their way throughout this cozy little hideaway with the littering of Showa manga and other miscellaneous odds and ends.

This café too has the signature classic cream soda. It has a transparent appearance in its truly beautiful colour.

Fizziness:★★★☆☆

Soda Sweetness:★★★☆☆

Ice Cream Sweetness:★★★☆☆

▶︎ Café Hosekibako

Address: Koyama Mansion 102, 4-18-18 Minamikarasuyama, Setagaya Ward, Tokyo

Opening Hours: 12:00-18:30 (Last Orders 18:00)

Closed: Wednesdays

Access: 5-minutes on foot from the east exit of Chitose-Karasuyama Station (Accessed via the Keio Line)


Website: https://housekibako.wixsite.com/2009

⑥THE GREAT BURGER STAND

This hamburger shop sells an American-style cream soda, topped with swirly ice cream rather than cream soda's classic dollop. That, together with the huge glass it's served in, is enough to get you excited before you even take a sip. The café can be found in Shibuya Stream, meaning you can stop by for a breather after shopping.

Fizziness:★★★★☆

Soda Sweetness:★★☆☆☆

Ice Cream Sweetness:★★★★☆

▶︎THE GREAT BURGER STAND

Address: Shibuya Stream 1F, 3-21-3 Shibuya, Shibuya Ward, Tokyo

Access: 1-minute on foot from Shibuya Station via the JR Yamanote Line 

Opening Hours: 11:00 ー 23:00 (Last orders:  22:30)

Closed when Shibuya Stream is closed.

Access: Approx. 1-minute walk from Shibuya Station (JR Yamanote Line)

Instagram: https://www.instagram.com/the_great_burger/

⑦Coffee Shop Galant

Right beside Ueno Station you'll find Galant, a coffee shop also with an air of retro-Showa to it during the bubble economy period. You'll feel like you've been transported back in time when you see the dazzling décor and the staff uniforms. Peeking through the see-through liquid is a cute red cherry♡

Fizziness:★★★★☆

Soda Sweetness:★★☆☆☆

Ice Cream Sweetness:★★★☆☆

▶︎ Coffee Shop Galant

Address: 6-14-4 Ueno, Taito Ward, Tokyo

Opening Hours: 8:00-23:00

No Fixed Holidays

Access: Directly behind the toy store Yamashiroya (山城屋), just a two minute walk from JR Ueno Station. Also 1-minute on foot from exit 5b of Ueno Station (accessed via the Tokyo Metro Line and Hibiya Line)

Tabelog: https://www.google.co.jp/amp/s/s.tabelog.com/tokyo/A1311/A131101/13039759/top_amp/

⑧bio ojiyan cafe Harajuku

Ojiya, also known as zosui, is a type of Japanese rice-based vegetable soup. In my opinion, the ojiya served here is the tastiest in the world! Their cream soda comes in a large round cup and is a nice refreshment after a spot of ojiya.

Fizziness:★★★★☆

Soda Sweetness:★★☆☆☆

Ice Cream Sweetness:★★★★☆

▶︎bio ojiyan café

Location: 4-26-28 Jingumae, Shibuya, Tokyo

Opening Hours: 11:00-20:00

No Fixed Holidays

Access: 10-minutes on foot from JR Harajuku Station / 3-minutes on foot from the Jingumae Crossing ticket gate elevator exit of Meiji-Jingumae Station (Accessed via the Tokyo Metro Fukutoshin Line)

Website: http://mfs11.com/brand/bio-ojiyan-cafe-harajuku/

⑨PEPPERS DRIVE IN

The main dish at this Kanagawa-based restaurant is curry. Every single thing about PEPPERS DRIVE IN is influenced by retro US elements, from the car park to the nooks and crannies inside and even the trays. You can take some really cute photos literally anywhere in the restaurant. The cream soda portion stays true to the American taste too with a generous serving.


Fizziness:★★★☆☆

Soda Sweetness:★★☆☆☆

Ice Cream Sweetness:★★★☆☆

▶︎PEPPERS DRIVE IN 

Address: 1129-1 Kidokoro, Hiratsuka, Kanagawa

Opening Hours: Lunch 11:30-15:00 (Last Orders 14:45) / Dinner 18:00-22:00 (Last Orders 21:30)

Closed: Wednesdays (Except on public holidays, in which case closed the following day)

Access: 6-minutes by taxi from south exit of Isehara Station (Accessed via the Odakyu Odawara Line) / 16-minutes by taxi from the north exit of Hiratsuka Station (Accessed via the JR Tokaido Main Line)

Official Website: http://www.peppers.co.jp

⑩BRIDGE

I reviewed the melon bread pancakes at this Ginza-based café earlier this year. It's located inside a long-standing department store meaning the cream soda here has been around for a long time too, offering a more traditional taste. They are served on coasters which you can take home with you. It's a great place to stop off for a break when strolling around Ginza.

Fizziness:★★☆☆☆

Soda Sweetness:★★★★☆

Ice Cream Sweetness:★★★☆☆

▶︎BRIDGE

Address: NISHIGINZA Floor B1F, 4-1 Ginza, Chuo Ward, Tokyo

Business Hours: [Monday-Saturday] 11:00-20:30 (Last Orders 20:00) / [Sunday & Holidays] 11:00-20:00 (Last Orders 19:30)

Closed: When NISHIGINZA Department Store is closed.

Website: http://www.nishiginza.co.jp/page/shopguide/detail/?id=33

⑪HIROMAN'S COFFEE

Another snug hideout, situated in the backstreets and surrounded by trees, is HIROMAN'S COFFEE. This cute café has lots of antique picture frames, rabbit ornaments, and other tidbits. Their melon soda arrives in a cute round and plump glass. They plenty of other Instagrammable drinks too including one topped with cotton candy. This one is one to keep coming back to!

Fizziness:★★★★☆

Soda Sweetness:★★☆☆☆

Ice Cream Sweetness:★★★☆☆

▶︎ HIROMAN'S COFFEE

Address: 3-18-12 Jingumae, Shibuya, Tokyo

Opening Hours: 11:00-19:00 (Last Orders 18:30)

No Fixed Holidays

Access: 10-minutes on foot from Meiji-Jingumae Station

Instagram: https://instagram.com/hiromans_coffee?igshid=oumb3g7aergo

⑫ blikje button

⑫blikje button

blikje button in Shimokitazawa, which offers both a café and dining experience, has a vintage vibe to it with decorations that have a handcrafted feel to them.  The glasses the cream sodas come in match that aesthetic. The stroking colours of the sodas are something beautiful to behold!

Fizziness:★★★★☆

Soda Sweetness:★★☆☆☆

Ice Cream Sweetness:★★★☆☆

▶︎blikje button

Address: Shimokitazawa Central Bldg. 2F, 2-14-7 Kitazawa, Setagaya Ward, Tokyo

Opening Hours: 12:00-23:00 (Lunch 12:00-16:00/Café 12:00-18:00/Dinner 17:00-23:00) *Food last orders 22:00, drink last orders 22:30

No Fixed Holidays

Access: 2-minutes on foot from Shimokita Station via the Odakyu Line / 2-minutes on foot from the south-west exit of Shimokitazawa Station via the Keio Inokashira Line

Website: http://www.blikje-button.com/

⑬CAROLINE DINER

CAROLINE DINER is a famous café in Harajuku inspired by American diners. The cream sodas sold here are striking and nothing short of Instagram-worthy! They go perfectly with the stylish interior of the café that you'll no doubt find yourself taking photos.

Fizziness:★★★☆☆

Soda Sweetness:★★★☆☆

Ice Cream Sweetness:★★★☆☆

▶︎CAROLINE

Address: 2-14-11 Jingumae, Shibuya, Tokyo

Opening Hours: 12:00-18:30 (Last Orders 18:00)

Closed: Thursdays

Access: 10-minutes on foot from Meiji-Jingumae Station / 10-minutes on foot from Kita-Sando Station / 10-minutes on foot from Setagaya Station

Website: http://caroline1.theshop.jp/

And that's all from me Banako and my must-try recommendations for Tokyo cream soda. Do you have a favourite from this list?

Tokyo's summer is nowhere near over yet. How about treating to yourself to a nice refreshing cream soda to cool yourself down from the scorching heat?

Gundam vs. Hello Kitty Merchandise Releasing at Sanrio Stores

As part of the ongoing Gundam vs. Hello Kitty project, Sanrio is releasing a new collection of chess design merchandise and other merchandise themed on both franchises at Sanrio stores across Japan, as well as its online store and in selection shops stocking Sanrio merchandise on August 17 (and August 21 for the online store).

Let's take a look at just some of the items up for grabs.

Gundam vs. Hello Kitty T-Shirts (M/L) – ¥3,456 Each (Tax Included)

Gundam vs. Hello Kitty Face Towels – ¥1,944 Each (Tax Included)

Gundam Mug – ¥1,620 (Tax Included)

Hello Kitty Mug – ¥1,620 (Tax Included)

For the 7th round of the project, fans of Hello Kitty and Gundam are encouraged to take a photo of any of the chess design items they have purchased and post it on Twitter.

If you are team Hello Kitty then you must post with the hashtag #キティチェックメイト ("Kitty Checkmate") and if you are team Gundam then post with #ガンダムチェックメイト ("Gundam Checkmate"). This hashtag campaign will begin on August 17 and end on September 16. The character with the most number of posts will be crowned as the winner of Round 7. Additionally, one random participant from both teams will be selected to win a complete set of the chess design merchandise which includes the t-shirts and both mugs.

Pick your team, get the goods and get voting!

©Sotsu・Sunrise ©'76, '19 SANRIO

Information

Gundam vs. Hello Kitty Chess Design Promotionカ

Release Date: August 17, 2019

Available: At Sanrio stores, select shops selling Sanrio merchandise, and the official Sanrio online store (from August 21, 2019 on the online store)

Sanrio Online Store: https://shop.sanrio.co.jp/

Rakuten: https://www.rakuten.co.jp/sanrio/

Yahoo! Shopping: https://shopping.geocities.jp/sanrio/

Sanrio Official Website: https://www.sanrio.co.jp/news/kt-gundam-chessdesign-20190814/

Gundam vs. Hello Kitty Project – Round 7: Twitter Posting Campaign

Running: August 17, 2019 – September 16, 2019

Participating: Purchase one of the chess design items on Twitter with the relevant hashtag. If you are team Hello Kitty then post with the hashtag #キティチェックメイト ("Kitty Checkmate") and if you are team Gundam then post with #ガンダムチェックメイト ("Gundam Checkmate").

Prize: One random participant from both teams will be selected to win a complete set of the chess design merchandise which includes the t-shirts and both mugs. More details will be posted on the project's official Twitter account.

Gundam vs. Hello Kitty Project Official Twitter: @gundamvskitty

Gundam vs. Hello Kitty Project Official Website: https://www.gundamvskitty.com

Tokyo Stroll: The Café That You Want to Visit to See Someone #11 – 'Hatoya' in Asakusa

In this edition of The Café That You Want to Visit to See Someone, I visited Hatoya which is located in Asakusa Shin-Nakamise Arcade.

The streets of Tokyo's historical district of Asakusa are packed to end with cafés. You can be spoiled for choice, but Hatoya stood out to me in particular as it's an especially old café. Business there began back in 1927 but the actual building was built back in the Taisho period, meaning its history spans more than 90 years ago!

The outside appearance of the shop is smart and chic so it's very easy to spot. I couldn't tell by looking from the outside, but the inside is full of old decorations and odds and ends which make you feel the history of the café.

One reason why I wanted to visit this place so much is because I was drawn to their logo. It's really retro-kawaii so I just couldn't resist!

You should take some photos too if you visit.

It was time to head inside. It's really comfy and cozy in there; the atmosphere was nice and relaxed.

Framed on the wall is a map of the Asakusa area during the Taisho era. Hatoya became famous back then because people could buy coffee for a mere 5 sen (a single sen is one-hundredth of a yen).

When business first began at Hatoya, because the café was opposite the stage door of a theatre, all of the famous actors and actresses would pop in. Some include famous Japanese comedian Roppa Furukawa and film actor Kiyoshi Atsumi who played Tora-san in the film series Otoko wa Tsurai yo.

I ordered the café's popular hotcakes which cost ¥600. They have been making these same hotcakes since before the war.

They were nice and fluffy and had a deliciously gorgeous brown colour. The flavour was out of this world when the butter melted from the heat of the hotcakes and mixed together with the syrup.

The portion might look like a lot but they are fluffy and have a light flavour so can be finished with no problem.

And is the café's signature milkshake (¥500).

It's so refreshing that you can knock it back all in one go. It has a simple flavour but it tasted so good!

I also ordered the ¥600 cream soda, my favourite beverage.

I've been to many cafés, and have covered many in this series, but this is the first I have dined at with such a deep history. I found myself enthralled by the stories of the owner who has continued to treasure the café and maintained it all the same since it opened. I feel like I have learned about a world I never knew about. The next time I go to Hatoya with a friend I'll be sure to let them in on its history. I encourage you to visit too!

Writer/Model: Ema Tanioku
Photographer: Haruka Yamamoto
Design: Yuko Abe (ASOBISYSTEM)

TALENT PROFILE

Ema Tanioku

"Emaeri" is the nickname for models Ema and Eri Tanioku, who are Aomoji fashion model twins. Ema and Eri Tanioku specialise in twin fashion coordination. Over the years their fanbase has increased due to their cute looks. Ema Tanioku spreads Harajuku culture within Japan as well as overseas and works as a Harajuku Tourism Ambassador. Starting off as a model, Ema has broadened her talent range from fashion magazines to TV, and from playing the lead role in dramas to movies.

TV Anime Given Themed Cafe Opens in Tokyo, Osaka Nagoya & Sapporo

Six branches of CAFFÈ & BAR PRONTO in Japan are set to collaborate with the ongoing yaoi anime series Given from September 13 to 23.

The theme of the collaboration is "After Band Practice." The cafes will serve up food inspired by the series as well as sell exclusive merchandise. The voice actors for the four main characters also recorded lines for the cafes which will play during your time there.

Fans who book a table in advance, whether as part of the pre-sale booking or ordinary booking, will receive one of two voice recorded mail reminders for their digital device. Chosen randomly, it will either be from Mafuyu and Ritsuka or Haruki and Akihiko.

Bright Red Tomato Pasta – ¥1,296 (Tax Included)

Pancake Of The Day – ¥1,296 (Tax Included) *Served during performances only

Hot Cafe Latte – ¥864 (Tax Included)

Acrylic Muddler (4 Designs, Chosen Randomly) – ¥864 Each (Tax Included)

Acrylic Glass Key Ring (4 Designs, Chosen Randomly) – ¥864 Each (Tax Included)

Pre-sales for tables and merchandise are now available over at Enter Bell until August 20.

©︎Natsuki Kizu・Shinshokan / Given Production Committee

Information

TV Anime Given x Enter Bell at PRONT

Running: September 13, 2019 – September 23, 2019

Locations: PRONTO Sapporo Pole Town / PRONTO IL BAR Ochanomizu Sola City / PRONTO Ikebukuro Sunshine-dori / PRONTO Nagoya Marunouchi / PRONTO Meitetsu Gifu Station / BEERTERIA PRONTO Osaka Dojima

Pre-Sale Table Reservations

・Running now until August 20, 2019 at 23:59 (JST)

・Price: ¥2,700 (Tax Included) for one person. Includes one seat, drink, backstage pass sticker, and one of four acrylic bangles.

General Reservations

・Running: August 21, 2019 at midnight (JST) to September 23, 2019 at 23:59 (JST)

・Price: ¥1,188 (Tax Included) for one person. Includes one seat and drink.

*To make a reservation and receive the voice reminder you must have a Bandai Namco ID (free to register)

*Menu items and merchandise subject to alterations without notice

*The pictured photos are of products still in development and may differ from the actual product

Official Website: https://bpnavi.jp/enterbell/given/

Mango Drinks Cafe CAFE MANGOSIX Opens First Japan Branch in Okinawa

MANGOSIX Japan opened its first ever CAFE MANGOSIX branch in Naha, the capital of Okinawa, on August 10.

CAFE MANGOSIX is a hugely popular cafe in South Korea which serves healthy drinks and desserts themed on its 6 S's concept: Sensual, Slim, Sweet, Social, Sexy, and Style.

Their must-try beverage is the Mango & Coconut Juice which combines rich mango with sweet coconut milk. The cafe even has some drinks exclusive to Japan so you won't find them anywhere else!

The popular Blue Lemonade from South Korea is also being sold.

Cool yourself off after sunbathing on the beaches of Okinawa by grabbing a drink from the new CAFE MANGOSIX!

Information

CAFE MANGOSIX

Address: 1-16-6 Matsuo, Naha, Okinawa

Opening Hours: 8:00-22:00

Access: 10-minutes by car from Naha Airport / 4-minutes on foot from Prefectural Office Station (via Yui Rail, aka Okinawa Monorail) / 2-minutes on foot from Okinawa Prefecture Government Building

Official Website: http://www.mangosix.co.jp/

Harajuku Summer Festival 2019 to Take Place at Togo Shrine

GLOBAL PRODUCE, a Japanese event organiser, is set to sponsor Harajuku Summer Festival 2019 which will be held at Togo Shrine in Harajuku, Tokyo on August 23. Bringing together professional event producers, the festival will combine elements of traditional Japanese culture with the latest trends.

Food trucks and stalls will open in the dozens, including appearances from the shaved ice shop Kooriya bebe which makes its fluffy shaved ice from the natural spring waters of Mount Fuji―perfect for the hot weather―as well as Ichika, a cafe known for its tapioca Japanese tea lattes made with high quality tea leaves from Kagoshima. Current popular restaurants will also serve up delicious summertime food. There will even be the Harajuku Bon Odori 2019 dance event, and the marchers for the Tokyo 2020 Olympics will also be present.

Tokyo Bijin Project will make their first ever live appearance, a group of shining Japanese women with "wisdom, dignity and compassion" who are set to speak out for other strong women. They will talk leadership, interpretation, attending to people, the spread of Japanese culture, and more.

If you are in Japan for the summer then make sure you attend all of the different summer festivals you can.

Information

GLOBAL PRODUCE presents Harajuku Summer Festival 2019 at Togo Shrine

Date: August 23, 2019

Time: 19:00-21:00 (Reception open from 18:30)

Location: Togo Shrine (1-5-3 Jingumae, Shibuya, Tokyo)

Togo Shrine Official Website: http://www.togojinja.jp/