The experience-based aquarium, "SEA LIFE Nagoya" will open in Nagoya
 "The experience-based aquarium, "SEA LIFE Nagoya," with the concept of "view it, touch it and learn," is now under construction in "LEGOLAND Japan Hotel."
 "SEA LIFE" has exhibits in over 50 countries. They are aiming to create aquariums where visitors can touch and learn about various creatures in the sea and thus spark an interest in lifeforms in the oceans.
The aquarium consists of 11 colorful areas including, an undersea tunnel where after you pass through this tunnel you will feel like you are entering the Ryugujo (Dragon's Palace) in the famous fairytale, Urashima Taro, an exhibit where it feels like you are walking through a sunken ship, a zone where you can see rays and the tropical sea, an experience area where you can touch sea creatures.
They also offer various experience-based programs such as workshops, ranger mission packs, and backyard experiential tours.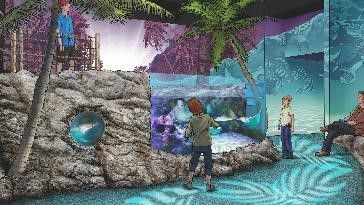 In addition, the facility and the tanks have Japan-original decorations and Lego models. You can enjoy these collaborative displays with the creatures of the sea.
The opening date is April 15th, 2018. Can't wait to go to SEA LIFE Nagoya!
◼︎Information
SEA LIFE Nagoya
Address: 2-7-1 Kinjo Futo, Minato-ku, Nagoya
Open date: 2018, April 15th (Sun.)
Hours: depends on the day
Holidays: None
Access: By car – Isewan Jidoshado "Meiko Chuo IC" very near the exit
       By train – Nagoya Rinkai Kosoku Tetsudo Aonami Line "Kinjo Futo Station" very near station
Fee:* All fee are tax included
Family Combo 1 Day Passport 3 : 17,000 yen
       (2 adults + 1 child  or  1 adult + 2 children)
Family Combo 1 Day Passport 4 : 21,000 yen
(2 adults + 2 child  or  1 adult + 3 children)
*The prices listed above are regular prices. There are other bargain campaigns. Details are listed in the website.
RELATED ENTRIES
Nihonbashi Art Aquarium Museum Closes for Renewal and Relocation

The Nihonbashi ART AQUARIUM will be closed on September 26 2021 to make way for new exhibits and works. The museum is scheduled to be relocated in the first half of 2022.

The ART AQUARIUM Museum opened in Nihonbashi, Tokyo on August 28 202 with the concept of "a museum where life dwells." This will be the largest renewal in the history of the museum Museum, opened by writer and general producer Hidetomo Kimura, with the addition of more exhibits and new and improved interactive areas.

The Nihonbashi Art AQUARIUM Museum opened alongside the 2020 Tokyo Olympics and Paralympic, with the expectations that visitors would come from both within Japan and overseas, thanks to the exhibitions which easily explain and represent Japan's proud traditional culture and performing arts, but due to Covid restrictions, foreign tourists are still unable to enter the country. Despite this, the Museum saw many customers and with the closing of the Olympic and Paralympic Games, the museum will be closed in preparation to relocate to the new ART AQUARIUM. If you want to see the Nihonbashi location for yourself then this is your last chance!

In addition, the "ART AQUARIUM" digital tour is being held from September 12, allowing you to appreciate the Museum in a digital format until the reopening.

Make sure to check out the Nihonbashi ART AQUARIUM while you have the chance!

Information

ART AQUARIUM Museum

Address::1-3-9 Nihonbashihonchō, Chuo-ku, Tokyo

Opening Hours: 10:00~19:00 (L.A 18:30)

Official Site: https://artaquarium.jp

Popular Chichiyasu Chi-bou Fair 2021 Returns to LOFT Locations After Two Years

Household goods shop LOFT is teaming up with beverage company Chichiyasu for the Chichiyasu Chi-bou Fair 2021 at four locations nationwide. The event will run from September 16 until September 29 at Shibuya LOFT, and from October 20 until November 3 at Nagoya LOFT, Umeda LOFT, and Tenjin LOFT. Chi-bou is the name of the adorable character on the Chichiyasu logo.

Chi-bou Drawstring Bag (Set of 2): ¥1,650 (Tax Included)

Chi-bou Gauze Handkerchief: ¥770 each (Tax Included)

Chi-bou T-shirt: ¥2,200 each (Tax Included) *Only available at Shibuya LOFT and Umeda LOFT.

Chi-bou Pouch: ¥1,650 (Tax Included)

Chi-bou Rubber Keychain (Set of 2): ¥1,650 (Tax Included)

Chi-bou A5-size Notebook: ¥385 each (Tax Included)

Chi-bou Mug: ¥1,650 each (Tax Included)

Chi-bou Eco Bag (with Pouch): ¥2,200 (Tax Included)

Chi-bou Masking Tape (Chichiyasu Milk/Boxed Milk): ¥495 each (Tax Included)

 

The Chichiyasu Chi-bou Fair was a popular event held at Shibuya LOFT in 2018 and at Yokohama and Umeda LOFT locations in 2019.

How would you like to buy some of this adorable merchandise?

Information

Chichiyasu Chi-bou Fair 2021

Locations:

Shibuya LOFT 1F, Masaka Stage
Nagoya LOFT 5F, Variety Goods Section

Umeda LOFT 1F, Loft Market

Tenjin LOFT 5F, Variety Goods Section

Running:

Shibuya LOFT: September 16 – September 29, 2021

Nagoya LOFT, Umeda LOFT, Tenjin LOFT: October 20 – November 3, 2021

Hours: Same as LOFT business hours *Shibuya LOFT and Umeda LOFT to close at 18:00 on the final day.

Official Site: https://www.loft.co.jp/

New BT21 Cafe Coming to Tokyo, Yokohama, Nagoya, Osaka, and Okinawa

The 9th BT21 Cafe ~Relaxing Holiday~ will be open for a limited time in six venues across Tokyo, Yokohama, Nagoya, Osaka, and Okinawa. If you're a fan of these adorable LINE FRIENDS, just take a look at the menu items and goods on offer!

Main Visual

The Menu

Chicken and Orange Hot Sandwich: ¥1,760 (Tax Included) 

Grilled Vegetable Curry: ¥1,870 (Tax Included)

Tandoori Chicken Tacos: ¥1,870 (Tax Included)

Scrambled Eggs with Smoked Bacon: ¥1,870 (Tax Included)

Mug Collection

Combo Meals

Pistachio and Chocolate S'mores: ¥1,540 (Tax Included)

Cinnamon Apple Pie: ¥1,540 (Tax Included)

Maple Lemon German Pancake: ¥1,650 (Tax Included)

Mixed Berry German Pancake: ¥1,650 (Tax Included)

Strawberry Mojito/Kiwi Mojito/Peach Mojito: ¥990 each (Tax Included)

Coffee (Iced/Hot) / Black Tea (Iced/Hot): ¥550 (Tax Included)

Original Merchandise 

Pins (Random, 7 designs): ¥660 (Tax Included)

Acrylic Keyrings (7 designs): ¥770 (Tax Included) / Clear Folder: ¥440 (Tax Included)

Stickers (7 designs): ¥770 each (Tax Included) / Placemat (2 designs): ¥1,000 each (Tax Included)

Swizzle Stick (7 designs): ¥990 each (Tax Included) / Tote Bag: ¥1,650 (Tax Included)

Canvas Pouch: ¥1,980 (Tax Included) / Mini-towel (7 designs): ¥990 each (Tax Included)

Bandana (2 designs): ¥1,320 each (Tax Included) / Marshmallows: ¥972 (Tax Included)

Customers who book a table in advance will receive a randomly selected A5-size clear folder and a random clear coaster for each drink ordered.

The first installment of the 9th BT21 Cafe run, ~MY LITTLE BUDDY~, began in July 2021. The menu and goods, based on cute babies and their friends, received rave reviews. 

 

~Relaxing Holiday~ is inspired by summer and being outside with friends. Menu items look like what people may eat while camping, and the original character art features your favorite BT21 characters eating their favorite foods. Various soups and desserts are available in cute souvenir cups, and anything ordered is perfect for posting on social media!

Which menu item looks the most delicious to you? 

 

*Images for reference only. 

©BT21

Information

BT21 Cafe 9th Run ~Relaxing Holiday~

Tokyo 1:
Address: SHINJUKU BOX café&space Lumine EST (B1F 3-38-1 Shinjuku, Shinjuku-ku, Tokyo)
Running: August 28, 2021 – October 3, 2021

Tokyo 2:
Address: HARAJUKU BOX Alta (3F 16-4 Jingumae 1-chome, Shibuya-ku, Tokyo)
Running: September 16, 2021 – October 31, 2021

Yokohama:
Address: Collabo_Index Lumine Yokohama (6F 2-16-1 Takashima, Nishi-ku, Yokohama, Kanagawa)
Running: September 1, 2021 – October 3, 2021

Nagoya:
Address: Nagoya Box café&space (B1F LACHIC, 3-6-1 Sakae, Naka-ku, Nagoya, Aichi)
Running: September 30, 2021 – November 7, 2021

Osaka:
Address: Shinsaibashi contact (1-6-24 Kitahorie, Nishi-ku, Osaka)
Running: August 27, 2021 – September 23, 2021

Okinawa:
Address: OKINAWA BOX café&space (Naha OPA 2F, 1-20-1 Izumizaki, Naha, Okinawa)
Running: September 3, 2021 – October 3, 2021

Official Site: https://2021-2.box-cafe.jp/

BT21 is a globally popular cast of characters from LINE FRIENDS.
*The products and menu items produced and sold by LEGS COMPANY, Ltd. are the result of an official license agreement with LINE FRIENDS Co., Ltd. and may not be reproduced or sold without permission from LINE FRIENDS Co., Ltd. 

'átoa,' Part Art Museum and Part Aquarium, Opening in Kobe

Blending living creatures with art, átoa, a new urban aquarium, will open in Kobe's Shinkocho on October 29, 2021. New images have just been revealed, and we now have an idea of what the interior will look like!

'átoa' comes from a combination of the words 'aquarium' and 'art,' and as the name suggests, the space will blend over 100 pieces of digital and performance art with 3,000 ocean creatures to provide a never-before-seen experience.  

The exterior of the Kobe Port Museum looks like a contemporary art gallery

The stairway leads guests to a cave entrance, making the visit feel more like an adventure

'MARIN NOTE – The Movement of Life' embodies underwater life 

'ELEMENTS – The Forest of Spirits' welcomes you to a foggy sea of trees

Light cutout show by famed cutout artist Atsumi Sakai

A mysterious walk through a traditional Japanese garden

'PLANETS,' a journey through the darkness of outer space and the deep sea

Food & drink offerings worthy of posting on social media

A spectacular view of the Kobe Bay area
イント

átoa original products on sale

Rokko, the land on which Kobe City sits, is said to have been formed over one million years ago by the upheaval of the Earth and consistent water erosion. The Kobe Port Museum (KPM), where átoa is located, has long attracted visitors with its unique exterior, embodying the ancient origins of the surrounding lands.

átoa will be divided into eight different zones, each with its own theme and distinctive presentation. Visitors will first enter the 'Cave of Beginnings,' where fish-shaped lights reflected on the walls and floor lead you deeper into the space, as if through a kaleidoscope. 

After emerging, 'MARIN NOTE – The Movement of Life,' a visual embodiment of underwater life, will greet you. The sound and scents of the sea will surround guests, with a cylindrical water tank at the center of the room filled with zebra sharks, spotted garden eels, and many more underwater creatures. 

On the second floor, enter 'ELEMENTS – The Forest of Spirits,' a foggy sea of trees straight out of a fairy tale. This is where you can find freshwater fish, amphibians, and adorable tree-dwelling animals not typically found in aquariums, like woodchucks! This is another highlight of átoa: you might find more animals you wouldn't expect!

The third floor houses both 'MIYABI' and 'PLANETS,' where guests can enjoy a 'theatrical aquarium experience.' Discover Atsumi Sakai's famed cutout art in the 'MIYABI' area, meant to simulate a Japanese garden. Enjoy the magical experience of fish swimming just beneath your feet as you stroll along a glass-covered floor. 

The 'PLANETS' area houses AQUA TERRA, one of Japan's largest spherical water tanks, with a diameter of 3 meters. Guests are welcome to ponder the vastness of both outer space and the deepest stretches of the sea. The area is bathed in the light of countless stars thanks to optical fibers embedded in the floor, while mist will continuously pour from above. 

Housed on the fourth floor, an outdoor exhibit, the 'SKYSHORE Sky Garden,' will soothe your soul as you play with only the most adorable marine life, from penguins to otters. This is also where visitors can enjoy the átoa cafe, offering a lineup of Instagram-worthy food and drink. 

The observation deck 'ROOF TOP' also provides a breathtaking view of Kobe. Whether you visit during day or night, take in the views of Kobe Harborland and Meriken Park to your heart's content. A full museum shop will be stocked with adorable plushies and other original products. 

 

Information

átoa
Address: 7-2, Shinkocho, Chuo-ku, Kobe, Hyogo
Open Date: October 29, 2021
Hours: 10:00-21:00 (Open Every Day)
Official Site: https://atoa-kobe.jp

Detective Conan Escape Games Open in Japan

In promotion of SCRAP's new Detective Conan themed escape game Escape From the Scarlet Investigation (Blood Task Force), five of the company's past escape games made in collaboration with the anime series are being revived for a temporary period.

Escape From the Orient Express

Escape From the Magical Castle

Escape From the Black Assassin

Escape From the Final Public Examination

Escape From the Navy Blue Art Museum

Here's what it's like to play..

SCRAP's escape games are made in collaboration with many different series and see players become a character in the story where they must solve puzzles and riddles to find a way out. They have collaborated with Detective Conan since 2013 during which over 1.3 million people have played. The newest entry to the series is Escape From the Scarlet Investigation (Blood Task Force).


Five previous escape games make a return this year including Escape From the Orient Express (2014), Escape From the Magical Castle (2015), Escape From the Black Assassin (2016), Escape From the Final Public Examination (2018), and Escape From the Navy Blue Art Museum (2019). Each features a completely original story set in the world of Detective Conan.

©青山剛昌/小学館・読売テレビ・TMS 1996
©青山剛昌/小学館

Information

Escape From the Scarlet Investigation (Blood Task Force)

Japanese Title:「緋色の捜査網からの脱出」

Release Date: 2021

Details:  https://realdgame.jp/conan2020/

Escape From the Orient Express

Japanese Title:「オリエント急行からの脱出」

Tokyo
Venue: Tokyo Mystery Circus
Running: August 4, 2021 – September 12, 2021
Details: https://mysterycircus.jp/events/8933

Aichi
Venue: Real Dasshutsu Game Nagoya (formerly Nazo Complete Nagoya)

Running: September 2, 2021 – September 20, 2021
Details: https://www.scrapmagazine.com/nazocomplex/events/orient_express2021/
 

Escape From the Magical Castle

Japanese Title:「奇術城からの脱出」

Tokyo
Venue: Real Dasshutsu Game Kichijoji
Running: August 19, 2021 – September 5, 2021
Details: https://www.scrapmagazine.com/nazobldg_kichijoji/events/2021conan3/
 

Escape From the Black Assassin

Japanese Title:「黒き暗殺者からの脱出」

Aichi
Venue: Real Dasshutsu Game Nagoya (formerly Nazo Complete Nagoya)

Running: July 29, 2021 – August 29, 2021
Details: https://www.scrapmagazine.com/nazocomplex/events/assassin2021/

Tokyo
Venue: Real Dasshutsu Game Kichijoji

Running: September 15, 2021 – October 24, 2021
Details: https://mysterycircus.jp/events/8934
 

Escape From the Final Public Examination

Japanese Title:「公安最終試験からの脱出」

Aichi
Venue: Real Dasshutsu Game Nagoya (formerly Nazo Complete Nagoya)

Running: August 26, 2021 – September 26, 2021
Details: https://www.scrapmagazine.com/nazocomplex/events/project_zero2021/
 

Escape From the Navy Blue Art Museum

Japanese Title: 「紺青の美術館からの脱出」

Tokyo
Venue: Real Dasshutsu Game Kichijoji

Running: September 9, 2021 – September 26, 2021
Details: https://www.scrapmagazine.com/nazobldg_kichijoji/events/2021conan7/

Veuve Clicquot La Grande x Yayoi Kusama Collaboration Gets Restocked

First released in 2020, the limited-edition Veuve Clicquot La Grande Dame 2012 Yayoi Kusama is set to be restocked in limited quantities. To promote the re-release, three pop-up shops are set to open in Japan: one in Nihombashi Mitsukoshi Main Store from July 28 to August 3, another in Iwataya Mitsukoshi from August 14 to August 17, and another in Mitsukoshi Nagoya Sakae Store LACHIC from August 14 to August 22.

Veuve Clicquot La Grande Dame 2012 Yayoi Kusama Gift Box | ¥27,740 (Tax Included)

Nihombashi Mitsukoshi Main Store Pop-Up Shop

Iwataya Mitsukoshi Pop-Up Shop

Mitsukoshi Nagoya Sakae Store LACHIC Pop-Up Shop

Yayoi Kusama

The pop-up shops serve as a space to celebrate two revolutionary women: the Japanese artist Yayoi Kusama and Madame Clicquot, who led the champagne industry as a female entrepreneur in the 1800s. This includes Kusama's 2-meter tall sculpture My Heart That Blooms in The Darkness of The Night designed for the collaboration, a replica of Kusama's Self Obliterated by Dots: Madame Clicquot which she created in 2006 for the Madame Clicquot Art Exhibition charity event, recordings of Kusama reading out poems she created for the collaboration, and more. Visitors to the pop-up shops can also scan a QR code and watch the What makes me Bloom short movie, and more.

The Veuve Clicquot La Grande Dame 2012 Yayoi Kusama Gift Box can be bought at the three stores, and at LACHIC, you can try a glass of the champagne.

Information

Veuve Clicquot La Grande Dame x Yayoi Kusama

Nihombashi Mitsukoshi Main Store


Address: 1-4-1 Nihonbashimuromachi, Chuo-ku, Tokyo 103-0022, Japan

Opening Hours: 10:00-19:00
TEL: 03-3241-3311

Pop-Up Store
Running: July 28, 2021 – August 3, 2021
Location: Nihombashi Mitsukoshi Main Store (Floor 1F Central Hall)
Opening Hours: 10:00-19:30

Product Page: https://www.mistore.jp/shopping/product/900000000000000001739169.html
*Click and Collect only
*Orders open on July 21 from 10:00

Iwataya Mitsukoshi


Address: 2 Chome-5-35 Tenjin, Chuo Ward, Fukuoka, 810-8680, Japan

Opening Hours: 10:00-20:00

TEL: 092-721-1111

Pop-Up Store
Running: August 11, 2021 – August 17, 2021
Location: Iwataya Mitsukoshi KIRAMEKI BORD (Floor 1F)

Mitsukoshi Nagoya Sakae Store LACHIC
Opening Hours: Mitsukoshi Nagoya Sakae Store 10:00-20:00 / LACHIC 11:00-21:00

Address: 3-5-1 Sakae, Naka-ku, Nagoya, Aichi 460-8669, Japan
TEL: 052-252-1111

Pop-Up Store
Running: August 14, 2021 – August 22, 2021

Location: LACHIC Bazaar (Floor 1F)
Opening Hours: 11:00-21:00

*Purchases from Nihombashi Mitsukoshi Main Store are advance orders only

Manga Artist Arina Tanemura Opens Cafes Based On Seven of Her Series Including Phantom Thief Jeanne

Two branches of Animate Cafe in Ikebukuro and Nagoya are celebrating seven manga works of manga artist Arina Tanemura including I.O.N, Phantom Thief Jeanne, Time Stranger Kyoko, Full Moon o Sagashite, Sakura Hime: The Legend of Princess Sakura, The Gentlemen's Alliance Cross, and Neko to Watashi no Kinyōbi.

The collaboration will run from July 28 to August 23. Table reservations must be made for those wanting to dine from July 28 to August 1 as well as on weekends and public holidays. Reservations are not required for all other days.

Arina Tanemura Precious Wedding Party at Animate Cafe

The Menu Line-Up (Excerpt)

Full Moon o Sagashite: Negi Ramen Lunch | ¥980 (Tax Included)

Arina's Precious Wedding Plate | ¥1,300 (Tax Included)

Phantom Thief Jeanne: Tiramisu | ¥800 (Tax Included)

The Gentlemen's Alliance Cross: Glass Dessert | ¥800 (Tax Included)

I.O.N: Drink | ¥600 (Tax Included)

Phantom Thief Jeanne: Sindbad | ¥600 (Tax Included)

Time Stranger Kyoko: Crystal Stranger | ¥600 (Tax Included)

Full Moon o Sagashite: Honey Hot Milk | ¥600 (Tax Included)

The Gentlemen's Alliance Cross: Espresso | ¥600 (Tax Included)

Sakura Hime: The Legend of Princess Sakura: Soda | ¥600 (Tax Included)

Neko to Watashi no Kinyōbi: Curry Soup With Bread | ¥600 (Tax Included)

Free coaster with every menu order

Exclusive Merchandise (Excerpt)

Big Acrylic Stand (Wedding Ver.) | ¥1,600 (Tax Included)

Wedding Card | ¥800 (Tax Included)

CoLotta Acrylic Plate Keyrings | ¥800 (Tax Included)

Big Ribbon Pouch | ¥2,500 (Tax Included)

Stamp Card Campaign

Arina Tanemura made her debut in the shojo manga magazine Ribbon Original in 1996 with her short manga The Style of the Second Love. In 1998, she garnered mainstream popularity when her work Phantom Thief Jeanne began serialisation which has over 5.5 million copies in circulation. Some of her other famous works including Full Moon o Sagashite, Sakura Hime: The Legend of Princess Sakura, and The Gentlemen's Alliance Cross. In 2015, she worked as the character designer for the smartphone game IDOLiSH7.



This marks her third cafe collaboration, and this time it's themed on a 'Precious Wedding Party' with food inspired by the characters from her stories as well as exclusive merchandise.

©種村有菜/集英社

Newly Renovated Chubu Electric Power MIRAI TOWER Begins Projection Mapping Performance

Japanese creative company NAKED opened its 'NAKED SKY CRUISING' projection mapping performance at Chubu Electric Power MIRAI TOWER's observation deck on July 1.

NAKED has used its projection mapping technology at towers and observation decks up and down Japan such as Tokyo Tower, Abeno Harukas, and Sapporo TV Tower, combining it with each location's nightscape and catering each performance to the seasons at various themes. Chubu Electric Power MIRAI TOWER has hosted seven night-themed experiences at its observation deck to date, but NIGHT SKY CRUISING is the first one to be held after the tower underwent refurbishment in September 2020.


Visitors can enjoy a magical projection mapping show on the tower windows with Nagoya's incredible evening city view in the background.

Information

NAKED SKY CRUISING
Loctation: Chubu Electric Power MIRAI TOWER's Sky Deck

Run Dates

July 1, 2021 – August 23, 2021 @ 19:00

August 24, 2021 – September 14, 2021 @ 18:30

September 15 onwards @ 18:00

Finishing Times
Weekdays & Sunday @ 21:00 (Last Entries 20:30)

Saturdays & Public Holidays @ 21:40 (Last Entries 21:10)


Prices
General (High School Students and older) = ¥1,600 per person

Children (Elementary & Junior High School Students) = ¥1,000 per person

Infants = Free


Official Website: https://www.nagoya-tv-tower.co.jp/nakedskycruising/

Harry Potter and the Philosopher's Stone Themed Cafe in Japan Celebrates Film's 20th Anniversary

In celebration of the 20th anniversary of Harry Potter and the Philosopher's Stone, two Harry Potter Cafes are set to run for a limited time in Tokyo and Nagoya from July 22 and 23 respectively, serving magical food, drink, and dessert straight from the wizarding world.

Freebies for customers who dine at the cafe or spend a certain amount on merchandise

Gryffindor OBENTO BOX

Slytherin OBENTO BOX / Hufflepuff OBENTO BOX / Ravenclaw OBENTO BOX

Herbology Salad

Shepherd's Pie

Owl Post Snack Plate

HAPPEE BIRTHDAE Cake

Golden Snitch Parfait

スムージー グリフィンドール/スリザリン/ハッフルパフ/レイブンクロー/ホグワーツ特急カフェラテ

Hot Tea / Hot Coffee

Lunch Boxes / Teacup

Cafe Original Merchandise

Acrylic Magnets Design A / Folders Design A / Letter Set

Stickers Design A / Acrylic Charms

Eco Bag / Satin Pouch / Bandana Handkerchief

Mirror / Masking Tape Design A / Oversized T-Shirt

Fantastic Beasts Menu & Cafe Original Merchandise

Niffler Orange Tart

Magical Trunk Cake

Stickers Design B / Acrylic Magnets Design B / Folders Design B / Masking Tape Design B

The film series adaptation of J.K. Rowling's Harry Potter fantasy series ran from 2001-2011 with eight movie total. Fans gather together to celebrate 20 years of movie magic and the release of the internationally beloved series' first entry, Harry Potter and the Philosopher's Stone.

WIZARDING WORLD characters, names, and related indicia are © & ™ Warner Bros.
Entertainment Inc. Publishing Rights © JKR. (s21)

Information

Harry Potter Cafe

Tokyo Cafe

Running: July 22, 2021 – September 12, 2021

Location: OMOTESANDO BOX cafe&space

Address: Pine Under Flat B1F, 5-13-2 Jingumae, Shibuya, Tokyo

Nagoya Cafe


Running: July 23, 2021 – August 22, 2021

Location: NAGOYA BOX cafe&space

Address: LACHIC


Booking Price: ¥715 (Tax Included) *Comes with freebie
Bookings/Details: https://boxcafe-hp.jp/

Jujutsu Kaisen Themed Cafes to Open in Tokyo, Osaka, and Nagoya

Three cafes in Tokyo, Osaka, and Nagoya are set to collaborate with the anime series Jujutsu Kaisen from July 15.

The popular manga series, serialised in Weekly Shonen Jump, is written and illustrated by Gege Akutami. An anime series began airing in October last year and wrapped up in March. An anime film, Jujutsu Kaisen 0, is slated for release on December 24, 2021.

The collaboration cafe is opening as part of the Jujutsu Kaisen Exhibition which is set to take place across Japan from July 2. The exhibition will be split into two separate periods, the first being themed on episodes 1-13 and the second on 14-24. It will display decorations based on scenes from the series, artwork, and more.

Masatsugu Nagasoe, the videographer who worked on the anime series' first ending theme, took charge of the art direction for the cafes, eventually deciding on the theme of 'stylish.' Fans can enjoy themed food, get their hands on merch, and more.

Yuji Itadori's Steak Sandwich Plate | ¥1,400 (Before Tax)

Megumi Fushiguro's Shadow Pasta | ¥1,400 (Before Tax)

The cafe menu is filled with dishes and desserts inspired by the Jujutsu Kaisen characters.

Nobara Kugisaki's Strawberry Pancakes | ¥1,400 (Before Tax)

Panda's Panda a la Mode | ¥1,400 (Before Tax)

The fancy food's plating is all Instagrammable.

Set Drinks (Not Available Separately)

There's also a collection of drinks you can order as a set with your food or dessert which come with illustrations of the characters.

Acrylic Keyrings / Pins / Folders

Sticker Set / Acrylic Dioramas / Handkerchiefs


Fans can also get their hands on a range of merchandise feature Studio MAPPA's stylish art as well as other exclusives.

©芥見下々/集英社・呪術廻戦製作委員会

Information

Jujutsu Kaisen Cafe

Booking Price: ¥600 (Includes Freebie)

Jujutsu Kaisen Cafe Official Website: https://jujutsukaisen-cafe.jp

Harajuku Cafe

Running: July 15, 2021 – September 12, 2021

Address: Harajuku BOX cafe&space (Harajuku Alta Floor 3F, 1-16-4 Jingumae, Shibuya, Tokyo)



Ikebukuro Cafe

Address: Matsumotokiyoshi Ikebukuro Part2 Floor 4F (1-22-8 Higashi-Ikebukuro, Toshima-ku, Tokyo)

Running: July 15, 2021 – August 15, 2021

Umeda Cafe

Address: Umeda Box Cafe&Space (1F Umeda LOFT, 16-7 Chayamachi, Kita Ward, Osaka)

Running: July 15, 2021 – September 12, 2021



Abeno Cafe

Running: July 15, 2021 – August 15, 2021

Address: Abeno Q's Mall Floor 4F (1-6-1 Abenosuji, Abeno Ward, Osaka)



Nagoya Cafe

Running: July 15, 2021 – August 22, 2021

Address: Nagoya Box Cafe&Space (B1F LACHIC, 3-6-1 Sakae, Naka Ward, Nagoya, Aichi Prefecture)

Benzaiten Daifuku Opens New Fruit Confectionery Store Inside GINZA SIX

Benzaiten opened its first store in 2019 and since then has opened over 50 branches up and down Japan. The confectionery brand, which specialises in fruit-filled daifuki, has now opened a new store inside Tokyo's luxury shopping centre GINZA SIX.

Yellow Papaya | ¥950 (Tax Included)

Tayo no Tamago Red Mango | ¥1,500 (Tax Included)


Fig | ¥1,000 (Tax Included)


Kiwi | ¥650 (Tax Included)

Benzaiten has over 10 types of fresh seasonal fruits ordered in from the market every day to make their daifuku with, most of which use the entire fruit. They are very particular about the mochi used to make the daifuku to ensure the original delicious flavour of the fruit is maintained and maximises. They use two layers of high quality white bean paste and habutai to hand-prepare the daifuku every day.

Information

Benzaiten GINZA SIX
Address: GINZA SIX (Floor B2F), 6-10-1 Ginza, Chuo-ku, Tokyo
TEL: 03-6804-3382
Opening Hours: 11:00-19:00

Official Website: https://benzaiten-daifuku.jp/

The Promised Neverland x Hotel Keihan Room Plan Collaboration Begins

Hotel Keihan launched a new guest room plan in collaboration with the anime series The Promised Neverland at its Tokyo, Kyoto, Osaka, Nagoya, Sendai, and Sapporo branches on Tuesday. It also released a collection of exclusive merchandise which can be bought at each hotel's front desk.

Guest Rooms

Exclusive Merch Line-Up

Pins | ¥550 Each (Tax Included)

Key Rings | ¥550 Each (Tax Included)

Lobby display

The hotel plan was originally scheduled to take place for three months but has been extended by a further month to accommodate for travel restrictions as well as guest demand. New prices have also been introduced to make it more accessible to people. Fans of the anime series can get their hands on a range of items not available anywhere else too including pins, key rings, folders, and more.

The hotel room designs are inspired by both seasons of The Promised Neverland and come with life-size panels, wall decorations, and more, so fans can look forward to getting sucked into the world of the anime series.

(C)白井カイウ・出水ぽすか/集英社・約束のネバーランド製作委員会