Showa-period style, modern room wear "Yuru Hakama" can be purchased at Village Vanguard Online
"MOCOLLE" which realizes everybody's delusions is now selling its third version of the "Wafu (Japanese-style) Room Share" series.

"Yuru Hakama (Japanese male skirt)"was designed by the very popular illustrator, Shun Akagi.

It is a room wear which is designed like a "hakama" so it is very easy to wear since the bottom and the top are attached.
Each of the four patterns has their own image concept. These image concepts are "Kiku (chrysanthemum): a girl who loves reading," "Tsubaki (camellia): a girl who loves retro-songs of Showa Period," "Sakura (cherry blossom): a charming and active girl" and "Asagao (morning glory): a girl who loves tea and inviting her friends to her house."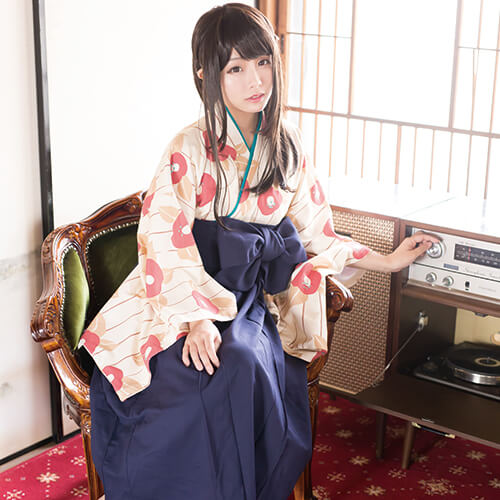 This cute and comfortable room wear is suitable to be used when holding parties like a music-listening party or a tea party!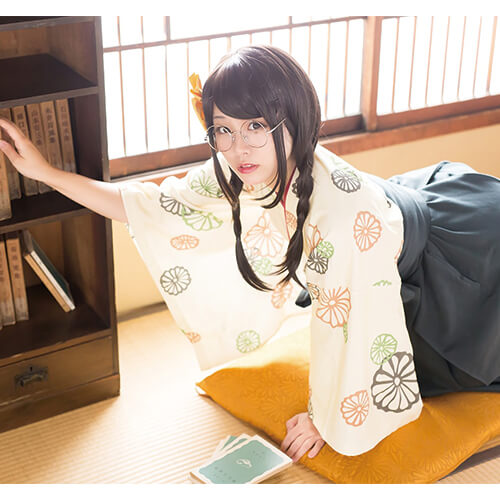 Who is your favorite "Showa-modern" girl?
RELATED ENTRIES
New Apparel Brand Features Manhole Motifs

Japan's manhole covers are known around the world for their intricate designs and unique local motifs. Used to promote towns and destinations, a new apparel brand has taken notice of these neat pieces of culture, releasing t-shirts to continue boosting communities around Japan.

In most cases, local governments are in charge of designing manhole covers. The Japan Underground team travels around the country in a van, finding the most inspiring manhole covers and negotiating with local governments to use the designs. They are then posted daily on social media.

Hokkaido Collection (Otaru / Ishikari / Wakkanai / Kushiro / Sapporo)

Tohoku Collection (Aomori City / Akita City / Kamaishi, Iwate Prefecture / Higashimatsushima, Miyagi Prefecture / Higashine, Yamagata Prefecture / Minamisoma, Fukushima Prefecture)

Hokuriku Collection (Sanjo, Niigata Prefecture / Ojiya / Namerikawa, Toyama Prefecture / Komatsu, Ishikawa Prefecture / Fukui City / Katsuyama)

In July 2021, the group began their travels to sell the new products, starting in Hokkaido and continuing to the Tohoku and Hokuriku regions. In the future, they will continue to the Kanto, Chubu, Kansei, Shikoku, Chugoku, and Kyushu regions, adapting at least one manhole cover design from each municipality per prefecture. The goal is to reach Okinawa in September 2022.


Village Vanguard Online Store Opens Rilakkuma Pop-Up Shop with Massive Plushies

If you visit Japan, you'll likely find yourself in a Village Vanguard shop eventually. The popular chain sells just about everything under the sun for low prices, from apparel and toys to books and DVDs. Until January 6, 2022, visitors to Village Vanguard Online can peruse a special Rilakkuma pop-up shop named 'My Imaginary Rilakkuma.' Most importantly, a super long Rilakkuma stuffed animal will only be available from this shop!

Big Long Huggable Plush (Rilakkuma/Kiiroitori)

Plushie Keychain (5 varieties)

Plushie (Korilakkuma/Kiiroitori)

Acrylic Stand (2 varieties)

Shopping Bag​

Rilakkuma is known for always being lazy, but can you imagine if he decided to actually work hard for a day? You might fall in love with him a little more. The acrylic stands read "You look beautiful today," and "Let's make today a wonderful day." Will you be snagging any of these items? 

Results of First Japanese Traditional Culture Grand Prix Announced

With 130 entries submitted from all parts of Japan, the 8 winners of the first Japanese Traditional Culture Grand Prix have finally been announced. The contest was spearheaded by the Japan Traditional Culture Promotion Project, established in May 2020 as a collaborative effort among companies, associations, and local governments to establish a sustainable framework for the continued development of Japanese traditional culture.

Grand Prix Winner: Nakagawa Woodcrafts Hira Studio "Wave" series (left) "YORISIRO" series (right)

The winner of the top prize was Nakagawa Woodcrafts Hira Studio, in which the craftsmen still use a 700-year-old technique to create their famous wooden buckets. These buckets, once used for storing rice and miso, are still used today for a variety of different purposes, from bathing to cooling champagne! In stepping away from their typical works, the Nakagawa Woodcrafts studio created the more freeform "Wave" series, and the name surely fits–each bucket looks too free to have been manmade. The "YORISIRO" series, rather, keeps the natural curvature of the wood. Both are signature pieces of traditional Japanese artisanal culture.

Runner-up: Cubism in Calligraphy "Natural Stance," Atelier Sisyu, Sisyu

Excellent Award: Kyo Braided Cords Sanjiku-Kumiori "Kujaku Kouki," Saiko Ltd., Koichiro Murokado

Excellent Award: Structured System "Kumiko Endurance Wall," Tosa Kumiko Co., Daisuke Iwamoto

Excellence Award: Porcelain "Yuragi" Hiroshi Taruta

Excellence Award: Lacquer Art "Tataeru" Shinsuke Aoki. 

 

Excellent Student Award: Picture Frame "KOZAI" Ryohei Nomura. 

Special Award: Rinku, a group of young female craftswomen from the Toukai region

The Japan Traditional Culture Promotion Project began this contest as a way to honor outstanding works from creators around Japan. The jury consists of 18 people from various fields, including Richard Collasse, the Chairman of Chanel LLC, and popular model Kozue Akimoto. A collection of online presentations and interviews with the winners is planned in future events, and the project aims to help these artists continue to work sustainably. The second round of applications will open in November 2021.

Yuki Tokuda x Village Vanguard Cute Illustration Collection Released

Popular Japanese illustrator Yuki Tokuda, who is known for their adorable artwork, released a collection of items exclusively on Village Vanguard on Friday.

The Line-Up

Girl & Animals Mug | ¥1,430 (Tax Included)

Densetsuno Usagi Tote Bag | ¥2,310 (Tax Included)

Ebiten iPhone Case  (12/12 Pro/12mini) | ¥2,530 (Tax Included)

Densetsuno Usagi Acrylic Key Ring | ¥715 (Tax Included)

Sankakukin Acrylic Key Ring | ¥715 (Tax Included)

Densetsuno Usagi Pin | ¥385 (Tax Included)

Sankakukin Pin | ¥385 (Tax Included)

Hitogata-kun Pin | ¥385 (Tax Included)

Sticket Sheet | ¥605 (Tax Included)

Yuki Tokuda is a Japanese illustrator whose line-up of original characters have proven extremely popular with people on Japanese social media, including Hitogata-kun, his unnamed girl character, and line-up of mysterious animals and creatures. His work spans books, illustrations, 3D sculptures, and more.

©YUKI TOKUDA

Lovisia Releases Detective Conan Cosmetic Collection

Japanese cosmetic brand Lovisia has released its New Styley collection in mid-April this year. The collection is based on the popular anime series Detective Conan, also known as Case Closed outside Japan, in promotion of the upcoming film Detective Conan: The Scarlet Bullet.

Detective Conan Eyeshadow – Conan & Kid Gold and Brown | ¥2,200 (Tax Included)

Detective Conan Eyeshadow – Conan & Kid Gold and Brown | ¥2,200 (Tax Included)

Detective Conan Lipsticks – Clear, Coral Pink, Beige Pink, Scarlet Red, Nude Beige | ¥1,320 Each (Tax Included)

USGMEN x Village Vanguard Clothing Collection Releases

The popular Japanese LINE sticker character series USGMEN is now taking orders for a new collection of merchandise on Village Vanguard for a limited time. The collection dropped on March 13.

The Line-Up

USGMEN White T-Shirt | Medium, Large | ¥4,180 (Tax Included)

USGMEN Yellow T-Shirt | Medium, Large | ¥4,180 (Tax Included)

USGMEN Black Suuetto T-Shirt | Medium, Large | ¥5,830 (Tax Included)

USGMEN Hoodie | Medium, Large | ¥6,380 (Tax Included)

USGMEN Cap | ¥3,630 (Tax Included)

USGMEN Face Mask | ¥1,430 (Tax Included)

USGMEN Clear Pencil Case | ¥2,200 (Tax Included)

USGMEN – Usagi & Same Acrylic Key Rings | ¥770 Each (Tax Included)

USGMEN Tote Bag | ¥2,530 (Tax Included)

USGMEN Sacoche | ¥2,420 (Tax Included)

©︎うさぎメン

Classic Japanese Candies Feature On Eco Bag Collection

Village Vanguard has released a new collection of eco bags featuring designs of long-time classic and nostalgic Japanese candy brands.

Marukawa Fusen Bubble Gum (Orange) | ¥968 (Tax Included)

Marukawa Fusen Bubble Gum (Strawberry) | ¥968 (Tax Included)

Marukawa Fusen Bubble Gum (Grape) | ¥968 (Tax Included)

Kuppy Ramune | ¥968 (Tax Included)

Cocoa Cigarette | ¥968 (Tax Included)

Popular Japanese Illustrator UZNo Releases Merchandise Collection Featuring Their Original Character Artwork

The popular Japanese illustrator UZNo, who is known for their cute original character art, has teamed up with Village Vanguard to release a collection of merchandise. The items are available to order until March 14.

UZNo T-Shirts (Medium/Large) | ¥3,850 Each (Tax Included)

UZNo Mug Set | ¥3,300 (Tax Included)

UZNo Acrylic Coasters | ¥935 Each (Tax Included)

UZNo Acrylic Key Rings | ¥770 Each (Tax Included)

UZNo Tote Bags | ¥2,420 Each (Tax Included)

The adorable made-to-order line-up captures the warm and fuzzy world of UZNo's characters – a must have for the collection!

© UZNo

Pour on the soy sauce and a scary Kabuki face will appear?! Order your Village Vanguard soy sauce dishes now!

Village Vanguard is well known for their collaborations with characters and their animal-themed designs. This time, they've made a Kabuki-themed soy sauce dish that you can order online.

Young, old, male or female, Japanese people love their traditional theatre shows called "Kabuki". One fascinating feature of Kabuki is the impressive makeup of the actors and actresses called "Kumadori


They made animal-themed soy sauce dishes, then character-themed ones, and now finally, we've got Kabuki-themed ones! There are many different designs in this new series ー you can enjoy all their different expressions! This is bound to make your dinner table a thousand times more exciting!

There are a total of six designs. Please come and choose from this wonderful selection!

Cute Neko no Buu-chan Merchandise Arrives at Village Vanguard

Village Vanguard are now selling cute new merchandise for Neko no Buu-chan, an adorable cat character created by Japanese illustrator Kino Takahashi.

This cute die cut smartphone ring functions as a stand to keep your phone propped up.

The cookie tin is filled with Buu-chan cookies! The designs are just too cute to eat.

There's even Buu-chan's first ever line of t-shirts. There's 3 colours to choose from. A must-have for this summer.

There's a range of other new Buu-chan items to get your hands on too, like stickers and badges. Litter your room with this cute kitty!

Shogi Rucksack Now Available for Pre-Order at Village Vanguard

Village Vanguard is now taking pre-orders for their shogi backpacks.

Shogi is often referred to as 'Japanese chess.' Japan is currently undergoing a shogi boom. The anime series March Comes in Like a Lion, which finished airing in March this year, follows the story of Rei Kiriyama, a 17-year-old professional shogi player. The two-season series became a hit in Japan and overseas, even getting a live action adaptation.

Sota Fujii is a 15-year-old high school student in Japan who made headlines for becoming the youngest person to achieve professional status as ranked by the Japan Shogi Association. He is currently ranked 7-dan.

Thanks to anime fans and budding young shogi players, the scene is gaining much attention with males and females of all ages. Now they can express their love for the game by wearing this backpack.

The bag comes with a pouch reading Oushou (王将), or 'King,' one of the shogi pieces. You can stow away all of your shogi pieces inside for easy access if a new opponent appears.

The bag is also perfect for mirushou, a rapidly growing population of shogi fans who like to watch shogi games but don't play and don't necessarily know the rules.

The bag can be used for carrying bigger items too, whether they're related to shogi or not. They're great for day-trips, overnight stays or as a souvenir from Japan!

If you're a fan of shogi or know someone who is, then look no further for a present than this!

Scary! Ice Made to Look Like Legs Sticking Out of Water

If you're in Japan this summer and can't bear the heat, then we've got a recommendation to cool you off. A fun and innovative ice cube tray made by Kyoto Ohata of Mousou Kousaku―who won the 2nd Zakka Awards―has been released at Village Vanguard.

The ice cube tray make your ice cubes look like human legs. Stick them into your drink and it'll look like someone's thighs, legs and feet are poking out. It costs ¥1,296.

The ice cubes are simple to make!

Prepare the silicon ice cube tray.

Pour lots of water into the holes at the top.

Place in the freezer for 5-6 hours.

Take off the seal and detach.

Open up the silicon tray to reveal your ice legs.

Put into your favourite drink!

You can combine the ice cubes with a bunch of different things for summer, not just drinks.

You can watch a funny example video showing how the ice cubes can be used. A male bartender makes a female customer a specially made 'cursed' cocktail. Be sure to check it out yourself!

Nothing's better in summer than a nice cold beverage chilled with some ice. How about shaking things up a bit this summer with this ice cube tray?