HELLO KITTY will challenge Kabuki! Sanrio Puroland's "KAWAII KABUKI"
The new musical using the motif of "Kabuki (Japanese traditional drama performed by male actors) named "KAWAII KABUKI ~HELLO KITTY Ichiza no Momotaro~" will be performed from at Meruhen Theater inside Puroland from the 10th of March 2018 (Sat.)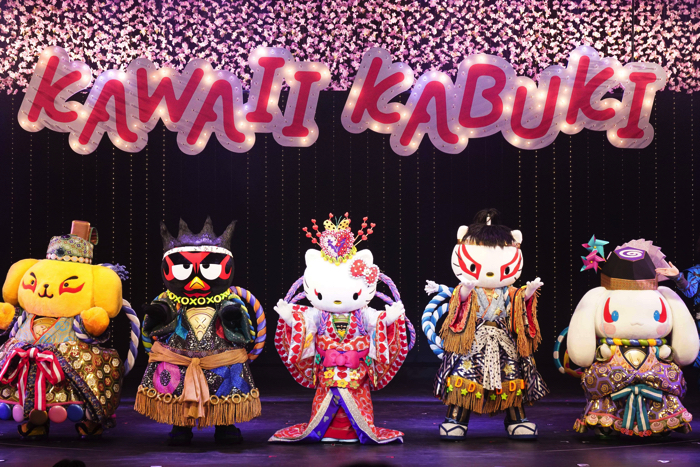 A press conference was held on the 7th of March (Wed.) and persons who are related to the play such as Kensuke Yokouchi who produced the script/rendition/lyrics of the play (he has been producing "Super Kabuki") and Esaburo Ichikawa, a kabuki acting coach, participated in the press conference. Also, Sanrio's characters including HELLO KITTY appeared on the stage.
It can be said that it is a new type of "spectacle entertainment show" using projection mapping and the motif of kabuki. The performance incorporates both the "kawaii" of Sanrio and the traditional "wa" culture of Japan.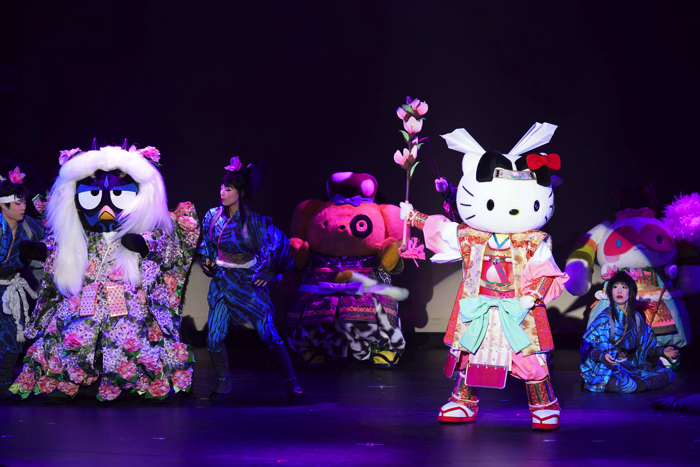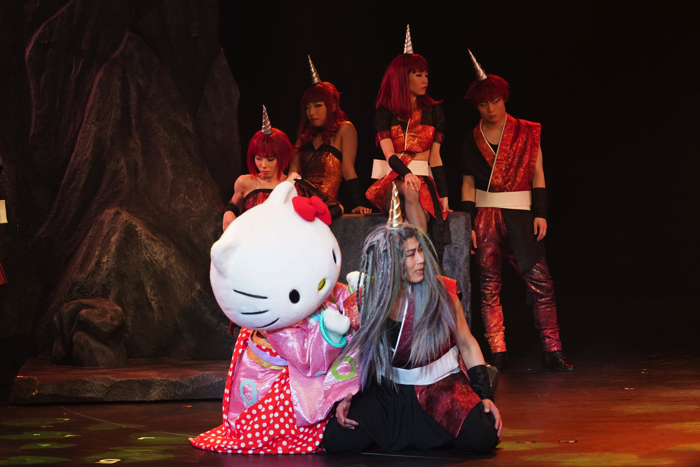 Let's enjoy Sanrio's new type of collaborative musical of Sanrio characters and kabuki!
RELATED ENTRIES
Sanrio Characters Inspire Limited Edition Sweets at Ministop Convenience Stores

Japanese convenience store chain Ministop has just released some original sweets inspired by Sanrio's most popular characters! The sweets are served up in adorable glasses and are only available while supplies last.

Sanrio Characters Black Tea Brownie

Design: Kerokerokeroppi, Hello Kitty, Tuxedo Sam, Marroncream

Sanrio Characters Chocolate Brownie

The pastel-colored glasses have a retro feel and can be reused as drinking glasses or containers for homemade sweets. Sustainable and adorable, come grab these brownies while you can!

Ⓒ 2022 SANRIO CO.,LTD

Information

Ministop x Sanrio Characters

Black Tea Brownie / Sanrio Characters Chocolate Brownie  

Price: ¥465 (Tax Included)

Available: May 19 – June 2, 2022 

Create Your Own Sanrio Character Goods at Sanrio Puroland's Fan Workshop

Ever wanted to make your own Sanrio merch featuring your favorite character? Starting May 23, the official Puroland online store will launch the Sanrio Puroland Fan Workshop, allowing users to print their favorite characters onto any merch they like!


In Japanese, the word oshi is used to refer to a person's favorite character or member of an idol group.

Fans of Sanrio characters have always come to Puroland to meet their favorites in person and to purchase goods. The Sanrio Puroland Fan Workshop can be used to create original merchandise featuring characters not often seen at Puroland. Visitors need only select an image of their favorite character and a base item to be shipped to their home at a later date.

A total of 18 different characters (some included in group images) and 96 images are available to choose from. By combining these images with the available items, over 384 combinations can be created! Customers can choose from T-shirts, tote bags, hand towels, and more.

© 2022 SANRIO CO., LTD. TOKYO, JAPAN 著作 株式会社サンリオ

Information

Sanrio Puroland Fan Workshop

Where to Buy: Sanrio Puroland Online 

Tokyo's TeNQ Space Museum to Host Cinnamoroll 20th Anniversary Exhibition

Tokyo's TeNQ Space Museum, located in Tokyo Dome City, will hold a special Cinnamoroll exhibition to celebrate the Sanrio character's 20th anniversary! The adorable white puppy won first place at the Sanrio Character Awards for two consecutive years and has been a beloved part of Sanrio's lineup for two decades. From July 7 until October 17, guests can visit this unique walk through Cinnamoroll's history. The exhibition's key visual has been unveiled ahead of the event.

Clear Folder

Face Towel

Postcard (2 varieties)


Visitors will learn tons of Cinnamoroll trivia at the exhibition and can also participate in Cinnamoroll Roulette, a fun fortune-telling event!

In addition, the first-ever Cinnamoroll Strawberry News Poster Gallery will be available to peruse. An academic exhibit unique to TeNQ where visitors can learn about the many kinds of clouds will also be opened in honor of Cinnamoroll, who was born on a fluffy cloud in the sky. Original merchandise will also make an appearance. It's sure to be fun for the whole family!

©2022 SANRIO CO., LTD. APPROVAL NO. SP630141

Hilton Osaka to Hold Cinnamoroll and Sanrio Character Sweets Buffet

Folk Kitchen, a restaurant on the second floor of Hilton Osaka, will hold the Sanrio Characters Sweets Buffet ~Joyful Summer Festival~ from May 20 until September 11, 2022. The event is being held to celebrate Cinnamoroll, Pompompurin, and Pochakko coming in first, second, and third in the Sanrio Character Awards. A lineup of 25 different sweets will be available, including those filled with summer fruits like mango, peach, and watermelon! In addition, a "Zero Leftovers Campaign" will be implemented–so be sure to clear your plate!

Happy Festival Heart Mousse

Joyful Pink Cake / Lime & Raspberry

Fluffy and Crunchy Mango Pavlova

Decorated with chocolate and adorable character designs, the Happy Festival Heart Mousse is a scrumptious dish blending the flavor of banana, caramel, and rum. The Joyful Pink Cake will be a smash-hit with Sanrio lovers, featuring the soft taste of white mousse and raspberry compote with a fresh lime flavor. Tons of other original sweets will be available, including everything from gingerbread to orange tarts.

 

Visitors can also find plenty of vegan sweets. Summer Blue Sky Jello features contrasting colors of pineapple pulp and soymilk cream that look like clouds floating against a summer sky. Be sure to try the Almond & Watermelon Jello and Grapefruit and Lychee Jello too!

Soft and Adorable yoshikitty Pastel Moon Plushies Available for Preorder

Yoshikitty, a character formed in collaboration between Hello Kitty and rock legend YOSHIKI, is being featured in an adorable new collection! Items in the Moon Pastel collection are now available to preorder at the Asunaro Online Store and the yoshikitty Online Shop.

Yoshikitty first debuted in 2009 as a collaboration between YOSHIKI of X JAPAN and Sanrio's popular character Hello Kitty. These new plushies were inspired by YOSHIKI's hairstyle when he first debuted and his classic purple eyeshadow.

Since the character's creation, over 10 different designs have been released. The Pastel Moon Series is a first, showing a different side to the usual grungy rock 'n roll vibe. No one expected a fluffy unicorn yoshikitty with such soft colors!

Medium Plush : ¥5,800 (Tax Included) / Large Plushie: ¥8,800 (Tax Included)

Colorful Charm (Chain not included) : ¥1,100 (Tax Included)

The collection includes two plush toys, a mascot keychain, a colorful charm, and two reusable bags. Will you be snagging anything?

ⓒ 2022 SANRIO CO., LTD. APPROVAL NO. L630897   

ⓒ 2022 Japan Music Agency Co., Ltd.

Onoe Matsuya and Ukon Onoe Team Up for Traditional Japanese Art Experience 'Kabuki Derby'

The 89th Tokyo Yushun, or Japanese Derby, is scheduled to take place on May 29, 2022. Ahead of the event, a special site featuring Kabuki actors Onoe Matsuya and Ukon Onoe was opened on May 12. That's right–it's time for the Kabuki Derby!

Celebrating its 89th year, the Japanese Derby is considered one of the finest horse races in the world. To make this traditional and prestigious event even more exciting, a collaboration with the traditional Japanese performing art of Kabuki is getting people talking.

Tokyo Yushun Kabuki Simulation Game

In the Kabuki Derby, visitors can enjoy tons of unique content made with Onoe Matsuya and Ukon Onoe. The site's racing game even has a completely original story! Trivia quizzes related to the Derby and obstacle courses will also provide hours of fun.

Special Video: Home Horse Racing!

Special Video: Instant PAT!

Special Video: Full House Derby

In the original videos, both Kabuki actors appear as brothers in the Edo Period. The two are sure to make you smile with their performances, as they explain what they do on their days off and show off how fun horse racing can be.

Horse Designer

There will also be a Twitter campaign where you can win prizes depending on the results of the Japanese Derby. Be sure to tune in and root for your favorite horse!

Information

Kabuki Derby
Available May 12, 2022


Sanrio Inspired Touken Ranbu Collaboration Cafes to Open in Shibuya and Nagoya PARCO

Touken Ranbu has become a worldwide phenomenon over the past decade. The handsome characters are a hit with female fans, and now, PARCO is teaming up with Sanrio to reimagine everyone's favorite swords-turned-dudes into chibi, pastel versions of themselves. Fans can enjoy seeing the kawaii form of their favorite characters at a special collaboration cafe coming to Shibuya and Nagoya soon.

Lineup at a Glance

Menu

Kogitsunemaru's Lunch Plate for Kids

Oodenta Mitsuyo and Sohayanotsurugi's Mini Burger Plate

Izuminokami Kanesada and Horikawa Kunihiro's Berry Pancakes

Konnosuke's Fruit Parfait

Goods

Acrylic Pick A (20 varieties): ¥440 each

Acrylic Pick B (20 varieties): ¥440 each

Acrylic Magnet Round 2, Set A (Random, 20 varieties): ¥550 each

Acrylic Magnet Round 2, Set B (Random, 20 varieties): ¥550 each

The cafe will offer an original menu inspired by the characters from the free-to-play video game and anime series. A shop attached to the collaboration cafe will also be selling original merchandise, so fans won't want to miss stocking up.

YOSHIKI x Hello Kitty Goods Now Available at the Yoshikitty Online Shop

Yoshikitty, a character formed in collaboration between Hello Kitty and rock legend YOSHIKI, now has an online shop!


Yoshikitty first debuted in 2009 as a collaboration between YOSHIKI of X JAPAN and Sanrio's popular character Hello Kitty. The character's first goods collection sold out immediately, with additional items also selling out online the same day. Yoshikitty's popularity isn't limited only to Japan, with global fans also anxious to snag some of this sought-after merchandise.



Since 2015, Yoshikitty has been nominated for the Sanrio Character Awards, rising in popularity year after year and keeping up with other beloved Sanrio personalities.

To commemorate the eighth consecutive year of her appearance in the Sanrio Character Awards, the Yoshikitty Online Shop has opened its doors. Fans can now purchase a number of exclusive items whenever they please!

Opening Announcement Video

https://www.youtube.com/watch?v=YFDArLVYAuw

Pouch (3 colors: Purple, Red, Blue): ¥2,600 each (Tax Included)

Cushion (3 colors: Purple, Red, Gray):  ¥4,400 each (Tax Included)

To celebrate the shop's opening, a new collection of lace goods is on sale now, featuring the character alongside roses and musical notes in elegant black lace. Items available include pouches, tote bags, and plenty of other goods perfect for both everyday use and formal occasions.

©️ 2022 SANRIO CO., LTD. APPROVAL NO.L630057    

©️ 2022 Japan Music Agency Co., Ltd.

Preliminary Rankings for the 2022 Sanrio Character Awards Announced

Sanrio has announced the top 10 preliminary rankings for the 2022 Sanrio Character Awards! These results reflect those votes cast between April 8 and April 10.

The 2022 SANRIO FES, a one-day special event for Sanrio fans, will be held both in-person and online on Sunday, June 12. This will be the first time the event has been held in three years, and it will feature special panels with Sanrio characters, booths where fans can interact with their favorites, and plenty of other content to look forward to this summer.

The first-place winner in the preliminary results is Cinnamoroll, who ranked #1 last year and is currently celebrating his 20th anniversary. Pompompurin, who ranked at #2 last year, is also coming in second this year, while Pochakko, who ranked at #3 last year, is in third. Sanrio dogs are absolutely dominating the competition! 

 

Kuromi, who managed to climb into the top five in 2021 for the first time in 11 years, is ranked fourth, while fan favorites Hello Kitty and My Melody also appear. Hangyodon, who ranked at #13 in 2021, is currently ranked at #7, signaling a major jump in popularity.

 

Who are you hoping rises to the top in 2022?


The voting period ends May 23, 2022. Be sure to stay tuned for the next interim announcement on May 12!

2022 Sanrio Character Awards Collaborate with Karin Fruit Juice for New Juice, Voting Stickers

AOKI Fruits has announced a collaboration with the 2022 Sanrio Character Awards! By purchasing qualifying products, customers will be able to cast their vote for their favorite Sanrio character at Karin Fruit Juice shops and 188 other stores nationwide from April 8 until May 22, 2022. During the 2022 Sanrio Character Awards, 80 characters will be selected from other 450, with the ranking decided by online votes and in-person events. 

Lineup

Cinnamoroll's Fluffy Banana Milk

Hello Kitty's Greedy Mixed Berry Smoothie

Pompompurin's Naptime Pineapple Drink  

Little Twin Stars' Dreamy Blueberry Milk

Pochacco's Exciting Melon Drink     

My Melody's Lovey-Dovey Strawberry Milk

Purchase Bonus: Exclusive Coaster

For each collaboration drink purchased, guests will receive one voting sticker. Voters can then place the sticker on the appropriate poster in-store to cast their vote. An exclusive coaster will be given as a purchase bonus. 

A total of six characters will be featured in the collaboration, and each store will sell two collab drinks. The teams are: Cinnamoroll & Hello Kitty, Pompompurin & Little Twin Stars, and Pochacco & My Melody.


Information

2022 Sanrio Character Awards x Karin Fruit Juice

Collaboration Period: April 8 – May 22, 2022
Where to Buy: Karin Fruit Juice, Fruits Bar AOKI, V2&M by FruitsBar AOKI, Wonder Fruits Locations
How to Vote: One voting sticker will be given with each eligible purchase. Guests can vote in the 2022 Sanrio Character Election by placing a sticker on specified posters in select stores.
Official Site: https://www.sanrio.co.jp/

Tapioca and Crepe Store 'Pearl Lady' Collaborates with Sanrio Character Cogimyun

Pearl Lady, a tapioca and crepe specialty shop, will begin selling a special crepe inspired by the Sanrio character Cogimyun starting April 8, 2022! These gorgeous treats will be available at participating Pearl Lady locations while supplies last.

Cogimyun's Sparkling Strawberry Crepe

Cogimyun's Sparkling Strawberry Crepe, topped with a Cogimyun cookie, includes sweet and sour strawberry cream. 

The dough, made with tapioca flour, offers a slightly chewy texture with a rich milk and butter flavor. Customers will also receive a special sticker as a purchase bonus. Be sure to enjoy the new Cinnamoroll drink available at Pearl Lady's sister shop CHABAR!

CHABAR x Cinnamoroll Collaboration Drink

Hello Kitty and the United Nations Reveal New Collaborative Products

Sanrio has announced the Hello Kitty SDG series of products, scheduled to release on March 25, 2022. The designs for the series were developed in collaboration with the United Nations with the aim of spreading knowledge about Sustainable Development Goals (SDGs) throughout the world. These items will be available at Sanrio stores, in department stores, and online.

The Hello Kitty SDGs series features a lineup of goods made from environmentally friendly materials. These items are perfect for daily use, and all were designed to raise awareness of SDGs and the global environment with Hello Kitty in the office, at school, and at home.

Merchandise at a Glance

Tote Bag: ¥2,750

Each Tote Bag is made of 100% organic cotton canvas.

Clear Folder: ¥594



Made of recycled polypropylene.

Mug: ¥1,980

Each mug is made of recyclable materials.

Neck Strap: ¥1,980

Recycled PET bottles were used to create this product.

In September 2018, Hello Kitty launched her own YouTube channel to promote peace and harmony around the world.

As of March 16, Hello Kitty has uploaded 27 videos, so be sure to watch them all!

©'21、'22 SANRIO 著作(株)サンリオ

Information

Hello Kitty SDGs

Release Date: March 25, 2022
Where to Buy: Sanrio Shops Nationwide, Department Store Sanrio Corners, Sanrio Online Shop

Hello Kitty Channel: https://www.youtube.com/channel/UCyof-1Ko_jy2sOtivyTpc4Q