Goods using the motif of the panda"Xiang Xiang" will be sold at Ueno Information Office
Ueno Information Office will sell "Ohanami Panda Ame" created by the established sweets shop, "Kintaroame Honten" which was founded in the early Meiji Period and "Xiang Xiang Tokei" created by the sundry shop, "nocra"that sells wooden items run by 2k540 AKI-OKA ARTISAN. These items will make great gifts for the spring season.
Ohanami Panda Ame (candy)– 400 yen (tax included)
Xiang Xiang Tokei (watch) – 2,800 yen (tax included)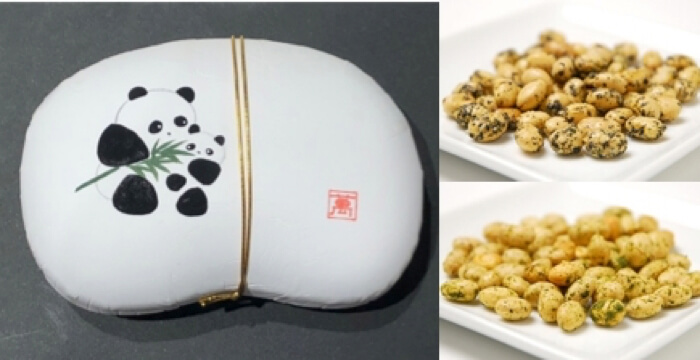 In addition to collaborative panda goods, they are also planning to sell many kinds of new Ueno-related items and become a hot spot for Ueno souvenirs so as to boost the popularity of Ueno.
 Why not visit Ueno Information Office and get your very own gorgeous panda souvenir!
■Information
Ueno Information Office
Address: B1F of Matsuzakaya Ueno Store, 3-29-5, Ueno, Taito-ku, Tokyo
Business hours: 10:00 to 20:00
TEL:03-3832-1111
RELATED ENTRIES
Shirahama Marriott in Wakayama to Offer Panda-Themed Getaway

Adventure World, a zoo and theme park in Shirahama, Wakayama prefecture, is teaming up with the Nanki-Shirahama Marriott Hotel to celebrate the first birthday of baby panda Fuhin. This room plan will only be available from November 1, 2021, until March 31, 2022, and will include a fully themed room, an original mini-photo book of the panda's growth to date, and plenty of other Fuhin amenities and goods!

Fuhin 1st Anniversary Room

Collaboration Burger 'Marriott Panda Burger' 

The Fuhin 1st Anniversary Room is a mixed Japanese-Western style room with an ocean view. The walls, blankets, and tatami are all covered in panda imagery, while portions of the room's lighting are made from bamboo as a part of Adventure World's quest to create more sustainable products. The special 'COCOAR' app will also allow guests to enjoy a moving photo frame featuring Guhin by holding their smartphone over the word 'Fuhin' on the wall. 

The limited-time Marriott Panda Burger uses the same recipe as the normal burger, but with a panda-shaped bun created along with Adventure World staff. How would you like to come and celebrate Fuhin's birthday beside the sea? 

Your Favorite Panda Instagram Campaign

By taking a picture of one of the seven giant pandas at Adventure World (Eimei, Rauhin, Ouhin, Touhin, Yuhin, Saihin, Fuuhin) and posting it to Instagram with the two campaign hashtags (#推しパンダマリオット and #InsertFavoritePandasNameHere), 20 winners will be selected to receive special Adventure World goods!

Information

Kaedehama 1st Anniversary Room Stay

Address: Nanki-Shirahama Marriott Hotel

Reservations Open October 6, 2021

Running: November 1, 2021 – March 31, 2022

Details: https://www.shirahama-marriott.com/special/panda/

Official Site: www.MarriottHotels.com

Marriott Panda Burger

Available Starting November 1, 2021

Price: ¥3,270

Where: Nanki-Shirahama Marriott Hotel Lounge

Your Favorite Panda Instagram Campaign

Running: November 1, 2021 – January 31, 2022

How to Enter: 

① Install the Instagram App.

② Follow Adventure World (@adventureworld_official) and Nanki Shirahama Marriott Hotel (@nankishirahamamarriott).

③ Post a picture of your favorite panda along with the hashtag MyFavoritePandaMarriott (#推しパンダマリオット) and the second hashtag including your favorite's name along with a picture of your favorite panda!

The winners will be announced on the official Nanki-Shirahama Marriott Hotel Instagram page in February 2022. 

"Katanukiya" opens in Fukuoka, Selling Kumamon Katanuki Baum for Limited Time Only

Ginza-based Katanukiya, a store that specializes in shaped Baum, will be opening a limited-time shop in Daimaru Fukuoka Tenjin between October 1 and October 31. The store will stock both the 'Panda Series' and panda sable. 

Kumamoto Panda Baum: ¥594 (Tax Incl.)

Kumamon Shaped Katanuki Baum: ¥540 (Tax Incl.)

Ghost Panda Baum: ¥540 (Tax Incl.)

Panda Baum: ¥540 (Tax Incl.)

Amabie Baum: ¥540 (Tax Incl.)

 

The new 'Kumamoto Panda Baum' will be debuting at the Daimaru Fukuoka Tenjin store, along with the 'Kumamon Shape Katanuki Baum.' A new baum featuring the Amabie, a creature which is said to have appeared in Kumamoto during the Edo period and represents a bright, hopeful future, will also be available. Why not enjoy some cute character Baum this Autumn?

 

Information

Katanukiya Limited-time Shop

Shop Duration: October 1 ~ October 31 2021

Location: Daimaru Fukuoka Tenjin, Main Building 2F Confectionery Exhibition Hall

Official Site: https://www.daimaru.co.jp/fukuoka/ 

Hard Rock Cafe at Ueno Station to Sell Goods Commemorating Birth of Twin Pandas at Ueno Zoo

American music-themed restaurant Hard Rock Cafe has locations across Japan, and the Ueno location is now selling some very cute black-and-white goods. At the nearby Ueno Zoo, the oldest in Japan, two giant pandas were recently born, and that's cause for celebration! Limited quantities of these goods will be on sale at the physical location and online starting September 18, 2021!

Twin Pandas Pin #1

Twin Pandas Pin #2 (Only available at Online Shop.) 

These two original pins depicting the two newly-born pandas with the Hard Rock's signature guitar are available in gold (online only) and silver. 

Panda T-shirt

Grab one of these before they sell out–they're going quick! This cute original design will look perfect as you walk through the zoo gates, ready to show your love for pandas and rock music. 

Guests presenting an Ueno Zoo ticket stub or annual pass at the Ueno Hard Rock Cafe location will receive 10% off. (Full details available on the Hard Rock Cafe website.)

Congrats to the happy family!

Information

Hard Rock Cafe Ueno Station Tokyo – Twin Giant Panda Commemorative Goods

On Sale: 

Ueno Station Tokyo Location: September 18, 2021 

Address: atré Ueno 1F (7-1-1 Ueno, Taito-ku, Tokyo)

Official Online Shop: Preorders begin September 17, 2021 10:00AM

Official Online Shop: https://hrcjapan.official.ec/

Healing 'Panda' Sweets Available at Gelato Pique Café for a Limited Time

A selection of healing monotone panda sweets will be available at the Gelato Pique Café between September 6 and September 25. The collection is titled "everyday PANDA! ~Sweets Time with Pandas~."

Menu


Panda Crepe

Panda Gelato

Panda Float

Goods

Gelato Pique Café Original Panda Glass/Mug
Available from September 6


Gelato Pique Panda Motif Eco Bag / Panda Motif Hand Towel
Online reservations open September 2, available instore from September 8


In 2021, the Gelato Pique Café announced two rounds of animal themed sweets, proving hugely popular on social media. For Easter they released "Bunny Sweets" with rabbit ears motifs, while a series of "Polar Bear Sweets" was released during the Summer. Now, a selection of "Panda Sweets" is the latest to join the animal collection. 

 

The chocolate and banana Panda Crepe is filled with a healing ganache and banana,  while the Panda Gelato has cocoa biscuits studded around the pandas neck, along with rounded eyes and ears. The "healing monotone" Panda Float combines the Gelato Pique Café's original Guatemalan coffee blend with Royal Blue Bourbon.

 

Along with this "everyday PANDA!" Fair, we have a large lineup of panda goods that will make you happy just by having them.  Goods that are perfect for presents, souvenirs, and rewards for yourself can be purchased at each gelato pique cafe store and EC site, so please look forward to that too!

There is a huge lineup of panda goods that will brighten your day releasing alongside the "everyday PANDA" fair, which make perfect gifts for friends – or yourself! You can view the goods lineup in store and on the Gelato Pique website.

Wakayama Culture Festival 2021 Coming to Shibuya

ASOBISYSTEM, in cooperation with the Agency for Cultural Affairs, will hold the Kinokuni Wakayama Culture Festival 2021 in Shibuya on October 3, 2021. The event will be free to attend, and will take place at Shibuya CAST, a modern commercial facility located between Shibuya and Harajuku.

The Kinokuni Wakayama Culture Festival 2021, taking place in Wakayama Prefecture from October 30 to November 21, is the one of the largest cultural festival in Japan. This event will bring many popular presentations and goods from Wakayama to Shibuya, allowing Tokyo residents to experience some of the beauty and traditions of this area of the Kansai region. A number of celebrity guests will be in attendance, and local Wakayama goods will be on sale. Measures will be taken during the event to prevent the spread of COVID-19.

Promoting the Wakayama Culture Festival Throughout Shibuya!

In a special collaboration with SHIBUYA TELEVISION, the largest media outlet in the Shibuya area, a promotional video produced in Wakayama Prefecture will be aired on eight large screens in the Shibuya area from September 27 to October 3. Select restaurants in Shibuya will also serve dishes featuring ingredients from Wakayama for a limited time.

Get the Wakayama Panda Mask Cover for Attending!

An original Wakayama Panda Mask Cover, produced by ASOBISYSTEM, will be given to visitors on the day of the event. *Quantity limited.

If you're in the Tokyo area, be sure to come out to this special event where you can experience the charm of Wakayama!

Information

Kinokuni Wakayama Culture Festival 2021 in Shibuya

When: October 3, 11:00-17:00

Where: Shibuya CAST. (1-23-21, Shibuya, Shibuya-ku, Tokyo)

Entry: Free

Content: Wakayama Product Market / Stage Show, etc.

Guests: To Be Announced

Organized by: Agency for Cultural Affairs
Planning: ASOBISYSTEM / Channel 47

Twitter: https://twitter.com/wkym2021_sby

* In order to prevent the spread of COVID-19, the event may be subject to admission restrictions, changes in content, or performance cancellations.

Baumkuchen Specialty Shop Katanukiya Offers Limited-Edition Panda Cake at New Location

On September 1, Baumkuchen specialty shop Katanukia opened its second location on the second floor of Tokyo Solamachi, beneath Tokyo Skytree. These traditionally German cakes are extremely popular in Japan, and using a cookie cutter can transform them into works of art! To commemorate the new shop, the Tokyo Solamachi location will sell a limited-edition Panda Baumkuchen that is almost too cute to eat.

Panda Baumkuchen

Starry Sky Panda Baumkuchen: ¥594 (Tax Included)


 

Starry Sky Panda Baumkuchen & Drawstring Bag Set: ¥1,815 (Tax Included)

The special Starry Sky Panda Baumkuchen is made from soft, moist cake, and depicts an adorable panda character ready to gaze at the night sky from Tokyo Skytree, the tallest tower in the world. Children and adults alike will enjoy its gentle milk flavoring.

The Starry Sky Panda Baumkuchen & Drawstring Bag Set includes the signature Baumkuchen, the Starry Sky Panda Baumkuchen, Panda shortbread, and an adorable bag. There will only be 100 of these sets available, so grab one before they're gone!

Is Baumkuchen popular in your country? How would you like to try these cute sweets in Tokyo?

Tottori Prefecture's White Rabbit of Inaba Wins Top Prize in Japan's Indie Souvenir Contest

From July 29 to August 11, over 320,000 people from around Japan voted for their favorite lesser-known local souvenir. Sponsored by Japanese e-commerce site Mercari, the contest highlighted 47 unique goods from around the country, one for each prefecture. The winners have been announced, and the White Rabbit of Inaba from Tottori Prefecture has won first place, receiving more than 60,000 votes.

A music video-style web commercial featuring the winning product is now being produced to support the shop and particular region of Tottori. The music will be performed by electro-pop group Frasco.

In Japan, the rabbit is known for bringing good fortune, and has been a beloved symbol since ancient times.  The white rabbit in particular, featured in the local Izumo myth 'The White Rabbit of Inaba,' plays a major role in connecting the characters Onamuchi-no-kami and Princess Yakami. In 1968, the famous confectionery 'White Rabbit of Inaba' was created in the hopes of bringing good luck to those visiting the area.

Much like how an indie music group has a small group of hardcore fans but may not be well-known outside of small circles, these indie souvenirs are popular with locals, but may not be known to those outside the community. On the official website, fans can see their favorite treats displayed on what looks like album covers as an homage to this fitting comparison.

On social media, there was incredible support for the project from all kinds of people: those who made the souvenirs in the first place, those who love their local area, and those who were seeing these treats for the first time and dying to try them.

Which of the 47 souvenirs would you be most happy to receive?

Shiraraso Grand Hotel Announces Traditional Japanese Candle-Making Experience For Guests

As part of the global Sustainable Development Goals (SDGs) project, Shiraraso Grand Hotel is offering a new experience for guests to create shades for warosoku traditional Japanese candles from July 7 to August 31.

Warosoku aren't made with ordinary wax, they're produced from plant-derived Japanese wax. Wakayama was once the biggest producer of this wax. Guests at the hotel will ghet to make their own shade decorations for these candles using decorations like the sea, food, hot springs, and panda.

The hotel is also offering free panda bookmarks to those who post a photo of their shade on Instagram, Twitter, or Instagram with the Japanese hashtag #白良荘グランドホテル.

Hard Rock Cafe Releases Limited-Edition Pins of Ueno Zoo's Panda Xiang Xiang

Hard Rock Cafe Ueno is celebrating the 4th birthday of Ueno Zoo's giant panda Xiang Xiang with a collection of birthday pins. The limited-edition line-up was released on Thursday.

4th Birthday Pin | 300 Available | ¥2,200

4th Birthday Pin 2 | 500 Available | ¥2,200

The two pin designs are limited in stock, the first featuring Xiang Xiang with her mother and father has 300 available, and the second one has the cute giant panda on an aeroplane branded with her birthday date with 500 available.

Both pins capture Xiang Xiang's energetic personality and are cute souvenirs to take home after meeting her at Ueno Zoo.

Information

Hard Rock Cafe x Ueno Zoo Pims
Released: June 10, 2021 at Hard Rock Cafe Ueno Station Tokyo

Address: Atre Ueno Floor 1F, 7-1-1 Ueno, Taito-ku, Tokyo

TEL: 03-5826-5821
Also available online: https://hrcjapan.official.ec/

Hard Rock Japan Official Website: http://hardrockjapan.com/

Ueno's Real-Life Panda Idol Xiang Xiang's 4th Birthday Celebrated With Merchandise Release

Ueno Information Center is celebrating the 4th birthday of Xiang Xiang, the giant panda who was born at Ueno Zoo back in 2017, with the release of a merchandise collection. The line-up arrived on Wednesday and is available both at the information center and via their online store.

Although strict measures are in place at the center to reduce the risk of COVID-19 spreading, celebrations for Xiang Xiang aren't completely cancelled, as fans of the adorable panda, who has become something of an idol in Ueno, can get their hands on some fun goodies.

Ueno Panda Family Memorial Pins 2021 | ¥2,530 (Tax Included)

Ueno Panda Family Clear Pouch YE | ¥2,200 (Tax Included)

Ueno Panda Family Cooling Lunch Tote Bag | ¥1,650 (Tax Included)

The collection features motifs of Xiang Xiang, her mother Shin Shin, and her father Ri Ri. The pin collection, which comes in a gold leaf-laced box, includes Shin Shin in a tree peony, Xiang Xiang amongst the cherry blossoms, and Ri Ri with lotus flowers.

The pouch sees Xiang Xiang happy and energetic with her parents. It comes in a summery yellow and is made from semi-transparent matted vinyl. Perfect for storing away makeup, stationery, and any other bits and bobs.

The cooling bag is made from aluminium on the inside for keeping your food fresh. It's big enough for fitting a bento and 500ml bottle, making it handy for taking your lunch out with you.

Happy 4th Birthday, Xiang Xiang!

Information

Ueno Information Center Xiang Xiang's 4th Birthday Collection

Released: June 9, 2021

Where: Ueno Information Center

Ueno Information Center Official Website: https://uenoinfo.jp/

Ueno Information Center Online Shop: https://edotokyo1.com

Disney's Mickey & Friends Teams Up With Tokyo's Souvenir Sweet Tokyo Banana

Disney SWEETS COLLECTION by Tokyo Banana, a joint confectionery shop between GRAPESTONE and Tokyo Banana, released its new Mickey & Friends collection on Thursday.

Tokyo Banana Mickey & Friends Collection | ¥1,300 (Tax Included)

Mickey, Minnie, Donald, Daisy, Goofy, and Pluto join hands in a heart-warming new collection of Tokyo Banana, a cream-filled sponge cake and the official souvenir sweet of Tokyo's official souvenir sweet: Tokyo Banana.

 

Mickey & Friends arrive in all the colours of the rainbow

The colourful packaging features the Disney group of best friends including Mickey, who loves his friends, his girlfriend Minnie, the anger-prone Donald, stylish Daisy, silly Goofy, and trusty Pluto.

Six cute patterns decorate the sponge cakes

There are six super cute Mickey & Friends designs you could get in your Tokyo Banana, and each one is random. They are filled with chocolate banana-flavoured custard cream.

Collect all the postcards

All boxes of these treats come with two of eight possible postcard designs which you can use for sending to someone or even as room decoration.

 © Disney

Pokémon x Tokyo Banana Expands Across Japan

The Pokémon Tokyo Banana confection series launched its first two products that it ever released at Yume Town, Yume City, LEC, and Yume Mart branches in the South-west most part of Honshu, Shikoku, and Kyushu on May 14.

Pikachu Tokyo Banana (Banana Flavour) | Includes 2 | ¥292 (Tax Included)

Eevee Tokyo Banana (Caramel) | Includes 2 | ¥292 (Tax Included)

Heart-shaped tail ends

Six different packaging designs each for Pikachu and Eevee

Tokyo Banana are popular cream-filled cakes and are the official souvenir sweet of Tokyo. The Pokémon series turns these fluffy treats into cute confections for you to enjoy with your favourite Pokémon during snack time.

Pikachu was the first to enter the Pokémon Tokyo Banana series who was turned into a banana custard cream-filled sponge cake. The second was Eevee with the fluffy sponge a delicious caramel macchiato flavour and filled with sweet banana custard cream

The confections are both branded with adorable heart-shaped tails, and each comes with one of six possible packaging designs.

©2021 Pokémon. ©1995-2021 Nintendo/Creatures Inc./GAME FREAK inc.
ポケットモンスター・ポケモン・Pokémonは任天堂・クリーチャーズ・ゲームフリークの登録商標です。