Tokyo Disney Resort® Celebrates 35th Anniversary With 345-Day Long "Happiest Celebration!" Event
Tokyo Disney Resort is set to hold its biggest festival yet to celebrated its 35th anniversary. 35 Happiest Celebration! will span for 345 days from 15 April 2018 to 25 March 2019!
A promotional video was released in the run up to the event across the park's official social media accounts. A making-of video was also posted on YouTube, showcasing Mickey Mouse and friends having fun creating the video.
The video is a must-see, featuring not only the shooting of the commercial footage, but also scenes like Mickey and Minnie skipping home together hand-in-hand.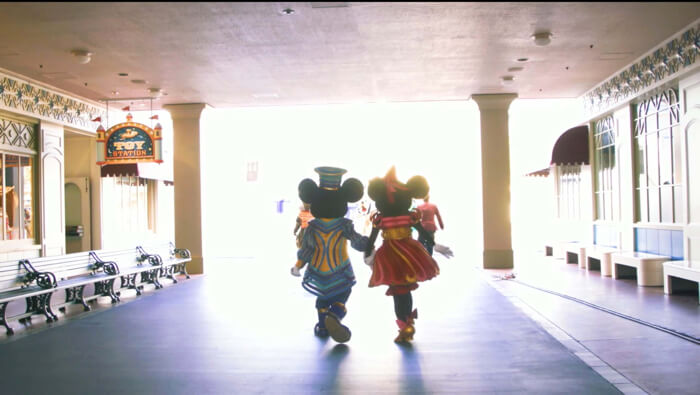 See a rare peek at the park after hours together with the fun video shoot!
RELATED ENTRIES
Dress Up in Tokyo Disneyland's Spooky Outfits and Enjoy Disney Halloween 2019

It's only been a week since Halloween begun at Tokyo Disney Resort, and already guests are loving it. "Ghosts" are in the spotlight this year at Tokyo Disneyland, and they are serving up a spooky and ghostly time this year all the way up to October 31.

Tokyo Disneyland Halloween Gear

Since it's Halloween, and you've made the effort to travel to Tokyo Disneyland, why not dress up too with one of the park's many pieces of Halloween costume items?

Mickey Mouse Ear Hat – ¥2,000

The classic Mickey Mouse ear hat has taken on a Halloween theme for the event, wrapped in ripped bandages and spiderweb.

Poncho – ¥3,900 (Sizes S~LL) *Kid's size is ¥3,300

Mickey has also turned into a white ghost but it doesn't seem too spooky―friendly, actually―as he enjoys his drink and churro for the design of this poncho. It seems like he just wants to get in on the fun too.

Cap – ¥2,800 / Parker – ¥4,900

Transform into a black cat too with one of the many clothing items too, serving a completely different aura to the ear hats.

Spooky Boo! Parade

Once you're all dressed up, it's time to go and watch the Spooky Boo! Parade where the Disney cast and an army of ghosts invite guests into the Halloween festivities. Multiple stories will take place across the parade at once, so no matter which part of the parade you are watching, there'll be plenty to enjoy. The parade takes place twice a day.

Decorations

Be sure to check out the decorations in front of Cinderella's Castle while watching the parade, featuring the Disney cast dressed in their Halloween costumes.

You'll find ghosts hidden all around the park. Be on the lookout and see how many you can spot!

Special Menu

Wipe away your fatigue from walking around the park with one of the many special Halloween items on the menu at restaurants and cafes across Tokyo Disneyland.

Popcorn Soda & Doughnut – ¥600 @ Boiler Room Bites and elsewhere

The scrumptious popcorn coupled with the pumpkin flavoured doughnut make for a delightfully delicious combination. This is sure to whet your appetite right away.

Short Rib Cone – ¥500 @ The Gazebo

The cone is filled with ashed purple sweet potato and, short rib, and cheese sauce. A perfect little bite to walk around and eat while in the park when you're feeling peckish.

Special Set – ¥1,050 @ Sweetheart Cafe

Arriving with a cute Jack Skellington bun is this potato salad and tomato beef-filled burger. When you unwrap the packaging and place the burger on top like in the photo, it looks like Sally is gazing lovingly at Jack♡

Nighttime Decorations

When night falls, Main Street at World Bazaar will light up with projecting mapping and Halloween music will play, creating an exciting Halloween nighttime experience. Fireworks will also launch into the night sky and be Halloween-themed too.

Join the ghosts this year at Tokyo Disneyland for an exciting Halloween Party!

Duffy and Friends' Delightful Autumn Woods Event Takes Place Alongside Disney Halloween at Tokyo DisneySea

Tokyo Disney Resort has finally begun its 2019 Halloween festivities, but there's one more event happening this autumn which is just as worthy your time: Delightful Autumn Woods, themed entirely on Duffy and Friends.

The Cape Code area of the park has already welcomed the harvest season, with Duffy and Friends motifs being spotted throughout, as well as a line-up of exclusive merchandise, themed menu items, and more. We've picked out some of our favourites from the food and merch line-up to show you♡

Must-Buy Special Merchandise

Plush Toy Badges – ¥2,000 Each

Duffy and his pals have dressed up in various cute outfits for these plush toys, from a squirrel costume to an owl cape and more. These characters are adorable already but are even more so dressed in fall clothes!

Plush Toy – ¥2,900

These plush toys can be worn around your arm or used for wrapping up curtains. The straps are velcro and so can fit on both kids and adults arms.

Postcards – ¥450

Send someone important to you a postcard this autumn with one of these cute postcards featuring Duffy and Friends enjoying their time in the red and yellow-leaved woods.

Special Autumn Menu

At Cape Cod Cook-Off, a counter-service restaurant at Tokyo DisneySea, you can get your hands on a special menu line-up for the duration of the event which also comes with souvenirs. Your delicious desserts are served on and in crockery you can take home.

Milk Chocolate & Milk Purin w/ Souvenir Cup – ¥900 @ Cape Cod Cook-Off

This double-layered chocolate mousse and milk pudding is topped with raspberry sauce which gives a sweet punch to the soft pudding. It comes together with a cute Delightful Autumn Woods mug which you can take home as a souvenir.

Purple Sweet Potato Mont Blanc w/ Souvenir Plate @ Cape Cod Cook-Off

Thick with purple sweet potato cream, this mont blanc comes with a cute Duffy and Friends plate. Sweet potato is an autumn flavour so this one's a must-try.

Souvenir Lunch Case – ¥1,200 @ Cape Cod Cook-Off

You can also order a lunch set which comes with its own lunch bag that you can take home. The hamburger is seasoned with burger sauce and topped with cheese. It comes with fries and a drink too.

If you're visiting Tokyo Disney Resort for Disney Halloween 2019, be sure to pop over to Tokyo DisneySea to catch Duffy and Friends too!

Tokyo DisneySea's New Halloween Show is a Thrilling Must-See

Disney Halloween 2019 has finally begun, and this year, Tokyo DisneySea is serving guests a dark and mysterious Halloween experience to keep them on edge. The festivities will run all the way up to October 31.

We visited the park to see Festival of Mystique, an all-new colourful and flamboyant show introduced this year. Here's our report.

The show began with music chiming in at Porto Paradiso in Mediterranean Harbor upon which trickled out lines of costumed friends of the sea. The beautifully dressed ladies at the front then spoke of a Halloween festival that was once held at the port, and their intention to resurrect it.

Out came a merrymaking Mickey mouse and Disney cast aboard a ship, clad in cute outfits the likes of which have never been seen before at the park.

Donald Duck, Goofy, Chip and Dale all got off the boat and headed towards the ladies, almost as if charmed by the allure of their beautiful and bewitching singing voices. This was followed by a sudden whimper by Pluto as he looked on towards Mickey. "Pluto, you've got to be a good boy! We've put a lot of effort into this Halloween," Mickey said to him. When he said this he began to think that something strange was going on with the festival―like something was going to happen…

The singing and dancing ladies went on to teach the onlooking guests a few dance moves to get involved with the show. Everybody danced together with Mickey as the leader.

It wasn't long however before the mood and tone of the music took an uncomfortable turn…

Before we realised it, Mickey had been locked inside a cage! But he was dancing and having fun literally just seconds before―what happened?!

Luckily, Minnie Mouse comes to the rescue to save Mickey and bring the fun Halloween festivity back. She takes the lead and dances with the guests this time.

So what happened to the Disney characters, and what was their fate? We don't want to spoil the ending, so you'll have to see it for yourself this fall!

©️Disney

Duffy and Friends Sweet Dreams Merchandise to be Sold at Tokyo DisneySea

When you think about Duffy and Friends you think cute and fluffy, and that no matter what you just want to jump in and cuddle up to them. Tokyo DisneySea® agrees and so has announced that it will begin selling a range of bedtime merchandise with the theme "Duffy's Sweet Dreams" from October 8.

Plush Toys – ¥4,000 Each

Pyjamas (Women's M/L Sizes) – ¥5,200        Hand Cream Set – ¥2,800

Duffy and Friends look like they are having the most wonderful dreams in this cute collection. The plush toys live up to those fluffy expectations and are waiting to be hugged by you under their warm blankets. There's also pyjamas, hand cream and other items for you to enjoy an equally peaceful sleep this coming autumn.

There are also some items which you can wear when visiting the park or when popping out.

Caps – ¥3,600 Each

Parkers (Women's S/M/L/LL Sizes) – ¥5,400 Each

Mittons – ¥2,000 Each

Shoulder Bags – ¥3,600 Each

Co-ordinate your cut Duffy and Friends fashion with the ear-tipped caps and shoulder bags. Couple that with the mittons and a parker to ensure you stay warm. It would be a lot of fun to dress up with friends too with these items. The time for outings and pleasure trips is about to begin, so take Duffy and Friends along for the ride with you.

©Disney

*Photos are for illustrative purposes only

Tokyo DisneySea's Dark Halloween Festivities For 2019 Begin

Disney Halloween 2019 has finally begun! The Tokyo DisneySea fun is set to run until October 31 where it will provide guests with a dark and mysterious Halloween experience that will keep you on edge… like something's about to happen, but you're not sure what.

Tokyo DisneySea's decor takes on a more grown-up bewitching look compared to Tokyo Disneyland's cute decorations.

Hung throughout the park you will find decorative banners featuring illustrations of Disney characters dressed in their spooky garments. This year, Mickey, Minnie and the rest of the cast invite guests into a truly bewitching wonderland.


If you pop over to American Waterfront you'll find some great photo opportunities, like the Minnie Mouse and Daisy Duck statues waiting to welcome you at the entrance, clad in hauntingly beautiful attire and stood next to night-black pumpkins and dried flowers.


You'll find the rest of the costumed characters further in too. Be sure to get photos with everyone!

Chicken & Vegetable Steamed Bun – ¥600 @ Nautilus Galley / Teriyaki Chicken Rubber Ring Steamed Bun – ¥600 @ Seaside Snacks

Nothing has been left out from the Halloween spell this year, even the food menu and drinks which arrive in festive colours like black and purple like this bandage-wrapped mummy steamed bun and rubber ring steamed bun.

Inside the mummy is a delicious concoction of chicken, cabbage, and other veg.

The rubber ring steamed bun is the perfect snack to munch on as you walk around the park. It's filled with rich teriyaki chicken wrapped in a striking purple dough.

All of the food is packaged in cute packaging too―don't throw it away straight away and check out which illustration you got!

Assorted Sweets – ¥430 @ Gondolier Snacks and elsewhere

Check out these bite-sized confections, from a mini baumkuchen cake on a lollipop stick to strawberry cheesecake and purple sweet potato cream mochi. The chewy mochi Mickey can only be described as kawaii♡

Grape Tapioca Tea – ¥500 @ Mamma Biscotti's Bakery

Sparkling Black Tea Tapioca Drink – ¥450 @ Hudson River Harvest

Tokyo Disneyland's tapioca drinks are really popular in summer, and for Halloween they've arrived with all-new flavours, exclusive to the Disney Halloween event.

There's lots to see and experience at this year's Disney Halloween. Be sure to look everywhere, even in shop windows. And if you're eager to see more of the food and drinks available at both parks then click here.

The Little Mermaid Themed Cafes Set Sail to Tokyo, Osaka, Nagoya & Hokkaido

Ariel is swimming to Japan this September as four branches of OH MY CAFE turn into cafes inspired by The Little Mermaid. The Tokyo and Osaka branches will open on September 21, the Hokkaido branch on September 22, and the Nagoya branch on September 27. The collaboration is being carried out by LEGS COMPANY, LTD.

Disney's The Little Mermaid was released back in 1989 as the 28th Disney animated feature film. It tells the story of the internationally-beloved Disney mermaid princess Ariel and her curiosity about the world above the sea.

The cafe's concept is "independent girl." Each cafe will take on a stylish look and be inspired by Ariel's unwavering heart and her strength to make her dreams come true.

Menu Line-Up

<Ariel> Veggie-Packed Pesto Pasta – ¥1,990

If you're vegetarian, you won't be disappointed with this healthy, vegetable-packed pasta dish. The plate it is served on features an illustration of Ariel swimming elegantly in the ocean.

Seaside Cream Risotto – ¥1,990

Based on sandy beaches is this creamy risotto. If you look closely you'll see one of Ariel's priceless treasures from her endless collection of whose-its, whats-its, and thingamabobs. Sebastian is hiding on the plate too, can you spot him?

<Kiss The Girl> Romantic Fruit Bowl – ¥2,190<Kiss the girll>

This romantic dish speaks for itself. Inspired by the breathtaking boat date between Ariel and Eric, the bowl includes assorted fruit, a cookie with the two lovers on it, and a side of jelly with Flounder cheering them on.

Drinks Line-Up

<Flounder> Stripey Yogurt Drink – ¥1,090 / With Coaster – ¥1,890

Flounder is Ariel's closest friend, so he had to be included on the menu. This cute yogurt-flavoured smoothie takes on the same colours as our stripey fish companion.

<Sebastian> Strawberry Smoothie – ¥890 / With Coaster – ¥1,790

Servant of King Triton and music composer, everybody's favourite Jamaican crab Sebastian gets his very own yogurt smoothie too. Mix the strawberry sauce in well for the best flavour.

Exclusive Original  Merchandise

Acrylic Badge (5 Designs) – ¥800

Lunch Mat (Set of 2) – ¥800

Bag – ¥1,500

Bonus Items

Every person that books a table in advance (¥500) and orders something from the food menu will receive one of 30 possible A5 folders.

Additionally, if they spend over ¥1,000 at the merchandise corner of a cafe, they'll receive the above-pictured The Little Mermaid 30th shopper bag. These are limited in stock and are available on a first-come, first-served basis.

There are lots of other character-themed food and drinks to be enjoyed at the cafes besides these ones too. To see everything, you'll need to visit yourself! Immerse yourself in the magical world of The Little Mermaid with cafe decorations featuring Instagrammable illustrations drawn exclusively for this collaboration.

*All listed prices are pre-tax.

*Photos are for illustrative purposes only. Actual products may differ.

©Disney

Information

"The Little Mermaid" OH MY CAFE

Locations/Dates
・Tokyo: OH MY CAFE TOKYO (Tokyu Plaza Omotesando Harajuku) / September 21, 2019 – November 9, 2019

・Osaka: kawara CAFE&DINING Shinsaibashi / September 21, 2019 – November 10, 2019

・Nagoya: kawara CAFE&KITCHEN Nagoya PARCO / September 27, 2019 – November 10, 2019

・Hokkaido: Cafe Interlude / September 22, 2019 – October 14, 2019

Official Website: https://mermaid.ohmycafe.jp/

Tokyo Disney Resort Unveils Its Spooky Halloween Merchandise and Food Menus

This year's Disney Halloween is set to hit Tokyo Disneyland® and Tokyo DisneySea® on September 10. In the run up to the event, Tokyo Disney Resort released some of the parks' Halloween merchandise early on Monday.

Special Merchandise

Long-Sleeve T-Shirt: Men's ¥3,600 / Women's ¥3,300 (*Men's in picture)

Gloves – ¥1,200 @ Grand Emporium, Tokyo Disneyland

From skeletal hand gloves to ghostly headbands, ghoulish Mickey ears and more, Tokyo Disneyland® has you set for your Halloween dress-up this year.

Headbands & Ear Hats @ Grand Emporium, Tokyo Disneyland & Emporio, Tokyo DisneySea

Grab the cute pumpkin-coloured Minnie headband or cool bandage-wrapped ear hat at both parks and get your scare on.

We recommend picking a full set, such as the skeleton t-shirt with the skele-ghost ear hat, or the bridal costume for a hauntingly beautiful Halloween. Mix and match to make your own spooky looks.

Special Food Menus

Popcorn Soda & Doughnut – ¥600 @ Captain Hook's Galley, Tokyo Disneyland

Forget trick-or-treat candy and order one of the many fun menu items at the parks, including this fizzy caramel popcorn flavoured beverage. The scrumptious popcorn coupled with the pumpkin flavoured doughnut make for a delightfully delicious combination.

Chicken & Vegetable Steamed Bun – ¥600 @ Nautilus Galley, Tokyo DisneySea / Teriyaki Chicken Rubber Ring Steamed Bun – ¥600 @ Seaside Snacks, Tokyo DisneySea

From a bandage-wrapped mummy steamed bun to a purple rubber ring steamed bun with a bat on it, Tokyo DisneySea and Tokyo Disneyland aren't short of Halloween bites this year, all so cute they seem a waste to eat!

Cassis & Passion Fruit Wine Cocktail – ¥680 @ Cafe Portofino, Tokyo DisneySea

Whisky & Orange Cocktail – ¥680 @ Barnacle Bill's, Tokyo DisneySea

Choose from five striking alcoholic drinks including the Cassis & Passion Fruit Wine Cocktail, which has a perfect balance of sweet and sour, and the Whiskey & Orange Cocktail, a mix of whisky, black tea and orange cocktail for an easy-to-knock-back flavour combination.

There is much terrifying excitement to be had this Disney Halloween. Put on your Halloween costume, order some food, and take lots of Instagrammable pictures at night. You won't soon be forgetting your Halloween experience at Tokyo DisneySea or Tokyo Disneyland.

©Disney

*The merchandise and menu items shown are subject to change without notice. Additionally, items are subject to selling out or discontinuation. Photos are for illustrative purposes only.

Tokyo DisneySea Releases Duffy and Friends Autumn Goods and Menu

Tokyo DisneySea® is releasing delightful collection of Autumn-themed Duffy and Friends merchandise, food and drinks from August 28. 

Special Merchandise

To celebrate the onset of autumn, the collection is themed around the woods in autumn where Duffy and Friends come out to play dressed up as different autumn animal friends. Duffy can be seen disguised as a squirrel and Gelatoni has become an owl!

Autumn Plush Toy Costumes: ¥4,800 each *plush toys (small) sold separately 

StellaLou and Shellie May have also come to play in their own cute autumn costumes. There is a total of 40 items in the autumn collection.

Plush Toy Strap: ¥1,700 each

Plush Toy: ¥2,900 each

You can also purchase a strap to attach your toy to your arm and carry around the park. When you get back home, you can use your new toy as a curtain tie. 

Rice Paddle: ¥1,000 

Bowl and Chopsticks Set: ¥3,000 

Multipurpose Cloth: ¥3,800 

With this autumn collection of Duffy-themed goods, your family dinner will become even more fun. The cute Duffy rice paddle is the perfect size to fill your plate quickly with a hearty serving of rice. There is also a bowl and chopsticks set and a multipurpose cloth. The cloth can be used as a tablecloth or even be draped on your sofa or bed. 

Chestnut Paste Filling Marshmallows: ¥600

After decorating your table with the Duffy and Friends Multipurpose Cloth and tableware, these Chestnut Paste Filling Marshmallows are the perfect way to add the finishing touch to your autumn-themed dinner party. 

Special Food and Drinks

There are four new Duffy and Friends-themed menu items that all come with a free souvenir cup. The cup is decorated with a special Duffy and Friends autumn adventure design. 

Milk Chocolate Mousse and Vanilla Pudding (comes with a souvenir cup): ¥900

This dessert served in a cup consists of rich chocolate which is accented with a sweet and tangy mixed berry sauce. The cup features an image of Duffy and Friends playing in the woods among the beautiful autumn leaves. 

Sweet Potato Mont Blanc with Souvenir Plate: ¥900

This purple sweet potato dessert has a sweet and mild flavour. The souvenir plate will definitely increase your satisfaction level. 

Souvenir Lunch Bag: Cape Cod Cook-Off First Prize Set (¥1,200)

Iced Caramel Milk Tea (Comes with Souvenir Travel Mug): ¥1,400

You can choose to enhance your meal with other merchandise or even drinks and food from the menu such as the lunch bag or sweet Iced Caramel Milk Tea. The Iced Caramel Milk Tea comes with a souvenir travel mug.

*The contents of the autumn-themed merchandise collection and food and drinks menu is subject to change at any time without prior notice. These can be sold out at any time. 

*Images displayed may differ to the actual merchandise, food and drinks.

©Disney

Information

 Duffy and Friends Delightful Autumn Woods Collection

Merchandise: McDuck's Department Store

Food and Drinks: Cape Cod Cook-Off

(The Iced Caramel Milk Tea and Souvenir Travel Mug are sold at Cape Cod Confections)

Tokyo Disney Resort Official Website: https://www.tokyodisneyresort.jp/en/index.html

Kaori's Easy Recipe: Learn to Make Mickey Mouse Ice Box Cookies

With just a small bit of ingenuity, turn everyday food into something cute using Kaori's easy recipe! With a few simple ideas, an ordinary recipe magically transforms into a cute dish.

For this edition of Kaori's Easy Recipe, I used a recipe from the Disney dessert cookbook Oishii Disney Sweets Recipes to make cute Mickey Mouse-shaped ice box cookies. Ice box cookies are made by forming the dough into a cylindrical shape, leaving it to set in the fridge, and cutting into slices. This means you can make cookies even if you don't have a specific cookie cutter, for example one in the shape of Mickey. You can create lots of different kinds of cookies using this method. They're light, crunchy and best of all, delicious.

1. Ingredients (Makes: Approx. 30)

100g unsalted butter

80g powdered sugar

180g sieved weak flour

20g egg yolk (1 medium size egg)

A pinch of salt

10g pure cocoa

2. Bring the unsalted butter to room temperature until it's soft. Break into small pieces until it turns creamy then add the powdered sugar and salt. Mix well until everything is blended together.

3. Add the egg yolk into the mixture and mix well with a whisk.

4. Slowly add the sieved flour. Add about a quarter at a time and mix well before adding the rest to avoid clumps. After all the flour is mixed in, divide in half and mix one of the halves with cocoa powder.

5. Shape both halves into a rectangular shape at 12cm x 6cm. Wrap in cling film and refrigerate for 30 minutes.

6. Divide each half like in the picture below.

7. Put ⅞ of the plain dough to one side, and roll the rest of the plain dough and all of the cocoa dough into 15cm rods.

8. Roll the ⅞ of plain dough you put to one side into a 17cm x 15cm square. Referencing the pictures above and below, place plain "C" dough in the middle between the cocoa "B" dough. Ensure there are no gaps when pushing them together.

9. Place the cocoa "A" dough on top of the "C" dough. Take both sides of your rolled out square dough and bring together ensuring there are no gaps. Wrap in cling film and leave in the fridge for 20 minutes.

10. Take out of the fridge and cut about 5mm off the ends. Make sure to handle with care – if handled too roughly the dough will collapse.

11. Slice into single cookies and bake at 160℃ for 20-25 minutes.

Your cookies are done!

Kaori invites you into her world of character-themed food dishes in her recipe series. Be sure to check out her Instagram where she has uploaded many pictures of her character dishes!

There are many other cute Disney recipes available in the book that Kaori used too, so if you're in Japan then why not pick up a copy?

©️Disney

Profile

Kaori Kubota (@kaopan27)
I live in Hokkaido and I love to make character themed foods, desserts and pastries♡

I want to see my family smile, so I enjoy putting in a bit of effort to make character foods and changing food into something cute♡

You can see more of my character foods and character bento boxes on my Instagram page→@kaopan27

Information

Oishii Disney Sweets Recipes (Japanese Title: おいしい ディズニー スイーツ レシピ)

Price: ¥1,200 (Tax Included)

Available: Amazon Japan, Rakuten, and elsewhere

Disney Store Announces Merchandise Collaboration With Sebastian Masuda

The Disney Store has announced its first ever collaboration with artist and art director Sebastian Masuda. Titled "ARTIST COLLECTION by Sebastian Masuda," this merchandise line-up will hit Disney Stores across Japan and on the online shop on August 27.

Masuda's second "ARTIST COLLECTION," this time he is using items from the Toy Story film series that have been sold at the Disney Store and has re-designed them through his unique lens of cute and colourful pop art.

T-Shirt – ¥3,900 (Before Tax)

Makeup Brush Set – ¥1,900 (Before Tax)

The line-up spans from a Lots-o'-Huggin' Bear plush toy to key chains, notebooks, pencil cases, wristwatches, t-shirts and much more.

Waist Bag – ¥4,900 (Before Tax)

Backpack – ¥7,900 (Before Tax)

As well as stationery and fashion items, the collection also includes outdoor products: namely, the waist bag and backpack which not only look gorgeous but are superior when it comes to functionality.

The product designs are created in the same way that Sebastian Masuda makes all of his iconic projects: by using lots of different vivid items and materials.

Don't miss out on this toy box-like Disney Store exclusive line-up filtered through Masuda's colourful world.

©Disney/Pixar
  Mr. Potato Head is a trademark of Hasbro used with permission. ©Hasbro. All Rights Reserved.
  ©POOF-Slinky, LLC

Tokyo Disney Resort Reveals Its Spooky Halloween Programme and Character Costumes

Get ready for some spooky fun as Tokyo Disney Resort® transforms for the 52-day-long horrifically exciting Disney Halloween from September 10 to October 31. Head to DisneySea to be captivated by the new harbor show Festival of Mystique, or get spooked out of your skin at the Spooky "Boo!" Parade at Disneyland. Today, we will be revealing the spooky looks of both parks.

Tokyo DisneySea Festival of Mystique Costumes

Working with the main theme of a medieval European halloween, inspiration has been taken from the living creatures and waves at the port town Porto Paradiso. 

Mickey Mouse's costume inspiration comes from the the bones and scaly body of a sea creature. He will also be seen wearing a broach decorated with beautiful jewels. 

Minnie Mouse's costume resembles that of a medieval princess. You will see her in a fancy hat that bears beautiful pearls. Her costume is covered in scales on the chest and on the back which really suits her.

Tokyo Disneyland's Spooky Boo! Parade Costumes

Disney friends have joined forces with a group of spooky spirits. You just can't miss out on this rare chance to see your favourite Disney characters disguised as ghosts and skeletons. The strange and unusual atmosphere is sure to send a chilling shiver down your spine. 

Mickey and Minnie will be completely refreshing their colourful look. Mickey's necktie and Minnie's skirt are very mysterious and particularly intriguing.  Please come check them out!

Enjoy the beautiful costumes and the fun range of events this Halloween at Tokyo Disney Resort.

©️Disney

New Must-Grab Disney Merchandise Features Mickey Mouse, Marvel & Star Wars

Japan's consumption tax is set to increase on October 1 from 8% to 10%. If you're looking to bulk buy or grab up must-have items from Japan then now is the perfect time before the percentage goes up!

Today we will take a look some of Disney's premium pieces of merchandise which are must-grabs before the tax increase.

Disney Senryobako – ¥ 2,982,650 (Tax Included) *Rate subject to change

A senryobako, or "thousand gold coin box," is a box that was used during the Edo period to store koban, the former Japanese oval coin. This box features a Mickey and Minnie Mouse design that reads "Forever together" at the top. It also includes a set of 50 koban featuring Mickey and Minnie designs on them. This is a super special and premium gift item!

Available At: GINZA TANAKA

Mickey 90th Anniversary Design Signature Pot (18cm) – ¥30,000 (Before Tax) *Comes in 11 colours

This pot is being released in celebration of 90 years since Mickey's screen debut. The pot lid features the iconic outline of Mickey Mouse. It's also delivered in limited-edition packaging.

Available At: Le Creuset

Movie Masterpiece DIECAST: Avengers 1/6 Scale Iron Man Mark 7 Figure – ¥58,800 (Tax Included) 

This highly detailed figure looks like Iron Man jumped right out of the movie theatre screen. Several different models and pieces are on sale too for each movie the superhero features in the Marvel Universe. Collect them all to create a whole range of poses.

Available At: Hot Toys

ROYAL SELANGOR Star Wars Vehicles "X-Wing" – ¥37,800 (Tax Included)

ROYAL SELANGOR Star Wars Figurine "Darth Vader" – ¥54,000 (Tax Included)

Malaysian-based company Royal Selangor is the largest pewter manufacturer and retailer in the world. Their new X-Wing and Darth Vader models elicit that vintage space opera vibe.

Available At: Royal Selangor

Each and every one of these items is a luxury Disney product. If you're a collector or are looking to buy a present for a fan then now's the best time to grab any of these premium products!

©Disney © 2019 MARVEL © &TM Lucasfilm Ltd.