MMN Festival 2018: Laforet Harajuku — Natsume Mito's Self-Produced Picture Book Themed Fashion Show With Guest Models
MOSHI MOSHI NIPPON FESTIVAL 2018 in SHIBUYA will take place in Harajuku and Shibuya on Saturday March 24th and Sunday March 25th. Model and artist Natsume Mito has produced her very own show titled Tobidase! Picture Book Show ~Storytime With Natsume Mito~  that she's set to showcase at  Laforet Museum Harajuku on March 24th.
This marks the first fashion show Natsume Mito has produced and will be based on a book she has chosen: Bulldog Tantei to Kieta Hoshi by Tomonori Taniguchi (BUNKEIDO Co., LTD.)
The story is as follows. The stars have disappeared from the sky. During this time, a letter arrives for the bulldog detective requesting he search for the lost stars. He accepts and heads out to find them. He's able to locate them, but why did they disappear, and who sent the letter…? This exciting story is full of heart and can be enjoyed by kids and adults alike.

In an entirely experiment, the world of the book will be brought to life through fashion! Natsume Mito will read the book aloud and models will take to the stage to thrill the audience. The line-up features a string of fantastic models representing the aomoji-kei fashion culture: Yuri Suganuma, Ema Tanioku, Eri Tanioku, Aino Kuribayashi, Chie Tsuji, Abe Akari, Saki Shibata, Rinko Murata, Manaka Arai, Alice Ikeda, Una, Anna Kawamura, and more.
Everything from the picture book to the model selection, casting and even the stage performance itself including the walking and lighting was thought up by Natsume Mito herself.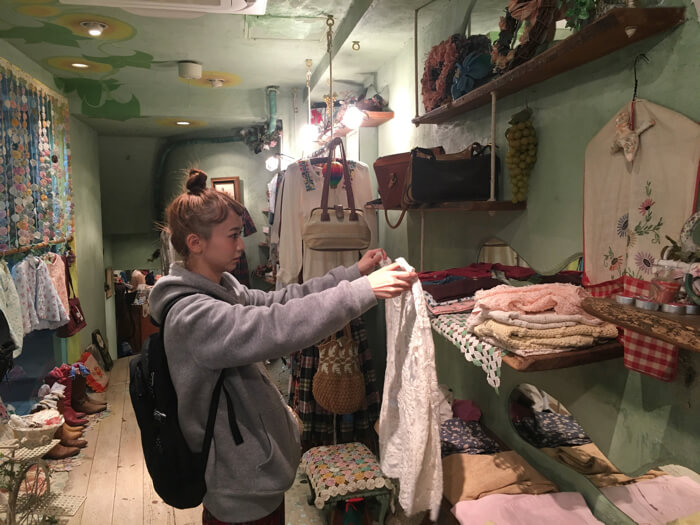 The outfit styling has also been entirely done by Natsume Mito. She dropped by some of her favourite second-hand clothing stores to pick out clothes which she made into outfits for each model while thinking about the role casting and story of the picture book. She even remade some outfits herself to fit the image of the show!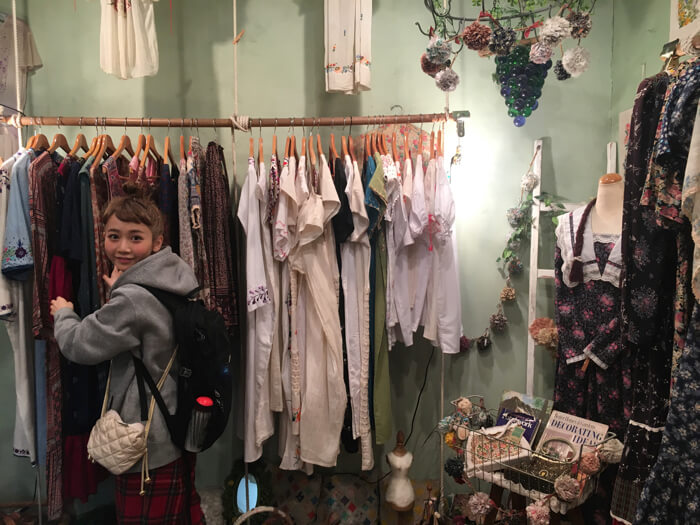 Finally, here's a message to everyone from Natsume Mito:
I love picture books and I love fashion too so I and thought it'd be fun to create a fashion show that combined those two worlds, so I decided to create a picture book fashion show. The art in this book is cute and the story is really moving. I wanted to do a show that presented a sparkly world, so I chose this book.
I did things like coordinate clothes, and I was super excited when thinking up the performance! This is my first time trying this, so there are still parts that I can't imagine how they'll turn out, but I'll work my hardest so that everybody who comes to watch will have smiles on their faces and get sucked into the world of the book. I want to create a stage performance so that people can come to be interested in picture books.
I'm also thinking up content that everybody can enjoy, so please be sure to come by! I'm also posting videos of the show being prepared on Instagram stories, so please check if out if you'd like.
Todibase! Picture Book Show ~Storytime With Natsume Mito~ will begin at 13:40 on Saturday March 24th at Laforet Museum Harajuku. Don't miss Natsume Mito's first challenge!
■Information
Todibase! Picture Book Show ~Storytime With Natsume Mito~
Location: Laforet Museum Harajuku
Date: Saturday March 24, 2018
Time: 13:40 START (subject to change)
*Please note that admission may be restricted in case of overcrowding.
MOSHI MOSHI NIPPON FESTIVAL 2018 in SHIBUYA
Locations: SHIBUYA CAST. / Tower Records Shibuya / Laforet Museum Harajuku / Onden Shrine
Dates: Saturday 24 March – Sunday 25 March
Time: 11:00-21:00 *Times differ at each area
Official Event Website: https://fes18.moshimoshi-nippon.jp/ja/
Free Pre-Registration: http://mmnf2018.peatix.com
RELATED ENTRIES
Experience Shibuya Online With Airbnb and PLAY! DIVERSITY SHIBUYA's Special Website

PLAY! DIVERSITY SHIBUYA and Airbnb launched a new website on July 2 which lets people experience Shibuya tourism and all things Shibuya online.

The online project comes in response to the economic slump that Shibuya has faced as a result of COVID-19 which has meant less tourism. The website will feature a host of unique content that captures the essence of the Shibuya experience.

The first entry to the website will see KABA taking users on a virtual walk through the city of Shibuya. KABA, an activist for the LGBTQ community in Japan, was appointed as an official Tourism Ambassador of Shibuya this year. As well as this, the energetic Akkun, another Shibuya Tourist Ambassador and influencer amongst Shibuya's youth, will also be hosting a "Shibuya Sake School." There is much more content to enjoy right now too, and the website is set to expand even more.

Other features include the "WANDER COMPASS" which lets users learn about Shibuya's history and visit local spots through a virtual tour, and Shibuya TSUTAYA O-EAST's own DJ Bar "AZUMAYA" is showcasing how to make Japanese cocktails using various Japanese ingredients and spices.

Visit Shibuya from the comfort of your own home using Airbnb and PLAY! DIVERSITY SHIBUYA's special new website.

New York Ramen Bar Kuro-Obi to Open First Japanese Branch in Shibuya

New York-based ramen bar Kuro-Obi has announced that it's opening it first Japanese branch in the food hall of Shibuya's new shopping centre RAYARD MIYASHITA PARK on August 4, 2020.

Kuro-Obi was established in New York back in 2014. To date, it has opened 6 branches across the US as well as one branch in Singapore. It specialises in "tori paitan", a silky chicken-base broth. The new Japanese ramen bar will serve many different tori paitan ramen dishes takeout style, which is common in the US. All ramen served here is served in paper cups rather than bowls, so it can be eaten both in the food hall or taken away.


Added to the rich soup broth and noodles is moist chicken char siu, soft-boiled egg, negi spring onion, and fried onion chips. The black pepper used adds a kick to the overall flavour. Thick noodles are also used.

"Ramen is Freedom" is the theme of Kuro-Obi's brand in Japan, with which they aim to challenge the new possibilities of ramen.

Information

Kuro-Obi MIYASHITA PARK
Grand Opening: August 4, 2020
Address: MIYASHITA PARK South 3F FOOD HALL, 6-20-10 Jingumae, Shibuya, Tokyo

Opening Hours: 11:00-23:00 (Last Orders 22:30)

Official Website: https://kuroobi-ramen.com/

Universal Studios Japan's 'We are One' Summer Festival Begins This July

Universal Studios Japan (USJ) reopened on June 19, 2020 after temporary closure as a result of COVID-19. The park is now running with strict measures in place to prevent the spread of the novel coronavirus, including practicing the 2m social distancing rule, making it mandatory to wear face masks, and so on. The park has posted a full video demonstration of the rules on their official website.

That means summertime is set to shine on USJ once again this year. The new 'Universal Summer Parade: We are One' event will begin on July 23 as the first parade held by the park since its reopening. Guests will be able to enjoy a fun and exciting summer at USJ with all the necessary precautions in place to ensure their safety.

Many familiar faces will gather at USJ to celebrate summer with guests, including the Minions, Elmo, Snoopy, Hello Kitty, and more. Each of them will board colourful floats for the parade during the parade, which will open with the fittingly-titled "Opening Float" followed by a flurry of unique floats like the flashy "Latin Float," cute European-inspired "Europe Float," the mysterious "Indian Float," and the finale "America Float," amongst many others. There will be music to entertain guests for laughs, smiles, and fun energy while characters and entertainers ride the floats and serve summertime vibes.

The peak moment of the parade will be when confetti rains down on guests in huge quantities. Flags can also be bought for the parade for the first time in this year. Performers and the park characters will be able to entertain guests at a distance while still connecting with them through the fun performances. A special "social distance" performance created in cooperation with the Osaka Prefectural Board of Education will also be part of the parade. This year's parade plans to have guests dancing and smiling even more than previous years to lift some of that stress away and give them the fight and energy to continue into tomorrow.

Universal Summer Parade: We Are One

Put your hands into the air as the sun beats down and the floats arrive to a lively rhythm. 'We are One' is the catchphrase, so get your boogie on and explode with excitement together with the entertainers and park characters for a heated summer parade!

Running: July 23, 2020 – August 27, 2020

Location: Parade Route

Time: One per day from 11:00am (approx 40 mins) 

Buy yourself a parade flag for ¥500 and wave it around to the beat of the festival!

Cool yourself off with some summer merch

Get your hands on some merch for cooling off, including the must-have summer "Handy Fan," a "UV Poncho" which keeps you cool in the heat of the sun, a classic "Sensu" folding fan, and more.

Feel the Japanese festivities with the Universal Market

The Universal Market will give that Japanese 'matsuri' festival vibe. Enjoy some cool desserts, spicy food, and more.

Left: Super Hot! Turkey Leg ¥1,000 / Centre: Peach Jelly Soda: ¥650 / Right: Frappe Sundae ~Strawberry & Blue Hawaii~ ¥750

Since guest safety is the number one priority this summer, the park will not be holding its famous splash performance where guests are soaked with water by water shooters.

Additionally, the parade will also not stop in any of the usual designated places and will instead keep on moving, meaning the parade can be enjoyed from anywhere along the parade route. Guests will be able to keep plenty of distance from others as they watch the parade.

The park also released a statement on its 'enhanced sanitation in park operations' on its official website so you can find out more about what USJ is doing to tackle the COVID-19 spread.

If you're in Osaka this year, you can still enjoy summer at Universal Studios Japan with all the necessary precautions in place.

Cute Bear Pancakes Whipped Up at IMADA KITCHEN in Tokyo's SHIBUYA109

IMADA KITCHEN in SHIBUYA109 has teamed up with Hattendo Cafe to co-create the new "Torokeru Kuma-san Pancakes" (Melty Mr. Beat Pancakes) which will be served from July 1, 2020 to August 30, 2020.

IMADA KITCHEN is a food project that aims to create original food in Shibuya. Together with Hattendo, a Hiroshima brand known for its incredible cream pastries, they have created a super cute bear design pancake. Bear designs are popular with young girls in Japan.

Torokeru Kuma-san Pancake: ¥450 (Before Tax)

The fluffy pancakes are filled with melt-in-the-mouth, handmade custard cream, meaning a single bite lets you enjoy both the moist texture of the pancake and the melty drizzle of the custard cream. Your mouth is instantly filled with flavours of maple syrup and egg, which when combined with the accompanying berries makes for a sweet amalgamation of deliciousness.

Torokeru Koro Tama Kuma Sandwich: ¥450 (Before Tax)

Normally, you would have to go to Hiroshima to try Hattendo Cafe's "Torokeru Koro Tama Kuma Sandwich," but now it will be available to try at IMADA KITCHEN. Made with the cafe's "cream bread," this moist sandwich is filled with egg salad, korokke, and cabbage for a hearty meal.

See KAWAII MONSTER CAFE HARAJUKU's New MONSTER X Girls

KAWAII MONSTER CAFE HARAJUKU has announced MONSTER X, a new roster of characters who are like sisters to the cafe's MONSTER GIRLS and are personifications of popular areas in the cafe: Mushroom Disco, Bar Experiment, and the Mel-Tea Room.

The theme and decor of KAWAII MONSTER CAFE HARAJUKU imagines customers inside the belly of a monster. But this is no ordinary digestion, as customers are pulled into a crazy and vivid world of colours. The cafe is split into various areas where you'll find the new MONSTER X girls: the colourful mushroom forest Mushroom Disco welcomes MUSH, the bewitching jellyfish Bar Experiment says hello to JELLY, and the candy-filled Mel-Tea Room beckons MELTY. Let's take a look at who these MONSTER X girls are.

MUSH

MUSH's theme is "Cheer." Her dress and hairstyle is fitted with lots of round mushrooms. She's here to cheer everybody up with the power of her vivid, Harajuku-esque colours.

Area: Mushroom Disco

Mushroom Disco is a giant forest of colourful, poisonous mushrooms and plants from outer space.

JELLY

JELLY's theme is "Deep." Her dress and hairstyle personifies the bar which take son the image of a luminous deep sea jellyfish. Her glittery cool beauty will captivate all who see her.

Area: Bar Experiment

An enormously bright, glistening jellyfish has wrapped itself around this bar which also couples as a laboratory where people can experiment with different drinks.

MELTY

MELTY's theme is "Sugary." Her name speaks for her droopy dress and hairstyle which looks like it's melting. She will heal all with her sweet and overwhelming aura.


Area: Mel-Tea Room

Follow the ants along the sugar trail and you'll find the tea party room adorned with ice cream, chocolate, and macarons.

Fashion x Entertainment x Virus Precautions

KAWAII MONSTER CAFE HARAJUKU will continue to entertain customers while taking all the necessary COVID-19 precautions. The staff will coordinate masks to their outfits fitting of the KAWAII MONSTER CAFE while still paying respect to the spirit of Harajuku's fashion style which encourages people to enjoy fashion however they like. When you look back at the history of Harajuku's street fashion, decorative masks and gas masks have always been around, so it will be business as usual at the KAWAII MONSTER CAFE.

Jokin Dance (Bacteria Elimination Dance)

Before your meal at the KAWAII MONSTER CAFE, the MONSTER GIRLS will pay a visit to your table and invite you to join in doing the Jokin Dance (Bacteria Elimination Dance). KAWAII MONSTER CAFE HARAJUKU is an entertainment restaurant, and so it can make even taking precautions against something like COVID-19 a fun time.

Yuri!!! on ICE x Sanrio Characters Come Together at a Themed Cafe in Tokyo

LEGS COMPANY has revealed that it is opening a Yuri!!! on ICE and Sanrio fusion themed cafe called "Yuri on Ice x Sanrio Characters Cafe 2020" in Shibuya, Tokyo for a limited time from August 6, 2020.

Yuri!!! on ICE is a sports anime series centred on figure skating. It was produced by MAPPA and directed and written by Sayo Yamamoto together with Mitsurō Kubo. The series received rave reviews from anime watchers and the figure skating community.

LEGS COMPANY brought this collaborative cafe to Tokyo and Osaka once before back in September and October of 2017. The collaboration is set to return this summer, with this year's theme centred on an ice cream stand. The menu is made up of themed dishes, drinks, and desserts. Let's take a look at just some of the items on offer.

A Select Look at the Menu

Food


Utopia Akatsuki Simmered Cutlet Plate: ¥1,599

A Yuri!!! on ICE classic, this katsudon dish is served in a separated style.

Borscht Plate: ¥1,599

Borscht is a Russian dish that appears in the show, and in this plate it's served as a main. Enjoy together with the sour cream.

Paella Plate: ¥1,599

A Spanish dish that appears at the end of the show, served with fish, sauce, and a side of gazpacho cold soup.

Desserts


Pancake & Ice Cream Plate: ¥1,399

Enjoy a mix of sweet and sour flavours with a fruit and whipped cream-topped pancake and ice cream. You get to pick your favourite character for your ice cream.

Tiramisu & Ice Cream Plate: ¥1,399

You can choose your favourite character with the bittersweet tiramisu too.

Drinks


Soda Float: ¥989 (Bottom Left: Strawberry / Middle: Melon / Right: Blue / Top Left: Cola / Top Right: Coffee)

Stickers (14 Designs): ¥400


Mini Towels (3 Designs): ¥850 Each

Fans can get their hands on exclusive merchandise too which is also available online in Japan.

Fans (4 Designs) *For those who book a table in advance only


Coasters (7 Designs) *For those who order a drink only

The cafe will also offer free merchandise too, including fans for those who book a table in advance, coasters for those who order a drink, and more.

©はせつ町民会/ユーリ!!! on ICE 製作委員会
©1976,1989,1992,1993,1996,1998,2020 SANRIO CO.,LTD. APPROVAL NO.610406

Information

Yuri on Ice x Sanrio Characters Cafe 2020
Running: August 6, 2020 – September 22, 2020
Location: SHIBUYA BOX cafe&space (Shibuya LOFT 2F, 21-1 Udagawacho, Shibuya, Tokyo)

Reservations: Now Open
Reservation Price: ¥650 (*4 seats per reservation)

Yuri on Ice x Sanrio Characters Cafe 2020 Official Website:
https://yuri-sanrio-characters-cafe.jp/

Kyary Pamyu Pamyu Steps Up As Harajuku's Beauty Square Ambassador

On June 18, WITH HARAJUKU, a shopping complex located in front of Harajuku Station, opened its Shiseido beauty facility "Beauty Square" on the first floor. To strike a chord with beauty-loving millennials across the country, Kyary Pamyu Pamyu has been appointed as the shop's ambassador. With "beauty diversity" as its main theme, Shiseido's top hair and makeup artist Tadashi Harada is also getting involved by launching a variety of beauty projects.

Harajuku Shiseido Beauty Square Ambassador Video:



Before the facility celebrated its grand opening, Kyary Pamyu Pamyu stepped through its doors, visiting the makeup counter and enjoying the fun interactive features such as the large LED screen located in the centre which displays endless videos.

The concept of Beauty Square is to become an interactive space to discover beauty, have fun, and share your experiences. Along with the sale of cosmetics, customers can enjoy digital interactive experiences to connect with the world of beauty or treat themselves to a makeover at the hair and makeup salon, which will glamour up your look in the bat of an eye.

From transforming your look to digital interaction, this is the perfect day out for fashion-lovers from all over the world.

Information

Beauty Square (Shiseido Beauty Square)
Open: June 18, 2020
Address: 1-14-30, Jingumae, Shibuya, Tokyo
Phone Number: 03-5413-7717 (Main Number)
Business Hours: 11:00 – 20:00 *Current business hours: 11:00 – 19:00
No Fixed Holidays

Official Website: https://beautysquare.tokyo/?rt_pr=trg20

Beauty Square: Discover Your Inner Beauty at Harajuku's New Beauty Salon

Shiseido is set to open its new beauty salon Beauty Square inside WITH HARAJUKU on June 18, 2020. WITH HARAJUKU is a shopping centre located in front of Harajuku Station in Tokyo.

Beauty Square's concept aims to have people discovering their beauty, having fun, sharing experiences, and learning the latest in the scene. Visitors will be able to purchase cosmetics and makeup products, participate in interactive digital content, experience the salon where hair and makeup artists will beauty up customers, and more. Focused on younger customers, Beauty Square is a place to find your inner beauty, and what better place to do it than in Harajuku—Tokyo's hub for youth fashion, beauty, and culture?

Beauty Square is split into 4 separate zones: the Go-Live Zone, Brand Zone, Installation Zone, and Salon Zone. Let's take a look at each in detail.

Go-Live Zone

In this area, the real world and digital world collide: enormous LED screens and signs fill the area where a variety of content will be broadcast, like hair and makeup tips from the Salon Zone artists. Influencers will visit the Go-Live Zone everyday and stream live.

Brand Zone

Brand Zone is the shopping area of Beauty Square featuring a lineup of numerous Shiseido group brands, like Laura Mercier, SHISEIDO, SHISEIDO PROFESSIONAL, Dolce & Gabbana Beauty, NARS, bareMinerals, IPSA, Cle de Peau Beaute, THE GINZA, and more. The Brand Zone also offers a one-on-one counselling service carried out by beauty consultants.

Installation Zone

This is the entertainment space filled with immersive artistic content like towering LED screens, kinetic lights that move up and down, moving lights, as well a tie-up with the 3D avatar social media app ZEPETO for customers to interact with, and more. Events and pop-up shops will also open in this area.

Salon Zone

Makeup artists who honed their skills and craft at the hair and makeup academy and studio SABFA will be customers' one-on-on producers, carrying out personal hair and makeup styling. Talks will also be held.

The restaurant and lounge SHISEIDO PARLOUR THE HARAJUKU opened up on the 8th floor on June 16, 2020, where people from around the world can enjoy the traditional taste of SHISEIDO PARLOUR.

Japanese international superstar Kyary Pamyu Pamyu has also been appointed the ambassador f Beauty Square. She will be promoting beauty in various forms throughout the year with the theme "Beauty Diversity."

Information

Beauty Square
Grand Opening: June 18, 2020

Address: WITH HARAJUKU Floor 1F, 1-14-30 Jingumae, Shibuya, Tokyo

Opening Hours: 11:00-20:00

No Fixed Holidays
TEL: 03-5413-7717

Official Website: https://beautysquare.tokyo/

*Website available in English, Japanese, and Chinese

IKEA Shibuya Grand Opening Announced For Winter 2020

Having opened Tokyo's first IKEA branch in Harajuku earlier this month, IKEA Japan has announced that their next branch, IKEA Shibuya, will open in winter 2020.

IKEA Shibuya will be just a 5-minute walk from Shibuya Station via the JR Line exit will span 7 floors. It will look out onto both Shibuya Center-Gai shopping street and Inokashira-Dori which is just a short stroll from the famous Shibuya Scramble Crossing, making it super easy to get to.

President and Chief Sustainability Officer of IKEA Japan, Helen Von Rice, expressed her enthusiasm for the upcoming launch of the new store. "We're looking forward to getting to meet even more of you in Tokyo," she said. "Shibuya is the hub of Tokyo's development; a place where the future is created. I am overjoyed that we get to become a part of that." (*Comments translated from Japanese by MMN) 

In February of this year, IKEA Japan opened "IKEA for Business," the first-ever planning space for corporate business owners which will provide solutions for various types of businesses.

IKEA Shibuya will be recruiting for 170 jobs in the run up to its opening which will begin rolling out on June 18, 2020. The recruitment page can be found below.

Seiko Watches to Open 2 New Stores in WITH HARAJUKU

Seiko Watch Corporation has announced that it's opening two new shops simultaneously inside WITH HARAJUKU in Tokyo's hub for fashion and culture Harajuku on June 17, 2020: Seiko Boutique WITH HARAJUKU and Seiko Prospex Boutique WITH HARAJUKU.

Seiko launched its "Seiko Boutique" chain of stores in 2004 which are situated in major cities around the world and offer the full experience of the Seiko brand. It currently has around 80 branches worldwide. Seiko also opened its newest "Seiko Prospex Boutique" branch in Ginza last year, making it the third branch in the world.

At Seiko Boutique, customers can enjoy looking through the brand's many watch varieties, such as Grand Seiko which offers leading watch functionality and a sophisticated design, Seiko Astron which hails as the first GPS solar watch, the popular casual Seiko 5 Sports watches, and more.

From Left: SNE537PC / SNE533PC / SNE535PC

From Left: SRPD35KC / SRPD31KC / SRPD33KC

To commemorate the opening of the two new shops in WITH HARAJUKU, Seiko will sell a limited 10 number of watches each from 6 models that are currently unavailable in Japan.

Information

Seiko Boutique WITH HARAJUKU / Seiko Prospex Boutique WITH HARAJUKU
Grand Opening: June 17, 2020

Address: WITH HARAJUKU 1F, 1-14-30 Jingumae, Shibuya, Tokyo

Opening Hours: 11:00-20:00 (Until 19:00 on June 17)

No Fixed Holidays
TEL: 03-6271-5061

Official Website: https://www.seikowatches.com/jp-ja

KAWAII MONSTER CAFE HARAJUKU Re-Opens Just As Colourful As Ever

KAWAII MONSTER CAFE HARAJUKU finally reopened with reduced hours on June 13 after its temporary closure as a result of the novel coronavirus (COVID-19) outbreak. For the first time ever, the colourful cafe and restaurant will be offering takeout options, as well as opening its secret room where one group of people per day, if it's someone's birthday, can enjoy a birthday meal plan.

Harajuku Kawaii Birthday Party Set

The birthday set is available to order for takeout or delivery. The jaw-dropping line-up includes one of three main courses, such as the fat and juicy "MANGA MEAT," a vibrant chopped jelly salad, sliders with colourful buns, and more. For dessert, there's enjoy the symbol of the KAWAII MONSTER CAFE: the "Colourful Poison Cake (Chemical)" which can be customised to come with a birthday message. Order for takeout, delivery, or even enjoy it at the KAWAII MONSTER CAFE.

Harajuku KAWAII Birthday Party Set (Serves 3-4): ¥12,000 (Before Tax)

Chopped Jelly Salad

Served in a cup, this root vegetable salad is dressed with a ginger Caesar dressing.

Colourful Pop Slider

Colourful buns (Red, Blue, Yellow Green) topped with multifarious ingredients.
Red: Smoked Salmon & Cream Cheese Slider
Yellow: Egg Salad Sandwich-Style Slider
Green: Lemon Dressed Tomato, Cucumber & Avocado Vegetable Slider
Blue: Roast Beef & Marble Cheese Slider

Apple Pie Sweets Pizza

This dessert pizza is topped with cheese, sliced apple, and jam and sprinkled with cinnamon before being baked. It's finished with honey and cream cheese.

Party Monster (Hors d'oeuvre)

A monster volume of finger food including onion rings, chicken nuggets, fried potatoes, and popcorn shrimp.

Choose Your Main

or MANGA MEAT

Mozerella cheese and minced meat wrapped in pork belly, lathered in teriyaki sauce, and served on the bone. The kind of meat you drool at in manga and cartoons!

or MEAT MEAT MEAT

A popular main at the KAWAII MONSTER CAFE with beef, pork, and chicken combined with vegetables and wrapped up.

or Roast Chicken (1 Whole Chicken)

The chicken is stuffed with colourful tomatoes, mozzarella cheese, and potatoes before being baked in the oven.

Colourful Birthday Cake (Chemical)

An original sponge cake created by the KAWAII MONSTER CAFE filled with strawberries and chocolate chips and lathered in multicoloured bites of cheese cream. You can add a message on the cake for free too.

Harajuku KAWAII Home Party Set (Takeout/Delivery Only)

This home party set will take the world of KAWAII MONSTER CAFE into your very own home.

Harajuku KAWAII Home Party Set (Serves 3-4): ¥10,000 (Before Tax)

Chopped Jelly Salad

Colourful Pop Sliders

Apple Pie Sweets Pizza

Party Monster (Hors d'oeuvre)

MEAT MEAT MEAT (Teriyaki Sauce or Basil Sauce)

*For an extra ¥1,080, you can add the Roast Chicken (1 Whole Chicken) or MANGA MEAT

The set also comes with 4 plates, chopsticks, hand wipes, a box of issues, and 4 balloons. You can also check out a video of one of the cafe's Monster Girls how to make some cute balloon art at home.

Other Takeout Options

As well as sets, the KAWAII MONSTER CAFE has plenty of individual menu items you can order for takeout too. Let's take a look.

MONSTER Box Sandwich: ¥3,500 (Smoked Salmon & Teriyaki Chicken/Tuna Mayo & Potato Salad/Ham & Cheese With Fresh Lettuce)

This box of sandwiches is nothing short of colourful, packed full of tasty healthy ingredients.

Colourful Poison Cake Chemical Whole Size: ¥4,000 (Before Tax)

Party Party Monster: ¥3,000 (Before Tax)

MANGA MEAT (60g): ¥4,000 (Before Tax)

Colourful Pop Sliders: ¥2,500 (Before Tax)

Pink Cat Room: Children's Birthday Plan in the Secret Room

The secret Pink Cat Room is loved by customers of KAWAII MONSTER CAFE, both Japanese and foreign. They are now offering a children's birthday plan for one group per day.

Children's Birthday Plan: Adults ¥4,000 / Kids ¥2,000 (Before Tax)

Cold Dish: Duck Carpaccio
Appetiser: Smoked Salmon Carpaccio
Fried Dish: Fried Assortment (Fries/Nuggets/Onion Rings/Popcorn Shrimp)
Hot Dish: Colourful Mini Pop Burger
Pasta: Colourful Rainbow Pasta
Dessert: Colourful Poison Cake Birthday Style
*Reservation only

Information

KAWAII MONSTER CAFE HARAJUKU
Address: YM Square Bldg. 4F, 4-31-10 Jingumae, Shibuya, Tokyo

Opening Hours: 11:30-19:00

No Fixed Holidays
Access: 5-minutes on foot Harajuku Station via JR / 1-minutes on foot from Meiji-Jigumae Station via Chiyoda Line and Fukutoshin Line

Official Website: https://kawaiimonster.jp/

Studio Ghibli American Casual Clothing Brand GBL to Open First Store in Shibuya

Japanese company Benelic is set to open the first permanent store for GBL, an online clothing company whose stock features designs from Studio Ghibli's animated film features. The store will open inside MIYASHITA PARK, a new shopping centre opening in Shibuya this summer.

About GBL

GBL aims to capture those special feelings of magic and wonder we have all felt watching a Studio Ghibli film. Each clothing item in GBL's collection is woven with love and enthusiasm for the internationally beloved animations.

The First Stop: Shibuya


GBL was launched in 2017, and since then has sold its stock via its website and at pop-up shops. Shibuya will be the place that GBL opens its first physical store, which is designed like a garage filled with fun and exciting products.

New 2020 Design T-Shirts

Shibuya is known the world over as the hub of street trends, making it the perfect location for GBL's line-up of attire which combines Studio Ghibli and an "American casual" style.

Fans of Studio Ghibli won't want to miss out on a trip to Shibuya when they visit Tokyo to enter GBL.