MMN Festival 2018: Laforet Harajuku — Natsume Mito's Self-Produced Picture Book Themed Fashion Show With Guest Models
MOSHI MOSHI NIPPON FESTIVAL 2018 in SHIBUYA will take place in Harajuku and Shibuya on Saturday March 24th and Sunday March 25th. Model and artist Natsume Mito has produced her very own show titled Tobidase! Picture Book Show ~Storytime With Natsume Mito~  that she's set to showcase at  Laforet Museum Harajuku on March 24th.
This marks the first fashion show Natsume Mito has produced and will be based on a book she has chosen: Bulldog Tantei to Kieta Hoshi by Tomonori Taniguchi (BUNKEIDO Co., LTD.)
The story is as follows. The stars have disappeared from the sky. During this time, a letter arrives for the bulldog detective requesting he search for the lost stars. He accepts and heads out to find them. He's able to locate them, but why did they disappear, and who sent the letter…? This exciting story is full of heart and can be enjoyed by kids and adults alike.

In an entirely experiment, the world of the book will be brought to life through fashion! Natsume Mito will read the book aloud and models will take to the stage to thrill the audience. The line-up features a string of fantastic models representing the aomoji-kei fashion culture: Yuri Suganuma, Ema Tanioku, Eri Tanioku, Aino Kuribayashi, Chie Tsuji, Abe Akari, Saki Shibata, Rinko Murata, Manaka Arai, Alice Ikeda, Una, Anna Kawamura, and more.
Everything from the picture book to the model selection, casting and even the stage performance itself including the walking and lighting was thought up by Natsume Mito herself.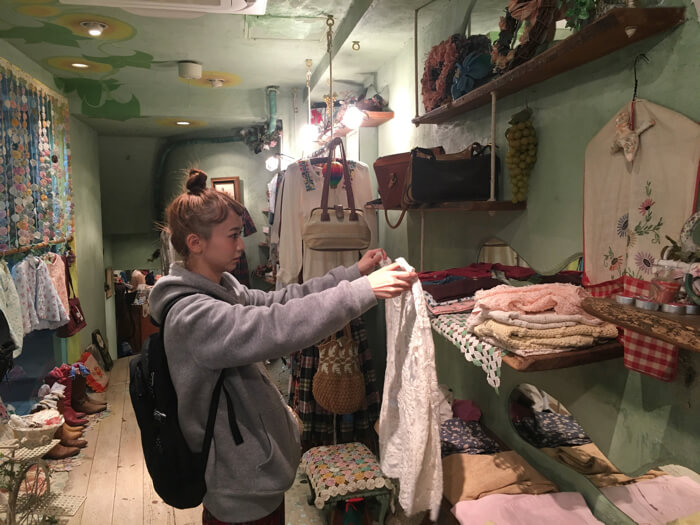 The outfit styling has also been entirely done by Natsume Mito. She dropped by some of her favourite second-hand clothing stores to pick out clothes which she made into outfits for each model while thinking about the role casting and story of the picture book. She even remade some outfits herself to fit the image of the show!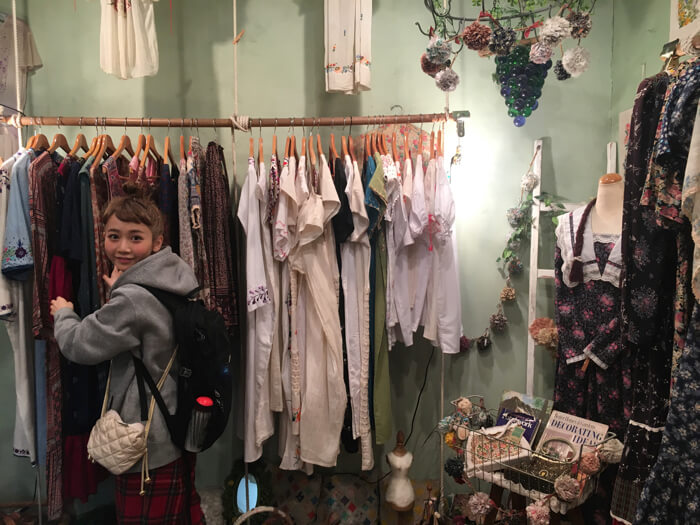 Finally, here's a message to everyone from Natsume Mito:
I love picture books and I love fashion too so I and thought it'd be fun to create a fashion show that combined those two worlds, so I decided to create a picture book fashion show. The art in this book is cute and the story is really moving. I wanted to do a show that presented a sparkly world, so I chose this book.
I did things like coordinate clothes, and I was super excited when thinking up the performance! This is my first time trying this, so there are still parts that I can't imagine how they'll turn out, but I'll work my hardest so that everybody who comes to watch will have smiles on their faces and get sucked into the world of the book. I want to create a stage performance so that people can come to be interested in picture books.
I'm also thinking up content that everybody can enjoy, so please be sure to come by! I'm also posting videos of the show being prepared on Instagram stories, so please check if out if you'd like.
Todibase! Picture Book Show ~Storytime With Natsume Mito~ will begin at 13:40 on Saturday March 24th at Laforet Museum Harajuku. Don't miss Natsume Mito's first challenge!
■Information
Todibase! Picture Book Show ~Storytime With Natsume Mito~
Location: Laforet Museum Harajuku
Date: Saturday March 24, 2018
Time: 13:40 START (subject to change)
*Please note that admission may be restricted in case of overcrowding.
MOSHI MOSHI NIPPON FESTIVAL 2018 in SHIBUYA
Locations: SHIBUYA CAST. / Tower Records Shibuya / Laforet Museum Harajuku / Onden Shrine
Dates: Saturday 24 March – Sunday 25 March
Time: 11:00-21:00 *Times differ at each area
Official Event Website: https://fes18.moshimoshi-nippon.jp/ja/
Free Pre-Registration: http://mmnf2018.peatix.com
RELATED ENTRIES
Sustainable Fashion Week Event to Take Place at Earth Day Tokyo 2021

Earth Day Tokyo 2021 is set to run from April 17 to April 25 both online and offline. Messages of eco-friendliness, organic products, sustainability, ethics, and inclusiveness will be at the core of various events held as part of the festival and it will bring together environmental NPOs, charities, and locals.

As part of this year's Earth Day Tokyo, sustainability and fashion are set to interweave with the SUSTAINABLE FASHION WEEK 2020+1 event which is running on April 24 and 25.

With less than nine years to go until the world must achieve the 17 Sustainable Development Goals (SDGs), Earth Day Tokyo believes individuals need to be doing more to change their lifestyles and the way they do certain things. Fashion is an area that enrichens people's lives—but it's also one that can call for environmental action by changing our consumption habits.


SUSTAINABLE FASHION WEEK 2020+1 will bring together various teams and organisations to hold booths and talk sessions online and offline where people can learn about these issues. It's a collaboration between Fashion Revolution Japan, the Japanese branch of the global Fashion Revolution campaign to reform the fashion industry by enabling a greater transparency in the fashion supply chain amongst other problems. Fashion Revolution Week takes place every year on April 24, the same date as the 2013 Dhaka garment factory collapse where 1,134 people died and more than 2,500 people were injured.

The main visual for SUSTAINABLE FASHION WEEK 2020+1 features Japanese singer and artist KOM_I who is best known as a member of the Japanese music group WEDNESDAY CAMPANELA. It was created by HYPE FREE WATER, an artist collective headed by KOM_I and art director Minori Murata. KOM_I will participate in a planned talk program at MIYASHITA PARK on April 24 and 25.


A Message From KOM_I

"HYPE FREE WATER will be taking part in Sustainable Fashion Week at Earth Day this year. Our organisation focuses on the future of water. We want to be able to wear something beautiful without having to make sacrifices like selling out the future or destroying the environment. I'm looking forward to new people getting involved with us as this discussion takes off."

Information

Earth Day Tokyo 2021

Running: April 17, 2021 – April 18, 2021

Earth Day Tokyo Official Website: https://www.earthday-tokyo.org

SUSTAINABLE FASHION WEEK 2020+1

Running: April 17, 2021 to April 25, 2021

Time: 11:30-18:00
Where: Shibuya Miyashita Park / RAYARD MIYASHITA PARK

Address: 1-26-5 Shibuya, Shibuya-ku, Tokyo

Fashion Revolution Japan: https://www.fashionrevolution.org/asia/japan/

Earth Day Tokyo 2021 to Promote Sustainability, Eco-Friendliness, and an Organic Lifestyle at Yoyogi Park

This year's Earth Day Tokyo will take place at Yoyogi Park from April 17-18 where messages of eco-friendliness, organic products, sustainability, ethics, and inclusiveness will be at the core of various events held as part of the festival.

This year marks Earth Day Tokyo's 20th run as part of the global Earth Day initiative and brings together environmental NPOs, charities, and locals. Due to COVID-19, in-person events will only take place on April 17 and 18 but the festival will run online from April 17 to 25.

Earth Day Tokyo 2021 Concert

Concerts will take place across the two-day Yoyogi Park festival. Many musicians and guests have committed themselves to the future of the planet at the Earth Day Tokyo's concerts, with past line-ups including Japan's King of Rock Kiyoshiro Imawano, UA, BONNIE PINK, and more.

This year will see performances from Itou Seikou ITP, Kenichi Nagira, yae, scoobie do, Taiji Sato, Nozomi Nobody, hachi_Aigoz, tico moon, Rokuta Yanagiya, and Ichido Ryutei.

Market area

Every single product at the market booths has a story, and visitors will be able to hear about them from the makers in-person as they shop. And the items sold at the market will be different each day, stocking something to add a little environmental consideration into our lives.

C. W. Nicol's "Nicol's Forest Kitchen" sausages help plant forests

The late Welsh-born Japanese writer, actor, and singer-songwriter C. W. Nicol was the Executive Committee Chairman for Earth Day Tokyo from 2000 until his passing last year. He also launched Nicol's Forest Kitchen in 2011 which has been a regular at Earth Day Tokyo to help protect Japan's forests. The food stall will make an appearance this year too.

C. W. Nicol began to wonder how he could help raise people's interest in forests as well as help revitalise forests that had been destroyed. Nicol's Forest Kitchen project was his answer: to spread awareness through food, and in doing so, the project could help build up forests.

Visitors separate garbage themselves with the help of volunteers

At the Eco Station, volunteer staff will help direct visitors in separating garbage properly, raising awareness on the proper procedures which they can take away home with them.

Information

Earth Day Tokyo 2021 @ Yoyogi Park

Running: April 17, 2021 – April 18, 2021

Time: 10:00-17:30

Where: Yoyogi Park

Entry: Free

Earth Day Tokyo Official Website: https://www.earthday-tokyo.org

Little Glee Monster and Other Japanese Artists Announced For Tokyu Musix Challenge

Tokyu Musix Challenge is set to take place at Bunkamura Orchard Hall this year on March 7 at 18:00.

2020 saw the cancellation of music events across the world, with Japan being no exception. Shibuya, Tokyo's hub of countless live music venues and halls, was particularly affected by the effects of the pandemic. But the energy and power that music artists hold is one they can offer to brighten up peoples' time during today's times. That's where Tokyu Musix Challenge comes in, a new kind of music festival that will bring together a multitude of genres, and where better for it to be held than the cultural melting pot that is Shibuya.

This year will be the first run of the festival, where a collaboration between classical music and contemporary pop music will clash at Bunkamura Orchard Hall. The Tokyo Philharmonic Orchestra, which is recognised as Japan's oldest symphony orchestra, will play alongside acts such as Little Glee Monster, Ai Higuchi, Win Morisaki, Meimi Tamura, Kayoko Yoshizawa, ROTH BART BARON, and more. And the line-up is set to grow as more performers will be announced in the lead up to the event.

Comments from the Artists

Little Glee Monster

"We are really looking forward to feeling the fresh breeze of our music colliding with the grand scale of an orchestra. We'll be sure to play our part so that we don't lose to the overwhelming performance of everyone in the Tokyo Philharmonic Orchestra, but also so that our music complements theirs. We hope that everyone can have a good time and feel good from the strength that music has."

Ai Higuchi

"In 2020, we may have all lived kind of complicit with so many options in front of us leading down different paths. A certain friend might have gone to a drinking party, another might not have seen their lover for a long time. What choices do we make? We become darker depending on our choices. In Shibuya, a city that continues to change, I will sing my unchanged songs."

Win Morisaki

"Over this past year, the respect I have for the position I'm in where I can express myself has really sunk in. I'm so happy I've been able to get involved with this challenge. And getting to sing with an orchestra, it's magnificent. I'm so excited about what's to come."

Meimi Tamura

"I can't contain my excitement at a genre collaboration between classic, which is the foundation of music, and pop which is strongly tied to Shibuya. I think I'm going to start feeling tense at getting to perform alongside everyone in the Tokyo Philharmonic Orchestra and singers of all different kinds of music. We don't have a lot of freedom today during the pandemic, but I will work my hardest so that I can deliver love through music from the city of Shibuya."

Kayoko Yoshizawa

"My chest roars and having the opportunity to perform along side Japan's oldest and longest-running Tokyo Philharmonic Orchestra at the legendary Orchard Hall. It's my first time experiencing singing with an orchestra, so I'm looking forward to seeing how the songs will be structured, and how my voice will sound, when we do it."

Solve Mysterious in Tokyo While Walking Around Asakusa in This New IRL Game

Japanese IRL mystery game production company Haregake is launching a new game in collaboration with Cosmos Hotel Management who are known for managing the apartment hotel chain MIMARU. MIMARU Tokyo Asakusa STATION, a new branch, is set to open on April 22.

This game will take place around Asakusa in Tokyo and can be played by couples, families, and groups. The event is being carried out with all necessary COVID-19 safety measures in place and aims to get people learning more about the wonders of Asakusa with a game that incorporates elements of the district's traditional buildings, culture, and more. It's a chance to sightsee around one of Tokyo's most iconic areas while solving puzzles at the same time.

The game kit can be bought at the vending machine inside MIMARU Tokyo Asakusa STATION when it opens later this month. It includes the story, which you can read below, and everything you need to get yourself started. There's also no time limit, so players can take as long as they like while they enjoy the sights.

The Game's Story

"I want you to find the treasure of Asakusa for me."

So says the request that finds its ways to you – you, who are a detective.



A certain wealthy individual once resided in Asakusa.

He left a letter behind, and now this letter is in your hands.

"This map – perhaps it shows the location of this treasure."

Will you be able to locate the treasure resting in Asakusa?

Head on out and solve the mystery as you walk around the district.

Information

Asakusa Detective Game: The Secrets of the Millionaire's Forgotten Letter

Japanese Game Name: 浅草街歩き探偵録〜富豪の残した手紙の秘密〜

Start Date: April 22, 2021 (Not a limited-time event, will be held permanently)開

Start Point: MIMARU Tokyo Asakusa Station

Address: 2-20-4 Kaminarimon, Taito-ku, Tokyo, 111-0034

Official Website: https://nazotoki.mimaruhotels.com/

Harajuku's Pompompurin Maid Café to Open on April 14

Akihabara's premiere maid café chain "@home café" announced last month the opening of a permanent maid café themed on Sanrio's popular character Pompompurin. The café is set to open along Harajuku's famous Takeshita Street on April 14, 2021.

 © 2021 SANRIO CO., LTD.  APPROVAL NO. S620028

@home café has collaborated with many of Sanrio's popular characters in the past at its Akihabara-based café branches such as Hello Kitty, My Melody, Cinnamoroll, and of course Pompompurin, but this time the collaboration is flying out of Akiba and straight into the heart of Japanese pop culture: Harajuku.

This new Pompompurin Café is themed on Pompompurin throwing a party for everyone—that's you and your friends. It's a place for Purin to deliver happiness to all who visit in the form of cute and tasty food.

Of course, the @home café maids will also be present, and all wearing original maid uniforms coloured like Pompompurin.

A little look at some things on the menu

The Food

Soufflé Omurice | ¥1,450

Butter Chicken Curry | ¥1,300

The Desserts

Pompompurin Pudding | ¥700

Chocolate Banana Mountain Waffle | ¥1,200

The Drinks

Custard Pudding Latte | ¥850

Muffin's Caffe Mocha | ¥850

Take a commemorative photo

For just ¥550, you can take a chekki photo at the café. It comes with café-original stickers and paper. For an extra ¥300, you can take a photo with one of the maids.

Pompompurin Birthday Party

 

April 16 is Pompompurin's birthday, so on that day the café will have a special dessert prepared (which you can see below) along with novelties for customers, new decorations, and more.

Pompompurin's Birthday Dessert

Special Birthday Parfait | ¥1,700 | Serving: April 14, 2021 – April 30, 2021

Birthday Novelty

To commemorate Pompompurin's birthday and the opening of the café, all visitors will receive the pin below for free.

Pompompurin will visit the café

On the evening on April 16, Pompompurin will visit the cafe for his birthday to celebrate with everyone. Details and bookings can be found here in Japanese.

Information

Pompompurin Cafe x @home cafe

Grand Opening: April 14, 2021

Where: CUTE CUBE HARAJUKU Floor 3F, 1-7-1 Jingumae, Shibuya, Tokyo

Opening Hours: [Weekdays] 11:00-22:00 / [Weekends] 10:00-22:00

No Fixed Holidays

Pompompurin Cafe Official Website: https://pompompurincafe.com/

@home Official Website: http://www.cafe-athome.com/

Japanese Sensu Folding Fan brand BANANA to YELLOW Opens Pop-Up Shop in Shibuya

Japan's long-standing Kyoto-based sensu folding fan brand BANANA to YELLOW, which has been around since 1823, opened a pop-up shop at Shibuya PARCO in Tokyo on Friday, the store's first-ever pop-up shop outside Kyoto.

BANANA to YELLOW's goal is to make traditional Japanese sensu folding fans a fun and stylish experience for the modern day no matter the scene or season. The fans sold at the Shibuya pop-up shop will also include limited-edition designs.

Sensu

The line-up features some of the brand's signature fans which fuse traditional Kyoto-style folding fans with modern designs. Some of the fans are also printed by hand.

The fans can not only be used as they were originally intended—for manners, style, art, warding off evil, and so on—but also as a general accessory.

T-Shirts

The brand also has a collection simple and casual of t-shirts featuring a classic folding fan pocket as originally featured on Japanese kimono.

Bags

A hand two-way tote bag also equipped with a sensu pocket.

Eau de Toilette

Miyawaki Baisen-an's popular eau de toilette makes an appearance at the pop-up shop in four daily fragrances with a Japanese-style scent to them.

Guests

BANANA to YELLOW has collaborated with various artists to develop a range of fans. The first three guests include fashion designer Kunihiko Morinaga (Anrealage), artist Shinro Ohtake, and Mahito the People (Gezan).

Information

BANANA to YELLOW POP-UP STORE

Running: April 9, 2021 – April 22, 2021

Where: Shibuya PARCO's Floor 1F GATE Pop-Up Space

Address: 15-1 Udagawacho, Shibuya-ku, Tokyo

Official Website: https://shibuya.parco.jp/event/detail/?id=3285

Japanese Illustrator Mai Yoneyama Releases Limited-Edition T-Shirts

To commemorate her exhibition "EGO" exhibition currently taking place at Anicoremix Gallery in Harajuku, Japanese illustrator Mai Yoneyama has released a collection of limited-edition t-shirts in collaboration with the sneaker brand atmos. The exhibition, which is showcasing many of Yoneyama's works, is running until April 14.

Wear Mai Yoneyama's iconic pop style wherever you go with these limited-edition tees.

Kyary Pamyu Pamyu's Fragrance Brand Nostalgia Syndrome Releases Lily & Jasmine Series

Nostalgia Syndrome opened pre-orders for its new Lily & Jasmine series of fragrances on March 31. The products will be released on April 22.

Nostalgia Syndrome is a fragrance brand produced by Kyary Pamyu Pamyu which launched last year. The new Lily & Jasmine series will be available to purchase online and will also be sold at two brand pop-up shops in Tokyo and Osaka. Those who spend over ¥10,000 online or at either of the stores (tax included) will receive a free Nostalgia Syndrome novelty – these are available in limited supply.

Online Store Novelty: Original Thermal Bottle

Pop-Up Store Novelty: Original Big Eco-Bag

Lily & Jasmine Series

Eau de Toilette | ¥8,250 (Tax Included)

Room & Fragrance Spray | ¥3,300 (Tax Included)

Aroma Diffuser | ¥7,150 (Tax Included)

Bath Salts | ¥3,410 (Tax Included)

Hand Soap | ¥3,520 (Tax Included)

Scented Candle | ¥8,140 (Tax Included)

Eau de Toilette Two-Set (9mL)

Kyary Pamyu Pamyu | Comment

"This is Nostalgia Syndrome's second fragrance release. After mixing together various ingredients, I was finally able to catch the right scent. The theme for this one is 'travel fragrance.' Because of COVID, our time spent outdoors has gone down dramatically, but smells tied to our memories make up part of us all. And smelling them brings back those memories. This is a blend of sweet, sophisticated lily and refreshing jasmine, so it's a really easy one to use that can be enjoyed by both guys and girls. We're also opening our first pop-up shop so please be sure to drop by to try out!"

Lily and jasmine are vibrant fragrances and perfect for the spring season. Order yours today!

Information

Nostalgia Syndrome Lily & Jasmine

Pre-Orders: March 31, 2021 (Shipping from April 22)

Release Date: April 22, 2021

Pop-Up Stores

・+SPBS (SHIBUYA SCRAMBLE SQUARE 2F)

Running: April 22, 2021 – May 26, 2021

Where: +SPBS, SHIBUYA SCRAMBLE SQUARE Floor 2F, 2-24-12 Shibuya, Shibuya-ku, Tokyo

Opening Hours: 11:00-21:00

・Shinsaibashi PARCO

Running: May 13, 2021 – May 20, 2021

Where: Shinsaibashi PARCO Floor B1F, 1-8-3 Shinsaibashisuji, Chuo-ku, Osaka-shi-, Osaka

Opening Hours: 10:00-20:00

Nostalgia Syndrome Official Website: https://www.nostalgia-syndrome.com/

Hoshino Resorts BANTA CAFE Announces Art Festival by the Beachside

The incredible Hoshino Resorts BANTA CAFE, a beachside cafe which offers guests a breathtaking ocean view along the Okinawan coast, has announced the upcoming Beachside Art Festival which will take place from April 10 to May 9. The festival will bring together artwork from a range of artists born and raised in Okinawa and leading the island's youth culture. There will be a range of events from live painting to workshops, exhibits, and more.

The participating artists have all taken part in personal art exhibits, art events, showcased their work at concerts, and more both inside and outside Japan, but due to COVID-19, many events have of course been cancelled. Beachside Art Festival will serve as a way to display their wonderful works while supporting them at the same time.

The Artist Line-Up

DENPA

nami

HAYATO MACHIDA

Chibana Yukinaga

MACHIDA visiting BANTA CAFE to check the feel of the ocean and their artwork

Vibrant artwork with the ocean as the backdrop

Visitors will be greeted by artwork dotted across various locations around BANTA CAFE. If they follow the top of the cliff down to the beach they will find sofas to sit on which have also been decorated with the artists' artwork. Then there's the Goro Goro Lounge with its enormous window that stretches an entire wall and offers a panoramic view of the sea. Here, visitors can look out at the artwork which will look like it's floating above the horizon. All drinks ordered also come with a free sticker featuring artwork by the four participating artists.

Experience art-in-the-making with live painting

DENPA and MACHIDA will host their own live painting sessions where they will take inspiration from the surrounding environment.


HAYATO MACHIDA @ April 10, 2021 / April 11, 2021

DENPA @ April 18, 2021

Times: 11:00-13:00 / 14:00-17:00

Where: In front of BANTA CAFE on the beach

Price: Free

Have a go at traditional Okinawan bingata dyeing

Visitors can have a go at making their very own coasters from nine different colours using a traditional Okinawan stencilled dyeing technique known as bingata.


Running: April 24, 2021 / May 1, 2021 / May 2, 2021 / May 5, 2021

Times: 10:00 / 12:00 / 14:00 / 16:00 (Each slot lasts approx. one hour)

Capacity: 4

Where: Iwaba Terrace

Price: ¥2,000 (Tax Included)

Note: Online booking required

Take home a souvenir at the beachside museum shop

A museum shop will be open for the event on weekends and holidays where you can pick up art prints, stickers, postcards, and other mementos.


Opening Days: Weekends & Public Holidays

Opening Hours: 10:00-18:00

Where: Beachside Terrace

Information

Hoshino Resorts BANTA CAFE – Beachside Art Festival

Running: April 10, 2021 – May 9, 2021

Where: Hoshino Resorts BANTA CAFE, Okinawa

Official Website: https://banta-cafe.com/en/

sumika to Perform at IN THE FLIGHT's 5th Anniversary Event

IN THE FLIGHT inc. has announced that sumika will join the artist line-up for their 5th anniversary event that's taking place at Toyosu PIT in Tokyo on April 26 and 27.

IN THE FLIGHT inc. is a Japanese event organiser and music artist manager and producer that's also known for producing hotel koe tokyo. This year marks the company's 5th anniversary which it's celebrating with a two-day concert. April 26 will see sumika, GLIM SPANKY, SPiCYSOL, and sankara perform while April 26 will welcome Nulbarich, FIVE NEW OLD, Have A Nice Day!, and NAGAN SERVER to the stage. All of the artists are associated with IN THE FLIGHT. Tickets for the concert were released on March 24. Both shows will be held following social distancing and government guidelines.

A pre-event is also scheduled to take place at hotel koe tokyo in Shibuya on April 24 where RUNG HYANG, ASOBOiSM, sorange, Bule Vintage, and sankara will play.

Speaking about the event, Kenta Kataoka of sumika said, "Clothes are also a part of the music. This will be the birthday of a special someone who taught me that. Since setting out to establish the company, I have made many memories together with them, so I went to go all out with the celebrations. I'd like to say congratulations, and my follow-up to that I'll show you on stage."

Information

IN THE FLIGHT 5th Anniversary

Running: April 26, 2021 – April 27, 2021

Venue: Toyosu PIT

Times: Doors 17:30 / Start 18:30

Ticket Window: March 24, 2021 – April 4, 2021

Buy Here: https://eplus.jp/intheflight5th/

Pre-Shows

Venue: hotel koe tokyo

Date: April 24, 2021

Times: Doors 16:00

Tickets: ¥1,000 + one mandatory drink charge

Venue: TOKIO TOKYO

Date: April 24, 2021

Times: Doors 17:00 / Start 17:30 

Tickets: ¥3,500

Buy Here: https://eplus.jp/intheflight5th/acc/ 

IN THE FLIGHT inc. Official Website: https://intheflight.com/

Poupelle of Chimney Town Themed Cafe to Open in Shibuya

000Cafe by tlc, a coffee stand in Shibuya with its own pop-up space, is collaborating with the hit film Poupelle of Chimney Town to offer a limited-time cafe experience based on the movie. It will run from April 1 to June 30.

The cafe design concept

Crinkle Cookies

SHIBUYA CHIMNEY COFFEE

Poupelle of Chimney Town is an animated fantasy film based on Akihiro Nishino's picture book of the same name. It was released on Christmas Day last year and was nominated for Animation of the Year at the 44th Japan Academy Film Prize.

Disney Japan Celebrates 30th Anniversary of Disney Fan Magazine With Special Event

Walt Disney Japan will celebrate both the 30th anniversary of its Disney Fan monthly magazine and the 10th anniversary of its Disney Store original character UniBEARsity with a special event titled "Disney FAN 30th anniversary FAN!FAN!FAN!" which will run at the Shibuya Koen-dori branch of the Disney Store from April 2 and the Shinsaibashi branch from May 14.

©Disney

The event will pay homage to the 30-year history of the much-loved Disney Fan magazine as well as feature a special art exhibition of past front covers. This artwork will be included on new and exclusive merchandise sold at the store. UniBEARsity will also see the spotlight as its history is also covered along with a range of 10th anniversary items.

Disney Fan 30th Anniversary Celebrations: Art Exhibition, History, and Merch

©Disney

The Disney Fan exhibit will include a silhouette of Mickey Mouse made from a collage of old-time magazine covers. It will also feature an exhibit of back numbers, statues and papercrafts made from past magazine covers, commentary on certain issues, and more.

Fans can also get their hands on a collection of merchandise made with exclusive artwork from the magazine covers, from folders and face mask cases to magnets, frames and more – check out an excerpt of what's on offer below.

UniBEARsity: 10th Anniversary Exhibition

©Disney

UniBEARsity is a line-up of Disney teddy bear characters which came to life after Minnie taught Mickey and friends how to sew them. In celebration of its 10th anniversary, a special exhibition will take place including a special feature taken from Disney Fan when it first debuted, as well as a showcase of 89 teddy bears.an original story that bear characters. Check out what merchandise you can get here.

Information

Disney FAN 30th anniversary FAN! FAN! FAN!

Disney Store Shibuya Koen-dori

Running: April 2, 2021 – May 9, 2021

*The first three days of the event (April 2-4) are exclusive to users of the Disney Store app

Address: Humax Pavilion Shibuya Koen-dori, 20-15 Udagawacho, Shibuya, Tokyo

Opening Hours: 11:00-20:00 (Until 17:00 on May 9)

Entry: Free

Disney Store Shinsaibashi

Running: May 14, 2021 – June 20, 2021

Address: 2-1-13 Shinsaibashisuji, Chuo-ku, Osaka-shi, Osaka

Opening Hours: [Weekdays] 10:00-19:00 / [Weekends & Holidays] 11:00-19:00 (Until 17:00 on June 20)

Entry: Free

Event Page: http://shopDisney.jp/store/DisneyFAN30th/