MMN Festival 2018 – SHIBUYA CAST: Ren Koseki Visits Maid Café "Maidreamin"
MOSHI MOSHI NIPPON FESTIVAL 2018 in SHIBUYA will take place in Harajuku & Shibuya on Saturday March 24 and Sunday March 25. The festival will take place in 4 main areas. One of them is SHIBUYA CAST which is where we will hold the MOSHI MOSHI NIPPON MARKET where you can enjoy Japanese food while taking in the cherry blossom scenery. Maid café group Maidreamin will also appear at the market. With that in mind, Ren Koseki dropped by the café in Shibuya to see what they're all about. Maidreamin has recently become popular with female customers too who pop in for the maid experience. Ren had her fill by trying their great food, watched a live performance and got involved in dressing up.
Maidreamin offers an experience like no other, taking on the concept of a "dream country littered with 'moe' and 'kawaii' for all customers who enter." This is expressed in many ways as expected from a dream country. When you enter the café, it's said that you're entering the country. Upon entering, you are greeted, and a ceremony is held to welcome you into the country. When you blow on the candle and it lights up you become a goshuin-sama (master) if you're male or ojou-sama (lady) if you're female. Animal ears will 'sprout' from the top of your head when you enter the Maidreamin country as you're given an animal Alice band to wear.
All food and drink items on the menu come with either a Maidreamin 'omajinai' service or a drawing performance. Omajinai is when you chant a spell together with a maid to make your meal even tastier. Be sure to try chanting "oishikunaare, moe moe kyun♡" ("abracadabra, become delicious♡") together with your maid. Those who want even more fun should get the "LOVE Kakuteriimin" (\1,240). A maid will call your name while making a cocktail right in front of you and put on a truly moe performance. It's recommended for friend groups and work colleagues. Ren ordered strawberry milk. You can order from either a non-alcoholic and alcoholic menu.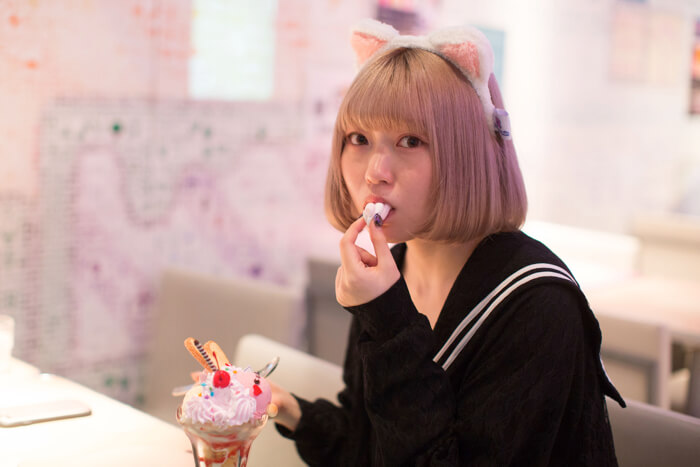 The menu is so plentiful you'll keep saying "cute" without even thinking. You can of course omurice, a classic maid café dish where you can request a maid to draw something on it, as well as the animal parfait which was just updated at the end of February. It's proven popular with overseas influencers and girls in Japan for its cute appearance, delicious tasty and amount. Friends get together to each order the Bear (chocolate banana), Cat (vanilla), Dog, (tea), Panda (matcha) and Rabbit (strawberry) parfaits and take a group photo.
This is the \880 "Mori no Kokage no Usa-chan Parfait" (Bunny Under the Forest Bower Parfait). You can get a "Sakura Float" to go with the parfait (\1,100. Comes with the maid omajinai). We really want you to try it!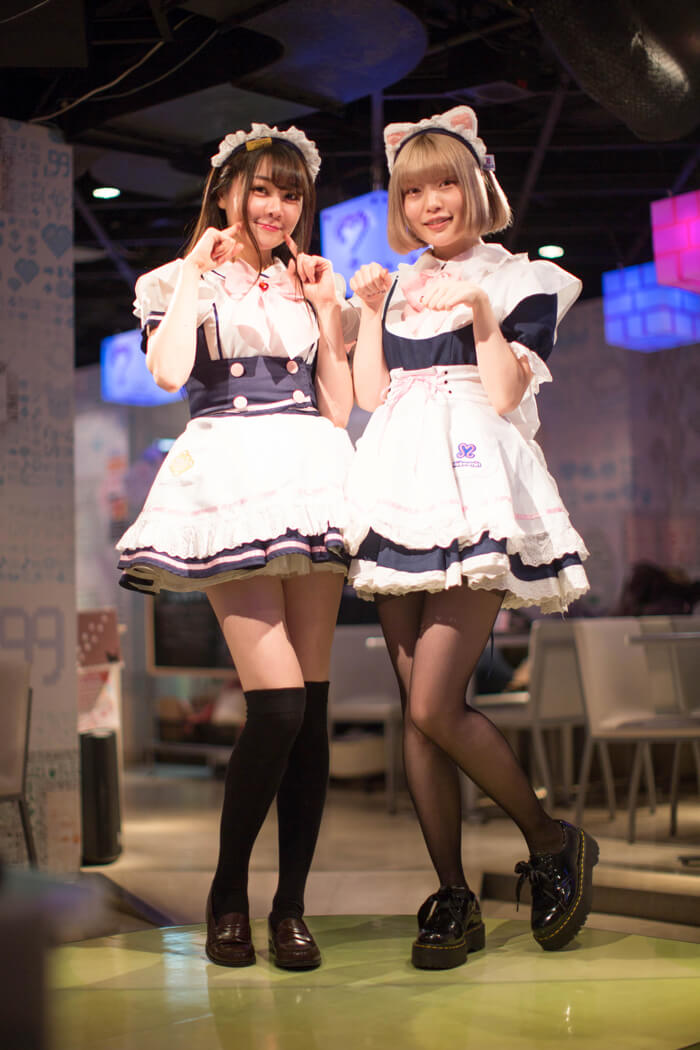 Ren has actually been to Maidreamin before. She had been wanting to try on the maid outfit again, so she transformed into a maid with "Magical Change" (\3,240), a popular original Maidreamin maid outfit that you can wear at the café. Among the maids there are 3 different outfits: "Training," "Original" and "Dream Outfit". Only a select few can wear the Dream Outfit. It's a yearned for uniform whose wearer is known to have gone through the most strict and demanding reception training in the maid café industry. Only famous and successful applicants can wear it.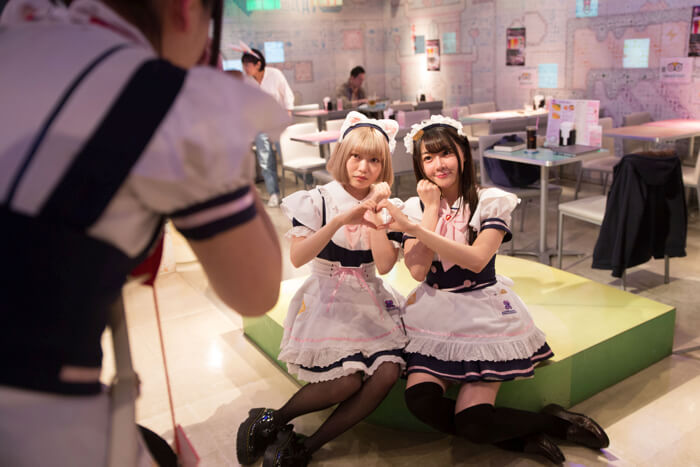 After changing into your maid outfit, take a commemorative chekki photo (\800). When taking a photo on stage where the maids perform live you can get a nice photo album and a maid will draw on the photo for you. It will encapsulate your time in the country!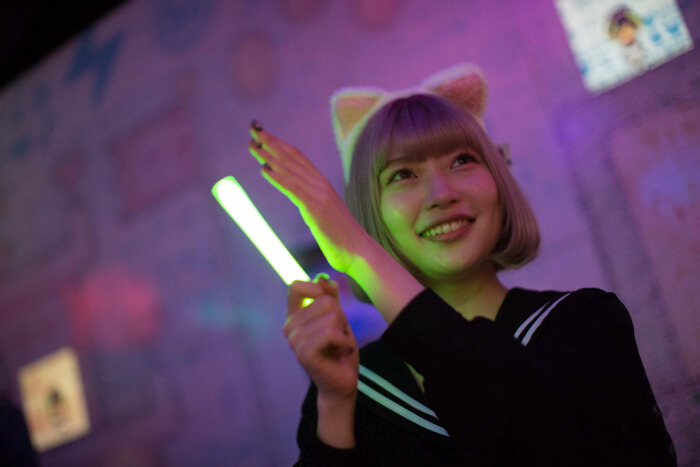 Maidreamin has many overseas fans, so much so that they received an offer to perform the song for Anime Expo 2017 which is held in Los Angeles every year. If you order from the 'Live Menu' you can see them perform live too.
Look out for the ♪ badge on maids' uniforms. This will tell you if they are a maid that performs live and who has a repertoire of over 10 songs they can perform. Shiorin gave an energetic performance for Ren. Those who want to have even more fun with the live show can buy a "Magical Stick" penlight. If you hand over your penlight to a maid that's off stage, they might even dance otagei for you with the penlight, a type of choreographed dance performed by fans at idol shows! All of the maids at Maidreamin can perform otagei, making it the only maid café where all the maid staff can do it.
During the MMN Festival, you can catch popular Maidreamin maids including Dorisu, who gave Ren the welcome ceremony, as well as Hinata and Amo on the live stage at Onden Shrine on Saturday March 24 at 13:30-14:00. Hinata is a member of Moe Kami 8, a group formed by popular members of the maid café. The three of them will perform together with the top 17 maids of maid idol unit QSCS, who have over 450 members.
The services below are scheduled for the Maidreamin booth at MMN Festival 2018. Since the maid dress-up time is different from the café's normal time, this is your chance to enjoy eating a parfait and more while dressed as a maid, something you normally can't do. This is a must-do for both first timers, regular customers and cosplayers alike.
Sakura Float (w/ Maid Omajinai Good Luck Chant): \1,100 (tax incl.)
Chekki Photo (w/ Drawings by Maid + Album): \800 (tax incl.)
Maidreamin Maid Cosplay (30 Outfits): Outfit Rental – Advance Booking \3,980 / Same-Day Booking \4,500 (Return Time: 12:00-17:00)
Rubber Keyring (Maid Outfit Version): ¥600
Animal Alice Band: ¥600
Free Pre-Registration⇒
■Information
Maidreamin Shibuya
Address: Houraiya Bldg. B1, 30-1 Udagawacho, Shibuya, Tokyo
Access: 7-minutes on foot from Shibuya Station "Hachiko Exit"
TEL: 03-6427-8398
Opening Hours:
Monday-Thursday, Sunday, Holidays 13:00-23:00
Friday, Saturday, Day Before Holidays 13:00-05:00
RELATED ENTRIES
Winter Vegan Food to be Served Up at BOTANIST Tokyo in Harajuku This Holiday Season

BOTANIST's flagship shop BOTANIST Tokyo will be serving up a special Northern European-themed holiday season menu at its second floor BOTANIST Cafe from October 31, 2020. The line-up is made with the wish in mind that everyone can live with hope in mind as we draw closer to the end of 2020 and ready for the start of the New Year.

Holiday Menu

All food on the seasonal holiday menu is vegan and promised to be filling, delicious, and healthy.

White Mushroom & Meatball Pasta | ¥1,250 (Tax Included)

A vegan pasta with must-have meatballs covered in a lip-smacking tomato sauce. The pasta is made from rice flour.

Shiitake Patty & Shimeji Sauce Hamburger | ¥1,500 (Tax Included)

A vegan burger with a patty made from shiitake mushrooms and doused in an aromatic shimeji mushroom sauce. It's served with hot hasselback potatoes which are seen in the cuisine of North Europe as well as cauliflower.

Five Mushroom Soy Potage | ¥510 (Tax Included)

A rich potage made from five varieties of mushroom including shiitake, eryngii, shimeji, and hen-of-the-wood. It has a full-bodied flavour and is nothing short of delicious.

​

Vegan Doughnut Holiday Cake | ¥600 (Tax Included)

A Christmas cake where you can pick two vegan doughnuts from a selection of flavours. It's filled with soy cream which goes perfectly with the chewy rice flour doughnuts.

Christmas Set To Go


Christmas Set To Go: ¥2,200 (Tax Included) / Uber Eats: ¥2,600 (Tax Included)

A Christmas set that can be ordered to go or via Uber Eats. Perfect for get-togethers with friends and families.

BOTANIST Botanical Winter Coffret


BOTANIST Botanical Winter Coffret (Premium Hair Care Set) | ¥8,690 (Tax Included)

At BOTANIST Tokyo's first floor shop, they have announced the release of a new hair care collection called BOTANIST Botanical Winter Coffret which will hit shelves on October 31, 2020.

BOTANIST Tokyo's vegan winter menu will arrive on October 31, 2020 which is the final day of their vegan autumn menu. Check out their autumn food line-up here.

Information

BOTANIST Tokyo
Address: 6-29-2 Jingumae, Shibuya, Tokyo (1st Floor – Shop / 2nd Floor – Cafe)
TEL: 1st Floor: 03-5766-3777 / 2nd Floor: 03-5766-3778
Opening Hours: 11:00-20:00

Official Website: https://shop.botanistofficial.com/

Pokémon Cafe and Pikachu Sweets by Pokémon Cafe Reveal New Desserts Including Polteageist Tea Set

Pokémon Cafe and Pikachu Sweets by Pokémon Cafe are releasing a new teatime menu at their respective branches on October 24, 2020.

Pokémon Cafe

Polteageist & Sinistea Tea Party! Fruit Tea Set ~Apple Flavoured~ | ¥1,188 (Tax Included)


Polteageist & Sinistea Tea Party! Fruit Tea Set ~Strawberry Flavoured~ | ¥1,188 (Tax Included)

Pokémon Cafe is serving up two different fruit tea sets based on the Ghost-type Pokémon Polteageist and Sinistea. Customers are free to pour in their desired amount of fruit syrup which changes the colour of the tea. The sets come with a cute cookie too.

Pikachu Sweets by Pokémon Cafe

Left: Polteageist's Tea Party! Fruit Tea ~Mixed Berry Flavour~ / Right: Polteageist's Tea Party! Fruit Tea ~Peach Orange Flavour~ | ¥700 Each (Before Tax)

Pikachu Sweets by Pokémon Cafe is also going to serve up some Polteageist themed fruit teas as well as a selection of desserts like macarons and financier almond cakes which have Pokémon tail and ear designs.

After ordering one of the Polteageist fruit teas, customers can place their cups under the Polteageist tea pot as pictured above and activate the pot to dispense their drink, so it's like Polteageist  really pouring tea for you.

Left: Swirlix Strawberry Macaron | Middle: Pikachu Vanilla Macaron | Right: Galarian Ponyta Pistachio Macaron – ¥500 Each (Before Tax)

Treat yourself to one of the super cute Swirlix, Pikachu, or Ponyta macarons each with designs that tell you instantly which Pokémon they're inspired by.


Polteageist Fruit Tea and & Pikachu Macaron Set

Customers can order a tea and macaron combination set too.

Pikachu Parfaits

Pikachu Glass Parfait Set | ¥1,500 (Before Tax)

An adorable set of Pikachu parfaits, one being caramel banana flavoured and the other chocolate.

Pikachu Tea Party Assortment – Pika Pika Pikavee Set | ¥2,800 (Before Tax)

Another set to share between friends and family, this time with two Pikachu glass desserts as well as Pikachu and Eevee cupcakes.

Pikachu Tea Party Assortment – Ghost Type Set | ¥2,800 (Before Tax)

This set comes with the Pikachu glass desserts as well as Ghost-type Gengar and Litwick mousse cakes.

The Polteageist teapot and Sinistea teacup used at the Pokémon Cafe and Pikachu Sweets by Pokémon Cafe will also be released at Pokémon Center Online in Japan on December 5, 2020.

© 2020 Pokémon.©1995-2020 Nintendo/Creatures Inc./GAME FREAK inc.
Pokémon, ポケットモンスター, and ポケモン are registered trademarks of Nintendo, Creatures Inc., and GAME FREAK inc..

Information

Pokémon Cafe (Nihombashi, Tokyo)
Address: Nihombashi Takashimaya SC East Bldg. 5F, 2-1-2 Nihombashi, Chuo Ward, Tokyo
Business Hours: 10:30-22:00
No Fixed Holidays (Except when Nihombashi Takashimaya SC is closed)
Reservations: https://www.pokemoncenter-online.com/cafe/reservation.html

Pokémon Cafe (Shinsaibashi, Osaka)
Address: Daimaru Shinsaibashi Honkan 9F, 1-7-1 Shinsaibashisuji, Chuo Ward, Osaka, Osaka Prefecture
Business Hours: 10:00-21:30
No Fixed Holidays (Except when Daimaru Shinsaibashi is closed)
Reservations: https://www.pokemoncenter-online.com/cafe/reservation.html

Pikachu Sweets by Pokémon Café 

Address: Sunshine City Alpa Floor 2F, 3-1-2 Higashiikebukuro, Toshima City, Tokyo

Opening Hours: 10:00-20:00
Official Website: https://www.pokemoncenter-online.com/cafe/pikachu_sweets/

*Opening hours subject to change, please check in advance before travelling.

*Food served and duration subject to change without notice.

*Photos are for illustrative purposes only.

*Seat reservations are taken online only – phone reservations not available.

Disney: Twisted-Wonderland Mobile Game Gets Themed Cafes in Tokyo, Osaka and Nagoya

LEGS, INC. has announced that it will open three cafes themed on the mobile game Disney: Twisted-Wonderland at OH MY CAFE branches in Tokyo and Osaka on November 20 and in Nagoya on November 27.

Disney: Twisted-Wonderland is a Japanese mobile game that was released on March 18, 2020. The concept, character designs, and scenario for the adventure rhythm game were conceived by Yana Toboso, the creator of the popular Black Butler manga series. The game is centred on the villains of Disney.

The cafe's theme places customers in the food hall of Night Raven College, the magic training school where the game is set. It will be adorned in decorations inspired by the game's food hall, and coupled with that, the cafe will serve up food and drink that actually appear in the game. There's also exclusive merchandise for players to get their hands on.

The Menu

There are four different lunches to pick from, all of which are low in salt content and so are a healthy option for wizards and witches flying into the cafe.

Food

<Lunch Option A>


Deluxe Menchi Katsu Sandwich | ¥1,990, with plate ¥4,290 (Before Tax)

The most popular item on the food hall's menu is the non-fried menchi-katsu meat cutlet sandwich.

<Lunch Option B>


Salmon Cream Stew | ¥1,990, with plate ¥4,290 (Before Tax)

A cream stew packed with salmon and vegetables and served with slices of baguette for dipping.

<Lunch Option C>


Tomato Base Squid Ink Pasta | | ¥1,990, with plate ¥4,290 (Before Tax)

A colourful tomato-based veggie pasta in squid ink and served with fruity yoghurt.

<Lunch Option D>


Four Mushroom Risotto | ¥1,990, with plate ¥4,290 (Before Tax)

A creamy, mild-flavoured risotto served with four different kinds of mushrooms.

Drinks


Character Drinks (7 Flavours) – Heartslabyul, Savanaclaw, Octavinelle, Scarabia, Pomefiore, Ignihyde, Diasomnia | ¥890 with coaster ¥1,790 (Before Tax)

A selection of colourful tinted waters inspired by seven different characters seen in the game.

Merchandise


Superdeformed Series Art Example


Pattern Series Art Example

Magic-wielding players can get their hands on a selection of merchandise both at the cafes, and from November 20, via the OH MY CAFE STORE website. There are two different designs for the merch line-up as pictured above.

Bonus Items

Customers who book a table in advance (¥650 before tax per person) at the cafe will receive one of 22 possible lunch mats, and if they order a drink, one of 22 coasters.

©Disney

Information

Disney: Twisted Wonderland @ OH MY CAFE

OH MY CAFE TOKYO

Address: Tokyu Plaza Omotesando, 4-30-3 Jingumae, Shibuya, Tokyo

Running: November 20, 2020 – January 31, 2021

kawara CAFE&DINING Shinsaibashi

Address: Shinsaibashi Opa Floor 9F, Nishi-Shinsaibashi, Chuo Ward, Osaka, Osaka Prefecture

Running: November 20, 2020 – February 2, 2021

kawara CAFE&KITCHEN Nagoya PARCO
Address: Nagoya PARCO, 3-29-1 Sakae, Naka-ku, Nagoya-shi, Aichi
Running: November 27, 2020 – February 9, 2021

Official Website: http://twst.ohmycafe.jp

Shibuya's L'OCCITANE CAFE Reveals Spooky Parfait For Halloween 2020

L'OCCITANE CAFE Shibuya is getting ready for Halloween with the reveal of its sweet potato and apple parfait which will be served from October 21 to 31. The Tokyo-based cafe is centred on the food culture and lifestyle of Provence in southern France.

Sweet Potato and Apple Parfait | ¥1,280 (Tax Included)

The seasonal treat is a mix of purple sweet potato and regular sweet potato, baked apples, apple sherbet, and vanilla ice, all topped off with whipped cream, roasted nuts, and almond tuile biscuits in the shape of ghosts and a pumpkin.

Information

Sweet Potato and Apple Parfait
Serving: October 21, 2020 – October 31, 2020

L'OCCITANE CAFE Shibuya
Address: 2-3-1 Dogenzaka, Shibuya, Tokyo
Opening Hours:
[Sun-Thur] 11:00~22:00 (Last Orders 21:00)
[Fri-Sat] 11:00-23:00 (Last Orders 22:00)
TEL:03-5428-1563
Access: Straight ahead of Shibuya Station's 5th Exit (Inokashira Exit)
L'OCCITANE Japan Official Website: https://jp.loccitane.com/

Tokyo's New Art Cafe WHAT CAFE Opens in Tennozu

Warehouse TERRADA opened up the new art cafe 'WHAT CAFE' in Tennozu, Tokyo, on October 15, 2020.

Left: Overlap of paint (dot3) by Soichi Yamaguchi | Right: Ichijiteki ni Inu, Ichijiteki ni Hito, Ichijiteki ni E by Dan Isomura

WHAT CAFE will serve as a hub to support artists in Japan's art industry by functioning as both a gallery and cafe in a 800㎡ space. The gallery will change out the artwork from time to time to allow for more artists to showcase their works to visitors throughout the year. There will be hundreds of pieces shown in an entire year.

Left: Peel off the paint "No.125" by Haruna Shinagawa | void #35 by KIKUCHI Ryo

Tokyo's Tennozu area is looking to become a major stop for art in Japan and is currently home to various art facilities like the pigment lab PIGMENT TOKYO and Japan's biggest gallery complex TERRADA ART COMPLEX.

If you're interested in contemporary art in Japan, and are visiting Tokyo, then you won't want to miss a stop to Tennozu. Be sure to stop by WHAT CAFE.

Information

WHAT CAFE
Address: 2-1-11 Higashishinagawa, Shinagawa-ku, Tokyo
Opening Hours: 11:00-18:00

*No fixed holidays but the facility may be closed for certain events

Official Website: https://cafe.warehouseofart.org

Shaun the Sheep Themed Food Served Up in Japan to Celebrate 25th Anniversary

To celebrate 25 years since the screen debut of the beloved clay animated Shaun the Sheep, a new shop and cafe called "Shaun the Sheep Farm Cafe Stand" is opening up in Kanagawa serving up themed food, drink, and desserts.

Shaun the Sheep Farm Cafe Stand

Shaun the Sheep Farm Cafe Stand will open on October 15, 2020 in Kamiooka, Kanagawa, as a takeout cafe stand inspired by Shaun the Sheep. Customers can look forward to a selection of coffees and desserts based on the adorable sheep himself. And to celebrate the cafe's grand opening, a special free show will take place there from October 15-18, 2020.

Shaun Soft Cream | ¥500 (Before Tax)

Subtly sweet soft serve ice cream topped with a Shaun the Sheep cookie.

Shaun Cafe Latte | ¥700 (Before Tax)

A foamy latte with a cute Shaun marshmallow sat on top.

Shaun the Sheep Farm Cafe Stand

Location: mioka LIST (Floor 6F)

Access: Directly connected to Kamiōoka Station via the Tokyu Line and Yokohama City Blue Line
Opening Hours: 11:00-21:00 (Last Orders 20:45)

Shaun the Sheep Village Shop & Cafe

The Shaun the Sheep Village Shop & Cafe in Minami Machida Grandberry Park, which opened in November 2019, introduced a limited-time autumn menu last month which is still being served.

Shaun's Special Meatball Spaghetti | ¥1,580 (Before Tax)

A hot meatball spaghetti served with a Shaun the Sheep waffle which can be enjoyed together with fresh cream, maple syrup, and the meat sauce.

Baby Shaun's Forest Grape Trifle w/ Drink | ¥1,480 (Before Tax)

A towering trifle topped with seasonal grapes, vanilla ice cream, grape sherbet, custard, and grape jelly for a sweet and sour autumntime mix.

Fluffy Baby Shaun Custard or Caramel | ¥250 for one, ¥1,000 for five (Before Tax)

An adorable confection enjoyed by both child and grown-up customers. The cafe has now introduced a new caramel flavour.

Shaun the Sheep Village Shop & Cafe

Location: Grandberry Park Central Court Wonder Theatre (Floor 1F)

Opening Hours: 10:00-22:00 (Food Last Orders 21:00 / Drinks Last Orders 21:30)

Shaun the Sheep Farm Cafe: Halloween Menu

Shaun the Sheep Farm Cafe, a permanent cafe located inside Prime Tree Akaike Shopping Mall in Aichi, is serving up a special Halloween menu this year.

Shaun's Happy Halloween Plate 2020 | ¥1,380 (Before Tax)

A bright-red tomato sauce hamburger served with pumpkin cream soup and salad.

Shaun's Happy Halloween Dessert Assortment | ¥1,180 (Before Tax)

A sweet combo of pumpkin mont blanc and a pumpkin tart.

SHAUN THE SHEEP AND SHAUN'S IMAGE
ARE ™ AARDMAN ANIMATIONS LTD. 2020

BT21 Cafe to Open in Tokyo, Osaka and Nagoya For Autumn 2020

The 7th run of the popular BT21 Cafe is set to open in Tokyo, Osaka, and Nagoya starting from October 17, 2020.

BT21 are the LINE messenger app characters created by K-pop group BTS. The cafe has seen six runs in Japan until now, and has proven immensely popular amongst fans for the selection of original dishes and drinks as well as exclusive merchandise. The 6th run ran back in February and March with a spring theme.

The theme of the 7th edition is centred on having a pyjama party in the long autumn evenings. The cafe artwork as well as food and merchandise is all themed on the autumn season.

FOOD

The food menu is a choice of a main, such as pasta or paella, and a side like clam chowder which is served up a cute character mug of your choice.

Fish Ragu Fusilli Pasta Set Menu Example | ¥1,490

A fusilli pasta dish served with a seafood tomato sauce.

Eggplant & Zucchini Lasagne Set Menu Example | ¥1,490

A lasagne served with the summer vegetables eggplant and zucchini as the main ingredient.

Seafood Paella Set Menu Example | ¥1,490

A Spanish dish containing Paella made with a seafood stock and served with potato wedges covered in a bravas sauce.

Margherita Pizza Set Menu Example | ¥1,490

The staple takeout pizza topped with tomatoes, mushrooms, and basil.

DESSERT

A selection of cakes served in different mugs with BT21 character designs.

Shortcake / Chocolate Cake / Mont Blanc / Cheesecake  – ¥1,290 Each

DRINKS

Drinks are self-service and include carbonated water, milk, and other beverages all of which can be topped with a dollop of character ice cream. This is a new kind of drink to be introduced at BT21 Cafe.

Character Drinks: KOYA/RJ/SHOOKY/MANG/CHIMMY/TATA/COOKY  – ¥990 Each

Glass Drinks: KOYA/RJ/SHOOKY/MANG/CHIMMY/TATA/COOKY – ¥500 Each

TAKEOUT DRINK | 1,690

The takeout drink is a blueberry milk combination.

GOODS

Fans can get their hands on a selection of original and exclusive miscellaneous merchandise all with the stay-at-home pyjama party theme.

Heart Pins | ¥600 Each (Design Chosen Randomly)


Card File | ¥1,300

Bonus Items

Cafe Original Cards

Cafe Original Coasters

Customers who book a table in advance will receive a free cafe original card, and those who order a drink a free coaster.

©BT21

Information

BT21 Cafe

Tokyo Cafe

Running: October 17, 2020 – November 23, 2020

Address: PINE UNDER FLAT B1F, 5-13-2 Jingumae, Shibuya, Tokyo

Osaka Cafe

Running: October 17, 2020 – November 27, 2020
Address: TOWER RECORDS CAFE UMEDA NU CHAYAMACHI, 10-12 Chayamachi, Kita-ku, Osaka-shi, Osaka

Nagoya Cafe

Running: October 17, 2020 – November 27, 2020
Address: TOWER RECORDS CAFE Nagoya Sakae SKYLE, 3-4-5 Sakae, Naka-ku, Nagoya-shi, Aichi

Table Bookings
Price: ¥650 (Before Tax)
BT21 Cafe Official Website: https://box-cafe.jp/

Tokyo's Cheese Dish Factory Releases New Tart Parfait Mont Blancs

Cheese Dish Factory, a restaurant in Shibuya MODI in Tokyo, released a new seasonal dessert for the autumn season on Monday called the 'Tart Parfait Mont Blanc.' The tasty bite's foundation is an almond tart which is filled and layered with ingredients like a parfait before being topped off with mont blanc cream.


The dessert comes in for delightful variations such as the 'Chestnut & Tiramisu' which tops tiramisu with the flavours of autumn like chestnut ice cream and chestnut cream, and the 'Berry & Berry' which is piled full of strawberry cream and topped off with a strawberry. Sweet-tooths will discover a labyrinth of flavours as they gradually make their way through whichever they decide to order.

Chestnut & Tiramisu (Mascarpone Cheese) | ¥880 (Before Tax)

The tiramisu is made with mascarpone and has on top of it Japanese chestnut and chestnut ice cream. The chestnut cream is arranged like a mont blanc. The inner tiramisu adds a unique touch to make this a mont blanc for the ages.

Berry & Berry (Cream Cheese) | ¥820 (Before Tax)

This tiramisu is made from cream cheese which is topped with strawberry sauce and vanilla ice cream. A parfait mont blanc for the strawberry lover who won't be able to resist the strawberry cream and the crowning fresh strawberry.

Fromage & No-Bake Cheesecake (Parmigiano-Reggiano Cheese) | ¥780 (Before Tax)

A no-bake cheese cake combined with cream cheese ice cream and cream cheese. Inside you'll find fresh white peach. There's also a crispy texture brought by the Parmigiano-Reggiano. A must-try for cheese fanatics.

Matcha & Brown Sugar Syrup Soy Flour (Ricotta Cheese) | ¥780 (Before Tax)

A mountain made from matcha warabimochi, adzuki red bean paste, brown sugar syrup soy flour, and vanilla ice cream. This one's full of Japanese flavours, but also ricotta cheese, making it a Japan x Western fusion.

Information

Cheese Dish Factory Shibuya MODI
Address: Shibuya MODI Floor 9F, 1-21-3 Jinnan, Shibuya-ku, Tokyo

Access: 3-minutes from Shibuya Station
TEL: 03-6416-5179
Business Hours: Lunch 11:00-15:00 / Cafe 15:00-17:00 / DINNER 17:00-23:30
Official Website: http://www.sld-inc.com/cheesedishfactory.html

Enjoy Breakfast With a Feline Twist at eXcafe Gion in Kyoto Where They Serve Cat Shaped Toast

eXcafe Gion, a cafe located near Kyoto's popular tourist spot Yasaka Shrine, introduced its Mikeneko breakfast to the menu on Monday. The breakfast was first put on the menu at the Arashiyama branch of eXcafe.

Gion is one of Kyoto's biggest and most famous shopping districts. eXcafe Gion is located along Shinbashi-dori Street, which is listed as one of Japan's Important Preservation Districts of Historic Buildings, making it within walking distance of many traditional places in Kyoto such as Yasaka Shrine, Hanamikoji Street, Shirakawa, Tatsumidaimyojin Shrine, and more.

eXcafe Mikeneko Breakfast | ¥1,380 (Before Tax)

eXcafe's Mikeneko breakfast menu is made with the new thick-cut, three-coloured cat-shaped bread from the popular cafe Kyoto Neko Neko, which is made with three flavours: caramel, black cocoa, and plain. It comes with various toppings to choose from including anko red bean paste, butter, whipped cream, and fruit, so you can arrange your toast how you like it.

The toast is served with mitarashi-dango for dessert which can be cooked on top of the little stove that you get.

Enjoy a super cute breakfast meal at eXcafe and then a stroll around Gion when visiting Kyoto.

Information

eXcafe Mikeneko Breakfast
Serving: 8:00am-11:00am (Last Orders 10:00am) *Day menu available from 10:00am

Location: eXcafe Gion

Address: 57-1 Motoyoshichō, Higashiyama-ku, Kyoto
Opening Hours: 8:00am-6:00pm
TEL: 075-533-6161

Experience Shinjuku's Famous Halloween Event Online at Virtual Shibuya

The Virtual Halloween Committee has announced that it will host an online Halloween event inside Virtual Shibuya as a result of the pandemic and to mitigate crowded streets in Shibuya, a place which becomes a sea of people during the spooky holiday season.

The event, titled Virtual Shibuya au 5G Halloween Fes, will begin on October 26 and run up to Halloween Day. It is being promoted with the hashtag #StayVirtual.


Shibuya 5G Entertainment Project launched its new digital platform "Virtual Shibuya" back in May of this year. Officially recognised by Shibuya City, Virtual Shibuya comes in response to the effects of the novel coronavirus (COVID-19) which has brought tight restrictions to the economy and people's way of life. It will enable people to continue enjoying entertainment from the comfort of their homes by participating in a whole host of virtual events and activities. The project aims to deliver content from Shibuya with live performances from artists, art exhibitions, talks, and more. The use of 5G and the latest cutting edge technology will connect the real Shibuya to a virtual space, combining the realms of the digital and real world.

The Halloween event is inviting a host of Japanese artists and comedians to perform inside the virtual space, which itself will be littered with all things Halloween like Jack-o'-lanterns, bats, and more. Users will also be able to dress their avatars in the appropriate clothing in line with the holiday season of scares. All of this aims to deliver the famous Shibuya Halloween experience that the people of Tokyo are so used to.

Virtual Shibuya au Halloween Fes

Virtual Shibuya is evolving and will be updated for the upcoming Halloween event. Users can look forward to a host of music events and talk events during this age of the 'new normal.'

au 5G Presents Kyary Pamyu Pamyu: Virtual Mini Live

Virtual Shibuya will host its very first virtual live concert to open the Halloween festival. Japanese pop star Kyary Pamyu Pamyu is included in the performance line-up, who will be serving a very special one-night-only Halloween themed show inspired by horror movies. Titled "Kyary Pamyu Pamyu Online Halloween Live 2020 THE FAMILY 10.31," you can find out more about the concert here.

au 5G Presents BiSH: Virtual Live

Japanese idol group BiSH will also be playing a special Halloween show at the event.

au 5G Presents "Everyone's 5G" – Comedy Duo Wagyu Perform

Japanese comedy duo Wagyu will perform live using 5G technology which will render them in high-speed, high quality holograms.


The rest of the line-up and more details about the event will be announced in the coming weeks.

Kirby Café Launches Autumn Menu in Tokyo and Fukuoka

The Kirby Café in Tokyo and Fukuoka released three new dishes for autumn last Friday (September 18).

The menu items are made with seasonal flavours like pumpkin, sweet potato, and chestnut.

Filling Autumn Plate – Salmon Cream Pasta & Pumpkin Salad Sandwich | ¥1,480 (Before Tax)

One plate packed with fall flavours including a rich salmon cream pasta and pumpkin salad sandwich. If you look closely, you'll spot cute pieces of Waddle Dee cheese.

Fallen Leaf Waterfall☆Mont Blanc and Baumkuchen With Friends | ¥1,280 (Before Tax)

Rick, Kine, and Coo feature on this tasty-looking dessert plate which is a baumkuchen piled with a chestnut mont blanc cream.

Kirby's Hot Sweet Potato Sticks | ¥1,080 (Before Tax)

Crunchy on the outside, hot in the middle, and seasoned with fresh rosemary. Kirby is a pro at inhaling food, but don't burn yourself with these!


Information

Kirby Café TOKYO
Address: Tokyo Skytree Town Solamachi Floor 4F (1-1-2 Oshiage, Sumida, Tokyo)
Opening Hours: 10:00-22:00 (Last Orders 21:00)

Kirby Café HAKATA

Address: Canal City Hakata North Bldg. B1F, 1-2-1 Sumiyoshi, Hakata, Fukuoka, Fukuoka Prefecture

Opening Hours: 11:00-23:00 (Last Orders 22:00)

Book Here: https://kirbycafe.jp

Kirby Café Official Twitter: https://twitter.com/kirbycafe.jp

Review: Miffy Café at Tokyo Solamachi®

In commemoration of Miffy's 65th anniversary, the new Miffy Café opened on the first floor of Tokyo Solamachi on September 11, 2020 and will remain open for a limited time. The café is also collaborating with Japanese illustrator Shogo Sekine.

We visited the café to check out the themed menu, merchandise, and other fun things on show to see.

Stepping into the café is like stepping into a picture book world. It's really colourful in there. My mother read Miffy to me when I was a child, so I was hit with a real sense of nostalgia when I entered the café. No matter your age, you're sure to enjoy your time there – that's the kind of fun atmosphere they have created.

Terrine-Style Open Miffy Sandwich | ¥1,499

I ordered the terrine-style open Miffy sandwich and Miffy orange float from the themed menu.

The open sandwich arrives in the shape of Miffy, so it almost seems a waste to eat, but it was really cute and delicious. Simply the best. It's filled with potato salad, an avocado sauce, and salmon.

Miffy Orange Float | ¥899

The ice cream that tops the orange float is made to look like Miffy too!

Snapping a photo while drinking the float is pretty Instagrammable, so it's a must when visiting.

All of the items on the menu have Miffy somewhere on them, meaning anything you order is guaranteed to be kawaii. They have takeout too, which is great if you don't have much time to hang around or just don't want to dine inside.

Speaking of which, each table in the café is separated with an acrylic board to protect customers during the pandemic, and all of them have super cute designs. Another photo opportunity for sure!

The café sells original merchandise too. The fashion items and illustrations with English on them were designed by popular Japanese illustrator Shogo Sekine. There's a whole range of different goodies, from plush toys to fashion and more.

Don't you feel happy just looking at all these colours? You'll find yourself spoilt for choice on what to buy.

The Miffy Café is open until October 18. You can book a table too, so if you're in Japan during this time, be sure to visit the café website below.

Illustrations Dick Bruna © copyright Mercis bv, 1953-2020  www.miffy.com

Model & Writer:Eri Tanioku

Photo: Haruka Yamamoto

Translator: Joshua Kitosi-Isanga

Information

Miffy Café

Address: TOKYO BOX cafe&space, Tokyo Solamachi 1F, 1-1-2 Oshiage, Sumida-ku, Tokyo

Running: September 11, 2020 – October 18, 2020

Reservation Fee: ¥500

Official Website:  https://miffy-skn-65.cafe.jp/