MMN Festival 2018 Report: Natsume Mito Produces and Performs First Show "Tobidase! Picture Book Show 〜Storytime With Natsume Mito〜"
MOSHI MOSHI FESTIVAL 2018 in SHIBUYA was held in Shibuya and Harajuku on March 24th and 25th. On Saturday March 24th, model and artist Natsume Mito held her first ever fashion show Tobidase! Picture Book Show ~Storytime With Natsume Mito~ at Laforet Museum Harajuku.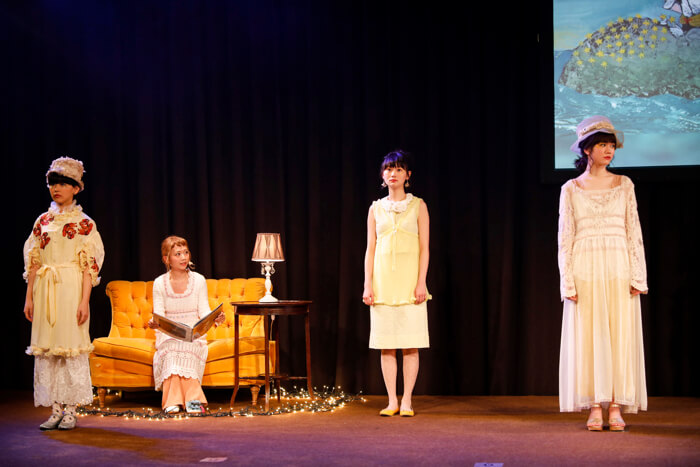 Natsume Mito fully produced the fashion show which was themed on Bulldog Tanei to Kieta Hoshi (BUNKEIDO Co., LTD.), a picture book by Tomonori Taniguchi. The story is as follows. The stars have disappeared from the sky. During this time, a letter arrives for the bulldog detective requesting he search for the lost stars. He accepts and heads out to find them. He's able to locate them, but why did they disappear, and who sent the letter…? This exciting story is full of heart and can be enjoyed by kids and adults alike.
Natsume Mito read the story aloud while a cast of Japanese models brought the world of the book to life through fashion. Models that performed included Yuri Suganuma, Ema Tanioku, Eri Tanioku, Aino Kuribayashi, Chie Tsuji, Abe Akari, Saki Shibata, Rinko Murata, Manaka Arai, Alice Ikeda, Una, and Anna Kawamura. Natsume Mito styled the outfits in the image of everything from the bulldog detective to the animals, moon and stars. The models were immersed in their roles and walked and posed as directed.
Bulldog Detective (Eri Tanitoku) & Gorilla (Rinko Murata)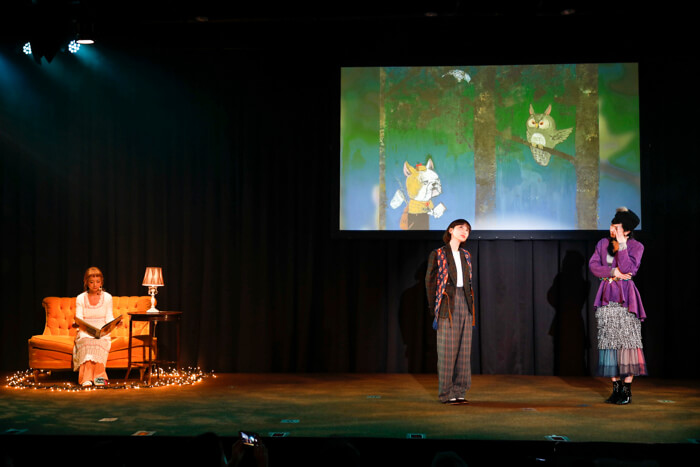 Bulldog Detective (Ema Tanioku) & Owl (Una)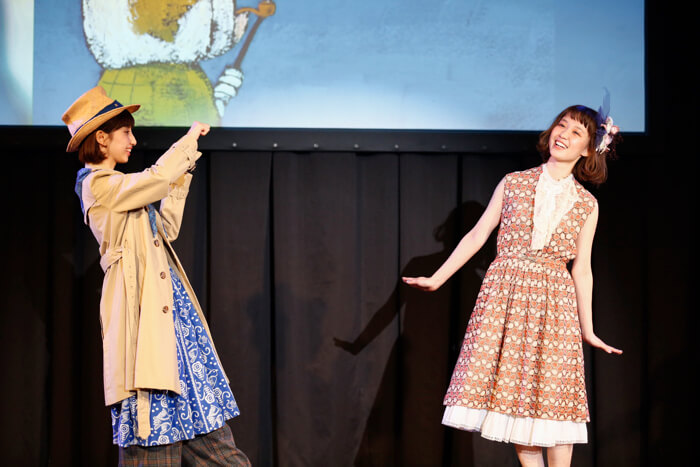 Bulldog Detective (Ema Tanioku) & Starfish (Saki Shibata)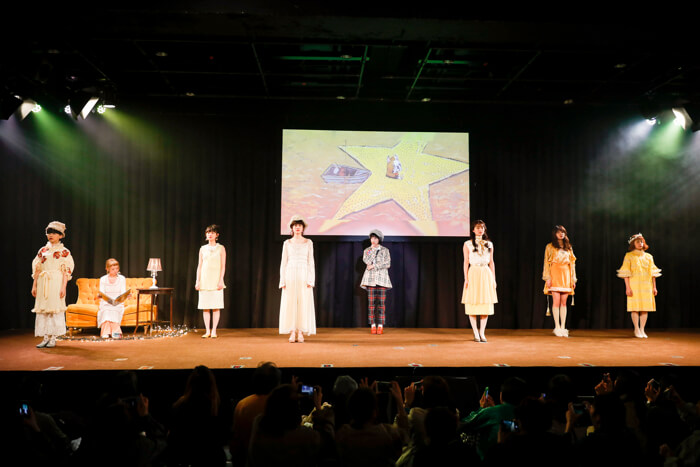 Bulldog Detective (Eri Tanioku) & Stars (Yuri Suganuma, Chie Tsuji, Aino Kuribayashi, Akari Abe, Rinko Murata, Manaka Arai)
At the end of the show, the models that performed spoke with the stage presenter Rei Maruyama and gave their thoughts on this first ever fashion show.
Anna Kawamura (Tortoise): Beret – Caorinomori / Hairband attached to hat, Brooch – Barairo no boushi / Bootsu – gREEN DOT / other personal items UNA (Owl): Innerwear, Jacket, Fringe Skirt – Barrack Room / Tulle Skirt – Gaijin / Hat, Choker – MARTE / other personal items Yuri Suganuma (Star): Neckband – SPINNS / Lace Pants – gREEN DOT / other personal items Chie Tsuji (Star): One Piece, Shoes – daidai / Camisole One Piece – Barrack Room / Necklace – CA4LA Bridal / other personal items Ema Tanioku (Bulldog): Shoes – daidai / other personal items
Eri Tanioku (Bulldog): Jacket, Shoes – HUG / Blouse, Hat – SPINNS / other personal items Alice Ikeda (Moon): Belt – HUG / Pumps – gREEN DOT / other personal items Manaka Arai (Star): One Piece – MARTE / Hair Accessory – CA4LA Bridal / Pumps – Gaijin / other personal items Rinko Murata (Star): Lace Gown – Barrack Room / Shoes – RANDA / other personal items Saki Shibata (Starfish): One Piece – gREEN DOT / Neckband, Pumps – Gaijin / Hair Accessory – CA4LA Bridal Aino Kuribayashi (Star): One Piece – Gaijin / Lace Top – gREEN DOT / Hat – Barairo no boushi / Hairband attached to hat – Caorinomori / Sandals – RANDA
Natsume Mito Comment:
"I went and produced a show that combined a picture book with fashion. This was my first time doing this, so I was worried perhaps due to my own self-satisfaction. I was finally able to feel relief after hearing claps from people who came to watch (laughs). Thank you so very much to everybody who came! And to all the models who performed too. I'm happy that the outfits I put together went perfectly with everyone. I can see once again how difficult it was to convey what was in my head to the staff too. It was a very good learning experience. I want to try creating another stage show that conveys the wonder of loving picture books together and the fun of fashion!"
Tobidase! Picture Book Show ~Storytime With Natsume Mito~ wrapped up with much success. Look forward to the many things Natsume Mito will challenge herself to next!
Outfit Co-Operation: Gaijin / CA4LA / Caorinomori / gREEN DOT / SPINNS / daidai / HUG / Barairo no boushi / Barrack Room / MARTE / RANDA
RELATED ENTRIES
Shibuya's L'OCCITANE CAFE Reveals Spooky Parfait For Halloween 2020

L'OCCITANE CAFE Shibuya is getting ready for Halloween with the reveal of its sweet potato and apple parfait which will be served from October 21 to 31. The Tokyo-based cafe is centred on the food culture and lifestyle of Provence in southern France.

Sweet Potato and Apple Parfait | ¥1,280 (Tax Included)

The seasonal treat is a mix of purple sweet potato and regular sweet potato, baked apples, apple sherbet, and vanilla ice, all topped off with whipped cream, roasted nuts, and almond tuile biscuits in the shape of ghosts and a pumpkin.

Information

Sweet Potato and Apple Parfait
Serving: October 21, 2020 – October 31, 2020

L'OCCITANE CAFE Shibuya
Address: 2-3-1 Dogenzaka, Shibuya, Tokyo
Opening Hours:
[Sun-Thur] 11:00~22:00 (Last Orders 21:00)
[Fri-Sat] 11:00-23:00 (Last Orders 22:00)
TEL:03-5428-1563
Access: Straight ahead of Shibuya Station's 5th Exit (Inokashira Exit)
L'OCCITANE Japan Official Website: https://jp.loccitane.com/

Tokyo's Cheese Dish Factory Releases New Tart Parfait Mont Blancs

Cheese Dish Factory, a restaurant in Shibuya MODI in Tokyo, released a new seasonal dessert for the autumn season on Monday called the 'Tart Parfait Mont Blanc.' The tasty bite's foundation is an almond tart which is filled and layered with ingredients like a parfait before being topped off with mont blanc cream.


The dessert comes in for delightful variations such as the 'Chestnut & Tiramisu' which tops tiramisu with the flavours of autumn like chestnut ice cream and chestnut cream, and the 'Berry & Berry' which is piled full of strawberry cream and topped off with a strawberry. Sweet-tooths will discover a labyrinth of flavours as they gradually make their way through whichever they decide to order.

Chestnut & Tiramisu (Mascarpone Cheese) | ¥880 (Before Tax)

The tiramisu is made with mascarpone and has on top of it Japanese chestnut and chestnut ice cream. The chestnut cream is arranged like a mont blanc. The inner tiramisu adds a unique touch to make this a mont blanc for the ages.

Berry & Berry (Cream Cheese) | ¥820 (Before Tax)

This tiramisu is made from cream cheese which is topped with strawberry sauce and vanilla ice cream. A parfait mont blanc for the strawberry lover who won't be able to resist the strawberry cream and the crowning fresh strawberry.

Fromage & No-Bake Cheesecake (Parmigiano-Reggiano Cheese) | ¥780 (Before Tax)

A no-bake cheese cake combined with cream cheese ice cream and cream cheese. Inside you'll find fresh white peach. There's also a crispy texture brought by the Parmigiano-Reggiano. A must-try for cheese fanatics.

Matcha & Brown Sugar Syrup Soy Flour (Ricotta Cheese) | ¥780 (Before Tax)

A mountain made from matcha warabimochi, adzuki red bean paste, brown sugar syrup soy flour, and vanilla ice cream. This one's full of Japanese flavours, but also ricotta cheese, making it a Japan x Western fusion.

Information

Cheese Dish Factory Shibuya MODI
Address: Shibuya MODI Floor 9F, 1-21-3 Jinnan, Shibuya-ku, Tokyo

Access: 3-minutes from Shibuya Station
TEL: 03-6416-5179
Business Hours: Lunch 11:00-15:00 / Cafe 15:00-17:00 / DINNER 17:00-23:30
Official Website: http://www.sld-inc.com/cheesedishfactory.html

KIDDYLAND Harajuku to Celebrate Miffy's 65th Anniversary

KIDDYLAND Harajuku, a fun and cheerful shopping centre in Harajuku, Tokyo, has announced that it is celebrating the 65th anniversary of Dick Bruna's popular character Miffy from October 10 to March 19 with a different theme every month. Visitors can expect to get their hands on a range of merchandise, freebies, and more.

CARROT

Running from October 10, 2020

A selection of autumn-coloured and carrot-themed Miffy merchandise will be sold. If you head on up to miffystyle on floor 4F of KIDDYLAND Harajuku right, and spend more than ¥1,000, you'll also receive a special Miffy shopping bag completely free (available now). These are limited in stock though so you'll want to get your paws on them quick!

KIDDYLAND x miffystyle Christmas Fair 2020

Running from November 7, 2020

miffystyle and KIDDYLAND are hosting a Christmas fair this year themed on animals. A special range of merchandise with designs of Dick Bruna's animals will be sold. Customers who spend over ¥1,000 at the fair will also receive a free shopping bag, and if they spend more than ¥2,000 some special pink wrapping paper. These are both limited in stock.

A must-grab at the Christmas Fair


Miffy GOODGLAS | ¥3,900 (Before Tax)

One must-get item at the Christmas fair is the cute double-wall glass made by GOODGLAS. Perfect as a gift to yourself or someone else this Christmas. As you pour your drink into it, Miffy's face will appear.

Enjoy the autumn and winter this year with Miffy in Harajuku.

Illustrations Dick Bruna © copyright Mercis bv,1953-2020 www.miffy.com

Experience Shinjuku's Famous Halloween Event Online at Virtual Shibuya

The Virtual Halloween Committee has announced that it will host an online Halloween event inside Virtual Shibuya as a result of the pandemic and to mitigate crowded streets in Shibuya, a place which becomes a sea of people during the spooky holiday season.

The event, titled Virtual Shibuya au 5G Halloween Fes, will begin on October 26 and run up to Halloween Day. It is being promoted with the hashtag #StayVirtual.


Shibuya 5G Entertainment Project launched its new digital platform "Virtual Shibuya" back in May of this year. Officially recognised by Shibuya City, Virtual Shibuya comes in response to the effects of the novel coronavirus (COVID-19) which has brought tight restrictions to the economy and people's way of life. It will enable people to continue enjoying entertainment from the comfort of their homes by participating in a whole host of virtual events and activities. The project aims to deliver content from Shibuya with live performances from artists, art exhibitions, talks, and more. The use of 5G and the latest cutting edge technology will connect the real Shibuya to a virtual space, combining the realms of the digital and real world.

The Halloween event is inviting a host of Japanese artists and comedians to perform inside the virtual space, which itself will be littered with all things Halloween like Jack-o'-lanterns, bats, and more. Users will also be able to dress their avatars in the appropriate clothing in line with the holiday season of scares. All of this aims to deliver the famous Shibuya Halloween experience that the people of Tokyo are so used to.

Virtual Shibuya au Halloween Fes

Virtual Shibuya is evolving and will be updated for the upcoming Halloween event. Users can look forward to a host of music events and talk events during this age of the 'new normal.'

au 5G Presents Kyary Pamyu Pamyu: Virtual Mini Live

Virtual Shibuya will host its very first virtual live concert to open the Halloween festival. Japanese pop star Kyary Pamyu Pamyu is included in the performance line-up, who will be serving a very special one-night-only Halloween themed show inspired by horror movies. Titled "Kyary Pamyu Pamyu Online Halloween Live 2020 THE FAMILY 10.31," you can find out more about the concert here.

au 5G Presents BiSH: Virtual Live

Japanese idol group BiSH will also be playing a special Halloween show at the event.

au 5G Presents "Everyone's 5G" – Comedy Duo Wagyu Perform

Japanese comedy duo Wagyu will perform live using 5G technology which will render them in high-speed, high quality holograms.


The rest of the line-up and more details about the event will be announced in the coming weeks.

KAWAII MONSTER CAFE HARAJUKU Collaborates With Alice's Fantasy Restaurant For Halloween Fair

KAWAII MONSTER CAFE HARAJUKU is set to collaborate with Tokyo's three branches of Alice's Fantasy Restaurant to serve up a Halloween themed menu. It will be served from September 19 to October 31.

The Halloween season is right around the corner, and the KAWAII MONSTER CAFE is once again joining in with the spooky festivities. This year, the cafe has joined hands with Alice's Fantasy Restaurant to create a collaborative Halloween menu lineup.

Colourful Rainbow Pasta With Halloween Cream | ¥1,400

Colourful pasta served in rich pumpkin sauce and with a variety of different ghost creams.

Singing Alice's Caesar Salad | ¥1,360

Alice's Fantasy Restaurant's popular Caesar salad heads to KAWAII MONSTER CAFE, an assortment of purple carrots, pumpkin, and other tasty delights. Alice is also hidden in the pasta somewhere as a black witch.

Kingpin Choppy & Henchman Humpty Dumpty Curry | ¥1,300

KAWAII MONSTER CAFE's mascot is served wearing a silk hat and comes with his fellow henchman Humpty Dumpty.

Cheshire Cat Splatter Ice Cream | ¥1,100

Soft serve ice cream topped with crunchy cereal, cotton candy, and chocolate, all drizzled in a splattered sweet strawberry sauce.

Customers who post a photo of their foot onto social media with the hashtag #tokyohalloweencollection can enter for a chance to win some Halloween merchandise.

Review: The 30 Year Old Cafe Chatei Hatou in Shibuya

Hi, everyone. It's Banako of MOSHI MOSHI FRIENDS. Today I'm reviewing Chatei Hatou, a long-standing cafe in Shibuya, Tokyo.

Shibuya is a place that bustles with youth culture and fashion. It's also home to many eateries, but there aren't many places around that you can go to to get away from the busy streets for a quiet break.

Chatei Hatou opened in 1989 at Miyamasuzaka Shita in Shibuya, where it has gone unchanged and welcomed customers for the past 30 years. It's very easy to get to, being just a 3-minute stroll from the Hachiko Exit of Shibuya Station.

When opening the door to the cafe and stepping inside, the first thing to jump out at you are the rows of coffee cups lined up along shelves behind the counter.

The coffee cup collection features a selection of works by many different makers. There's even a cup in there valued at ¥200,000!

The antiques littered here and there around the cafe elevate the vibe of the cafe. There's a number of seating areas, including the counter seats as well as tables for two, four, or big groups.

I felt the faint tasty scent of the Japanese pudding calling to me so I went and ordered a pumpkin pudding along with a hot chocolate.


Cafe Chocolat (Hot) ¥950 / Pumpkin Pudding ¥500


The pumpkin pudding was nice and moist and rich in flavour. Nothing short of delicious. It's made even sweeter when eaten together with the fluffy whipped cream―which also elevates the flavour of the pumpkin too.


I was inspired by the cafe owner to go for the cup I chose for my hot chocolate. There is so much variety between the cups; it's fun getting to see rare ones. Be sure to check their Instagram page where they have more detailed write-ups about their coffee cups and coffee varieties.

The cafe has a selection of original coffee blends which they make fresh with the utmost care and consideration. You can buy their coffee beans, take cake away from you, and even order whole cakes, so you can enjoy their delights at home.

Chatei Hatou has stood together with Shibuya these past 30 years. According to the owner, the most important thing about running a cafe is making sure its doors are always open. It's been tough as a result of the pandemic this year, but the cafe is still there as a part of people's lives.

The next time you're in Shibuya, why not enjoy a drink and a sit down at Chatei Hatou?

Information

Chatei Hatou
Address: 1-15-19 Shibuya, Shibuya-ku, Tokyo
Opening Hours: 11:00-23:30 (Last Orders 22:30)
No Fixed Holidays (But may be closed during the New Year Holidays)
Access: 3-minutes on foot from Shibuya Station's Hachiko Exit
Official Instagram: https://instagram.com/hatou_coffee_shibuya?igshid=9ubwybwvpktb
*The cafe is cash-only and has an outdoor smoking area

Writer: Banako
Translator: Joshua Kitosi-Isanga

Harajuku's New Carbonara Restaurant Serves Pasta Japanese Style

A new spaghetti carbonara restaurant by the name of Nama Carbonara opened in Harajuku, Tokyo on September 17, 2020.

The restaurant opened in the same building as Harajuku's popular fresh cream shop MILK and bubble tea shop Mot Tram. The restaurant makes its own fresh flat pasta everyday and uses fresh, rich cream sourced from Hokkaido.

The current menu lineup consists of six dishes, from classic carbonara to Japanese twists. Let's take a look at some of them.

Classic Carbonara | ¥790

Walleye Pollack Roe Japanese Carbonara | ¥1,090

Freshly Grated Cheese & Bacon Carbonara | ¥1,090

Seafood, Avocado & Basil Carbonara | ¥1,190

Discover a brand new world of carbonara like never before at Nama Carbonara in Harajuku.

Information

Nama Carbonara (生カルボナーラ専門店 原宿店)

Grand Opening: September 17, 2020

Address: THE SHARE 1F, 3-25-18 Jingumae, Shibuya, Tokyo

Opening Hours: 11:00-19:00 (Last Orders 18:30)

TEL: 03-5772-8858

Official Website: http://www.opefac.com/

Manga Series Tokyo Revengers Gets Exhibition at Tower Records Shibuya

Tower Records Shibuya will host an exhibition dedicated to the ongoing manga series Tokyo Revengers from September 26 to October 18. The exhibition is being held to promote the release of the 19th volume which hits shelves in Japan on September 17.

Tokyo Revengers is a manga series written and illustrated by Ken Wakui. An anime adaptation is scheduled to broadcast in 2021.

The exhibition will feature a variety of works drawn by Ken Wakui for the series, both black and white as well as coloured illustrations, as well as panels of each character, and more. There will also be an exhibit for the upcoming live-action film.


Tokyo Revengers x TOWER RECORDS OSMO Stamps (22 Designs) | ¥909 Each (Before Tax)

Tokyo Revengers Monochrome Panels | ¥30,000 Each (Before Tax, Includes Shipping)

Fans can also get their hands on a range of exhibition-exclusive merchandise, and from October, the exhibition will sell some Tokyo Revengers x Tower Records collaborative merch. There'll be some signed artwork for sale too.

Character Business Cards (11 Designs)

And for every ¥1,000 spent at the exhibit, fans will receive one of 11 possible character business cards.

Information

Tokyo Revengers Exhibition – Tower Records Shibuya
Running: September 26, 2020 – October 18, 2020

Time: 12:00-15:00 / 16:00-20:00 (Last Entries 19:30)

Location: Tower Records Shibuya Floor 8F SpaceHACHIKAI
Entry: Free (But you must book a place online)

Exhibition Information (Japanese): http://towershibuya.jp/news/2020/09/15/148467

TALENT PROFILE

Anna Yano

Released the song "Shape My Story" produced by kz (livetune) in August 2013. Performed as the vocalist on a single for kz's solo project 'livetune' in January 2014. Both songs were used as theme songs for anime series and received attention in Japan and overseas. In October 2015, she formed a new unit with kz called 'livetune+' and they released their first EP "Sweet Clapper" on May 11, 2016.

Ayumi Seto

Active as a model, especially in fashion magazines. Receives tremendous support for her cute and distinct fashion. In February 2014, she debuted her apparel brand 'Aymmy in the batty girls' where she works as a designer. She was the first Harajuku and Aomoji-kei model to establish an authentic apparel brand. She develops clothing items through her unique fashion sense lens.

Ema Tanioku

"Emaeri" is the nickname for models Ema and Eri Tanioku, who are Aomoji fashion model twins. Ema and Eri Tanioku specialise in twin fashion coordination. Over the years their fanbase has increased due to their cute looks. Ema Tanioku spreads Harajuku culture within Japan as well as overseas and works as a Harajuku Tourism Ambassador. Starting off as a model, Ema has broadened her talent range from fashion magazines to TV, and from playing the lead role in dramas to movies.

Kyary Pamyu Pamyu's Halloween Look Decorates Shiseido Beauty Square in Harajuku

Following her firework-inspired summer promotion look for Shiseido Beauty Square, Japanese pop icon Kyary Pamyu Pamyu has returned to the beauty facility with an all-new Halloween look, first revealed on Friday.


Kyary is serving a dark romantic world in Harajuku this Halloween, with Gothic hair and makeup that delivers us spook fantasy mixed with a bewitching, fairy tail-like sweetness. The look was brought to life thanks to Shiseido's top hair and makeup artist Tadashi Harada.

Kyary Pamyu Pamyu became the ambassador for Shiseido Beauty Square when it opened back in June. The concept of the beauty facility is centred on having people discovering their beauty, having fun, sharing experiences, and learning the latest in the scene

Information

Shiseido Beauty Square
Opened: June 18, 2020

Address: WITH HARAJUKU Floor 1F, 1-14-30 Jingumae, Shibuya, Tokyo

Opening Hours: 11:00-20:00

No Fixed Holidays
TEL: 03-5413-7717

Official Website: https://beautysquare.tokyo/

*Website available in English, Japanese, and Chinese

LUSH Harajuku Revamps With New 'Slow Bath' Concept

The Harajuku branch of UK cosmetics retailer reopened after a revamp on Friday with its all-new 'Slow Bath' concept. The branch first opened to the people of Tokyo in November 2018.


Since opening, LUSH Harajuku has delivered a LUSH-esque bath product lineup experience, since Japan is known for being a nation of bath lovers. That is now being taken to the next level with the Slow Bath revamp which will stock a wide variety of items for self care and indulgence.

Throw away the needless and make way for mind and body reconnection

LUSH Harajuku is a place that helps you discover new ways to design your daily routine, with face masks to refresh your skin, products to care for your hair, scents for your well-deserved bath time, and more.

Well-being is also a big part of the brand, teaching you to be kind to yourself while you're working everyday, and to look after your mind and body. LUSH Harajuku stocks not only bath bombs and bubble bars, but a selection of items to use while you're in the bath too for some much-needed self care.

Naked items are environmentally friendly

About 60% of LUSH's products are sold 'naked' without packaging in order to reduce on waste in the environment. This also lets the essential oils and natural smells of the products seep throughout and outside the doors of their stores, beckoning people with the pleasant fragrances.

LUSH's "Lush Labs" app also has a function called "Lush Lens." This lets customers scan any naked item which brings up information about that particular item such as what ingredients are used, as well as videos on how to use products and bath bombs fizzing.

If you're ever in Harajuku, be sure to stop by LUSH.

Information

LUSH Harajuku

Address: 1-13-11 Jingumae, Shibuya, Tokyo

Opening Hours: [Weekdays] 12:00-20:00 / [Weekends] 11:00-20:00

Official Website: https://jn.lush.com/  

Shibuya's New Tourist Information Centre 'SHIBU HACHI BOX' Opens October 1

Shibuya is set to welcome tourists to its all-new tourist information centre SHIBU HACHI BOX which will open on October 1, 2020.

Conveniently located outside of Shibuya Station next to Shibuya's iconic Scramble Crossing and Hachiko statue, SHIBU HACHI BOX, managed by PLAY! DIVERSITY SHIBUYA, will act as the hub for tourist and sightseeing information on events, food, shopping, hotels, and more.

The centre will also house a PR space for its supporting partner NTT Docomo which will offer entertainment and video content related to the latest in technology and more.

SHIBU HACHI BOX will be ready waiting to welcome the people of the world to Shibuya as they step outside of the famous Hachiko Exit of Shibuya Station.

Information

SHIBU HACHI BOX

Grand Opening: October 1, 2020

Address: 2-1 Dogenzaka, Shibuya, Tokyo

Opening Hours: 10:00-20:00

PLAY! DIVERSITY SHIBUYA: http://play-shibuya.com/

Kawaii Fruit Desserts Now Being Sold at Shibuya Scramble Square in Tokyo

Tokyu Food Show Edge and +Q Beauty inside Tokyo's Shibuya Scramble Square mixed-use skyscraper are now serving a succulent selection of autumn fruit desserts, incorporating autumn flavours like chestnuts, apples, and Japan's famous Shine Muscat grapes.

Let's take a look, and try not to drool too much on your keyboard.

MORI YOSHIDA PARIS

Mont Blanc | ¥918 (Tax Included)

A mont blanc with cream draped around like a helix. Inside you will find Crème Chantilly and chestnuts, while the base is baked in parcel.

apple & roses

Caramel Apple Rose Cake/Raspberry Rose Cake | ¥2,160 (Tax Included)

These rich butter and almond rose cakes come in two flavours: caramel apple with apples specially selected from Nagano Prefecture, and raspberry, which add a sweet and sour kick.

Péché Mignon

Feuilletée (Box of Two) | ¥756 (Tax Included)

Feuilletée pies filled with a chestnut paste which add a delightful sweetness. The box contains two base flavours: chestnut and chestnut chocolate.

c7h8n4o2


Fresh Fruit Tablet Shine Muscat | ¥2,592 (Tax Included)

Whole specially selected Shine Muscat grapes wrapped in chocolate and shaped into a tablet bar. The chocolate is a rich 70% Piura Quemazon from Pacari Chocolate which blends deliciously with the grape juice.

Atelier Anniversary


Whole Chestnut Pound Cakes (Set of 4) | ¥1,404 (Tax Included)

The dough is combined with chestnut paste and each mini pound cake contains a whole chestnut.

ANNA'S by Landtmann


Red Apple | ¥693 (Tax Included) *Eat-in price

This apple cake is filled with apple mousse, chocolate mousse, and chocolate sponge. The entire thing is coated in a red apple glaze, giving it a cute appearance.