THE CAMPANELLA CAFE Introduce Limited-Edition Pastel Coloured Spring Menu
I'll Co., Ltd. is a company that produces and sells sweets, including Tokyo Campanella, a popular Tokyo souvenir. THE CAMPANELLA CAFE is the first concept café to bring to life the vision of Tokyo Campanella and is celebrating its 1-year anniversary since opening this spring. To celebrate, the café is introducing a new spring menu for a limited period they have called the Spring Pastel Collection. The menu is available from April 1st to May 31st.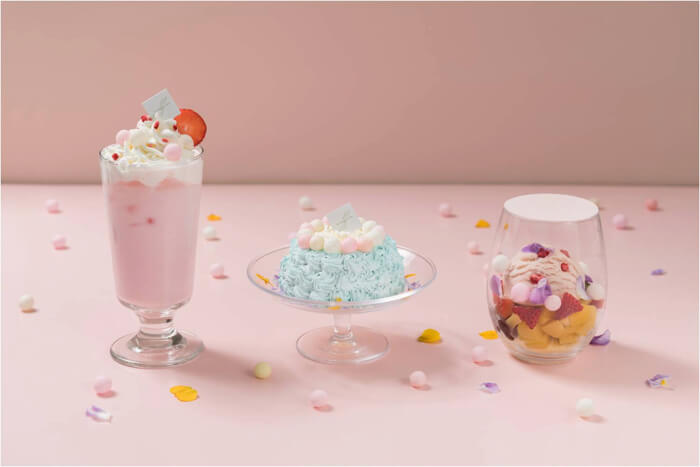 Included on the menu are 3 items: the Beets Latte, Smash Cake and Campanella Affogato. Each item is decorated in a spring inspired pastel look and topped with 'oiri' ― soft candy balls. This sweet and delectable collection can be enjoyed by kids and grownups alike.
◇Beats Latte (Hot / Ice) ¥820 (tax incl.)
This pastel pink latte is made with sweet, colourful beets packed with nutrition that is effective in keeping beautiful. Its secret ingredient is strawberries.
◇Smash Cake ¥1,200 (tax incl.)
The smash cake celebrates the 1-year anniversary of THE CAMPANELLA CAFE. The base uses beautiful blue campanella together with mixed berries and custard flavour to make a mousse. It is also sprinkled with edible flowers, giving it a gorgeously striking appearance.
◇Campanella Affogato ¥980 (tax incl.)
This affogato is to be eaten while pouring rich matcha from the pink chocolate lid on top. This is the café's first Japanese-modern sweet, using seasonal matcha, chestnuts and rice flour dumplings. It's a mild dessert with springtime colours.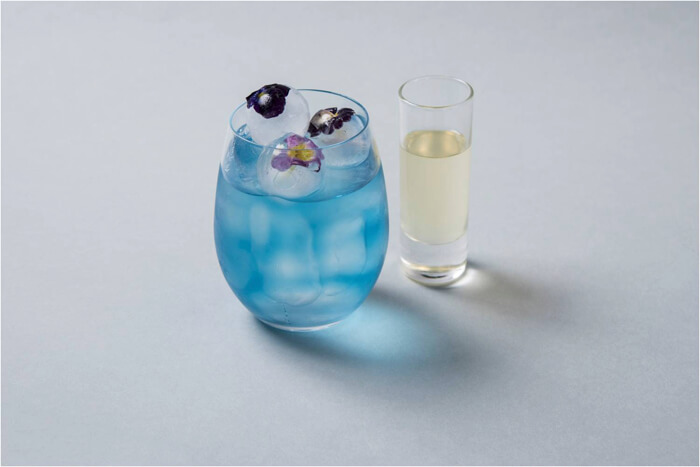 While the menu is available, they are also selling a whole range other items too which are hot on social media right now, including their Blue Lemonade which, when you add the accompanying lemon ginger syrup, changes colour; the Blue Afternoon "Alice" cute tea set that comes with 10 items on a stand, and more.
■Information
THE CAMPANELLA CAFE
Address: Daimaru Tokyo 4F, Marunouchi, Chiyoda, Tokyo, 100-6701
Opening Hours: [Monday-Wednesday, Weekends] 10:00-20:00 / [Thursday-Friday] 10:00-21:00 / Lunch Time 10:00-14:30
No Fixed Holidays (Except January 1st).
Website: http://thecampanellacafe.com/ 
RELATED ENTRIES
My Hero Academia Pop-Up Shop to Open at Ikebukuro Sunshine City in Tokyo

Bandai Namco Amusement is opening a My Hero Academia pop-up shop at the new Namco Ikebukuro facility which itself is set to open this winter at Sunshine 60 Street. The pop-up shop will run for a limited time only from December 20, 2019 to January 19, 2020.

*The pop-up shop will be open before Namco Ikebukuro fully opens

To date, this pop-up shop has hit Shinjuku, Nagoya, Hakata and elsewhere across Japan since March 29 this year. The shop features official designs and illustrations drawn specifically for itself, themes of which include the cool Heroes laughing in the face of adversity, wearing festive headbands and happi coats, and more. These designs feature on exclusive merchandise, and there is even a raffle mini game where fans can win tapestries, pin badges, and other limited edition goodies.

Fans can also get involved in a digital roulette game which has been held at the other pop-up shops, which features a background image featuring the characters from the series, where they can win more items. New prizes will be included at both Nambo Ikebukuro and Namco Umeda.

And to promote the upcoming anime film My Hero Academia – Heroes: Rising, Namco Ikebukuro is holding a campaign for fans to win one of three possible postcard designs from the film.

©My Hero Academia Production Committee ©️2019 "My Hero Academia THE MOVIE" Production Committee ©️Kohei Horikoshi/Shueisha

*The information in this news release is up to date at the time of posting. Information regarding the event is subject to change without notice.

*Photos are for illustrative purposes only.

Information

My Hero Academia Character Pop Store

Running: December 20, 2019 – January 19, 2020

Opening Hours: 10:00-20:00

Address: Ikebukuro Sunshine 60 Street Floor B1F, 1-22-10 Higashi-Ikebukuro, Toshima Ward, Tokyo

Pop-Up Shop Website: https://bandainamco-am.co.jp/chara_shop/heroaca/

My Hero Academia Official Website:  https://heroaca.com/

Campaign Details

To enter the campaign, you must download the Namco App (ナムコアプリ) and follow Namco Ikebukuro as one of your favourites. Those who follow the store will receive a coupon to receive a postcard. If they show this coupon to a staff member at the store, they will receive one of three possible My Hero Academia – Heroes: Rising postcards chosen randomly. Available on a first-come, first-service after Namco Ikebukuro opens. Exclusive to the Namco Ikebukuro branch.

Store Website:  https://bandainamco-am.co.jp/game_center/loc/ikebukuro/

Akasaka Yuuga: The New Japanese Restaurant in Tokyo's Gourmet Warzone Akasaka

Akasaka is known as a warzone when it comes to gourmet restaurants, but a new contender has arrived. Akasaka Yuuga opened this month in Akasaka Ni-chome, Tokyo. This restaurant serves Japanese style cuisine featuring carefully selected flavours taken from across the country.

Yuuga gets most of their fish from Choshi Port, which boasts the best fish yield in Japan, as well as other carefully chosen seafood from across Japan in addition to seasonal vegetables. They bring out the full flavour of their ingredients, all of which are matched to the current season. They even serve Japanese black beef.

Their concept centres on how recognised and loved Japanese food is internationally. The restaurant makes full use of Japan's traditional food culture and prepares food using a variety of cooking methods. Everything in the restaurant is carefully considered to ensure diners enjoy their meal experience with all five senses, from not only the food but the decor and hospitality too. There are also counter seats available for customers who want to watch their food being prepared while they talk, whether to their friends or with the skilled chefs, offering an unforgettable dining experience for Japanese people and foreigners alike. There are also private eating booths for those who want to eat with friends, family, or celebrate a special day.

Nijushisekki

Nijushisekki refers to the days that divide the solar year into twenty four equal sections and highlight the longest days of sun in summer, the shortest days in winter, and the days being the same in spring and autumn.

The dishes at the restaurant reflect these regular changes; the dishes are not bound strictly by Japanese cuisine, but make use of various cooking and preparation methods, with thought and consideration put into every dish.

Japanese Black Beef

Yuuga prides itself not only on seasonal vegetable and fish-filled menu, which is both a feast for the belly and eyes, but on the beef used in its course meals too.

Yuuga serves Japanese black beef which comes from a rare breed of cow which is difficult to rear. It has a distinct rich flavour and low melting point which gives it a melt-in-the-mouth texture.

Courses

There are three courses to choose from that cater to customers desires, costing ¥8,000, ¥12,000, and ¥20,000 respectively. This includes appetisers, and customers can choose from a range of wines from around the world select by sommeliers, as well as champagne, whisky, and of course sake and shochu.

Information

Akasaka Yuuga

Address: Yamaguchi Bldg. 1F, 2-14-8 Akasaka, Minato Ward, Tokyo

Business Hours: 17:00-23:00 (Last Orders 22:00)

Closed: Sundays & Public Holidays

Official Website: http://yuuga.ku-shin.jp

WITH HARAJUKU: Shiseido to Open Beauty Parlour, Hair & Makeup Academy and More in Harajuku's New Shopping Complex

Shiseido has announced that it will open three new facilities in WITH HARAJUKU—a shopping complex currently in development by NTT URBAN DEVELOPMENT CORPORATION in front of Harajuku Stationーin April 2020. This includes the new beauty parlour Beauty Square, the hair & makeup academy and studio SABFA*, and the restaurant and lounge SHISEIDO PARLOUR THE HARAJUKU managed by Shiseido Parlour.

*SABFA is a school managed by Shiseido for training professional hair and makeup artists

Beauty Square will be located in the first floor as a place to discover beauty, have fun, and share experiences. As well as selling cosmetics, the facility will offer various beauty experiences using digital technology, and there will be a hair and makeup salon where customers can receive high quality service for a short period of time. By combining real experience with digital tech, Beauty Square hopes to bring in people of all ages and backgrounds from inside and outside Japan so that they can discover the fun of beauty and unlock their inner charm.

SABFA on the second floor will be home to an all-new lecture and training facility as well as a photo studio. It will train educate and support the next generation of hair and makeup artists who will challenge the ideas of beauty and revolutionise the industry.

SHISEIDO PARLOUR THE HARAJUKU is on the eighth floor where customers will be able to dine on French cuisine and indulge in line-up of wines carefully chosen by sommeliers. The restaurant overlooks Meiji Jingu, and its interior was designed by Kazuya Ura who designed the Twilight Express Mizukaze, a multiple unit sleeping-car excursion train operated by West Japan Railway Company.

Be sure to visit WITH HARAJUKU when it opens in April next year.

Information

WITH HARAJUKU

Grand Opening: April 2020

Address: 1-14-30 Jingumae, Shibuya, Tokyo

Souvenirs at Tokyo Station's GRANSTA Shopping Complex Abundant For the New Year

Tokyo Station's GRANSTA and GRANSTA Marunouchi shopping complexes are holding a New Year's from December 26, 2019 to January 5, 2019 where sweets and souvenirs will be sold to beckon the new year. The items are based on the Year of the Rat in the Chinese zodiac for 2020.

Sweets and Souvenirs

Baked New Year 2020 (Contains 5) – ¥1,600 @ Fairycake Fair (Available from December 26)

Tuck into these adorable baked cookies with various celebratory designs including rats, flowers and the year 2020. They are egg flavoured and are made with caramel to create a taste similar to Japanese purin (a type of custard pudding).

 

High Grade Fresh Japanese Confection Assortment (Contains 6) – ¥1,848 @ Ginza Kanra (Available Mid-December to Mid-January)

Ginza Kanra's assortment of fancy confections are so pretty they almost seem a waste to eat, each with a variety of motifs such as a rat as well as "Gin no Suzu"ーa silver bell inside Tokyo Station that's famous as a meeting spot.

Ginza Kikunoya Fukiyose Kaiune Shikan (200g) – ¥1,998 @ Jimbocho Ichi no Ichi (Now on sale until all sell out)

This tin of assorted small sweets includes around 30 types of baked wheat bran treats and more. There's plenty to keep you going through the New Year celebrations.

Left: Eto Kokeshi Rat – ¥2,090 / Right: Mame Kokeshi Rat – ¥880 @ SHARED TOKYO (Now on sale)

Available in limited quantities only, these cute rat kokeshi dolls would look good even as decorations in small spaces. Their red and white colours add to the festive vibe as these are celebratory colours in Japan.

New Year's Card Shrimp Senbei Rice Crackers (Contains 11) – ¥1,080 @ Keishindo (Now on sale until all sell out)

Forget regular Christmas cards, hand someone one of these rice crackers instead which feature messages like "Here's to another great year" in Japanese as well as other New Year motifs.

Osechi and New Year's Bento

Houjou – ¥8,000 @ Asakusa Imahan (Available January 1 only)

Osechi is food prepared for the New Year in Japan, and this bountiful harvest includes Asakusa Imahan's famous wagyu black beef, red rice, rice with minced sea bream, and more. These are limited to 10 sets only.

Osechi Shoufuku Suzen – ¥1,800 @Sasahachi (Available January 1-3)

Another delicious mix of osechi like fish wrapped in kombu seaweed, hand-rolled sushi, and more—all of which goes down best with a cup of sake. Limited to 20 servings per day.

This is just a peek into what's available this New Year at Tokyo Station, so if you're using the station this year, be sure to stop by.

*All listed prices include tax

Information

New Year's Fair

Running: December 26, 2019 – January 5, 2020

TOKYO STATION GUIDE Official Website: https://www.tokyoinfo.com/

Häagen-Dazs Releases Strawberry Brownie Parfait and Fondant Chocolate Ice Creams

Häagen-Dazs Japan released two new mini cup flavours of ice cream on December 10 which will be available for a limited time only: the "Strawberry Brownie Parfait" and "Fondant au Chocolate."

The strawberry and brownie parfait ice cream is a mix of rich vanilla custard ice cream and chocolate brownie finished with a glaze of sweet and sour strawberry sauce. Enjoy a combination of three different flavours and textures.「

The "Fondant au chocolat" is a crispy sandwich filled with rich dark chocolate ice cream and chocolate sauce. It's sold in packaging that looks like a high-quality gift box.

If you're in Japan for the winter then be sure to pick up these two holiday season delights!

Information

Häagen-Dazs Mini Cup Strawberry Brownie Parfait (Limited Edition)

Price: ¥295 (Before Tax)

Release Date: December 10, 2019

Available: At supermarkets, convenience stores, department stores and elsewhere across Japan

Product Page: https://www.haagen-dazs.co.jp/strawberry_brownie_parfait/

Häagen-Dazs Mini Cup Fondant Au Chocolat (Limited Edition)

Price: ¥295 (Before Tax)

Release Date: December 10, 2019

Available: At supermarkets, convenience stores, department stores and elsewhere across Japan

Product Page:  https://www.haagen-dazs.co.jp/fondant_au_chocolat_2019/

Artist FUKI Collaborates with LINE MUSIC to Make Romantic Bubble Tea at Tai Parfait Cafe

LINE MUSIC-Bu is LINE MUSIC's research team that studies popular music trends among teen girls. LINE MUSIC-Bu teamed up with love song-writer FUKI, who is releasing one love per month for 12 months, in order to produce a new bubble tea drink and tapioca dessert especially for couples. The drink and dessert is being sold at Tai Parfait Cafe, Yokohama World Porters. FUKI will also perform at a free live gig at Yokohama World Porters on December 25, which is the last day of collaboration drink and tapioca dessert sales. 

The collaboration pair-tapi contains two different drinks in a twin split cup. One side of the cup is filled with cafe au lait and the other with a strawberry-flavoured drink. Both sides are stuffed with yummy tapioca pearls and are topped with a mountain of cream. This cute drink sees the perfect opportunity to get closer to your partner. 

The second collaboration treat is the Tai Parfait Tapi which is stuffed with strawberries and tapioca pearls. The adorable tai fish is made from sweet dough – and it has cute eyelashes too. The fish's enormously wide mouth can be seen chomping down on the delicious dessert. 

Enjoy a romantic bubble tea and make sure to check out FUKI's love song LOVE and CRY, which is based on a true story. The song is currently available on a number of digital music services. 

Teen girls full of love problems find FUKI'S songs highly relatable. As Yokohama World Porters will be lit up for Christmas, you just can't miss FUKI's performance on December 25.

Information

LOVE and CRY / FUKI

Digital Release: November 11, 2019

Link: https://jvcmusic.lnk.to/loveandcry

Tai Parfait Cafe

Selling Until: December 25, 2020

Location: Tai Parfait Cafe, Yokohama World Porters (Floor 5) 

Address:  2 Chome-2-1 Shinko, Naka Ward, Yokohama, Kanagawa 

Opening Hours: 11:00 ー 22:00

Christmas Free Live Gig

Event Name: FANTASTIC CHRISTMAS

Dates: November 8 ー December 25

FUKI's Performance Date: December 25

Times: 14:00 ー 14:30 and 16:00 ー 16:30 (Stage 2)

Location:Yokohama World Porters Kishamichi Promenade, 2nd Floor Stage 

Price: Free

Seven Days War Anime Film Release Promoted With Themed Cafe in Shinjuku

To celebrate the December 13th release of the upcoming anime film Seven Days War, a themed cafe will open at EJ Anime Theater in Shinjuku, Tokyo. The cafe will collaborate with popular creator Pantovisco who has over 680,000 followers across his social media.

The collaboration was born from Pantovisco's being able to relate to the theme of Seven Days War which focuses on the heart of today's youth.

The cute menu line-up features Seven Days War-inspired food and desserts with Perochi and his friends joining in with the fun.

There's also a drinks menu with a line-up of colourful beverages and lattes which you can get various latte art drawings on.

And for every food item ordered on the collaboration menu, you'll receive an original sticker selected randomly from several designs.

And if you order a drink, you'll get a special card introducing various characters from both Seven Days War and the world of Pantovisco.

©2019 Osamu Souda・KADOKAWA / Seven Days War Production Committee

©Pantovisco

Information

Cafe de Perochi with Seven Days War

Running: December 13, 2019 – January 12, 2020

Location: EJ Anime Theater Shinjuku Floor 5F (Shinjuku Bunka Bldg., 3-13-3 Shinjuku, Shinjuku Ward, Tokyo)

*Please check the EJ Anime Theater website for details on the menu items and more

・All customers using the cafe during this collaboration must each order at least one item

・Entry restrictions and time limits may be implemented during very busy hours

・Cash only

・Photography allowed including posting online. Post with the hashtag #EJアニメシアター and let them know how you liked it!

*Photography is prohibited for certain displays which will be marked in Japanese with "撮影禁止"

Seven Days War Official Website: http://7dayswar.jp/

Pantovisco Official Website: http://www.pantovisco.com/
EJ Anime Theater Shinjuku Official Website: https://ej-anime-t.jp/shinjuku/

Cafe Webpage: https://ej-anime-t.jp/cafe_and_gallery/perochi_7dayswar/

Kirby Pop-Up Shop 'PLAYFUL KIRBY' to Open in Laforet Harajuku in Tokyo

LEGS is opening a Kirby-themed pop-up shop named 'PLAYFUL KIRBY' for a limited time in Laforet Harajuku, a landmark of Tokyo's fashion hub Harajuku.

The shop has invited popular Japanese illustrator Shogo Sekine on board, who is known for its distinct typography work which mixes fashion with messages written in English, to create an original line of Kirby apparel and miscellaneous fashion items.

PLAYFUL KIRBY is also teaming up with Converse. Kirby has inhaled a few too many Converse Stars and has turned into a truly fashionable pink blob. The line-up is unisex so can be enjoyed by anyone and everyone. It will include items also available to purchase at Converse Stars branches as well as Laforet Harajuku exclusives.

Witness Nintendo's Dream Land hero in an all-new light as he becomes a fashion icon at Laforet Harajuku this month from December 16 to 26.

©Nintendo / HAL Laboratory, Inc.

*Photos are for illustrative purposes only

Information

PLAYFUL KIRBY

Running: December 16, 2019 – December 26, 2019

Location: Laforet Harajuku's 2nd Floor CONTAINER (1-11-6 Jingumae, Shibuya, Tokyo)

Opening Hours: 11:00-21:00 (Until 19:00 on December 26, 2019)

PLAYFUL KIRBY Official Website: http://playfulkirby.jp

Laforet Harajuku Official Website: https://www.laforet.ne.jp/

Starbucks Reserve® Roastery Tokyo Collaborates With Traditional Kyoto Dollmakers

Starbucks Reserve® Roastery Tokyo released six new products on December 5 in collaboration with Shimada Koen Ningyo Kobo, a long-standing traditional maker of Japanese gosho-ningyo dolls.

Golden Cup, Shimada Koen Ningyo Kobo – ¥50,000 (Before Tax)

The relationship between Starbucks and Shimada Koen Ningyo Kobo began when Starbucks opened its branch at Kyoto Ninenzaka Yasaka Chaya in Kyoto, which is known for having tatami flooring, as the dollmaker's studio is located near it. There is a waving cat wearing a green apron at that Starbucks which was designed by the 5th generation of Shimada Koen.

Waving Cat, Shimada Koen Ningyo Kobo – ¥30,000 (Before Tax)

Shimada Koen specialises in making gosho-ningyo, dolls with distinct features such as stout forms, pure white skin, tiny legs and hands, a big face, and an overall cute appearance reminiscent of a child. In the Edo Period they were developed as gifts associated with the Court.

Bell Rat, Shimada Koen Ningyo Kobo – ¥3,500 (Before Tax)

The line-up of six dolls feature Starbucks Reserve® Roastery Tokyo motifs and are made with considered thought in mind, including the bonds between people and enjoying happiness throughout the yearーdesires upheld by Starbucks.

Information

Starbucks Reserve® Roastery Tokyo x Shimada Koen Ningyo Kobo Collaboration
Running: From December 5, 2019 until stock runs out

Sold At: Starbucks Reserve® Roastery Tokyo

Starbucks Reserve® Roastery Tokyo

Address: 2-19-2 Aobadai, Meguro, Tokyo

Business Hours: 7:00-23:00

No Fixed Holidays.

Access: 14-minutes on foot from Naka-Meguro Station / 14-minutes on foot from the East Exit of Ikejiri-Ōhashi Station

Official Website: https://www.starbucks.co.jp/roastery/

KIRBY CAFÉ: The World's First Permanent Kirby-Themed Café to Open in Tokyo

The KIRBY CAFÉ is set to open on the 4th floor of Toyko Solamachiーthe shopping, dining and entertainment complex under Tokyo Skytreeーon December 12, 2019 as the world's first permanent Kirby-themed café.

Though we still have a week to wait until Kirby inhales us whole into his café, the official website is already live, showcasing a new line-up of food and merchandise different from that held at the pop-up Kirby cafés (which we have covered extensively in Fukuoka and even Tokyo Solamachi, the latter of which has seen the most pop-ups).

Some of the menu items are served in a Kirby lunch box, on a Kirby plate, and more. Let's take a look. Menu items below are translated from Japanese.

KIRBY CAFÉ's Stone Baked Pizza ~Maximum Tomato Margherita~ – ¥1,380 (Before Tax)

KIRBY CAFÉ's Stone Baked Pizza ~Greedy Half 'n' Half~ – ¥3,980 (Before Tax)

Served on an original plate, the half 'n' half comes served with two pizza flavours of your choice. Perfect for those times when you can't decide because all the options are too good!

Kirby's Munching Loco Moco Bowl – ¥1,980 (Before Tax)

Munch and chew on this tasty serving of loco moco just like Kirby is adorably doing on the lunch box it comes in.

Whole Egg Plant & Meat Pasta: Say Your Wish to the Galaxy – ¥1,380 (Before Tax)

Meta Knight's Precious Matcha Mousse – ¥780 (Before Tax)

Doctor Kirby's Secret Lab Soda – ¥1,280 (Before Tax)

As well as these incredible-looking dishes, there's lots of other cute ones you can order for takeout too.

If you visit the KIRBY CAFÉ, you'll have to pay a visit to KIRBY CAFÉ THE STORE as well which is located on the 2nd floor of Solamachi. There's around 200 pieces of Kirby merchandise including exclusives as well as KIRBY CAFÉ-themed items.

The KIRBY CAFÉ has its own soundtrack which you can actually buy at the store too. It will be released on December 12. We did an article about it here.

Customers can received a specially-made sticker with the CD design when they buy something at the café or store.

The KIRBY CAFÉ gives priority to reservations, so if you're hoping to get sucked into the world of Kirby, be sure to book in advance.

Information

KIRBY CAFÉ TOKYO

Grand Opening: December 12, 2019

Address: Tokyo Skytree Town Solamachi Floor 4F (1-1-2 Oshiage, Sumida, Tokyo)

Opening Hours: 10:00-22:00 (Last Orders 21:00)

*No fixed holidays except where Tokyo Solamachi is closed

Reservations & Website: https://kirbycafe.jp/tokyo/

*Reservations for February 2020 onward will open on Christmas Day at 18:00 (JST)

*Reservations can only be made via the official website – phone reservations not available

*The merchandise corner at the café is limited to café customers

*Depending on how busy the café is, customers may be permitted entry on the day without a reservation

*There is an allocated 85-minute time limit for using the café, and a group limit of up to 8 people

KIRBY CAFÉ THE STORE

Address: Tokyo Skytree Town Solamachi East Yard Floor 2F (1-1-2 Oshiage, Sumida, Tokyo)

Opening Hours: 10:00-21:00

Hilton Tokyo Bay Tips Over the Toy Box to Reveal Playful Pink Strawberry Dessert Buffet

Tokyo Disney Resort® 's official hotel Hilton Tokyo Bay will be serving up a strawberry dessert buffet called Strawberry Playroom from December 28 at lounge O. The buffet will be served exclusively on weekends and national holidays excluding New Year's Day.

Hilton Tokyo Bay has tipped over the toy box, creating a dessert buffet which is like the playroom of every little girl's dreams. The interior decor of the buffet room is a nostalgic throwback to the Vaporwave days of dial-up internet, bulky CRT TVs and retro games, however, everything is transformed with a pop pink filter. 

If you think the decor is playful, just wait until you see the desserts. Slice into the heart-shaped Very Berry Cream Cake and a strawberry and heart-shaped chocolate filling will come bursting out like a jack-in-the-box. This is the dessert to go for if you want a slice of fun.

Delving deeper into the world of toys, you will discover the Berry Brownie Toys dessert, which is garnished with chocolate robot toys. 

The MELTY or NOT Mousse Cake is the only time you won't feel disappointed seeing a dropped ice cream. This vanilla mousse cake is topped with a "melting ice cream" and is freshly baked from the fantasy oven.

When you need a break from all the sugar intake or are looking for a late lunch, make sure to check out the 15 savoury dishes. Some savoury dishes include the Infinite Coleslaw Tower, which is made of purple cabbage and crunchy fried noodles, the Peachy Pink Beetroot Scattered Sushi (Chirashizushi) which is made from purple sushi rice and the Macaroni Gratin Treasure Hunt which challenges you to find the macaroni with a unique shape. 

All together, the buffet includes approximately 40 varieties of fun savoury mains and desserts for you to enjoy and are bound to get lots of likes on your Instagram. 

Information

Strawberry Dessert Buffet: Strawberry Playroom

Location: Hilton Tokyo Bay Lobby "Lounge O"

(1-8 Maihama, Urayasu, Chiba)

Running: December 28, 2019 – April 12, 2020

*Open only on weekends and national holidays. Closed on New Year's Day.

Opening Hours: 3:00 ー 15:00/ 15:30 ー 17:30 (Two sessions per day, each runs for two hours each)

Price**: Adult: ¥3,100, 4 – 8 y/o: ¥1,200, 9 -12 y/o: ¥1,800

*Drinks bar access included (Approx. 15 drinks)

** Prices Before Tax and Service Charge

Reservation Tel:  047-355-5000 (Restaurant Extension Number)

 

Website:  https://www.hiltontokyobay.jp/plans/restaurants/sweets/lounge_1912

PEANUTS Cafes and Diners Across Japan Release Christmas-Limited Snoopy Courses

If you're a Peanuts fan, you can't miss out on the gorgeous Christmas menu which will served up at the PEANUTS Cafe Nakameguro, PEANUTS DINER Yokohama and PEANUTS DINER Kobe from December 2 – 25. 

Order the Christmas Dinner course for a large angus beef steak drizzled with a sweet and tangy sauce made of berries and raspberry vinegar.

After your dinner enjoy the luxurious Christmas desserts plate of bite-sized treats such as a soft and tender canelé and sweet madeleine. The plate is decorated with a Christmas Snoopy pick where Snoopy's face can be seen peeking through a wreath. 

You don't have to book in advance but we recommend you do. This can be done via the links in the information section below.

Order the Salmon Cheese Gratin Christmas Plate for a luxurious course of mains, salad and dessert all on one tray. The sautéd salmon is the steal of the show as it sits in a bath of creamy stew and is topped with a generous layer of cheese. This is served alongside fluffy bread branded with Christmas designs that will definitely put you in the Christmas spirit. A Snoopy pick replaces the traditional cherry on the sundae that will leave you with a sweet aftertaste after your meal.

The White Hot Chocolate is the perfect way to ward off the cold of winter. Like a white blanket of snow, white chocolate milk fills the cup and is topped with the traditional colours of Christmas. Allow yourself to be soothed by the drink's mild sweetness.

Make the most of your Christmas with Snoopy and friends. 

© 2019 Peanuts Worldwide LLC

Information

Christmas Dinner Course

Price: ¥3,900 (Before Tax) Per Person

Locations: PEANUTS DINER Yokohama and Kobe

Reservations:

PEANUTS DINER Yokohama: http://www.peanutsdiner.jp/christmas_2019

PEANUTS DINER Yokohama and Kobe: http://www.peanutsdiner.jp/christmas_2019_kobe

* Reservations can also be made on the day.

Salmon Cheese Gratin Christmas Plate

Price: ¥2,500 (Before Tax)

Location: PEANUTS Cafe Nakameguro

White Hot Chocolate

Price: ¥800 (Before Tax)

Location: PEANUTS Cafe Nakameguro

PEANUTS Cafe Nakameguro

Address:  2-16-7 Aobadai, Meguro-ku, Tokyo

Official Website: http://www.peanutscafe.jp/

PEANUTS DINER Yokohama

Address: MARINE & WALK YOKOHAMA 2F, 1-3-1 Shinko, Naka Ward, Yokohama, Kanagawa 

Official Website: http://www.peanutsdiner.jp/

PEANUTS DINER Kobe

Address: PEANUTS HOTEL 1F, 1-22-26 Nakayamatedori, Chuo Ward, Kobe, Hyogo

Website: http://www.peanutsdiner.jp/kobe/