THE CAMPANELLA CAFE Introduce Limited-Edition Pastel Coloured Spring Menu
I'll Co., Ltd. is a company that produces and sells sweets, including Tokyo Campanella, a popular Tokyo souvenir. THE CAMPANELLA CAFE is the first concept café to bring to life the vision of Tokyo Campanella and is celebrating its 1-year anniversary since opening this spring. To celebrate, the café is introducing a new spring menu for a limited period they have called the Spring Pastel Collection. The menu is available from April 1st to May 31st.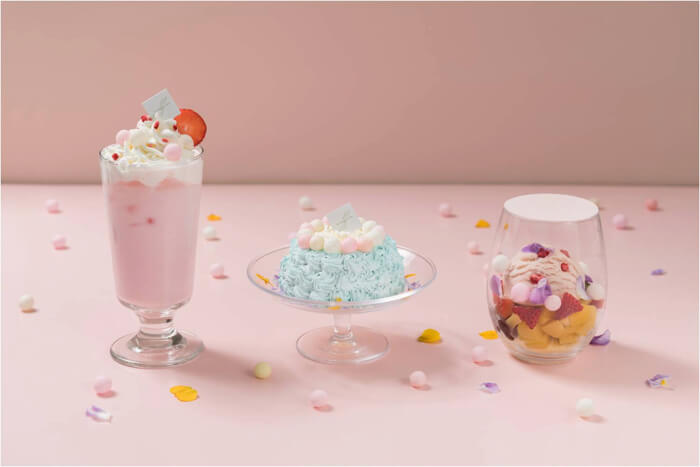 Included on the menu are 3 items: the Beets Latte, Smash Cake and Campanella Affogato. Each item is decorated in a spring inspired pastel look and topped with 'oiri' ― soft candy balls. This sweet and delectable collection can be enjoyed by kids and grownups alike.
◇Beats Latte (Hot / Ice) ¥820 (tax incl.)
This pastel pink latte is made with sweet, colourful beets packed with nutrition that is effective in keeping beautiful. Its secret ingredient is strawberries.
◇Smash Cake ¥1,200 (tax incl.)
The smash cake celebrates the 1-year anniversary of THE CAMPANELLA CAFE. The base uses beautiful blue campanella together with mixed berries and custard flavour to make a mousse. It is also sprinkled with edible flowers, giving it a gorgeously striking appearance.
◇Campanella Affogato ¥980 (tax incl.)
This affogato is to be eaten while pouring rich matcha from the pink chocolate lid on top. This is the café's first Japanese-modern sweet, using seasonal matcha, chestnuts and rice flour dumplings. It's a mild dessert with springtime colours.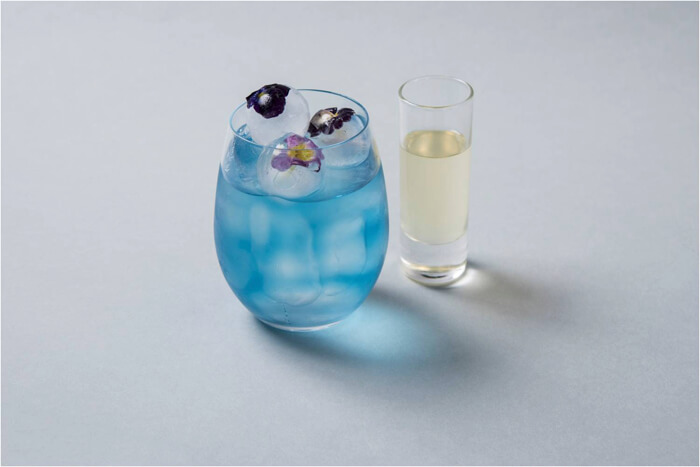 While the menu is available, they are also selling a whole range other items too which are hot on social media right now, including their Blue Lemonade which, when you add the accompanying lemon ginger syrup, changes colour; the Blue Afternoon "Alice" cute tea set that comes with 10 items on a stand, and more.
■Information
THE CAMPANELLA CAFE
Address: Daimaru Tokyo 4F, Marunouchi, Chiyoda, Tokyo, 100-6701
Opening Hours: [Monday-Wednesday, Weekends] 10:00-20:00 / [Thursday-Friday] 10:00-21:00 / Lunch Time 10:00-14:30
No Fixed Holidays (Except January 1st).
Website: http://thecampanellacafe.com/ 
RELATED ENTRIES
McDonald's KitKat McFlurry to be Whipped Up in Japan

McDonald's Japan is teaming up with Nestlé next week to bring back last years' customer-favourite McFluffy® KitKat® for a limited time starting on January 27.

McFlurry KitKat | ¥290

The delicious dessert combines McDonald's tasty soft service ice cream with crushed KitKat and finishes it with a drizzle of special sauce made with couverture chocolate. Mix everything together for pure chocolatey heaven goodness.

McFlurry Oreo | ¥290

McDonald's Japan also serves the McFlurry Oreo, a regular item on the menu, and right now is the only time you can enjoy comparing the tastes and textures between both the Oreo and KitKat McFlurries.

Which one has you drooling more?

Information

McFlurry® KitKat®
Running: January 27, 2021 – Late March 2021

Available: McDonald's Japan (Select branches not participating)
Serving Times: 10:30 until closure
Official Website: http://www.mcdonalds.co.jp/

*KitKat is a registered trademark of Nestlé Group.

Luxury Japanese Gateau Chocolate Infused With Sake Made From Famous Yamada Nishiki Rice

Japanese sweets and dessert brand KAKERI opened pre-orders for its new luxury chocolate "Nihonshu Gateau Chocolat" on Monday (January 18) which is made in collaboration with Inami Shuzo, a distillery based in Miki, Hyogo, a city known for a type of rice called Yamada Nishiki. Pre-order opened exclusively on Makuake.

Daigin Koshu – Bronze Award winner in the Sake category at IWC2020

Inami Shuzo

The chocolate is infused with Daigin Koshu, a sake made by Inami Shuzo which won a Bronze award at the International Wine Challenge for Japanese Sake in 2020. The chocolate is also best paired with a cup of strong sake too. Online orders are shipped in freezer refrigeration and can be eaten frozen too, giving it an ice cake-like texture. If left to defrost in the fridge, the taste and fragrance of the infused sake increases, so sake-lovers can pick how they best want to enjoy their gateau treat.

What makes this chocolate so special is that it enjoys the combination of ingredients and a workforce all from the city of Miki where the distiller is located. The sake is made with a rice called Yamada Nishiki which is grown in Miki and is famous for being used to make sake. The consumption amount of this rice has decreased as a result of the pandemic and so the chocolate was developed to help spread word of the rice and ensure it doesn't go to waste.

Chihayafuru Anime Gets Escape Game at TOKYO MYSTERY CIRCUS

TOKYO MYSTERY CIRCUS, Japan's first and biggest puzzle-themed theme park, has announced the opening of a new escape game based on the popular manga anime series Chihayafuru which will begin at the site on March 4, 2021.

The immersive story-driven escape game has players take on the role of a member of the Fujiyama High School karuta club. While learning the essential points of competitive karuta from Chigaya Ayase and the gang, they must aim for victory to escape. No prior preparations are necessary – players can book their tickets and just turn up on the day.

This unique escape game takes place in a traditional tatami mat room and combines puzzle-solving skills with competitive karuta in which clues are written on the cards. Fans of the manga and anime series are sure to enjoy this immersive game.

Tickets will go on sale on January 23, 2021 at 12:00 (JST).

©末次由紀/講談社

Kingdom Anime Collaborates With Firsthand On Exclusive Merchandise

Creative and sustainable concept store Firsthand released a collection of items in collaboration on Wednesday (January 20) with the TV anime series Kingdom, which is set to begin airing its third season this April, and Japanese artist Kosuke Kawamura. The items are available to buy both online in Japan and at a pop-up store at OPEN STUDIO inside FREAK'S STORE Shibuya.

Firsthand is a Japanese brand centred on upcycling and sustainable production. Fans of the ongoing anime series can get their hands on a range of clothing items, phone cases, and more. If they head to OPEN STUDIO they'll also find an illustration exhibit, a photo spot, and more. The gallery is also selling posters signed by Kosuke Kawamura.

Will you be watching Season 3 of Kingdom this spring?

Information

Kingdom x Firsthand x Kosuke Kawamura Pop-Up Shop
Running: January 20, 2021 – January 25, 2021
Location: OPEN STUDIO, 1-31-1 Jinnan, Shibuya, Tokyo

Opening Hours: 10:00-20:00
TEL : 03-6415-7728

Where to buy the merchandise collection:
・OPEN STUDIO (Limited time January 20th-25th)
・Firsthand RAYARD MIYASHITA PARK (From January 26th)
・FREAK'S STORE ONLINE (From January 24th) @ http://www.freaksstore.com/
・ZOZOTOWN (From January 28th) @ https://zozo.jp/shop/freaksstore/

Event Details: https://firsthand.jp/news/3609/

FANCL Ginza Square Opens Onsen Hot Spring That You Can Walk Into Wearing Your Clothes

FANCL has brought the hot spring experience to its flagship site FANCL Ginza Square for a limited time with a variety of content that makes visitors feel like they've come to a Japanese onsen. The experience, named Tabi Suru Square Yu, is running until February 11, 2021.

Café au Lait / Fruit au Lait / Soy Milk Aojiru – ¥300 Each

Reiwa Honzen (FANCL Ginza Square Floor 9F)

Lunch Sana Winter Seafood Bento | ¥3,500

Winter Dinner Seafood Course | From ¥9,000

FANCL BROWN RICE MEALS (FANCL Ginza Square Floor B1F)

Hiroshima Oyster & Spinach Risotto Parmesan Cheese Galette Lunch Set | ¥1,850

Tomato Cream Pasta Lunch Set ¥1,850

Original Hand Towel

FANCL Ginza Square Onsen Essentials Set | ¥3,668

Breathing exercises at SUU-HAKU

At Tabi Suru Square Yu, visitors can enter a room that fully recreates the experience of being in a hot spring. The room is set at the same temperature, is filled with the same aromas, and is decorated in the same way. Visitors sit on one of the relaxation sheets to soak up the experience – effectively getting into a hot spring without having to change their clothes.

A variety of classic drinks and dishes sold at hot springs in Japan will also be sold, and visitors can get involved in the breathing exercises on offer.

Valentine's Dessert Sets Served Up at Harajuku's Tea Latte Shop CHAVATY

CHAVATY, a cafe in Harajuku that serves tea lattes made with high quality tea leaves, is getting ready for Valentine's Day early with the release of some tasty new desserts which they began serving up on Thursday (January 14).


Valentine's Set | ¥1,100 (Before Tax)


Valentine's Scone Set (6 Included) | ¥2,480 (Tax Included)


Raspberry Chocolate | ¥970 (Tax Included)

The Valentine's Set comes with a cute scone as well as fondant chocolate made with rich, high-grade chocolate from the French chocolate brand Cacao Barry. It also comes with a tea latte of your choice. There's also a scone set which comes with two each of three different scones for a total of six including the Berry & Cocoa Pink Chocolate, Orange & Chocolate Chip Double Chocolate, and Dried Fruits & Nuts White Chocolate. CHAVATY has also made their own seasonal homemade spread: the Raspberry Chocolate.

Information

CHAVATY Valentine's Set
Running: January 14, 2021 – February 14, 2021

Address: Minami-Harajuku Bldg. 1F, 4-6-9 Jingumae, Shibuya, Tokyo

Official Website: https://chavaty.shop-pro.jp/

YOKOHAMA AIR CABIN: Japan's First Permanent Inner-City Cable Car Opens in April

Japan is set to get its first ever permanent city cable car in Yokohama on April 22 called the YOKOHAMA AIR CABIN.

The YOKOHAMA AIR CABIN is a cable car system that will offer locals and tourists a chance to enjoy Yokohama from a new perspective whether during the hot summers or during the cool evenings when the city lights wake up.

The system will be connected directly to Sakuragichō Station and Shinko Pier for easy, quick access to enjoy Yokohama Minato Mirai from up high.

If you're planning a trip to Yokohama at some point, be sure to take a ride on YOKOHAMA AIR CABIN, officially opening on April 22, 2021.

Information

YOKOHAMA AIR CABIN
Opening: April 22, 2021
Operating Hours: 10:00-22:00
Duration: 5-minutes
Price: General ¥1,000 / Children ¥500

Pokémon Tokyo Banana Adds Special Pikachu Box Set Online

Tokyo Banana World recently added its special Dengeki Box (Electric Box) of Pikachu Tokyo Banana confections to its official website which is available to order in Japan until January 30, 2021 at 17:00 (JST).

Tokyo Banana is Tokyo's official souvenir sweets brand and it launched its new Pokémon Tokyo Banana series of confections in November last year with the first catch being Pikachu. It subsequently added Eevee to the collection in December. The Pikachu confections are also available to buy at Tokyo Station.

Pikachu Tokyo Banana – Dengeki Box | Box of 12 Packs (24 Confections) | ¥3,456 (Tax Included)

The limited-time addition of the Dengeki Box to Tokyo Banana's official website means that anyone in Japan can get a taste of the electrifyingly delicious sweet fluffy custard-filled sponge cakes without having to travel to Tokyo.

Waiting inside the Dengeki Box are 12 packages each with two cakes in and each in one of six different Pikachu designs to greet hungry Trainers, all of which are positively kawaii. The box itself also features these adorable illustrations.

Left: Front of Box | Right: Back of Box

The box even has a handle attached to it so you can reuse it after to store all your bits and bobs.

©2021 Pokémon. ©1995-2021 Nintendo/Creatures Inc./GAME FREAK inc.
Pokémon, ポケットモンスター, and ポケモン are registered trademarks of Nintendo, Creatures Inc., and GAME FREAK inc..

Information

Pikachu Tokyo Banana – Online Orders
Running: January 12, 2021 – January 30, 2021
*Available while supplies last

*Shipping not available to select islands in Japan

Tokyo Banana Group Official Online Shop
https://www.paqtomog.com/shop/c/cpk-bana/

Luxurious Gin Infused White Chocolate by Dean & DeLuca Tempts With Tasty Allure

Asakusa-based 'aromatic raw chocolate' brand MAISON CACAO created a new gin-flavoured white chocolate for Dean & DeLuca which was released in Japan on January 15, 2021.

The "Aroma Raw Chocolate (Gin)" keeps the original flavour of the white chocolate and infuses with a craft gin known as "COMMON" by Toranomon Joryusho.

Aroma Raw Chocolate GIN FOR DEAN & DELUCA | ¥2,592 (Tax Included)

​One bite into a piece of this artisanal chocolate fills the mouth with a tang of subtly fruity chocolate. Then comes the refreshing taste of the gin which complements the sweetness and adds sophistication to the chocolate in an exquisite balance of flavours.

 COMMON gin is fruity and clear

COMMON craft gin has a 'botanical' flavour. Its base is a shochu made on the islands of Hachijō-jima and Nii-jima. It also contains soft water taken from Okutama Sawai.

"It has a faint fruity taste that combines with the flavour of the cacao, and he used really delicious white chocolate," explains Shingo Ishihara of MAISON CACAO who helped in the chocolate's development. "I hope people indulge in its enjoyable melt-in-the-mouth texture."

Information

Aroma Raw Chocolate GIN FOR DEAN & DELUCA

Japanese Name: アロマ生チョコレート GIN FOR DEAN & DELUCA

Released: January 15, 2021
DEAN & DELUCA Official Website: https://www.deandeluca.co.jp/

Snoopy and Charlie Brown Turn Into Confections at Japanese Convenience Stores

Bandai's character-inspired Japanese confectionery series Tabemas is releasing two new traditional Japanese wagashi confections inspired by the Peanuts comic series. Snoopy and Charlie Brown will arrive at Lawson convenience stores across Japan on January 19, 2021.

Tabemas Snoopy | ¥264 Each (Before Tax)

The cute confections capture the little details of the iconic characters, from Snoopy's doggo features and collar to Charlie Brown's hair and shirt. The Snoopy confection is filled with chocolate bean paste—a nod to his favourite chocolate chip cookies—while Charlie Brown is filled with custard bean paste as a nod to his trademark shirt. The packaging features exclusive art drawn for the Peanuts comic's 70th anniversary with Snoopy atop his dog house.

© 2021 Peanuts Worldwide LLC

Information

Tabemasu Snoopy / Charlie Brown
Release Date: January 19, 2021

Available: At the chilled sweets section of Lawson convenience stores in Japan (Excluding Natural Lawson and Lawson Store 100)

*Available while supplies last

*Stock date may differ from branch to branch

*Select stores not participatingProduct Page: https://www.bandai.co.jp/candy/tabemas/snoopy03/

SNOOPY MUSEUM TOKYO's PEANUTS Cafe Serves Up New Menu Items Inspired by the Comics

The PEANUTS Cafe at SNOOPY MUSEUM TOKYO rolled out new menu items on Saturday (January 16) as part of a new exhibition called "Snoopy to Kyoudai" (Snoopy and Siblings) featuring a sandwich and desserts inspired by scenes from the beloved Peanuts comics.

The New Menu Line-Up

Snoopy Flower Basket Sandwich | ¥1,400 (Before Tax)

This flower basket is based on a scene when Snoopy meets with his siblings who pay him a visit after he recovers from being unwell and they eat sandwiches together. The tasty sandwiches are stuffed with pastrami beef and veg so you too can get your fill like Snoopy. The basket also comes with mini corn dogs and crispy fries. This is one to share (or hog all to yourself!)

Olaf's Pancakes | ¥1,200 (Before Tax)

These pancakes are inspired by Olaf, who was first introduced in the ocmics as the winner of the Ugly Dog Contest. They are loaded with ice cream, fruit, a whole Japanese custard pudding, fresh cream, and a drizzle of caramel sauce.

Belle's Raspberry Milkshake | ¥900

A doughnut-topped raspberry milkshake like the one that appears in the comics. It's a nod to Belle, Snoopy's only sister.

©2021 Peanuts Worldwide LLC (短縮形 ©2021 Peanuts)

Information

PEANUTS Cafe SNOOPY MUSEUM TOKYO
Running: January 16, 2021 – July 11, 2021
Address: Minami-Machida Grandberry Park Park-Life Site, 3-1-1 Tsuruma, Machida, Tokyo
TEL: 042-850-7390
PEANUTS Cafe Official Website: http://www.peanutscafe.jp/snoopymuseum-tokyo/

Delicious Valentine's Day Desserts Served Up at Eggs 'n Things

Eggs 'n Things is set to serve up a special limited-time Valentine's menu in Japan from January 16 to February 28 including the Torokeru Fondant Chocolate Pancakes and Strawberry & Banana Chocolate French Toast.

Valentine's Menu

Torokeru Fondant Chocolate Pancakes | Eat In ¥1,480 (Before Tax)

Torokeru Fondant Chocolate Pancakes | Takeout ¥1,080 (Before Tax)

 

Strawberry & Banana Chocolate French Toast | Eat In ¥1,380 (Before Tax)

Strawberry & Banana Chocolate French Toast | Takeout ¥980 (Before Tax)

Valentine's Drinks

Strawberry White Mocha | Hot or Iced ¥680 (Before Tax)

Hawaiian Cafe Mocha | Hot or Iced ¥580 (Before Tax)

This lovingly-prepared chocolate and fruit-loaded line-up is sure to get the butterflies stirring hungrily for this year Valentine's.