Neko no Gohanyasan opens collaboration café down Takeshita Street, Harajuku!
From Sunday 1st April, Kawaiya, which is located on the 3rd floor of Cute Cube Harajuku, is holding a collaboration photo series exhibition called "Neko no Gohanyasan". This is dedicated to a photo series that features cats dressed up in headwear.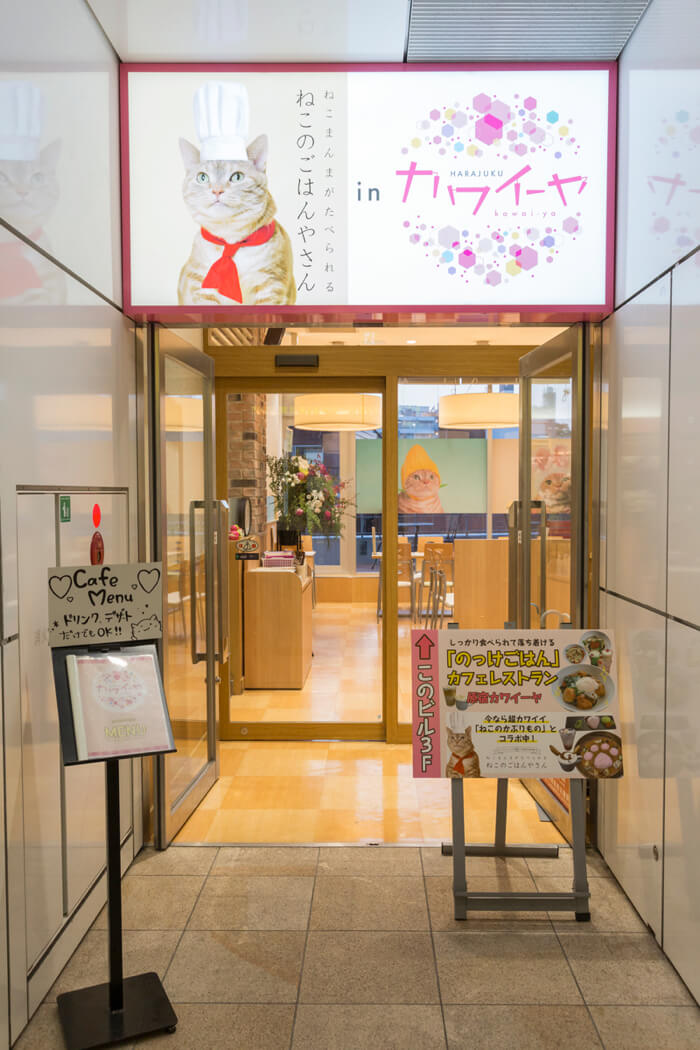 Rather than being character-themed, this collaboration café incorporates the theme of "headwear for cats", creating an entirely new kind of collaboration café called "Neko no Kaburimono" (Cats in headwear).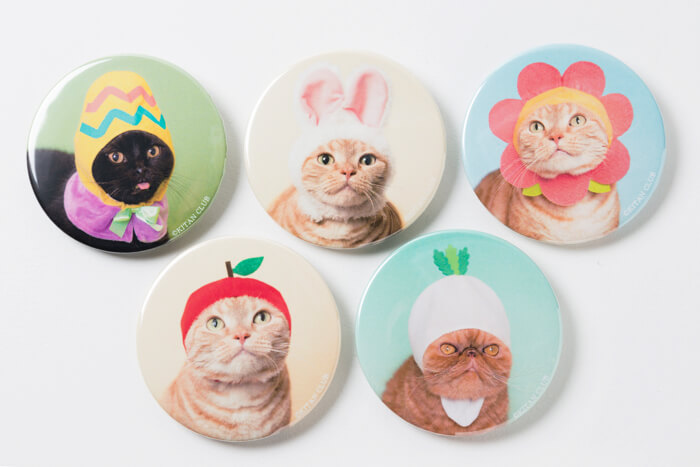 Headwear for cats was once sold in September 2015 in specialist capsule toys and became popular on social media. It was recorded in March 2018 that a total of more than 4 million of the series were sold, further proving their popularity.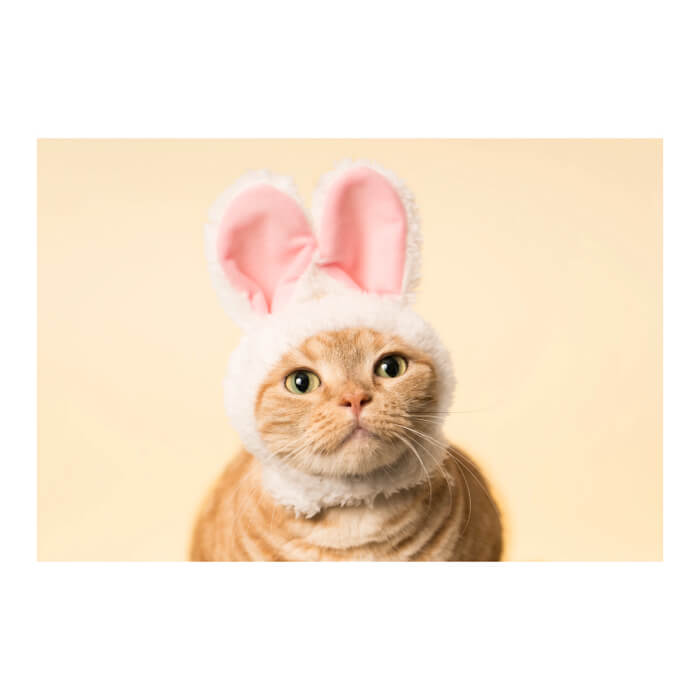 Cat photographer Sakura Ishihara has displayed numerous photographs of adorable cats wearing headwear. There is not a single real cat at the exhibition so those who are allergic to cats can also enjoy this exhibition.
When you think about cats, the one food that comes to mind is Neko manma! This literally translates as "cat rice" and usually consists of a bowl of rice with toppings. Katsuobushi, which is sliced from dried bonito , is used plentifully.
The final result: the ultimate cat-themed rice dish! Of course, there are other cat-themed items on the menu too!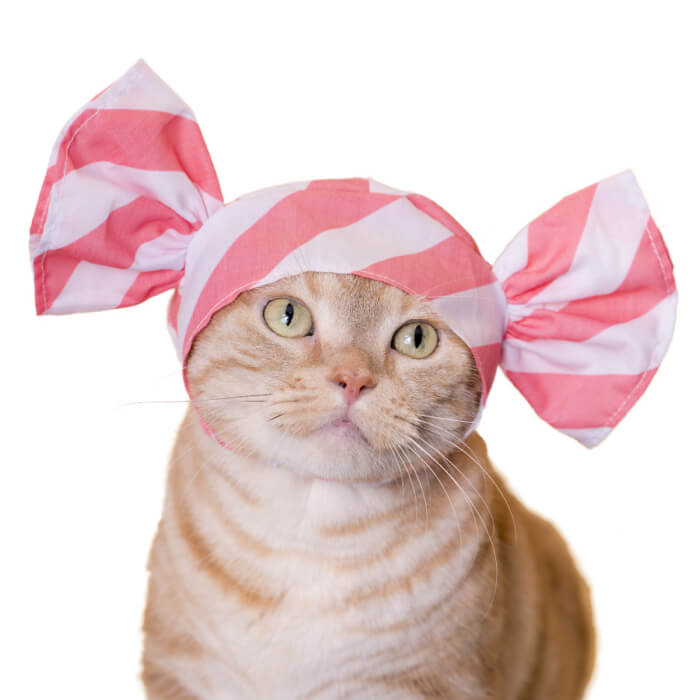 There are also items selling for those who cannot stop loving cats! The new capsule toy "Neko Candy-chan" will be available for advanced sale from Saturday 14th April.
 This atmosphere of cute cats in headwear will warm up your heart!
■Information
Neko no Gohanyasan
Open: From Sunday 1st April (End date to be confirmed)
※ This is not a cat café and there are no real cats at this event.
Neko no Kaburimono (Cats in headwear)
URL:http://kitan.jp/products/nekosanrio
Kawaiya (Cute Cube Harajuku 3F)
Address: 1-7-1, Jingumae, Shibuya, Tokyo
Opening hours: 10:00-22:00
No regular closing days
URL:cutecubeharajuku.com/
RELATED ENTRIES
Hetalia World★Stars Themed Cafe to Open at Tower Records

Tower Records has announced a collaboration with the Hetalia World★Stars anime series which will take place at three TOWER RECORDS CAFÉ branches: in Shibuya and Umeda NU Chayamamachi from June 9 and Nagoya Sakae SKYLE from June 22.

The cafe collaboration will see two different menus served across two periods. See the Information section at the bottom for more details.

The cafe collaboration's main visual

Menu ① Line-Up

Gutentag! Assorted Germany Plate / Dobrý den! Czech Style Goulash / Ahoj! Slovakian Kapustnica Set – ¥1,500 Each (Tax Included)

Buono! Panna Cotta & Tiramisu Set / Anmitsu Parfait – ¥1,300 Each (Tax Included)

Italy's Bicerin / Germany's Spezi / Japan's Matcha Milk / Czech's Berry Lemonade / Slovakia's Honey Wine-Style Apple Juice – ¥800 Each (Tax Included)

Menu ② Line-Up

C'est bow! Big Brother's Special Pot-au-feu / Hello! England's Meat Pie / Здравствуйте! Our Beef Stroganoff – ¥1,500 Each (Tax Included)

Hi! Hero's Special Muffins / Hào chī! Sesame Seed Dango & Annin Tofu – ¥1,300 (Tax Included)

America's Cherry Cola Float / England's Biscuit Tea / France's Rose Ginger Ale / Russia's Varenye Tea / China's Floral Jasmine Tea – ¥800 Each (Tax Included)

Available in Menus ① and ②

Pochi-kun's Latte | ¥800 (Tax Included)

Takeout Bottle Drink | ¥972 (Tax Included)

Menu Order Bonus Items

Menu ① Postcard

Menu ② Postcard

Menu ① Business Card Set (3 Included)

Menu ② Business Card Set (3 Included)

Menu ① Sticker (You must book a table in advance to receive)

Menu ② Sticker (You must book a table in advance to receive)

Exclusive Merchandise

Pins | ¥440 Each or Full Set ¥4,400 (Tax Included)


Key Rings | ¥880 Each (Tax Included)


Mini Character Acrylic Stands | ¥990 Each (Tax Included)


Folder Set (2 Included) | ¥990 (Tax Included)


Acrylic Diorama | ¥3,850 (Tax Included)

Hetalia World★Stars is a manga series by Hidekaz Himaruya that's serialised in Jump Comics+. In promotion of the new original net anime series which began airing on April 1, Tower Records has teamed up with the popular franchise to create a themed cafe experience with food, drinks, and desserts.

Fans can also get their hands on a selection of cafe-exclusive merchandise featuring their favourite characters including Italy, Germany, America, England, France, Russia, China, Czech, and Slovakia. These items are also available at Tower Records' online shop in Japan.

Since you have a time limit of 80 minutes to dine at the cafe, you can book a table in advance, which also earns you some freebie merch. Tickets are now available. Additionally, if there is a free table on the day, you can also go straight in. Same-day tickets are available in limited quantities.

©日丸屋秀和/集英社・ヘタリアW★S製作委員会

Information

Hetalia World★Stars x TOWER RECORDS CAFÉ

TOWER RECORDS CAFE Shibuya
Menu ①: June 9, 2021 – June 21, 2021

Menu ②: June 22, 2021 – July 4, 2021

Address: Tower Records Shibuya (Floor 2F), 1-22-14 Jinnan, Shibuya-ku, Tokyo


TOWER RECORDS CAFE Nagoya Sakae SKYLE
Menu ①: June 22, 2021 – June 28, 2021

Menu ②: June 29, 2021 – July 4, 2021

Address: SKYLE (Floor 9F), 3-4-5 Sakae, Naka-ku, Nagoya-shi, Aichi-ken

TOWER RECORDS CAFE Umeda NU Chayamachi


Menu ①: June 9, 2021 – June 14, 2021

Menu ②: June 15, 2021 – June 20, 2021

Address: NU Chayamachi (Floor 6F), 10-12 Chayamachi, Kita-ku, Osaka-shi, Osaka


*There are two menus available with different food and bonus merch

Buy Merch Online: https://tower.jp/hetalia
*The merch will be available both online and in-store at TOWER RECORDS CAFE Shibuya and Umeda NU Chayamachi on June 9 and subsequently TOWER RECORDS CAFE Nagoya SKYLE on June 22

Collab Cafe News: https://tower.jp/article/news/2021/05/26/n101
Collab Cafe Webpage: https://tower.jp/hetaliaws-cafe

*Opening hours and cafe content subject to change depending on COVID-19

Receive a Sweet Kiss From Snoopy With PEANUTS Cafe's New Merchandise Series

Six branches of PEANUTS Cafe in Japan, including PEANUTS Cafe Nakameguro, released a new collection of products and pouches on May 26.

The colourful line-up is made from TPU, a material that's lightweight, waterproof, and has high wear resistance, making it a convenient pick when a sudden downpour of rain erupts when you're out.

The collection features a kissing-Snoopy design along with the line "WE'D VOTE SWEETIE!"

The Line-Up

TPU Daily Shopper Bags | ¥3,740 Each (Tax Included)

These shopping bags are handy to take out when popping to the shop. They are durable, can fit inside a handbag or other bag, and can carry 5kg of items.

TPU Daily Pouches | ¥1,650 Each (Tax Included)

These zipped pouches are perfect for storing little everyday items like lipstick, earphones, and so on. Since they're see-through, they're great for putting cosmetics in when you're out so you can see exactly what you want to take out. You can even use it for coins and money. Perfect for the summer leisure season too as they're durable against rain and dirty.

Tyvek x PVC

These bags look like paper – the inside is made from Tyvek and the inside from PVC. These too are water and dirt resistant.

Hour Glasses

These hour glasses make as beautiful room decorations whether for yourself or as a gift to someone. Sit back and watch the relaxing sand and feel the tiredness of the day slip away.

Triple Pouch Set | ¥2,970 (Tax Included)

A collection of three pouches featuring Flying Ace Snoopy and the Peanuts Gang. Each one is of a different size which you can use for storing various items, like earphones, cords, and so on. You could even use them for bagging up a gift for someone. The pouches also have the PEANUTS Cafe logo on them.

©2021 Peanuts Worldwide LLC 

gelato pique café Begins Serving Desserts Made With American Cherries

gelato pique café is now serving up a selection of three desserts topped with seasonal American cherries. The items are available on the menu until July 15.

American Cherry Crepe: Have In ¥980 / Takeout ¥970

American Cherry Soft Cream: Have In ¥580 / Takeout ¥570

American Cherry Soda: Have In ¥580 / Takeout ¥570 (Photo for illustrative purposes only – served in a takeout cup)

American Cherry Crepe & Soda Set: Have In ¥1,380 / Takeout ¥1,370

Plain Crepe & American Cherry Soda Set: Have In ¥980 / Takeout ¥970

The American Cherry Crepe is filled with sweet and velvety royal milk gelato and seasonal American cherries. The sweetness of the gelato, sour kick of the cherries, and rich chocolate ganache cream make for a tasty combination, complemented by the range of textures including the soft fruit and crunchy granola.

The American Cherry Soft Cream contains a cherry sauce made with fresh cherries – and the whole thing is topped off with a cute cherry.

The beautifully red American Cherry Soda is made completely out of sweet cherries. The cherry syrup adds a gorgeous gradation to the drink as well as a refreshing after taste. There are two ways to enjoy this special drink: as it is, which offers a feeling of refreshment, or mixing the milk-flavoured gelato in for sweetness and creaminess.

Information

AMERICAN CHERRY SPECIAL

Serving: May 25, 2021 – July 17, 2021

Where: gelato pique café (Participating Branches: Atre Ebisu, Lumine Ikebukuro, Mitsui Outlet Park Makuhari, Mitsui Outlet Park Kisarazu, Mitsui Outlet Park Jazz Dream Nagashima, Gotemba Premium Outlets, Mozo Wonder City, Namba Marui, Mitsui Outlet Park Hokuriku Oyabe, Kanazawa Forus, Tamagawa Takashimaya S.C)

*Tamagawa Takashimaya S.C is now serving the soft cream

*Opening hours subject to shortening depending on COVID-19

Official Website: https://pique-cafe.com/

Cute Cat-Shaped Mango Cheesecake Arrives at Neko Neko Cheesecake

Neko Neko Cheesecake released its new seasonal 'Neko Neko W Cheesecake Mango' on Tuesday. Neko Neko Cheesecake is a sister brand of Neko Neko Shokupan by the same company, ALL HEARTS COMPANY, which serves cat-shaped bread.

Neko Neko W Cheesecake Mango | ¥2,430 (Tax Included)


The cute cheesecake is packed full of seasonal mango in the form of a mango and passion fruit sauce layered on top of the biscuit base. The cake is topped with fresh mango, lending a juicy and refreshing flavour to the sweet and tangy cake.

This tropical mango delight is one of many delicious cakes by Neko Neko Cheesecake. Be sure to check out our other coverages on the shop.

Tokyo Mew Mew New Anime Cast Music Group Smewthie Performs Live

In promotion of the upcoming new anime series adaptation of Tokyo Mew Mew New, which is releasing in 2022, the cast hosted an event titled '2nd MEW♡ting' on Saturday May 22 where they read their lines aloud to fans.

The event was held on the same date as Masaya Aoyama's birthday – the male love interest of the series protagonist Ichigo Momomiya. There was a section of the event where Ichigo spoke about the cake she made for Aoyama the day before.

This was Smewthie's first event with a live audience. They performed full versions of bitter sweet darling and Resolution of colors for the first time, amongst other fun things such as a segment similar to a Japanese variety show.

'bitter sweet darling' was the group's first single

Smewthie「bitter sweet darling」Music Video


Smewthie「bitter sweet darling」Dance Performance Video


bitter sweet darling: Track Download ¥250 / Full Single Download ¥1,350 / His-Res Track Download ¥400 / Hi-Res Full Single Download ¥1,800

bitter sweet darling is available on music streaming and download services.

Will you be watching Tokyo Mew Mew New when it airs next year?

©征海美亜・吉田玲子・講談社/「東京ミュウミュウにゅ~」製作委員会
©征海美亜・吉田玲子/講談社

Japan's Capcom Cafe Releases Ace Attorney Themed Menu

The Capcom Cafe located inside AEON Lake Town in Saitama is now serving up an Ace Attorney themed menu until July 8.

1. Keema Curry | ¥1,738 (Tax Included)

A keema curry inspired by the hoodie worn by Phoenix Wright. It features the Japanese word kurae! (くらえ!) which in the English version of the series is the quote "Take that!"

2. Tonosaman Tacos Plate | ¥1,958 (Tax Included)

A plate of tacos themed on Miles Edgeworth and Steel Samurai, the latter known as Tonosaman in Japanese. It includes two tortillas, one with a picture of Steel Samurai and the other with his name in Japanese.

3. Godot's Cafe Coffee Break Set | ¥1,408 (Tax Included)

A rich coffee jelly with accompanying biscuits and gateaux chocolate. Based on Godot.

4. Blue Hawaii Parfait | ¥1,408 (Tax Included)

A parfait with motifs of Franziska von Karma. It captures her cool and stylish look. A perfect drink for a hot summer's day.

5. Chocolate Banana Drink | ¥880 (Tax Included)

A drink inspired by the yukata worn by Maya Fey. Comes with a chocolate banana like the one she is holding in the illustration drawn of her for this cafe collab.

6. Fruit Sangria | ¥880 (Tax Included)

A fruity and refreshing non-alcoholic sangria inspired by Apollo Justice.

7. Rock Soda | ¥880 (Tax Included)

A non-alcoholic cocktail on the rocks inspired by Klavier Gavin. Served with a bottle and glass.

For an extra ¥3,000, customers can get the Kurae! plate as a set with the keema curry

 

Get some free original novelties

Get a free lunch mat (pictured left above) when you order any dish or dessert or a free coaster (pictured right above) when getting a drink.

And if you spend over ¥3,000 on the cafe menu,  you get one of these free postcards.

Fans need to book a table in advance to dine at the Capcom Cafe.

©CAPCOM CO., LTD. 2021 ALL RIGHTS RESERVED.

Information

Ace Attorney Collab Menu

Running: May 21, 2021 – July 8, 2021

Location: Capcom Cafe AEON Lake Town

Address: 4-21-1 Azumacho, Koshigaya, Saitama 343-0826, Japan

Capcom Cafe Official Website: http://www.capcom.co.jp/amusement/capcomcafe/

Neko Neko Shokupan x Samansa Mos2 Clothing Collaboration Released

Fashion brand Samansa Mos2 joined paws with the cat-themed bread and pastry store Neko Neko Shokupan to release their first collection together at Samansa Mos2 stores and the online store CAN ONLINE SHOP on May 14.

The Line-Up

Half-Sleeve Photo Print T-Shirts
Colours: Off-White/Unbleached/Beige
Price: ¥3,190 (Tax Included)

Half-Sleeve Monogram Print T-Shirts
Colours: Off-White/Yellow/Brown
Price: ¥3,190 (Tax Included)

Half-Sleeve Back Print T-Shirts
Colours: Off-White/Yellow/Brown
Price: ¥3,190 (Tax Included)

Back print tee design

Shokupan Print Hoodie
Colours: Beige/Khaki
Price: ¥4,290 (Tax Included)


Kid's Line

Photo Print T-Shirt
Colours: Off-White/Yellow
Price: ¥2,530 (Tax Included)

French Flare T-Shirts
Colours: Beige/Khaki
Price: ¥2,530 (Tax Included)

Miscellaneous

Embroidered Canvas Tote Bag
Colours: Unbleached/Beige
Price: ¥3,850 (Tax Included)

Handkerchief
Colours: Beige/Purple
Price: ¥660 (Tax Included)

Reversible Shoulder Pouch
Colours: Beige/Khaki
Price: ¥3,190 (Tax Included)

Bottle Holder
Colours: Beige/Khaki
Price: ¥2,750 (Tax Included)

Mobile Ring Holder
Colours: Beige/Grey
Price: ¥1,650 (Tax Included)

Neko Neko Shokupan are known for their rich and milky cat-shaped bread which uses milk and zero water. They're a hugely popular bakery brand who often find themselves across social media pages including Instagram. This marks their first collaboration with Samansa Mos2 who celebrate their 35th anniversary this year.





The collection features key visuals taken from the Neko Neko Shokupan brand. Items include a variety of tees and hoodies as well as other miscellaneous must-grabs like tote bags, handkerchiefs, bottle holders, and more. There's even a children's line-up as part of Samansa Mos2's kid brand Samansa Mos2 Lagom so parents and their children can coordinate cute matching outfits.





Look felinely-fashionable this summer with the Samana Mos2 x Neko Neko Shokupan collection.

 

Japan is home to many official Moomin establishments including the Moomin Shop, Moomin Cafe, and Moomin Stand. Located up and down the country, each brand began the Snufkin Fair on Friday last week.

 

Moomin Cafe: Snufkin Fair Menu

Camping Feast: Hot Skillet Chicken on the Bone | ¥1,700 (Tax Included)

Camping Feast: Hot Skillet Grilled Salmon | ¥1,700 (Tax Included)

Northern Europe Blueberry Coffee Jelly | ¥550 (Tax Included)

Snufkin Hat Cream Soda | ¥1,100 (Tax Included)

Snufkin Coffee Smoothie | Regular ¥580 – Large ¥700 – 2 Hattifattener Cookies +¥70 (Tax Included)

Snufkin Fair: New Merchandise

Kalita Coffee Mill | ¥9,020 (Tax Included) – Kalita Hasami Ware Dripper | ¥3,850 (Tax Included)

Kalita Vintage Snufkin & Moomin Mugs | ¥1,540 Each (Tax Included)

Kalita Measuring Spoon | ¥1,650 (Tax Included)

Kalita Stock Bag | ¥3,300 (Tax Included)

Wall Mug (Mustard Moomin – Red Little My – Olive Snufkin) | ¥2,200 Each (Tax Included)

Robert Bowling Coffee (Coffee Beans – Coffee Powder) | ¥2,036 Each (Tax Included)

Harmonica Charm (Ivory – Red – Black) | ¥2,310 Each (Tax Included)

Embroidered Handkerchiefs (Snufkin – Hattifatteners – Moomin) | ¥1,100 Each (Tax Included) *Moomin Shop exclusive

Outdoor Snufkin Hat | ¥3,520 (Tax Included) *Moomin Shop exclusive

Polo Shirts (Navy Moomin & Shadow – Black Moominpappa) | Sizes: S, M, L, XL | ¥4,290 Each (Tax Included) *Moomin Shop exclusive

Bonus Items | Left: Moomin Shop, Right: Moomin Cafe (Limited Stock)

The Snufkin Fair is centred on Snufkin, a character who appears in the Moomin series. He's a wanderer, explorer, and philosopher. The fair is being held at six Moomin Shop branches, three Moomin Cafe branches, 11 Moomin Stand branches, and the Moomin Japan online shop.

At the Moomin Cafe, fans can tuck into one of two camping-style skillet dishes along with some coffee desserts and more. Over at the Moomin Shop, there's plenty of items to get your hands on including apparel such as polo shirts and hats. There's even a cafe mill, dripper, vintage mugs, measuring spoons, and more all made in collaboration with Katila which are all available both at Moomin Cafe and Moomin Shop. Roll up to the Moomin Stand for Snufkin and Hattifattener inspired drinks. Have your coffee smoothie topped with some Hattifattener cookies. And if you spend over ¥4,400 on select Snufkin Fair items, you'll get a free bonus item: a coffee bag-style jute pouch. There are two designs available depending where you spend – at Moomin Shop and Moomin Cafe.

Don't miss your chance to enjoy some Moomin goodies at the Snufkin Fair this spring.

Neko Neko Shokupan, a Japanese company that makes cat-shaped bread, is releasing a new limited-time blueberry flavour for the entire month of June at all branches.

Neko Neko Shokupan Blueberry | Single Slice ¥842 (Tax Included)

Their bread arrangements are super popular

The June-exclusive blueberry bread uses blueberry jam in the dough. One bite fills your taste buds with sweet and fruity ecstasy. It can be enjoyed as it is, or made even more delicious by toasting and adding a spread of butter which elevates the sweetness of the blueberry even more.

The cat-shaped bread, which is made with milk, can be decorated with chocolate pens and other decorations to create a unique and original design. Their bread arrangements are super popular on social media. Perfect as a sweet treat to yourself or a gift to someone.

If you're in Japan this June, don't miss out!

Information

Neko Neko Shokupan Blueberry

Price: Single Slice ¥842 (Tax Included)

Available: At all Neko Neko Shokupan branches

Official Website: https://nekoshoku.allhearts.company

Sanrio Character Themed Afternoon Tea and Cafe Items Arrive at EGG & SPUMA

The Shinjuku branch of EGG & SPUMA is now hosting "Sanrio Characters CAFE," a menu of food and drink themed on Sanrio's beloved characters. Running until August 31, the cafe has also been decorated in colourful and cute Sanrio designs.

Receive a free coaster with your order

The menu line-up features lots of fruits, including the Cinnamoroll crème brûlée which is served on weekdays only, fruit sandwiches which will include My Melody themed ones this month and June, Hello Kitty and Keroppi ones in July, and Little Twin Stars in August. There's also fruity jelly and more.

If you're a Sanrio fan look to indulge a little more, then there is also a two-tiered afternoon tea set. The upper plate includes Kiki & Lala sandwiches, a Keroppi tart, the Cinnamoroll crème brûlée, and more. On the bottom plate there is Hello Kitty apple jelly, My Melody strawberry caprese salad, Kuromi canapé, and so on. There will also be special pancakes and a jelly dessert arriving in June which must be booked in advance.

Which of these Instagram-worthy delights do you want to tuck into?

Information

Sanrio Characters CAFE
Address: EGG & SPUMA Shinjuku Lumine EST (Floor 8F), 3-38-1 Shinjuku, Shinjuku-ku, Tokyo,  160-0022
Running: May 15, 2021 – August 31, 2021

Opening Hours: 11:00-20:00 (Last Orders 19:00)
TEL: 03-6273-0255
Official Website: http://www.salt-inc.co.jp/egg-and-spuma/

AMAZAKE STAND to Open its Second Branch in Sendai Serving Rice-Malt Sweet Sake

AMAZAKE STAND opened its first branch in Kamakura a year and a half ago as the first store in Japan serving homemade rice-malt amazake sweet sake. The cafe has announced that its second branch will open in Sendai on June 10, 2021. It hopes to promote the delicious taste of amazake to more people and pass it down to the next generation.

Homemade Amazake – Plain (Small Size) | ¥390 (Tax Included)

Strawberry Chocolate Amazake – Blueberry Cheesecake Amazake – Apple Pie Amazake | From ¥600 Each (Tax Included)

Amazake is a great alternative for those who can't handle the taste of ordinary strong sake. The cafe makes it with koji and rice from Tohoku and offers it in a range of different flavours. All beverages are made without granulated sugar and include a range of ingredients that have beautifying effects on the skin and help with recovering from fatigue such as grape powder, amino acids, and Vitamin B.

Explore Harajuku Virtually as Virtual Shibuya Announces New Harajuku Area

Virtual Shibuya has announced that its new Harajuku area will open on May 25, 2021. The virtual experience is hosted on Cluster, a virtual social media platform.

Shibuya 5G Entertainment Project launched the "Virtual Shibuya" back in May of last year in collaboration with KDDI, Shibuya Future Design, and the Shibuya Tourism Association. Officially recognised by Shibuya City, Virtual Shibuya comes in response to the effects of the COVID-19 pandemic which has brought tight restrictions to the economy and people's way of life. It enables people to continue enjoying entertainment from the comfort of their homes by participating in a whole host of virtual events and activities. The project aims to deliver content from Shibuya with live performances from artists, art exhibitions, talks, and more. The use of 5G and the latest cutting edge technology connects the real Shibuya to a virtual space, combining the realms of the digital and real world.

Virtual Harajuku is the second area to open in the service and brings together the iconic locations surrounding Jingumae Crossing such as Laforet Harajuku and Tokyu Plaza. As part of the new area's launch, Japanese pop icon Kyary Pamyu Pamyu has been announced as a Special Supporter of the service. The singer and model made her debut on the streets of Harajuku with her unique fashion. Ten years since her debut, she will continue promoting Harajuku from the service.

Information

Virtual Harajuku au 5G POP DAY OUT 2021
Running: May 25, 2021 – May 31, 2021

Location: Virtual Harajuku (The URL will be revealed in the coming weeks)
Virtual Harajuku Details: https://vcity.au5g.jp/harajuku

Cluster Official Website: https://corp.cluster.mu/